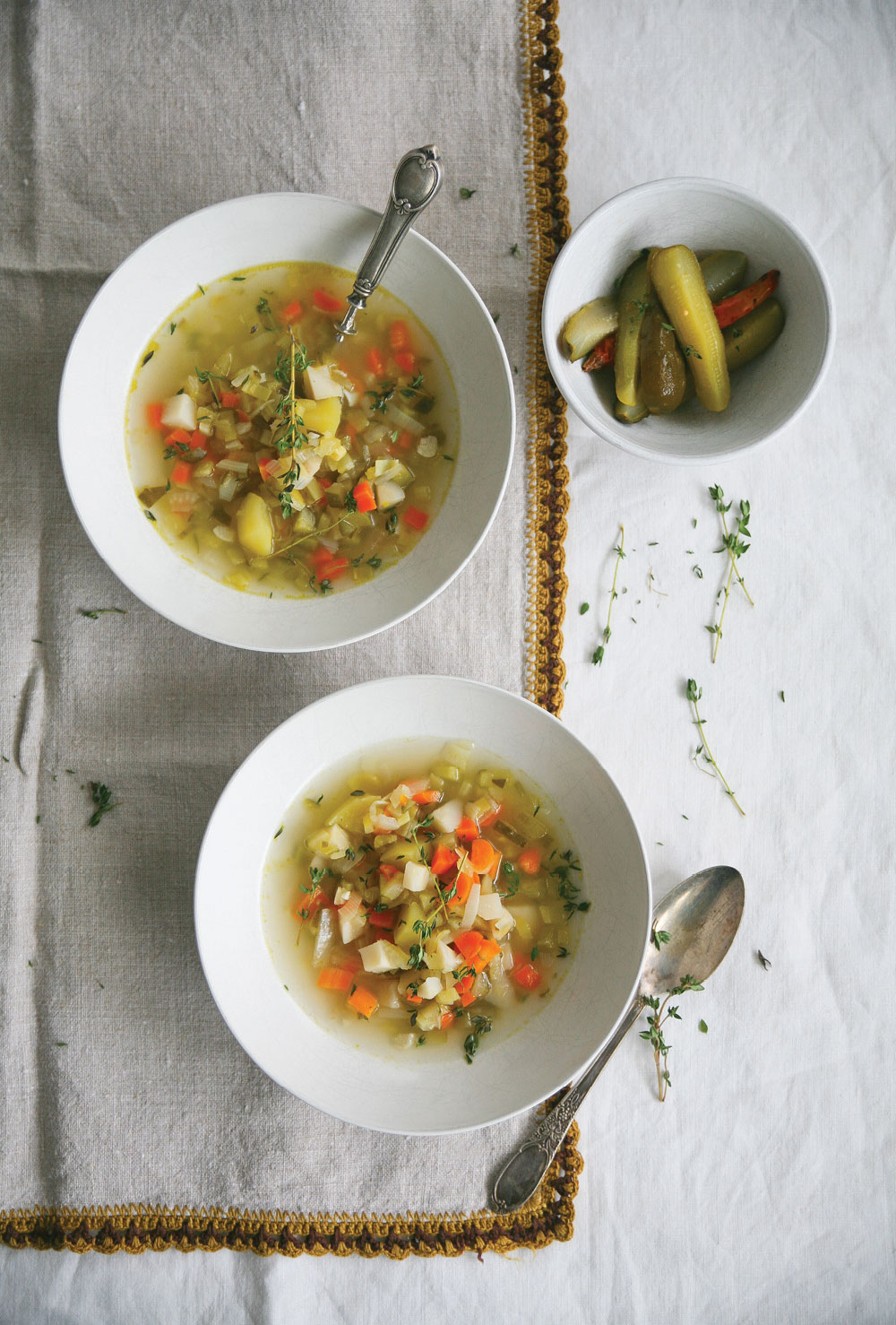 Pickles in a soup? Yes, it's a thing. And it's a delicious thing! This Dill Pickle Soup is not only delicious but it's also naturally gluten-free and vegan.
The flavours here really mingle so well and that natural sour taste from the pickles make this soup so unique and tasty. It's one of our favourite soups here and for good reason – it takes me back to my Polish roots and tastes like home and it's purely delicious…. and so easy to prep and cook – just about 20 minutes total!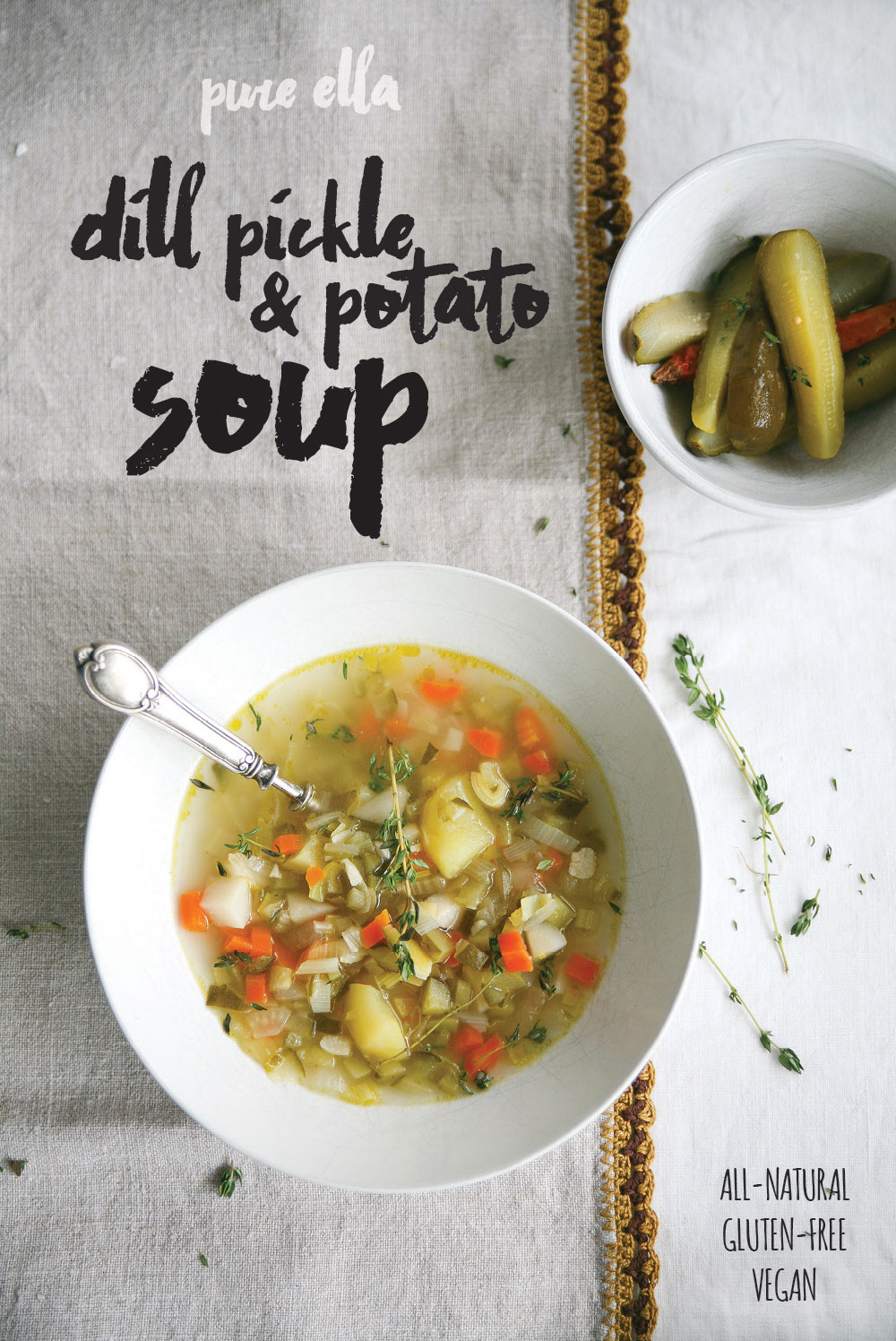 Dill Pickle Soup with Potatoes
gluten-free, dairy-free, vegan, allergy-friendly
prep time : 5 minutes cook time: 15 minutes
serves 4-6
Ingredients:
grapeseed oil for cooking
1 small onion
6 medium potatoes (Yukon Gold are best)
1 celery stalk
2 carrots
1 parsnip root
8 cups vegetable broth or water
4-6 large dill pickles
½-3/4 cup dill pickle juice, or to taste
pinch of dried thyme and/ or marjoram
sea salt and pepper to taste
Directions:
Peel the potatoes, then chop into bite-sized cubes. Prep all the vegetables by peeling and chopping into small chunks.
Drizzle the bottom of a large pot and add in onion, potatoes, celery, carrots and parsnip. Cook for about 5 minutes until slightly softened. Add a bit vegetable broth or water if the veggies stick to the pot.
Pour the broth or hot boiling over the top. Bring to a boil over high heat, then lower heat and allow to simmer as you chop the pickles.
Grate the pickles on a coarse cheese grater or chop them finely. Once potatoes and carrots are tender, add the pickles and pickle juice to taste.
Simmer for a few more minutes, then remove from heat.

Serve hot. Makes great leftovers.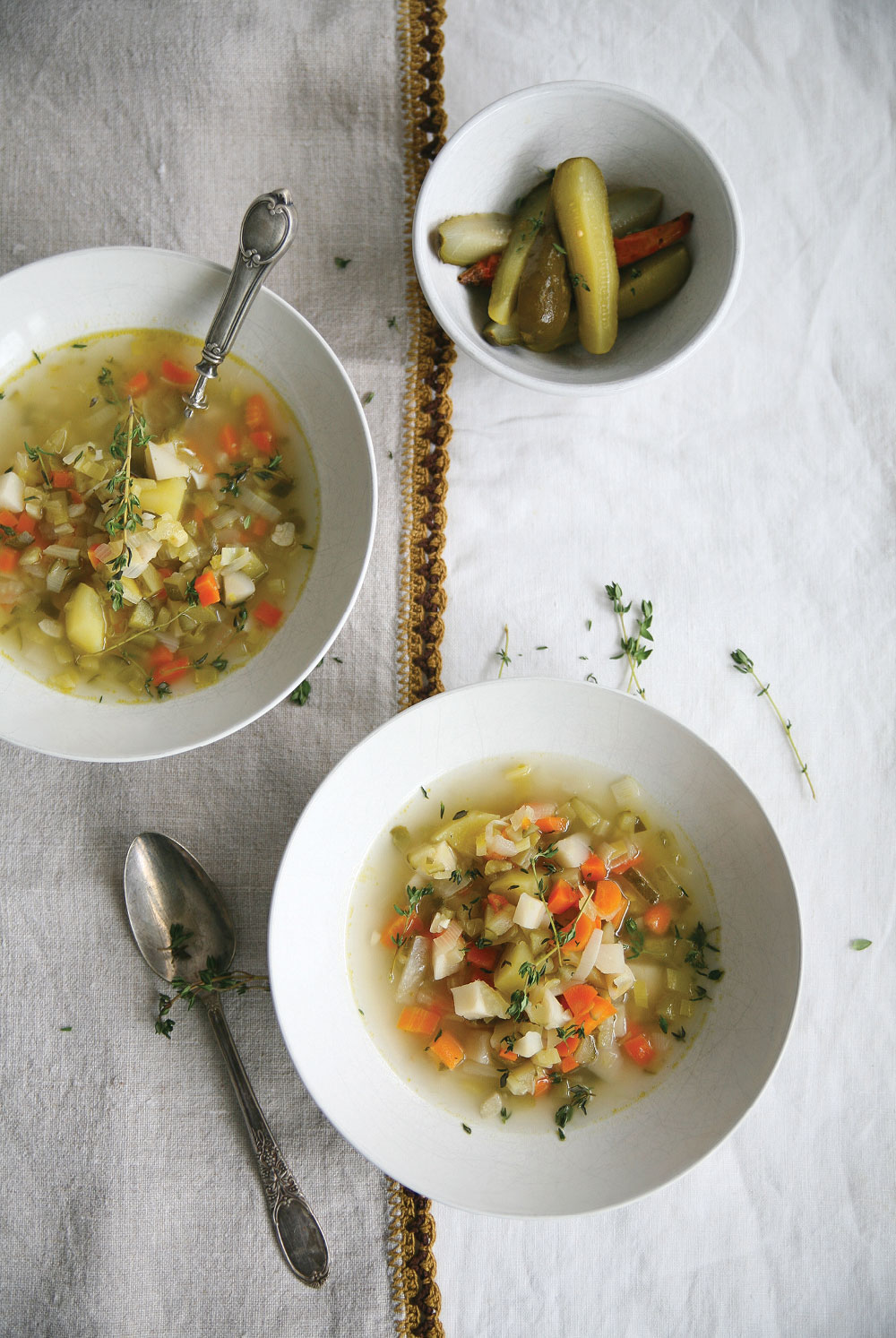 I hope you'll try this soup soon… it's so good (although it might sound strange) ;) but pickles in soup are totally great!! A true must-try soup. I hope you enjoy it soon!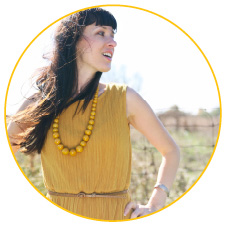 Ella Leché
is a cookbook author ('
Cut the Sugar
'), recipe developer, and photographer/stylist behind Pure Ella; where she shares delicious and healthy recipes. Eating PURE is clean ingredients, whole foods, plant-based nourishment and delicious desserts – with quality ingredients and sweeteners so they're treats with benefits so you won't have to feel deprived or restricted to eat healthier.
Thank YOU for being here!
Follow on social media for daily health & happiness inspiration:

ps. don't forget to share your Pure Ella (PE) recipe creations by tagging them #pureella and
@pure_ella
on Instagram – we repost our favourite photos!