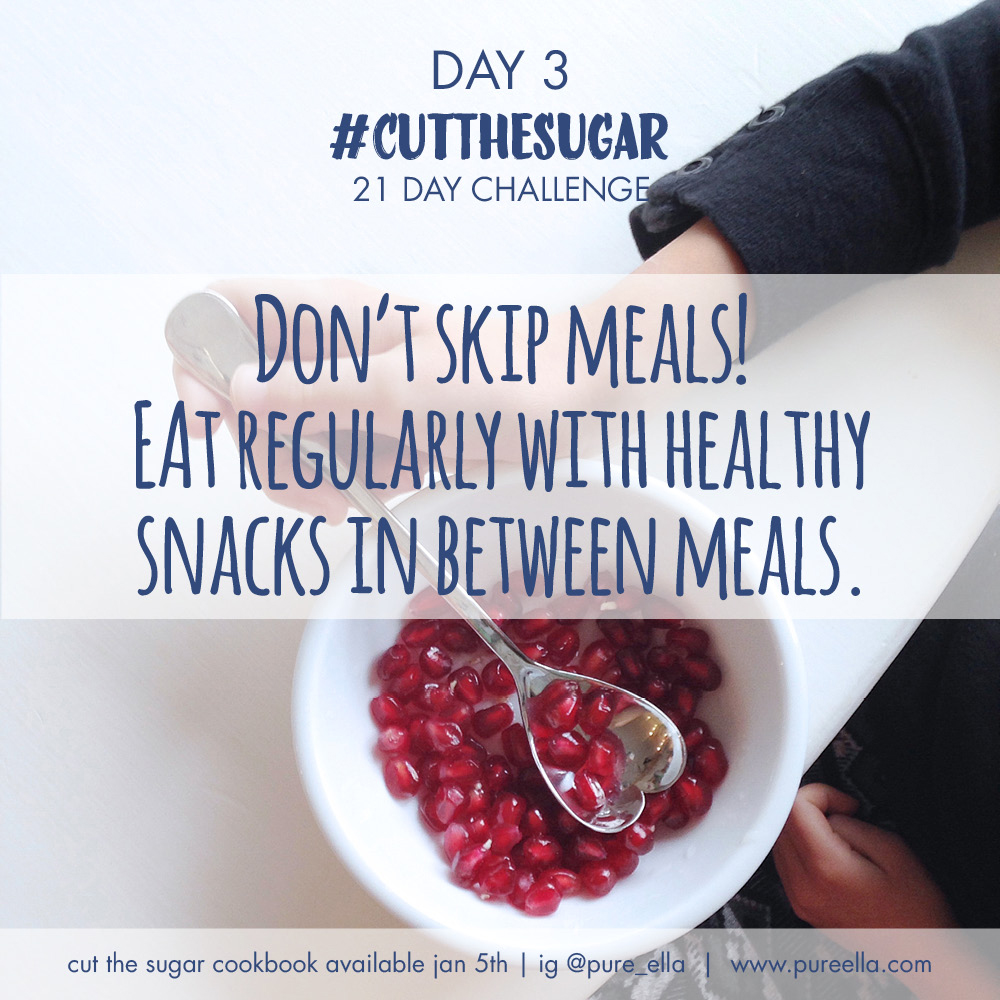 Hello Day 3 of 2016!
I hope you're having a great start to the New Year! And thank you for joining us on day 3 of the Cut the Sugar Challenge!
Today we're focusing on eating regularly – so many of us don't get this right! I myself have often skipped meals for some reason – either I was out with no snacks around and wanted to wait it out to get home and eat or I simply got focused on something and forgot to eat. I basically struggled with this since my late teens up to my late twenties (the time I got sick) so it's safe to say that these unhealthy eating habits may have contributed in the long run to my failing health.
Now I know better – and eating regularly is SO important!
Food is energy + nourishment + food actually stabilizes your blood sugar! This is huge information when it comes to beating your sugar cravings. Often times – you're craving sweets because your blood sugar drops and regular healthy meals and regular healthy snacks in between meals will keep you satiated so you don't go nuts looking for chocolate!
Eating regularly also contributes to a healthy nervous system so if you're an emotional eater – know this : You will fix a lot of issues if you just eat healthy foods at regular meal and snack times!
I personally eat 6-7 times a day!! It's 3 meals + 3 or 4 snacks about 2 hours after my meal. I know so much of my health returning is from just being mindful of the time I eat (and obviously of what I eat). This meal time formula may not work the same way for you, but I encourage you to eat regularly so you stay nourished, don't drop your blood sugar and keep your energy level up throughout the day!
It's January and a lot of you are thinking of dieting! Dieting is not my kind of answer to a healthy life. This is a whole other topic which I would love to write about at a separate time – but for now, I just want to remind you how important regular meals are – do not go several hours (more than 3) without food with protein – your body, your brain needs healthy food throughout the day to function properly.
I hope you like today's challenge and do keep it up! Join me tomorrow for another Cut the Sugar Challenge!
Don't forget to join with the hashtags #cutthesugar #cutthesugarchallenge and I will be reposting my favourite photos on my social media!
Be well, stay fed! :)
~ ella