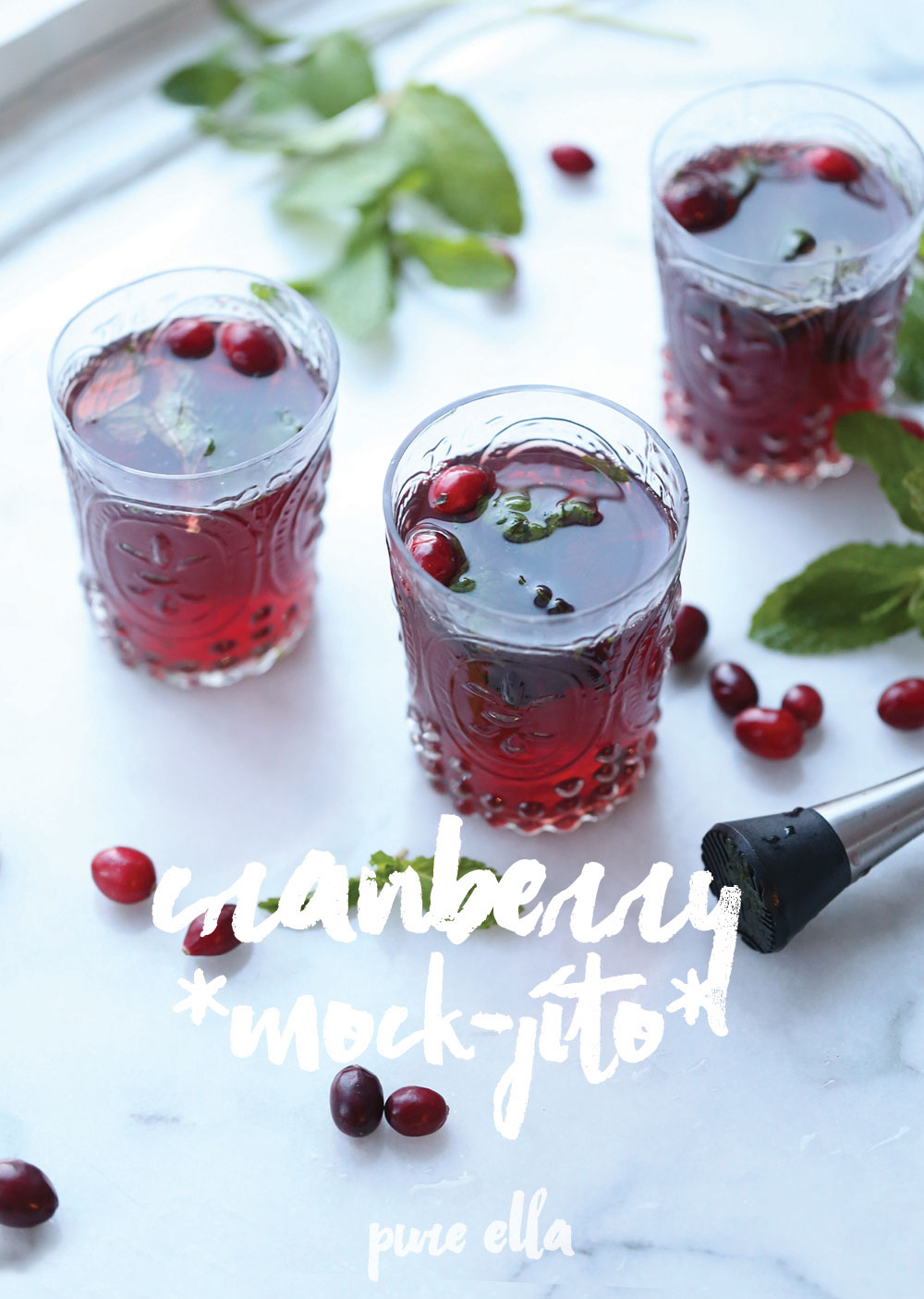 Hello and Cheers you guys for a Happy Holiday!!! I'm am so excited to share my fave drink of the season ~ this Cranberry Mojito err a Mock-jito is absolutely amazing and festive and delicious and good-for you too!
Who says you can only have fun with booze at Holiday parties!
Ok, SO ~ something I don't share too often (or like at all) is that I don't really drink alcohol! It started on my healing journey (you can't drink and heal at the same time!) And then I just felt I didn't need to drink… I didn't miss alcohol and I also got highly sensitive to all the crap that can be found in alcohol. There's NO nutritional labels on booze and even ingredient lists are not required to list everything. So, what you often get is lots of sugar, artificial flavouring, preservatives, and sulphites. Yikes!!
I remember a time when drinking at social gatherings was the thing to do! And it was so hard to refuse a drink and even when I tried I felt really out of the loop when others would get a bit tipsy and have SO much fun and I felt so out of of the loop… it wasn't fun.
And I used to think that you can only have fun when you drink ~ turns out – this is not so at all! YOU can have tons of fun and just be yourself and don't need a drop of alcohol to have fun! Seriously!! :)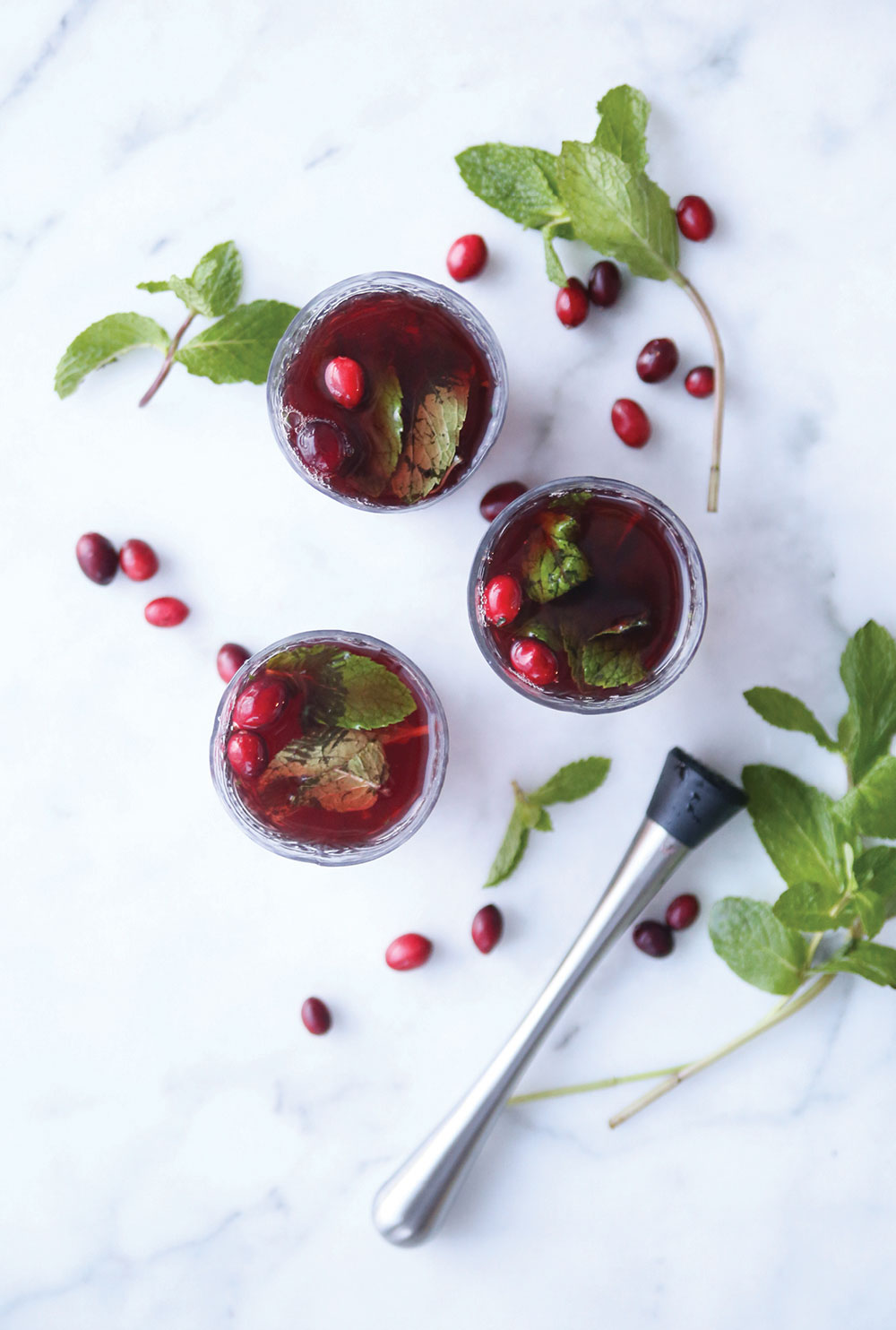 So this Cranberry Mock-jito is fun, delicious yet it's a clean and healthy beverage of choice for a party or just an everyday drink!
It's refreshing and not-too sweet but just enough to excite your taste buds and give you a delicious experience of drinking something fun!
Cranberry Mojito Mocktail (Mock-jito)
Ingredients:
1/2 cup organic cranberry juice
1/2 cup filtered water
a few stemmed leaves of fresh mint
fresh or frozen cranberries for garnish
Directions:
In a tall glass, press the mint leaves with a muddler until some juice is released.
Add in juice and water and stir.
Garnish with cranberries: frozen cranberries will act like ice cubes here and won't water down your drink!
Enjoy!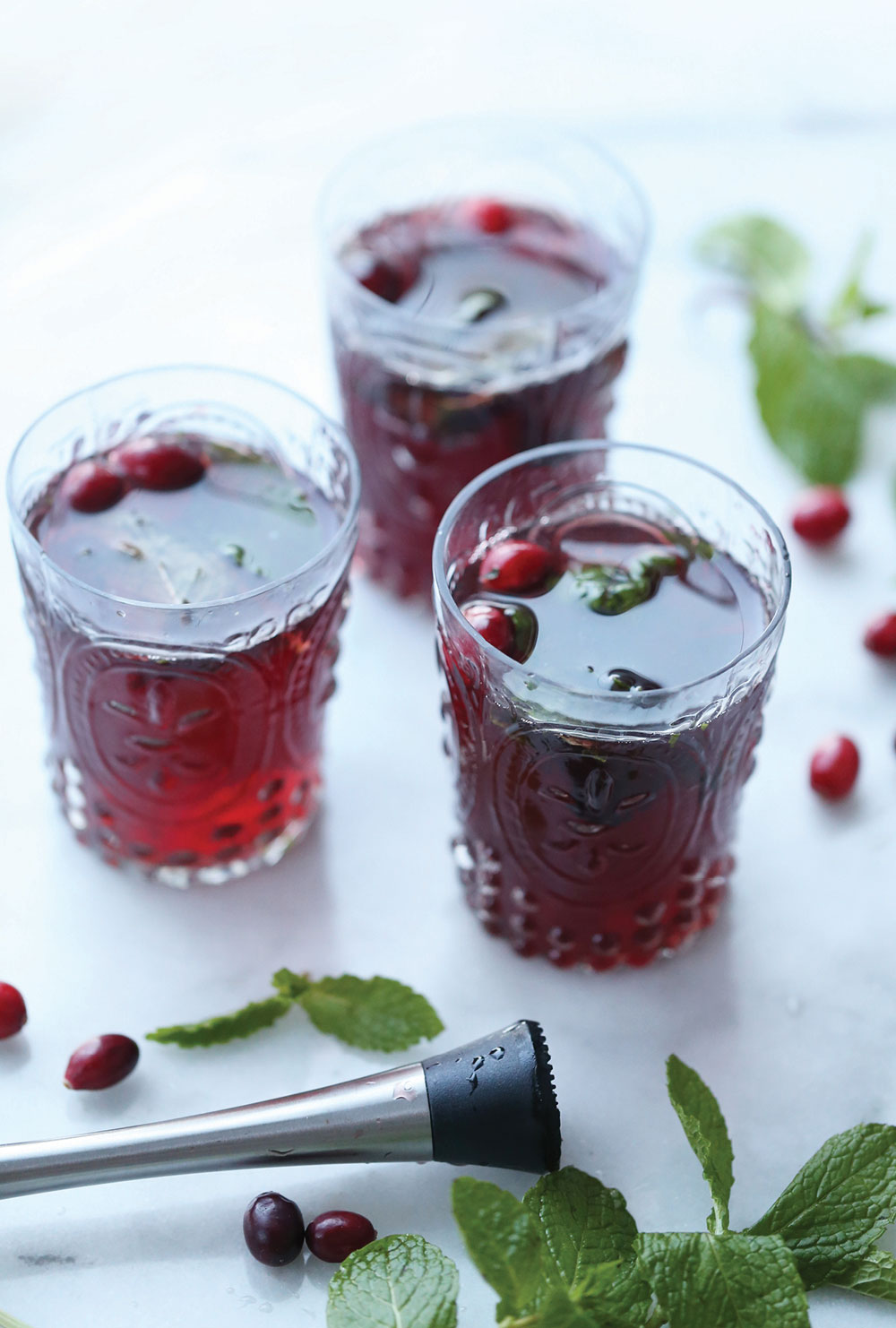 So alcohol and juice both can contain a LOT of sugar – one way I like to cut the sugar here is to water it down with water. This might seem like you're diluting the flavour but it's actually delicious and light and the fresh flavour of mint really takes it to a new level than if it was just juice.
At parties especially, I'd rather have a dessert and treat myself to something delicious than to chug sugar down. Keeping drinks on the low-sweet side is a great way to leave room for other pleasurable carbs :)
Do I actually drink alcohol, you ask?
Well… to be honest, I rarely drink, but when I do I like to go for quality over quantity for sure. That's one thing. (just like with food ;)
But what is a quality alcoholic beverage to me, you ask? ;)
Well, to me, I just love Scotch! A little Single Malt Scotch diluted just a bit with water is divine…. like I said on rare occasions ;)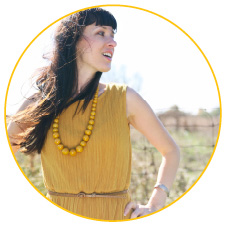 Ella Leché
is a cookbook author ('
Cut the Sugar
'), recipe developer, and photographer/stylist behind Pure Ella; where she shares delicious and healthy recipes. Eating PURE is clean ingredients, whole foods, plant-based nourishment and delicious desserts – with quality ingredients and sweeteners so they're treats with benefits so you won't have to feel deprived or restricted to eat healthier.
Thank YOU for being here!
Follow on social media for daily health & happiness inspiration:

ps. don't forget to share your Pure Ella (PE) recipe creations by tagging them #pureella and
@pure_ella
on Instagram – we repost our favourite photos!