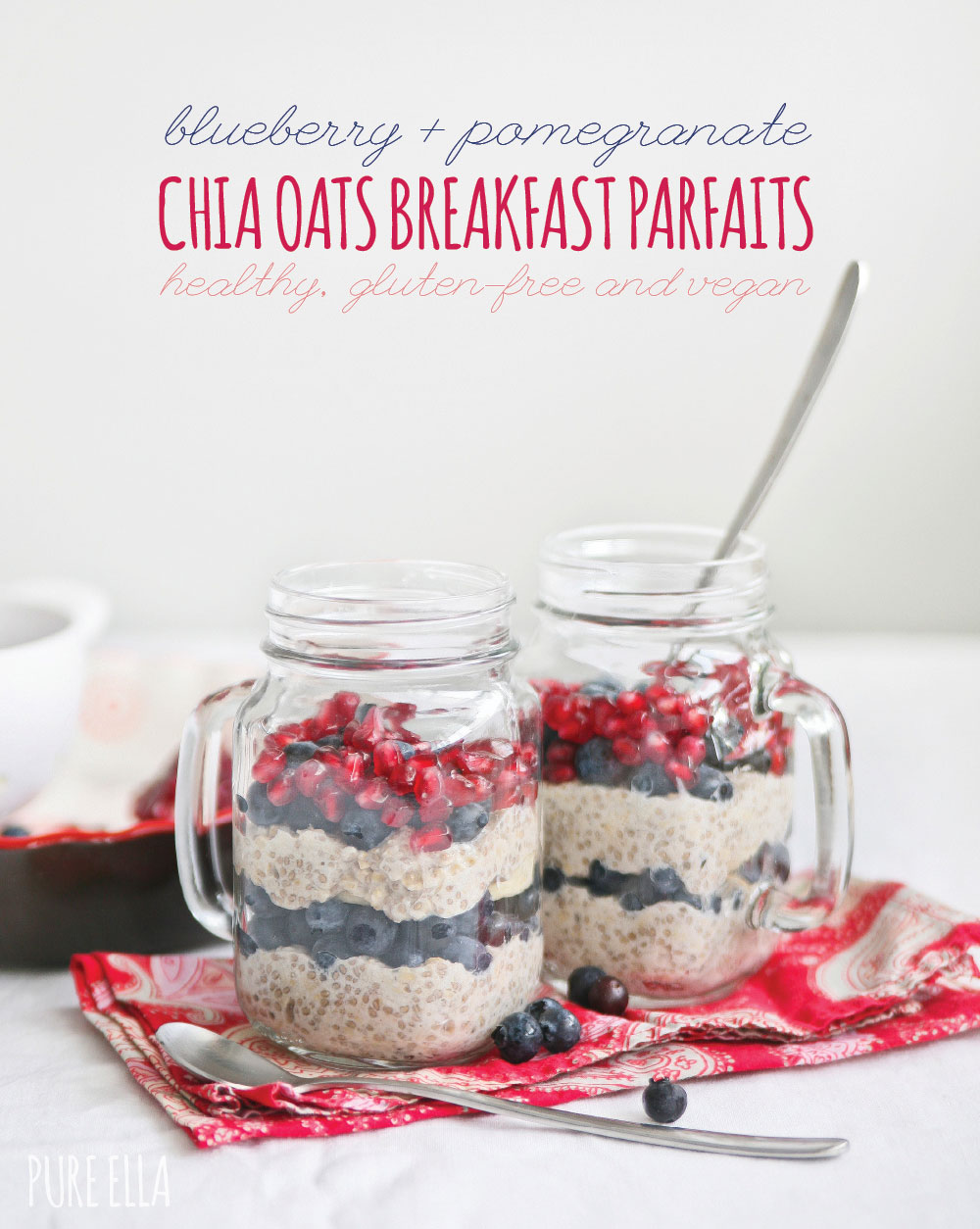 Let's talk breakfast!
You know, that most-important-meal-of-the-day! We all know it's important and yet we still rush through the mornings and carelessly shove something into our mouths…. if anything at all…. A poor quality breakfast as well as skipping breakfast is the worst way to start the day! Time to prioritize our nourishment and the way to do it is with a healthy breakfast!!!
The secrets to a good breakfast is a little planning and knowledge of what your body actually needs in the mornings!
I think these Blueberry + Pomegranate Chia Oats Breakfast Parfaits are not only amazingly delicious – but they created with pure and natural ingredients and very healthy with amazing health benefits of antioxidants, essential fatty acids, magnesium, manganese, calcium and lots of protein!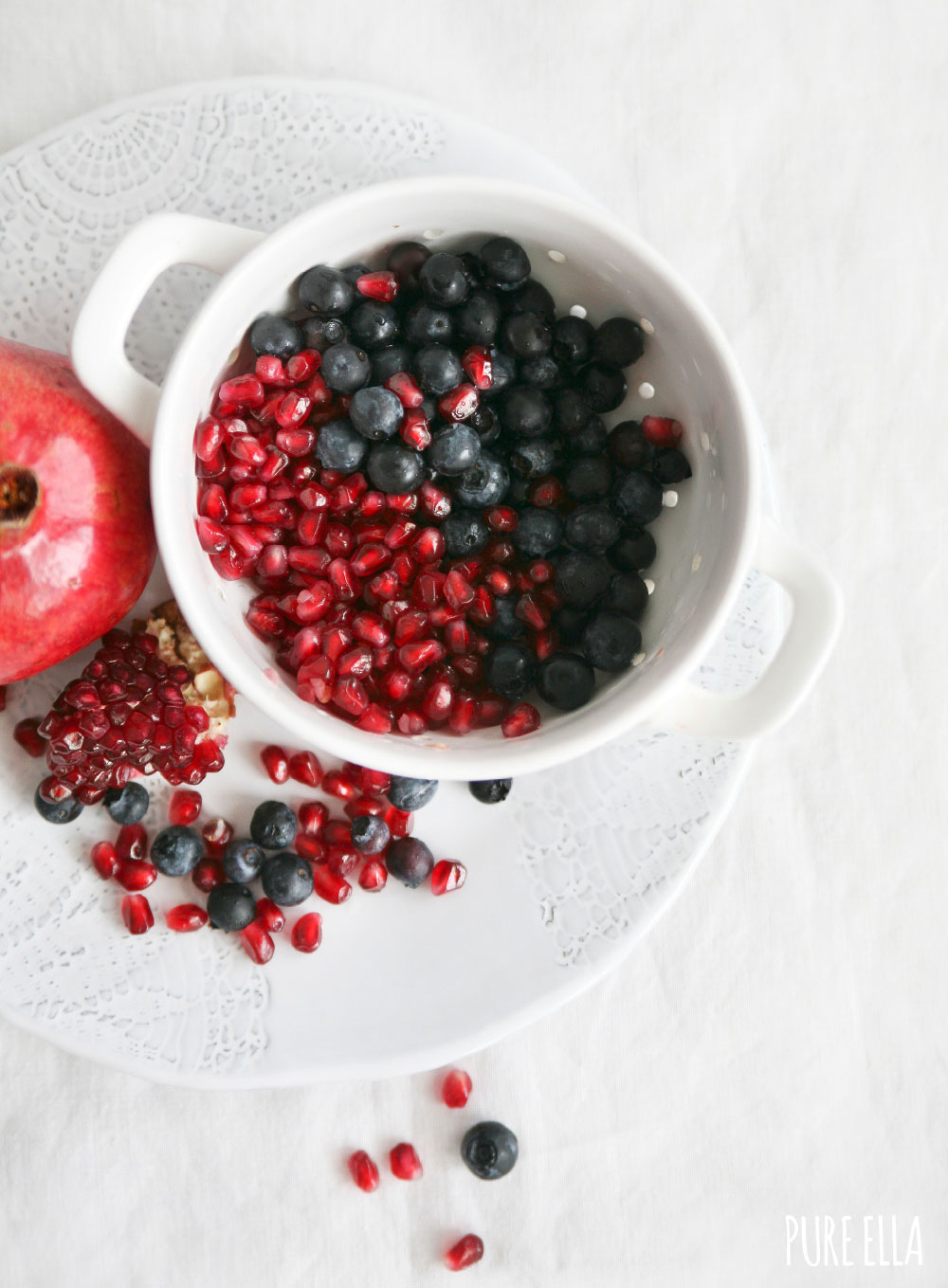 These Breakfast Parfaits are so delicious and do pack in everything your body needs!
I have been soaking, not cooking oats for years now. It's true that more nutrition stays intact within the oats if you only soak them and not cook them. But unless you are really overcooking them, the difference is quite small. However, soaking the oats : making overnight oatmeal, is a great, quick and easy method to prepare them. One thing is that you're getting one dish dirty, you're not waiting by the stove, risking the chance of burning your oats etc.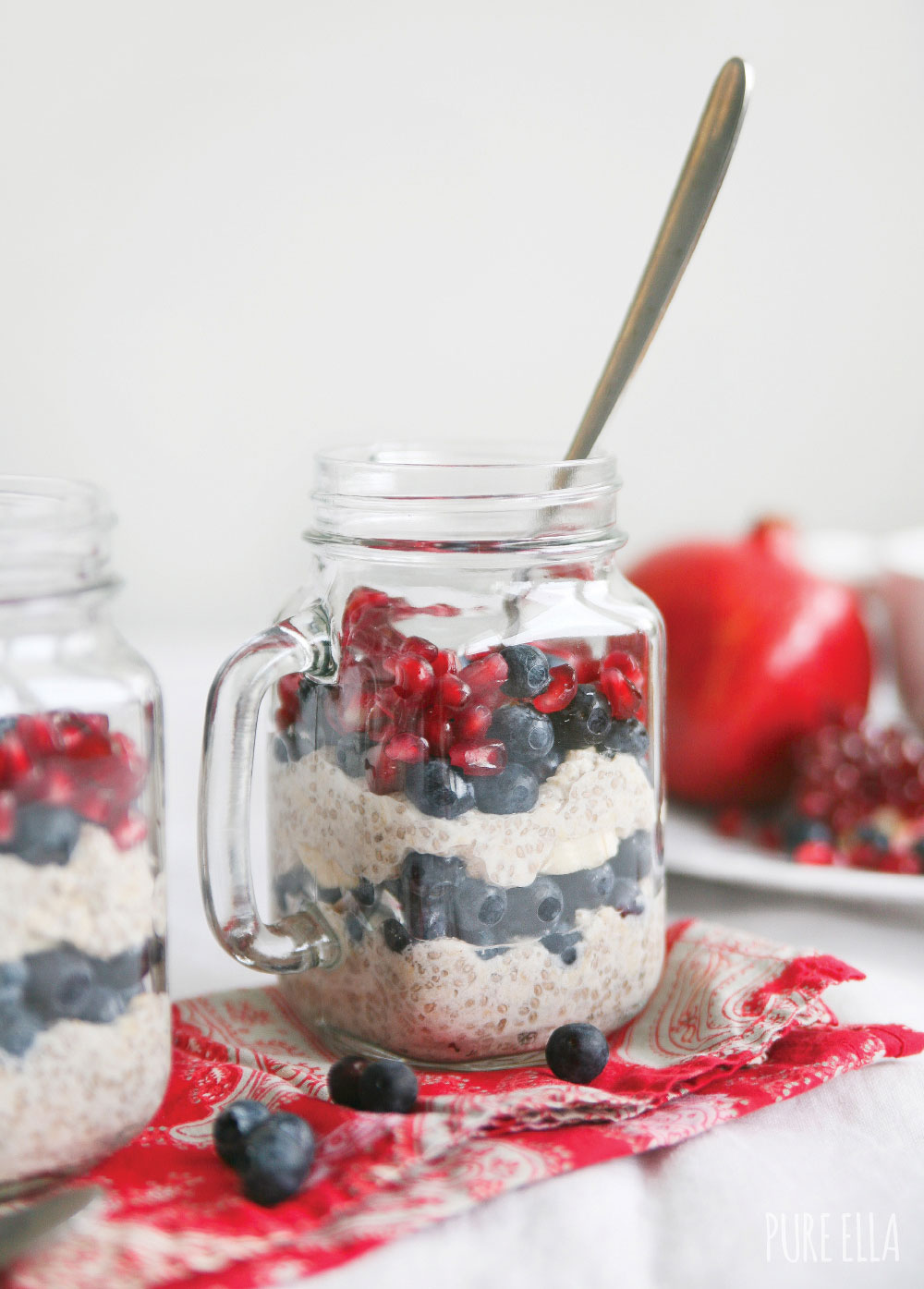 Making overnight oats is a seasonal ritual for me.
I find naturally Spring and Summer call for a more refreshing breakfast that can be cool in temperatures. Fall and Winter seasons call for cooked hot breakfasts, like my Apple and Cinnamon Nutrimeal – so naturally I don't want my breakfast cold during those months! We should aim to keep our breakfast close to our body temperature as much as possible, that is to not stress the digestive tract and our organs to suddenly deal with cold temperatures that enter our bodies.
For this reason too, when we make smoothies in the morning, I don't put ice in them or frozen fruit and try to keep the fruit at room temperature, by leaving them on the counter the night before.
But let's get back to making the perfect overnight chia oats!
Chia seeds are an amazing superfood that you should be eating everyday. They like to be soaked before digesting or else you should be drinking a lot of water when you eat them.
When you combine chia seeds with any liquid, a gooey mixture forms – this is often added too my recipes instead of an egg – it is referred to as a chia egg! It actually helps to bind other ingredients together like an egg would when baking. We are not baking these oats, but combined with hemp milk or other non-dairy milk and oats in this case, the texture created resembles a pudding consistency. Yummy! It is thick and rich in consistency and very healthy and filling.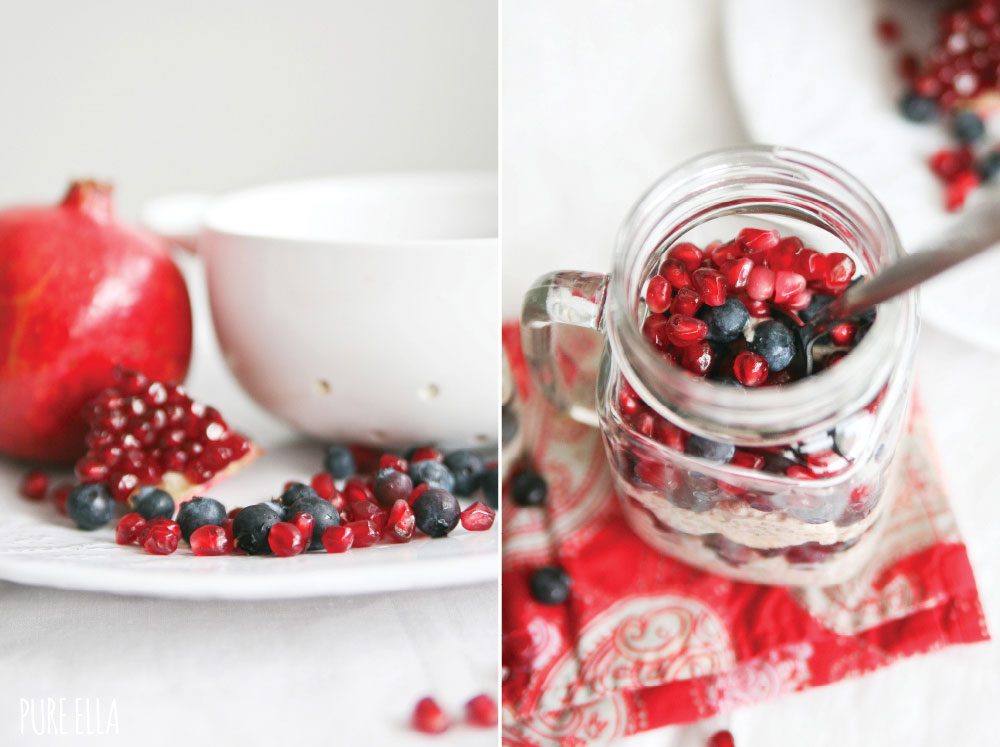 BLUEBERRY + POMEGRANATE CHIA OATS BREAKFAST PARFAITS |
healthy, gluten-free and vegan
Prep time : 5 minutes (+ overnight refrigeration)
Serves 2
Ingredients :
1/2 cup certified gluten free oatmeal (quick cooking or
2 tablespoons chia seeds, whole seeds or ground
1 cup So Delicious Dairy Free Original Coconut Milk
Optional : 1-2 teaspoons of natural sweetener like honey or agave or stevia
1/4 cup fresh pomegranate arils
1/4 cup fresh blueberries
1 ripe banana
Directions :
The night before, in a bowl, mason jar or air tight container, mix in oats, chia seeds and milk together. Seal the jar, container or cover the bowl and place in the refrigerator for the whole night.
In the morning, layer in a glass or mason jar with fruit in between. Enjoy!
Additional sweetener is not recommended if you will be adding fresh fruit to it in the morning. As you don't want your breakfast overly sweet. There's already carbs in the oatmeal and the fruit – carbs are sugar in the body – ends up being too much of a good thing! If you're used to sweet breakfasts, try adding about 1 teaspoon of agave, maple syrup or raw honey and then slowly reducing the amount over time. If you want a 0 calorie + 0 carbohydrate sweetener, a little Stevia is a great choice to try with this recipe.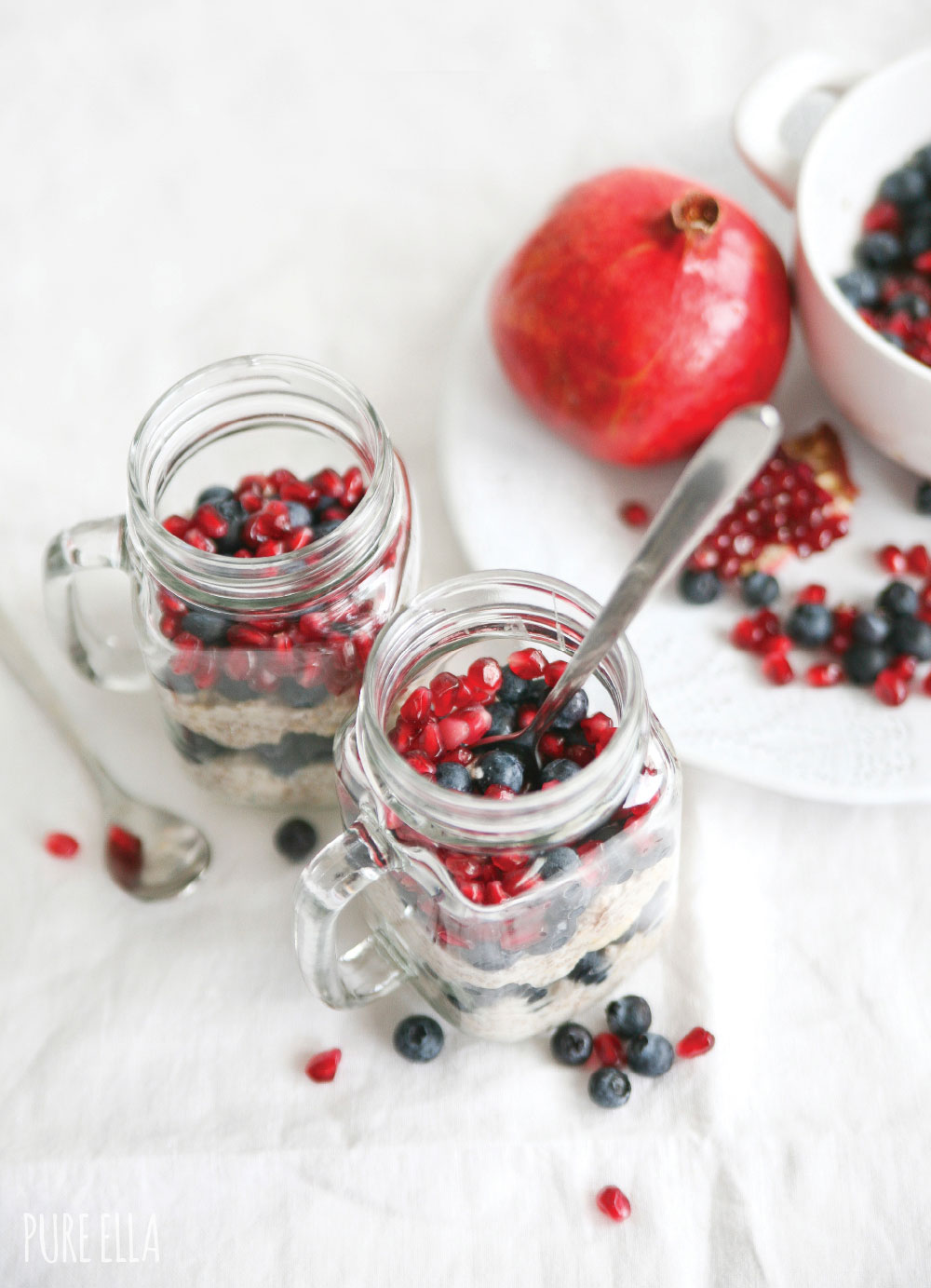 Why is this a great food combination for breakfast you are wondering?
First, you are keeping every ingredient completely natural, organic and raw. This is a clean-food breakfast at its' best. You're not cooking any nutrition away and each ingredient is packed with amazing nutrition :
Health benefits of Oatmeal :
– high in fibre
– low calorie
– high levels of protein
– stabilizes blood sugar and reduces risk of diabetes
– lowers cholesterol
– is gluten-free safe (if purchased with a "Certified Gluten-Free" label
– protects against breakfast and heart disease
– contains antioxidants beneficial for heart health
– enhances immune response to diseases
Health benefits of Chia Seeds :
– help to combat diabetes as it slows down digestion
– high levels of fibre
– loaded with Omega 3 fatty acids – makes them great for brain health!
– high in calcium – strengthens teeth and bones
– high in manganese – this mineral helps your body get proper nuttition from other foods
– helps tissue growth and repair due to phosphorus
– packed in protein
– filling and curbs hunger
– improves blood pressure and heart health
For all these health benefits of oats, chia seeds and of course fresh antioxidant-rich berries and pomagranate, this makes for a great healthy breakfast to start your day!

Adding fresh fruit is great because it adds freshness, sweetness and excitement to your Breakfast Parfaits! Any fruit combination is great.
Together, the slight tartness of pomegranate arils and the sweetness of blueberries are amazing! One of my favourite fruit combinations for sure… but feel free to use any combination of berries, slices of banana. Try to keep the fruit to chia oat mixture to equal ratio or have even less fruit than chia oats.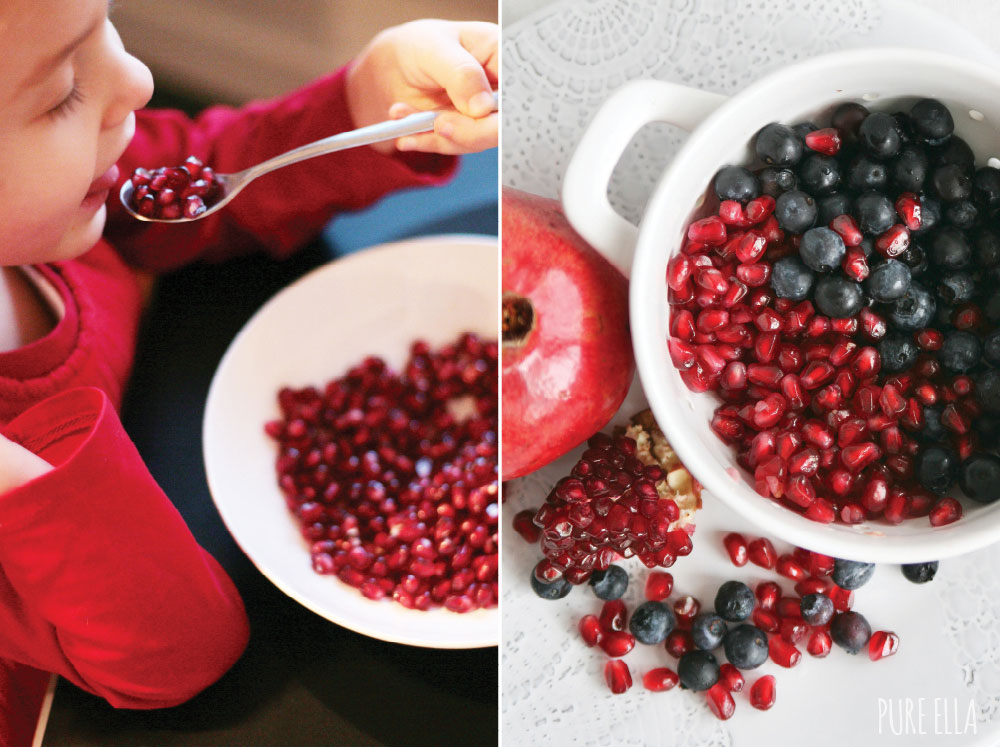 Got Kids?
My 6 year old loves these chia oats or overnight oats! I scoop about 1/2 of the portion and add it to her morning organic cereal – and top with extra hemp milk. She likes the parfait but with more sugar added – and I don't want her to eat too much sugar in the morning – so as a compromise, she still gets the same ingredients but served differently ;)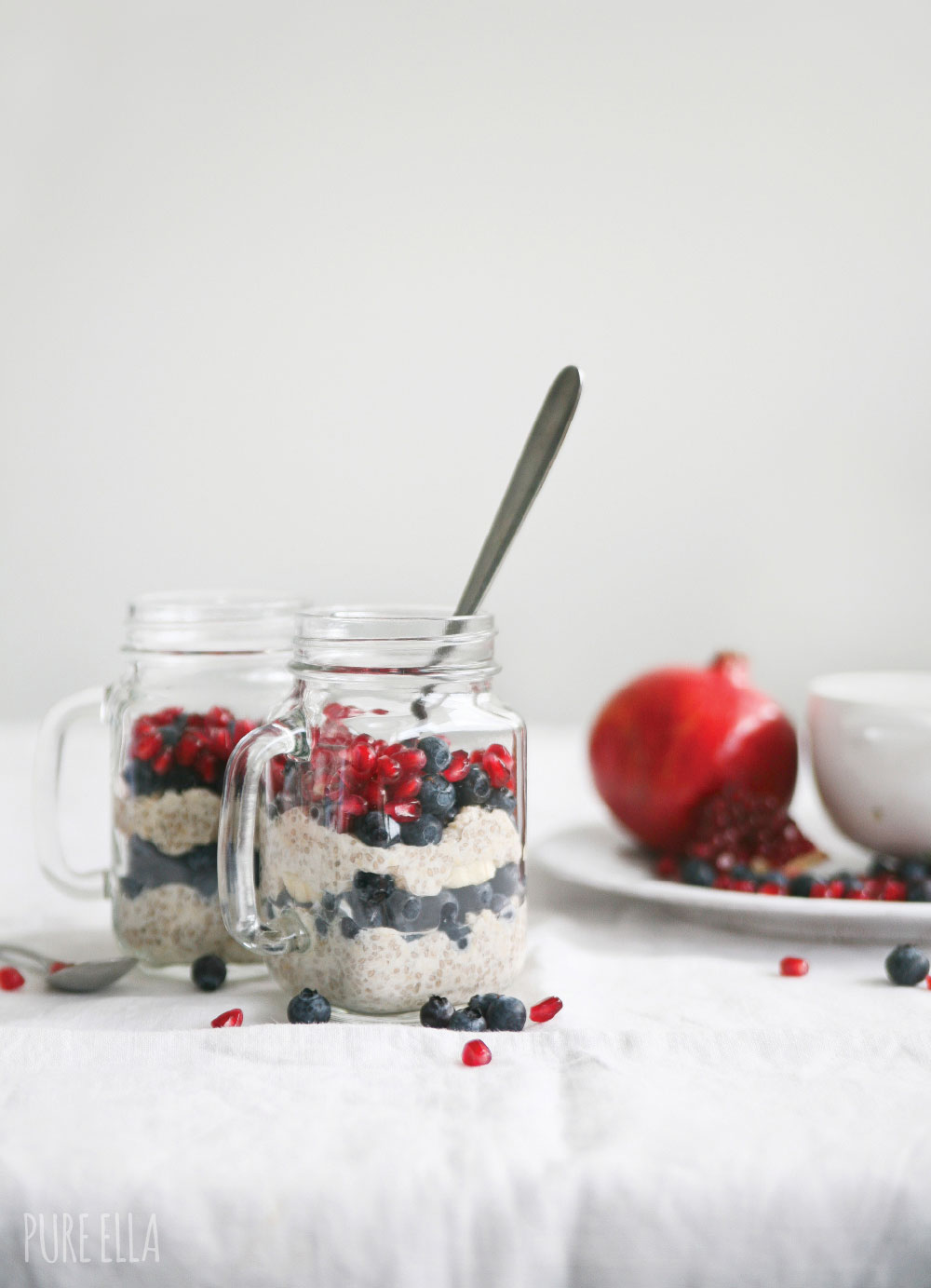 With a little planning the night before, less than 5 minutes, you can enjoy a great and healthy breakfast the next day.
You can also make enough to last for up to 3 days! Just triple the chia oats ingredients and store in an air tight container in the refrigerator. In the morning, mix with any fruit you have on hand – and that's it! you have a very nutritious and delicious breakfast in no time!! ;)
Have you made overnight oats/ chia oats before? What are your favourite fruit or toppings you like?
♥
Pure Ella
If you're new to Pure Ella, please sign up for email updates and join me elsewhere:
Facebook

//

Pinterest

//

Twitte

r //

Instagram

@pure_ella