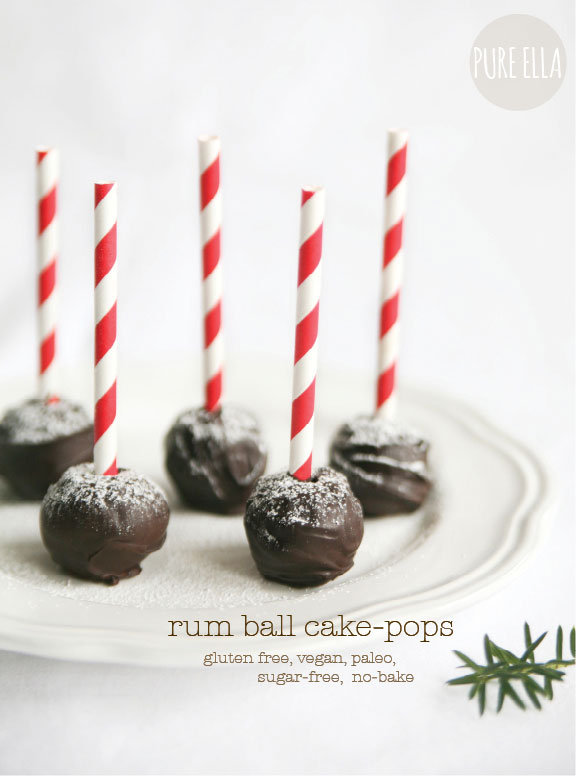 Naughty or Nice ~ when it comes to desserts, now you don't have to choose one! These Rum Ball Cake-Pops are divinely naughty in flavour…. rich, decadent, boozy, seductive… but they're also made with incredibly nice ingredients! These little temptation pops are completely guilt-free and dare I say…. good for you! (if you sub the rum, technically they sure are!) If you don't believe me, just glance at the ingredient list right now… Told ya so! There's nothing naughty, fattening, and oh-boy-I-should-not-eat-that — stuff in these stunning little dessert balls! ) And if you do count the rum in… well if there's no kids or pregnant ladies around… heck, it's the Holidays! Yes please!!
Other than guilt-free ingredients that are all gluten-free, vegan, paleo and sugar free; these are very easy to make and No-Bake! They literally come together in under 15 minutes!
Alright, the temptation is building up and I know you can't wait any longer… here is the recipe for Rum Ball Cake-Pops – the best dessert of the season (right along with the Amaretto Snowballs ;))
Rum Ball Cake-Pops
Ingredients :
1/2 cup walnuts
1/2 cup pecans
1/2 cup cashews
1 cup medjool dates, pitted & packed
1 teaspoon rum (sub rum to natural rum flavour if a non-alcoholic version is preferred)
1 teaspoon vanilla extract
3/4 – 1 cup dark chocolate squares or chips, over 70%, divided
pinch of sea salt or himalayan pink salt
+ powdered sugar for dusting (optional)
+ paper straws or cake pop sticks
.
Directions :
1. In a double boiler (or a dish over a small pot with water), melt 1/2 cup of the chocolate. Remove from heat when it melts.
2. In a food processor, process all the ingredients until fine.
3. Add in roughly 2-3 tablespoons of the melted chocolate to the date and nut mix and continue processing until it becomes well combined.
5. Place the mixture in a container and place in the freezer for a few minutes, (5-10 minutes is plenty) to let it harden slightly.
7. Meanwhile, if using paper straws, cut them right in half with scissors and prepare a sheet of parchment paper on a flat dish that can later fit back into your fridge.
8. Take the rum-ball dough out of the freezer and scoop a little onto the palm of your hands and roll into small walnut-sized balls. Take a half of a straw and dip the cut side into the melted chocolate, now press right into the centre of one ball (about 1/2 way through). Now, with the help of a spoon, roll in the melted chocolate and set down on the parchment paper, straw/ stick pointing straight up*. Return them to the fridge to let the chocolate harden**.
9. Just before serving, place the Rum Ball Cake-Pops onto a serving dish, sprinkle with powdered sugar and enjoy!
* if you want the cake pop on top, place into shot glasses until set (this version is a little more cumbersome as you need the right holding device as they set, and then to serve standing up.
** if serving in a very short time, place the Rum Ball Cake-Pops in the freezer to have them set quicker. About 10 minutes later they are ready to serve!
*** really pressed for time, and no sticks/ straws around – just make them as Rum Balls (no Cake-Pop) and voilà!
So if you're looking for the perfect little dessert for the Holidays that causes no stress, has no crazy ingredients and is quite easy and quick to make – these Rum Ball Cake-Pops are it! One more thing – they will impress and keep a lot of the gluten-free, vegan, paleo and allergy folks happy!
I would LOVE to come over to someone's house and have these served! I cannot be certain this will happen, so instead I will be bringing a box with a bow of these Rum Ball Cake-Pops – will anyone complain?… I wonder ;)
I know I'm looking forward to making another batch very soon!
I think it's very safe to say that these Rum Ball Cake-Pops will be the best thing you'll eat this Holiday!