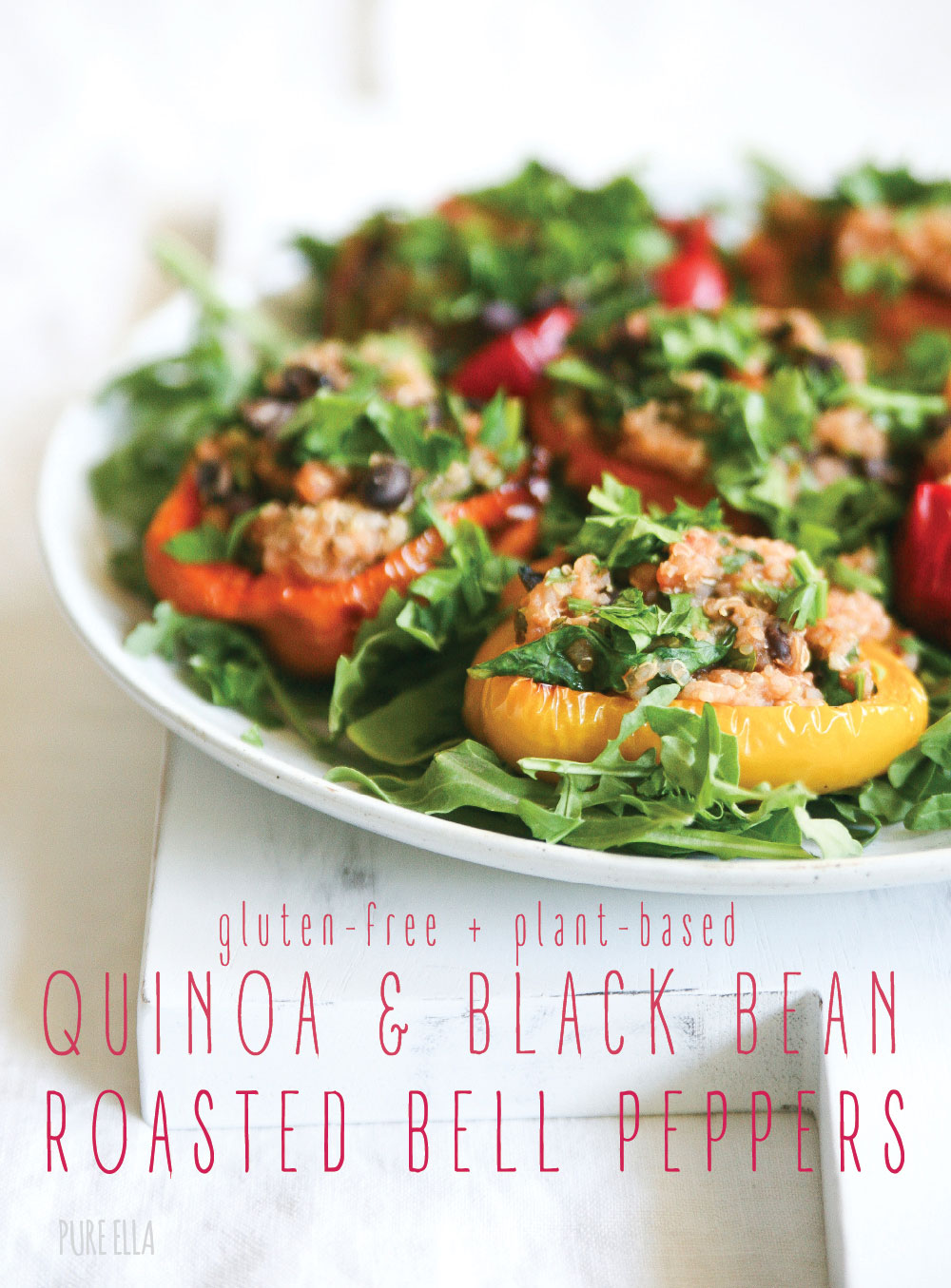 It's this time of the year I find my cravings go crazy on me. I go back and forth between comfort food and fresh vibrant food…
What do I really want? I want a filling hearty meal that feels like comfort-food but with a lightness and freshness of a Spring meal. I think these Quinoa & Black Bean Roasted Bell Peppers fit all these mixed cravings into one perfectly.
These are light and fresh tasting (and so pretty with all these colours, no?) but they also have a heartiness and warmth of a comfort-food meal.
Best of all they come together in less than 30 minutes. Just as the peppers finish roasting in the oven, the one-pot quinoa dish is ready to get filled in. Simple, tasty, beautiful and of course very healthy! My kind of food.
This is a healthy recipe that is naturally gluten-free and plant-based, which means vegan, dairy and egg free. Which also means that this recipe is allergen-friendly. Perfect for families with mixed diets or allergies.
The Quinoa Black Bean mix also makes a perfect meal or side dish on its own. I think you will love this healthy gluten-free recipe!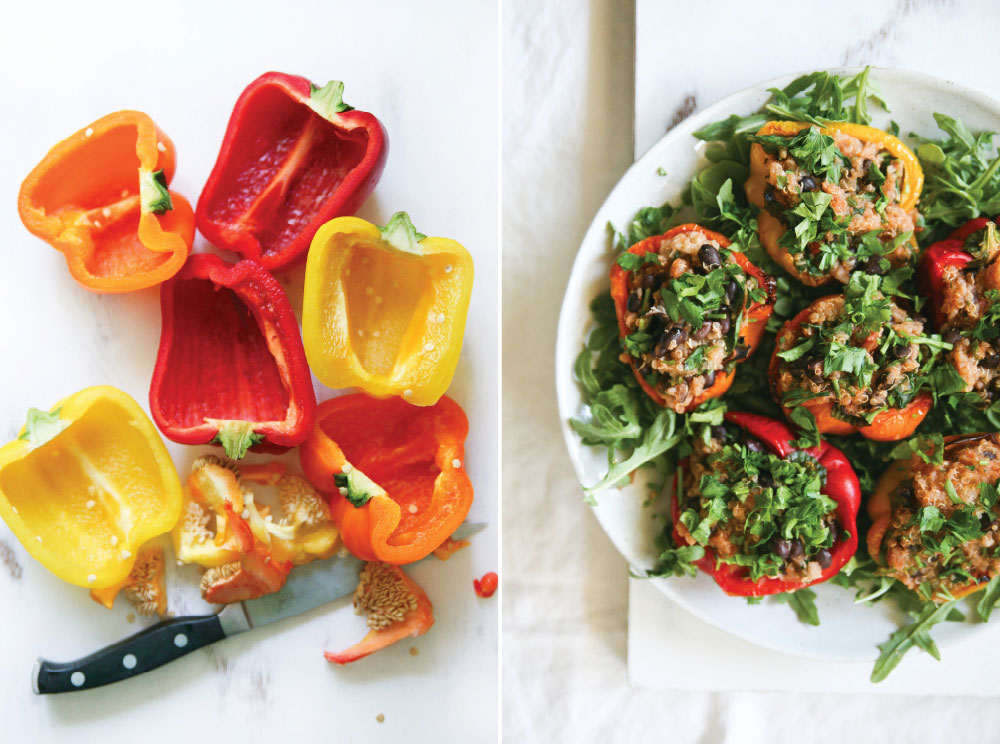 QUINOA BLACK BEAN ROASTED BELL PEPPERS
gluten-free, vegan, dairy-free
Ingredients:
4 multi coloured bell peppers

1 cup quinoa

1 medium onion

1 can black beans, rinsed and drained

1/2 cup sundried tomatoes, chopped

2 handfuls of baby spinach

1/2 teaspoon cayenne pepper

sea salt and fresh ground black pepper to taste

1/2 lemon

, juiced

1/2 cup fresh parsley, chopped + extra for serving

olive oil for cooking

arugula for serving
Instructions:
Heat oven to 350 F and line a baking sheet with parchment paper.

Wash and pat dry the bell peppers.

Cut in half lengthwise and the remove seeds.

Drizzle over with olive oil and rub all over and place on a baking sheet.

Bake at 350F for about 20 minutes until softened.

Meanwhile, in a medium pot, drizzle in oil and add in onion.

Stir and sautee until golden on medium heat.

Add in about 3 cups of water and 1 cup of quinoa plus 1 teaspoon of sea salt.

Cook for about 10 minutes covered on lower heat, stirring occasionally.

After 15 minutes, turn off heat and fluff with a fork, mix in spinach and let stand covered about 5 minutes.

Once removed from heat, add in black beans, sundried tomatoes, cayenne pepper and lemon juice.

Taste and season with sea salt and pepper to your liking.

Stir in 1/2 of the parsley.

Remove bell peppers from the oven.

Lay a bed of arugula on a large plate and place the peppers on top.

Scoop the quinoa into the bell peppers and top with extra parsley and freshly ground black pepper.

Enjoy.