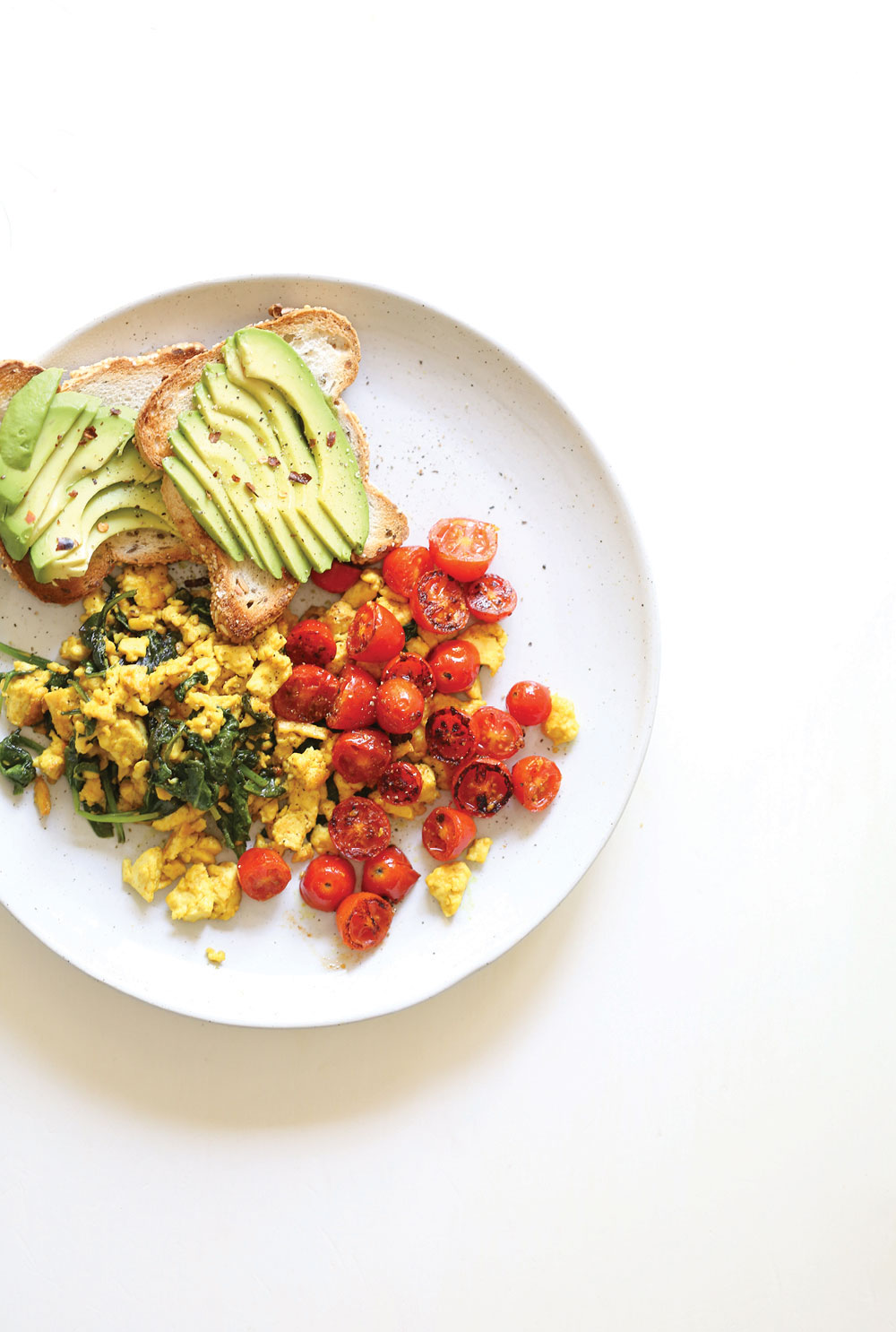 Hope you ALL know this by now – but I LOVE breakfast! And this amazing Turmeric Tofu Scramble is my all-time go-to!
It's filling, high in protein, tasty, sugar-free (the best way to start breakfast) AND done in 5 minutes! BAM! (read that in Emeril Legassi tone! ;))
If you're still not sure about a tofu scramble…. (even if you eat eggs) you have to try it! It's surprisingly delicious and light and fluffy, packed with flavour AND so nutritious – high in protein and calcium and iron and contains magnesium too ~ the perfect dose of nutrients to start the day!
AND even egg-lovers LOVE this!! I had a phase when I missed eggs (I loved them but they didn't love me back) and have started experimenting with tofu scrambles and this is by far my fave and super quick recipe. It's just 5 minutes and tastes so good – I've had friends who eat eggs try this end they agree – it's super yum!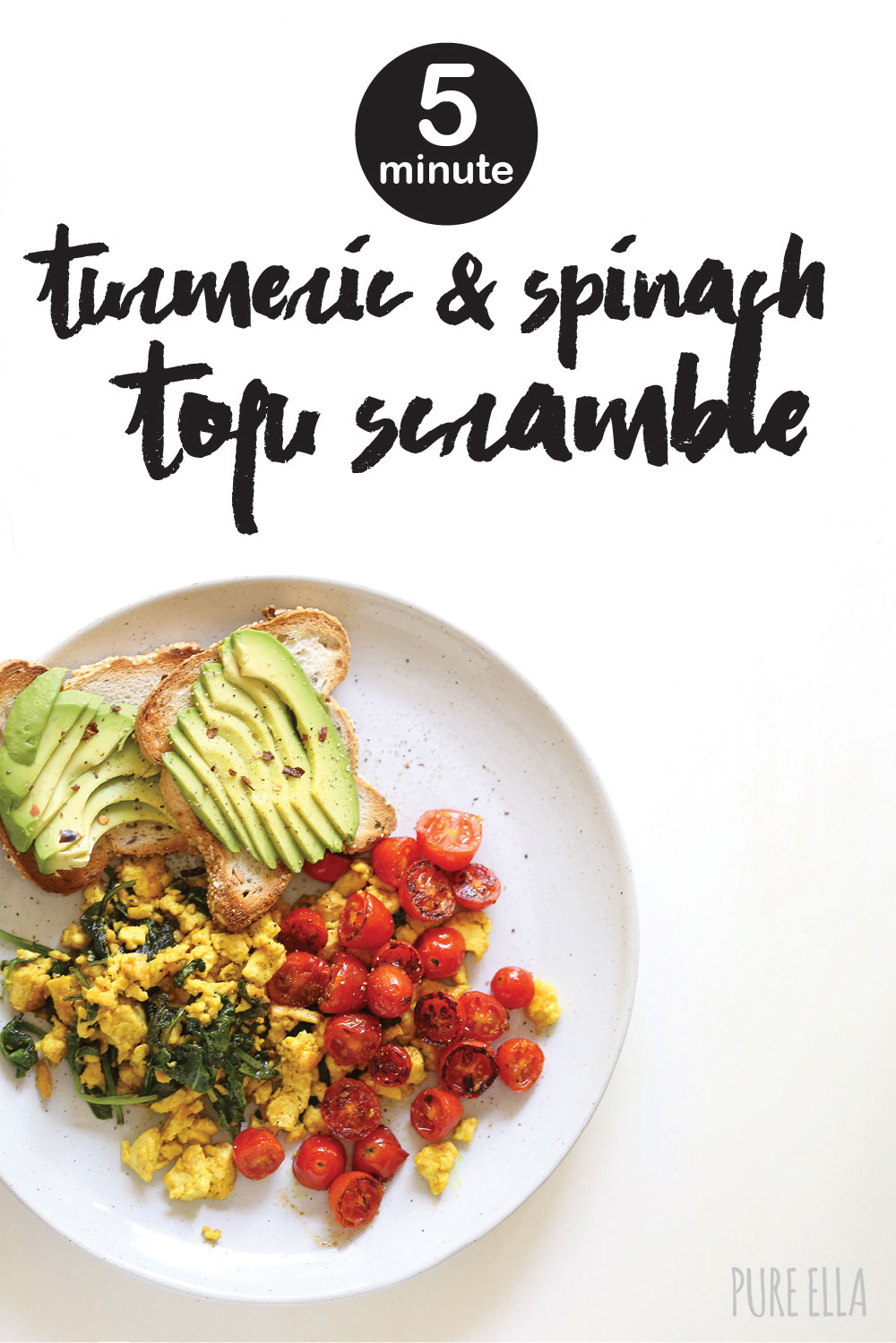 5 Minute Turmeric Tofu Scramble
(egg-free, dairy-free, vegan, gluten-free, grain-free, sugar-free)
Serves 2
Ingredients:
1/2 package (15 oz.) organic firm tofu (sprouted is great too)
2 tablespoons nutritional yeast (optional)
1 teaspoon turmeric powder
1/4 teaspoon cayenne pepper
freshly ground black pepper (MUST)
1/2 teaspoon fine sea salt
2 tablespoons non-dairy milk or Veganaise
grape seed oil for cooking
Add ins:
bunch of baby spinach
cherry tomatoes
avocado toast*
Directions:
NOTE: if serving cherry tomatoes along with this recipe, prepare those separately in another pan and just cook over a bit of oil or roast in the oven.
Drain the tofu from the water and break the tofu into small crumbs. (I slice the tofu into chunks first, put into a bowl and press with a fork to get smaller crumbs.)
Add the nutritional yeast, turmeric, pepper, salt and milk and stir well.
Heat a medium nonstick skillet over medium-high heat and add oil. (I use a cast iron pan for this always).
Add the tofu into the pan and cook for about 3-4 minutes stirring occasionally.
Add the baby spinach and cover with a lid to allow the heat to steam the spinach. Turn the heat off when you do this and uncover and stir a couple times more.
Serve hot with cherry tomatoes and avocado toast. (red peppers or other veggies also work great, but tomatoes are much quicker to cook and the focus here is 5 minutes!) :)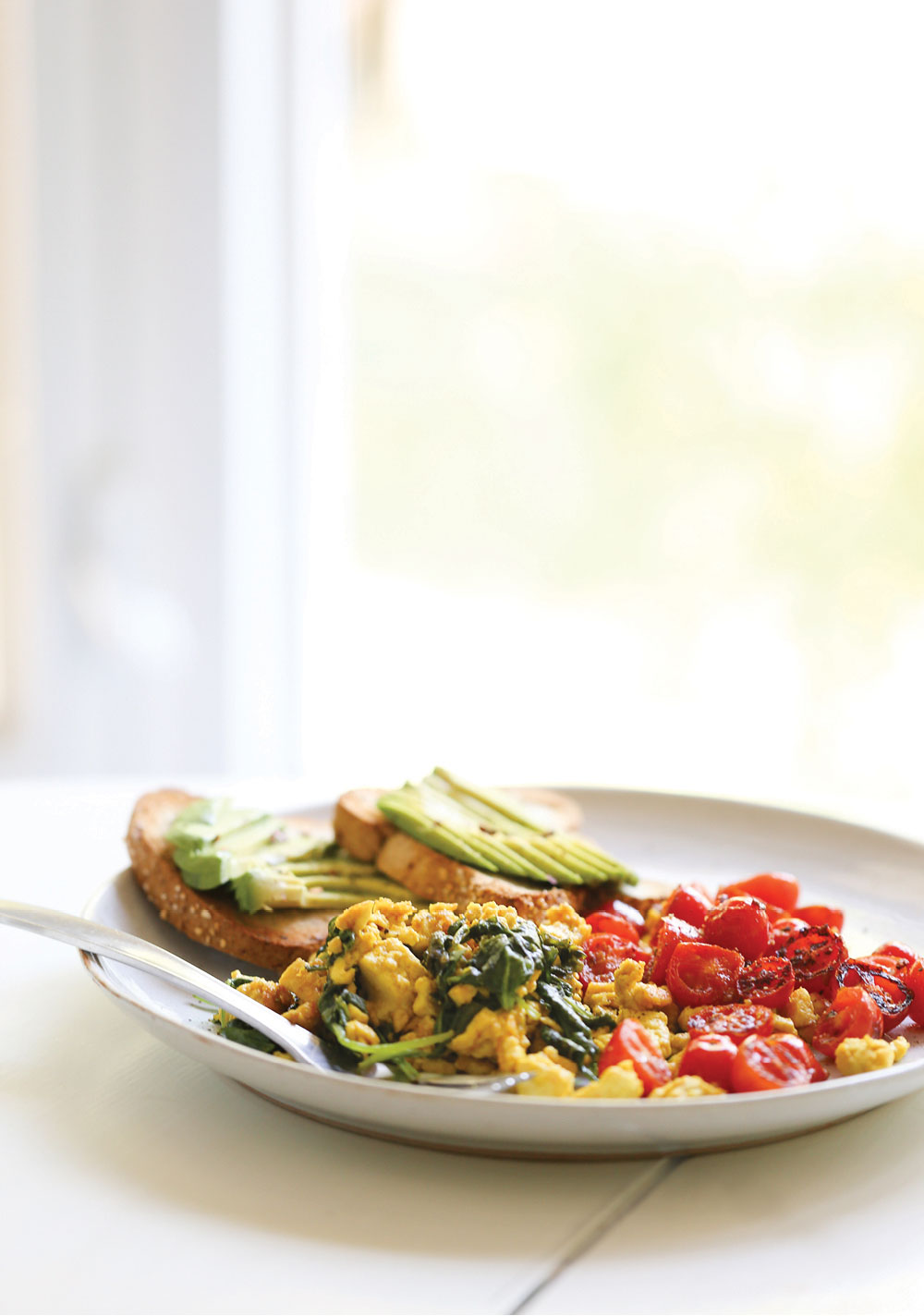 It's breakfast and you should never skip breakfast so this is already a great step in the right direction to cut the sugar :)
This breakfast is high in protein – which is excellent when you're cutting out sugar because you want to feel full and satisfied with your meal. When your belly is happy you shouldn't be/ won't be craving bad foods especially sugar!
Packed with more nutrition – protein (as discussed above), calcium, iron, vitamin C (from the tomatoes and spinach), B Vitamins (from the Nutritional Yeast), healthy fats (from the avocado) and magnesium – everything that your body needs to start the day the right way!
Low-Carb – just a single toast is all you need and in this case I used a gluten-free toast because I try to share more gf recipes here for the blog. But I would usually eat this with a nice Organic Rye bread that's super dense with sunflower seeds and is yeast-free and wheat-free and is low-glycemic.
The choice of the bread for your avocado toast is super important as the quality of the breads out there varies so much. Look for something with more substance so that you're getting healthy complex carbs instead of simple carbs that provide your body with nothing. Gluten-free doesn't always mean healthy either, just so you know ;)
Sugar-free! So there's virtually no added sugar in this breakfast which is THE best way to start the day as it's all about that taste of sweet that gets you craving more! (Just the bread has sugar so watch the quality of bread you get and make sure you have 1 or 2 slices instead of 4 slices of bread as all carbs contain/ are sugar.
Ella Leché
is a cookbook author ('
Cut the Sugar
'), recipe developer, and photographer/stylist behind Pure Ella; where she shares delicious and healthy recipes. Eating PURE is clean ingredients, whole foods, plant-based nourishment and delicious desserts – with quality ingredients and sweeteners so they're treats with benefits so you won't have to feel deprived or restricted to eat healthier.
Thank YOU for being here!
Follow on social media for daily health & happiness inspiration:

ps. don't forget to share your Pure Ella (PE) recipe creations by tagging them #pureella and
@pure_ella
on Instagram – we repost our favourite photos!