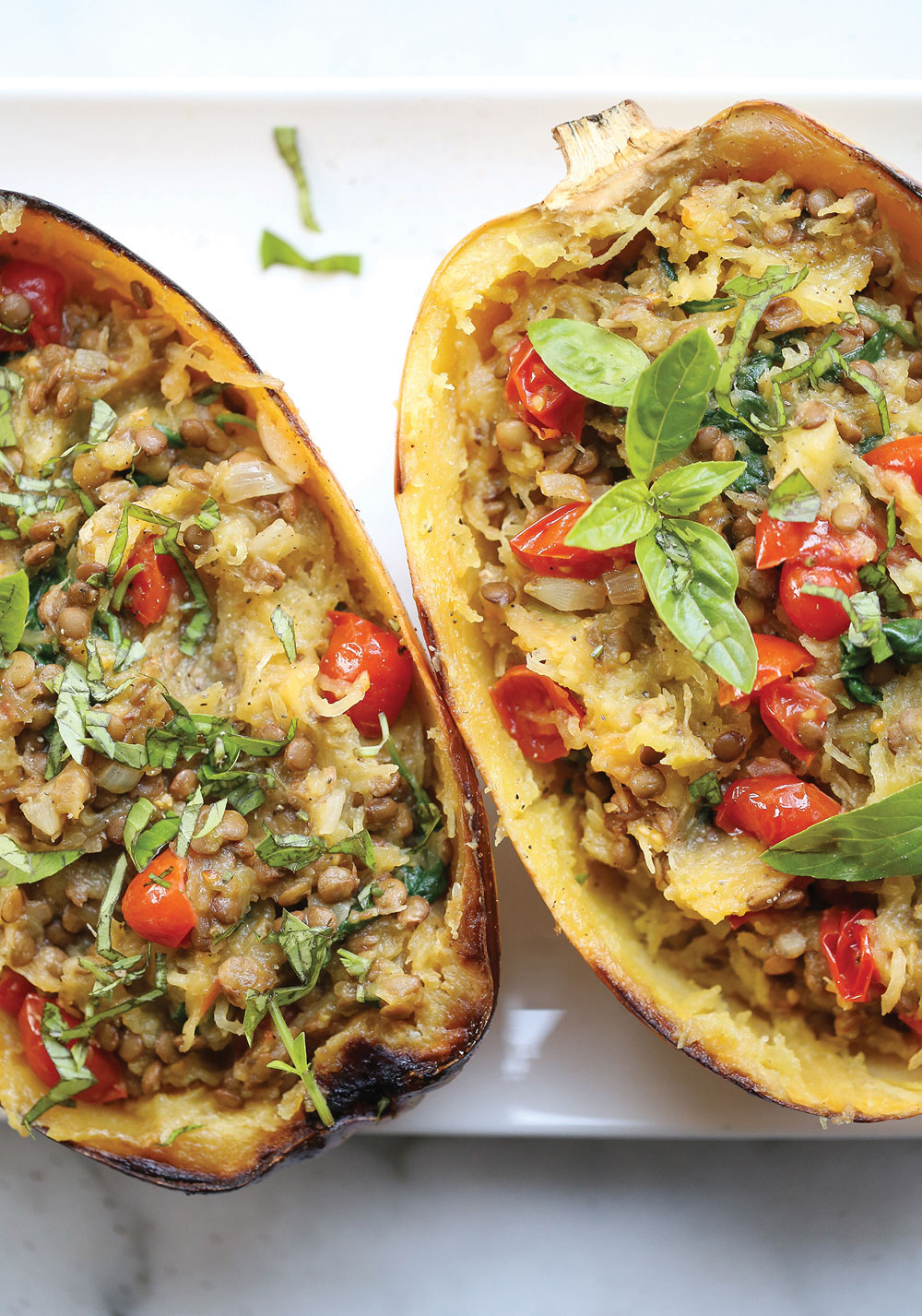 Hope you're as excited about this Spaghetti Squash Recipe with Green Lentils just as I am! Because, WOW ~ this is so crazy delicious, simple and easy to pull off (and super quick to make too!) Best of all it's pure natural good food that's good for you!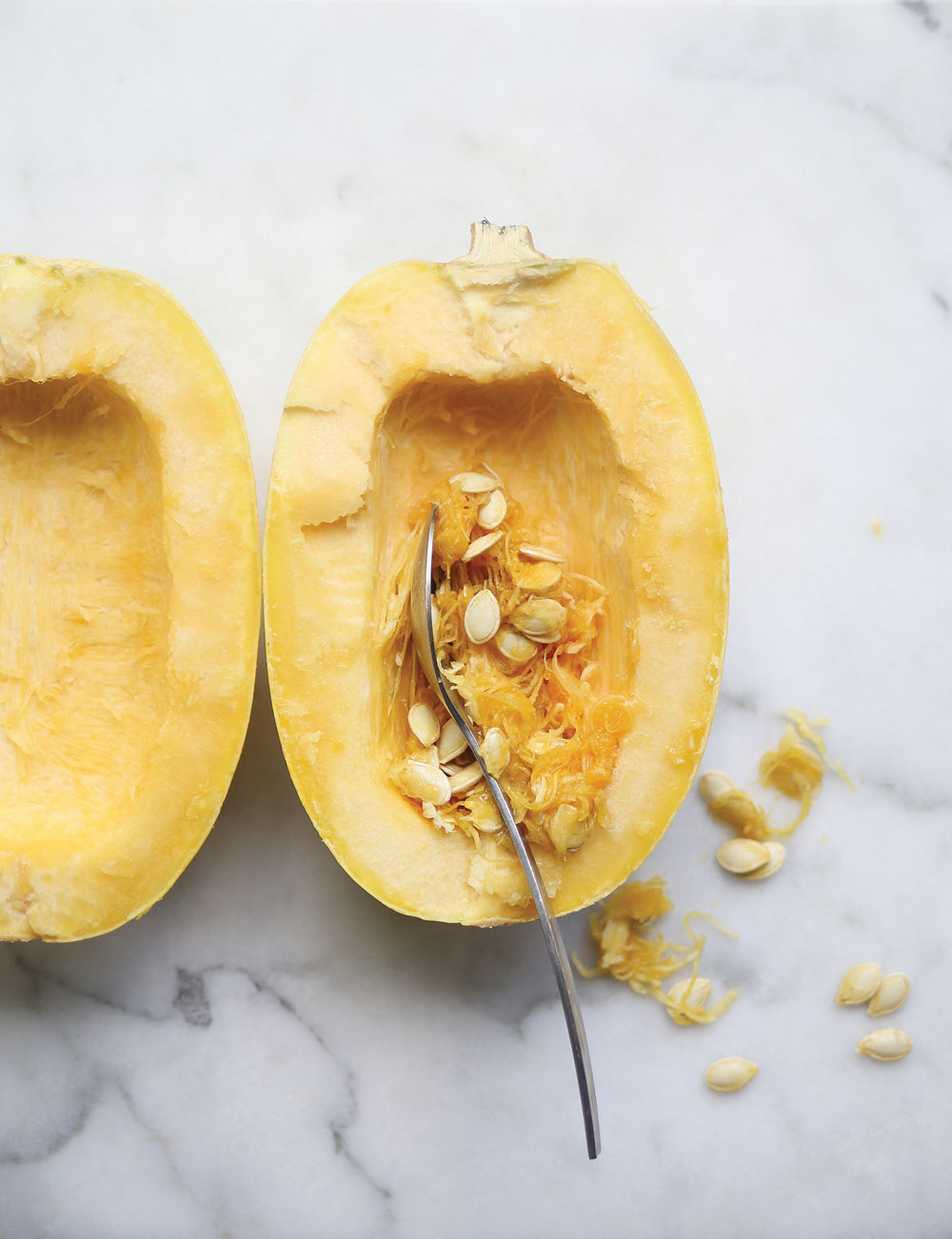 This dish is low in carbohydrates, grain-free, gluten-free and vegan too! What does all this mean? It basically means that EVERYONE can eat this! It's also super filling but won't leave you bloated or give you that heavy feeling in your stomach.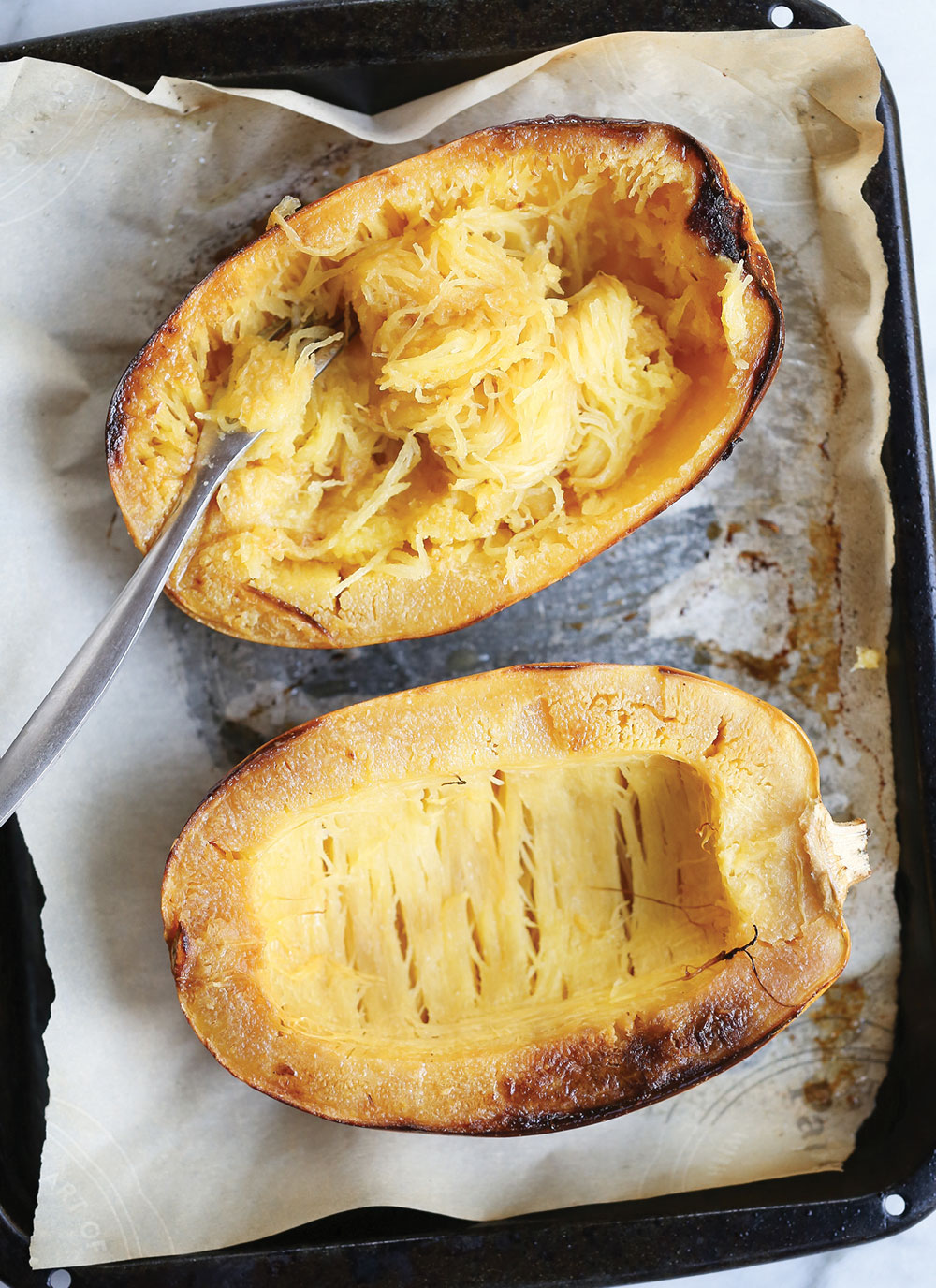 One thing I struggled with when I started to eat healthier was that I noticed how difficult it was for families/ hosts to make dishes that please complicated diets/ allergies/ intolerances etc. Now that I've learned so much about food and how to really eat healthier (and not 'healthier') ;) is that it's all in the simplicity of the ingredients. When you stick to simple food that's good for you – then you basically eat well and feel well!
This connection to food as a way to feel well is such a skewed concept out there that I'm baffled when I see recipes that get the label 'healthy' but really are so far from what healthy food is… it's unfortunate that the food community (from companies, advertising and yes, even food bloggers) pass everything as healthy and really confuse people in the process…
But this isn't the time or place to get into the craziness of the 'healthy' food scene out there… because… there's a great recipe right here for you that you just have to try!
(But, I will be back with more on this topic very soon ~ because I feel like I have so much to say and don't use this platform enough to make my voice heard.) My personal drive to walk again on my own strength is enough of an inspiration for me to move forward and to inspire others to make great changes to their health ~ so, stay tuned my friends! :)
Now, let's get excited, because these Spaghetti Squash Boats with Green Lentils are AMAZING!! :)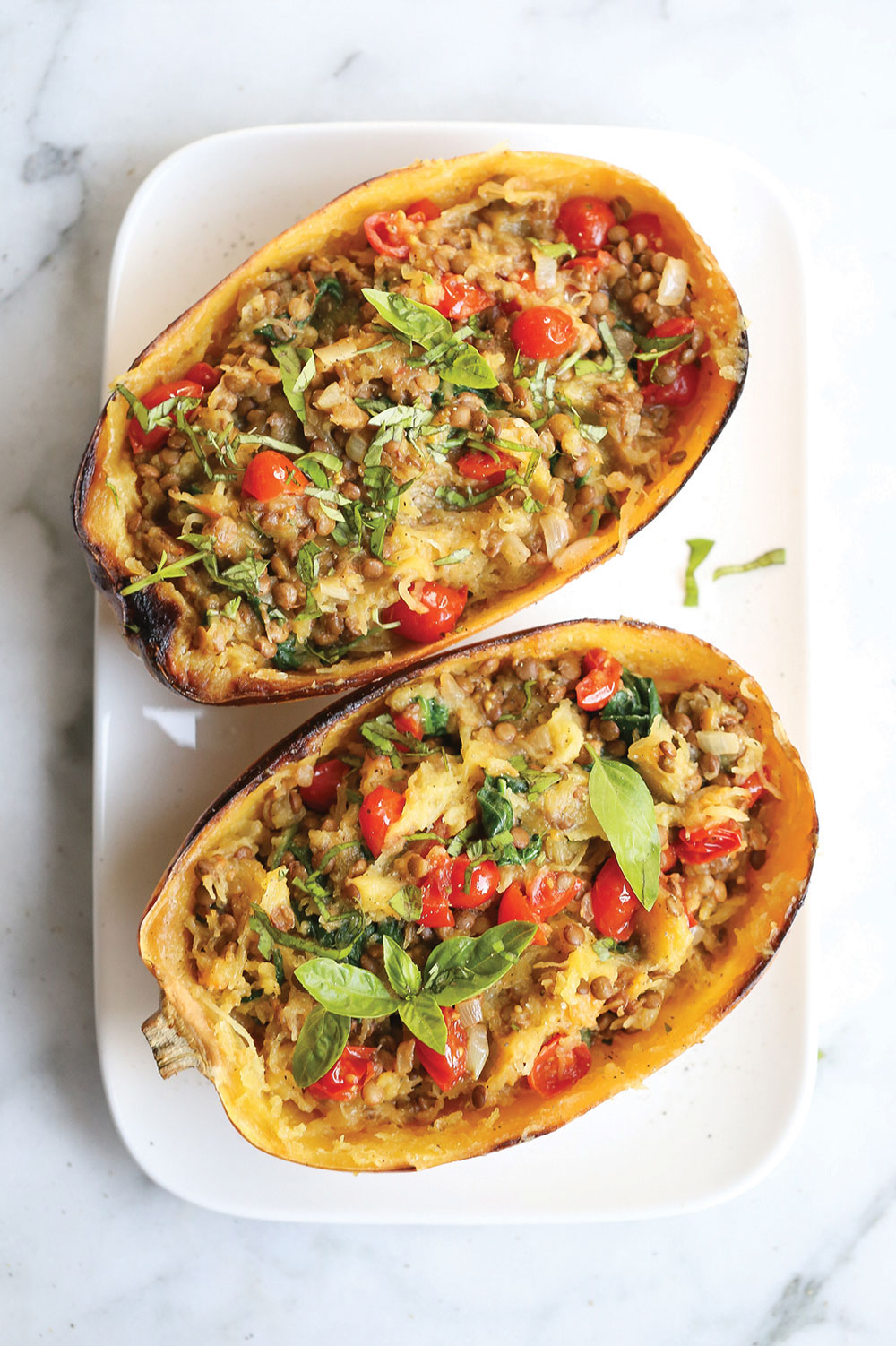 Spaghetti Squash Recipe with Green Lentils
gluten-free, grain-free, vegan, low-carb, dairy-free (very allergen friendly)
prep time: 10 minutes cook time: 30 minutes
Ingredients:
1 large Spaghetti Squash
1 medium onion
1 cup cherry tomatoes, halved
1 can of green lentils (19 oz can), rinsed and drained (or previously cooked)
bunch of baby spinach or chopped spinach
1 teaspoon celery seeds
1/2 teaspoon turmeric
1/4 teaspoon cayenne pepper
sea salt and pepper to taste
fresh basil or thyme for plating
grape seed oil for cooking
Directions:
Preheat oven to 350F.
Line a baking pan with parchment paper and drizzle with olive oil.
Halve the Spaghetti Squash lengthwise and scoop out the seeds and strings from the center and place on a baking sheet cut side down and bake for 30 minutes.
Remove from oven and let cool completely by basically setting aside and preparing the other ingredients.
In a large skillet, drizzle in grape seed oil and sautee the onion, add in the cherry tomatoes and continue cooking uncovered for about 2 minutes until the tomatoes brown slightly.
Stir in the lentils, spinach and seasoning: celery seeds, turmeric, cayenne pepper, salt and pepper.
Reduce heat to low and cover the pan to allow the spinach to wilt and heat the lentils.
Turn off heat and set aside.
Back to the squash, fluff the 'meat' of the squash with a fork and scoop into the skillet.
Stir to combine all the ingredients well. Adjust seasoning if needed.
Scoop into the shells of the squash evenly.
Top with chopped basil and serve hot.
NOTES:
This dish comes together very quickly! :) You can bake the squash a day in advance and keep in the fridge. And the prepping of the squash is really quick too – just cut once and scoop and pop into the oven. The oven does all the work – you do nothing :)
Then just sautee the ingredients before serving – it literally takes about 5 minutes to put this together once the squash is ready.
You can serve this as a dish all on its own or make it as a side dish and serve it with grilled wild salmon or chicken if you wish.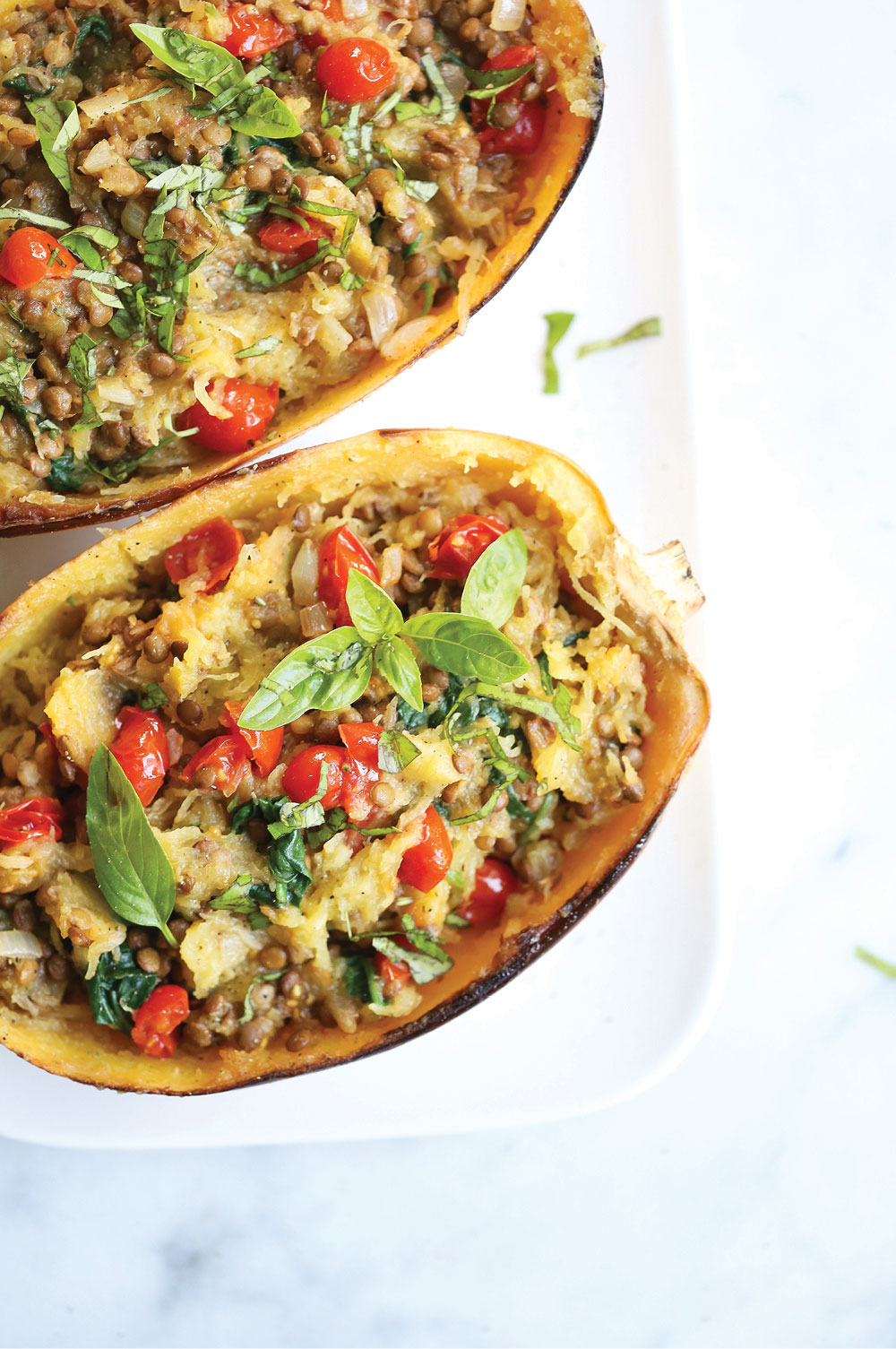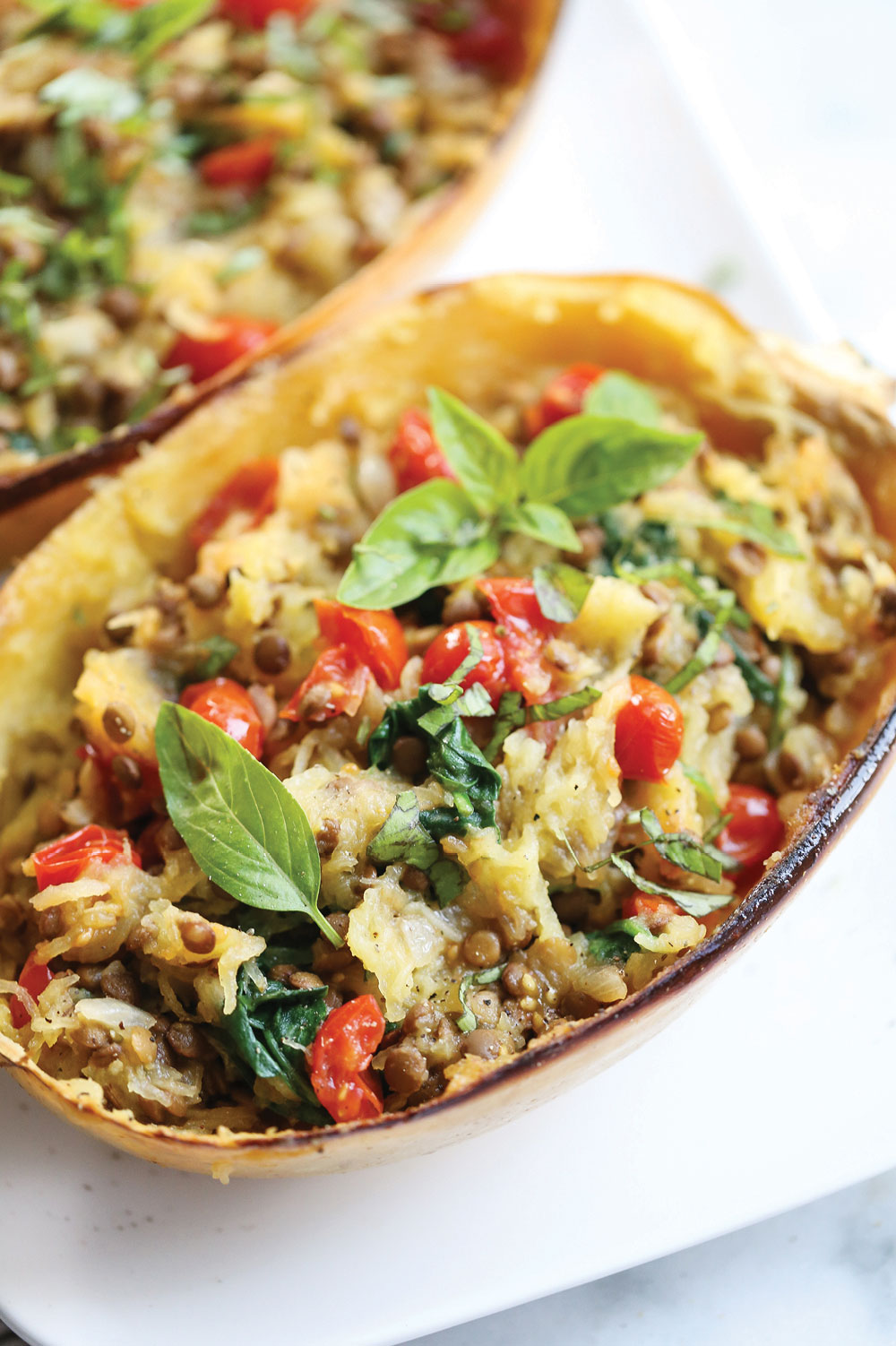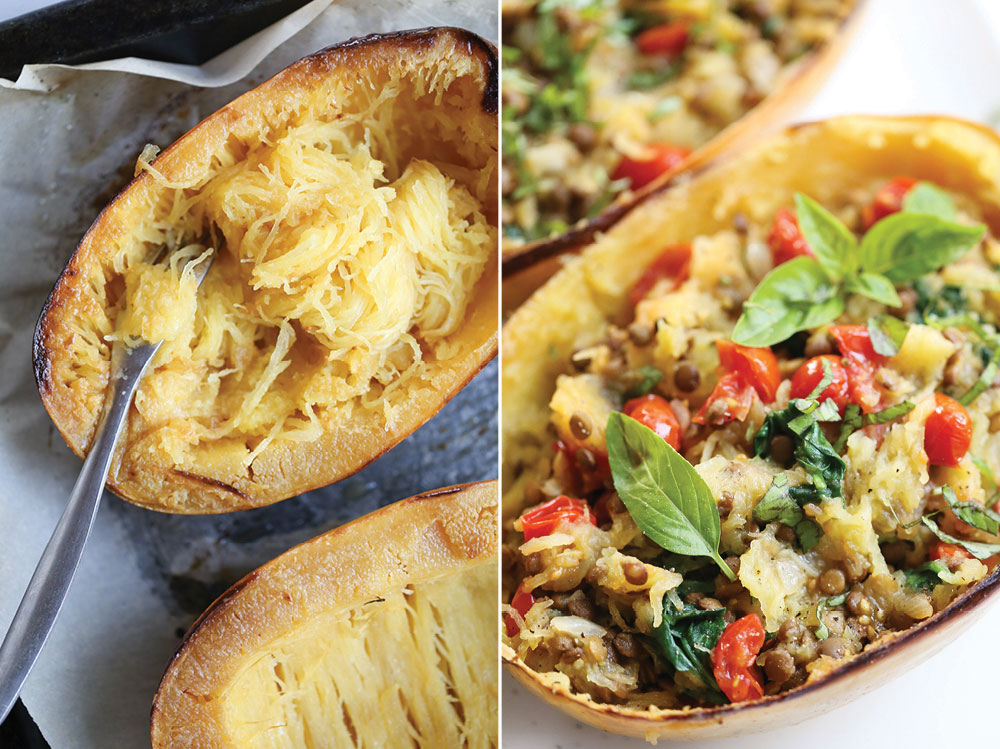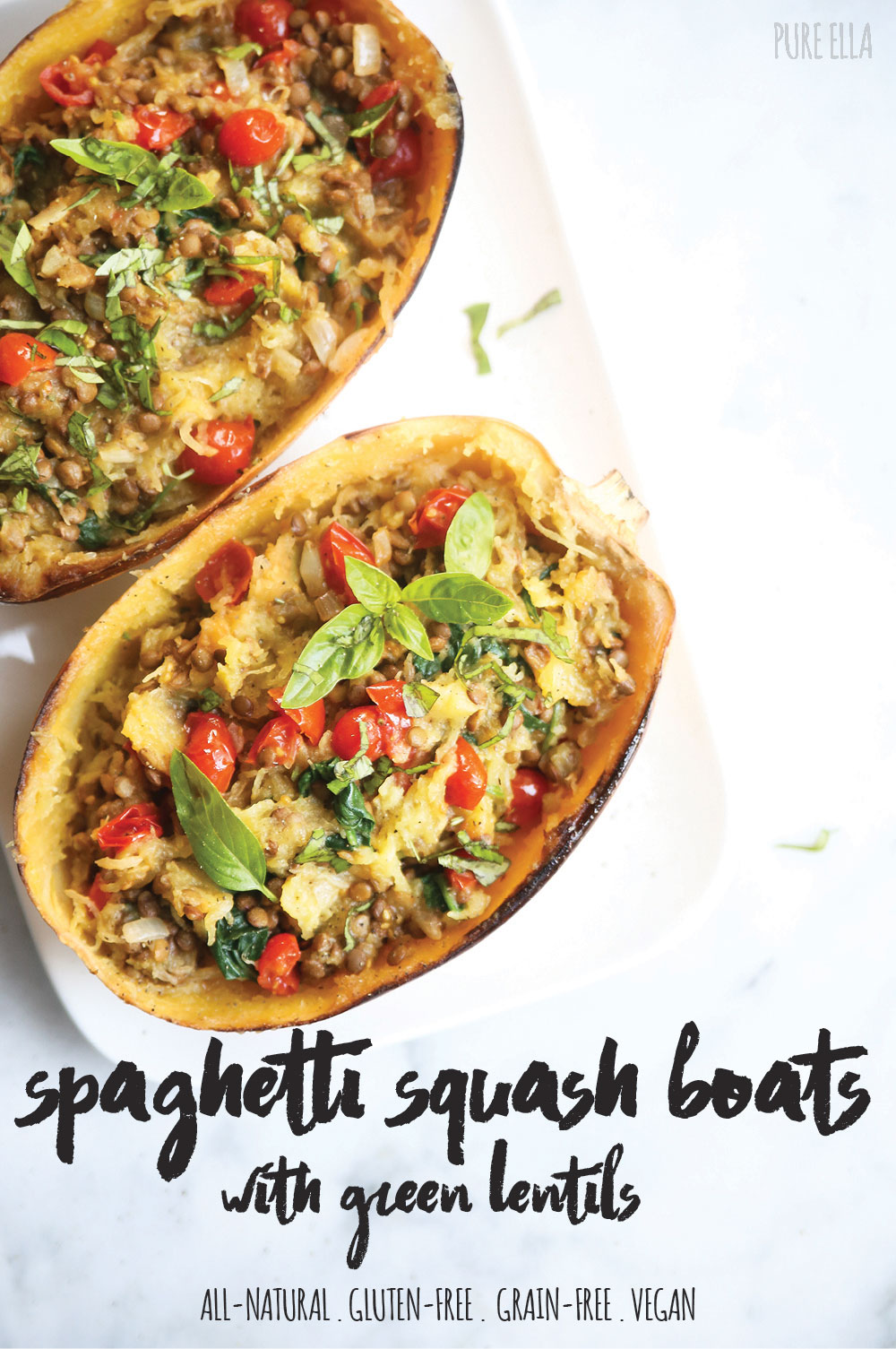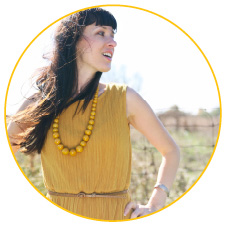 Ella Leché
is a cookbook author ('
Cut the Sugar
'), recipe developer, and photographer/stylist behind Pure Ella; where she shares delicious and healthy recipes. Eating PURE is clean ingredients, whole foods, plant-based nourishment and delicious desserts – with quality ingredients and sweeteners so they're treats with benefits so you won't have to feel deprived or restricted to eat healthier.
Thank YOU for being here!
Follow on social media for daily health & happiness inspiration:

ps. don't forget to share your Pure Ella (PE) recipe creations by tagging them #pureella and
@pure_ella
on Instagram – we repost our favourite photos!