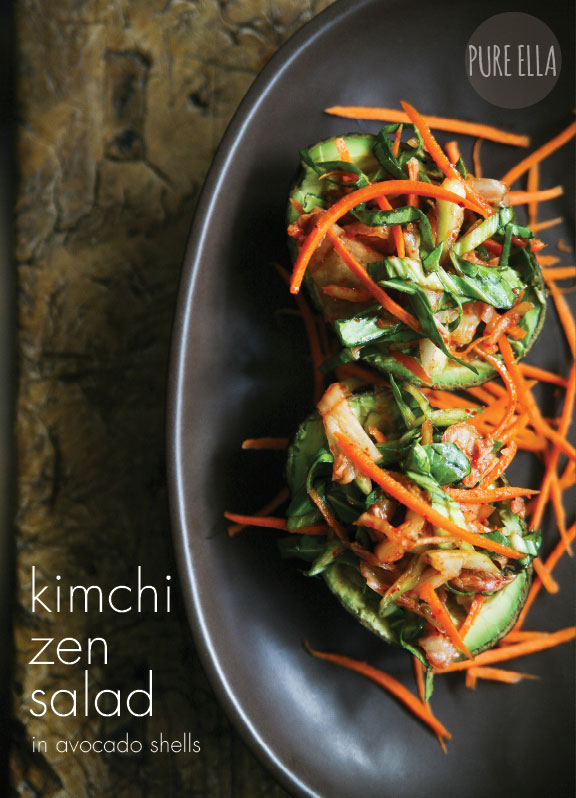 Lately I've had this insane craving for Kimchi! And I just had to have it!
I scoped around several stores in our area including Whole Foods and when I couldn't find it myself I finally had to ask (in complete desperation) if they could help me find it!
After rechecking with several clerks I was delivered the news "We're sold out!" (Ok, let's expand on that exclamation mark!!!! I was completely shocked!) This was my third attempt and it's like Kimchi has gone extinct! Or just got extremely popular! Maybe both?
"Oh no… but I'm pregnant!" It was no use. Kimchi was just a fantasy at that point. There was nothing I could do and no interest at that time to ferment cabbage for 3 weeks before I could get a bite!
Days went by and I gradually learned to stop whimpering the word "kimchi" with the fridge door open at lunchtime when preparing my lunch. I haven't really given up but I wasn't going to go crazy for fermented cabbage… or was I?
And then this happened: My sweet husband just walks in through the front door and hands over a jar of Kimchi to me! I jumped for joy and skipped all the way around the kitchen island to plant a big kiss on him! The guy doesn't do flowers, but he does Kimchi and I was in Love! (with both of them ;))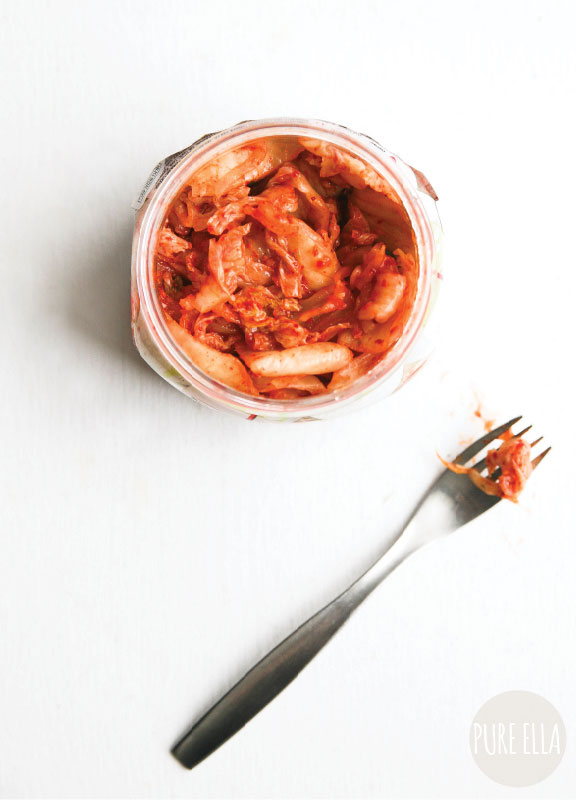 The first and last time I had Kimchi before was on our last Summer trip to Montreal, when we enjoyed a stay at a great Asian restaurant in Montreal. I couldn't get enough of this stuff. My husband didn't get it. I loved it!
So what is Kimchi anyway? If you're unfamiliar with the latest super-food – Kimchi is a spicy pickled (or fermented) cabbage that is traditionally from Korea. It has a flavour combination of spicy, sour and a little sweet depending on what variety you get.
It's been a cultural dish in Korea for nearly 3,000 years so it's a big part of their daily tradition. Even when taking pictures, people there say "Kimchi" not "cheese" when smiling for their pictures. Fun, right? ;)
Kimchi is loaded with Vitamins A, B and C and lots of fibre. But the biggest benefit in Kimchi has to be the beneficial bacteria called lactobacilli which is found in fermented foods that helps with digestion and promotes a healthy gut. Some studies even show that there are compounds in fermented cabbage that prevent the growth of cancer.
I myself am very new to Kimchi, I grew up on sauerkraut so fermented cabbage wasn't anything new. But this is different!
I love the flavour that is spicy yet slightly sweet and tangy. It's becoming a favourite condiment or side dish to our Asian cuisine experiments ;)
And this recipe is one of them : Kimchi Zen Salad in Avocado Shells - to catch it, go visit my guest post on Tasty Yummies today ;)
Thank you Beth for having me over on your beautiful blog! ;)
If you're new to Pure Ella, please sign up for email updates and join me elsewhere:
Facebook
//
Pinterest
//
Twitte

r
//
Instagram
@pure_ella
Back to Blog