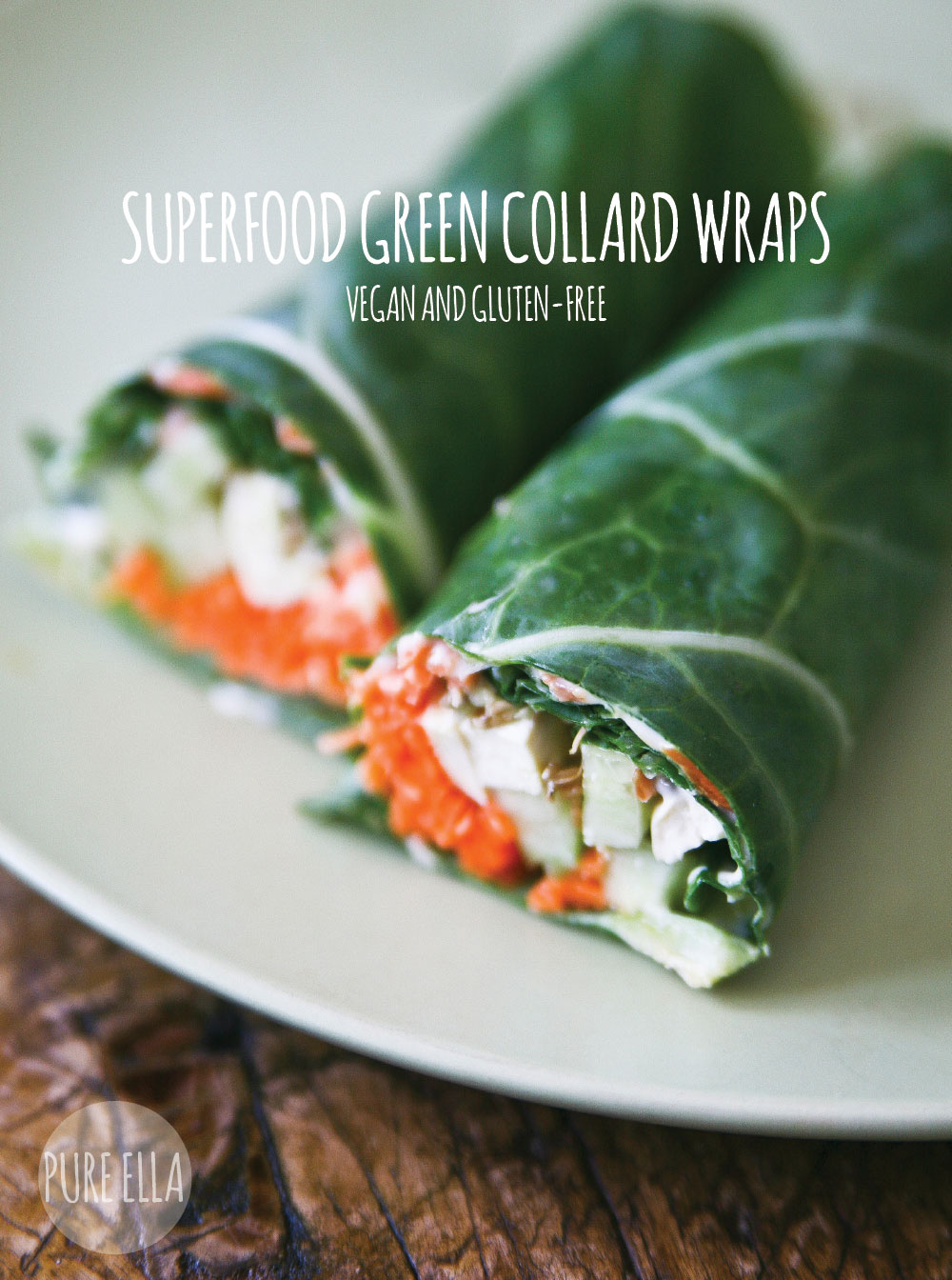 There's something about biting into something that's awesome and good-for-you that I can't wrap my head around….
Oh wait, I actually can ;) Green Collard Wraps are something that you can easily 'wrap' around your head – it's fresh pure and healthy food, simple as that.
Sometimes we just try too hard… and get a little confused about healthy eating. When the answer is right there in fresh natural food. That's why I love these delicious naturally gluten-free and vegan Superfood Green Collard Wraps. These wraps keep it simple yet very delicious. Using fresh green collards as a wrap is amazingly healthy and so great to bite into. And I've added fenugreek sprouts for their superpowers to kick things up a notch. All together – this is one great and healthy lunch that I can't wait to make over and over again! ;)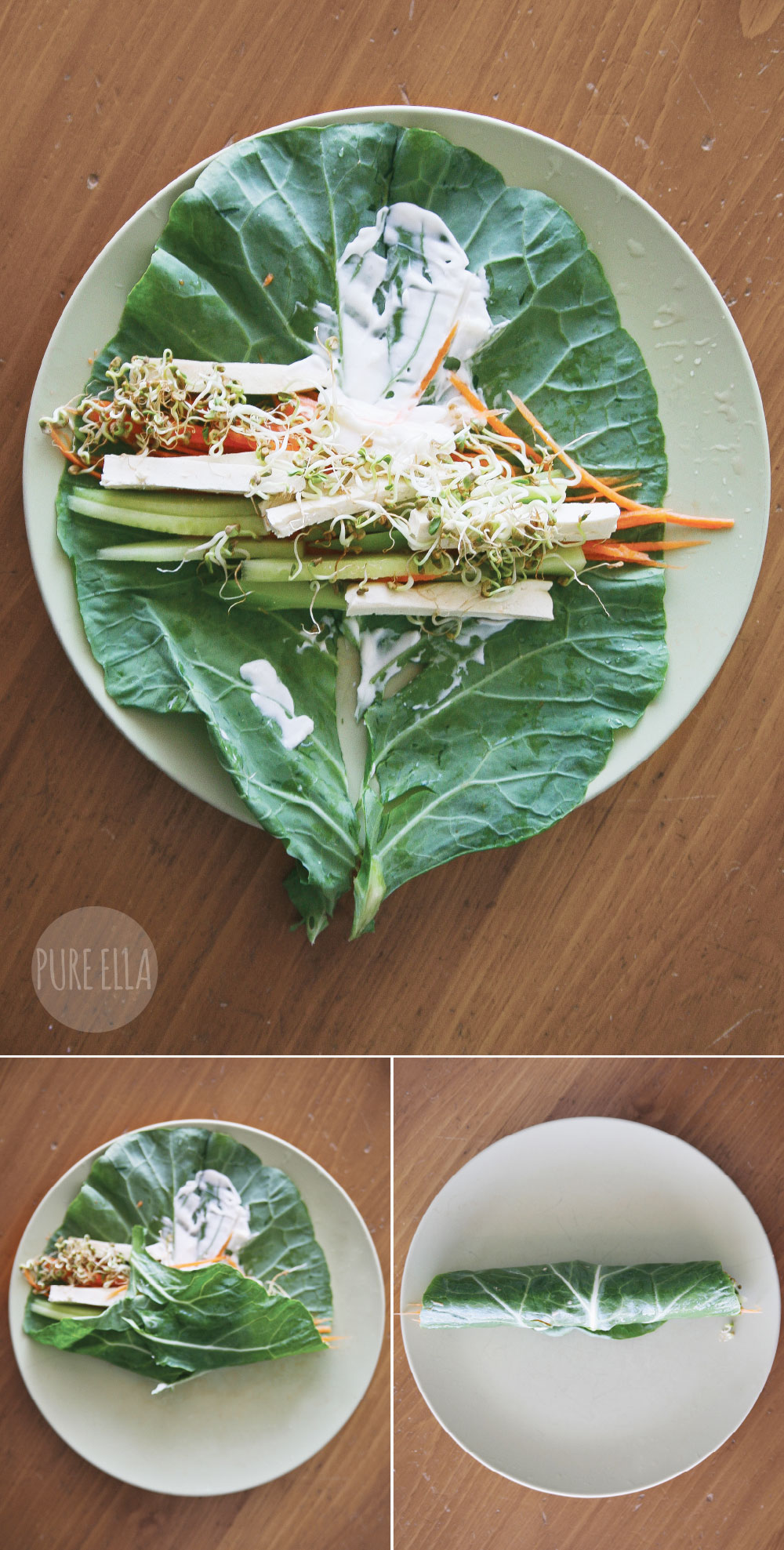 Superfood Green Collard Wraps | vegan and gluten-free
10 minutes prep time, serves 2
Ingredients :
4 large organic green collard leaves
2-4 tablespoons vegan mayo (vegeneise)
1 large organic carrot, cut into matchsticks
1 organic cucumber, cut into thin strips
1/2 package of organic firm tofu, cut into long thin pieces
fenugreek sprouts – or any other sprouts available
Directions:
Rinse all vegetables. Peel the carrot and slice into thin matchstick pieces. If using organic cucumber, don't peel it – there's lots of naturally occurring silica (a mineral) which is known to help promotes joint health by strengthening the connective tissues. Prep all the other ingredients and set aside.
Take the collard greens and cut out the hard inner core. Spread a thin layer of vegan mayo, and pile on the veggies, tofu and sprouts. Roll up with the bottom of the leaf in first, cut in half and serve. Enjoy the goodness!
Amazing Benefits of Fenugreek Sprouts
:
Fenugreek Sprouts are rich in vitamin C, proteins, fibers, niacin, potassium, iron and alkaloids. It is also rich in a compound called diosgenin which has estrogen-like properties and steroidal saponins.
Help control diabetes.
Promote weight loss.
Help in cardiac health as they help to balance heart rate and blood pressure.
They are anti-viral.
Rich in antioxidants.
Improve digestion.
Combat signs of aging, skin problems and helps to promote healthier hair.
Improves lactation in breastfeeding moms.
Not safe for pregnancy however, but great for labour pains and inducing labour. Great to add to your diet if you're right on your due date.
.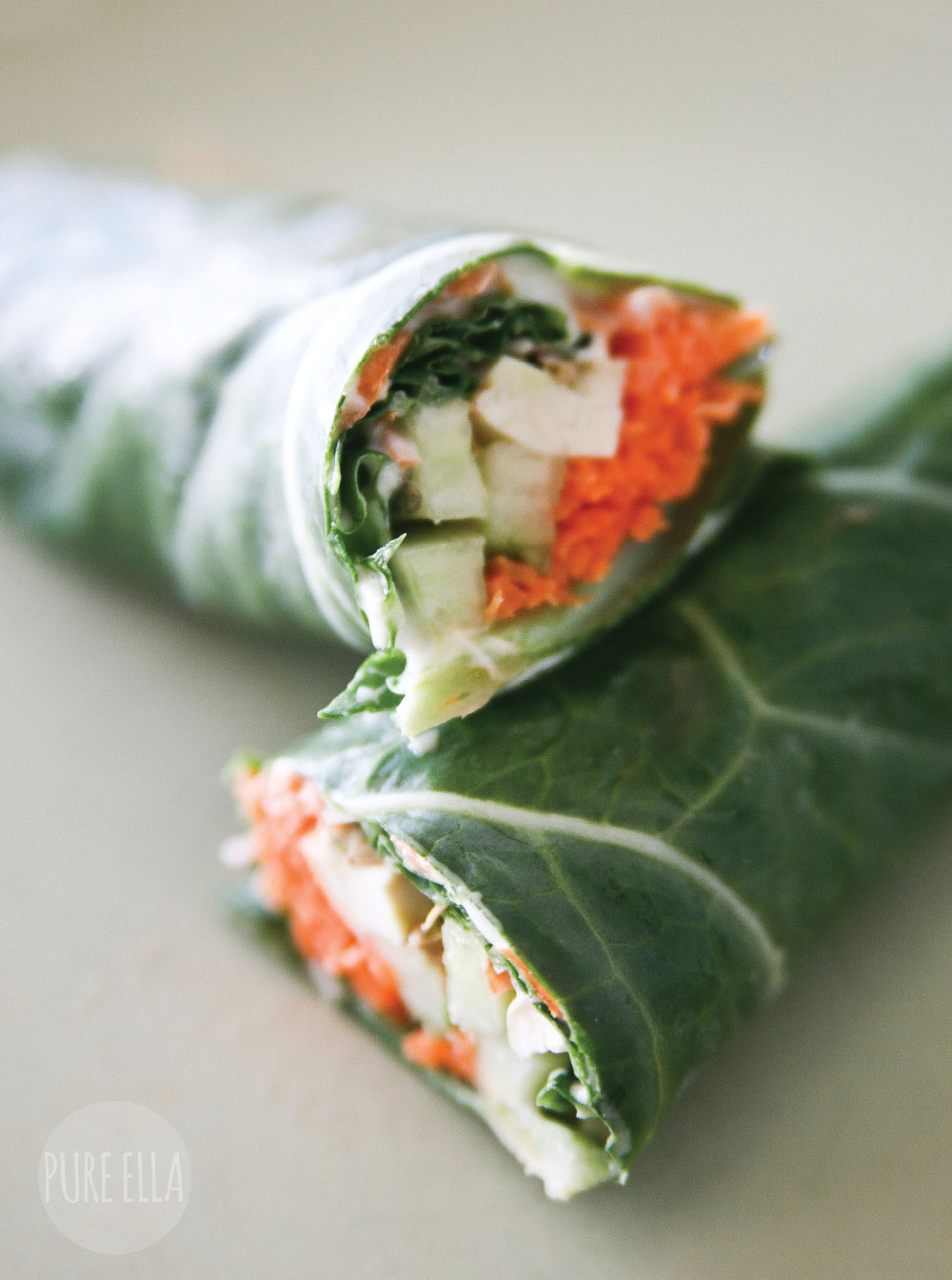 This is a great way to say hello to Spring with fresher, crunchier and more raw foods! You will love these healthy vegan and gluten free Green Collard Wraps for lunch, a light dinner or even as a party platter!
If you are serving this at a party, consider prepping all the ingredients on plates and having your guests make your own wraps! I do this quite often when my friends or sister's show up and they have fun making and customizing their own delicious collard wraps. (This also means less work for me….. but no one knows that's my secret – they have even more fun!) Win win! ;)
What other ingredients would you add to your collard wraps?
Looking for more Collard Wrap recipes – don't miss this post : Collard Greens Raw Wraps with Carrot Slaw Filling
♥
Pure Ella
If you're new to Pure Ella, please sign up for email updates and join me elsewhere:
Facebook

//

Pinterest

//

Twitte

r //

Instagram

@pure_ella