Boy do I have an amazing and easy dessert for you! These Baked Pears are so incredibly delicious and naturally sweet with a Date-Caramel and crunchy Pecans – you will go nuts over it!! It is also naturally gluten-free and vegan so that's great too! You can also make these nut-free and skip the pecans or replace them with sunflower seeds. Best of all it's super easy and quick to make while being a great crowd pleaser!!! Enjoy!
Date-Caramel Pecan Baked Pears
Ingredients :
4 pears, I used the Bosc variety
6-8 Medjool dates, pitted
2-3 tablespoons filtered water
1/4 cup pecans, coarsely chopped
coconut oil for rubbing
Directions :
Preheat oven to 350 F. and line a baking sheet with parchment paper.
Wash and dry the pears and cut them lengthwise. Remove the seeds with a spoon or knife and rub with coconut oil. Place cut-side down onto the baking sheet and bake for 15-25 minutes until soft and and some juices ooze out.
In the meantime, as your pears are baking, place the whole pecans in a food processor and pulse until coarsely chopped. Remove from the food processor and set aside. OR chop the pecans by hand and set aside. Heat a stainless steel skillet over medium heat and toast the pecans stirring often. This step isn't essential but so great to add depth to the pecans when they're toasted. Set aside.
Add the Medjool dates and water into the food processor or high speed blender and puree until smooth. Depending on your food processor, you may need to add more dates and just a little more water at a time so it has something to grab. Also immersion blenders work great too. Just make sure it's super smooth and runny like caramel.
By now your pears should be baked. Place them on a serving dish and drizzle some of the date-caramel on top, sprinkle the toasted pecans on top and then some more date-caramel. Enjoy still warm.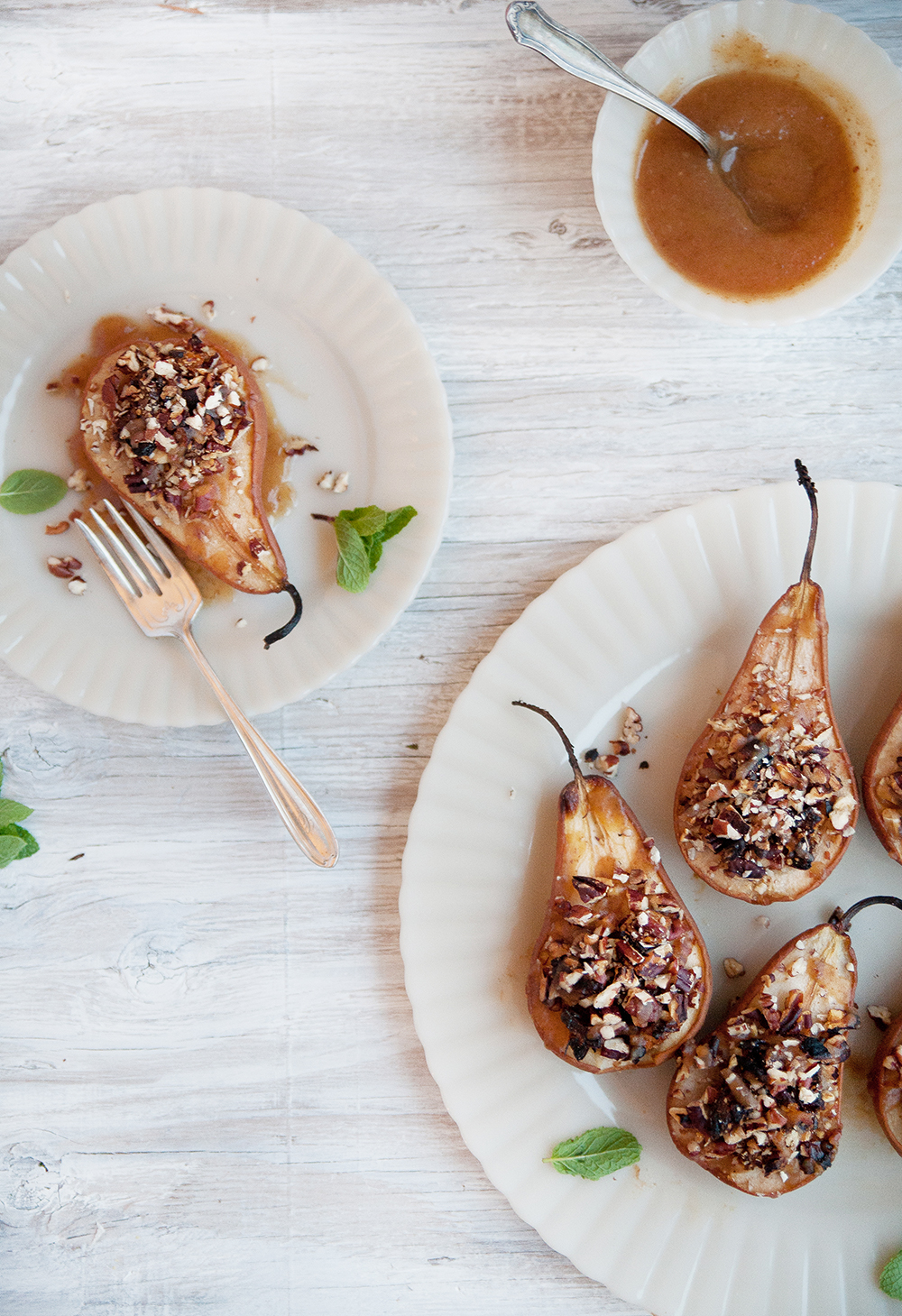 Great to serve with a zero-calorie Vanilla Ice Cream (So Delicious makes one sweetened with Erithritol and Monk Fruit). Otherwise it's way too much sugar if you serve it with regular ice cream – remember I'm the Cut the Sugar sugar girl now! :) Or whipped coconut milk would also work great too!
This is s very simple and easy recipe that turns out amazing. Little effort goes a long way and it's a pure and naturally sweet dessert – my kind of dessert! Also, what's amazing is how they fill up your home with such an incredible aroma as the pears bake. The smell alone is addictive!
Hope you will enjoy these soon!