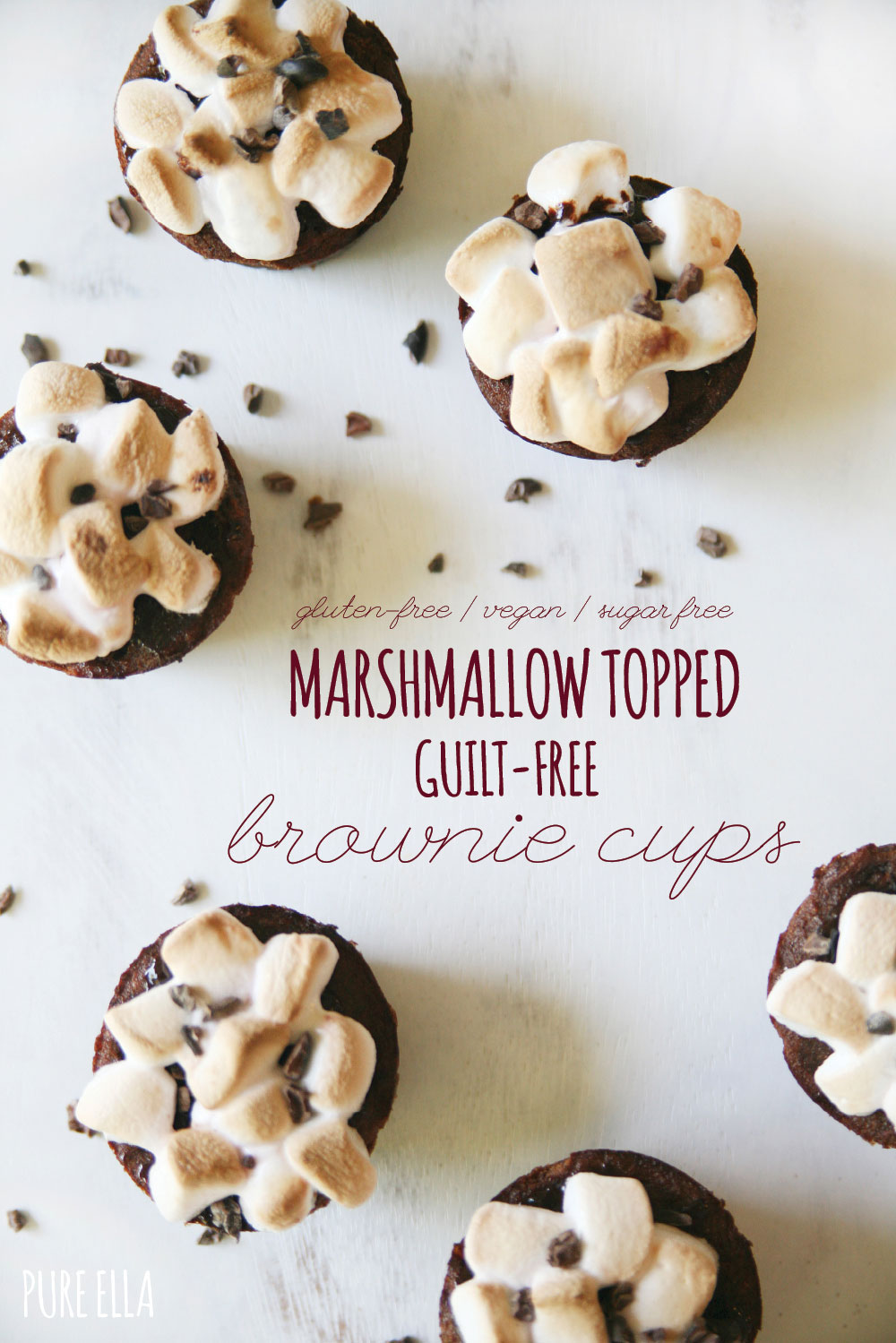 Summer just isn't complete until you have some toasted marshmallows… stuck to a brownie… topped with melted chocolate and cacao nibs! Right?
This is one more treat you have to make before summer days come to an end. This is the perfect Smores-inspired Marshmallow Topped Brownie Cups ~ made guilt free with no gluten, dairy, eggs or refined sugar!
Oh and you have to make them as individual serving cups – they're just way more fun!!
Gluten-free Vegan Marshmallow Topped Guilt-free Brownie Cups
Healthy gluten-free, vegan and sugar-free brownie recipe.
prep time : 20 minutes
bake time : 25 minutes
makes 18 cupcake-sized brownies
INGREDIENTS :
1 cup sweet potato puree (1-2 large potatoes)
20 medjool dates, pitted
1/4 cup pure maple syrup
1/3 cup cocoa powder
3/4 cups buckwheat flour
1/2 tablespoon baking powder
1/4 cup potato starch
1/2 cup So Delicious Vanilla Coconut Milk
2 teaspoons vanilla extract
1/4 teaspoon fine sea salt
1/4 cup dark chocolate squares or chocolate chips
1/2 cup gluten-free vegan all-natural large or mini marshmallows
2 tablespoons raw cacao nibs
DIRECTIONS :
1. First, wash, peel, chop and boil a large sweet potato (or two or four – might as well make dinner ;)) until fully cooked. Strain and set aside to cool.
2. Preheat oven to 350F.
3. In a small bowl, mix the flour ingredients and set aside.
4. In a food processor, mix all the other ingredients to make a smooth paste. Slowly add in the flour mix, a few tablespoons at a time. You may need to turn off the food processor and scrape down the sides of the food processor to get all the ingredients combined well. Fill silicone cupcake moulds about 3/4 and bake for 20-25 minutes.
5. While the brownies are baking, melt the chocolate. Simply, place the chocolate squares or chocolate chips in a bowl over a small pot with water, bring to a simmer and stir the chocolate to fully melt. Turn off the stove and leave the bowl on top of the pot to keep the chocolate melted.
6. Cut the marshmallows up into small cubes (if they are not mini).
7. Once the brownies are baked, remove them from the oven. Turn the oven to broil.
8. Spoon a little chocolate on top of each brownie (kind of like glue) then top with pieces of marshmallows and put back into the oven for only 1-2 minutes to broil the tops slightly. Keep looking at them so the tops don't burn. (mine browned nicely only at 1 minute).
9. Remove from the oven, allow to cool still in the cupcake moulds for about 15 minutes before serving. Serve still warm or refrigerated.
THE best way to make them is to bake the brownies one day before (or even 2-3 hours before serving), then topping them with the marshmallows and broiling just before serving so the marshmallows are still warm!! Oh yes!! ;)
10. For the final touch, sprinkle with raw cacao nibs ;) Yummmm!!!
Ahh.. sometimes you just want to bite into something amazing without the guilt!
That's what I love about baking gluten-free and vegan and even squeezing in some nutritious ingredients in there… like hello sweet potatoes!!
(they are so great in a brownie recipe ~ they add that perfect fudgyness and really taste great as a brownie ;)
If you're excited, you have to try my Guilt-Free Sweet Potato Chocolate Brownies also! ;)
I like to enjoy these beautiful moist, rich and fudgy brownies with that fluffy marshmallow top while I day dream of beautiful things on the horizon… ;)
New exciting things await, I just know it! I think it could be the summer sunshine just shining a little brighter this year… with a new baby girl, new adventures ahead, my health continuing well and all the tiny little puzzle pieces fitting in… it's all just so good ;) My heart is filled with gratitude and happiness ;)
That's what summer days are really for… fluffy fudgy brownie cups and day dreams and just feeling good ;)
Because Marshmallow Topped Brownie Cups and Day Dreams just go together…
'Day Dreaming' is a fun theme this week over at So Delicious Dairy Free for their #SaveMySummer contests that run all summer long! To get more info, visit their facebook, website, or simply hashtag your photos #SaveMySummer to join the fun and be in weekly draws for prizes ;)
What are you Day Dreaming of right now?
♥
Pure Ella
If you're new to Pure Ella, please sign up for email updates and join me elsewhere:
Facebook

//

Pinterest

//

Twitte

r //

Instagram

@pure_ella