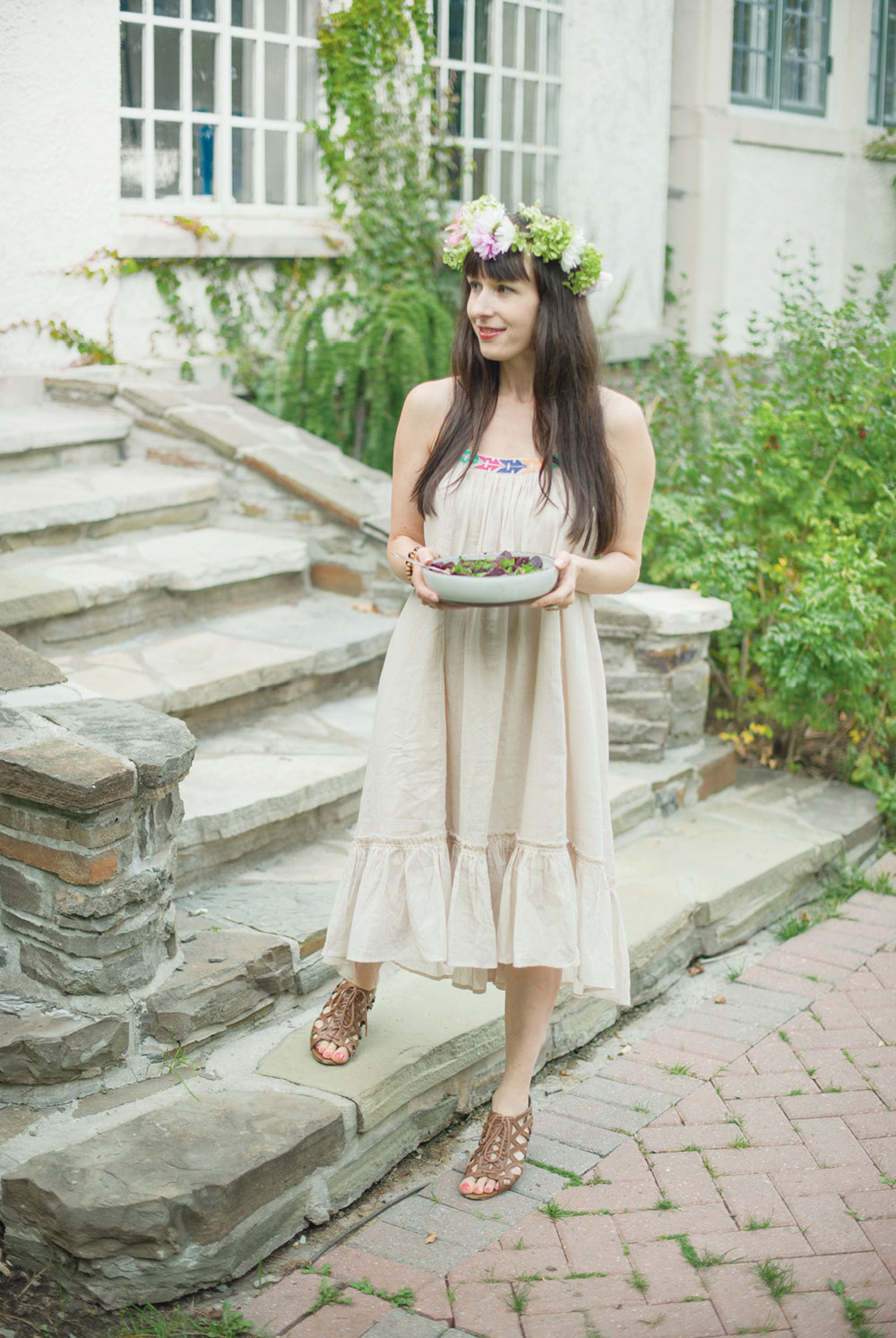 Today I'm excited to do a huge #tbt to a very special garden dinner party that took place in the very early days of working on Cut the Sugar.
It was my birthday weekend (september '14) when I just got word that I got the book deal ~ such an exciting time, so much to do and the best way to start the fun/ crazy/ exciting process of cookbook writing was with a fun family dinner in a beautiful garden with gorgeous dishware, delicious food and my favourite people…
It was a magical fun garden dinner that happened to be captured by the talented Blynda DaCosta which I'm so grateful for. These photos are now so special to me ~ just look at baby Mia so tiny here :)
The day was incredibly beautiful, and we were lucky to have dinner in this amazing garden space… next to this dreamy estate property that I am lucky to live in ~ in my dreams :)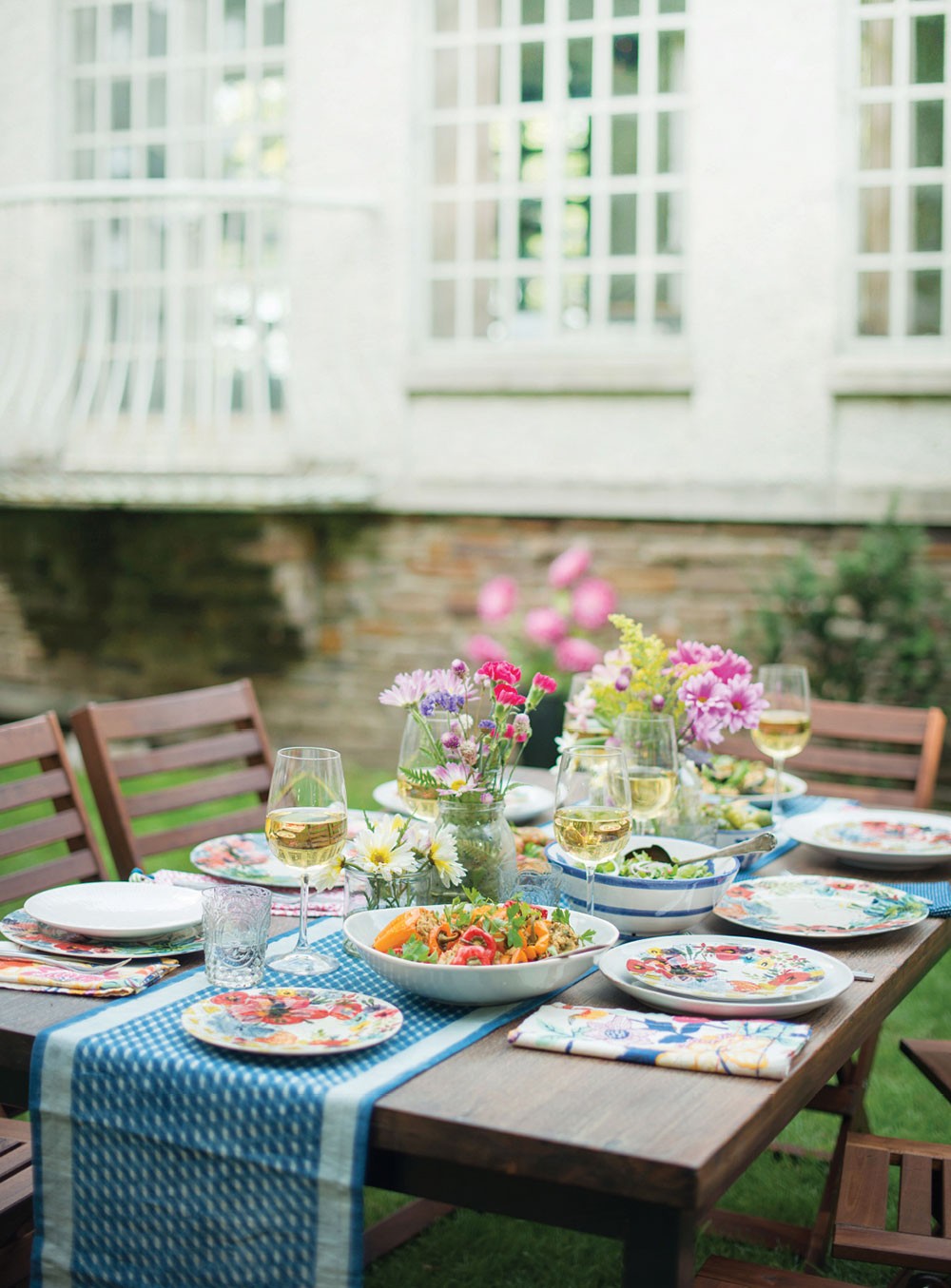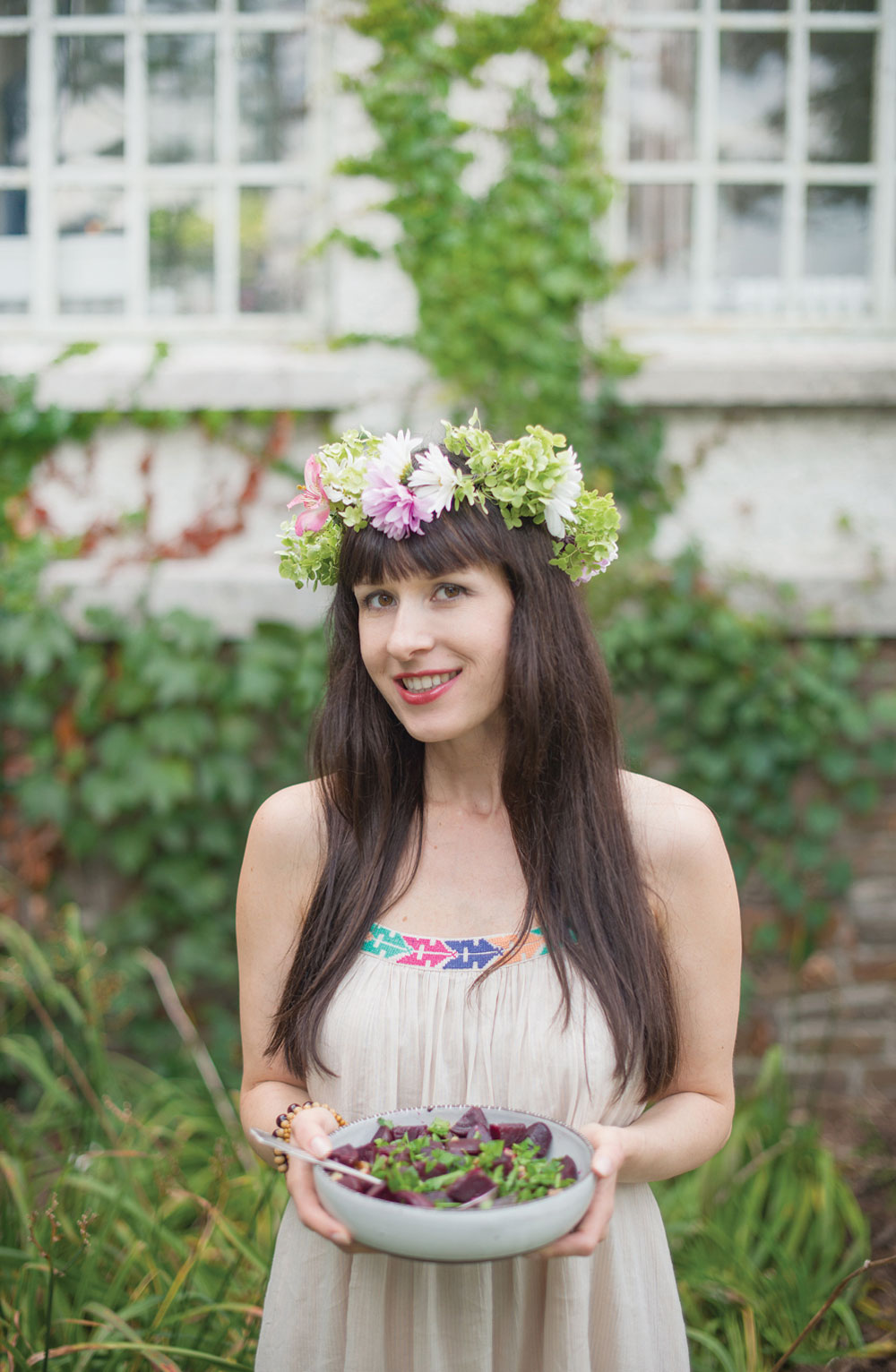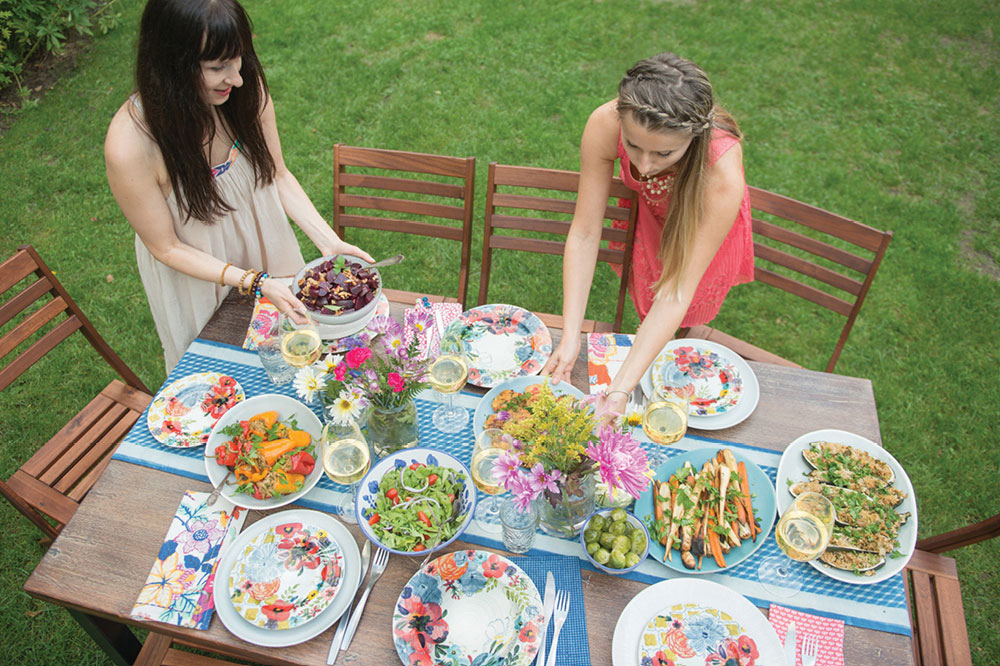 Something that has always been important to me (and has stuck with me even more now) has been caring for people. I feel like I've always had a caring nature (as a child, I wanted to be either a nurse or a teacher (I think what you want to do as a child has a strange truth about who you are… :)) What I really wanted was for people to feel like they're taken care of, so that they're comfortable, nourished and know that I'm there for them… of course this naturally happens through food with my close family and friends.
(Just try to be over at my house for 5 minutes and see if I don't offer a drink or food and then repeatedly ask if you're sure you're not hungry… I also get offended when people refuse even water so please just drink the tea or water (it's filtered) and know that it's in my genes to bug you till you give in and eat something.)
Now I'm lucky that this caring effect has extended to the blog and social media community that Pure Ella has created. I guess I truly do what I do in this space; share recipes and nutrition information and happiness inspirations because I care about people… and I believe that feeding someone nourishing wholesome food is the best way to care for them…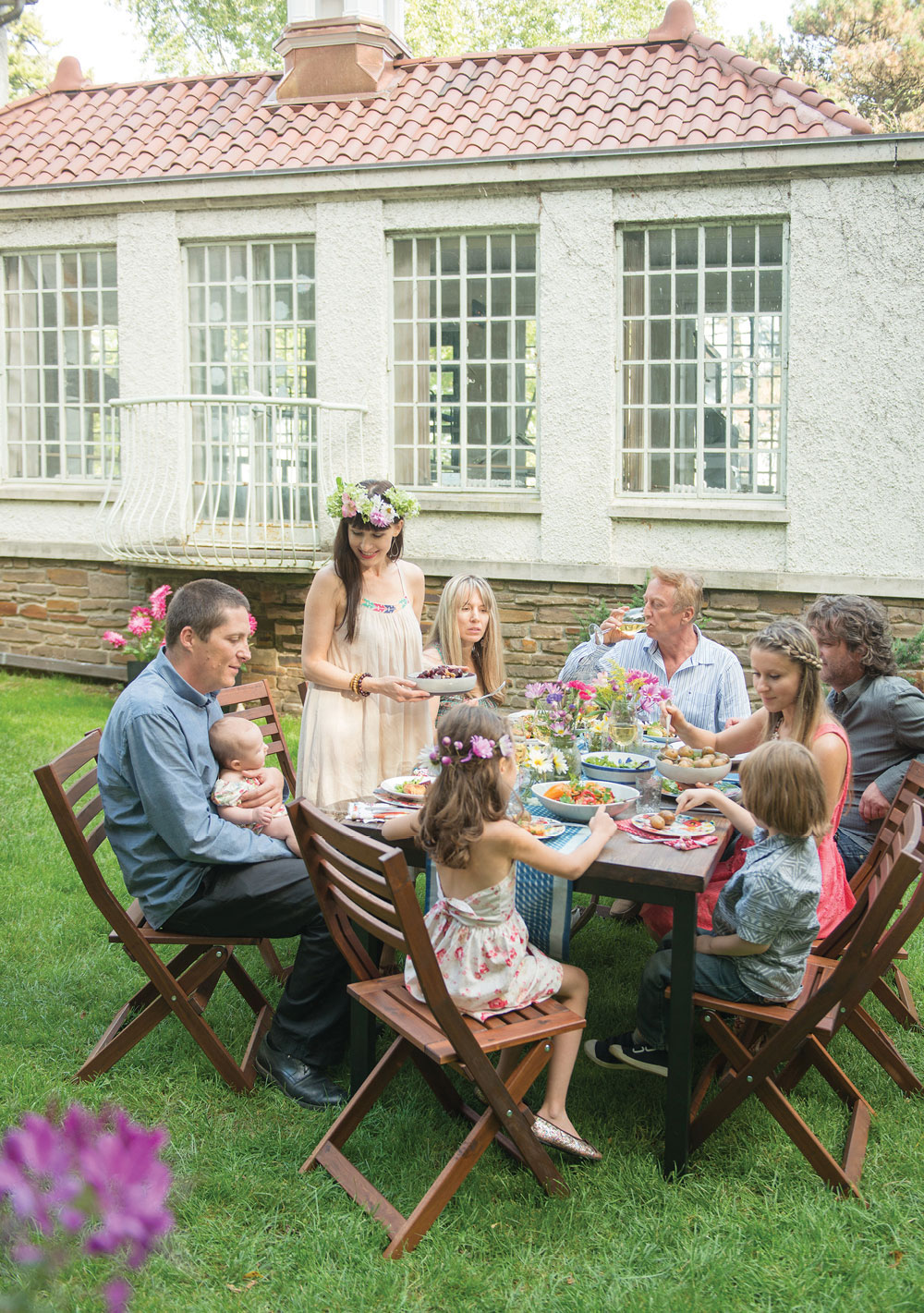 A family dinner in the garden is not a rare event in my life… we sit out at our garden table and eat snacks, ice cream, have lemonade, beer and eat, get messy and eat some more nearly everyday in as soon as it gets warm enough in the spring until the cool evenings of late October… But what made this extra special was having my photographer capture that craziness only my family has that now I savour and will treasure for ever… thank you Blynda :)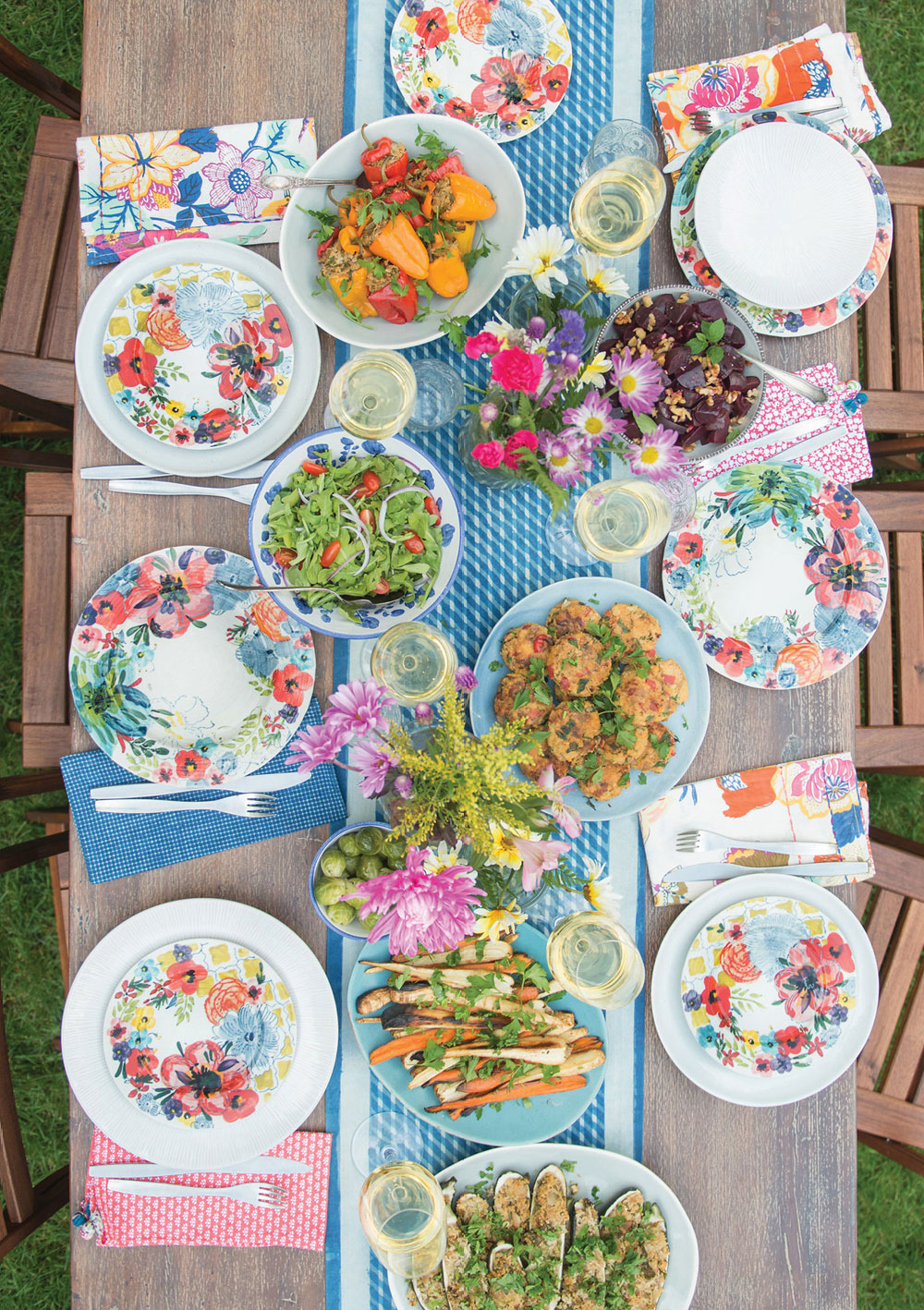 I brought out a lot of my favourite 'props' I got mostly at Anthropologie and Crate & Barrel and set the table. (or as they say in the food photography world: I 'styled' the table :))
My sister came down for the weekend from Quebec and it was great to have some helping hands to cook with and then set it all up before everyone else showed up. (Plus she made me this stunning Flower Crown for my B-Day!)
Little Mia was just 4 months old here and it's been so surreal to see how time just flew by so quickly. She's so tiny here and so cute. And my older one also grew so much in this time… wow ~ I think I want to have a photographer present at our family dinner once a year to capture those good moments. It's just the most special family time I treasure the most and there's hardly any evidence of that from our daily entertaining… I'm such a mom wanting to capture all these moments, I know… but honestly, it's what gives me the most joy to look back and have solid memories that we can savour, enjoy and share with our extended family and now right her on my blog :)
(If you can guess what I wanted to do when I got older in highschoolf, it was to be a photographer) :)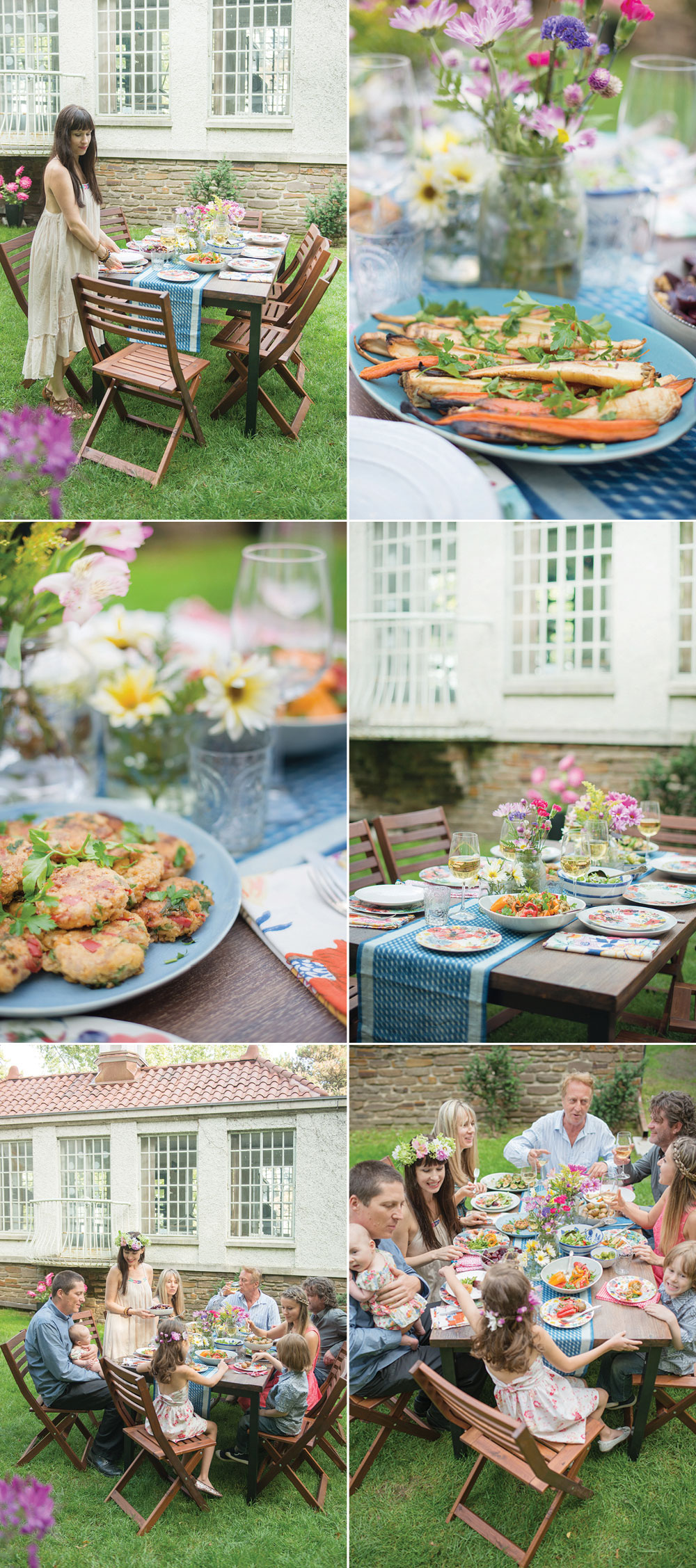 So this garden dinner ended up being the loveliest dinner ever… and the food was absolutely amazing…
I didn't know what I would make for the book yet, so I made my favourites from the blog:
Herbed Tofu Stuffed Mini Peppers
+ a few other side dishes like Baked Carrots and Parsnips, Balsamic Walnut Beets, Brussels Sprouts, Baked Potatoes, a Spring Salad ~ all made an incredibly delicious garden dinner menu that everyone enjoyed.
Now I guess I'll just let the photos talk…. sorry if this is too many photos… I just haven't really seen them in a long time and only 1 made it to the book ;)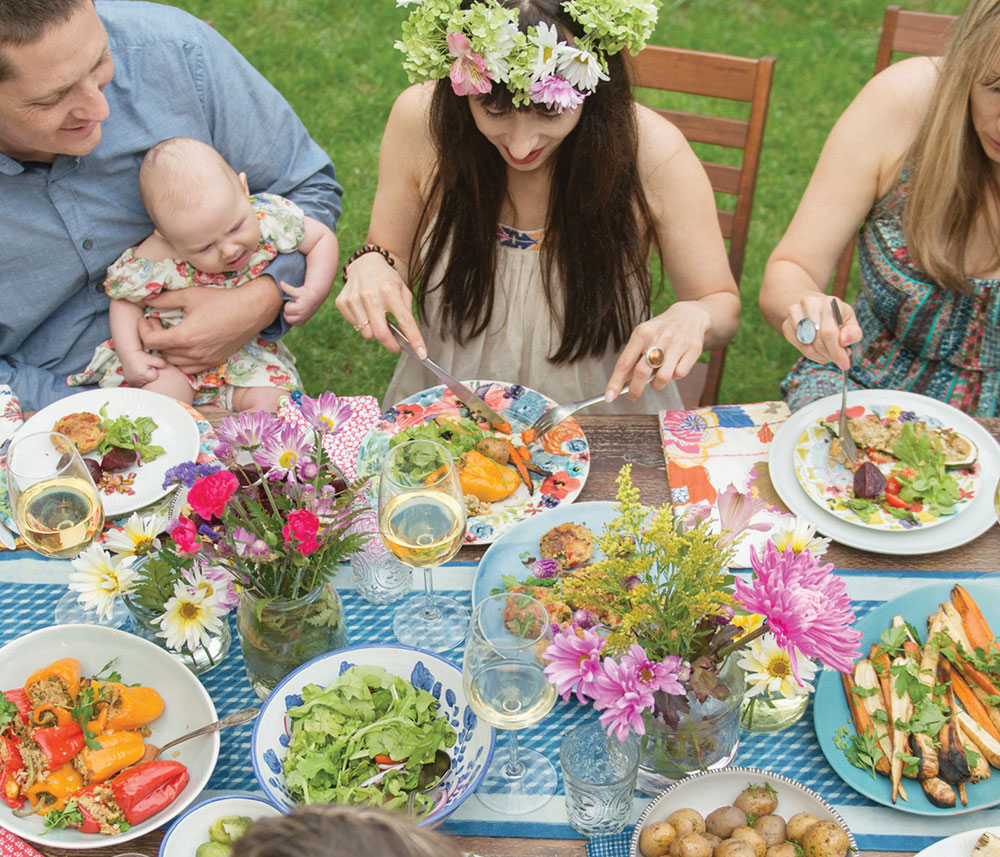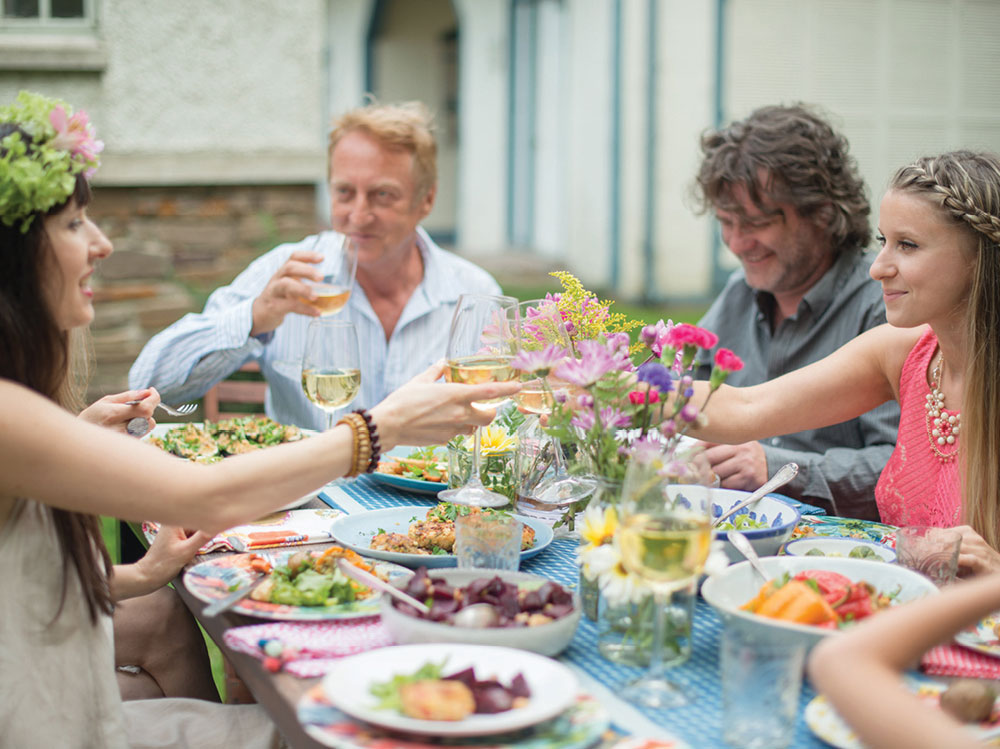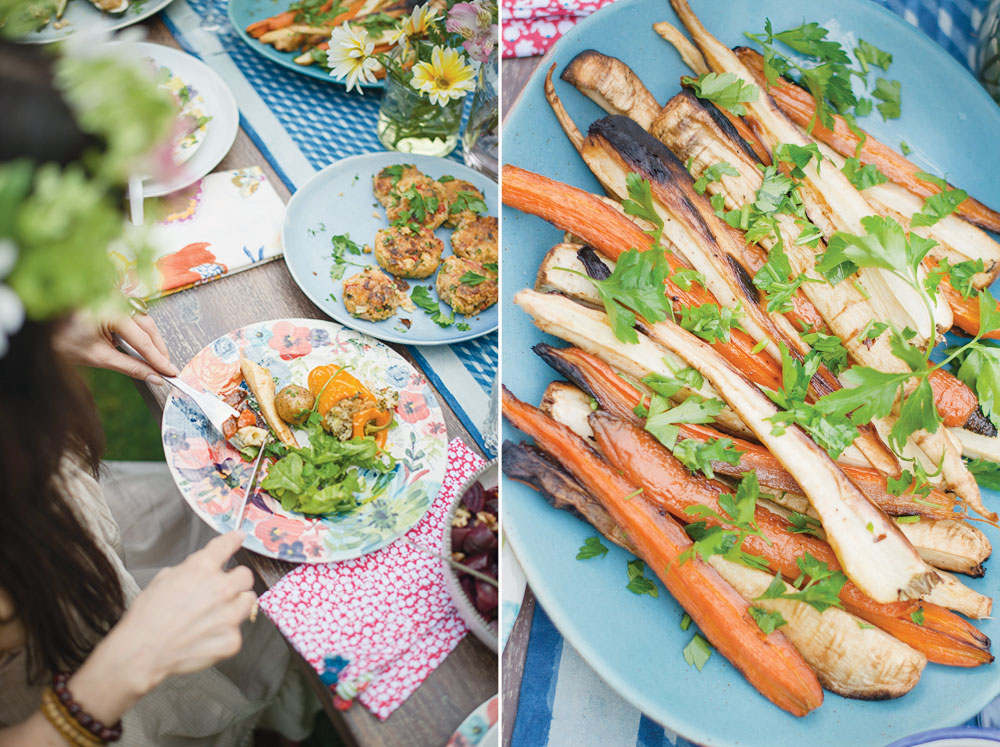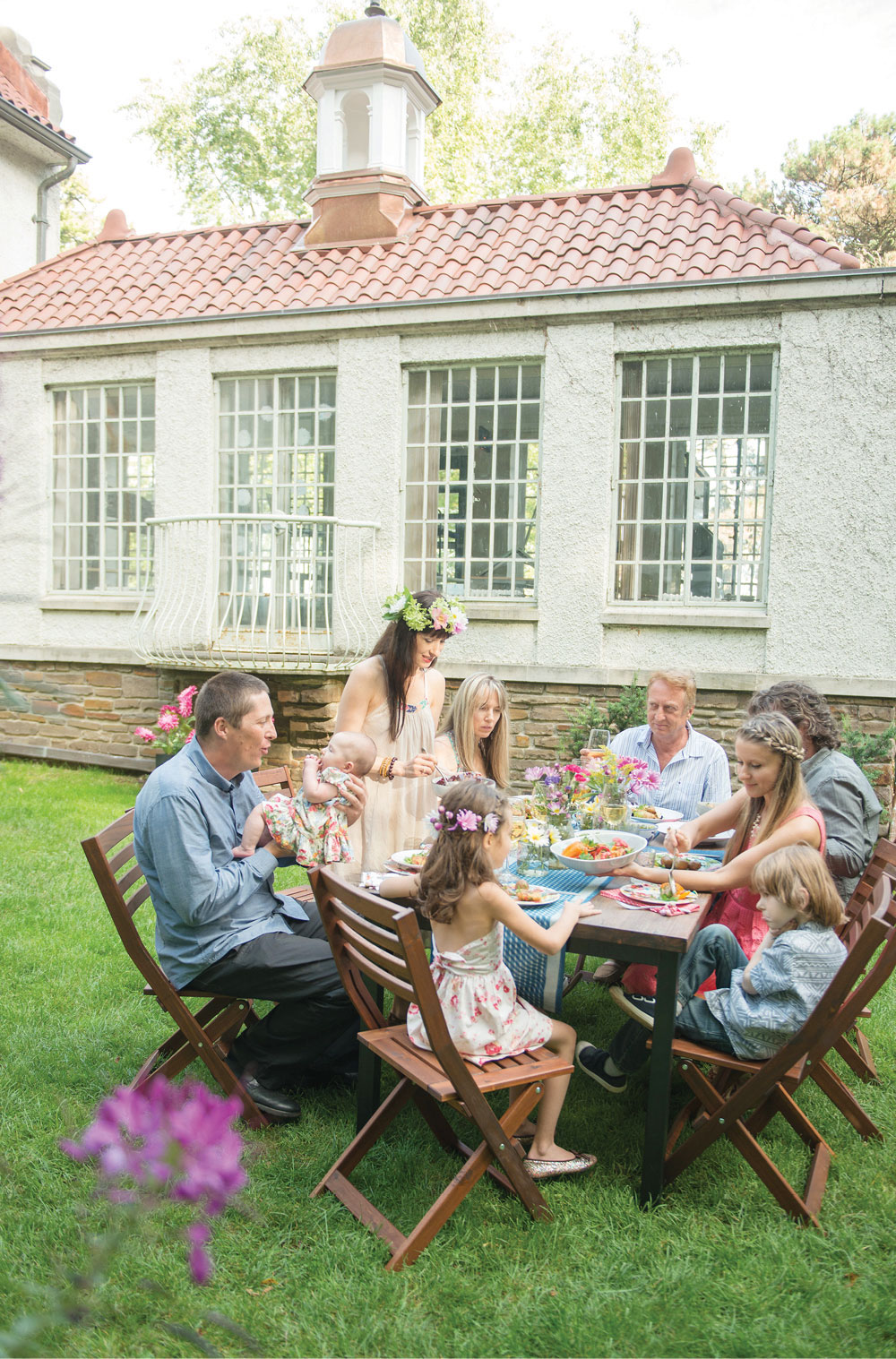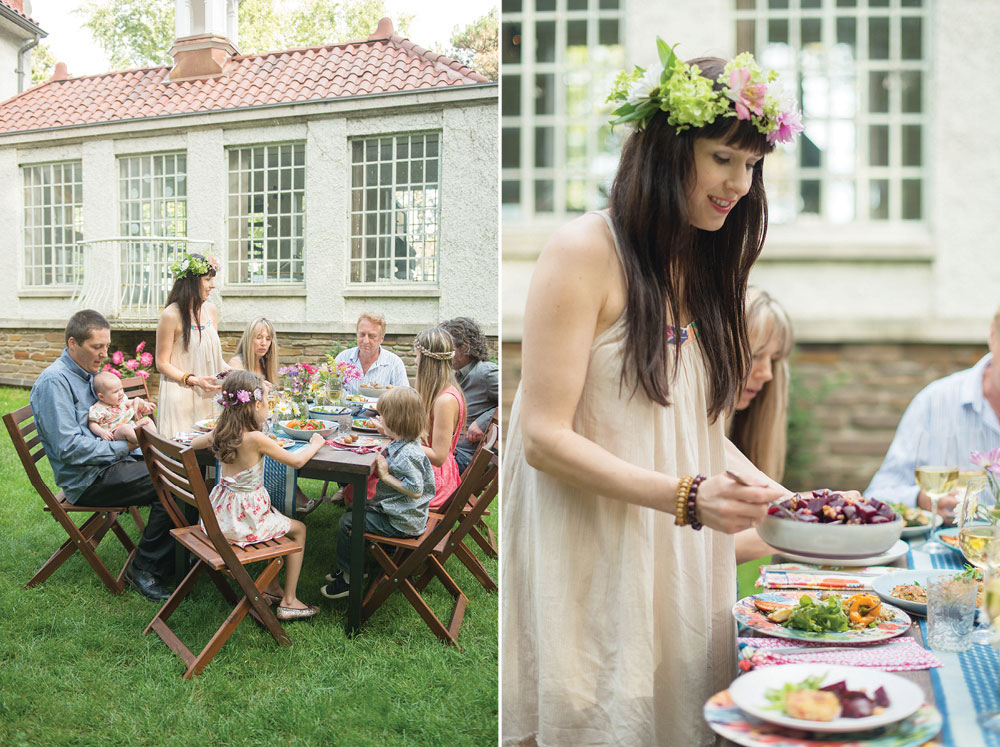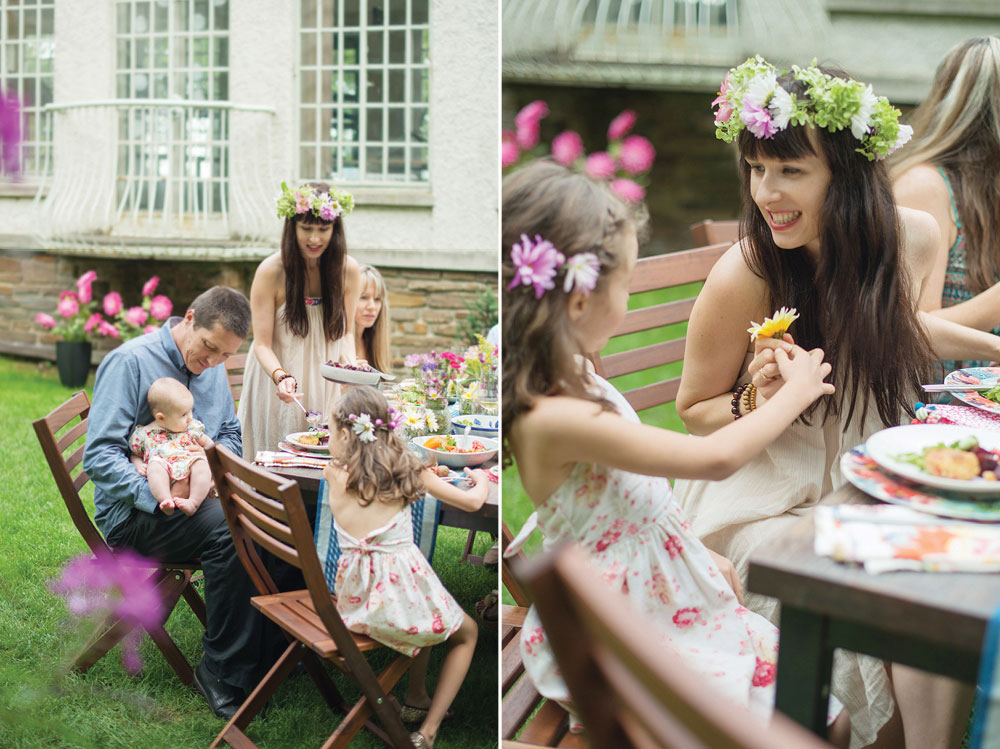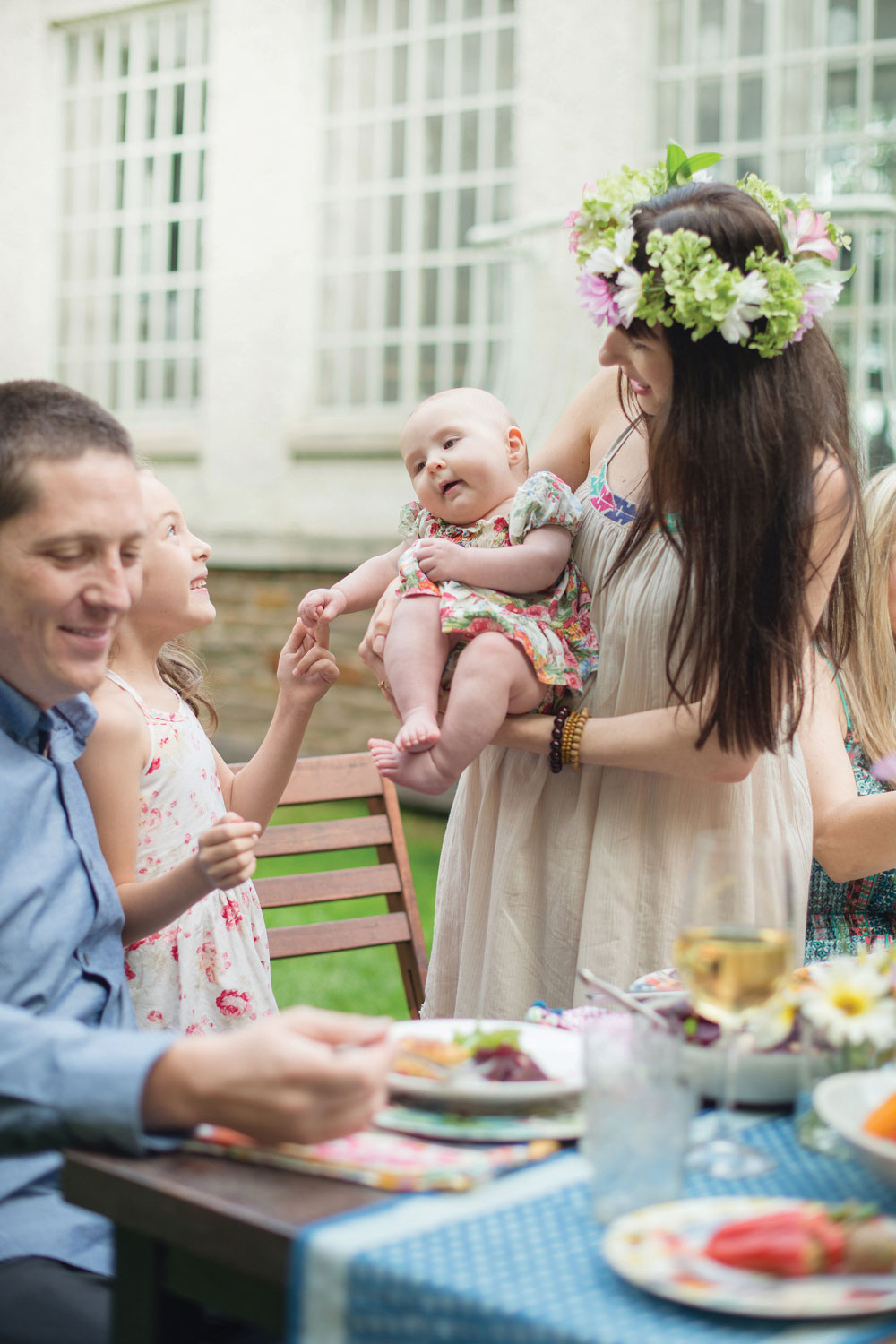 I myself love beautiful summer entertaining ideas so I hope you're also excited about your next garden dinner party with your close ones.
Here are a few favourite details from the dinner shoot:
Sissinghurst Castle Dinner Plates from Anthropologie
Marin Blue Serving Platters from Crate & Barrel
Navy Table Runner from Crate & Barrel
My Boho Dress from Free People
My ring : Copper Jewel Cocktail Ring from AG Ambroult
Mia's Dress from Ralph Lauren
Gabi's Dress a Vintage find
It's been so much fun to look back at these moments of togetherness and I hope you enjoyed seeing our dinner party too. Being together as a family and sharing a meal is so simple yet gives so much pleasure and meaning to life.
Do tell: What do you love the most about family dinners?
.
Ella Leché
is a cookbook author ('
Cut the Sugar
'), recipe developer, and photographer/stylist behind Pure Ella; where she shares delicious and healthy recipes. Eating PURE is about clean ingredients, whole foods and grains, plant-based nourishment and developing healthy sugar habits. No restrictions, just a healthy lifestyle!
Follow Ella for PURE health & happiness inspiration:

ps. don't forget to share your Pure Ella (PE) recipe creations by tagging them #pureella and
@pure_ella
on Instagram – we repost our favourite photos!