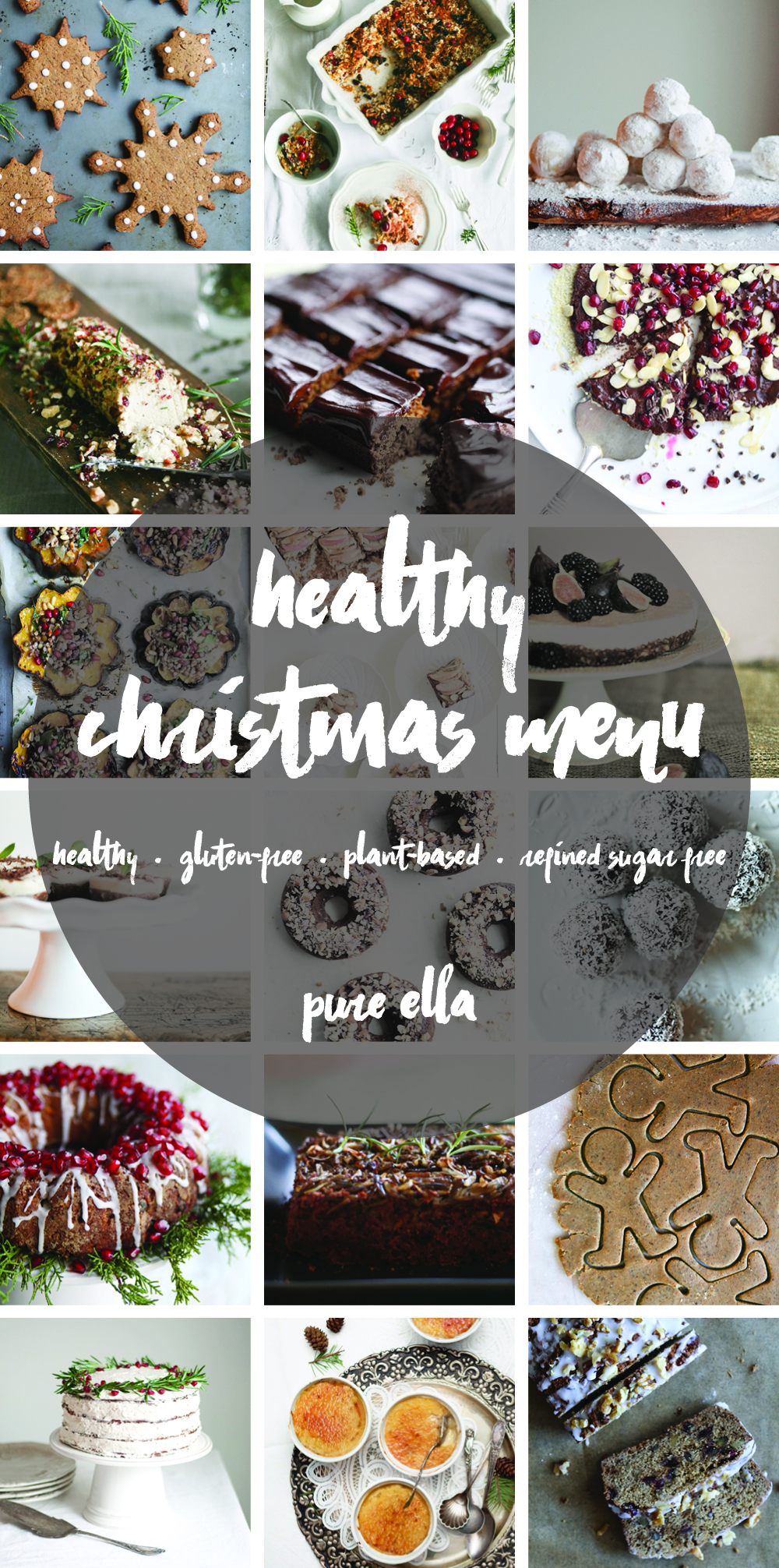 Christmas is just around the corner and from festive (and healthy) breakfast to desserts… just know that I have you covered with this Healthy Christmas Menu.
As you know, Pure Ella is all about healthy food that is not only good (or um, great!) but also good for you! My mission is to make healthy food be exciting, delectable, drool-worthy and guilt-free! This seems like it's a bit hard to achieve during the holiday season…
You're teased with all sorts of tantalizing temptations… you give in to your cravings, you over indulge, you feel sick, you regret eating that and that and that… and oh my, it's like this vicious cycle that you don't even control the food you eat – the food controls you!
That's why it's important to step back and just do a little planning ahead ~ before the temptation storm arrives.
My simple advice is to start with a clean slate AKA clean good-for-you ingredients. Keep the recipes simple, keep them naturally light with healthy protein and fats. Look for healthier sweeteners ~ remember I'm a sugar-expert so if you need advice there ~ just ask! :)
Back to the recipes, here I have a lovely and delicious roundup of the best Holiday recipes, Enjoy breakfast, snacks, dinner, sides, desserts and everything else that would make a beautiful Christmas Holiday delicious, memorable and healthy!
All these recipes might seem 'specialty' as in that they are gluten-free and plant-based/ dairy-free/ vegan and if you're thrown off from this – don't be! This menu is really for everyone and it just celebrates food in a clean delicious way. I always strive to put more nourishment into all the foods I eat and make for my family – and these recipes are focused on being nourishing to the body. You also can add other foods that you enjoy whether it's meat or fish and that's fine. Especially when you serve to a larger family – you always want to have everything on the table.
These recipes are wonderful for so many reasons:
healthy
good-for-you ingredients
loaded with nutrition
healthy grains/ gluten-free or grain-free
plant-based/ veggie-power
you can add meat or fish as you wish
refined-sugar-free
don't make you feel sick or bloated after
very allergen-friendly (in most recipes, nuts can be omitted)
Our family isn't fully gluten-free and/ or vegan, but we eat a lot of foods that are ~ why? Because I know that they are truly the healthiest foods you can have that are nourishing, clean and make you feel great after a meal. (contrary to what we used to eat – everyone could barely move after a big holiday meal ;))
I feel like more and more of my readers and friends in real life are wanting to eat more gluten-free and plant-based meals. So, here you are, a perfectly delicious AND healthy Christmas Menu for everyone!! Enjoy!! :)
…