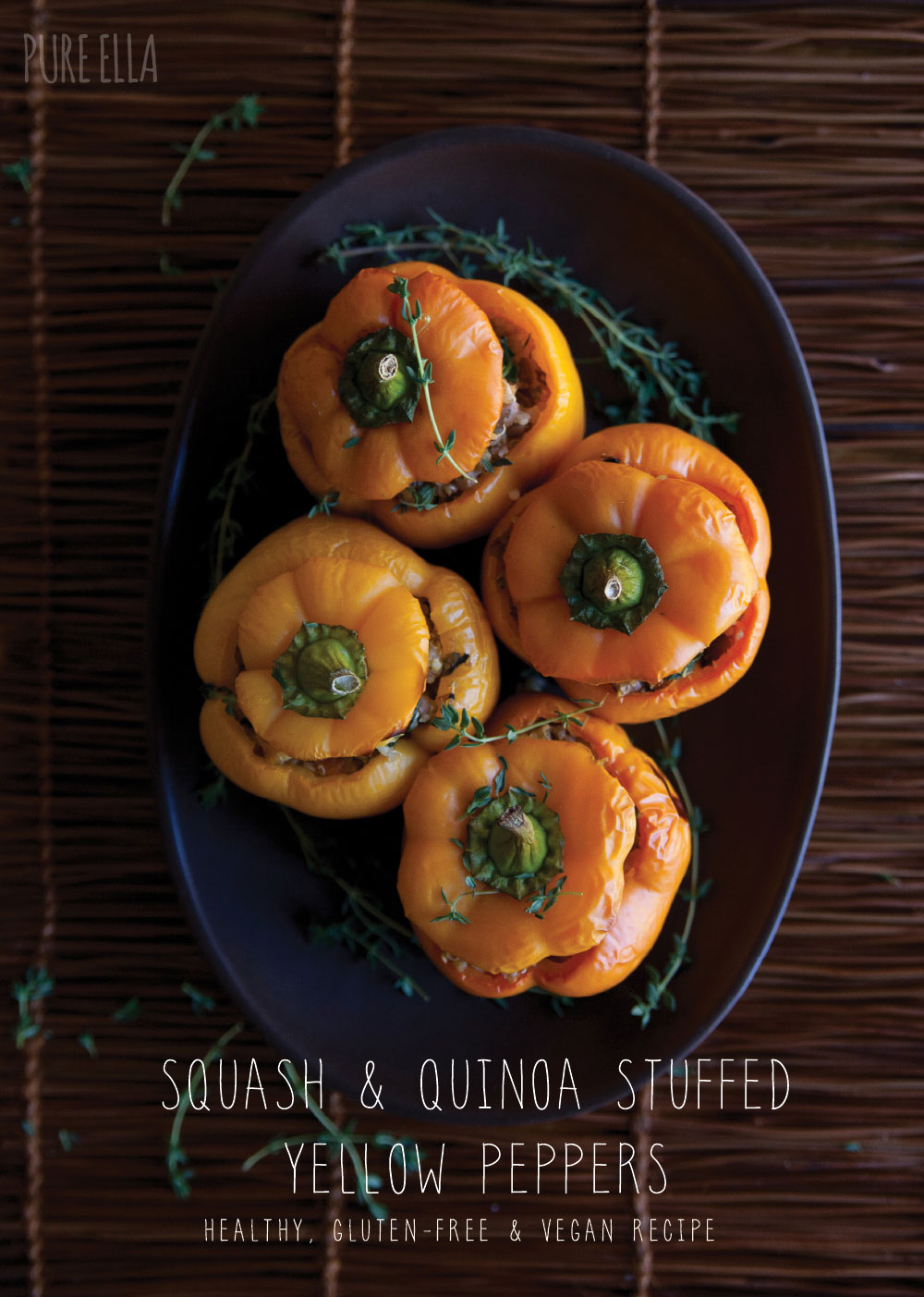 It can get cold and bitter out there, so the promise of a warm and cozy kitchen oozing with amazing smells is pure heaven right about now.
When it comes to cooking seasonally, I pull inspirations from seasonal vegetables and flavours, but I also pull ideas from the beautiful outdoors – the vibrant colours of yellow and orange in the leaves falling outside. It's breathtakingly beautiful.
I pay attention, Mother Nature, to the beauty that you bring each season – and I thank you!
The golden, yellow and orange leaves swinging and dancing outside in the November air are my inspiration for this beautiful dish with the colours and flavours of autumn.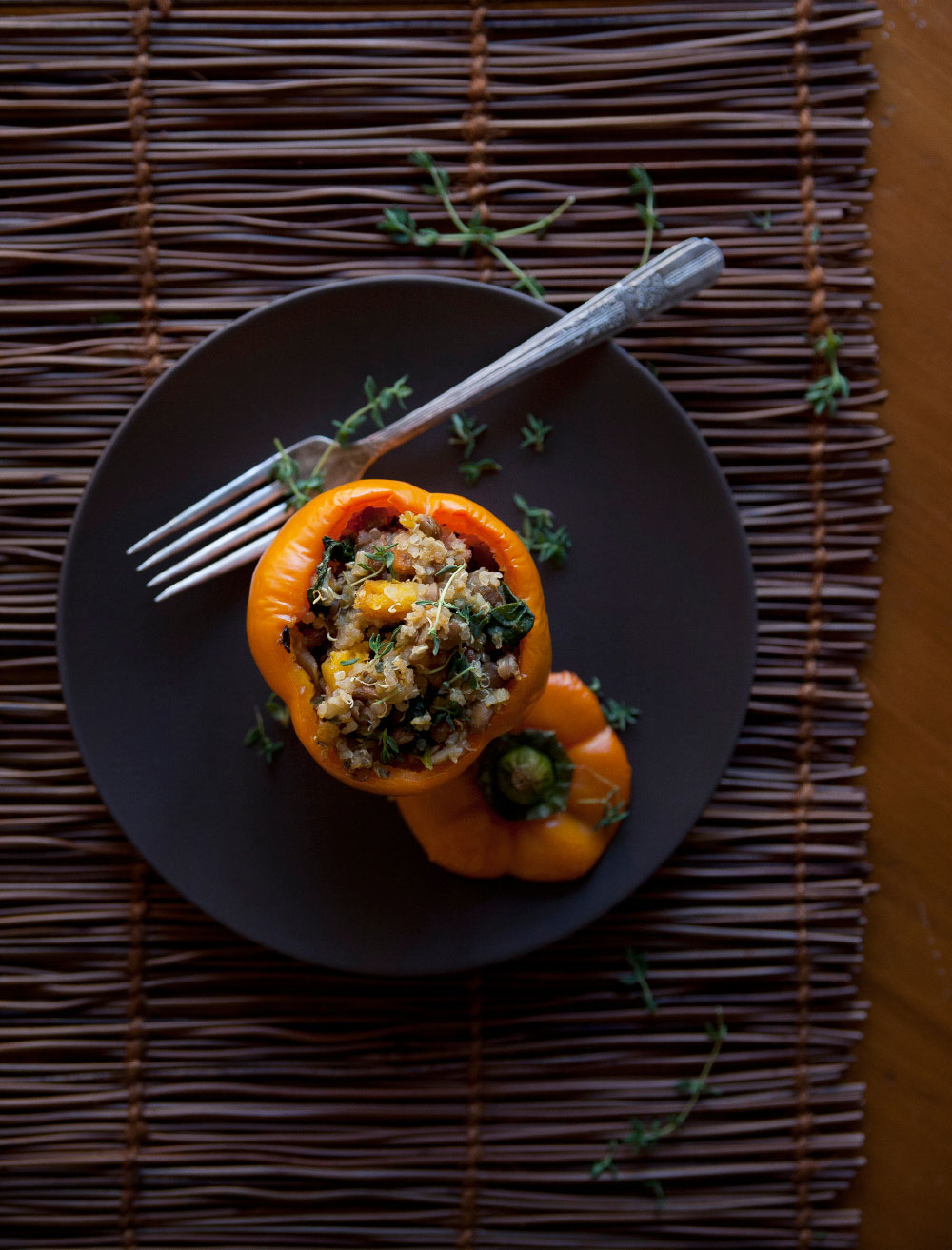 Squash & Quinoa Stuffed Peppers : healthy, gluten-free and vegan recipe
Ingredients :
6 orange or yellow sweet peppers
1 cup quinoa
1 can of lentils
1/2 medium butternut squash, diced into small cubes
2 cups spinach, roughly chopped
1 stalk of celery, chopped
1 large onion, chopped
1 large carrot, diced
3 stems of fresh thyme
1 tsp fresh oregano
1 tbsp sea salt
fresh cracked black pepper
oil for cooking
1 cup boiling water
Directions :
Choose peppers that have an even shape and a flatter bottom. Preheat the oven to 300 F.
1. Wash and dry a butternut squash, cut it in half lengthwise, place cut side down on parchment paper lined baking sheet and bake for 30 minutes. (Note: this recipe only uses 1/2 of the squash. But I like to bake the whole squash and keep for another dish – perhaps a Butternut Squash Leek Puree?)
2. Clean, dry and deseed the peppers by cutting the top part only. Cut enough to use as a decorative lid and cut so
you have a good fit. If the base of the peppers is uneven and they don't stand straight, trim a small
section off to create a standing base (be careful not to cut too much so the filling doesn't fall through). Rub with olive oil.
Place on a baking dish and bake the empty peppers, covered, in the oven for 20-30 minutes.
3. Cook quinoa as per directions on package.
4. In a large sauce pan, drizzled with olive oil, saute the onion, carrots, celery and squash until softened.
5. Add a little boiling water, stir and cover to cook over medium low heat for about 10 minutes longer.
6. Add in chopped spinach and cooked and strained quinoa. Mix all well and set aside. (you can make this ahead and store in the fridge).
7. Remove the peppers from the oven and set them aside.
8. Remove the squash from the oven. Let cool so it can be handled and cut 1/2 of the squash into small cubes. Add the cubed squash into the filling and mix to combine.
9. Fill the peppers with the quinoa and squash stuffing and set on a baking dish.
10. Return to the oven and continue to bake for another 20 minutes covered. Remove and let stand for 10 minutes before serving.
Top with fresh thyme leaves and serve. Enjoy!