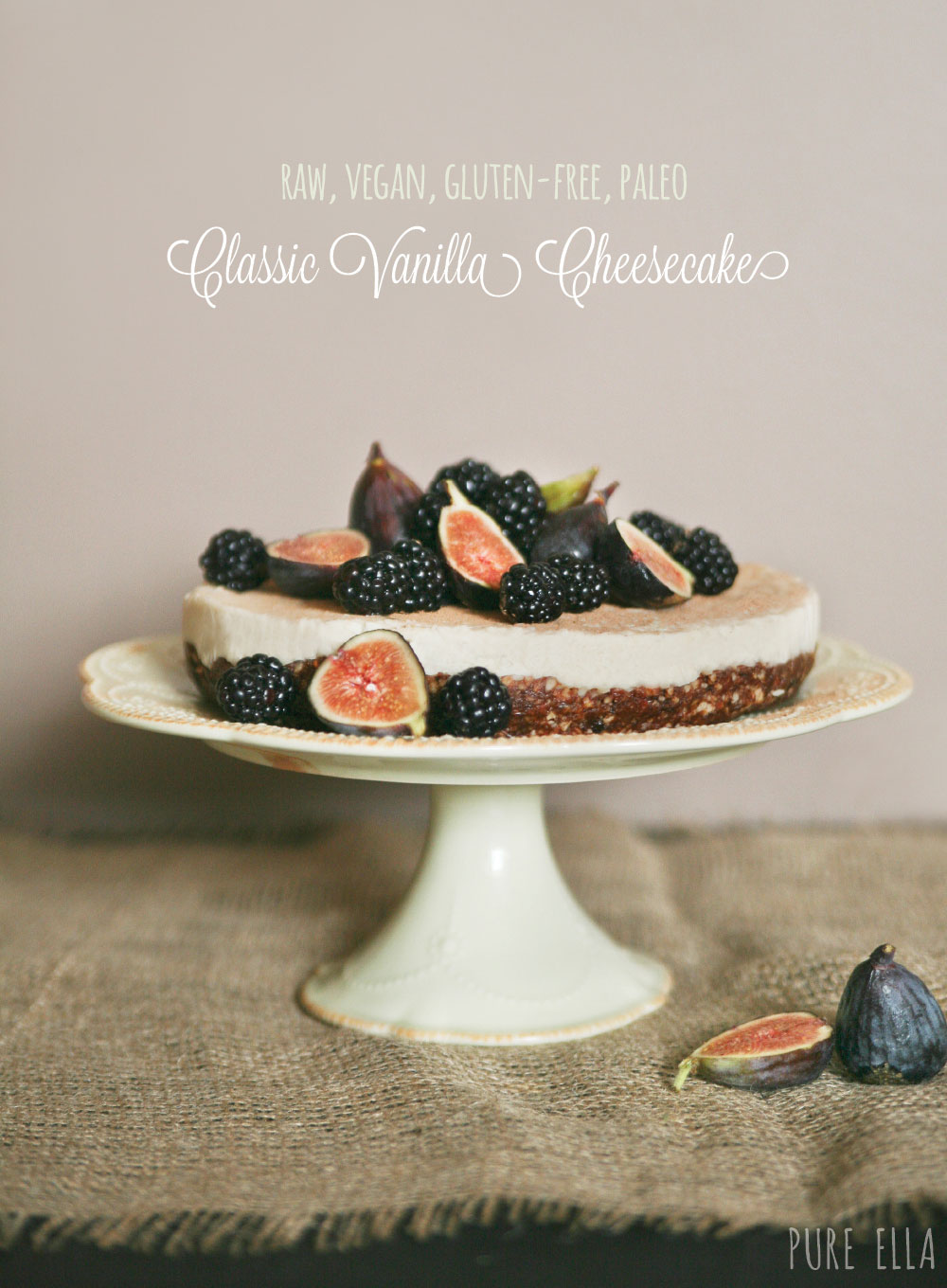 If I were to mark a revolution of dessert making I would definitely mark raw cheesecakes as the most amazing desserts ever invented ~ definitely the king of cheesecakes if they can literally even be called 'cheesecakes'. I mean it's not even made of cheese or other dairy and definitely without eggs which is a traditional ingredient in the traditional cheesecakes.
It's possible of course, that this was the first cheesecake, even before electricity and high heat in ovens. Back when women worked with pure ingredients, and took them to the next level in the pure raw form and created incredible tasting meals and desserts…
That's why I'm such a huge fan of raw vegan cheesecake – it's because of those simple natural pure ingredients. Getting back to simplicity is the biggest revolution of our time I find. Or maybe it should be 'devolution' – simply going back to the basic simple times; of pure food and pure ingredients. Perhaps…
So even if I could wanted to eat a 'real' cheesecake with all the heavy dairy and all those eggs and refined sugar… IF I really wanted to – I honestly wouldn't.
I would much rather bite into this amazing good-for-you dessert! Are you still unconvinced this is way better? Just look at these amazing healthy ingredients and go do it! ;)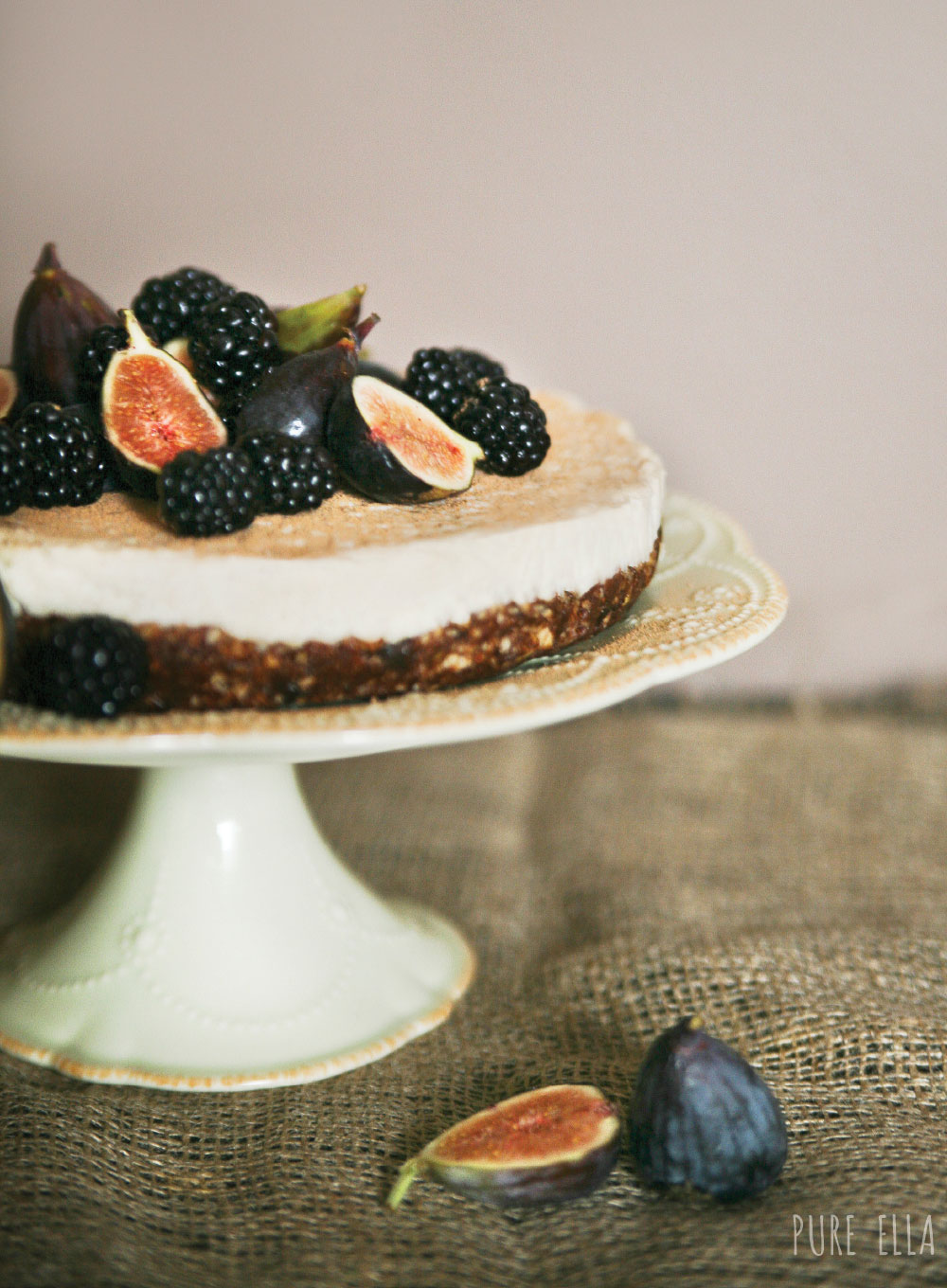 RAW CLASSIC VANILLA CHEESECAKE
(gluten-free, egg-free, dairy-free, vegan, wheat-free, soy-free, refined sugar free)
Raw, NO-BAKE Cheesecake recipe! Needs at least 4 hours to set in the refrigerator or overnight. Serves 6-8.
Crust :
1 cup raw almonds
1/3 cup pitted medjool dates (or 1/2 cup dates and 1/2 cup raisins)
2 tablespoons of raw cacao
pinch of himalayan pink salt
1-3 tablespoons of warm water
Filling:
3 cups cashews, soaked for 1 hour
3/4 cups coconut oil, melted
fresh squeezed lemon juice of 1 lemon
1/2 cup agave nectar (or raw honey if not strict vegan)
1 tablespoon pure vanilla extract
1/4 cup filtered water
Topping :
An array of beautiful fresh organic fruit. I used about 8 fresh figs cut in half and fresh blackberries.
I also sprinkled the top (before I added the fruit) with a light layer of cinnamon to hide imperfections and add an extra detail (completely optional).
Directions:
Make the crust first: In a food processor, pulse all the almonds until a fine grind forms. (while it's mixing you can pick the dates or prepare the other ingredients). Add in the dates and/or raisins, cacao and pinch of salt. Continue mixing and check with your fingers if the mixture sticks in your fingers. (Be sure to turn off the mixer each time you check, and always form a habit of scooping with a spoon first!) If it's too dry, add in water one tablespoon at a time. Mix again, check again. Once it sticks together and still falls off your fingers – it's perfect.
Line a round spring form pan with parchment paper at the bottom, and press the mixture into the bottom evenly. Lifting some into the sides to form a taller base on the cake. Set aside.
To make the filling: Soak the cashews for 1 hour at room temperature or overnight in the fridge, strain well. Add all the ingredients into a clean food processor again : cashews, warm but not hot coconut oil, lemon juice, agave nectar, vanilla extract, water. Mix on high for about 5 minutes until a very smooth mixture forms.
Pour over the crust. Tap the pan gently to let it settle. Place straight into the freezer for about 1-2 hours, then to the refrigerator for about 2 hours or until serving. Enjoy.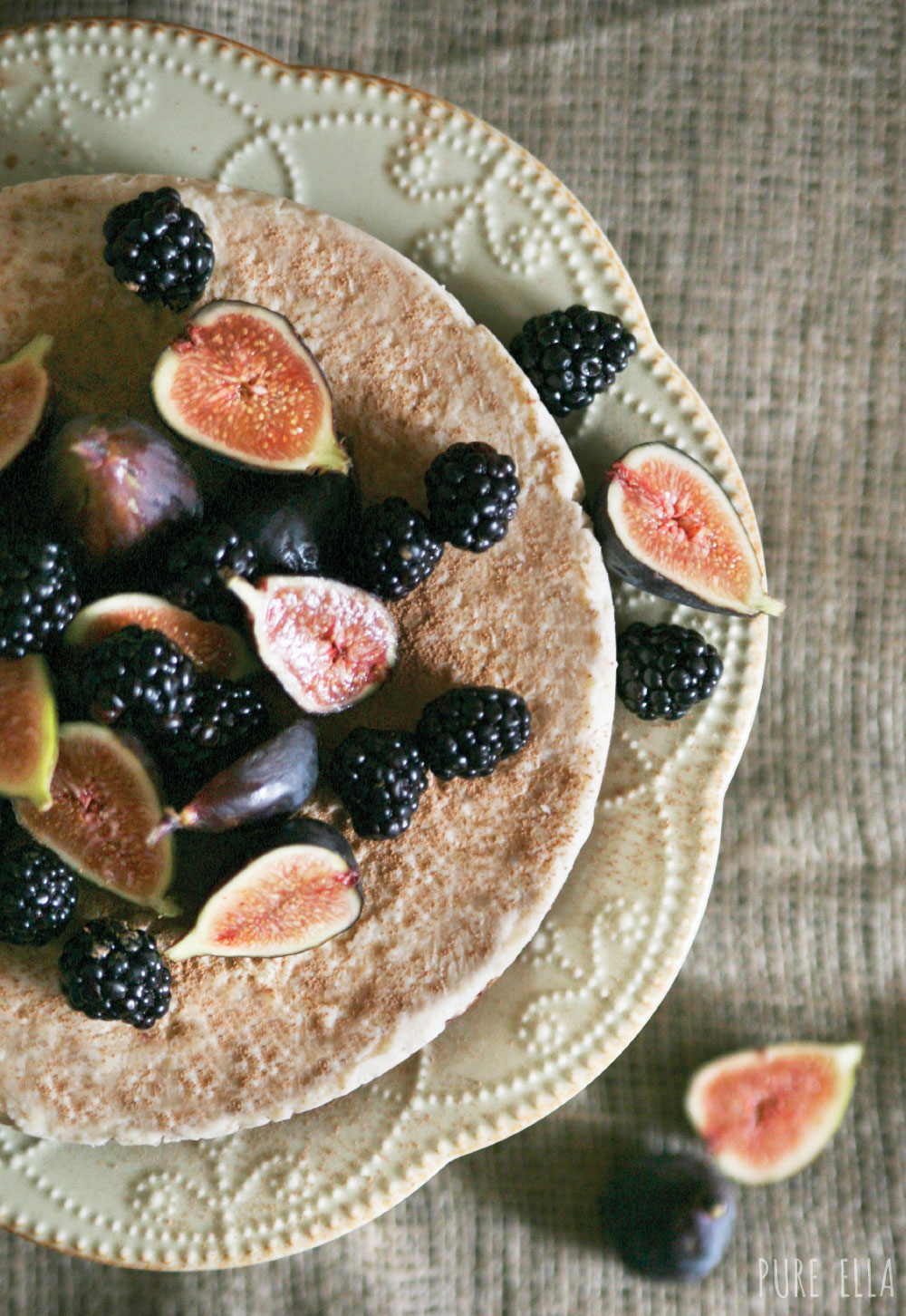 I made this amazing raw vegan cheesecake for our Easter family dinner. And I completely missed the moment when the desserts went out to the table, because I was too busy chasing the kids around outside on their Easter egg hunt. But when I finally walked in, my husband leaned over and whispered "Everyone loves your desserts. Especially that cheesecake!" ;)
You know in real life, I don't have this confidence when people taste my recipes – because it's mostly done just for us three at home and I feel that my husband is just nice and would eat anything. And my five year old loves everything I make. Really – but I also think we just taught her to be polite ;)
So…. that moment I felt a little giddy with excitement that my desserts were a hit! And to add to this *fun* – we did a poll to rate all the home baked desserts. It's a silly recipe competition right at the table that we've been doing for years now (don't know why and how it started). But since most ladies of the fam bring in something homebaked for these bigger occasions – it's worth to put in the extra effort becausse well, we are highly competitive. (jokes!) ;)
So yes, the evening carried on with everyone tasting and reciting numbers out loud. Too funny and just a tad crazy – but that's what you put up with when you're in my family ;) Good news the final verdict was that this recipe for the Raw Classic Vanilla Cheesecake was #1! (and of course they could NOT believe it was dairy and egg free!)
When you make this dessert yourself, let me know if it continues to hold the #1 spot! ;)