I just love a good smoothie and this is one yummy recipe you will want to make up very soon!!
It's so yummy and healthy because it comes from THE expert of blender recipes ~ Miss Tess Masters. The Blender Girl herself just published a Smoothies book and I'm so excited. Inside, Tess shares her secrets to making wholesome, delicious and healthy smoothies. I tell you, each one is a beauty that I'm excited to try each smoothie recipe!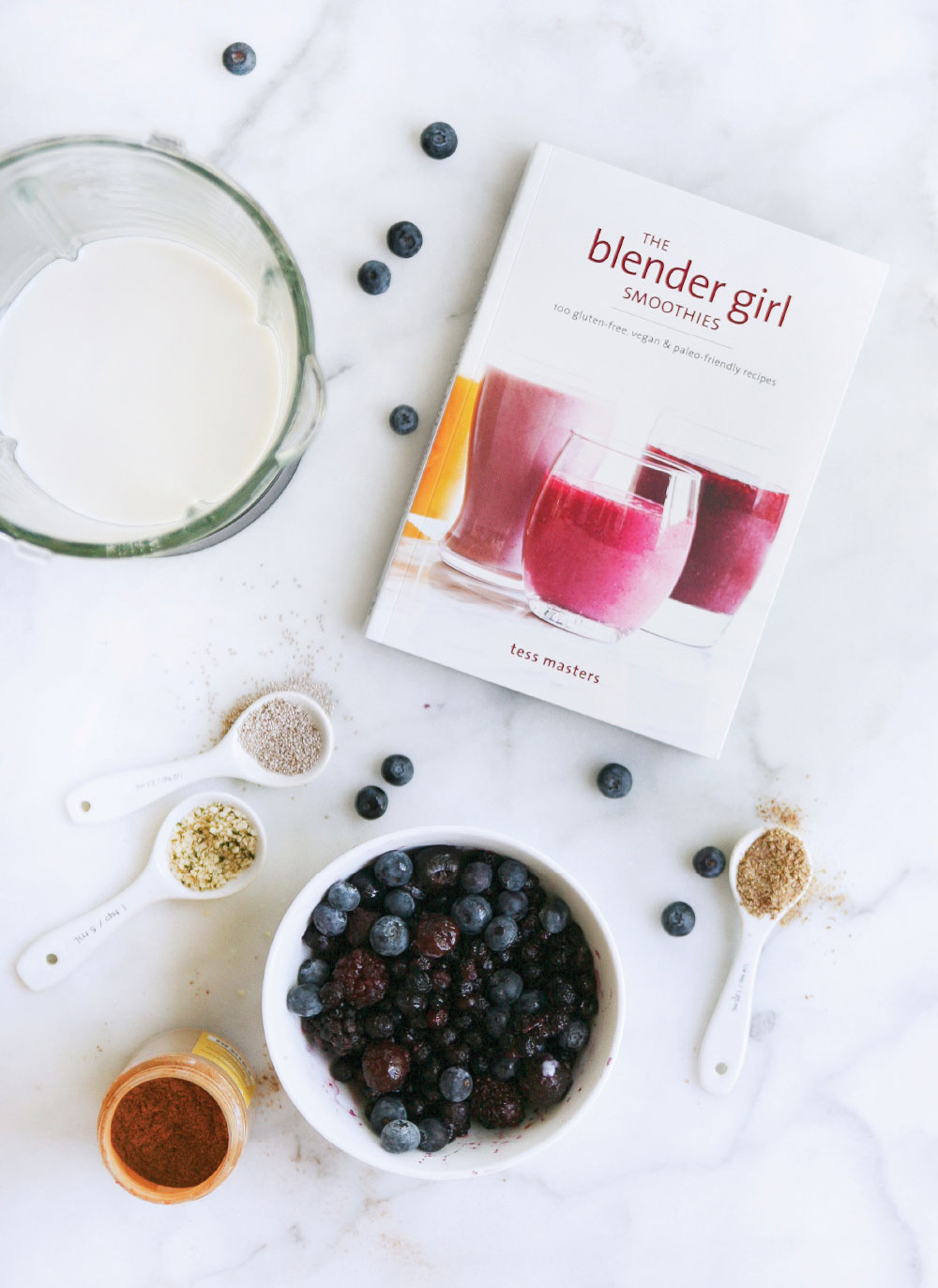 Smoothies have changed my life in so many ways…
If you follow my story of healing, you'll know that I suffered from a rare illness that affected my muscles everywhere. One thing I could barely do was chew and swallow food. I tell you, it took me over an hour to finish a salad.
When I started to make smoothies, the gulp factor was smoother and I could chug it down (slowly) but chug I did. I also amplified the nutrition factor so I could boost my immune system, increase my vitamins and minerals through smoothies. Smoothies were my medicine. It was with smoothies that I realized I could have something delicious with tons of nutrients in so many flavours and varieties – smoothie recipes are truly endless.
Now, I make smoothies for this same reason; to amplify the nutrition and also for the convenience factor. But also now as a busy mom, I can throw some ingredients into a blender and whip up something not only delicious but also super healthy, filled with nourishing ingredients that my body needs.
That's why I am in love with this book. The variations of ingredients are some I have never tried before. I especially love the booster options and the *magic* factors.
Basically, the book is filled with so much goodness and so much inspiration for years of smoothie-making.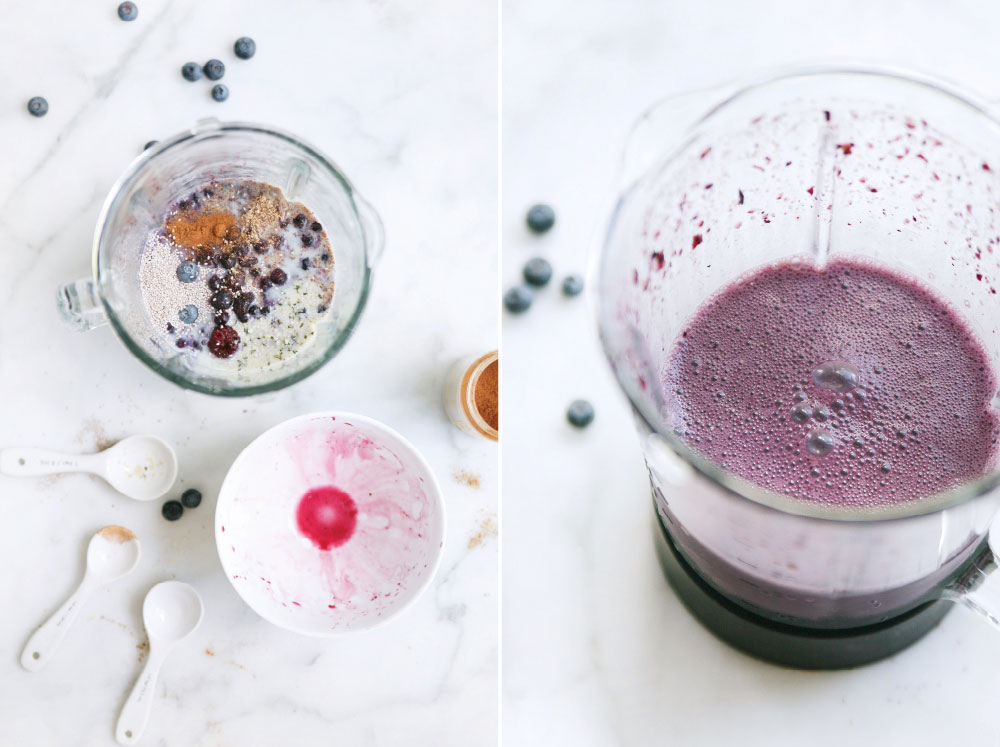 Omega Overture Berry Smoothie Recipe
from The Blender Girl Smoothies Cookbook
Ingredients :
2 cups unsweetened almond milk
1 teaspoon chia seeds
1 teaspoon ground flaxseeds
1 teaspoon shelled hemp seeds
1/4 teaspoon ground cinnamon
2 cups frozen mixed berries
1 medium banana (optional)
1 tablespoon pure maple syrup (optional)
Directions :
Add all the ingredients to a blender and mix on high for about a minute until smooth and creamy. Adjust the sweetness to your liking. Enjoy.
The recipe calls for a banana and maple syrup but I like to cut my sugars down some more so I omitted these two ingredients to cut down on sugar a bit. I think the 2 cups of mixed berries provided enough sweetness but you're welcome to add these ingredients to your liking. This smoothie was delicious!!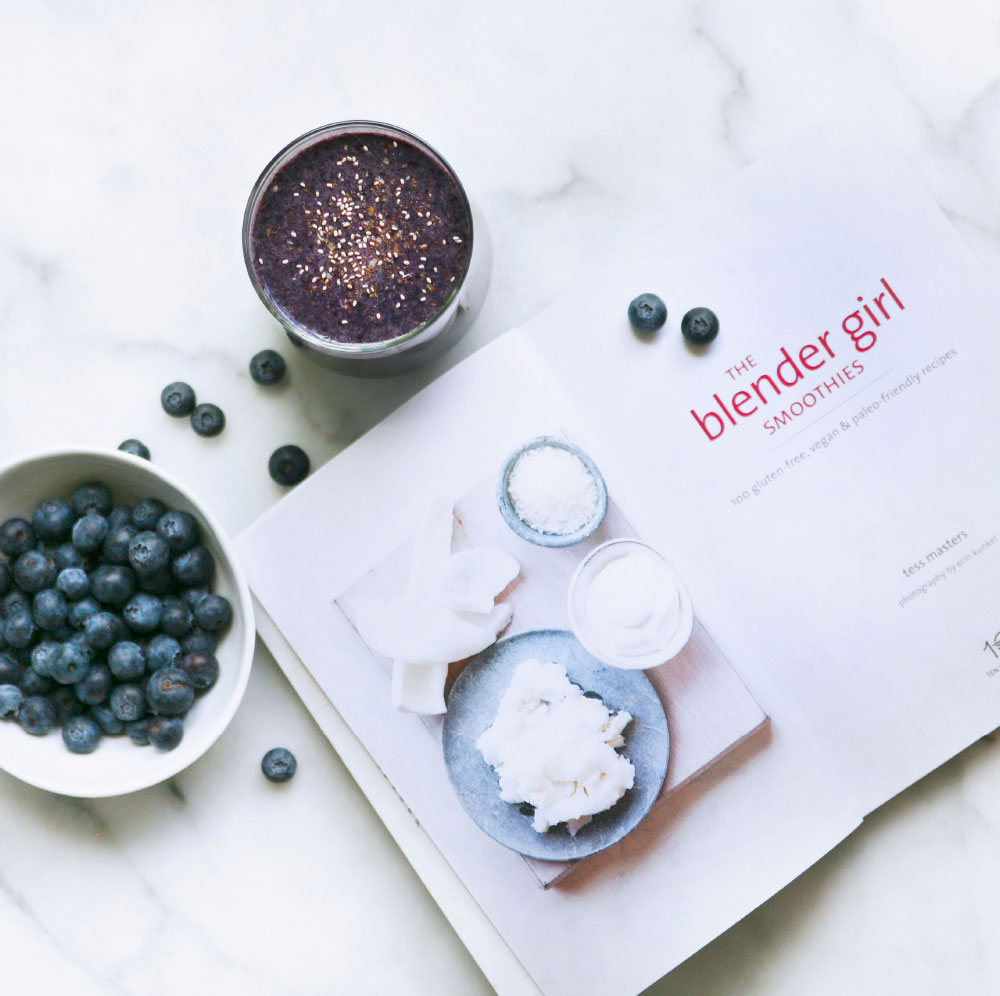 The Blender Girl Smoothies book is now my favourite smoothie book. Available on Amazon and in your local book store.
Do tell, what are your favourite ingredients in a smoothie?