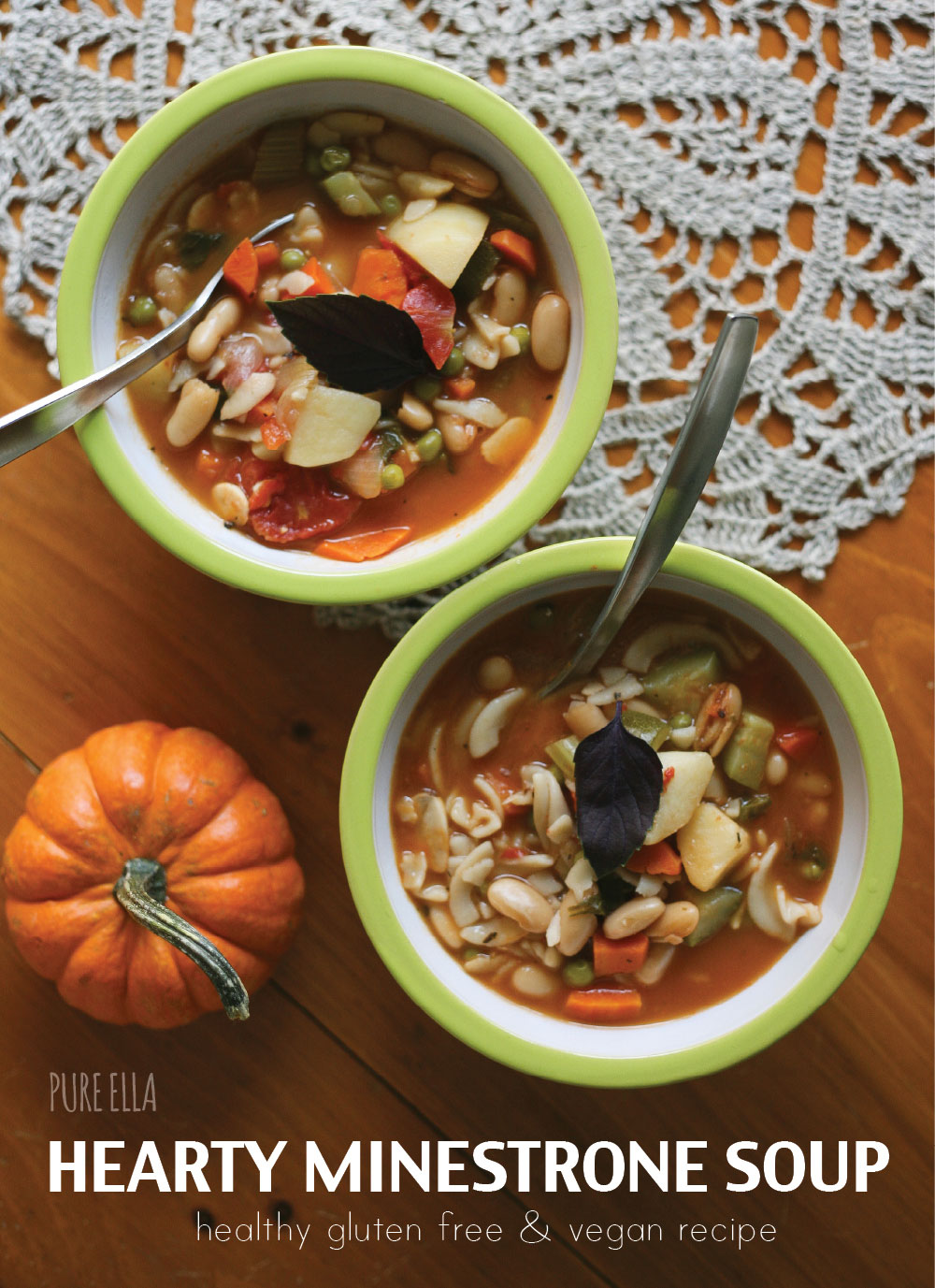 When there's days with little sunshine… there's soup. Soup is my sunshine on a cloudy day. Is there anything else more comforting than a home cooked filling hearty soup? I love a good steamy bowl of soup of any kind, pretty much ~ but ones that I like the most are when they fill you up, leave you satisfied and your tummy happy. (Let's slip in the added benefit that a hearty soup – means you don't need to cook two course meals! IT is the meal. And it's all made in one pot.) Do I hear cheering for big hearty soups? Like this Hearty Minestrone Soup!
HEARTY MINESTRONE SOUP
(healthy gluten free/ wheat free, dairy free, vegan recipe)
1 large onion, diced
4 organic tomatoes, diced (or 1 can of diced tomatoes)
(if using fresh tomatoes, add a small can of tomato paste)
3 zucchinis, chopped
2 medium sized potatoes, chopped
2-3 carrots, chopped
3 cloves of garlic, chopped fine
1 stalk of celery, chopped
1 cup of sweet peas, frozen are great
1 large can of large lima beans (red kidney beans also work great)
1/2 cup of gluten free pasta
grape seed oil for cooking
1 teaspoon of each, Oregano & Basil
1 tablespoon of sea salt
fresh cracked black pepper
fresh basil for plating (I was lucky to pick the last of my purple basil from the garden)
hot water from the kettle
I like to start this big pot of Vegetarian Hearty Minestrone with a big drizzle of grape seed oil in the bottom of the pot. Heat that up and add onions, then garlic, then celery, then carrots. Drizzling in more oil as needed so the veggies don't stick to the pot. You want to heat them up slightly so they release some flavour but are still not fully cooked. At this same time I also boil some water in the kettle. Pour that over to cover the veggies and stir. Add in the potatoes and pasta. Add in salt and stir in the dried herbs. Bring to a boil, then reduce the heat and cook for about 10-15 minutes on medium low heat.
Then I add in the sweet peas and zucchini and tomatoes; vegetables which cook quickly and aren't great when overcooked. At this time you can also add in the canned beans and the can of tomatoes (if that's what you're using) or tomato paste. Stir again and cook for another 10 minutes or so until all nice and cooked and mingly with all the beautiful aromas and flavours.
Serve and enjoy. Makes the best leftovers and freezes well too up to 3 months.
To my eyes it's not just food to satisfy hunger. It's comfort food ~ love that brings the family together. These are the best times of our family life sitting around our round kitchen table….
Minestrone has quite possibly dozen's of variations. It's one of the most versatile soups ever. You can see what you find in your fridge. Some red bell peppers and eggplant would also work nicely. Long green beans instead of sweet peas are great. And changing up the beans automatically makes it a new soup recipe. One of the best things is that it's easy to pull off, just look for Italian-dish vegetables. If you eat mushrooms (I don't as it contributes to Candida) then they would also go well.
I was also happy to pick the last few leaves off my basil plant in the garden. No happy that it was it for fresh herb season, especially basil. It seems like basil is one of the most delicate herbs. My parsley and mint are still doing well, but I should be making plans on what to do with that big pot. Either cut it and bring it in to eat up or consider bringing the whole pot it and enjoying it through the next few months of fall-winter. But I am worried about bringing in some slugs into the house. Yuck! Any advice?
Back to soups and comfort foods cooking in the kitchen…what are you cooking right now?