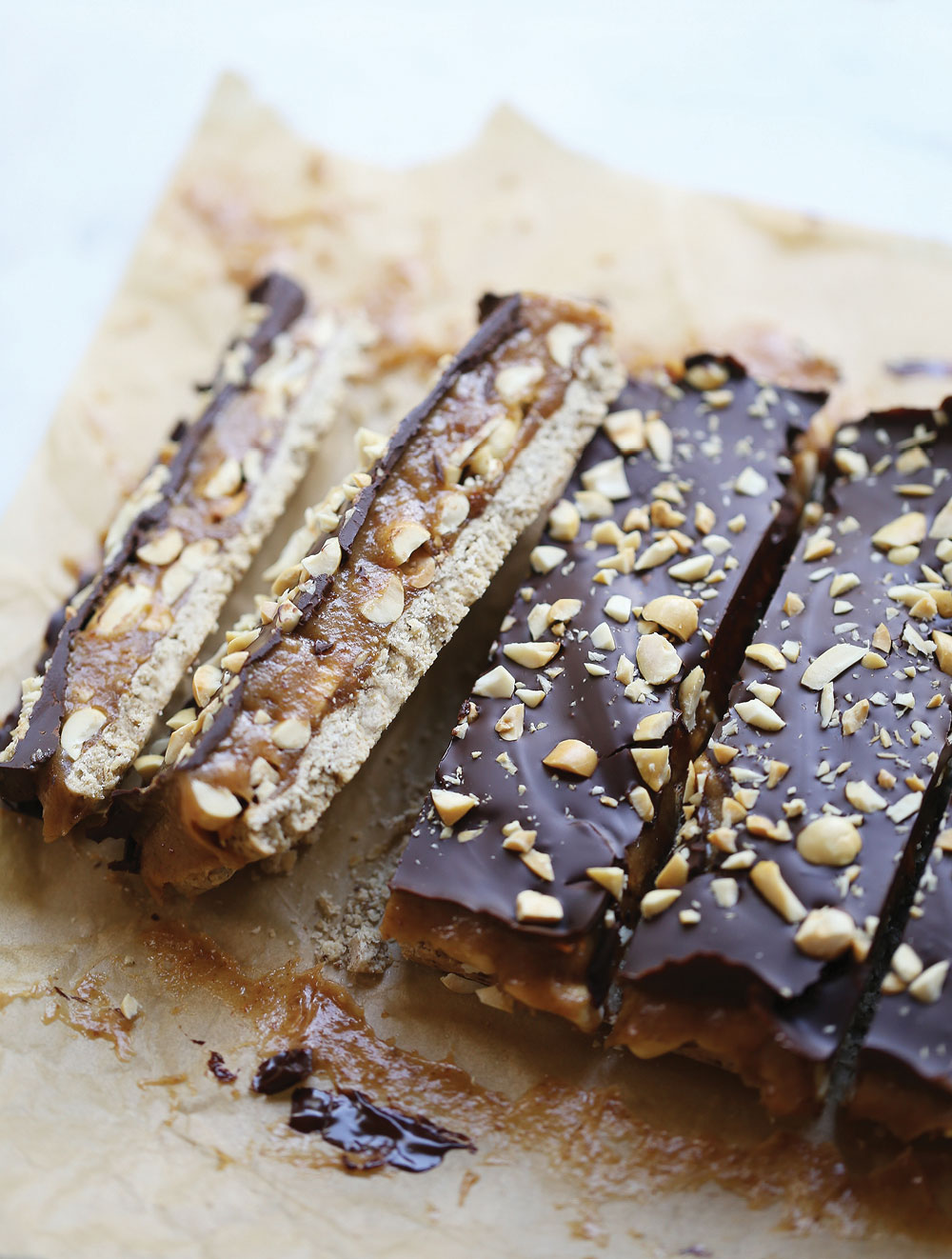 WOW! Here's another amazing recipe for you my dear friends. Say hello to your newest favourite treat : The Healthy Vegan Snickers Bars! These Homemade Snickers Bars are also naturally gluten-free and refined sugar-free. Yasss!! Imagine a scrumptious combination of a crispy cookie base with caramel, peanuts and chocolate all coming together with pure ingredients and naturally vegan, gluten-free AND refined-sugar-free! Hello – your world just got tastier! :)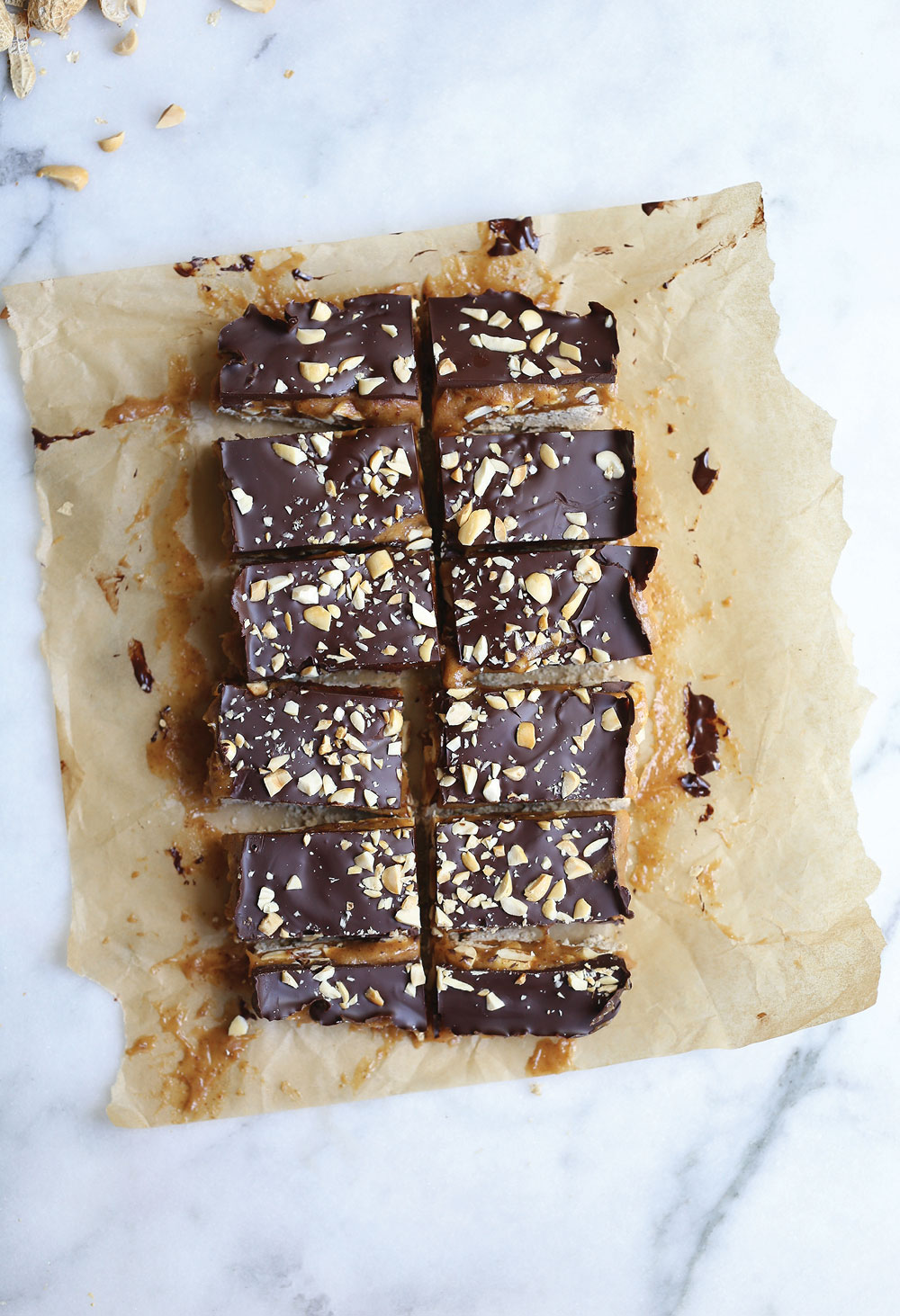 This is such a fun recipe to make and eat!
It comes together is less than 30 minutes from start to finish and it assembles really easily.
There's 2 components to it that you actually need to make : the cookie base and the caramel filling. The peanuts in the centre and melted chocolate come together practically on its own.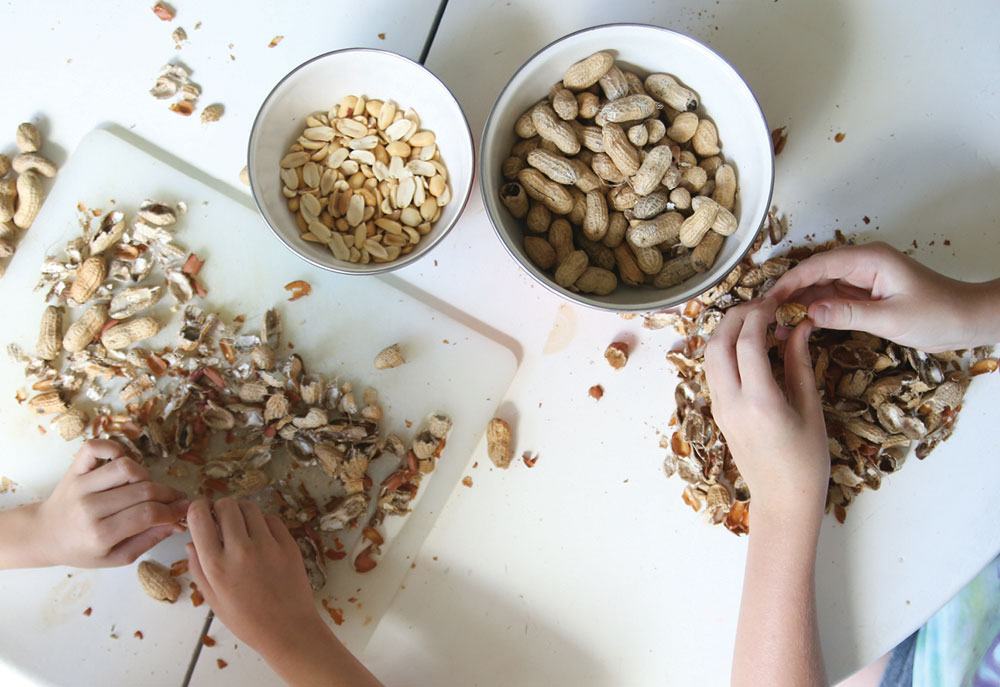 It was really fun to incorporate my kiddo with her friend to help with these. Kids are awesome at helping out with food especially dessert. If you have them around, free child labour is ok sometimes ;) (wink!)
Find some kids and get them to de-shell some peanuts to get started. (or buy de-shelled peanuts obviously)
In the meantime, make the oat cookie base.
While that's in the oven, make the caramel.
Then when that's chilling, melt the chocolate.
Then put it together and enjoy within minutes.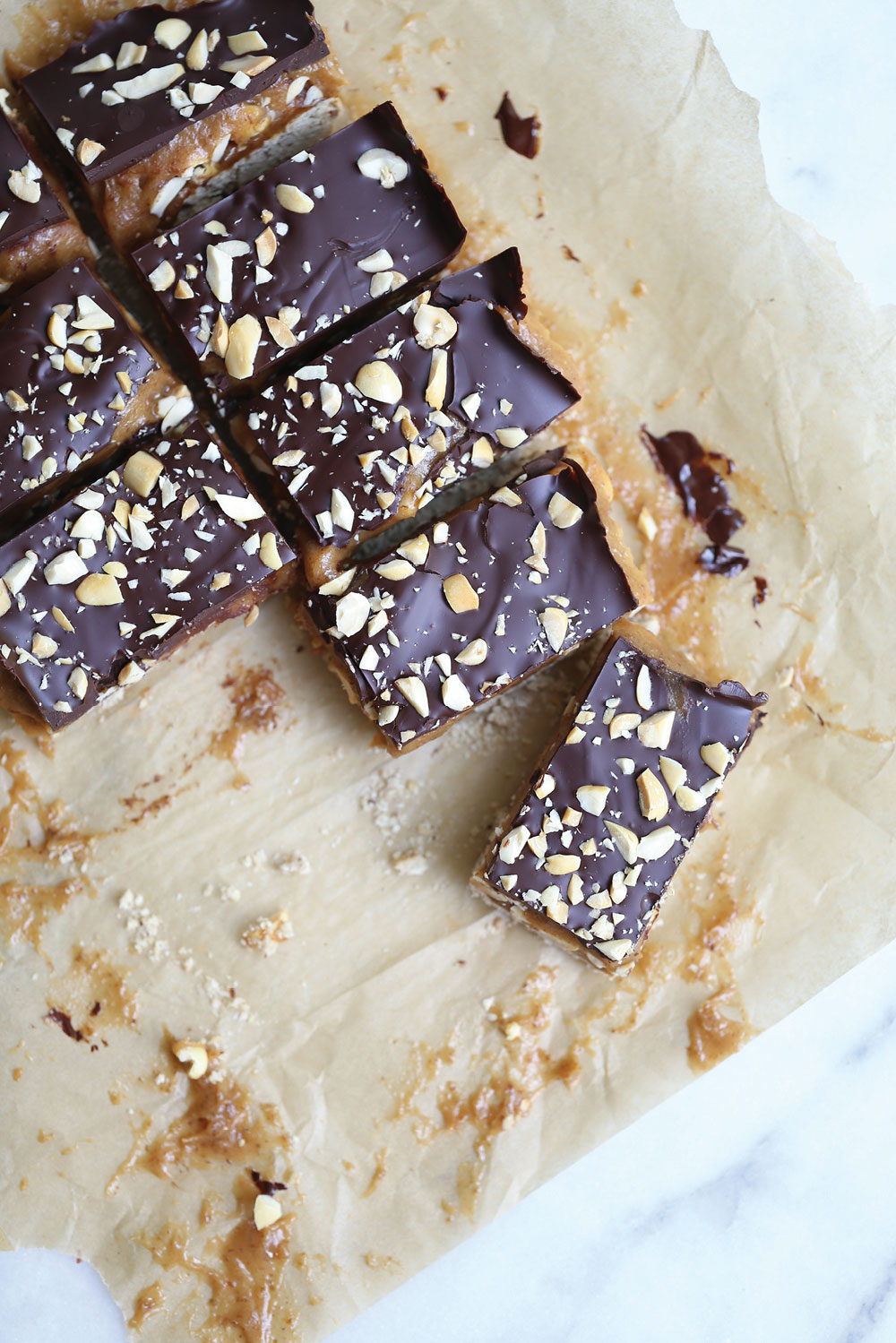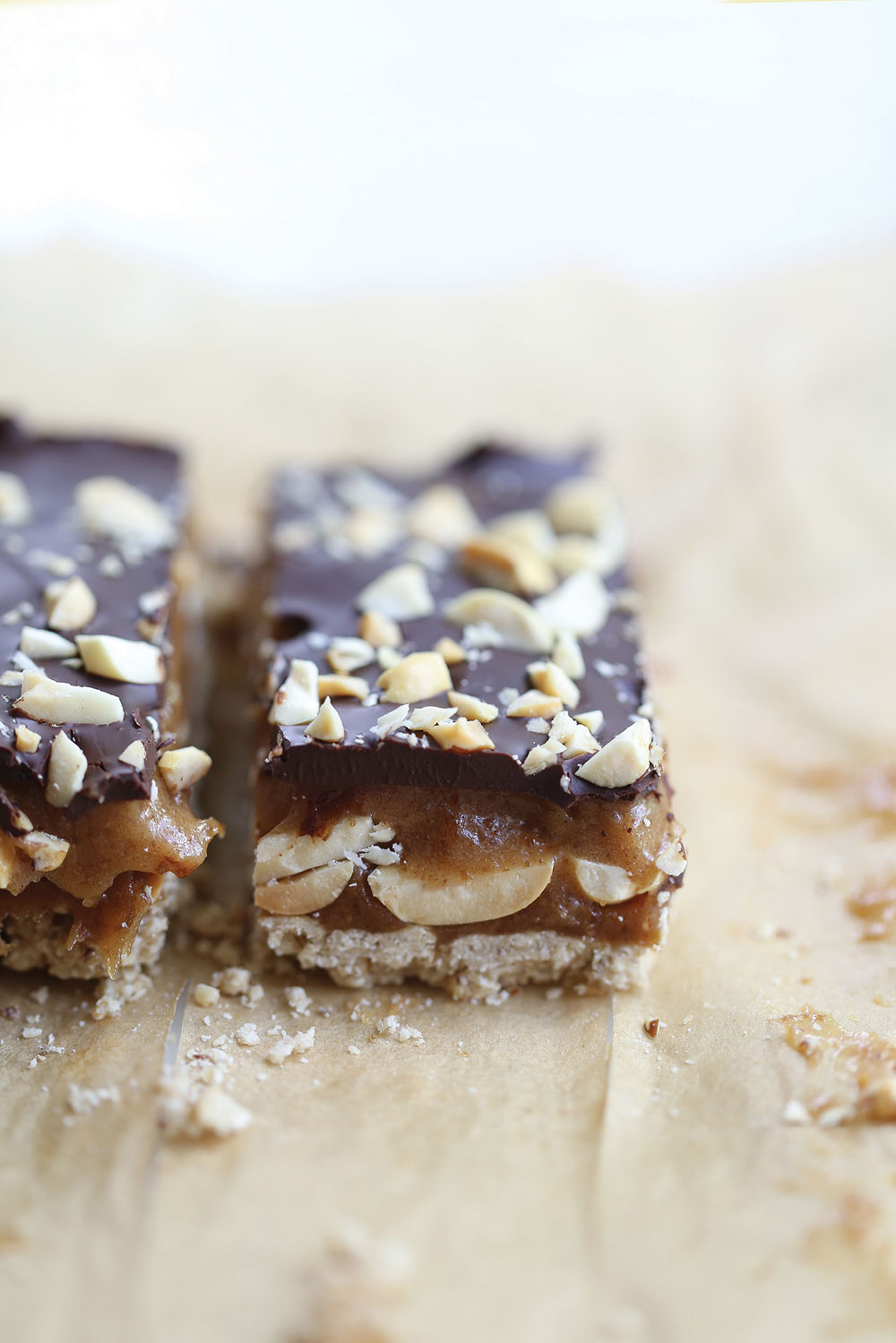 Healthy Vegan Snickers Bars
2017-07-15 16:56:12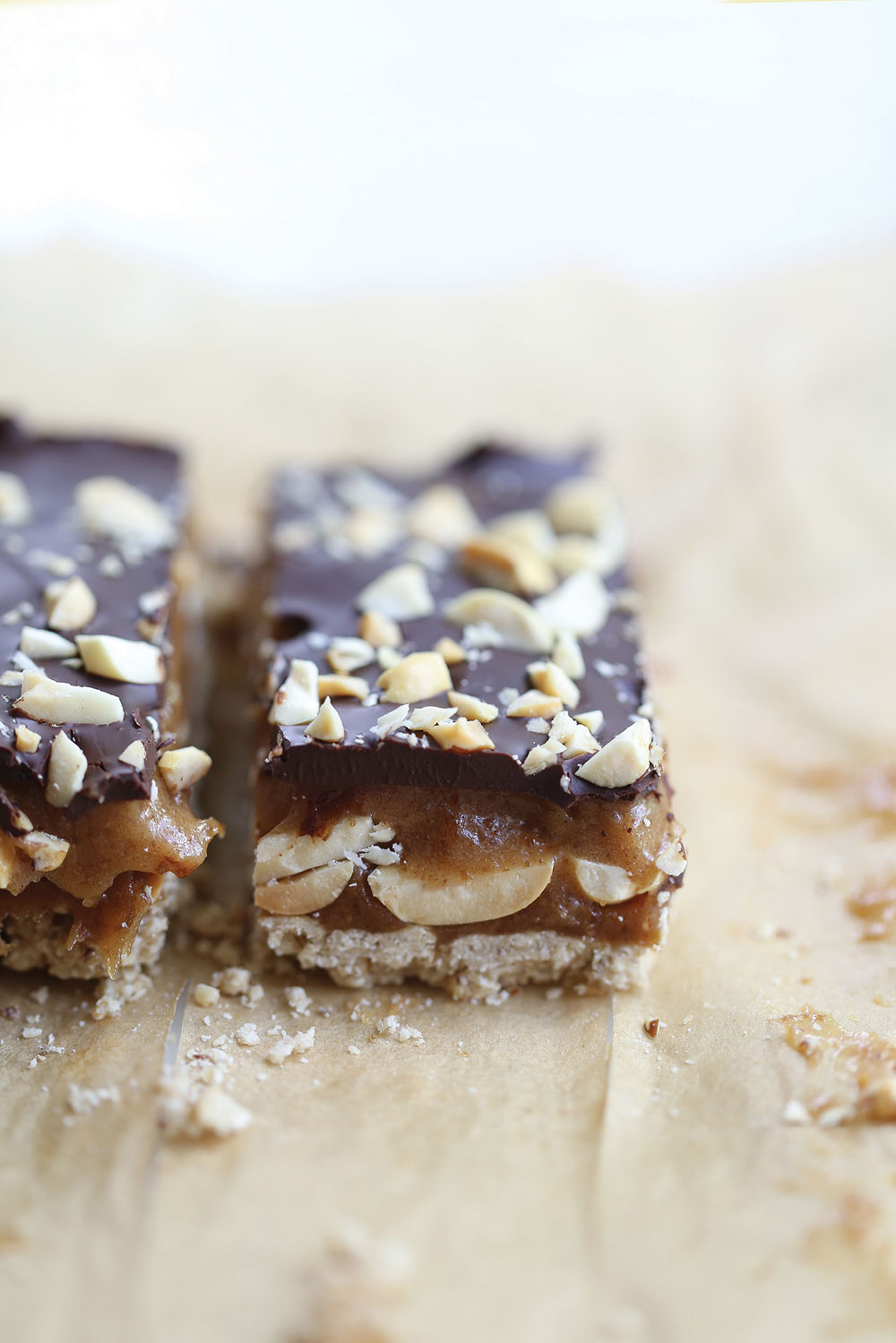 Delicious natural healthy vegan snickers bars that are gluten-free and refined sugar-free.
Cookie Base
1 1/2 cups rolled oats
3 tablespoons coconut oil, softened
1/4 teaspoon sea salt
1/2 teaspoon vanilla extract
3 tablespoons coconut nectar or maple syrup
1 tablespoon ground flax meal
Caramel Filling
12 Medjool dates, pitted
1/4 cup natural peanut butter (look for 1 ingredient)
2 tablespoons coconut oil (divided), softened
1/4 cup + 2 tablespoons maple syrup
Extras
1 cup peanuts, roughly chopped
3/4 cup - 1 cup 72% dark chocolate
Instructions
Preheat oven to 350 F and line a baking dish with parchment paper.
First make the cookie base by combining the oats, coconut oil, salt, vanilla extract, sweetener, flax meal in the food processor and processing until the mixture sticks together well.
Press into the bottom of the pan and bake for 10 minutes or until the top looks dry and slightly golden on the edges.
In the meantime, make the date caramel by adding the dates, peanut butter, 1 tablespoon of coconut oil and 1/4 cup sweetener into the food processor and process on high until smooth.
At this point the cookie base should be baked and remove from the oven and allow to cool for a few minutes.
In a double boiler (or a pot with water and a bowl overtop) melt the chocolate.
To assemble
Scoop some of the caramel on the base of the cookie base to make a thin layer (about 1/4 of the mixture). Keep the rest in the food processor.
Sprinkle the peanuts on top.
To the rest of the caramel in the food processor, add in the remaining 1 tablespoon coconut oil and 2 tablespoons maple syrup and blend on high until smooth.
Pour the caramel overtop of the peanuts. (the addition of the extra coconut oil and maple syrup will make it more runny which will make it easier to spread over the peanuts.)
To finish pour the melted chocolate over the caramel.
Sprinkle extra chopped peanuts overtop.
Place in the freezer to set for about 10-15 minutes or in the refrigerator a bit longer.
Keeps well in the fridge for up to 1 week.
Pure Ella https://pureella.com/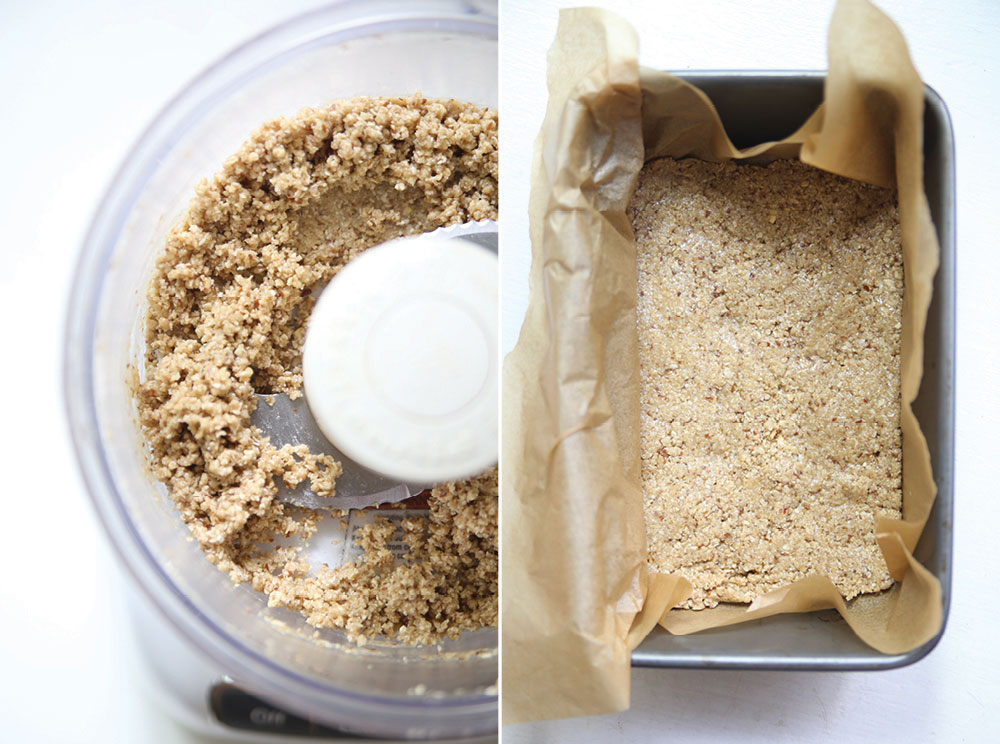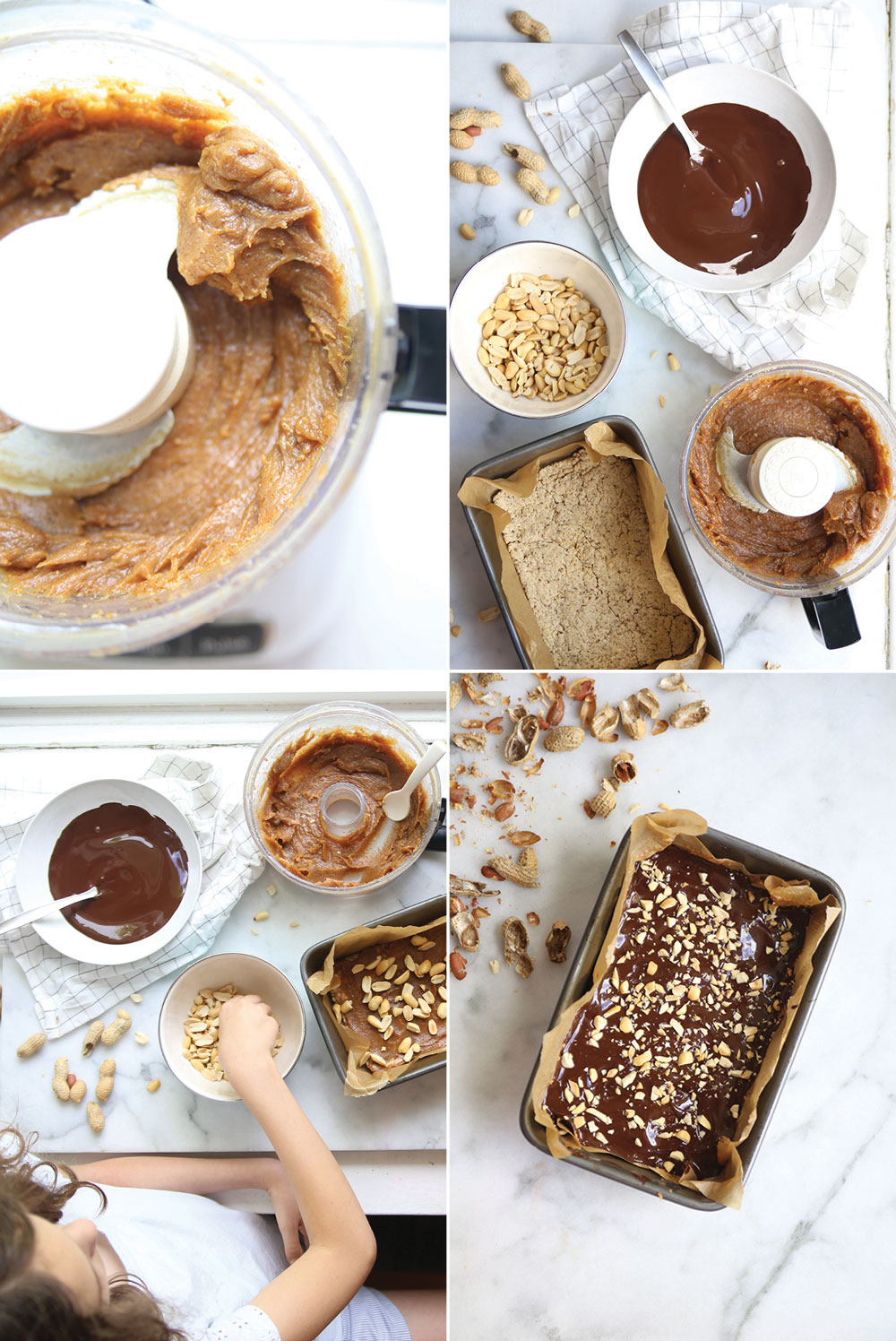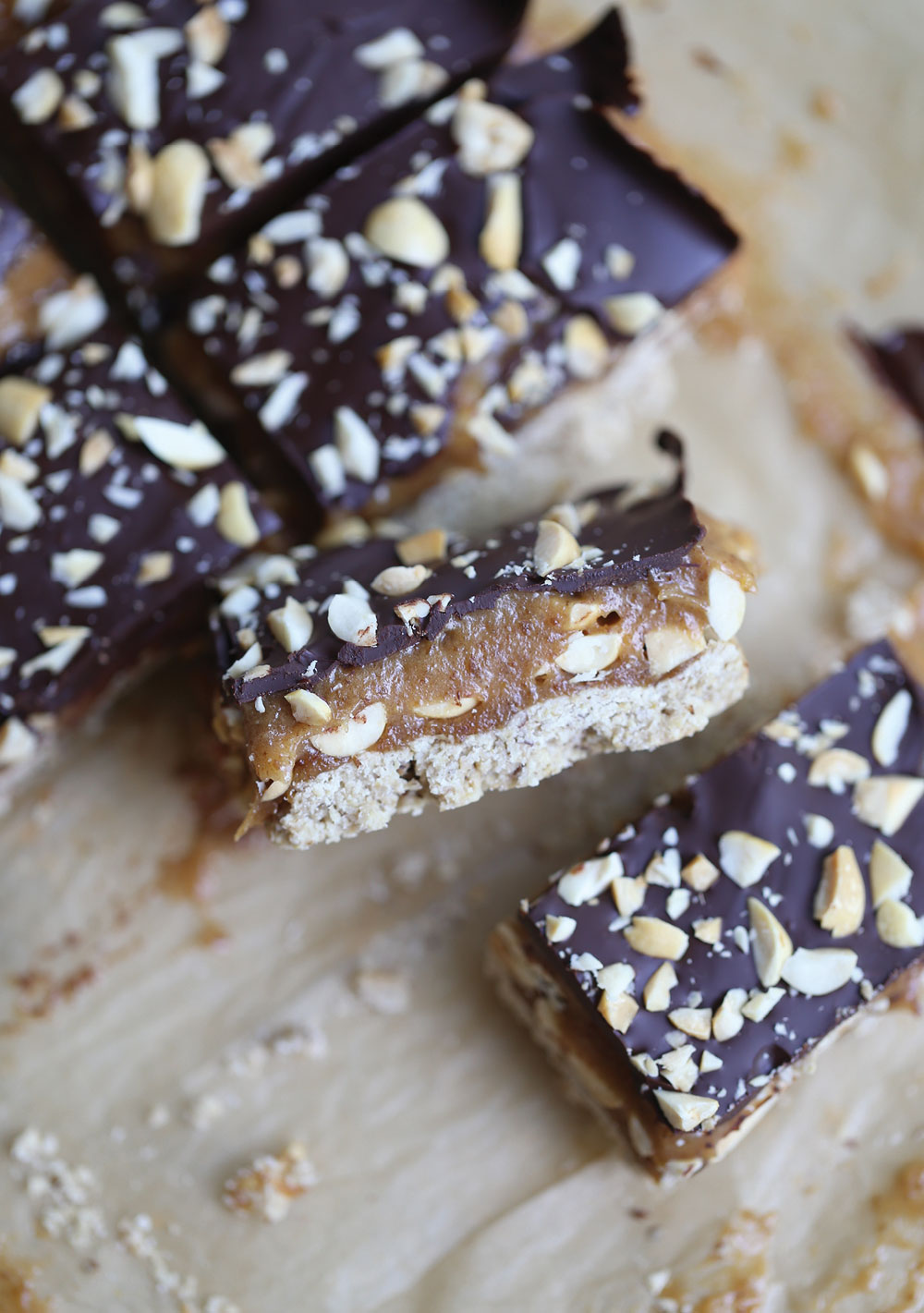 If you're a fan of copycat recipes, these are amazing and made healthier and are naturally vegan and gluten-free and refined sugar free of course!
These are probably the next best thing since my Homemade Peanut Butter Cups recipe which is super popular on Pure Ella already! Those are also a must-try!!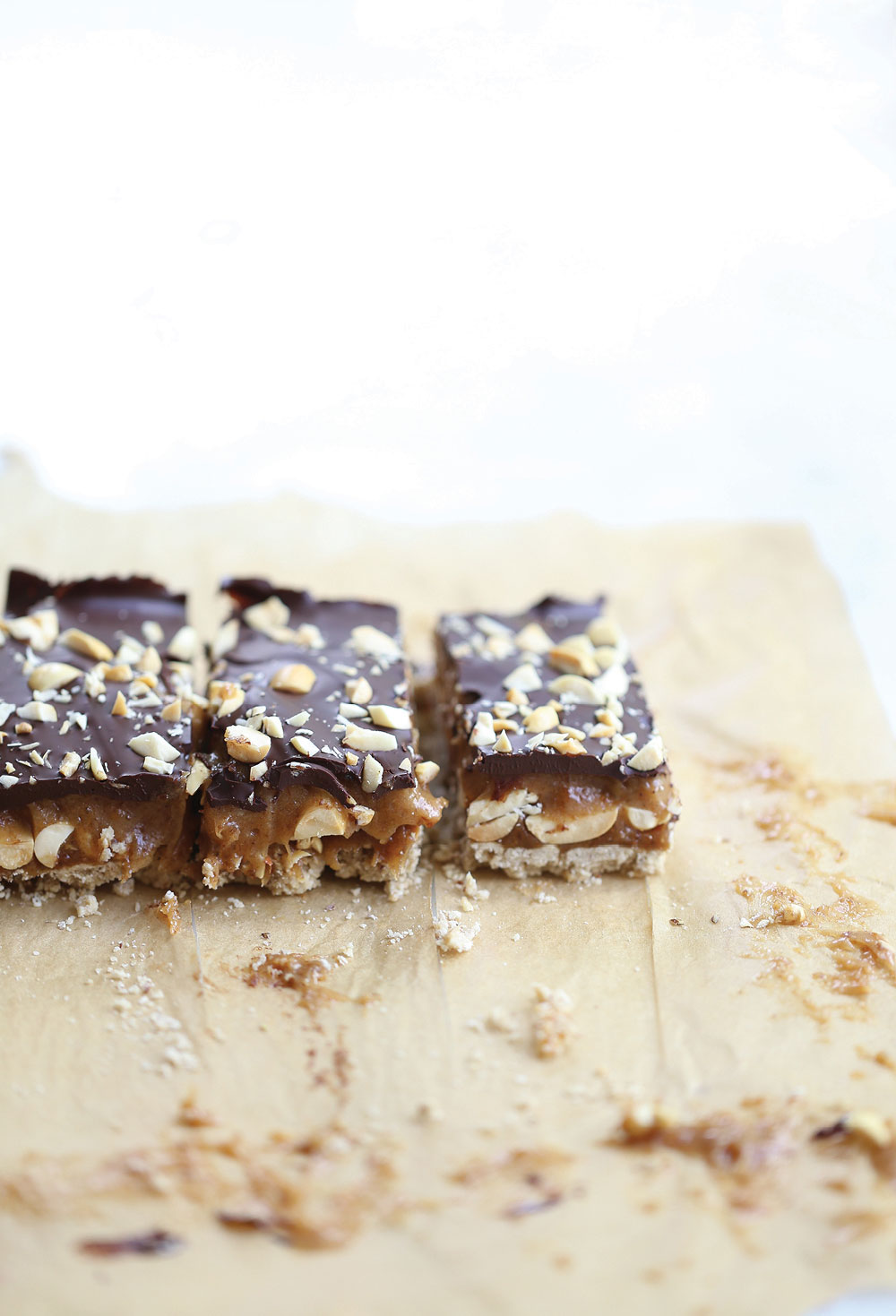 As a sugar expert I have to say that these do contain sugar BUT these are refined sugar free and do make a healthier alternative to actual Snickers which contain corn syrup and refined sugar as well as palm oil, and artificial flavours etc. (See all the ingredients below.)
To cut the sugar in this dessert, this is what I've done:
Used refined sugar ingredients such as dates, coconut nectar and maple syrup
Added protein by adding peanuts and peanut butter (obviously necessary to make Snickers) but it's also great to add in protein to desserts as you get satisfied with less because protein is very filling.
I added healthy fats from the coconut oil as well as in the peanuts and peanut butter which help to slow down the absorption of sugar in the blood.
I added fibre with the addition of flax meal as the peanuts and oats as well. Fibre also helps to slow down the absorption of sugar in the blood.
As a side note, these do still contain sugar so it's good to keep portions in mind. I would have one bar with a cup of an unsweetened coffee and have that one dessert in a day. (I'm naturally good with portion controlling and I recommend you are too :))
These are the actual ingredients of Snickers bars : I personally do not like these ingredients at all except for the peanuts.
Snickers Bars Ingredients : milk chocolate (sugar, cocoa butter, chocolate, skim milk, lactose, milkfat, soy lecithin, artificial flavor), peanuts, corn syrup,sugar, palm oil, skim milk, lactose, partially hydrogenated soybean oil, salt, egg whites, artificial flavor.
No further comment. Just make these Healthy Vegan Snickers Bars instead, ok. ;)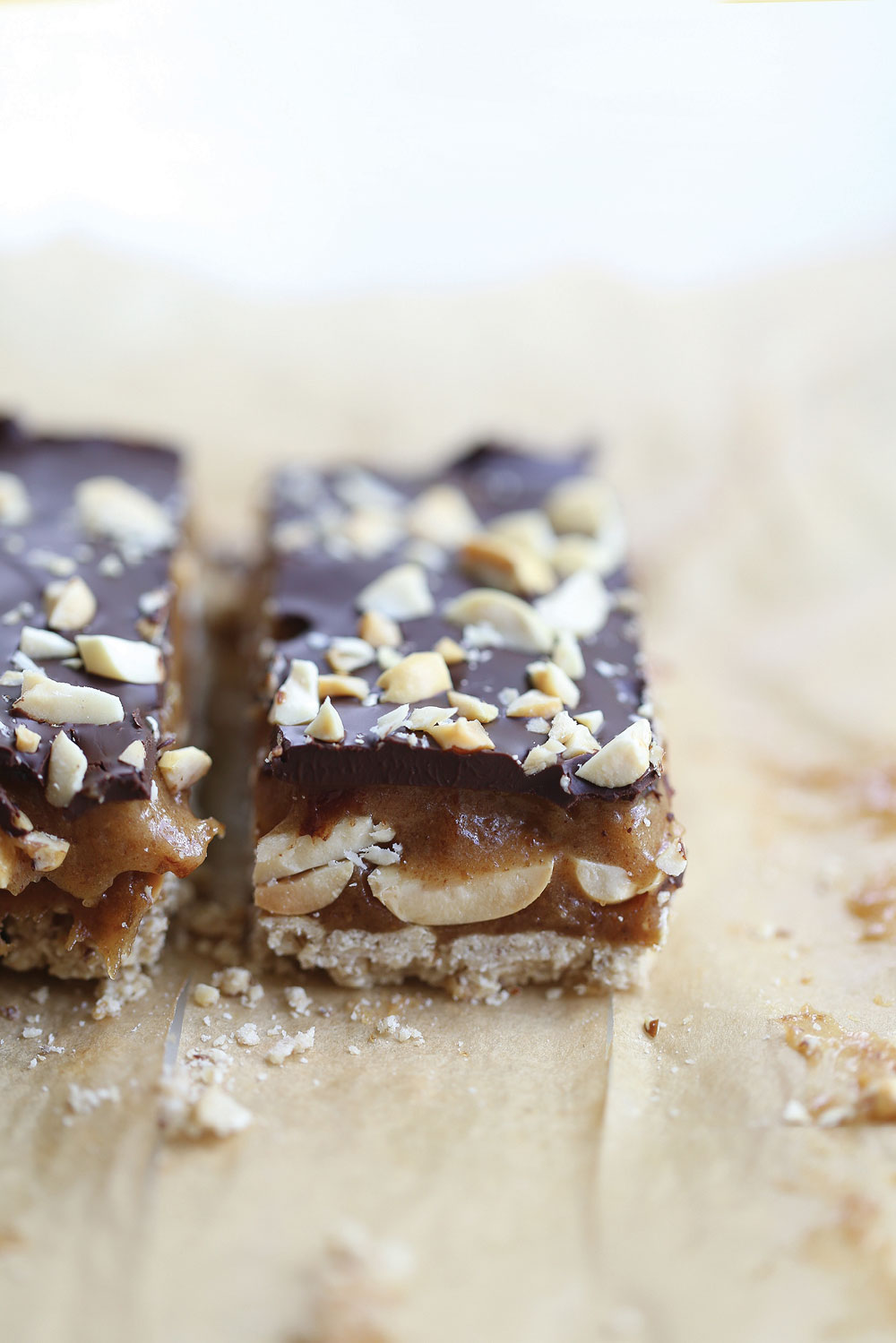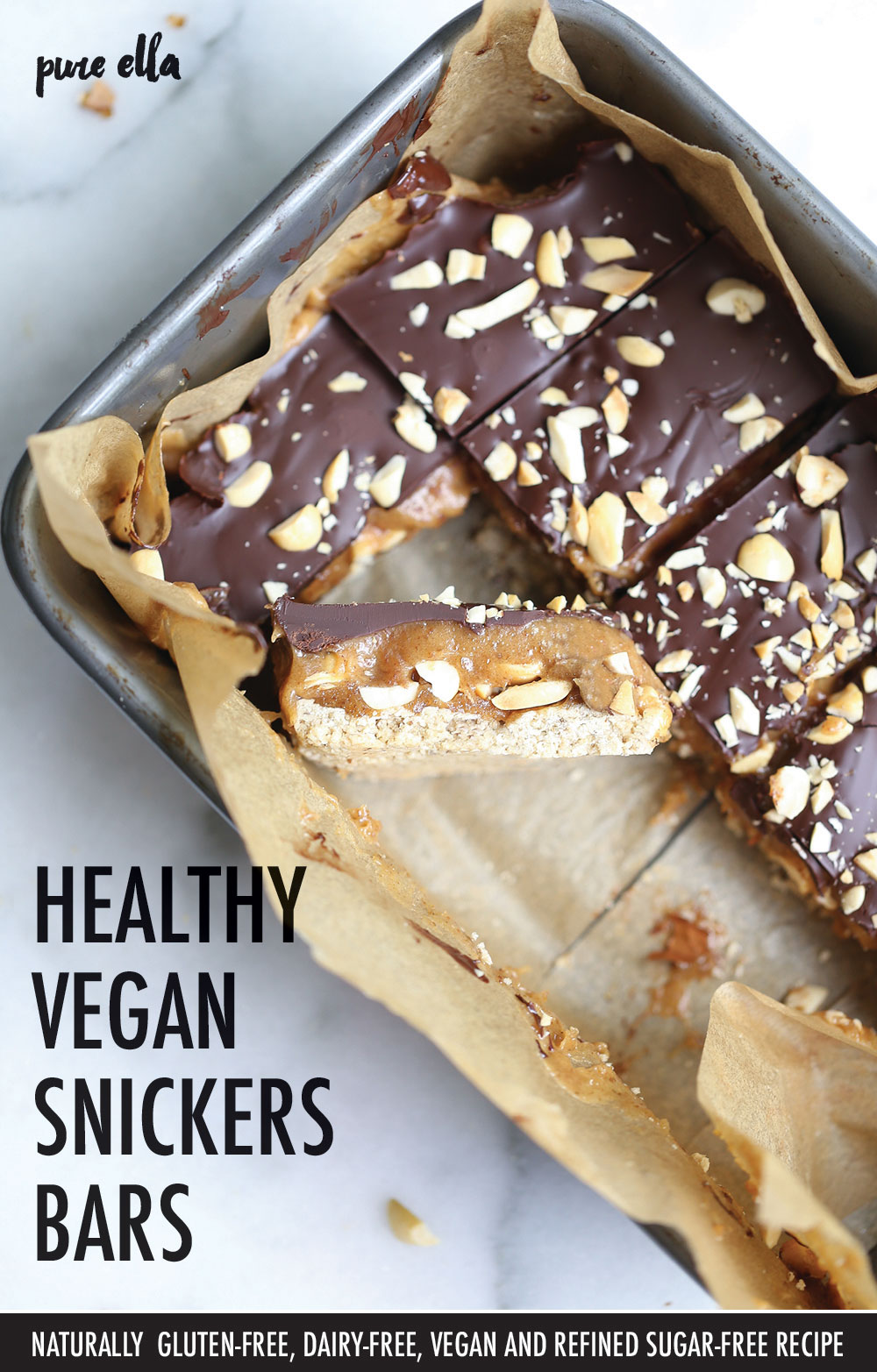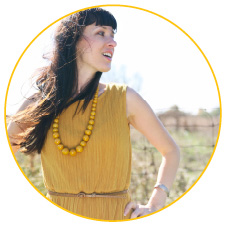 Ella Leché
is a cookbook author ('
Cut the Sugar
'), recipe developer, and photographer/stylist behind Pure Ella; where she shares delicious and healthy recipes. Eating PURE is clean ingredients, whole foods, plant-based nourishment and delicious desserts – with quality ingredients and sweeteners so they're treats with benefits so you won't have to feel deprived or restricted to eat healthier.
Thank YOU for being here!
Follow on social media for daily health & happiness inspiration:

ps. don't forget to share your Pure Ella (PE) recipe creations by tagging them #pureella and
@pure_ella
on Instagram – we repost our favourite photos!