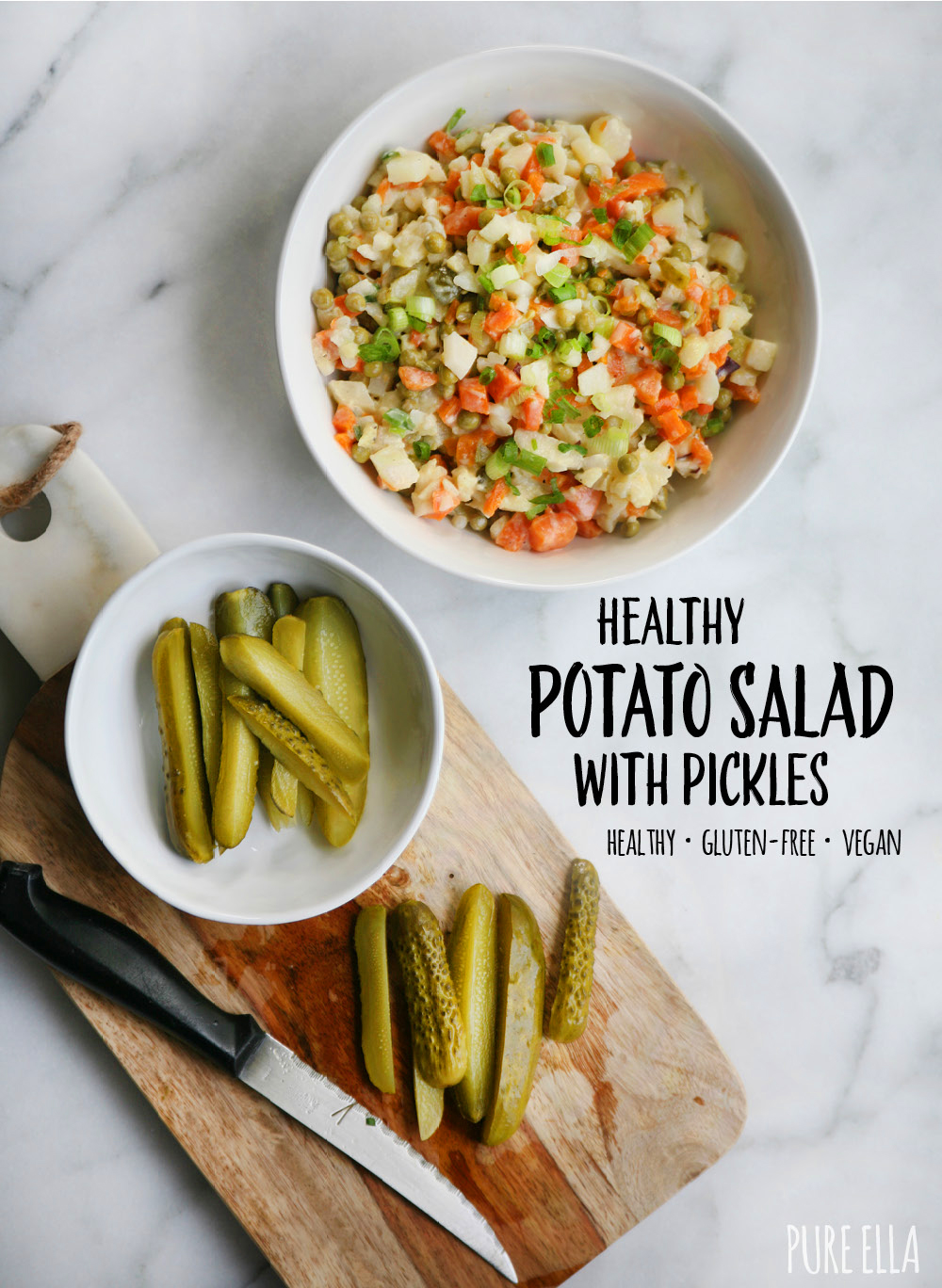 These beautiful summer days could not be more perfect.
We can't get enough of backyard dinners, friends and family dropping by, bonfires and great food.
Sometimes I admit that it's hard to do it all. Especially with a little baby in the house, inviting people is sometimes the last thing I want to do. It's with simple healthy dishes like this that I can make in advance that help out so much.
Truth is, I cut corners where I can when it comes to cooking. Believe me.
Like in this salad, for example, I prep the ingredients the day before so that it's easy to toss together just before a party or family dinner. It makes excellent leftovers as is, so it makes sense to just make a big bowl.
Need a potluck dish? This vegan potato salad recipe rocks for potlucks as a great side dish.
Throwing a brunch? It makes a great breakfast, lunch or dinner dish.
We've had this for breakfast with a great bread and earl grey tea, goes well with pickled herring too. So yeah, it's pretty much our go-to salad. And definitely my husband's favourite salad. (he's not a greens eater as you can guess).
Vegan Potato Salad with Pickles
Easy and healthy potato salad recipe that's gluten free, vegan/ dairy-free/ egg-free.
(healthy, gluten-free, grain-free, vegan, dairy-free, egg-free)
Serves 4
Ingredients :
2 medium potatoes
2 medium carrots
1 parsnip
4 pickles (from a brine, not from vinegar)
1/2 medium white onion
1 1⁄2 cups (1 can) green peas (canned or frozen work great)
2 teaspoons mustard (optional)
1 teaspoon turmeric (optional)
1/4 cup/ 5 tablespoons vegan mayonnaise/ Veganaise
2 tablespoon EVOO (extra virgin olive oil)
salt and pepper to taste
1⁄4 cup green onion for serving
Directions :
Scrub and clean the vegetables. Cut the potatoes in half to speed up cooking. Fill a large pot with water and stir in 1 tablespoon of sea salt and boil the potatoes. Add the carrots and parsnip about 8 minutes later (1/2 way through the cooking time of the potatoes). Cover and simmer for 15-20 minutes or until the potatoes are soft. (The carrots and parsnip should be still have some crunch to them). If using frozen peas, add them 5 minutes later so they all finish cooking together.
Timing and cooking these veggies in bulk like that saves a lot of time and only dirties one pot! :)
Once finished cooking, strain the vegetables and allow to cool so they are easily handled, about 30 minutes. (Or store in the refrigerator and do this the next day). Then peel the soft skins of the vegetables with a knife. They come off very quickly and easily.
Chop the cooked vegetables into small pieces and add to a large bowl. Chop the onion and pickles and add to the bowl. Add peas (if using canned) mustard, turmeric, mayonnaise, oil and incorporate well. Add salt and pepper to taste. Add chopped green onion on top for serving.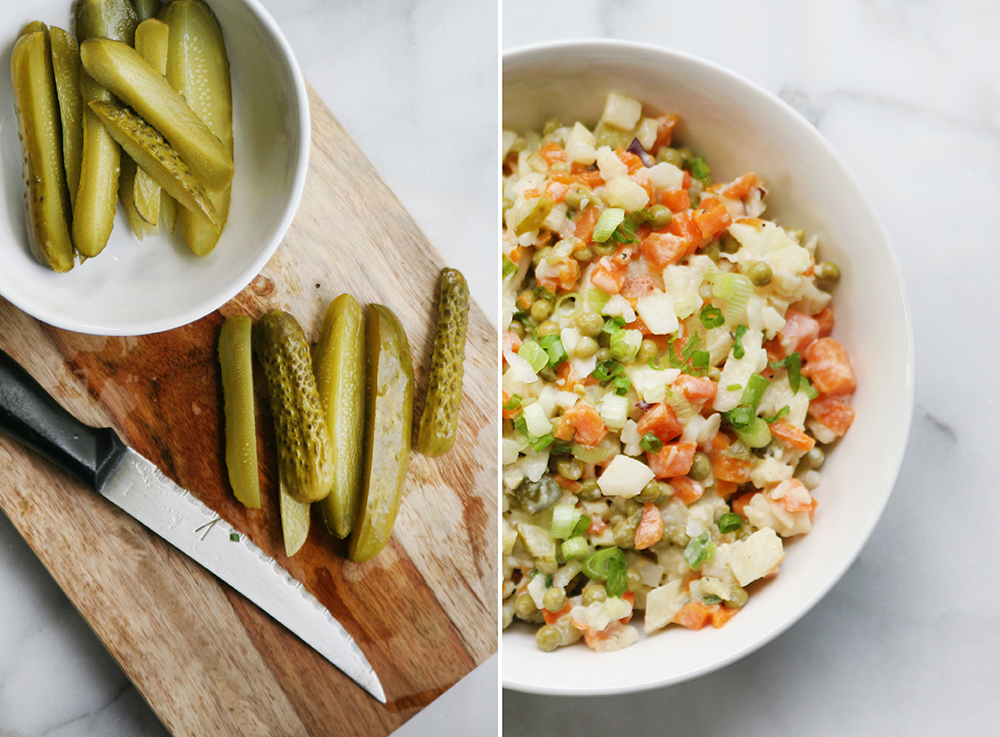 This vegan potato salad is even more delicious the next day as the flavours really do mingle in. This also saves tons on time if you have guests coming or getting ready for a brunch or bbq.
Good pickles are key here. And be careful of additives in pickles. Many companies, including the popular Bick's use nasty stuff in with their pickles. Pickles only need water, herbs and spices as the ingredients as they ferment naturally. So check for ingredients always! Or course, homemade pickles would be amazing in this recipe!
And I love using a quality organic vegan mayo here. Vegan mayo is oil based and does not contain cholesterol. Of course there are also brands that have artificial ingredients and preservatives. So look for all-natural brands. If this is something you don't care for, using only olive oil in this salad works great too.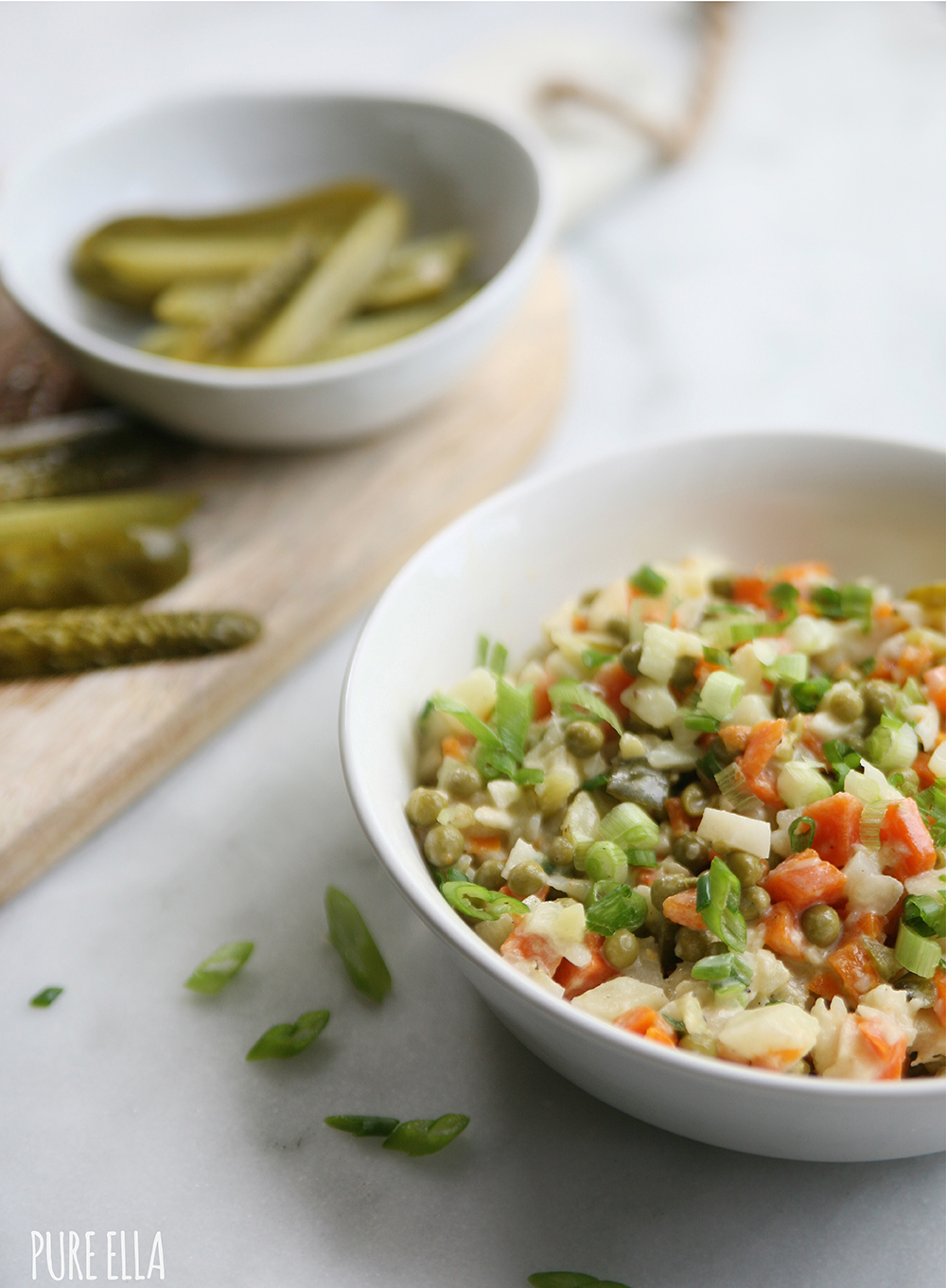 This Vegan Potato Salad is our family favourite. It's tasty at summer bbq's as it is in January. I also love it with avocado toast for breakfast. And my husband goes crazy for it. So I hope it will become your family favourite healthy dish too.