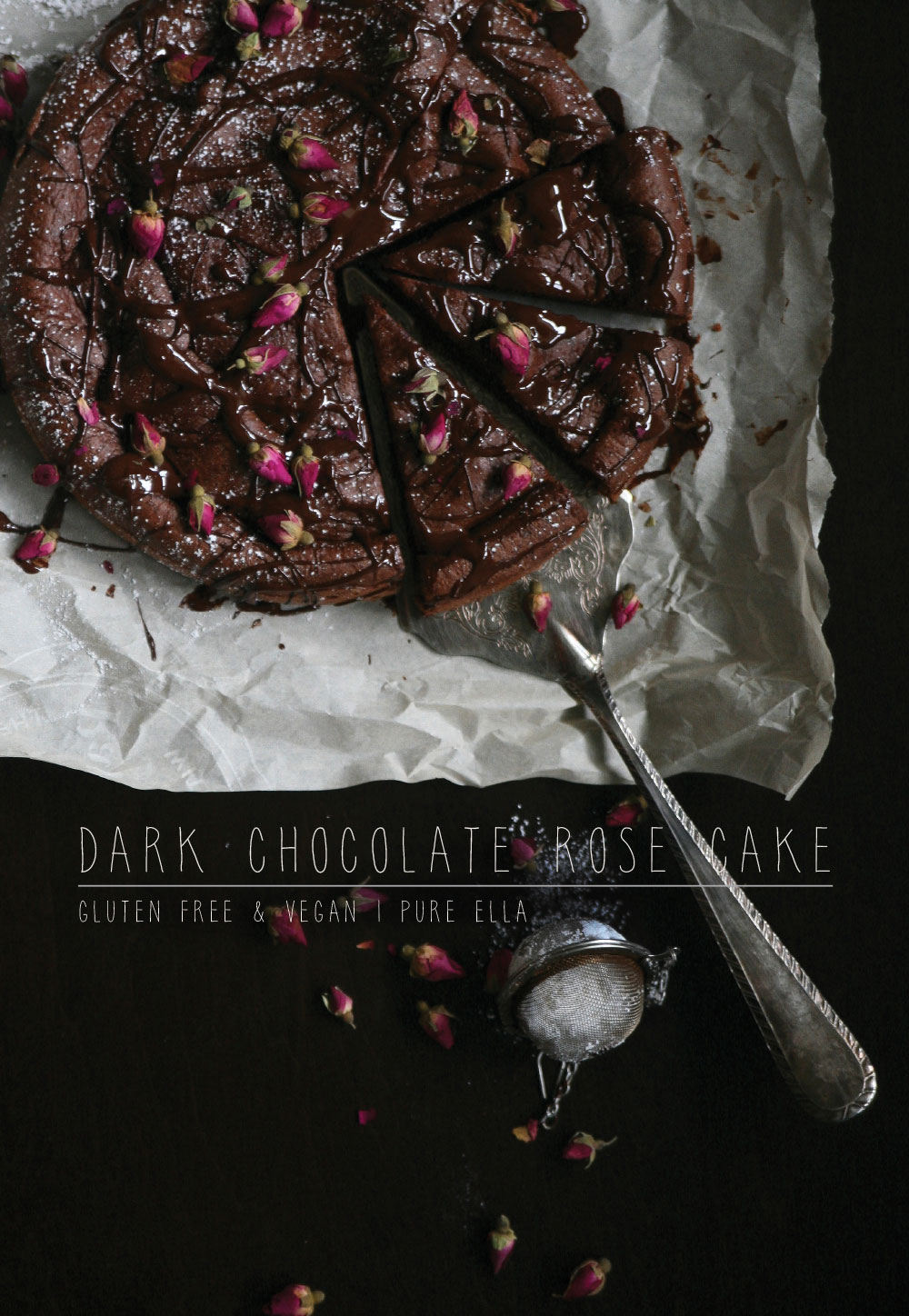 Today is a special day because I have a birthday and I have cake!
A Rose Petal Chocolate Cake ~ can this day get any better? :)
Honestly, I couldn't be happier to turn one year older + one year wiser.
I am just feeling so lucky to be here with so much good things going on.
If you know my story, then you know that I got very sick with a rare illness, just 4 months after my first daughter was born. That was almost 7 years ago. Those were some rough years full of ugly moments… what was supposed to be the most amazing time of my life as a new mom, was the most terrifying. I couldn't walk on my own strength, pick myself off the bed, and even carry my baby girl.
I never imagined I could live a normal life. But I started to believed in the healing power of food. I learned so much about nutrition and about foods that can nourish or damage our bodies. It all made sense, but it would take patience and persistence… but I kept at it. I made small changes for the better and introduced more plant-based meals, removed sugar and eliminated a few other foods that made me feel sick. It was not an overnight success but my health improved. I started to have more good days then bad. I committed even more to my wellbeing with a true lifestyle change; learned to enjoy the little things, tuned to my breathing, learned to let go, to talk less and listen more…
I started to live a normal life again. I became more confident in sharing my healthy recipes. After all, I thought that if these foods I eat helped me feel great and heal from a devastating illness, there must be others who are looking for inspirations to eat better.
This space right here, Pure Ella, became so important to my healing. It was and still is my outlet for everything creative and nourishing that I can offer to others. I am so grateful you're reading this right now. I'm grateful for every single person reading my words, cooking my recipes and just being here even just popping in for a minute. Your presence is my present today as it is always!
Right here I can be myself and share everything… all my talents and skills are really right here wrapped in one package. Seven years ago, I had to decline jobs for clients because I couldn't even hold my DSLR, my hands were so weak. But I still kept at it, doing what I loved – but just on my own time, on my good days. I had to keep being creative, it was in my blood and it was all I had. Food photography was born naturally from my need to cook healthier and to keep shooting. This is why this blog is so important to me. I did not decide one day to take photos of my food and start a blog. Everything right here, chose me.
It's ridiculous to even think (especially for me as it's something I would never say) that everything happens for a reason. But I actually feel like my illness was a blessing (in disguise). It opened up my eyes to the crappy foods we were eating and the food that was out there. It opened up my whole world to better things; to better food, to a better being and to this amazing community of like-minded individuals – people who also want to live healthier and happier!
So right now, I am just feeling so incredibly lucky to have all these good things in my life. Health, happiness, my two little ladies that are my biggest accomplishment thus far which will be heard to beat :)
I don't know what could be better at this very moment in my life… but I know that even more good things are coming. Because once you surrender to the good things in life ~ you don't even notice the bad. You manifest your own destiny! You create your own happiness…
Thank you all again for being here. Now let's have some cake!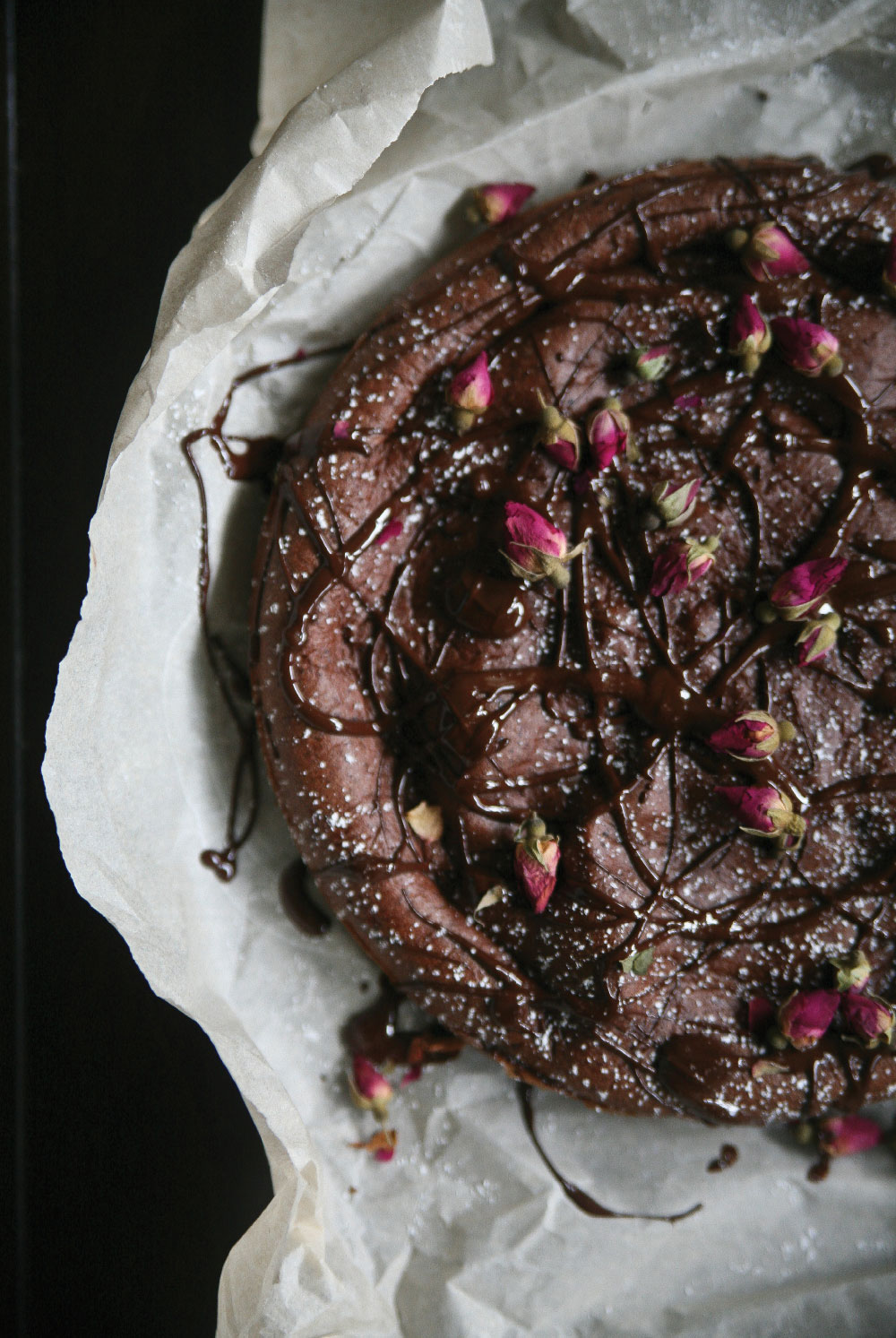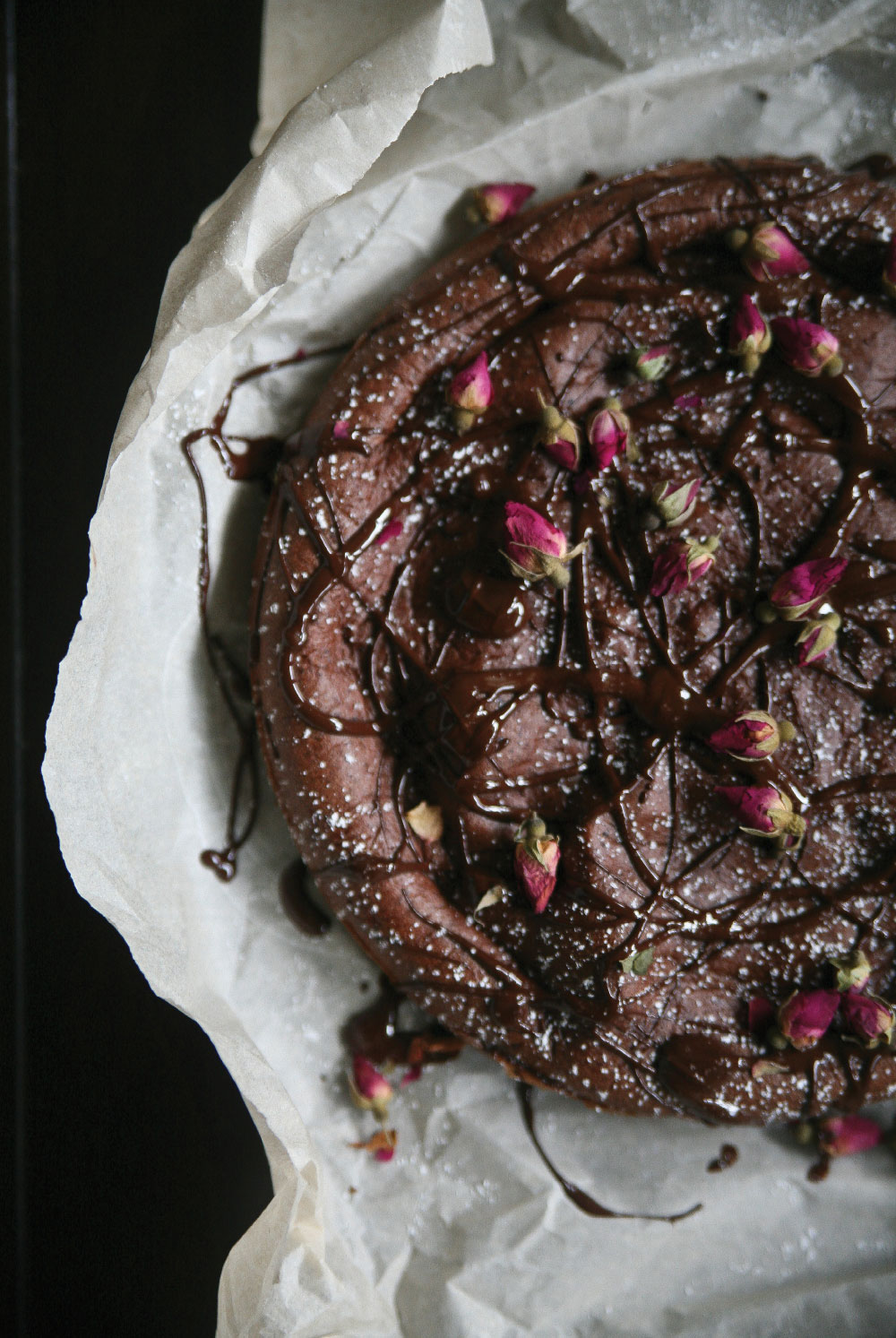 Rose Petal Chocolate Cake
2017-02-09 20:03:15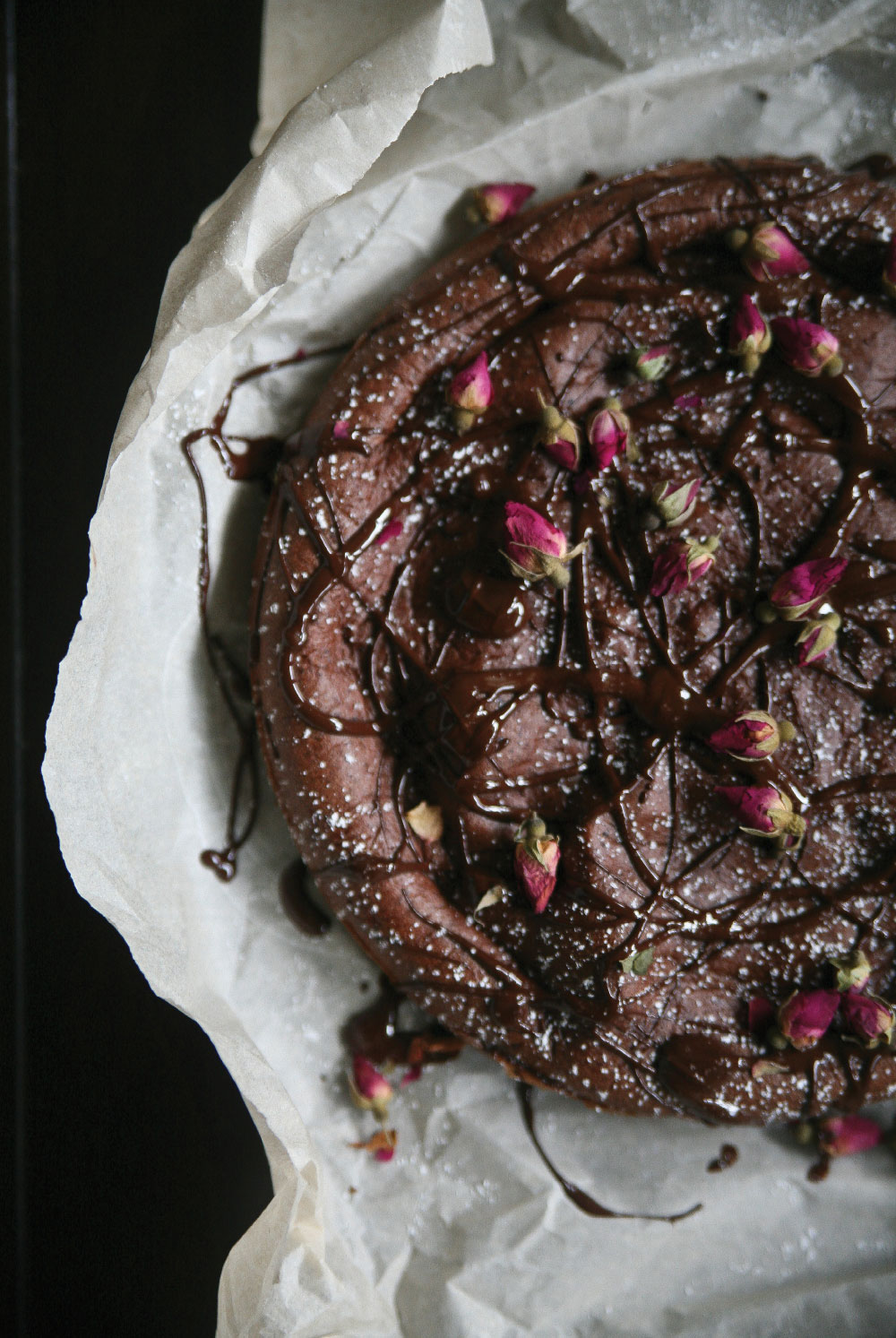 Serves 8
Ingredients
2 cups gluten-free flour mix (I used 1 cup gluten-free flour mix + 1 cup oat flour)
1 teaspoon baking soda
1/4 cup cocoa powder
3/4 cup maple syrup or honey (not vegan)
1/3 cup grape seed oil
1/4 cup warm rose water (or hot rose petal tea steeped for 5 minutes)
1 cup unsweetened apple sauce
2 teaspoons vanilla extract
Topping
1/4 cup 72% dark chocolate, melted
1/4 cup rose petals for decorating (find in the tea section of specialty stores)
a sprinkle of powdered sugar (optional)
Instructions
Preheat the oven to 350F and grease and line the bottom of an 8-10" cake pan.
Steep 1 heaping tablespoon of rose petals with 1/2 cup of hot water. Cover the cup and set aside for about 5 minutes.
In a medium bowl, sift all the dry ingredients and mix them well and set aside.
In a separate bowl, combine all the other wet ingredients, including the tea.
Pour the wet ingredients into the dry and mix with a wooden spoon to combine.
Pour into a lined cake pan.
Bake 30-40 minutes at 350F.
Insert a toothpick into the centre to check for doneness.
Melt the chocolate chips or squares and drizzle on top.
Sprinkle with extra rose petals* and icing sugar.
Notes
*You can get a bag of rose petals in most Asian stores in the tea section.
**The rose petals are edible, but the green parts of the rose buds are not - I liked the visual presentation of keeping the rose buds intact. You can pick off the petals off the roses and sprinkle just the petals for a fully edible cake.
Pure Ella https://pureella.com/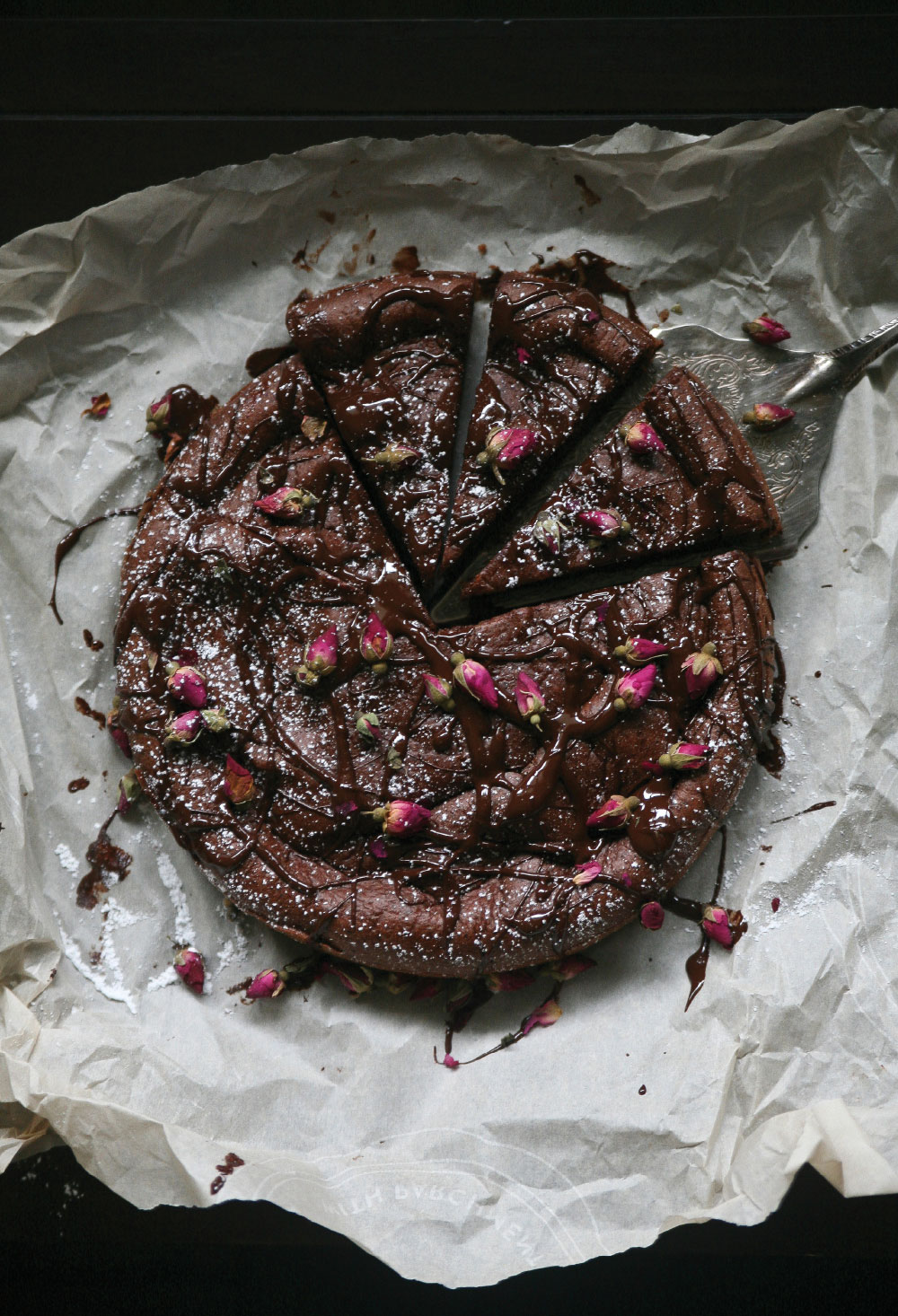 This Dark Chocolate Rose Cake is so deliciously divine! It's not only gluten-free and vegan ~ which means it's lighter, gentler on your tummy with no cholesterol and allergen friendly. But it's also rich and moist and has a deep luscious chocolaty flavour with a hint of delectable rose-infusion. Kind of amazing really.
And this cake isn't just a delicious birthday cake that I want to share with you… it's also kind of my personality manifested as cake:
It's pure, down to earth, and a bit mysterious… yet also delicate, romantic and a even fragile… beautiful and makes an impression with a pure sense of style and expression. At first bite, it's intense and leaves a lingering sweetness. Oh yes, and it's addictive. (I think ;)) lol
There you go, if I were cake, I would be this cake! ;)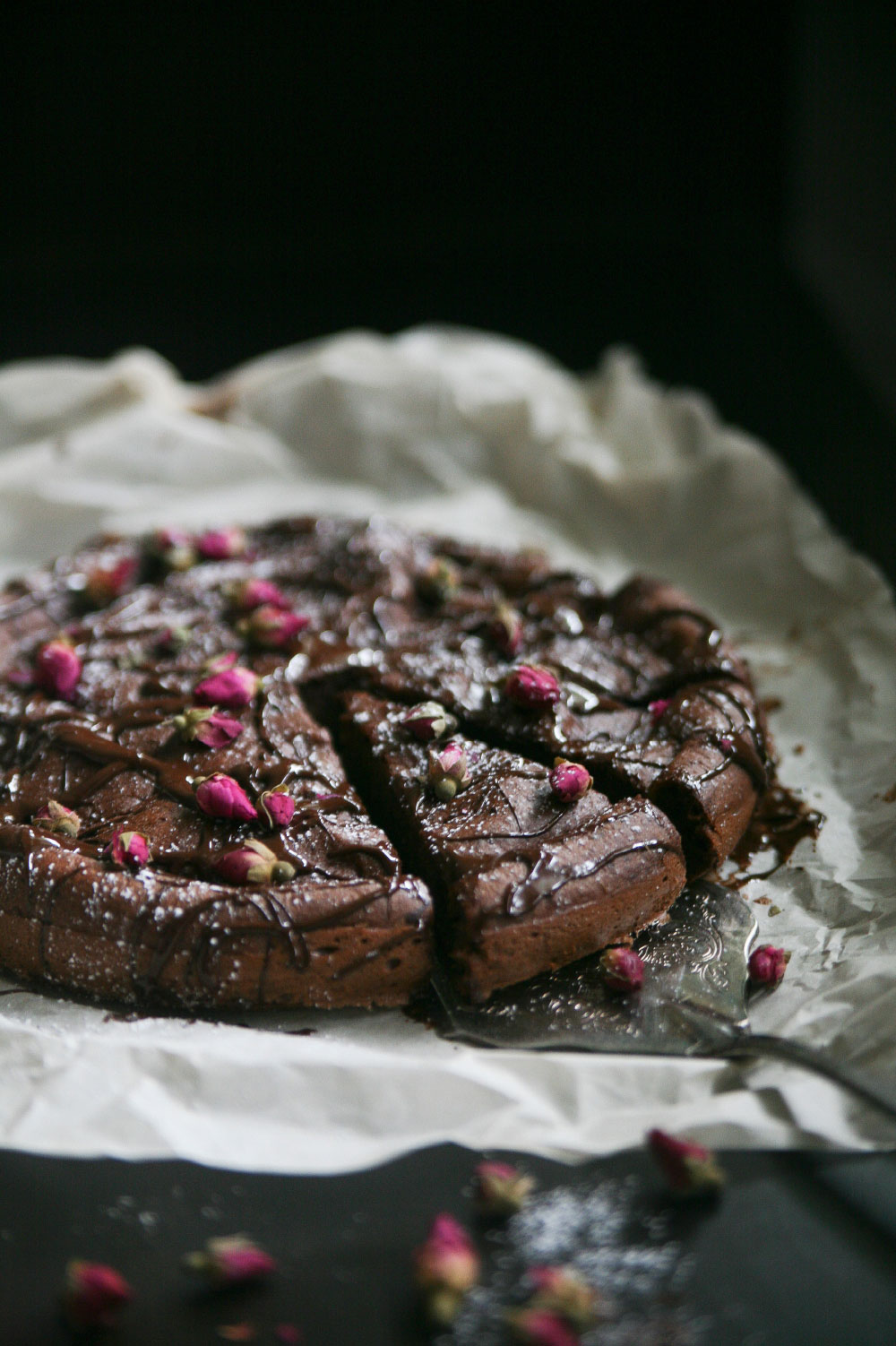 I'm off to go on with my simple day some house chores mixed in with lots of baby snuggling. It will be just another day, but I look for beauty in the mundane… It's the simple things that make me happy anyway. Today may not look special but it's special in my heart as I am filled with gratitude for everything in my life right now…
My day already started with a gorgeous little hand drawn birthday card from my daughter when she comes from school and a few giggles from my baby girl throughout the day and it's just the best birthday ever! ;)
I wish you all a great day filled with sweet happy things that make you smile… thank you for being here! Big hugs!! xo