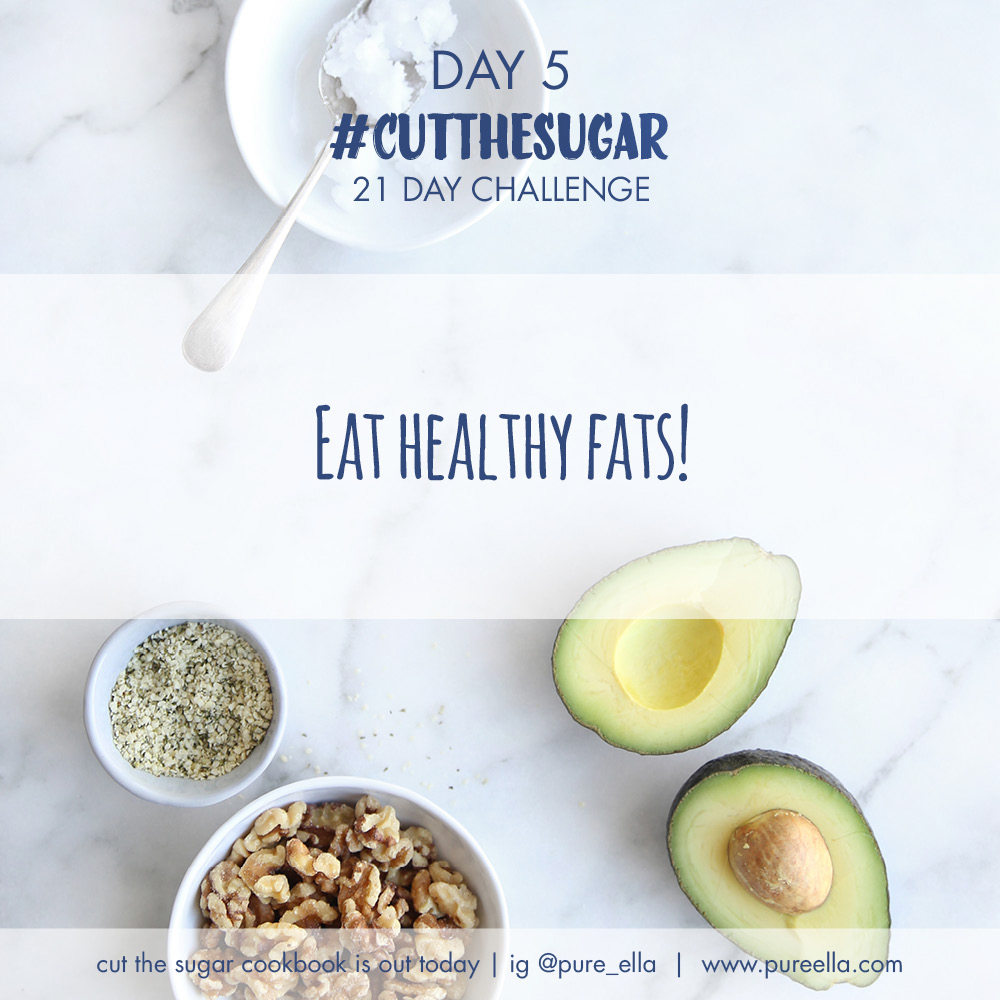 Hello and Welcome to Day 5 of our Cut the Sugar Challenge AND the actual release date of Cut the Sugar Cookbook!! Yay!!
I am so excited that today is finally here – and to celebrate we're having a social media launch party and everyone is invited to share photos of how they cut sugar the healthy way with hashtags #cutthesugarbook and #cutthesugar – so join up the fun!!!
Order your copy of Cut the Sugar here on Amazon or check your local retailer for a copy in the US and Canada!
Now let's get back to our challenge, shall we?
Today, we're chatting about FATS!!
There's a complete misconception about fats and I'm here to remind you how Essential Fatty Acids are actually that – ESSENTIAL!!
Fats don't make you fat! Fat are like an oil in the car – it's a way to lubricate our bodies internally, our organs, our intestines, even our skin (so it's beautiful!) so that everything is working properly (like in a car!) ps. I am so sorry for this analogy – but it helped me first paint a visual picture when I started to learn about health and food and fats!
And in order for our body AND brain to work at its best – we need fats daily to be healthy and to actually get more nutrition from our food! But let's not go ordering french fries at McD's! Like sugar, not all fats are created equal – SO look for healthy fats like avocados, nuts and seeds, coconut oil, olive oil etc. For animal derived fats – the healthiest is probably wild salmon as it's perfectly made by nature with Omega 3 and Omega 6 fats!
The fats you should not be eating or limiting are fried chips and french fries, bacon, other greasy fast food and junk food. Avoid vegetable oils and other cheap oils for cooking as they are usually sourced from GMO crops. Also be aware that even if you use a quality oil but cook the heck out of it when frying even veggies – that oil turns to trans fats so you're not only killing the nutrition in this oil – you're actually making it way worse to your health!
So look for healthy fats and do incorporate them at every meal!
How do fats help you cut sugar you ask?
Well, fats are filling and satiating so they help you crave less.
Fats are brain foods so they will help you naturally focus and make better decisions in life and when it comes to the foods you eat, like sugar! Also our brain health is responsible for pretty much everything from mood swings, our nervous system, to how happy we feel – the healthier the brain – the healthier food cravings you will have!
Fats will help you get more nutrition for other foods so you stay nourished and healthy!
So for today's challenge, look for healthy fats to add to all your meals and/ or snacks!
What are your favourite ways to increase your healthy fat intake!!
(haha, btw, I know this is anti-norm because so many people are trying to lose weight and trying to eat less fat – imagine they've been getting it wrong this entire time? Fat is not only good for you – it's ESSENTIAL!! *)
ps. don't forget to join up Instagram today with #cutthesugarbook photos!! xo