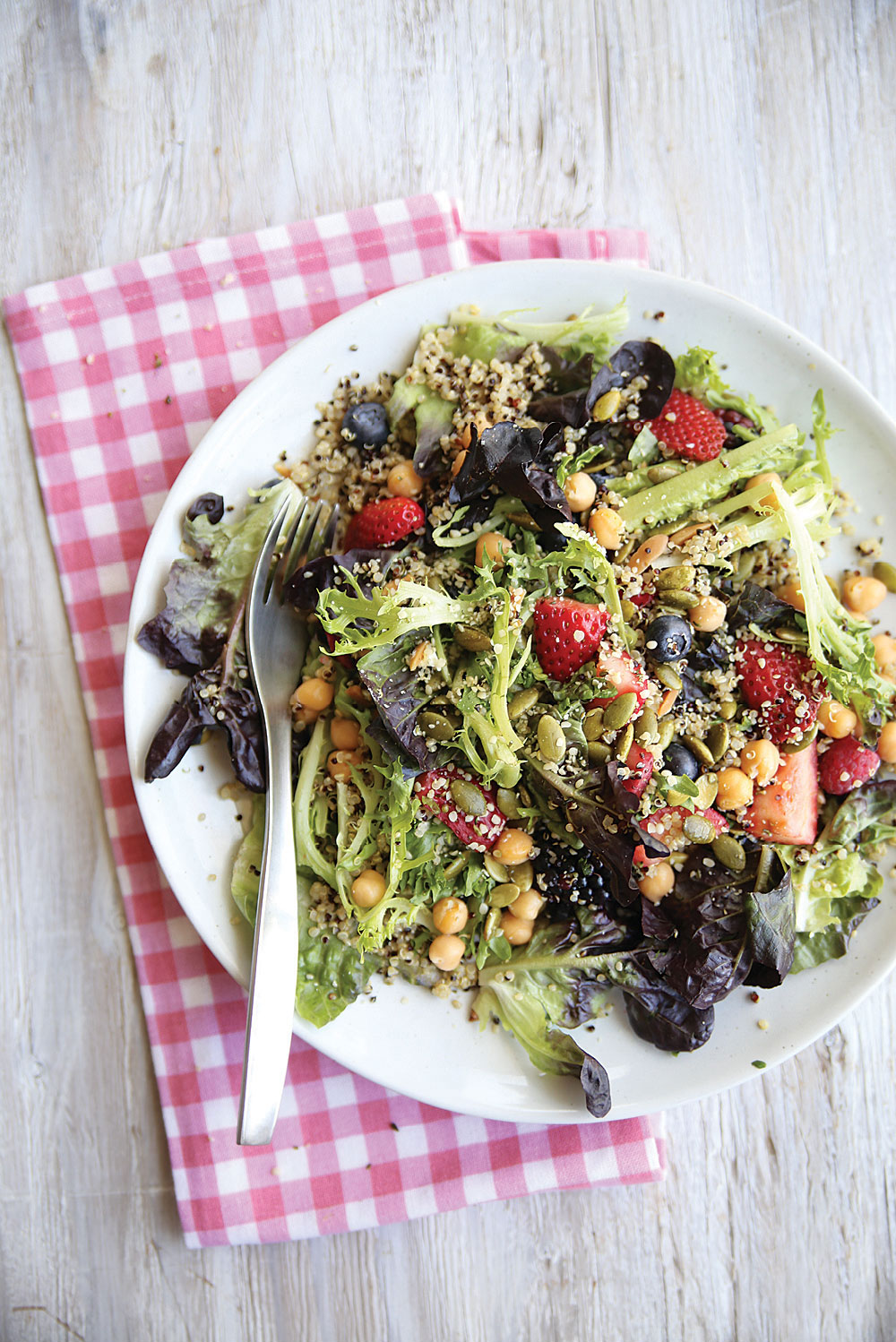 Spring is finally upon us…. especially here in TO it's been a really long winter (mid way through April we were still covered in snow) So naturally, I just wasn't in a spring-vibe at all until just now.
Then one day, the temperatures rose, the wind got gentler, the birds sang louder and this Berrylicious Quinoa Spring Salad was made!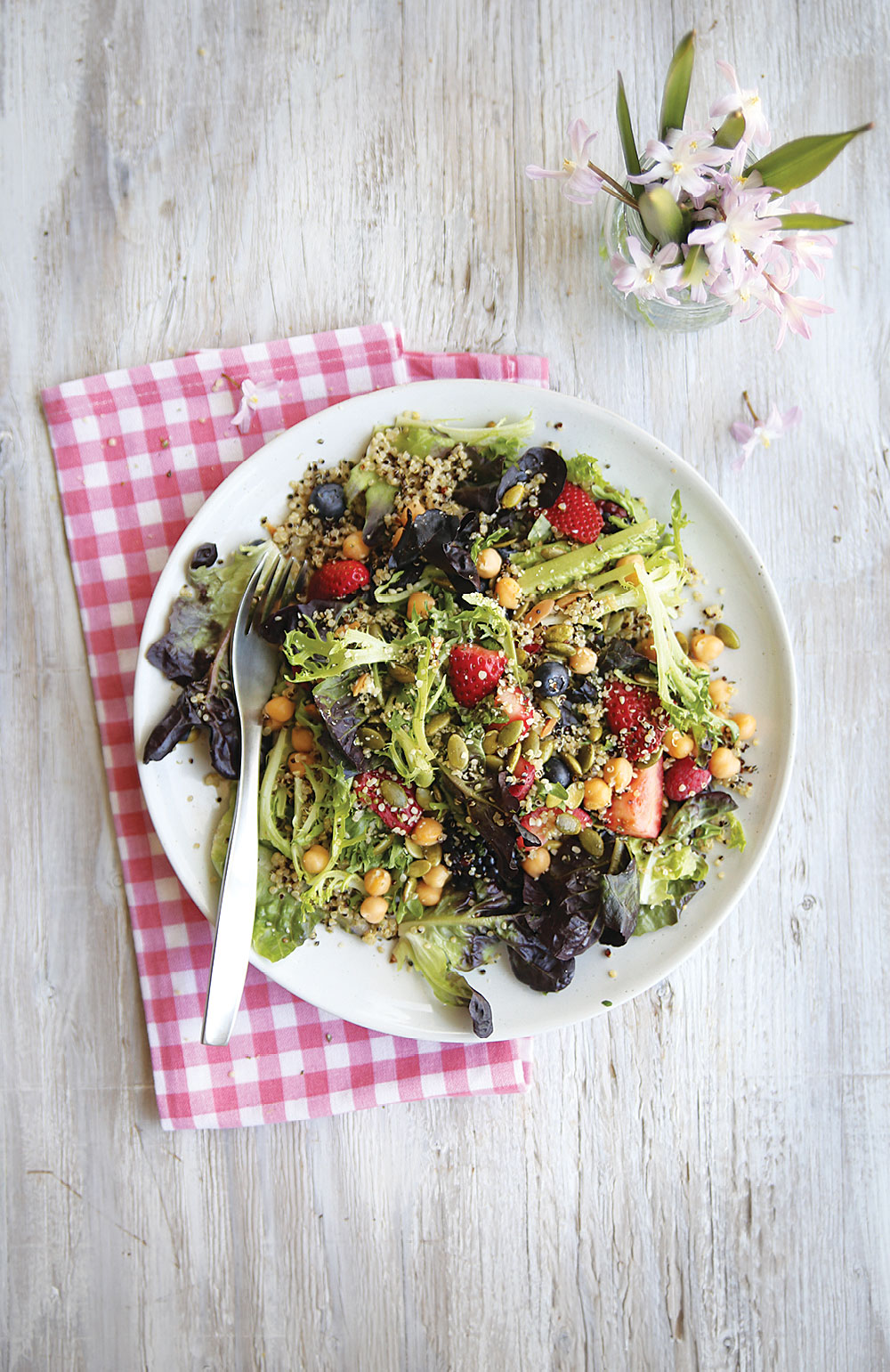 I love to eat with the season… and buy local produce in season – but our climate in Canada is a bit behind in the spring – we don't have strawberry season until end of June. As much as local foods are important to me, I also eat for happiness and pure joy! I get completely disconnected from food when I set too many rules and feel deprived in the process – I apply the same principle when it comes to sugar.
So, when it comes to buying berries out of season ~ if it makes you happy, if you find a great deal o organic berries and you do a happy dance right in the produce aisle of your grocery store – well, heck yeah! Get 'em! :)
Berries are superfoods that will nourish you with lots of vitamins and minerals that your body and brain will thrive on! It's happiness on your plate! Enjoy!
I normally don't eat berries or any other fruit with a meal – find our why here – but I just couldn't resist this freshness and beauty of all these ingredients combined :) See, once a while I break my own rules…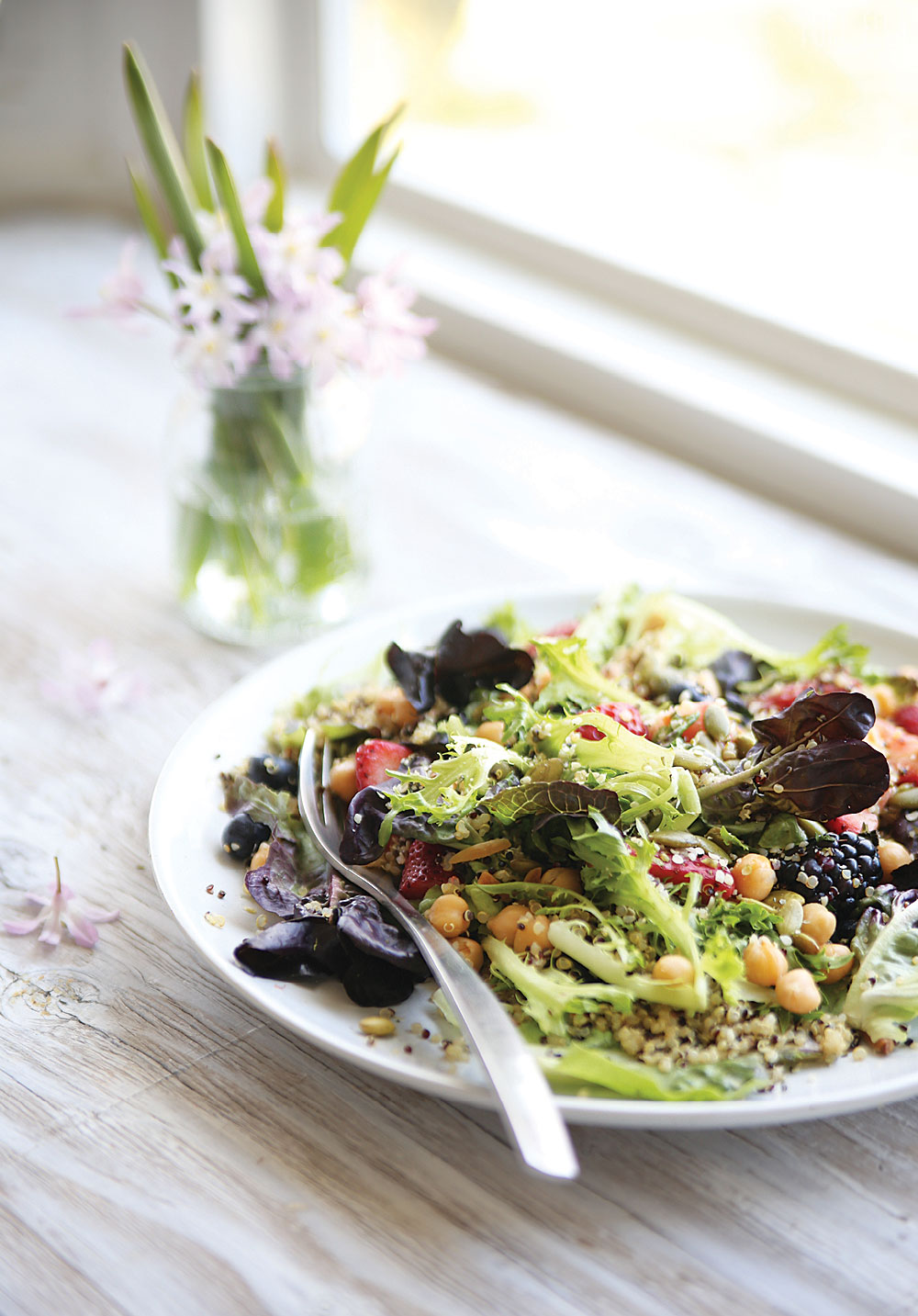 Berrylicious Quinoa Spring Salad
Berrylicious Quinoa Spring Salad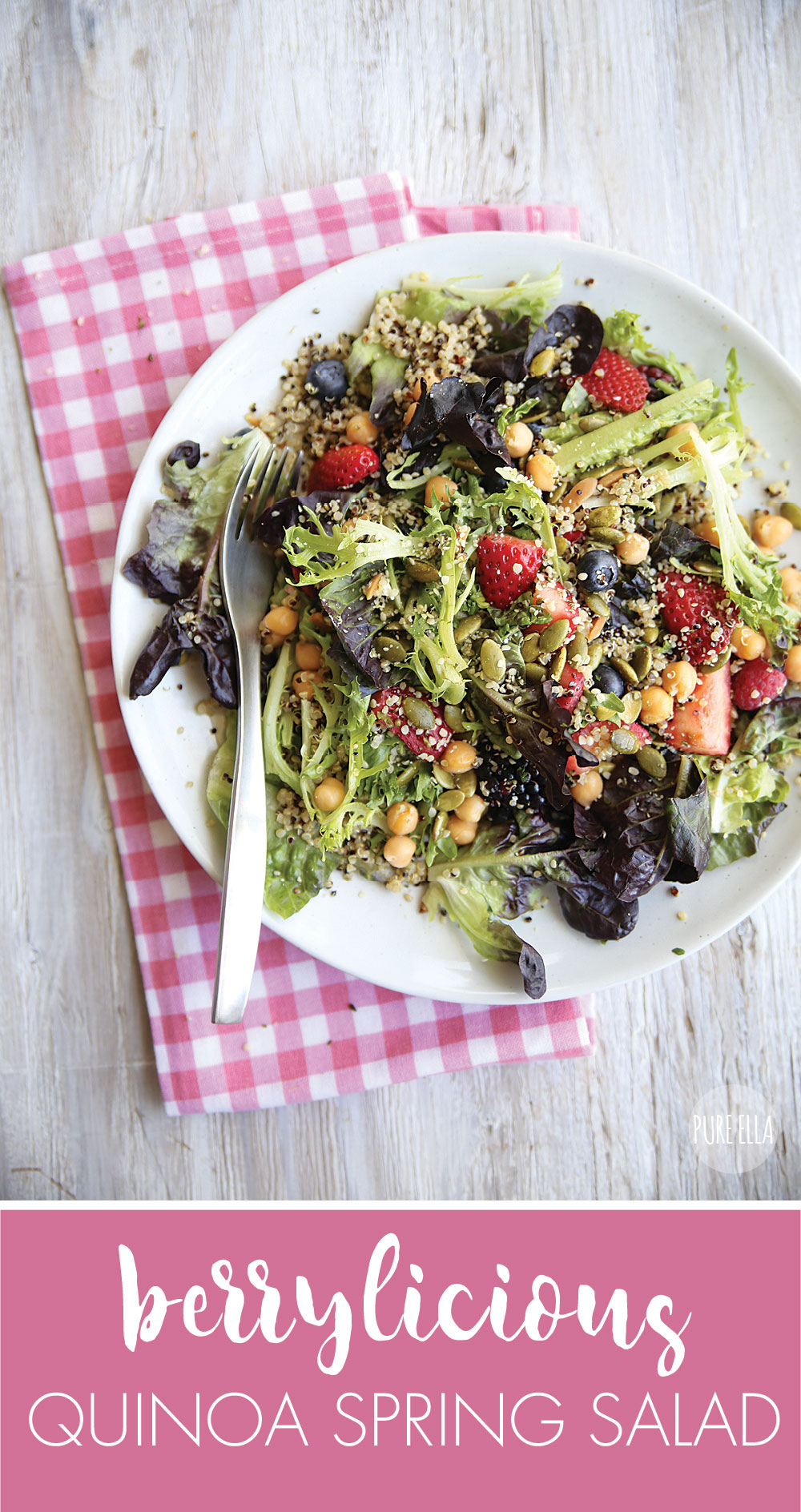 Author:
Ella Leché of Pure Ella
A delicious berry and quinoa spring salad that's healthy and naturally gluten free, dairy free and vegan.
Ingredients
1 cup pre-cooked quinoa (I love using leftover quinao for this)
4 handfuls of spring mix salad
1 can of chickpeas, rinsed and drained
about 1 cup of berries : strawberries, blueberries & blackberries
¼ cup pumpkin seeds
roughly 3 tablespoons hemp hearts
¼ slivered almonds
¼ cup EVOO
3 tablespoons of apple cider vinegar
2 tablespoons maple syrup
2 teaspoons of dried basil
fine sea salt and pepper to taste
Instructions
Distribute the salad evenly onto two large plates.
Sprinkle the cooked quinoa on top.
Slice the strawberries and layer they berries on top.
Sprinkle the pumpkin seeds, hemp seeds and slivered almonds
In a separate small bowl, whisk together the oil, acv, maple syrup, basil and pour over the salad.
Sprinkle with salt and pepper to your liking. Enjoy fresh!
NOTE : I always use leftover quinoa for salads like this. If you are cooking the quinoa, about 1/3 of a cup makes 1 cup of cooked quinoa, enough for this recipe. But do cook more so you have it done for dinner or next day's leftovers. You could definitely make these
Quinoa Chickpea Cakes
with the extra! :)
When you do use leftover cooked quinoa for this salad, it's really less than 5 minutes and voilà! Such a gorgeous and delicious spring salad! I bet mom would LOVE that!! :)
One of the reasons I love to cook and it usually feels effortless is because I plan ahead and especially when cooking grains or beans is involved, I like getting more meals out of that cooking time. 
I'm not sure if this is called 'batch cooking' but basically it's like 'make life easier cooking' to me :)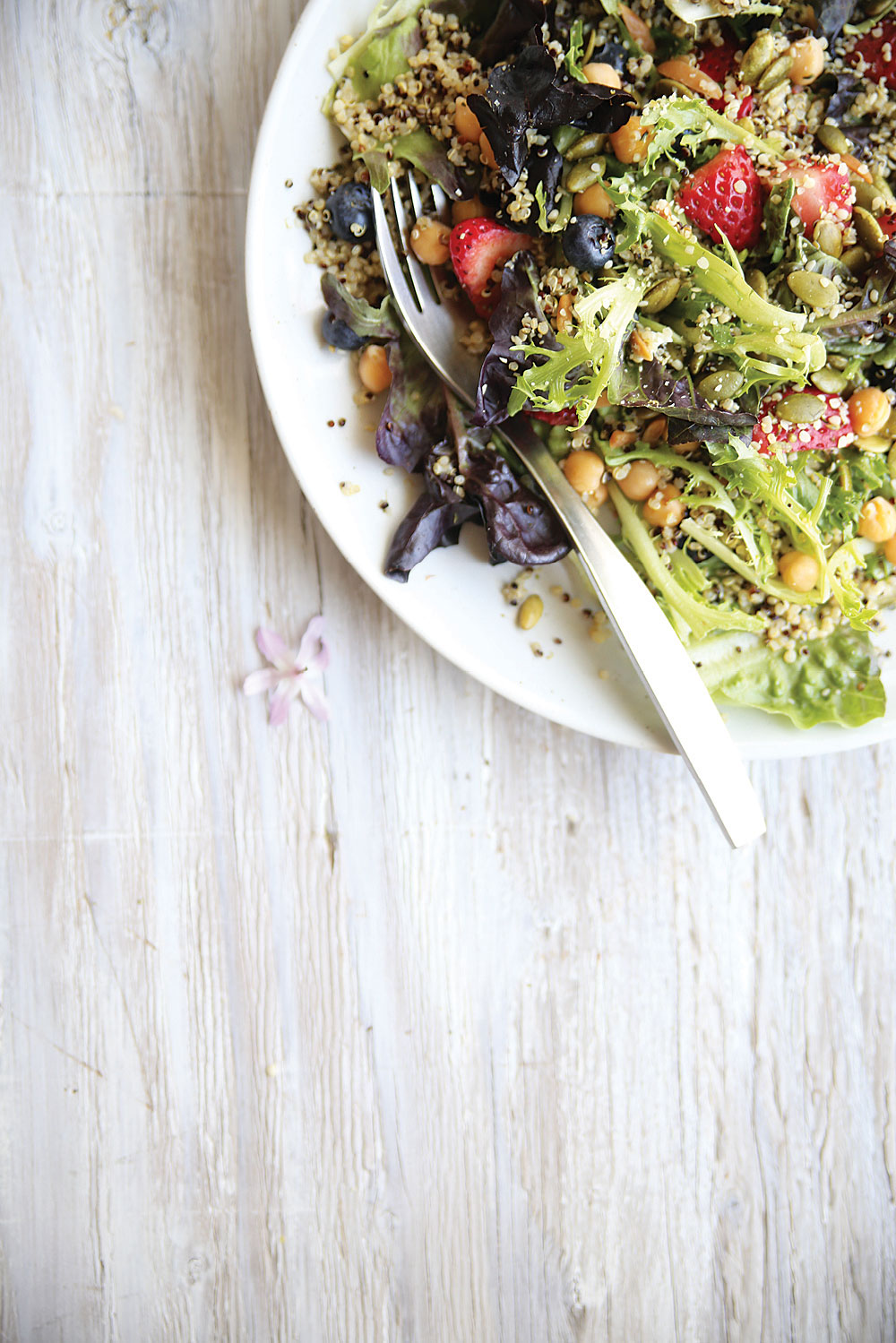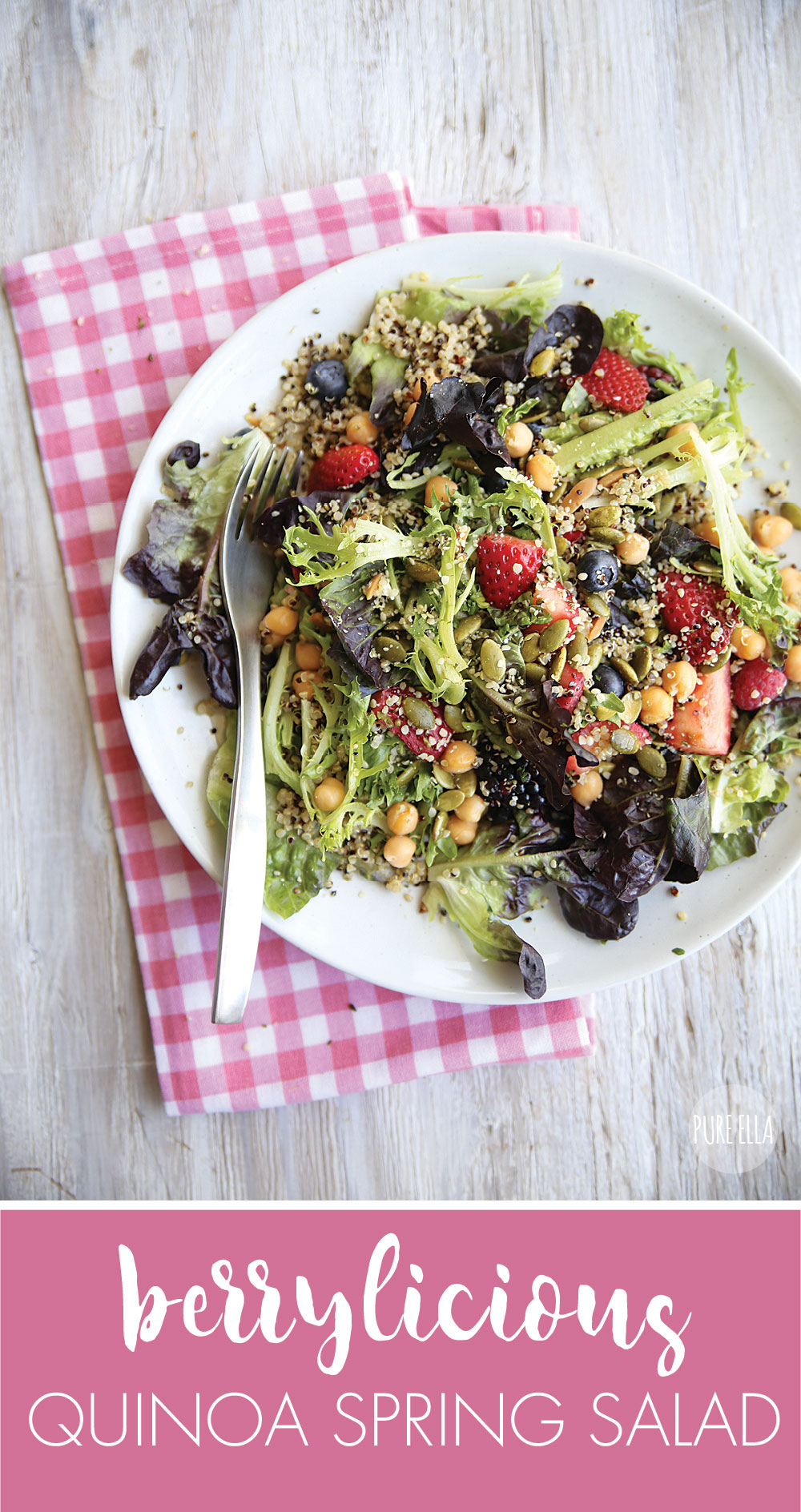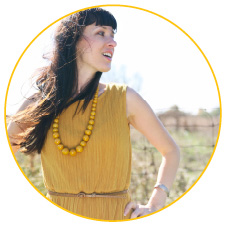 Ella Leché is a cookbook author (of 'Cut the Sugar'), recipe developer, and photographer/stylist behind Pure Ella; where she shares delicious and healthy recipes. Eating PURE is all about clean ingredients, whole foods, plant-based nourishment and healthier gluten-free/ wheat -free/ grain-free foods. PLUS you still get to eat desserts and sweet treats (just made healthier with quality ingredients and sweeteners so they're sweets with benefits!) Thanks for being here! 
Share your Pure Ella (PE) creations by tagging them #pureella and @pure_ella on Instagram – we repost our favourite photos!
Be sure to follow for a daily dose of pure food, health and happiness inspiration: 
Facebook
//
Pinterest
//
Twitte

r
// 
Instagram

Summary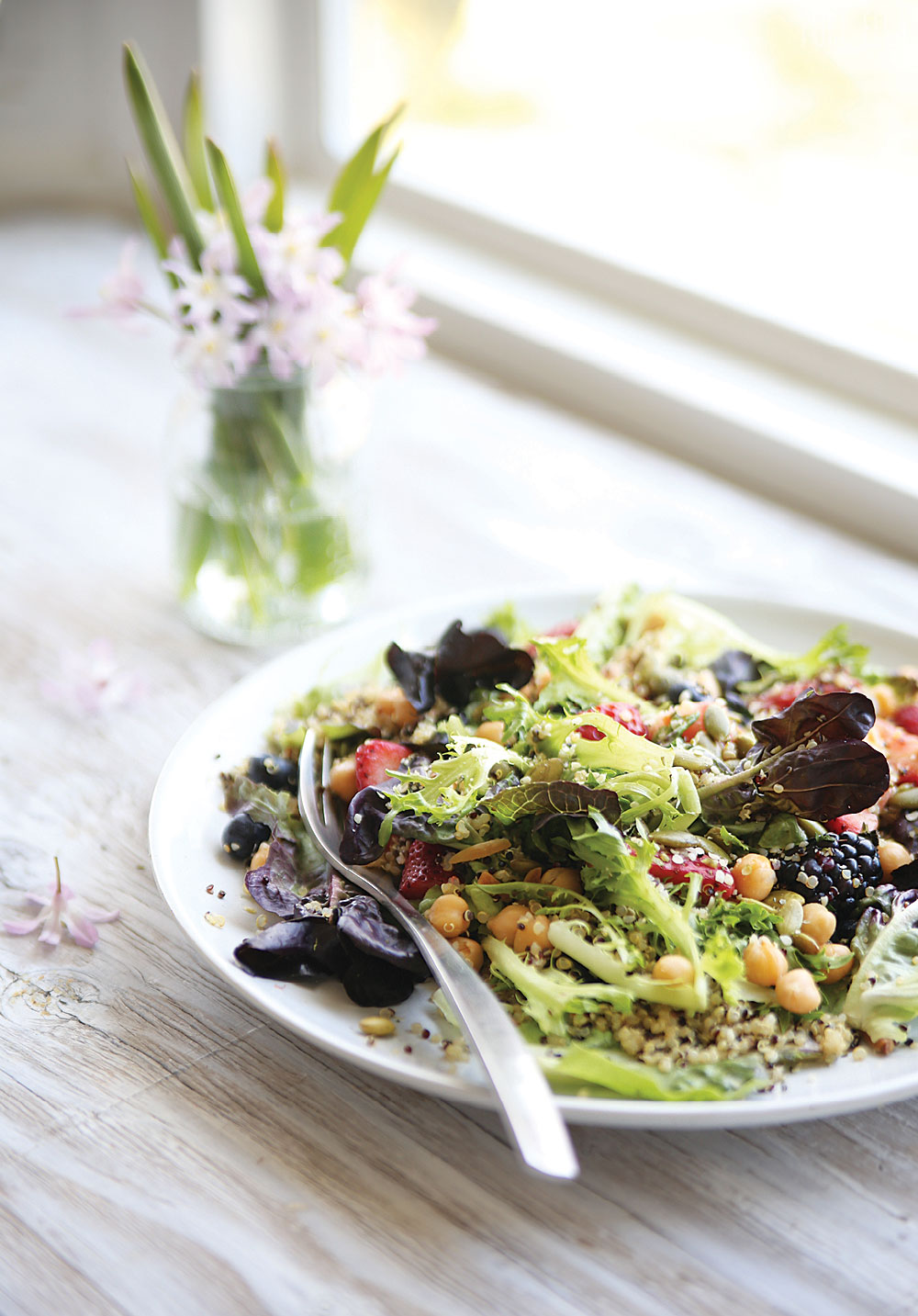 Recipe Name
Berry Quinoa Spring Salad
Published On
Preparation Time
Cook Time
Total Time