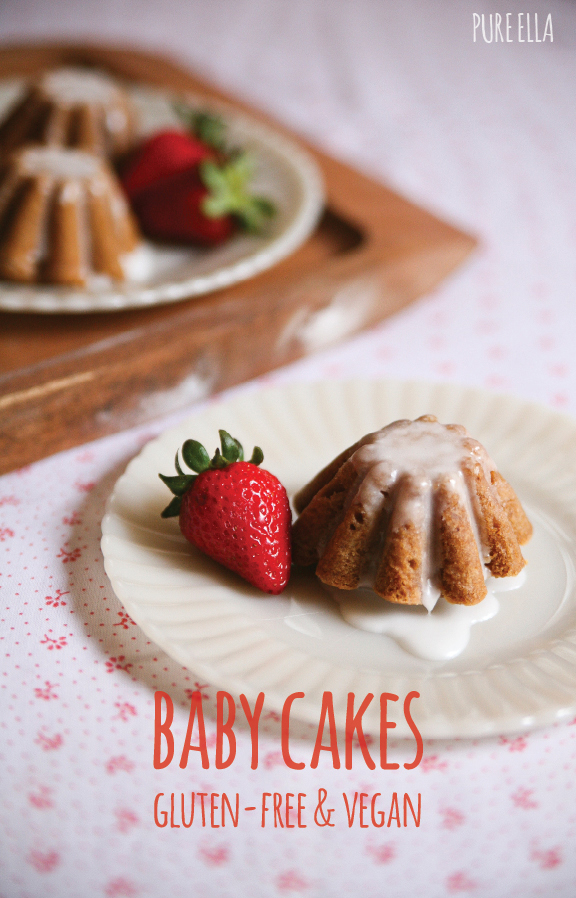 Repost >> This gluten-free and vegan dessert is my favourite treat.  These Mini Cakes are delicious, tender and have a perfect consistency and a burst of sweetness and goodness. They have simple ingredients that are gluten-free and dairy-free and egg-free.
Years ago, I never would have thought how you could omit these and really make something better and better-for-you.
I know I've been overdoing on baked desserts for a while. I have lots of other lunch and dinner desserts on queue, but sharing baking recipes is just so much fun! Probably because it's like throwing a little party where everyone waits for the dessert. Well now, everyone can have dessert and really not miss anything at all!
This is another dessert that uses the same batter: Strawberry Shortcakes! Yes, you can wow your guests and bring two different desserts to the table ~ but really make just one batter. This makes life a little easier.
These fabulous specialty baking pans (or cups) are the real secret to these Mini Cakes. You can easily find these now in silicone in most retailers. These little cake baking forms, came in a set of 4 stacked, which is great because it doesn't take up that much space. I think it really makes the dessert extra special. You could use a simple cupcake pan or other pans that you like and adjust cooking time to 30 minutes if you want cupcakes..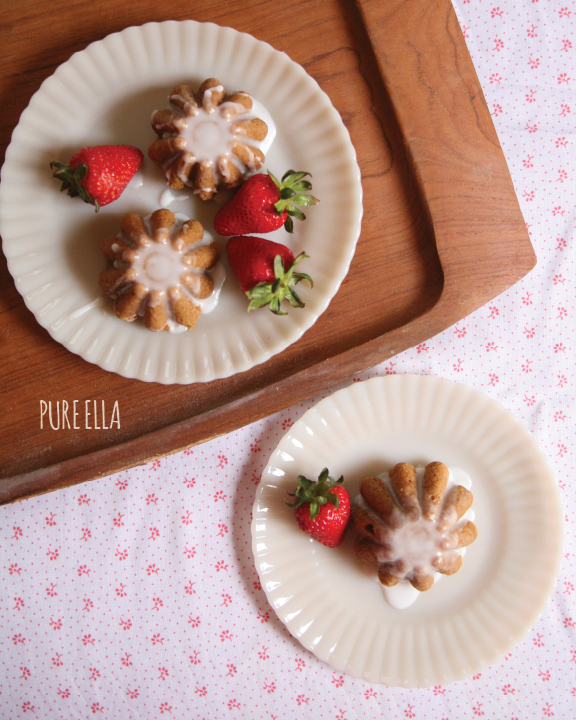 GLUTEN-FREE & VEGAN
STRAWBERRY VANILLA MINI CAKES
gluten-free and vegan dessert
(dairy-free, egg-free/ vegan, gluten-free/ wheat-free, all natural, refined-sugar free (except for the icing))
Prep time : 15 min  Bake time : 15 min Serves 6-8
INGREDIENTS:
1 cup rice flour (I use Bob's Red Mill flours)
1/4 cup potato starch
1/4 cup arrowroot powder
1 1/2 teaspoons baking powder
1/2 teaspoon baking soda
1/2 teaspoon xanthan gum (optional)
1/4 teaspoon salt
3/4 cups + 3 tablespoons organic raw cane sugar
1/3 cup coconut oil (melted) + extra for greasing
1/2 cup unsweetened apple sauce
1 teaspoon vanilla extract
½ cup unsweetened coconut flakes
VEGAN ICING: (OPTIONAL)
1/2 cup powdered sugar
1–2 tablespoons hot water
DIRECTIONS:
1. Grease and flour (with rice flour) 6-8 small baking pans with coconut oil and preheat oven to 350°F. (I used the extra batter from the Strawberry Shortcakes, so I only had enough to make 4 of these cakes)
2. Sift together all the flour ingredients: rice flour, potato starch, arrowroot powder, baking powder, baking soda, xanthan gum and salt. Whisk together in a bowl and set aside.
3. In a medium pot, add in milk and coconut oil and allow to warm over low heat until the coconut oil melts (do not allow to boil). Mix gently with a wooden spoon while it's warming. Once the coconut oil is melted, remove from heat and add in the sugar. Stir together to allow the sugar to dissolve completely. Add in apple sauce and vanilla extract and stir to combine.
4. Pour in the liquid mixture into the dry ingredients and mix gently to combine together well. (If clumps still develop, you may use an immersion blender and mix the batter for a few seconds until you see a very smooth consistency in the batter.)
5. Add in coconut flakes and mix with a spoon to combine. Pour into pre-greased pan, fill about 3/4 to the top to allow for rising of the batter.
6. Bake for about 25 minutes at 350°F. Insert toothpick to check for doneness. Remove from the oven and flip the pan over to remove the cakes from the pan, you can use a toothpick to help the cakes lift out of the pan.
TO MAKE THE FROSTING:
Make a glaze by adding the powdered sugar into a small bowl and adding in 1 tablespoon of hot water. Mix well to combine. Add more water if consistency is too thick.
Drizzle over the Mini Cakes and serve with strawberries.
Here is me and my mom baking together. I find it a very special memory to bake with my mom or my daughters or sisters. I think it adds that one very special ingredient to baking ~ love.
Baking just isn't as fun, done alone. Just like eating dessert alone isn't as fun, I think…
Do you have great baking memories with someone special? Please share.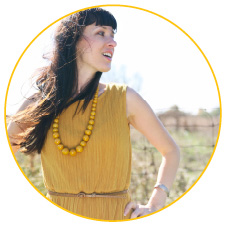 Ella Leché
is a cookbook author ('
Cut the Sugar
'), recipe developer, and photographer/stylist behind Pure Ella; where she shares delicious and healthy recipes. Eating PURE is clean ingredients, whole foods, plant-based nourishment and delicious desserts – with quality ingredients and sweeteners so they're treats with benefits so you won't have to feel deprived or restricted to eat healthier.
Thank YOU for being here!  
Follow on social media for daily health & happiness inspiration:

  ps. don't forget to share your Pure Ella recipe creations by tagging them #pureella and
@pure_ella
on Instagram – we repost our favourite photos!