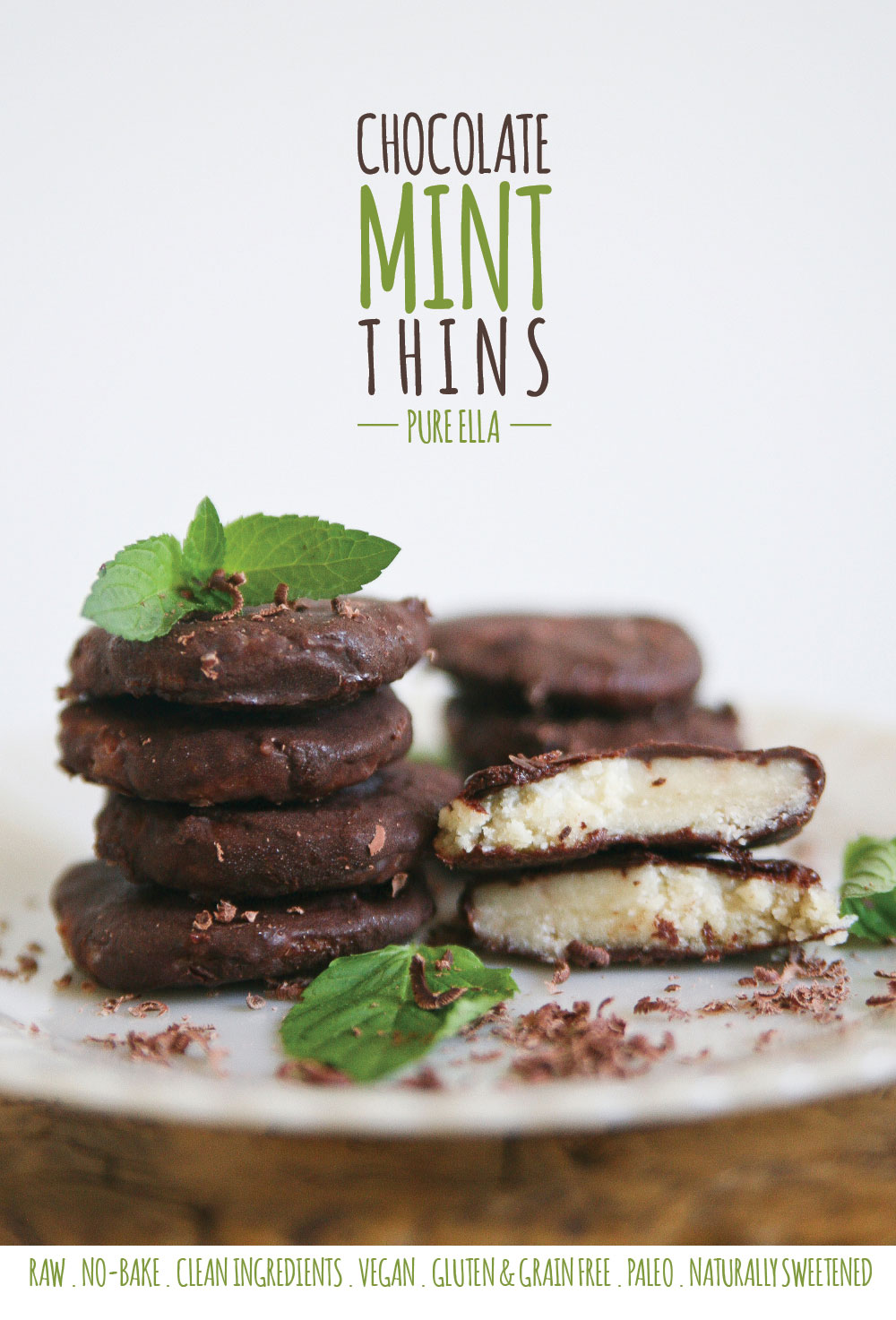 Chocolate + Mint = Pure Love!
I love lots of food combinations, but chocolate and mint to mingle together is the perfect gift from Mother Nature ;) It's rich yet refreshing – delightful after dinner or anytime. And when the ingredients are pure and natural, it's a joy to enjoy such goodness!
Good bye Girl Guide Cookies, goodbye After Eight – this is something way better : delicious clean ingredient, raw, no-bake, dark Chocolate Mint Thins that are naturally vegan/ dairy-free, gluten-free, grain-free, paleo, sweetened naturally. Oh yum!!!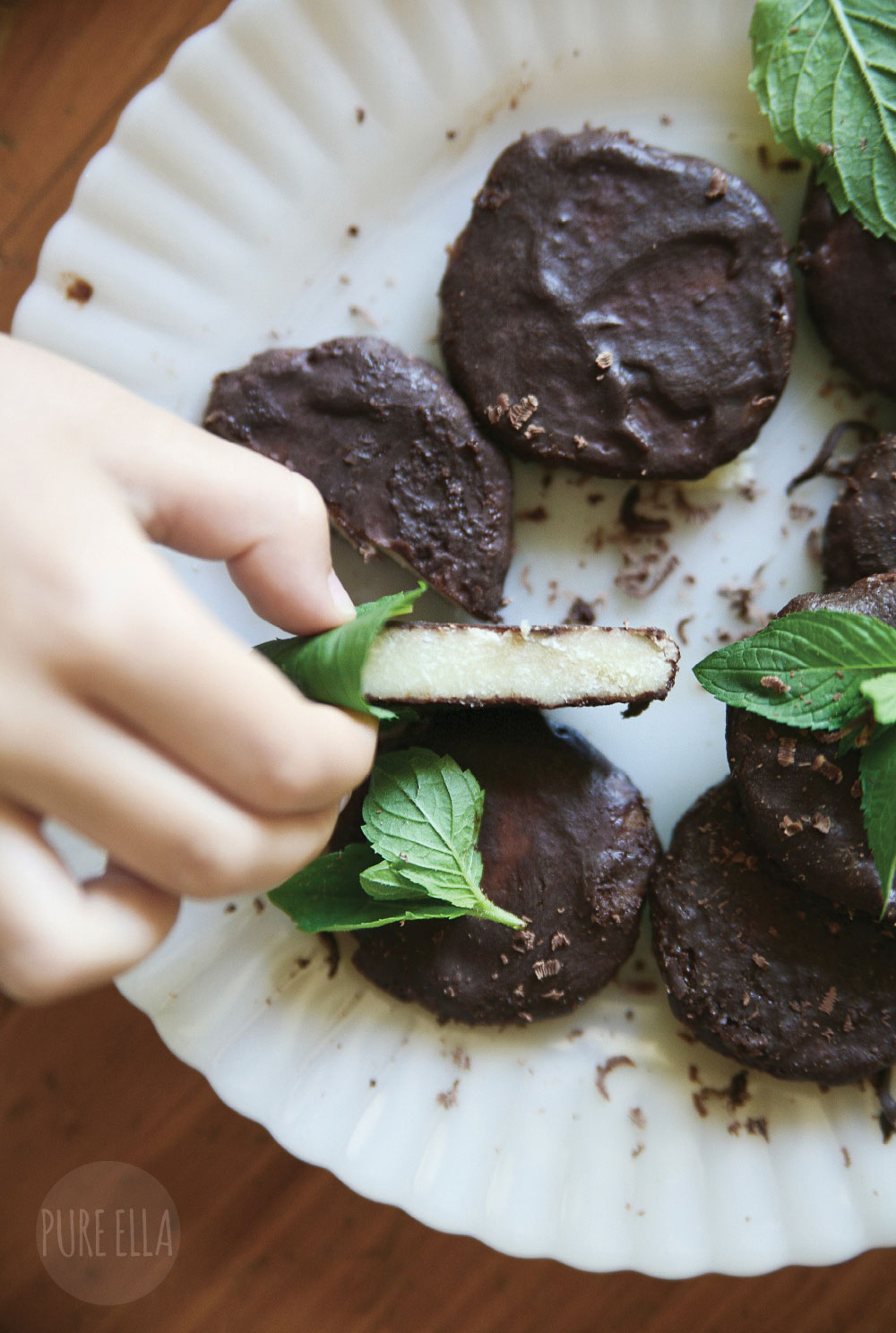 RAW, NO-BAKE DARK CHOCOLATE MINT THINS : vegan, gluten free, grain free, paleo
Makes about 12 patties. Prep time 15 minutes + 10 for chilling.
Mint Patty Ingredients :
1 cup almond flour
2 tablespoons coconut oil
pinch of sea salt or himalayan pink salt
1/4 cup agave nectar or other liquid sweetener such as raw honey (not vegan)
OR for zero calorie sweetener, use 3 drops of liquid Stevia + 3-4 tablespoon non-dairy milk
1/2 tablespoon natural peppermint extract
Raw Chocolate Topping Ingredients :
2 tablespoons coconut oil
2 tablespoons cacao powder
2 tablespoons agave nectar or raw honey or maple syrup or drop of Stevia
Directions :
First, melt all the coconut oil combined for the Mint Patty and Chocolate Topping, until it's just barely melted but not hot.
In a medium bowl, mix in almond flour, coconut oil, salt, sweetener and peppermint extract. Form flat patties from the almond flour mint mixture. If it gets too soft to work with, place in the refrigerator for about 10-15 minutes to harden slightly.
Meanwhile, in another small bowl, mix all the ingredients for the chocolate topping and drizzle on top of the mint patties. (you may need two coats to cover completely, place in the refrigerator to harden then add one more layer of raw chocolate.) Return to the refrigerator to set completely once they are fully coated, or the freezer for just a few minutes to harden and enjoy even faster ;)
Serve straight from the refrigerator. Enjoy!
Store them in the refrigerator for up to 7 days in an air tight container.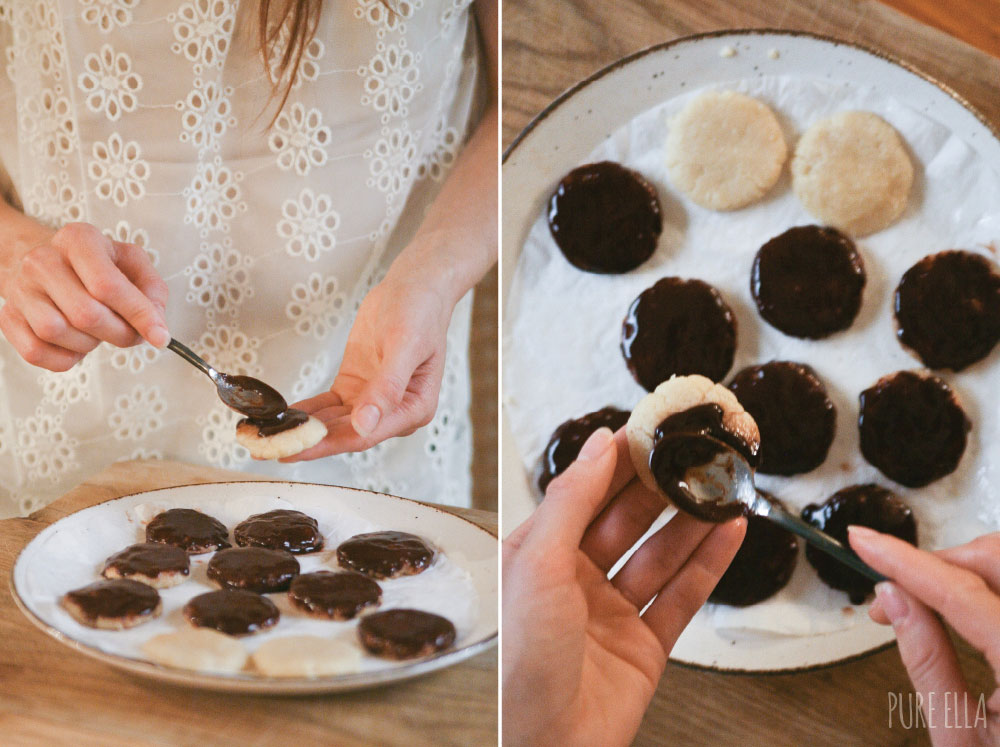 These are fabulous to make on a lazy weekend and enjoy with your family and friends. I love them because they come together so quick, so we don't have to wait too long for a treat! And they are also made with amazingly good ingredients. You can also play around with the sweetener and use what works for you. I liked the neutral taste of Agave but I will be making these again with Stevia soon. I am trying to make desserts that are even healthier and have as little carbohydrates as possible.
I am now dealing with Gestational Diabetes, and this is very important for me to find great healthy desserts that won't increase my carb intake. Good thing this is only for 2 more months because I really like desserts – healthy desserts but I still like them ;)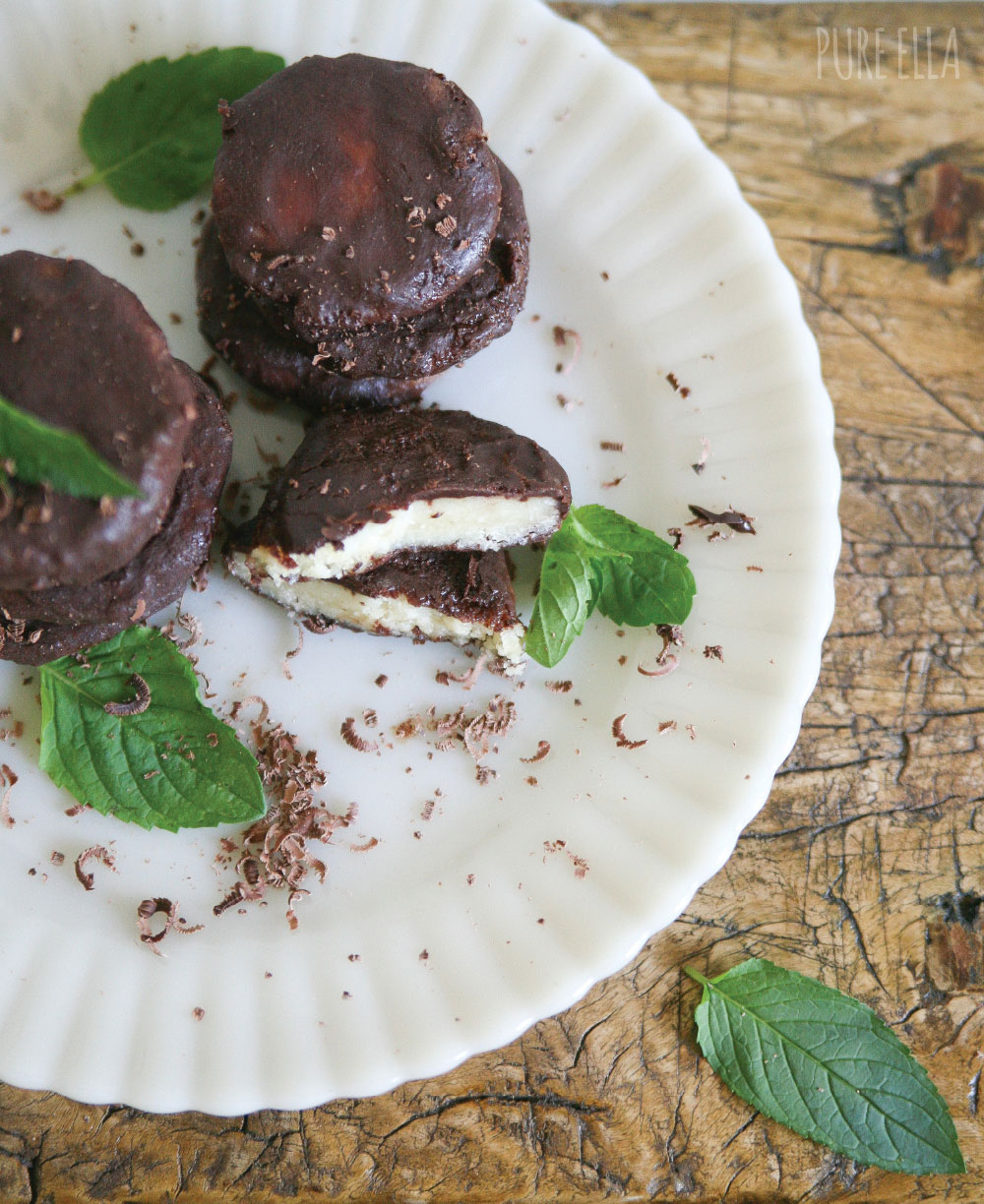 May I suggest you go and gather up these ingredients really quick and make these yummy Chocolate Mint Thins now!! And may I also suggest to just do a double batch because you know… they just go too quick!! ;)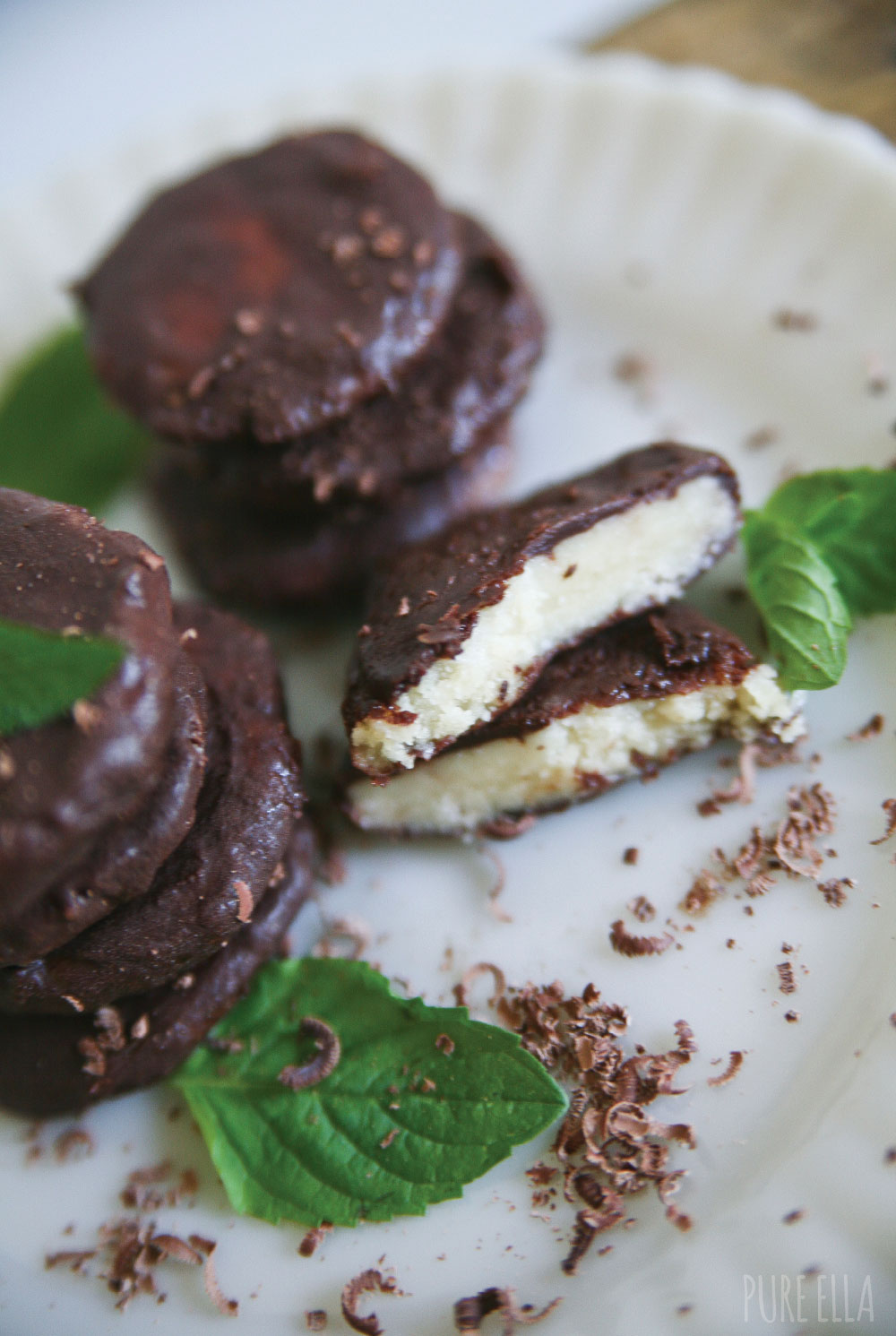 So right now I'm craving Chocolate + Mint!
What are you craving right now?
♥
Pure Ella
If you're new to Pure Ella, please sign up for email updates and join me elsewhere:
Facebook

//

Pinterest

//

Twitte

r //

Instagram

@pure_ella