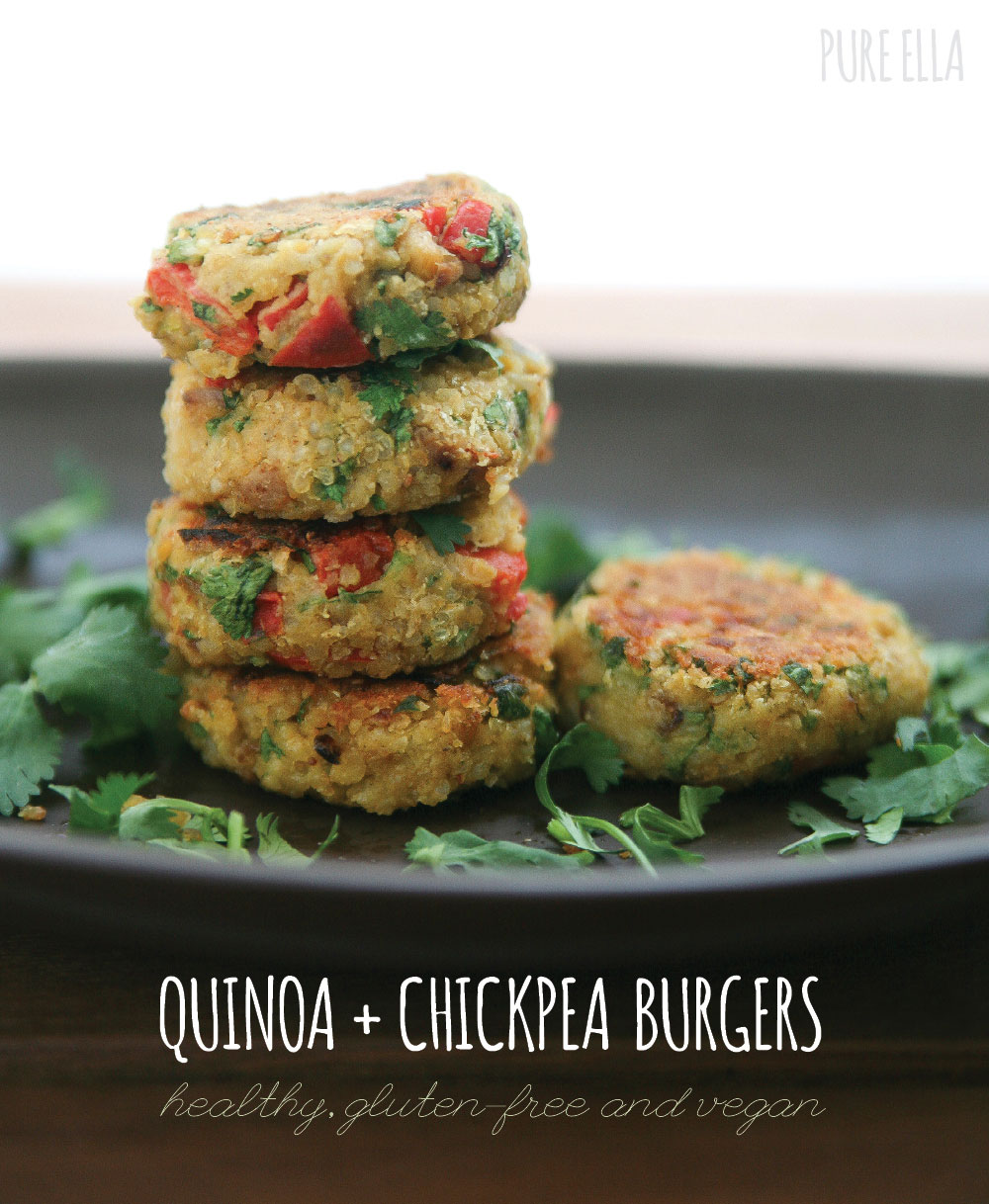 I have a few exciting go-to recipes up my sleeve that I always turn to. These Quinoa + Chickpea Burgers are one of them!
By now I don't even refer to my recipe and could do these with my eyes closed ;)
Best of all everyone loves them – the 6 year old and the carnivore husband! I also love them because they are so easy and quick to make! They could be a meal on one of the busiest nights or part of a leisurely weekend feast – everyone seems impressed at every occasion ;) They are versatile and burst with flavour! So good!!! ;) If you're ready to make something healthier for your family and introduce more gluten free and vegan/ vegetarian meals – this is going to be your favourite recipe ;)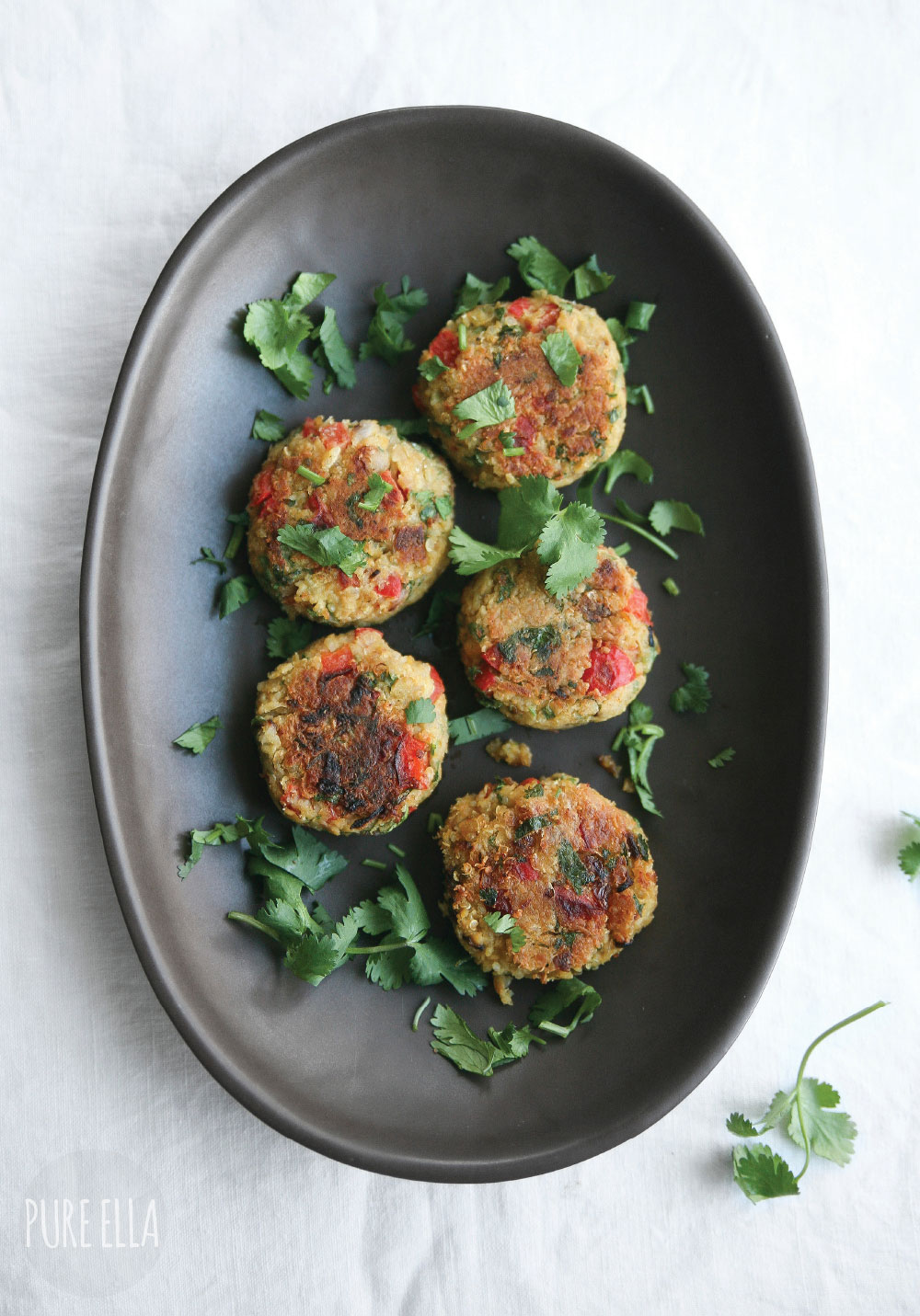 Quinoa + Chickpea Burgers | gluten-free and vegan
Serves 4 | Prep time : 15 minutes (with pre-cooked chickpeas and quinoa)
Ingredients :
1 small onion
2-3 cloves of garlic
1 cup rinsed and drained chickpeas from a can (or pre-cooked)
3/4 cup cooked quinoa (great to use leftovers)
1/2 red bell pepper
bunch of fresh cilantro or fresh parsley
2 tablespoons chickpea flour + extra 3 tablespoons for coating
1-2 teaspoons of sea salt
freshly ground black pepper
1/2 – 1 teaspoon cayenne pepper (optional)
grape seed oil for cooking
Directions :
In a large cast iron pan, drizzle in a little grape seed oil and fry the onion and garlic until slightly golden but not burned. Remove from heat and allow to cool.
Dice the red pepper into small pieces, chop the cilantro; and set aside.
In a food processor, process the chickpeas until they turn to a slightly textured paste, be sure to turn off the food processor and scrape down the sides to get all the chickpeas ground up. Transfer into a large bowl.
Add all the ingredients, including the sauteed onion and garlic, in the bowl and mix to combine. Season to your liking (because everything is cooked you can taste the mixture and adjust seasoning.)
(If you do have kids, I would omit the cayenne pepper entirely as most kids are not into spicy foods. Or divide the batch into two and season them differently for kiddos and adults.)
Take a large plate and sprinkle a few tablespoons of chickpea flour on it. Scoop some of the mixture onto your hands and shape into a ball, the size of a golf ball, and then press gently to make a patty. Drop into the chickpea flour to coat evenly. If too much flour sticks to the patty then gently dust it off with your fingers or a pastry brush. You should have a very light coating all over the patties/ burgers.
Reheat that same large cast iron pan to medium heat. Drizzle in a little more oil and place the patties in to fry. Cook for about 2-3 minutes on each side until the bottom is nicely browned.
Serve with a big salad for a healthy lunch or dinner. Or with cut up veggies on the side for kids. Makes a great party small-plates or potluck party dish! Enjoy!
These come together in no-time! Really ;) If you have pre-cooked quinoa on hand and a can of chickpeas – it's less than 15 minutes to make them!
It's great if you use leftover quinoa from the night before or cook more, use up the 3/4 cup and reserve the rest for another recipe the next day. These also freeze well for up to 1-2 months if you place a little parchment paper in between them and place in an air tight container.
What I love about them the most is that they are a win every time. It's the flavour combination that makes them so tasty. I like it when everyone's happy at the dinner table ;)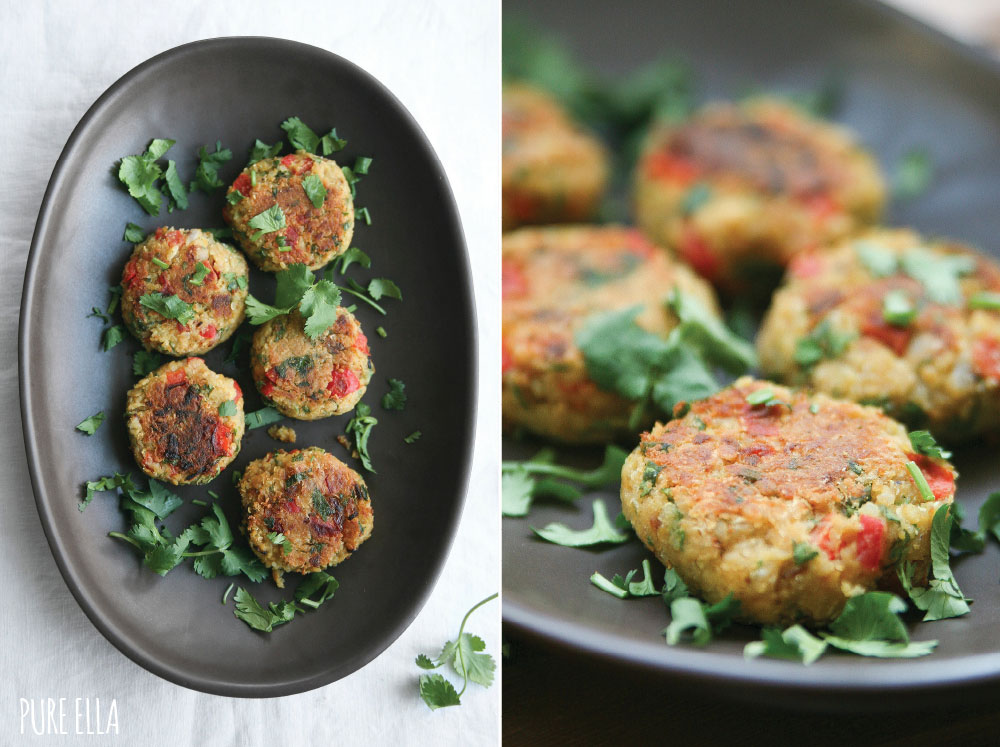 I'm seeing so many of my friends want to eat less wheat and meat! I think the news is spreading that these two food choices are just not that healthy for you!
Even if your diet is not 100% committed to a gluten-free and vegan living – it's great to include meatless and wheat free meals that are so good-for-you. And if you get stuck on recipes – it's nice to start with healthy delicious recipes like these Quinoa Chickpea Burgers! ;)
Both quinoa and chickpeas are a great source of protein! So if you're thinking where you will get enough protein – these take care of that for you. And they are loaded with other health benefits too, low glycemic + they are very filling ;)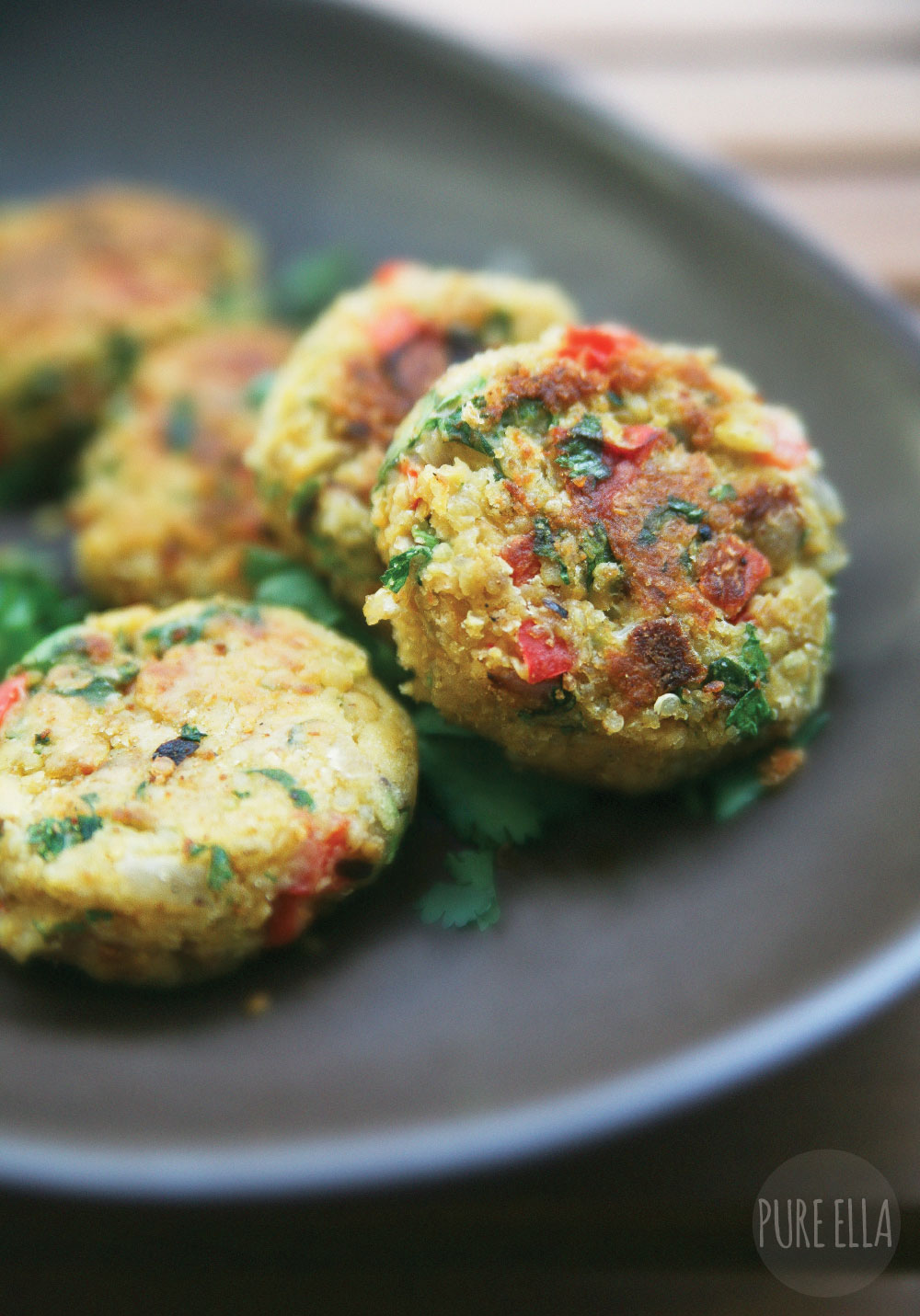 PS. If you haven't heard yet, Pure Ella is in the running for Best Food Blog Awards by Saveur Magazine! This is huge people!!! ;) And if you like what you see here… I would love your support with a VOTE in the category of Best Family Cooking Blog!!! Every vote is much appreciated! Click HERE to go to the voting page, register first and cast your vote on the big red button under PURE ELLA!!! Love you all!!!
♥
Pure Ella
If you're new to Pure Ella, please sign up for email updates and join me elsewhere:
Facebook

//

Pinterest

//

Twitte

r //

Instagram

@pure_ella