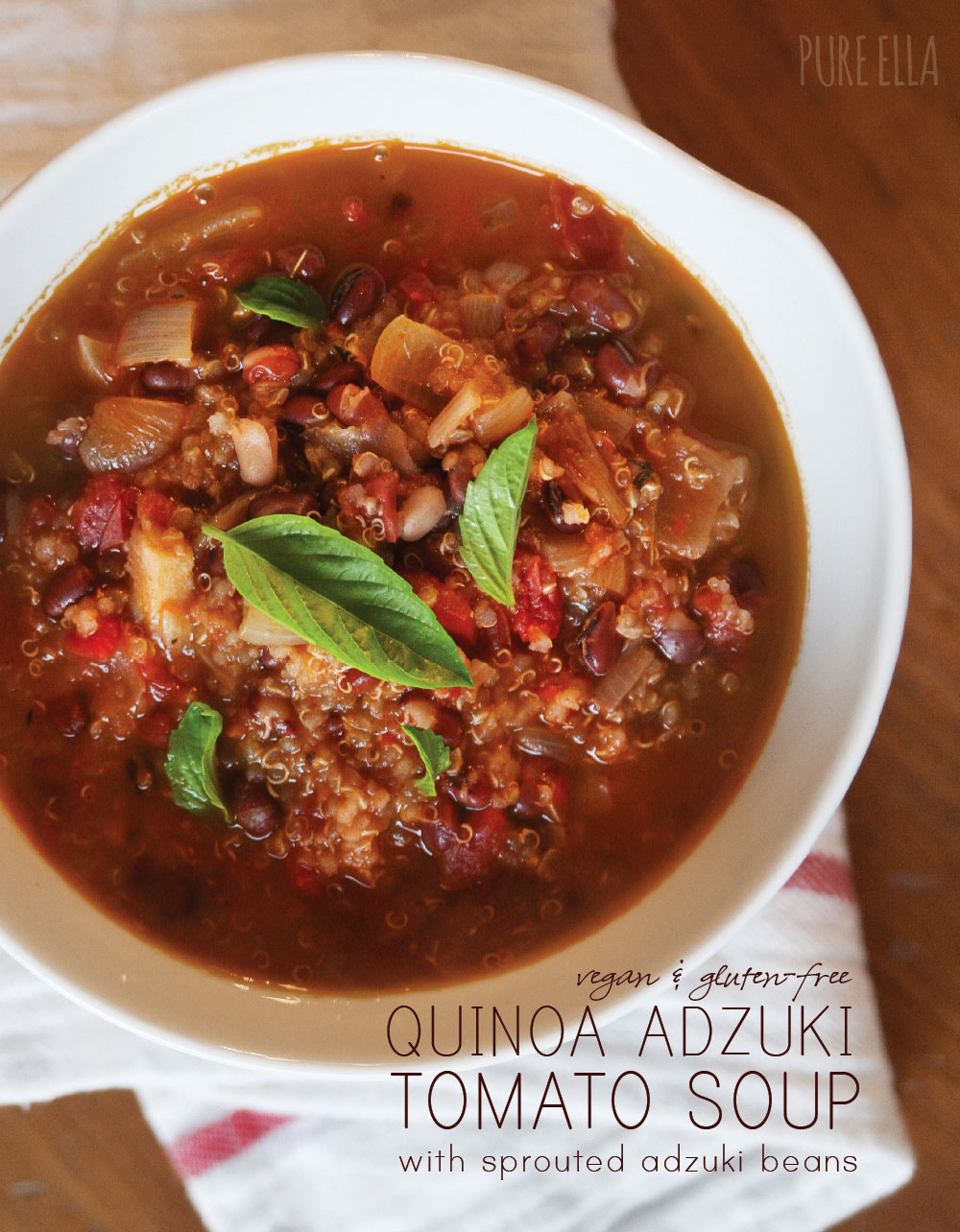 Yum! Soup season is here and I could not be happier! I find I really adapt to seasons quite well and after a few months of salad loving days and lots of raw meals – which are amazing and will still stay strong in my diet. (oh, I'm not bashing the raw food diet here) not at all – but one thing you guys don't have that I quite love, is soup. A good hardy hot bowl of soup served up on a cool and wet day, much like today is a dream… A bowl of soup that's packed with great ingredients ready to nourish your body and still provide you with loads of protein and be simply, deliciously satisfying. Yum. That's my kind of soup.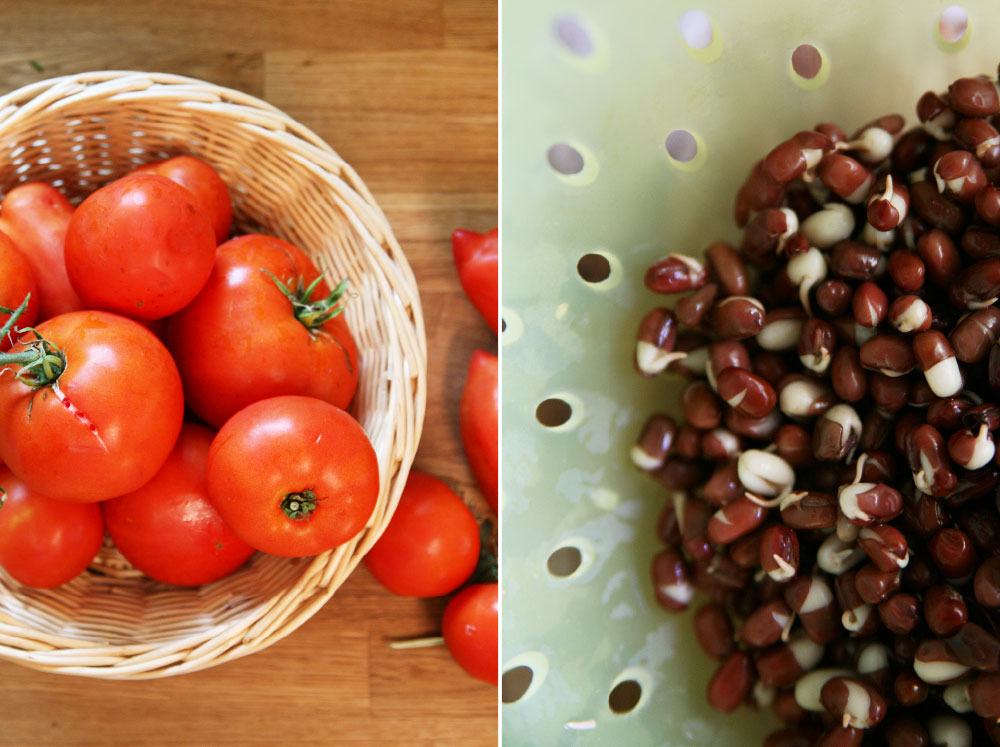 My first soup of the season, was inspired by all these fresh garden tomatoes my father-in-law brought in one day. And right away, a craving for tomato soup was born. Then, I made this wonderful Quinoa, Sprouted Adzuki Bean Tomato Soup. Yes, a hearty *meaty* soup with all natural, vegan and gluten-free ingredients. Here is how you can get your hands on one of these bowls yourself, in the comfort of your own warm home…
QUINOA, ADZUKI BEAN TOMATO SOUP with sprouted adzuki beans : gluten-free/ vegan / dairy-free
Ingredients :
2 onions, diced
2 cloves of garlic, minced or chopped fine
6-8 large organic tomatoes, diced
1 cup sprouted adzuki beans, soaked overnight (quicker version : use 1 PBA-free can of adzuki or red kidney beans)
1/2 cup white or red quinoa
1 tsp fresh or dried thyme
1/2 tsp dried basil
2 tsp sea salt
1/2 tsp fresh cracked black pepper
fresh basil leave for garnish
olive oil for cooking
.
Cooking Directions :
Start with a large pot, drizzle with enough olive oil to cover bottom. Add in onions and cook over medium heat to brown slightly, add in the garlic and cook for about 2 minutes. Reduce heat and continue cooking the onion and garlic to carmelize, adding a little more olive oil if needed. stirring often to let all the sides cook evenly and not to let the bottom burn. Cook for about 15-20 minutes or until the onions appear completely translucent and golden but not burned. This carmelizing process is key to get a rich and *meaty* flavour to this soup. Then, you can add in all the tomatoes, adzuki beans, salt, pepper and dried herbs. At this time add in some hot boiled water to just cover the tomatoes and beans. Cook for another 15-20 minutes. Then add in the quinoa. When this is cooking, the water will start getting absorbed quickly and you will need to add more. Add the water 1/2 cup at a time to keep the flavours rich and not get watered down too quickly. Keep the pot covered and cook on medium low until the beans are softened. Full cooking time is about 1 1/4 hr. If you want to speed up the cooking time, start cooking the soaked adzuki beans right away, before you tend to your onion carmelizing. Then combine the pots (with the water from the beans) together and continue on with adding the tomatoes etc. This will cut the cooking time by about 20 minutes.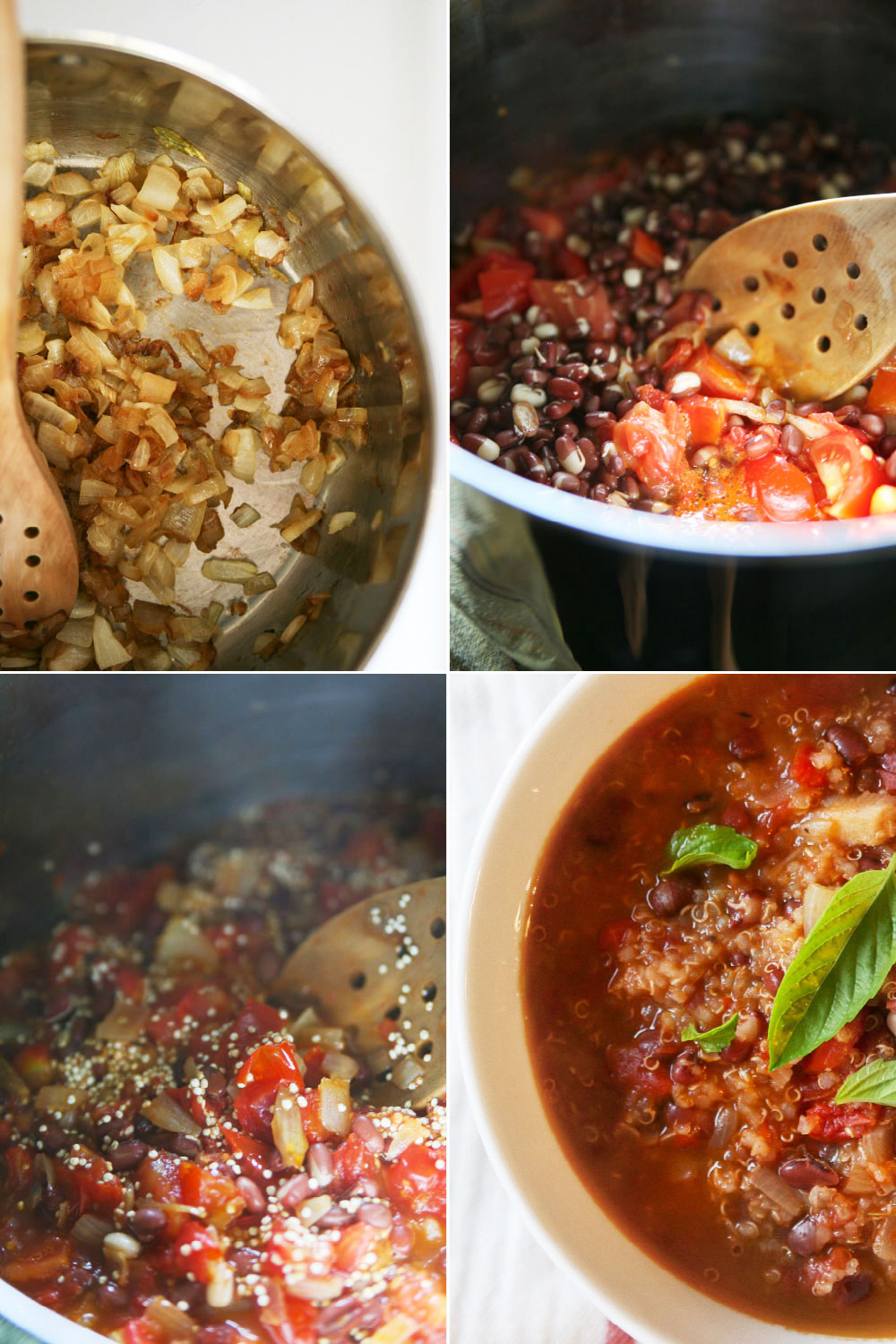 For a quicker version, use a can of adzuki or red kidney beans. It's a great soup to make ahead the evening before, and just reheat the next day for lunch or supper. I sometimes cook soups or stews like that (I find I like being in the kitchen at night, with no interruptions, just good music). And then, come the next day, I don't panic, don't rush, just reheat and serve up a good bowl of soup.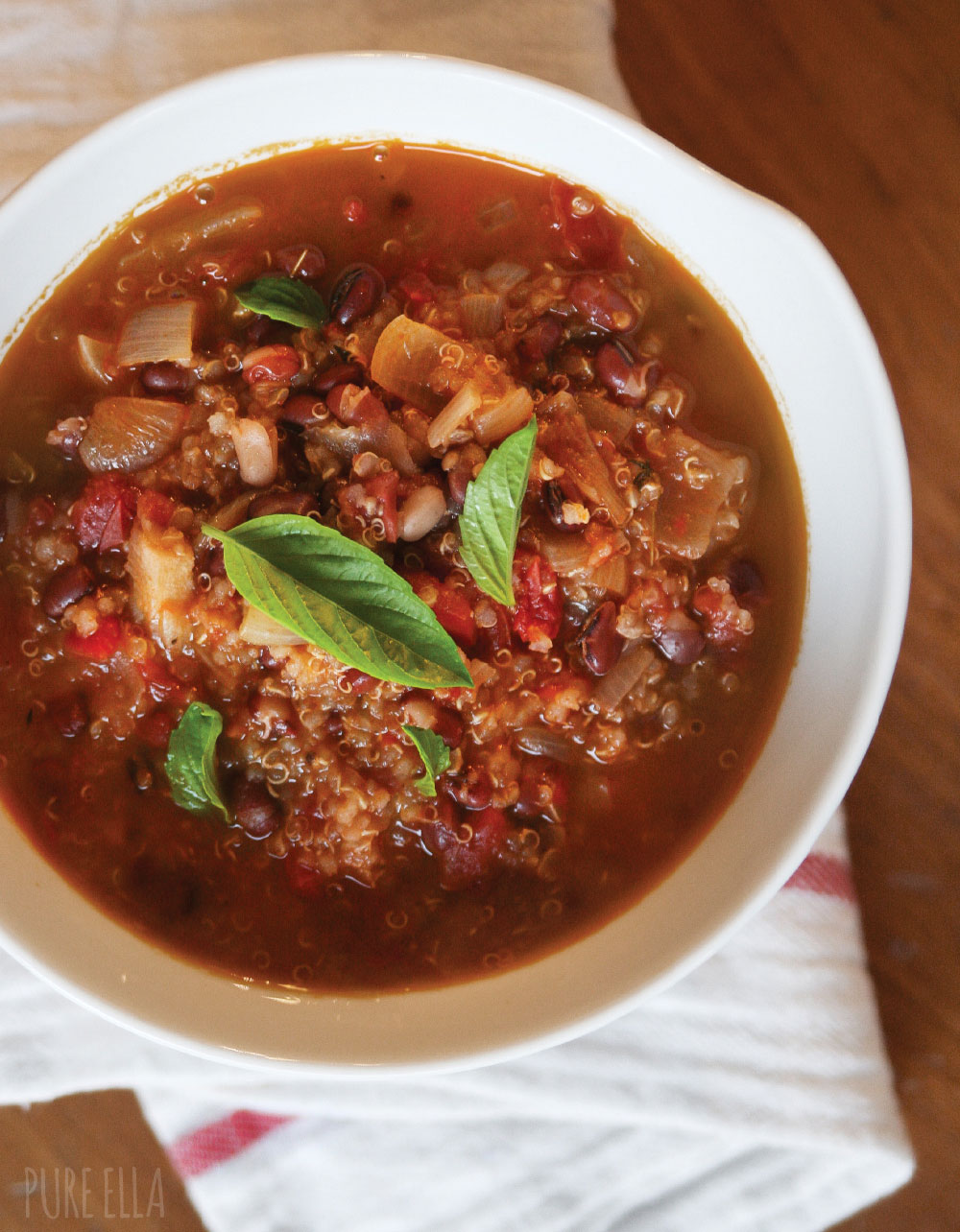 Today is a cold, rainy day… another soup… What will I make this time? ;) What's your favourite soup this time of the year?