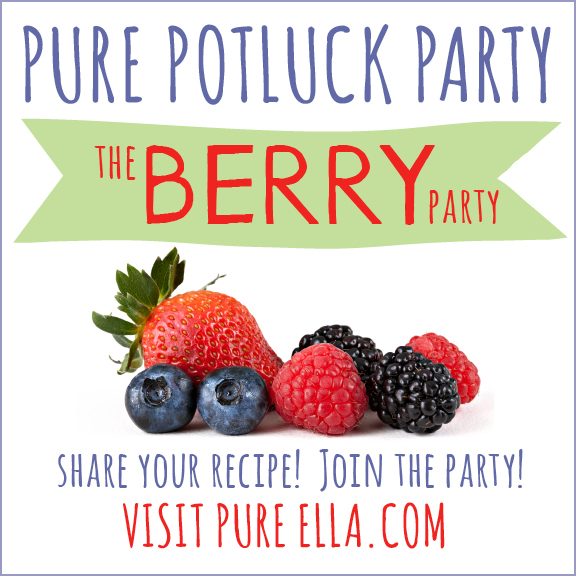 Hello friends! TGIF! And to celebrate, we have another exciting Pure Potluck Party for you!
Welcome to The Berry Party!
Tis the season, my favourite season for fresh beautiful bountiful berries! What are your favourite ways to savour these juicy delicious fruits?
I like to put out a bowl of just simple berries with mint leaves on top to dig into with you hands, but I also like to put them in smoothies, and all kinds of desserts, like vegan cheesecakes, pancakes, shortcakes and maybe pie? I still have a berry pie to make on the agenda. Maybe this weekend?
Please share your favourite recipes with berries! I can't wait for all the inspirations and deliciousness that you all will bring.
Thank you all for coming to the Party.
Linking up? As a reminder, we're focusing on mostly VEGAN and GLUTEN-FREE recipes, some exceptions are allowed for ancient grains such as spelt or kamut, or honey. No artificial or processed ingredients and no refined sugar or artificial sweeteners, ingredients etc. We're striving for healthy and "pure" recipes! Please add a backlink if you can to the recipe post you're submitting.
Your recipes don't have to be new, we welcome any recipe that fits the bill dusted off your archives – I don't think recipes ever age, do they?
Don't have a "berry" recipe? How about you link to the Spring Potluck Party, it's still on at the same time. Thanks for coming!
Share a recipe! Join the party!
DON'T FORGET TO SPREAD THE EXCITEMENT by clicking the "Like" button on top or sharing on Facebook or Twitter etc. where you're at!
Speaking of Berries? Are you familiar with The Berry? One of my favourite places to hang out and have fun and be inspired.
Wishing you all a great weekend! I'm off to bake a pie! ;)