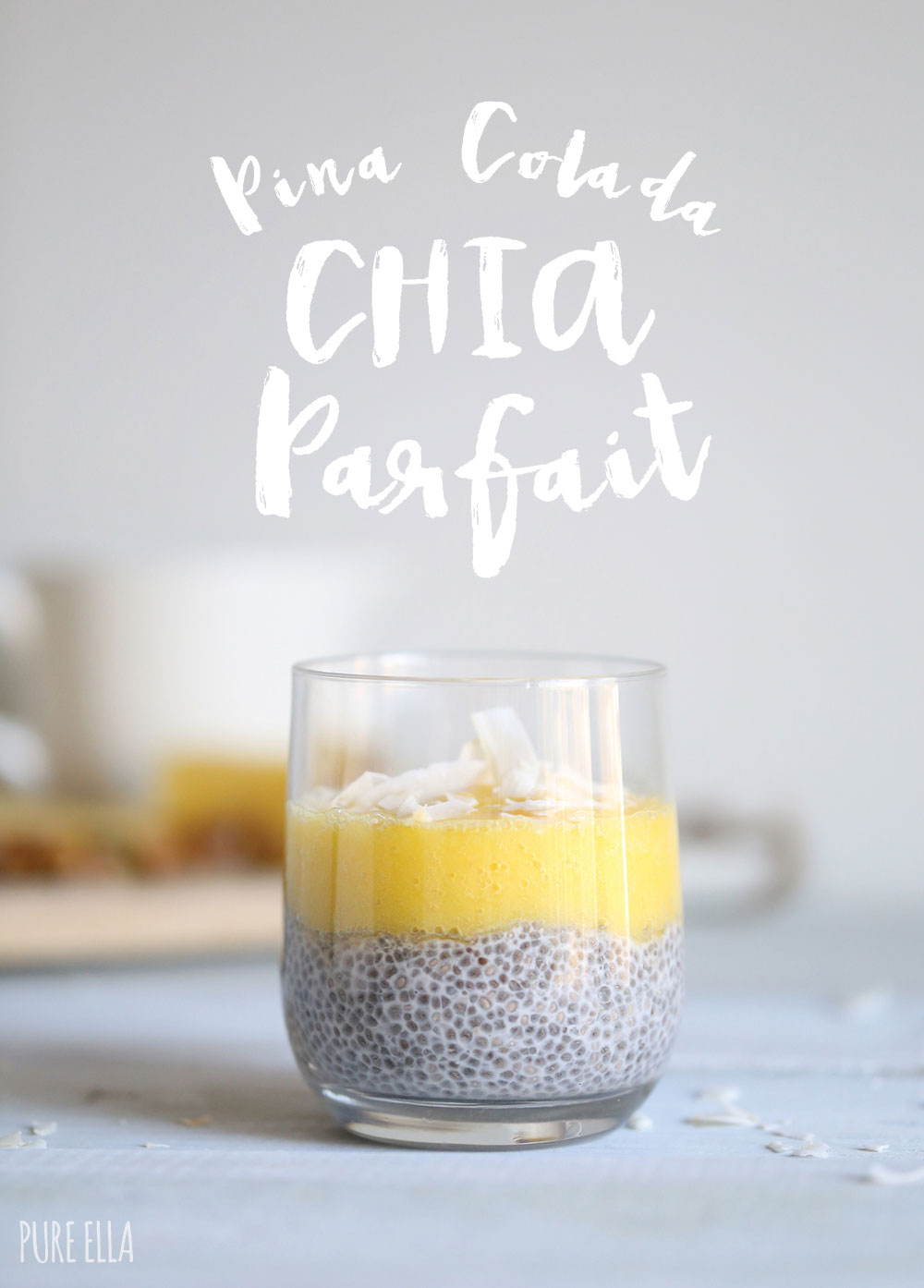 If you like Pina Coladas, and getting caught in the rain. … you will LOVE this Pina Colada Chia Parfait!! It's all the goodness and happiness of a Pina Colada but with the superpower of chia seeds + other nourishing great ingredients your body will LOVE! (and none of that other stuff um, like, rum – but that's ok because this is better & healthier! (and you can share it with kids!)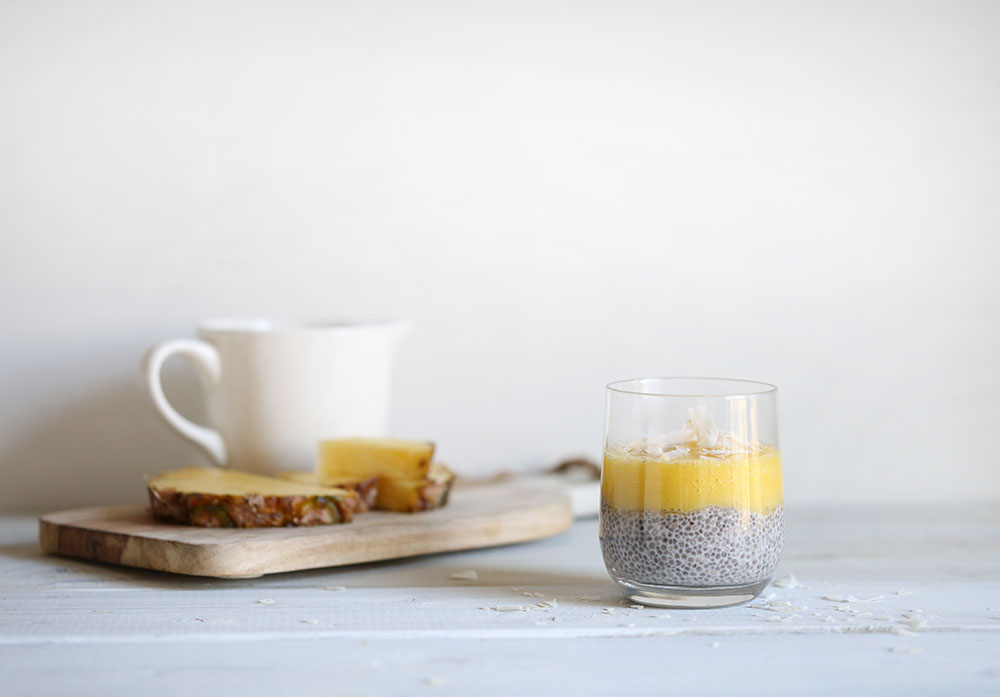 This is my favourite treat in the winter months especially because it tastes like you're on vacation and swaying to Rupert Holmes' tunes as you feel your toes digging into the warm sand – – even if it's just your warm slippers and the song's just in your head and the real noise is coming from a baby crying to bring you back from your daydream…. ahhh if only for a moment… but then hey, you go to youtube and play this song anyway <<loud>> and grab your girl and dance around the living room… and when you're dizzy you sit back down and eat up big spoonfuls of this delicious Chia Parfait because hey! It's healthy and delicious AND reminds you of a real Pina Colada! Plus even your baby loves it and life IS good! You realize you don't even need a vacation after all because you don't even need to escape from this beautiful life*…. and it's already February, spring is just around the corner… :)
So if you're feeling this beachy vibe and want to feel like you're on the beach sitting on the sand for a few minutes, make this:
Healthy Pina Colada Chia Parfait
A gluten free, dairy free, vegan and paleo chia parfait with no sugar added.
Rich in healthy protein, healthy fats, vitamins and electrolytes!
Ingredients :
1/4 cup chia seeds
1 1/2 cups coconut milk (or other plant-milk)
about 1 cup chopped fresh ripe pineapple
a handful of coconut flakes
Directions :
Mix the chia seeds with coconut milk in a mason jar or bowl and set aside the fridge overnight or 6-8 hours minimum. (After about 1/2 hour, come back and mix the chia in the coconut milk again so they don't stick near the bottom). It's best to keep mixing them every couple of hours so that the seeds don't stick and settle near the bottom.)
Blend the pineapple in a blender or in a separate bowl with an immersion blender and top your chia pudding with the pineapple puree.
Sprinkle coconut flakes on top and enjoy!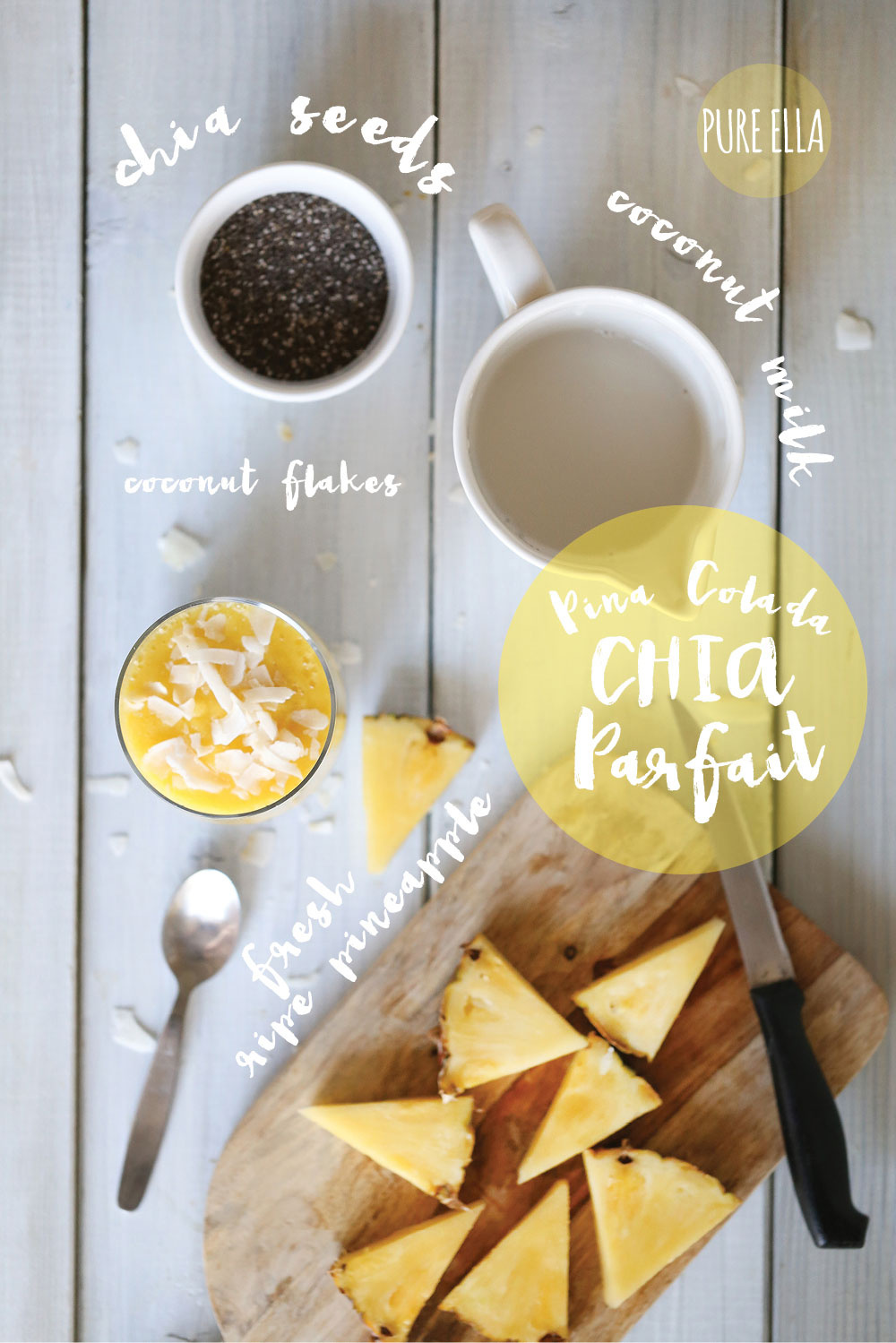 This healthy chia pudding parfait makes a delicious breakfast or snack or even dessert!
NOTE : I didn't sweeten the chia pudding because I don't think you need that extra sweetness because the pineapple is naturally very sweet. I love it this way and it's a great way to cut the sugar! ;)
However if you're serving this as a dessert – and you're just slowly cutting sugar out than you can add about 1-2 tablespoons of honey or 2-4 drops of liquid stevia to the chia pudding for more of a treat. (But you really don't need it, trust me!)
And especially if you're having this as a breakfast then you definitely don't want to start the day on a very sweet note – then you'll be craving sugar all day!
*this life is beautiful but travelling is fun though so maybe a little getaway with the fam would be sweet indeed after all, just like without any sugar, life wouldn't be so fun without travelling, right? ;)