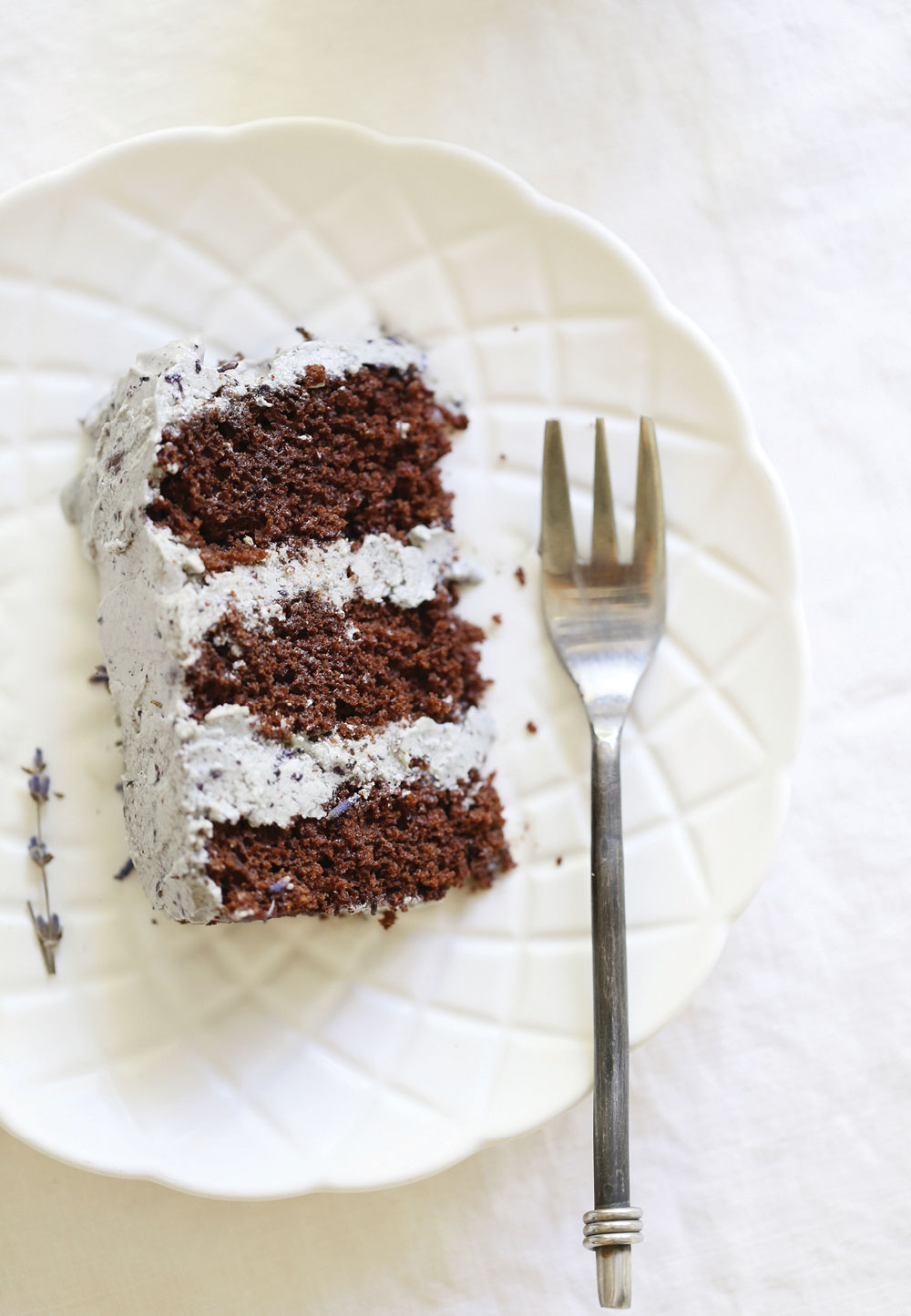 Hello! It's September and it's such an exciting time! It's my birthday month and I thought I would start this month on a celebratory note AND bring cake!! This Gluten-free Vegan Chocolate Lavender Aquafaba Cake is everything!!
If you're craving something special… this is perfection! It's rich and decadent yet light and perfect. The aquafaba is a genius ingredient, and I am amazed by the results! And the lavender hint of flavour and colour came out so beautifully… the perfect compliment to the chocolate cake. YUM! I hope you'll be enjoying this cake soon also…. I mean just look at that texture…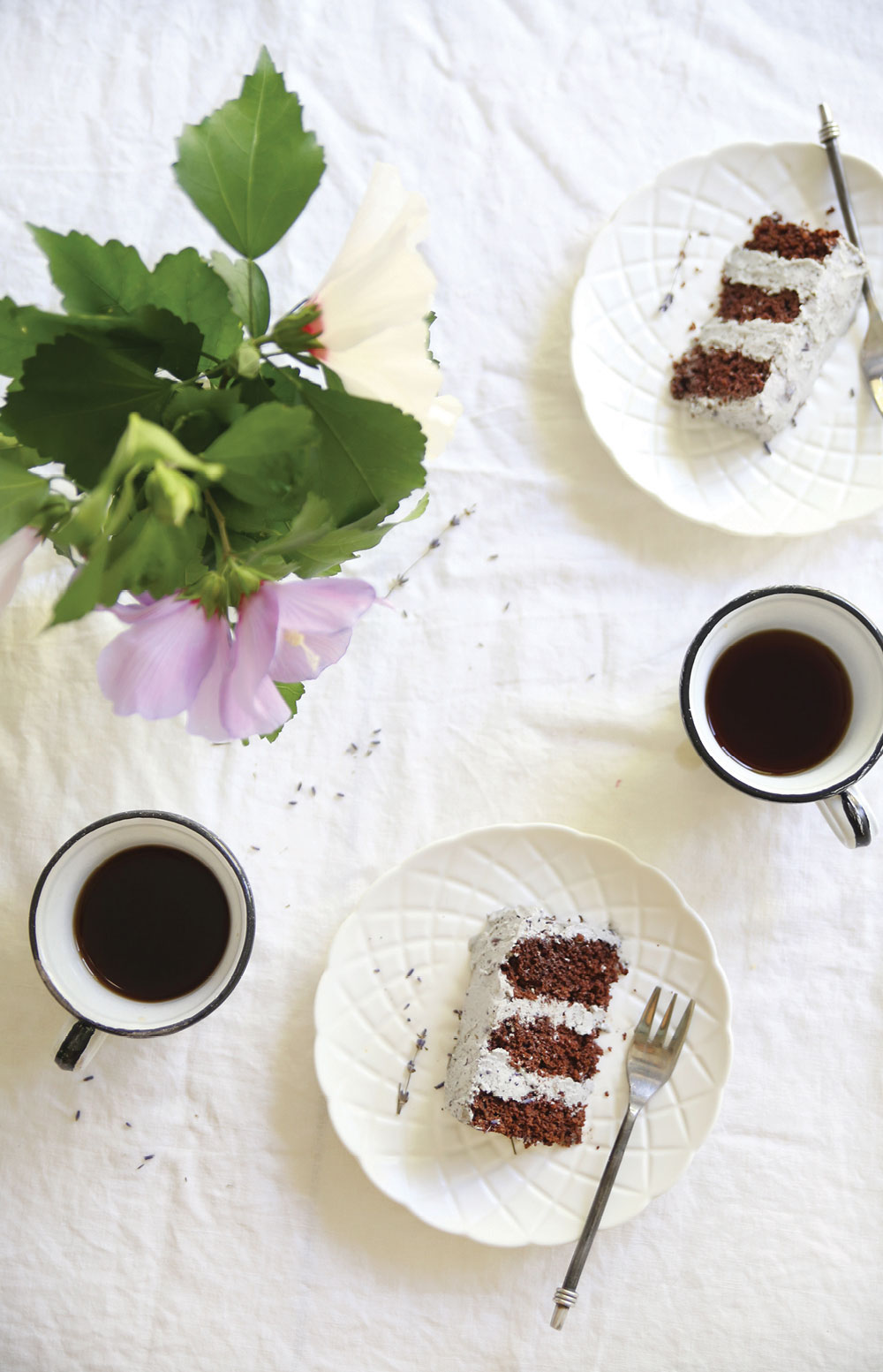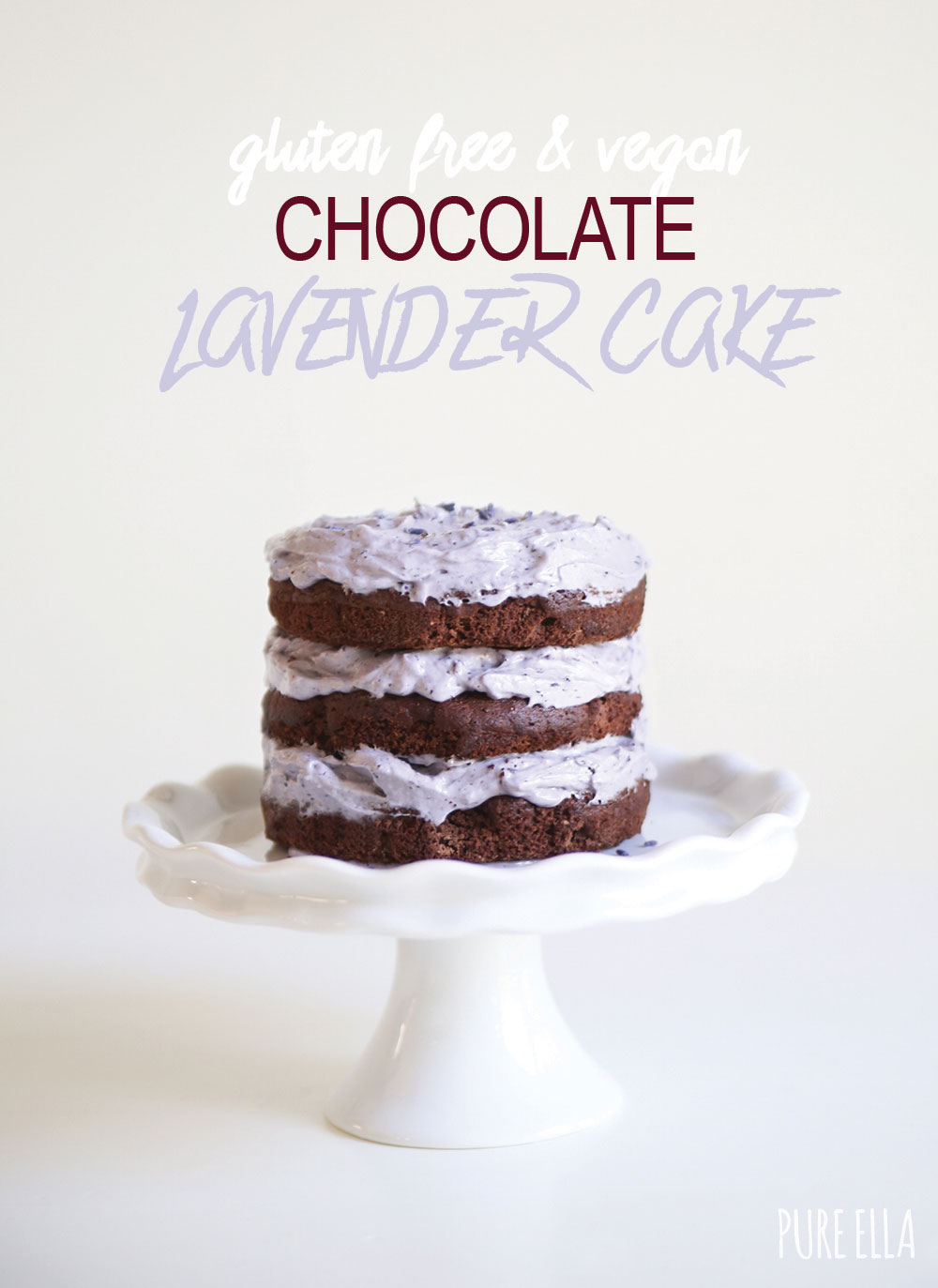 Gluten free Vegan Chocolate Lavender Aquafaba Cake
gluten free, dairy free, egg free, vegan, no artificial ingredients, easy
Ingredients:
1 cup gluten-free all-purpose flour (or spelt or oat flour would work)
1 teaspoon baking soda
1 teaspoon baking powder
3 tablespoons cacao powder (does not have to be raw cacao powder)
pinch of salt
1/4 cup aquafaba (water from a can of chickpeas) (look for organic BPA-free cans)
1/4 cup coconut oil, melted but not hot, OR grapeseed oil
2 tablespoons apple cider vinegar
1/4 cup unsweetened applesauce
1/2 cup raw cane sugar or coconut palm sugar
Vegan Coconut Frosting (omitting the lemon extract from this recipe)
1/4 cup frozen blueberries or wild blueberries, pureed (for the 'lavender' colour)
up to 1/4 teaspoon dry lavender
Directions:
Preheat oven to 350F and prepare a baking dish* by greasing the sides and laying parchment paper on bottom.
In a large bowl, sift all the dry ingredients, (except the sugar) (first 5 ingredients from the list: flour, baking soda, baking powder, cacao powder, salt) and mix to combine well.
In another bowl, mix all the wet ingredients and sugar together: aquafaba, oil, apple cider vinegar, applesauce and sugar, and whisk until the sugar dissolves slightly.
Pour the wet ingredients into the dry and mix for a few minutes to combine well.
Pour out the batter into a prepared baking pan.
Bake at 350F for 20-25 minutes. (see note below on size of pan and baking times)
Once baked, allow to cool for 5 minutes in the pan, then score the sides with a knife and flip over onto a cooling rack to cool.
Frosting:
As the cake is baking and/ or cooling, proceed to make the frosting from this post. (remembering to omit the lemon extract).
Puree the frozen blueberries (I used wild blueberries as the colour is more saturated) and add the blueberry puree into the frosting as the mixer is still whipping the frosting.
Pinch the lavender to release the natural oils and scent and mix into the frosting.
Once the chocolate cake layer(s) are fully cooled, trim the tops if doing several layers and top with frosting. Keep adding the frosting as desired.
Sprinkle with extra lavender if desired on top.
*From this recipe, I baked 3 separate cake layers in a mini 5″ D spring-form baking pan. I simply divided the batter into thirds and baked separately. This made an adorable little cake. If making a larger diameter, such as 8″, this batter would make 1 cake layer and it should be baked 5-10 minutes longer. Check for doneness with a toothpick inserted in the centre that it comes out dry.
NOTE : this cake is best when served the same day as it's baked. You could make the frosting ahead of time and just store in the fridge, but add the blueberry fruit puree until the day you're frosting/ serving the cake so the colour is super vibrant. (Just re-whip the frosting before making the cake.)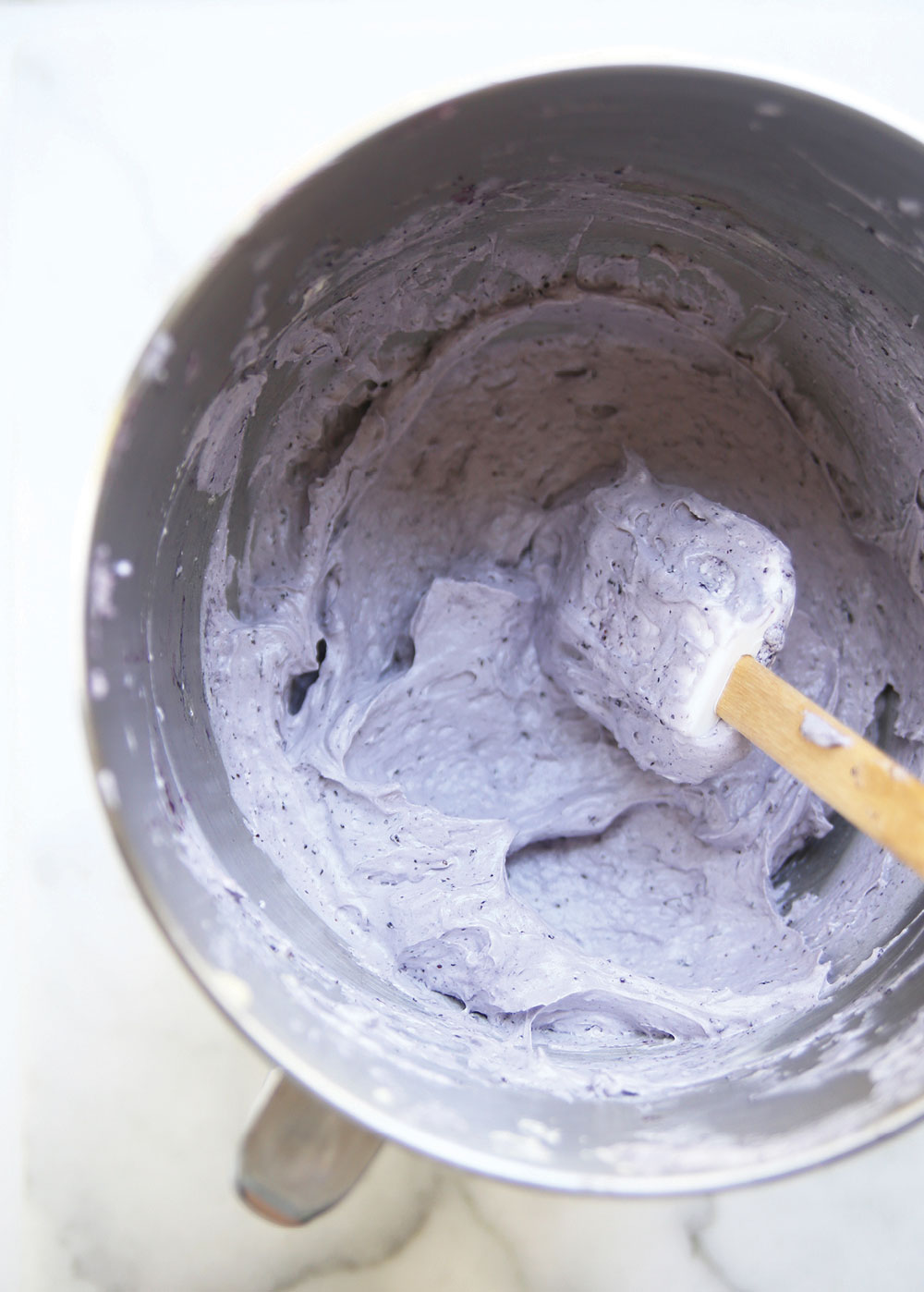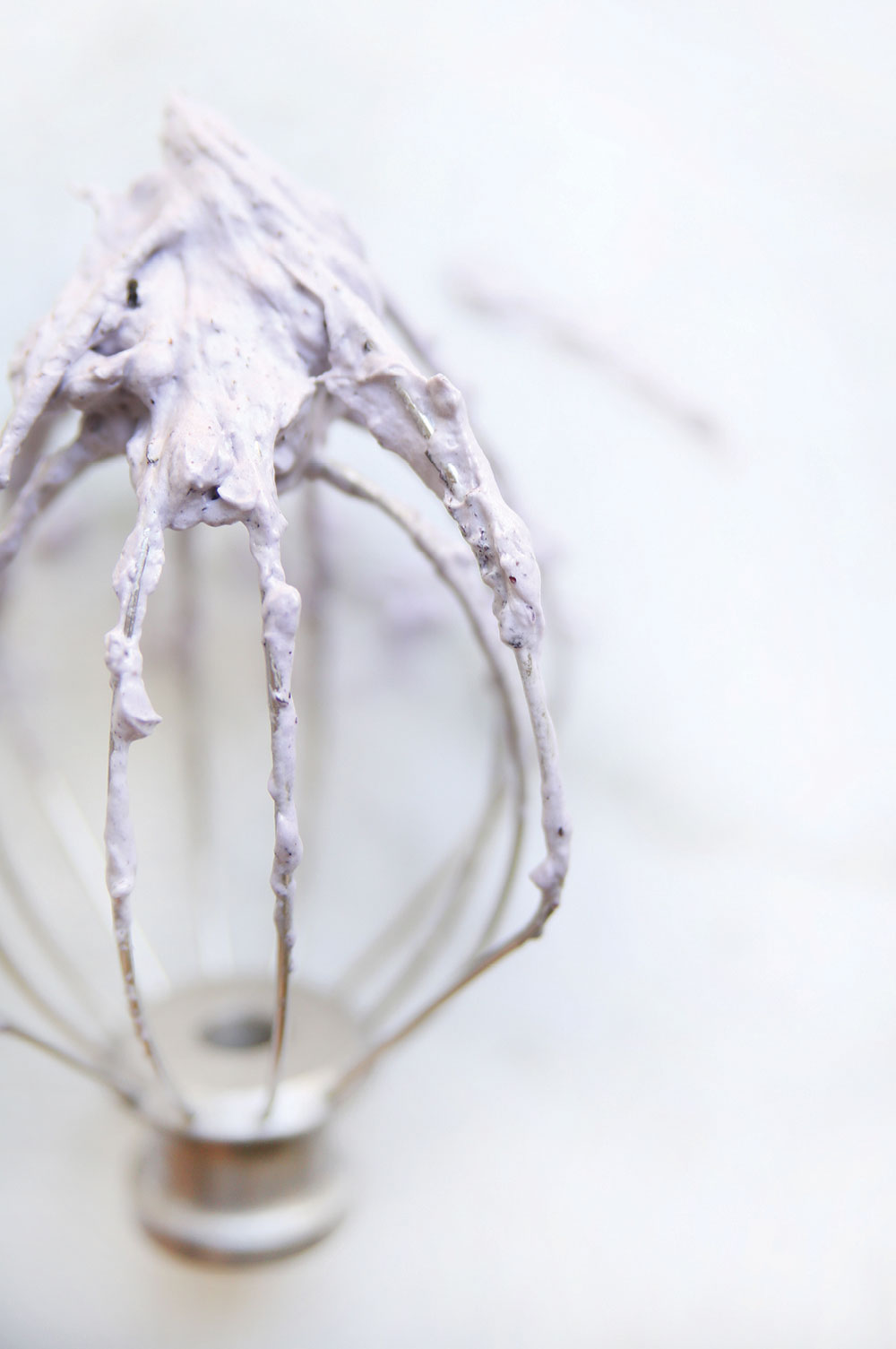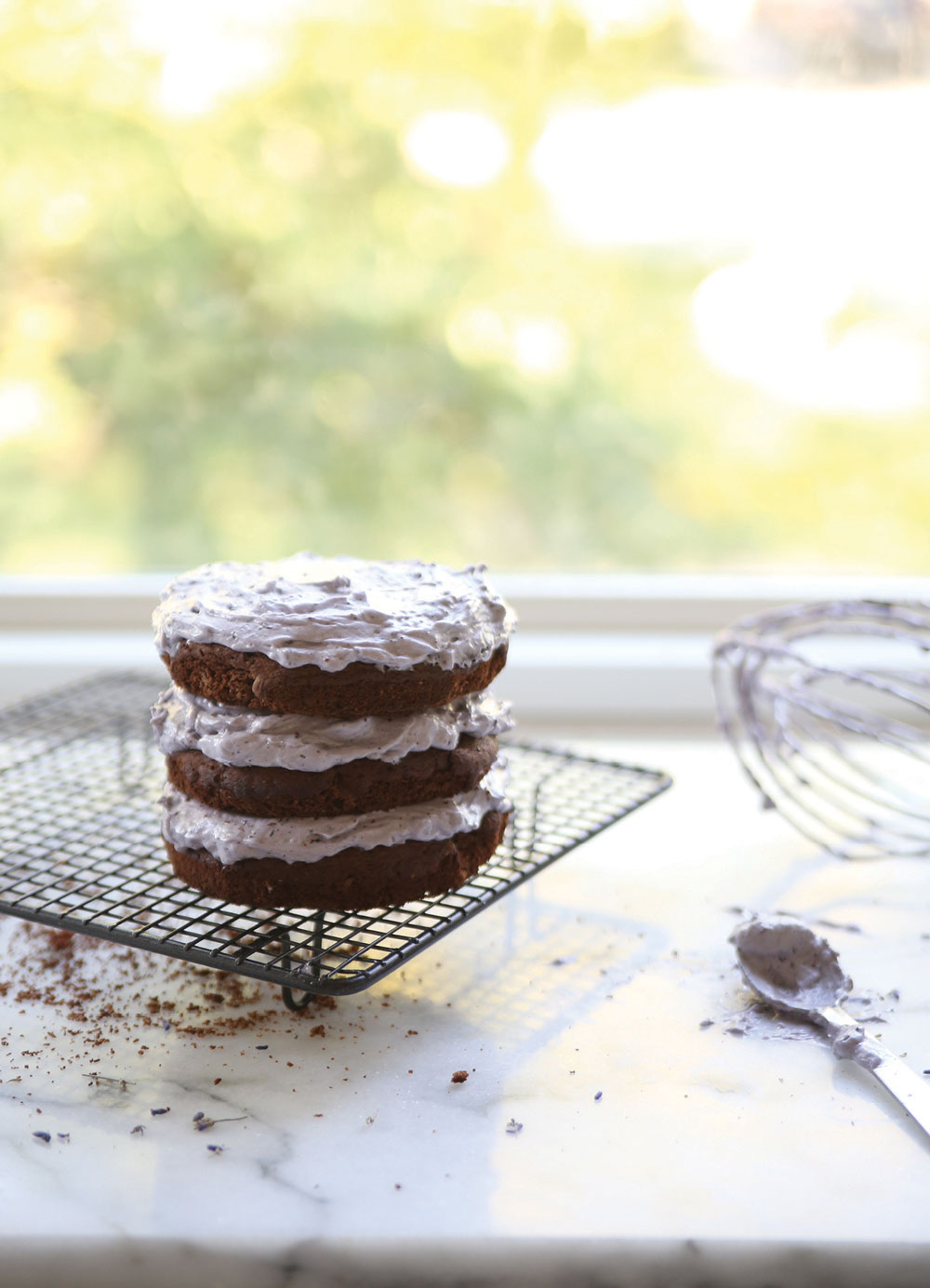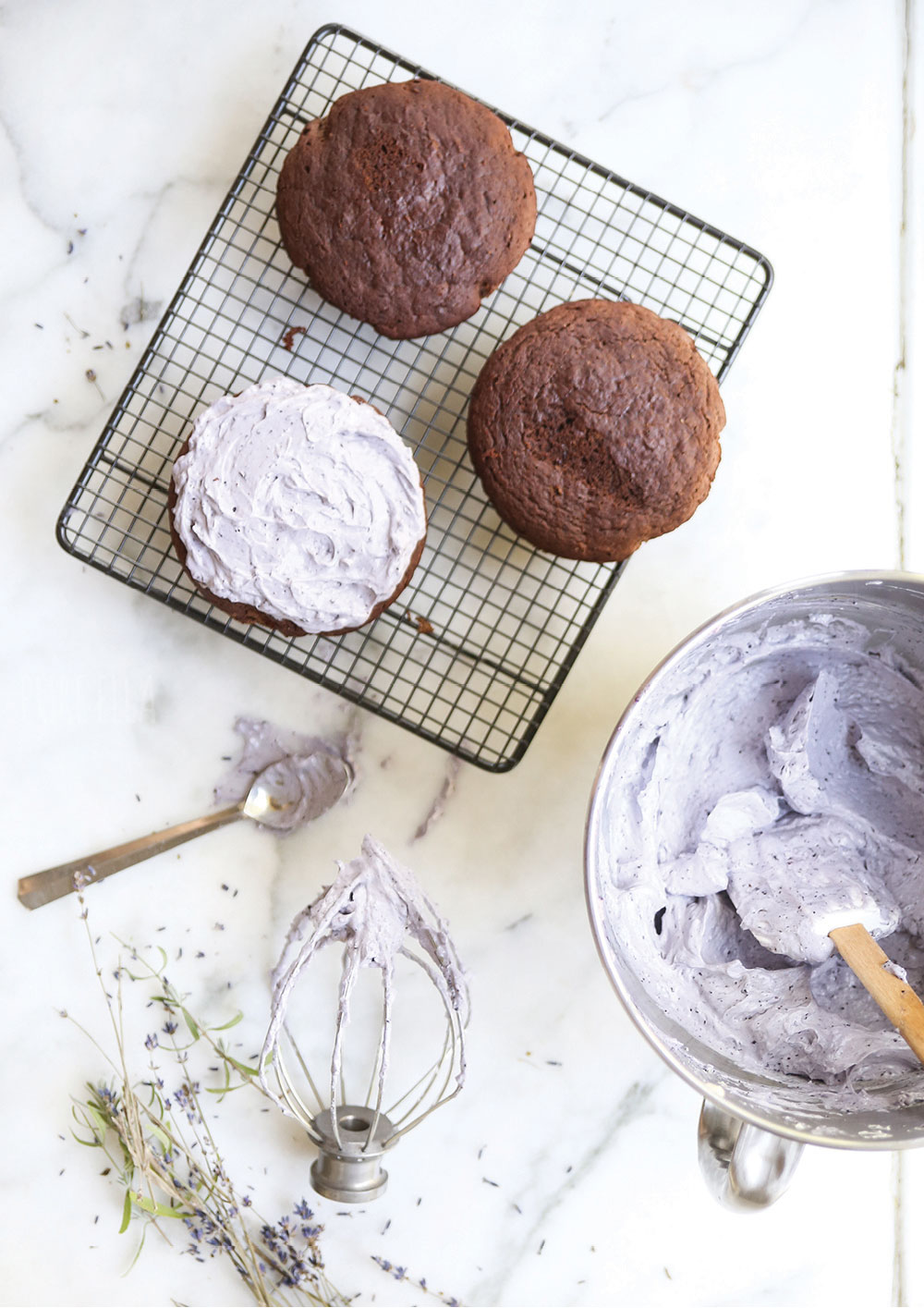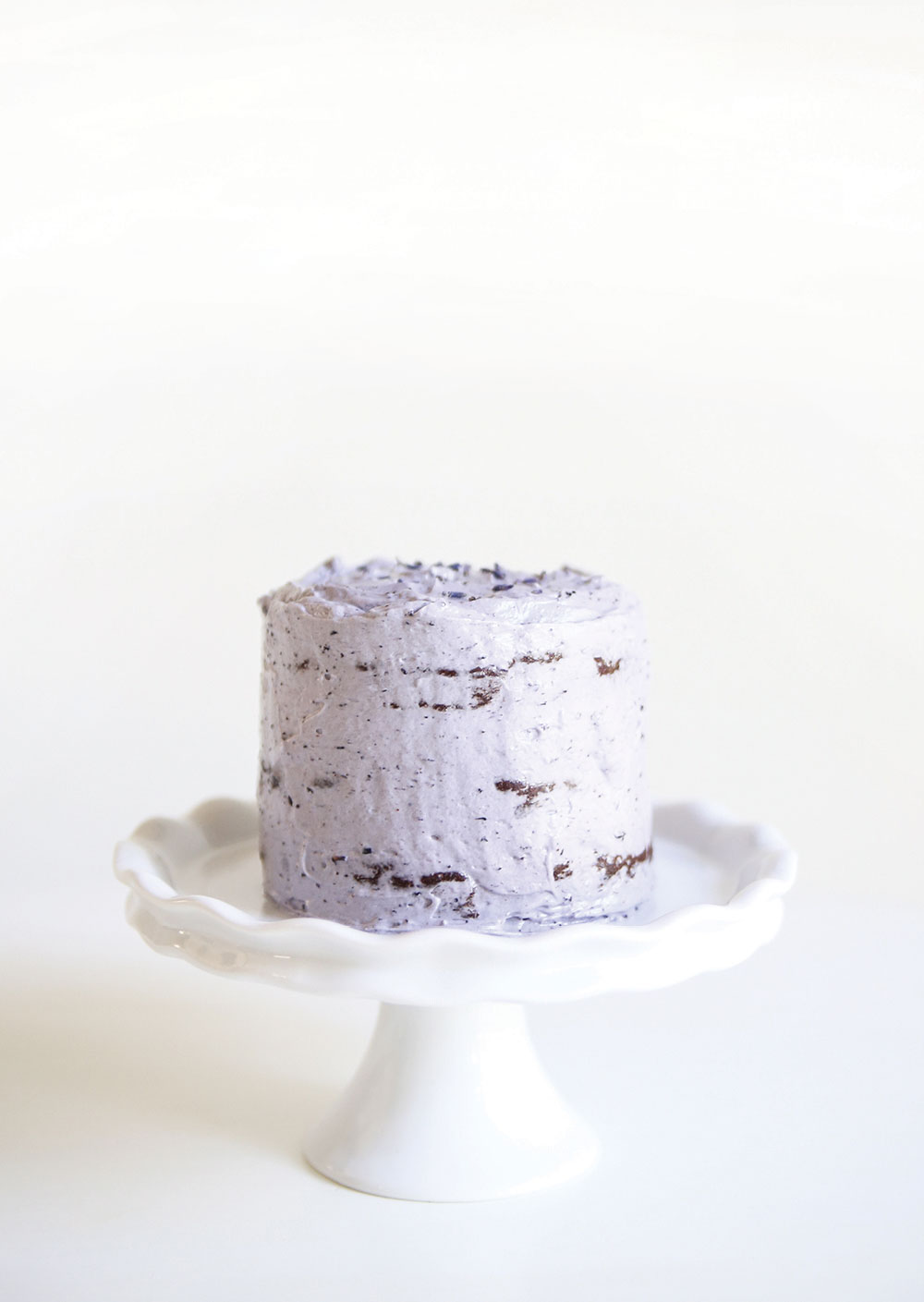 This was one of the best cakes I've ever had! And I think you'll agree that it's super delicious. It's also very easy to make and really foolproof.
I sweetened this cake with coconut palm sugar which is a low-glycemic sweetener which does not spike your blood sugar as bad.
I used only 1/2 cup sugar in the cake for the 3 layers. You could reduce the amount further to 1/4 cup sugar and add a few drops of liquid stevia to reduce the sugar calories further.
I added pure fruit to colour and also add more natural sweetness to the frosting.
Lastly, it is a cake and it's for a special occasion, and not an everyday treat.
Sugar can be enjoyed if you just adapt healthy habits around it. An occasional treat is great as you could potentially crave more sugar (and/ or other bad foods) if you deprive yourself and get emotional about what you're giving up.
Enjoy the sweet side of life!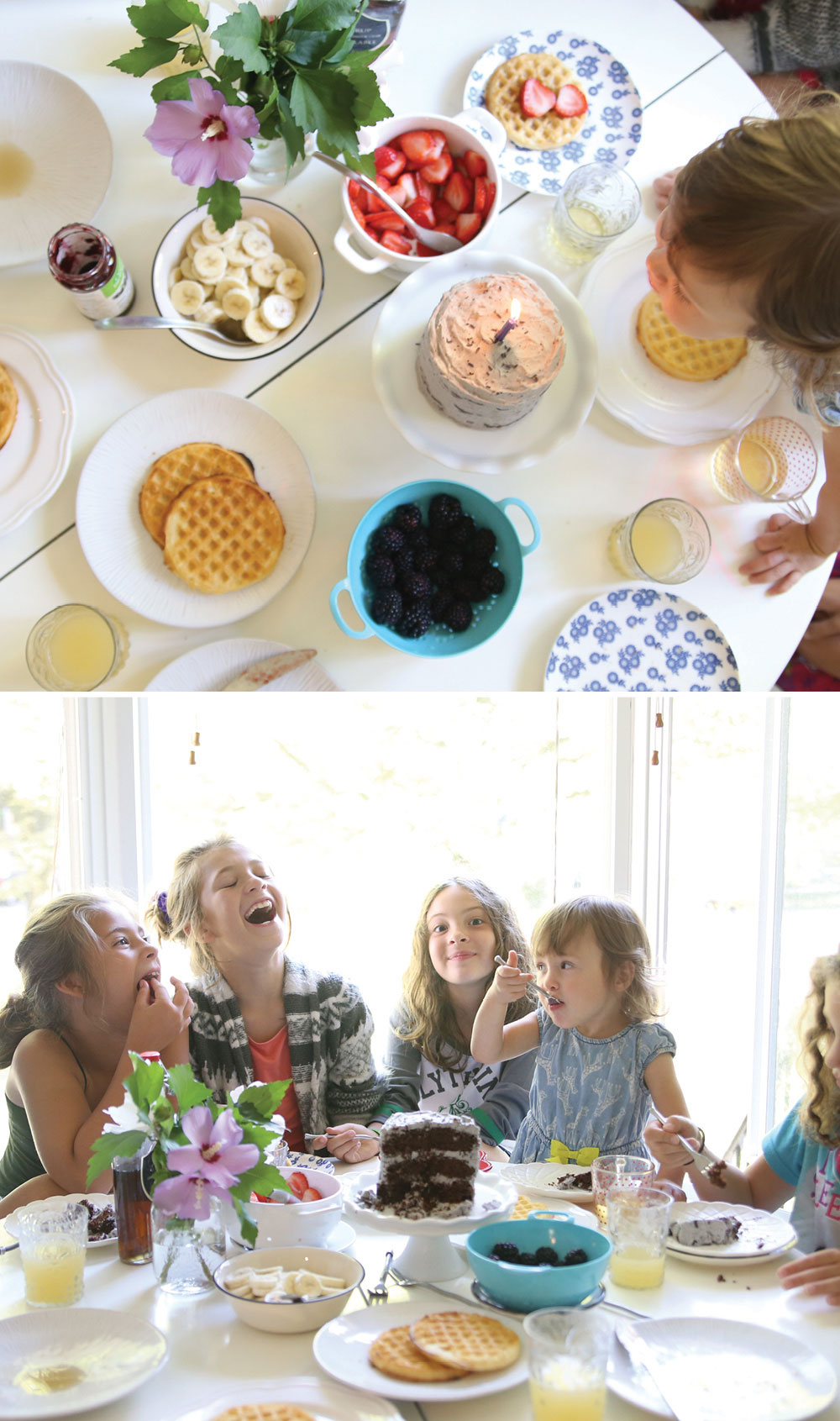 So here's a slice of real life : I actually made this cake for my fellow Virgo daughter's birthday a week ago :) She had a sleepover party with her friends AND YES, they had cake for breakfast!! (I know, doesn't seem very nutritious BUT it's made with pretty good ingredients and it's also a once-a-year-occasion. And it was either serving it at 8pm the previous night or for brunch. (I think sweet treats are always better served during the day as you burn off the calories anyway and it's not so great to eat any form of sugar in the evening.)
Anyway, it was so much fun and I satisfied my daughter's PURPLE obsession :) She loved the cake and just loved the fact that it was lavender too :) (she's becoming a bit of a foodie ;))
It wasn't until the craziness moved elsewhere when I could take a few blog photos :) Such is the life of a food blogger! Pretty delicious ;)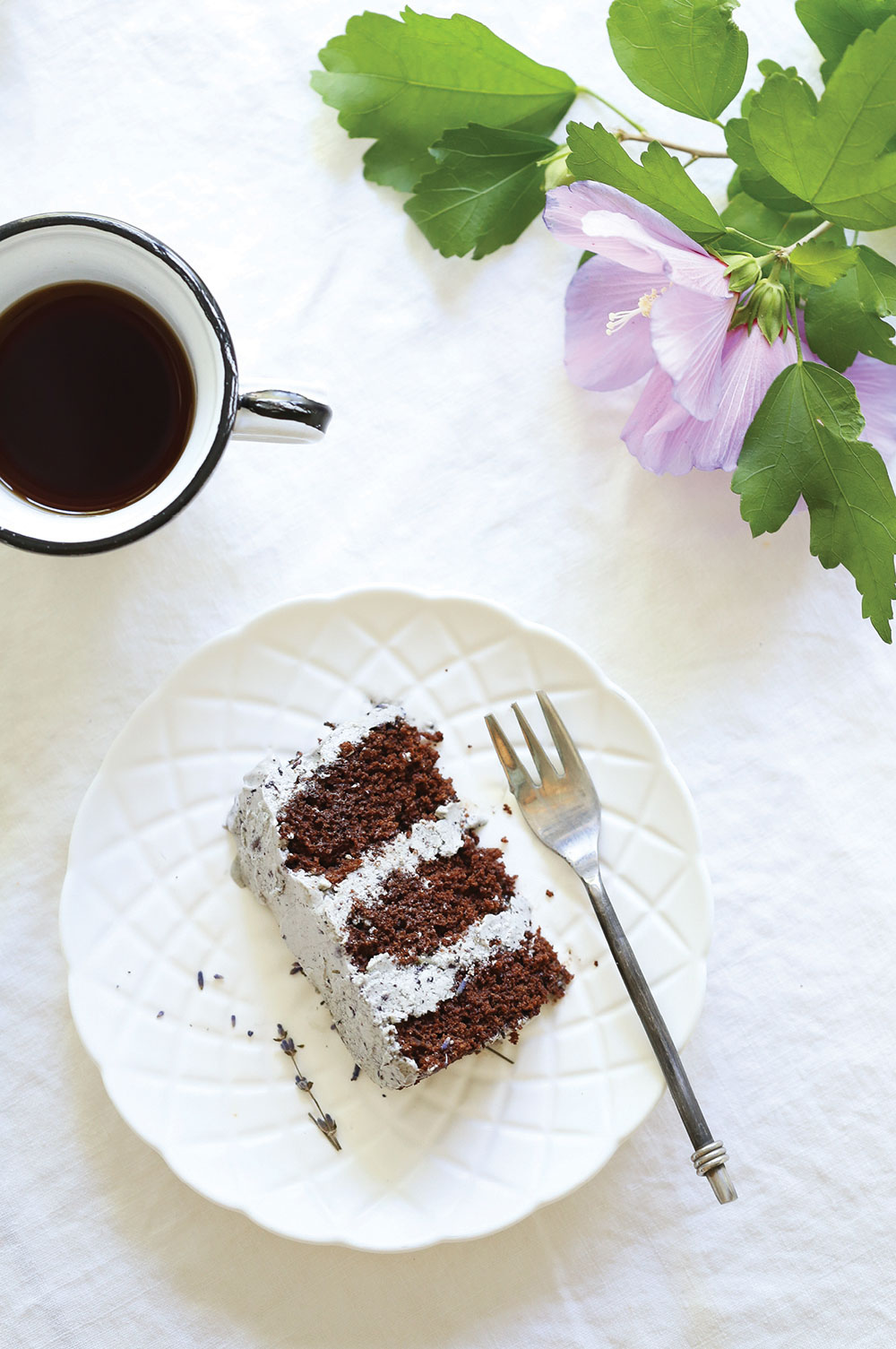 This was actually my first time experimenting with Aquafaba. Which is the liquid (brine) from a can of chickpeas. And wow! I am so impressed with the outcome :) It basically reinvented vegan baking for me, so look out for more recipes with aquafaba.
Also, sidenote, it's best to look for BPA-free chickpea cans and organic brands are best so you get clean preservative-free aquafaba. Next time you make anything with chickpeas, just reserve the water for a cake because you just never know :)
Aquafaba doesn't stay fresh too long, max 3 days in a refrigerator. So always try to use fresh chickpea brine when baking with it otherwise it can ruin your whole cake.
The result on this Chocolate Lavender Aquafaba Cake is however amazing!! A must-try!
I also go out of my way to never use artificial ingredients and this is also very true for food colouring. I used frozen wild blueberries, pureed and added to the frosting to make the 'lavender' colour. Also, real lavender 'petals' are in there too ~ basically it's all so gorgeous and delicious! Enjoy!!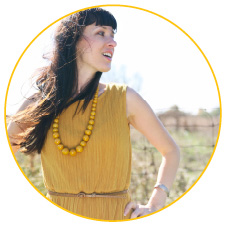 Ella Leché
is a cookbook author ('
Cut the Sugar
'), recipe developer, and photographer/stylist behind Pure Ella; where she shares delicious and healthy recipes. Eating PURE is clean ingredients, whole foods, plant-based nourishment and delicious desserts – with quality ingredients and sweeteners so they're treats with benefits so you won't have to feel deprived or restricted to eat healthier.
Thank YOU for being here!
Follow on social media for daily health & happiness inspiration:

ps. don't forget to share your Pure Ella (PE) recipe creations by tagging them #pureella and
@pure_ella
on Instagram – we repost our favourite photos!
Summary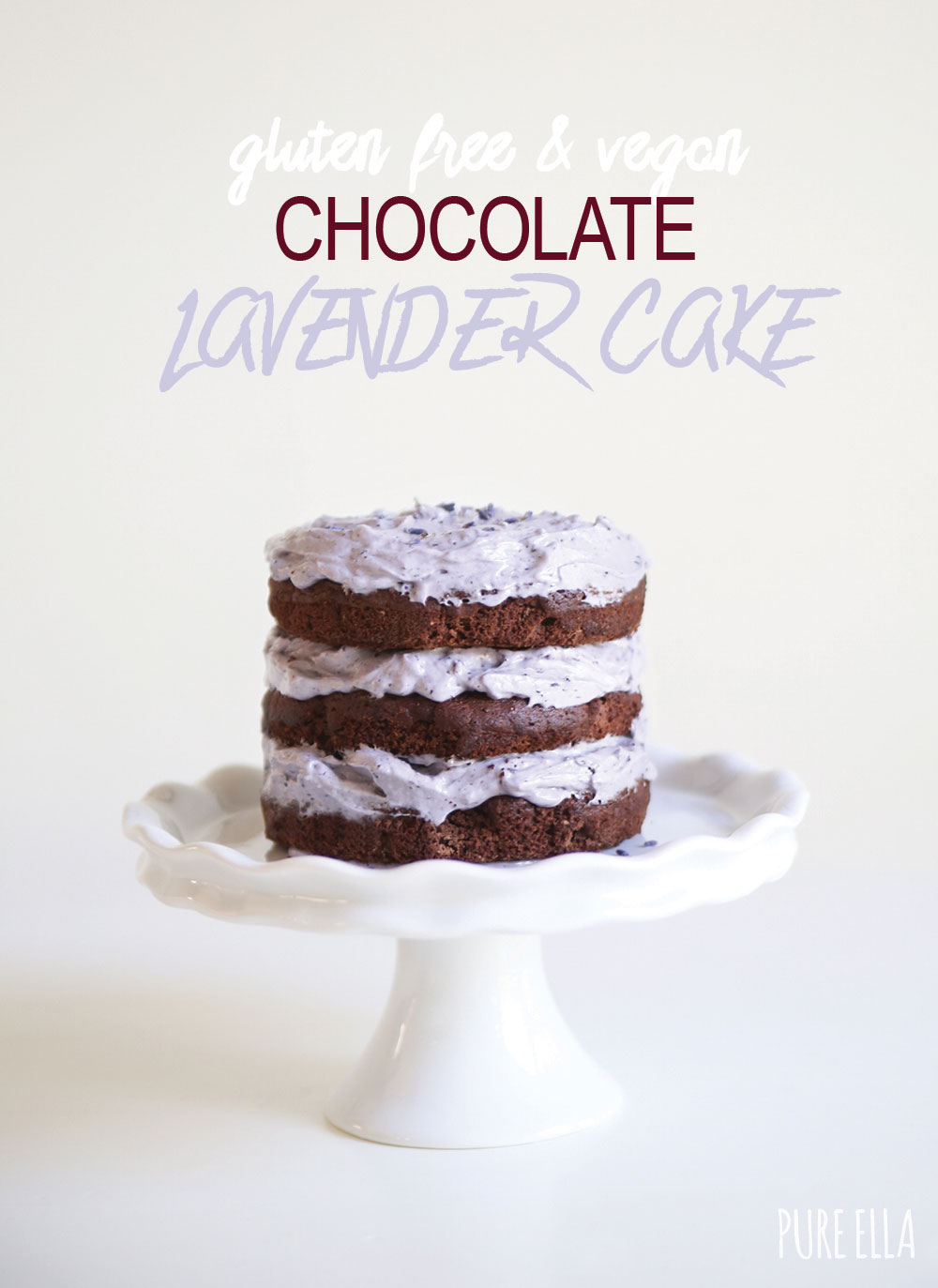 Recipe Name
Published On
Preparation Time
Cook Time
Total Time