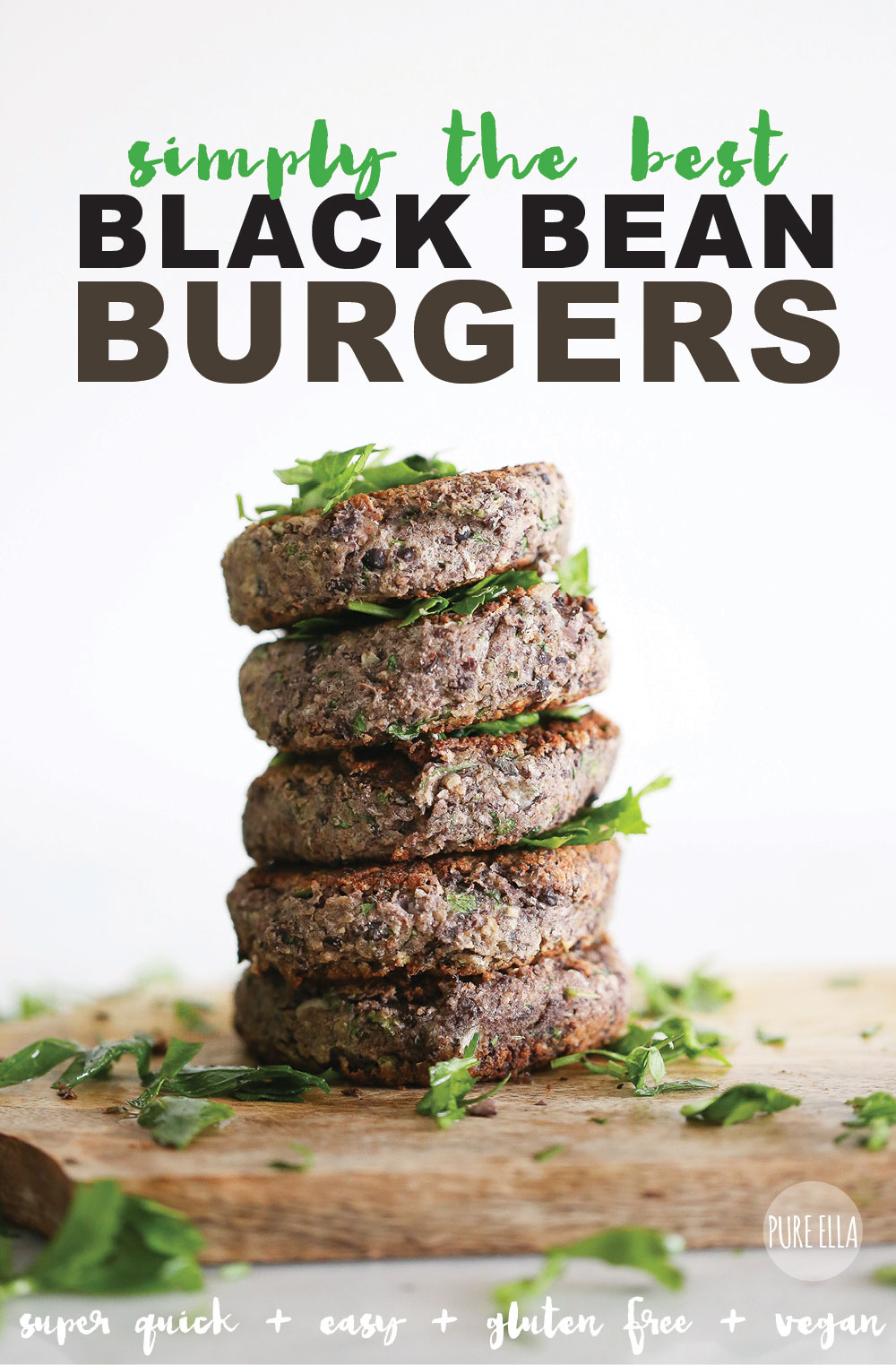 Don't you just love biting into something just simply amazing your taste buds go wild? These Black Bean Burgers, my friends, are my favourite healthy burger recipe since ever : it's basically all I want to eat nowadays! They are great for lunch with a salad or bun or a nice grain-like quinoa or brown rice. These will be a hit once you try them – and will make a nice addition to BBQ! Yesss? :)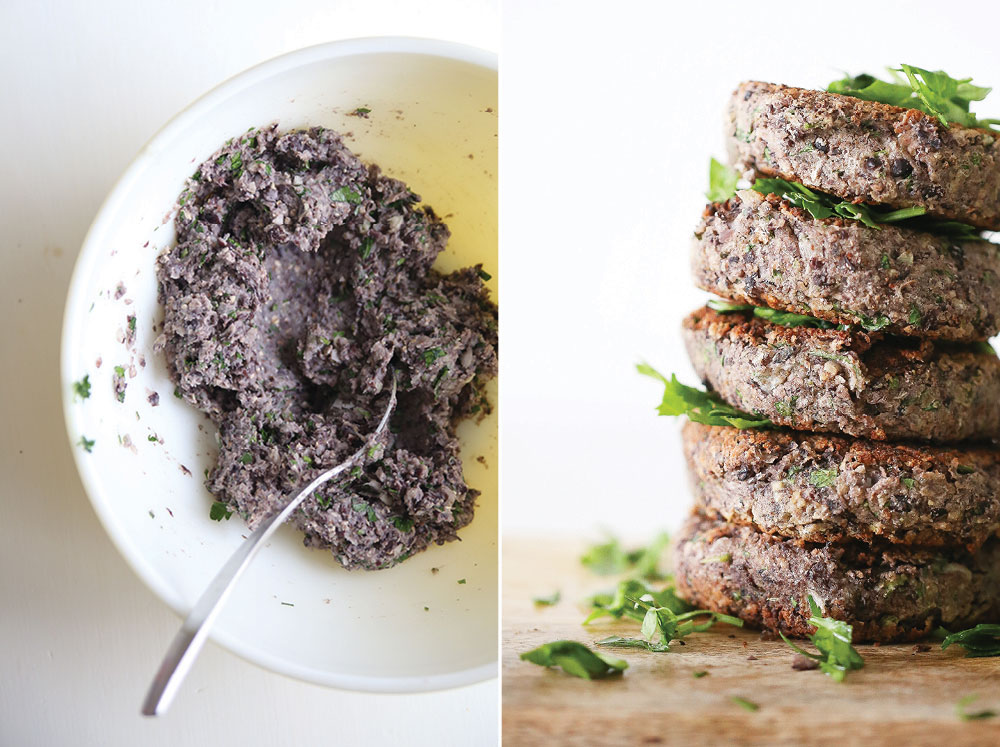 I don't know what the best part is – is it the amazing burger 'meaty' flavour or is it the no-tummy-ache after factor, or just that plant-based is better for you than beef…. it's hard to decide why I like these so much. But it's also worth to note that they come together in under 15 minutes! And they are super easy to just throw the ingredients together and mix up, shape into patties, cook, eat. Done!
I think I know what my favourite part is – the fact that it takes longer to eat these than to make… seriously! :)
One thing I can't get myself around to doing anymore is cooking for over an hour, then eating up the food within 10 minutes. We don't rush and do sit down dinners with the whole family – but still, it's a quick meal then they're off to do their own things (8 year olds, 2 year olds, and mid-30 year olds are very busy people). 
Then I'm usually left to clean for at least 30 minutes… still… it's all worth it ;)
The kitchen is my comfort-zone and I feel the happiest in it making something yummy to feed my cute family…. puppy included :)
I just love to be in the kitchen and make food all day, then clean and then cook again….. insert laughing emoji here. Because if you didn't pick up on it, that last one was a joke. Haha!
As much I enjoy cooking for my family, I don't want to miss out on other things – balance is a tough job when you're a mom of little ones. 
There's the park, the playground, the puppy walks, the homework, the potty training (of both the baby and puppy), the nursery rhymes, the hubby time, the jumping on the bed time (with the kids not the hubby ;), the me time, the house cleaning, now the gardening, not to mention keeping up with my blog and social media and getting in touch with my lovely readers and sponsors. Basically there's always a lot on my plate. 
I'm ok with keeping my plate full as long as I can balance and things don't fall off…. :) But I also like keeping the stuff on my plate delicious and healthy and if I can whip that stuff up within 10 minutes – that, ladies and gentlemen is my game! I am a modern housewife and I cut corners wherever I can! ;)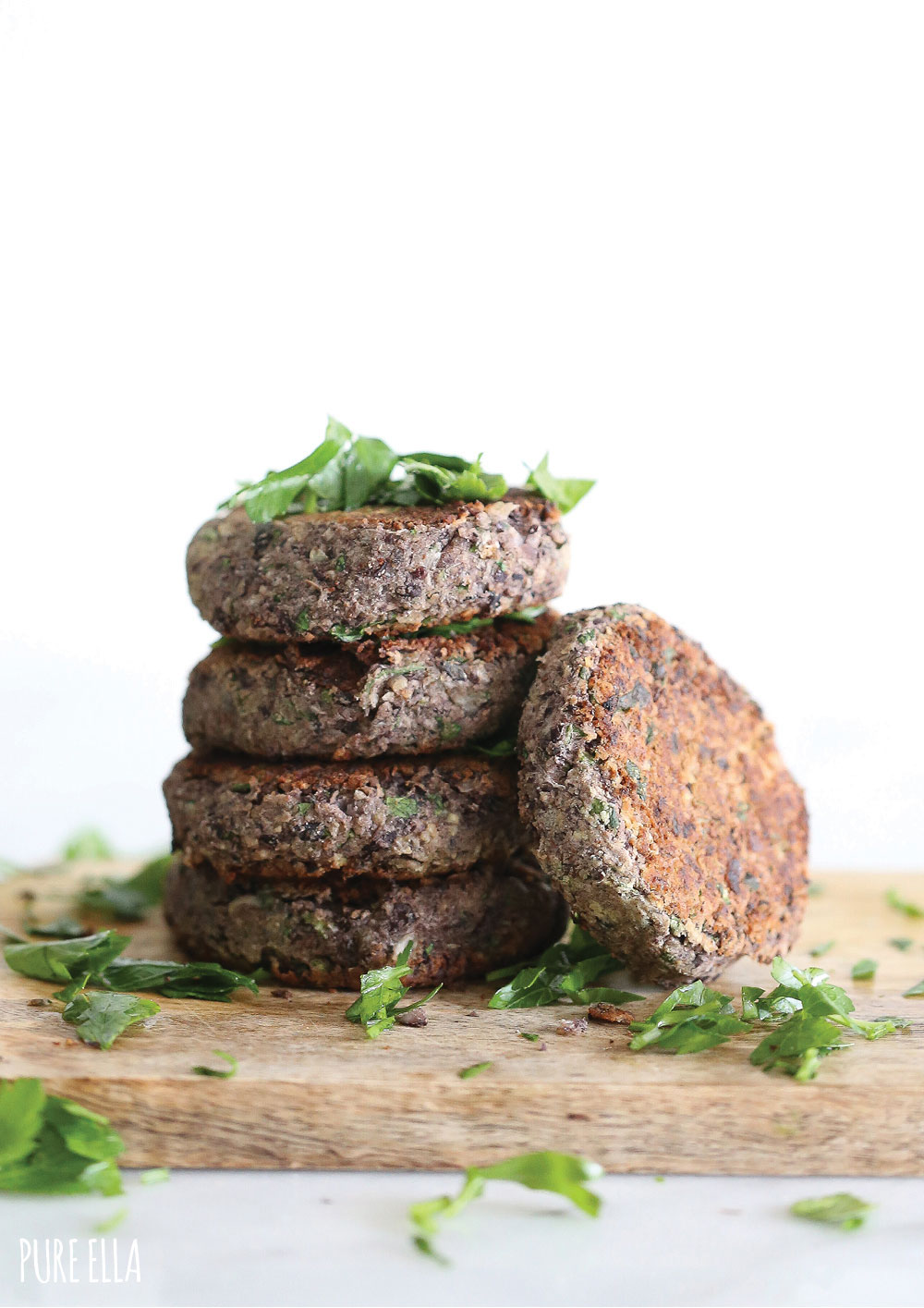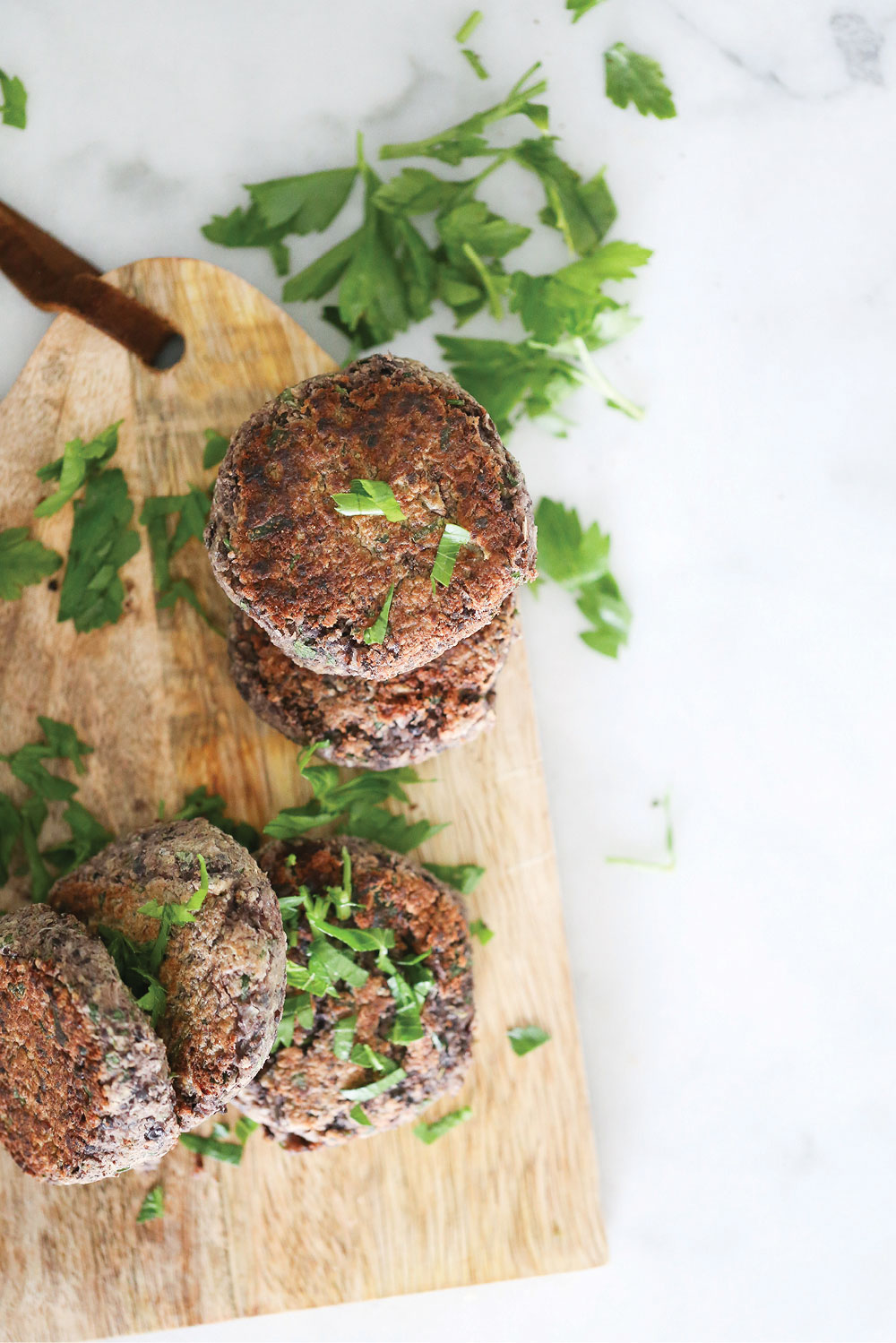 BTW, I apologize in advance as you keep scrolling down for having to lick the screen. Sorry! I promise the real thing is more delicious than your dusty finger-printy screen :)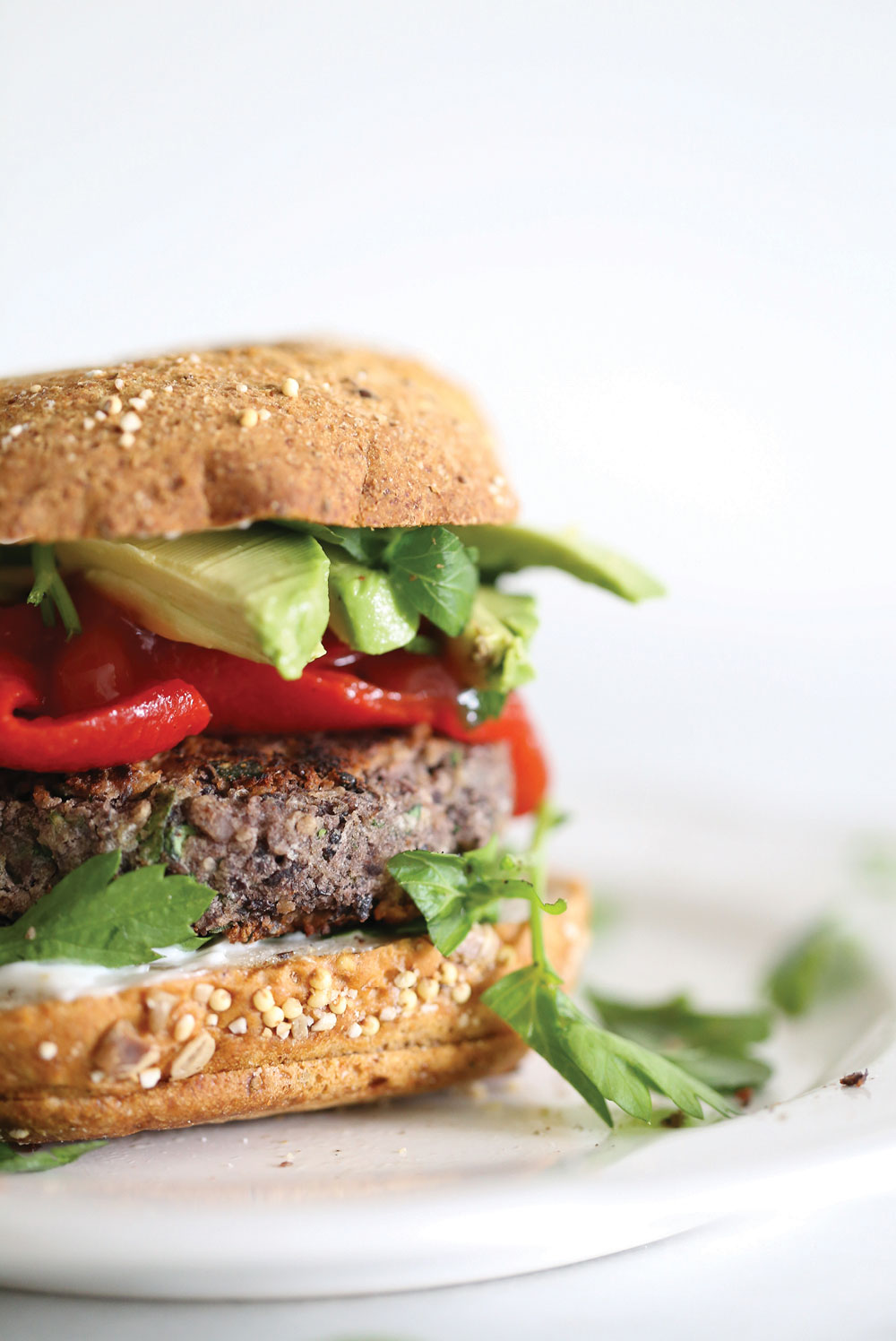 Gluten Free Vegan Black Bean Burgers
Black Bean Burgers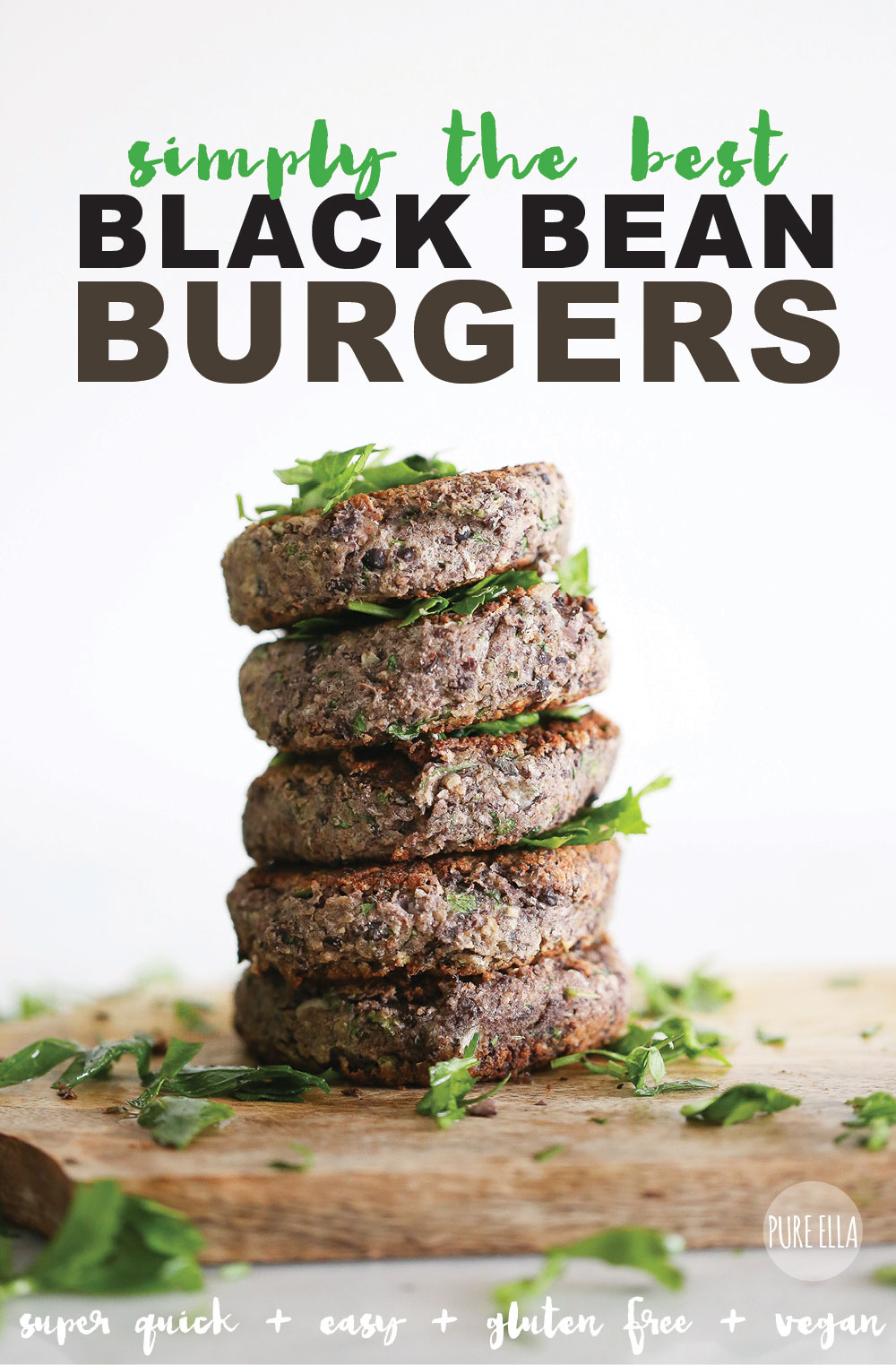 Author:
Ella Leché of Pure Ella
Recipe type:
Vegetarian, Dinner
Healthy gluten free vegan Black Bean Burgers that are easy and quick to make.
Ingredients
1 14-ounce can of black beans, rinsed and drained (or red kidney beans)
½ medium white onion, chopped fine (about ½ cup)
2 small cloves garlic, minced
1 tablespoon ground flax seeds
1 teaspoon dried basil
1 teaspoon dried oregano
¼ cup fresh parsley
¼ cup rolled oats or breadcrumbs (certified gluten-free if GF is important to you)
½ - 1 teaspoon fine sea salt or to taste (use less salt if the beans have salt added)
freshly cracked black pepper
¼ teaspoon cayenne pepper
about ¼ cup flour of choice (I used chickpea flour)
grape seed oil for sautéing
Instructions
In a food processor, add in all the ingredients (except the last two: flour & oil) and mix until fully combined.
(Or mash the beans with a potato masher in a large bowl and mix in all the ingredients with a wooden spoon or your hands).
Transfer to a large bowl so it's easier to work from.
Scoop up about two tablespoons of the mixture into the palm of your hands and shape like a patty. Continue with all the mixture.
Sprinkle the flour onto a large plate, drop the patty onto the flour and coat all over, dust off excess with your fingers.
Heat a large cast iron pan, drizzle oil on the bottom and place the patties on the pan.
Cook each side on medium low heat for about 3-5 minutes, then turn them over to cook the other side, until the colour darkens and they are firmer in shape.
Alternatively, you can bake them at 350 F for 20-30 minutes, turning over half way through.
Let cool for 5 minutes until serving.
I enjoyed eating these with the ends of my gluten free bread (they made a good 'bun' that wasn't too fluffy and big). I had some natural mustard, organic ketchup, and pickled red pepper – my favourite addition to any burgers! It basically was the best thing I ate in a long time.
You could serve these with your favourite buns, or you could plop them into a salad or serve with a hearty healthy grain like quinoa or buckwheat.
CUT THE SUGAR TIP :
All carbs have sugar because they basically become glucose in the intestines, if you are trying to cut out sugar from your diet, consider eating these burgers with a big salad instead of a bun or eating a low-glycemic grain such as buckwheat as part of dinner.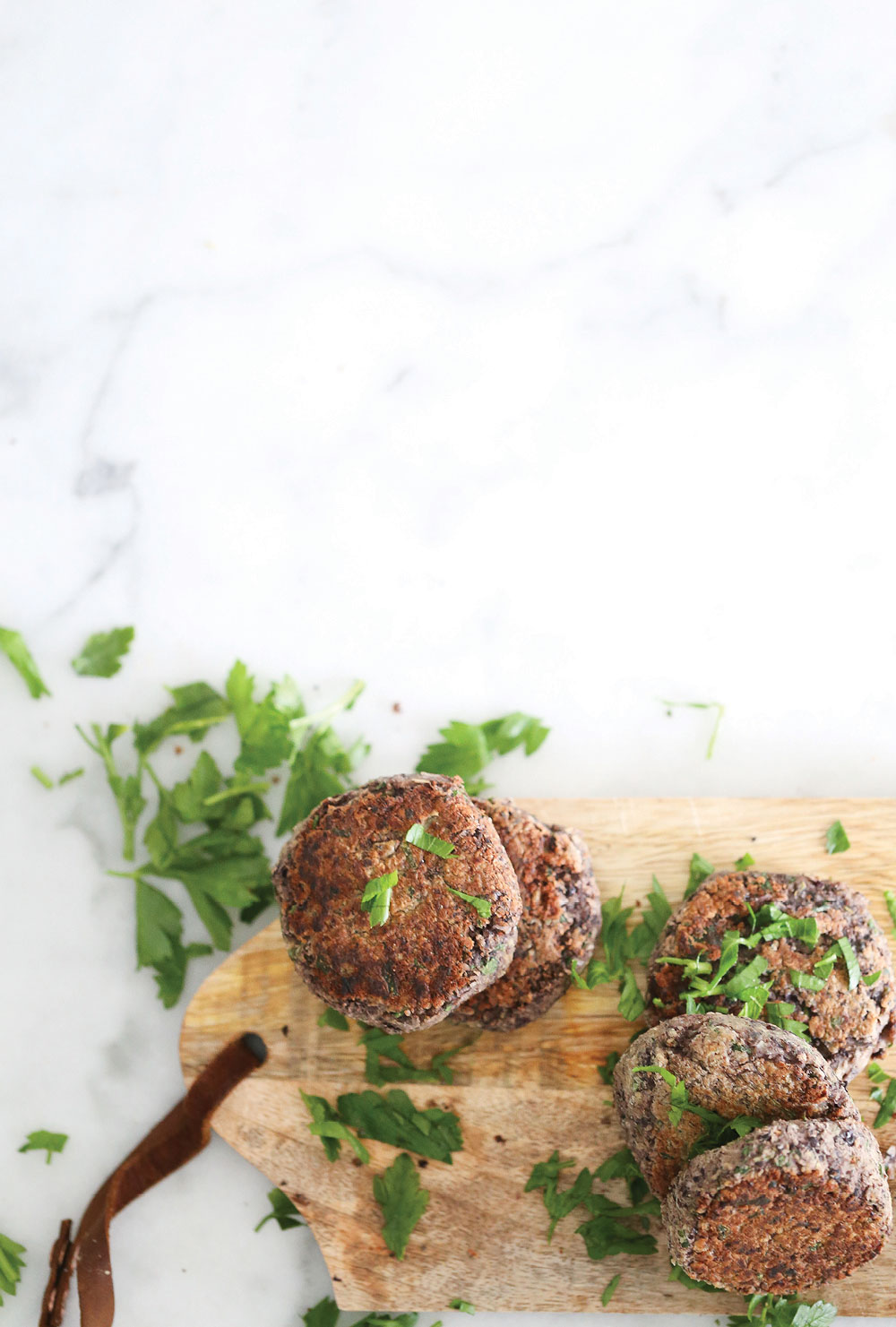 I hope you'll be enjoying these soon! If so, do let me know how you like them through the comments here on this post or through social media, tagging your photos #pureella and @pure_ella so I can see them :) I repost my favourites! :)
.
Ella Leché
is a cookbook author ('
Cut the Sugar
'), recipe developer, and photographer/stylist behind Pure Ella; where she shares delicious and healthy recipes. Eating PURE is clean ingredients, whole foods, plant-based nourishment and delicious desserts – with quality ingredients and sweeteners so they're treats with benefits so you won't have to feel deprived or restricted to eat healthier.
Thank YOU for being here!  
Follow on social media for daily health & happiness inspiration:

  ps. don't forget to share your Pure Ella (PE) recipe creations by tagging them #pureella and
@pure_ella
on Instagram – we repost our favourite photos!    
Summary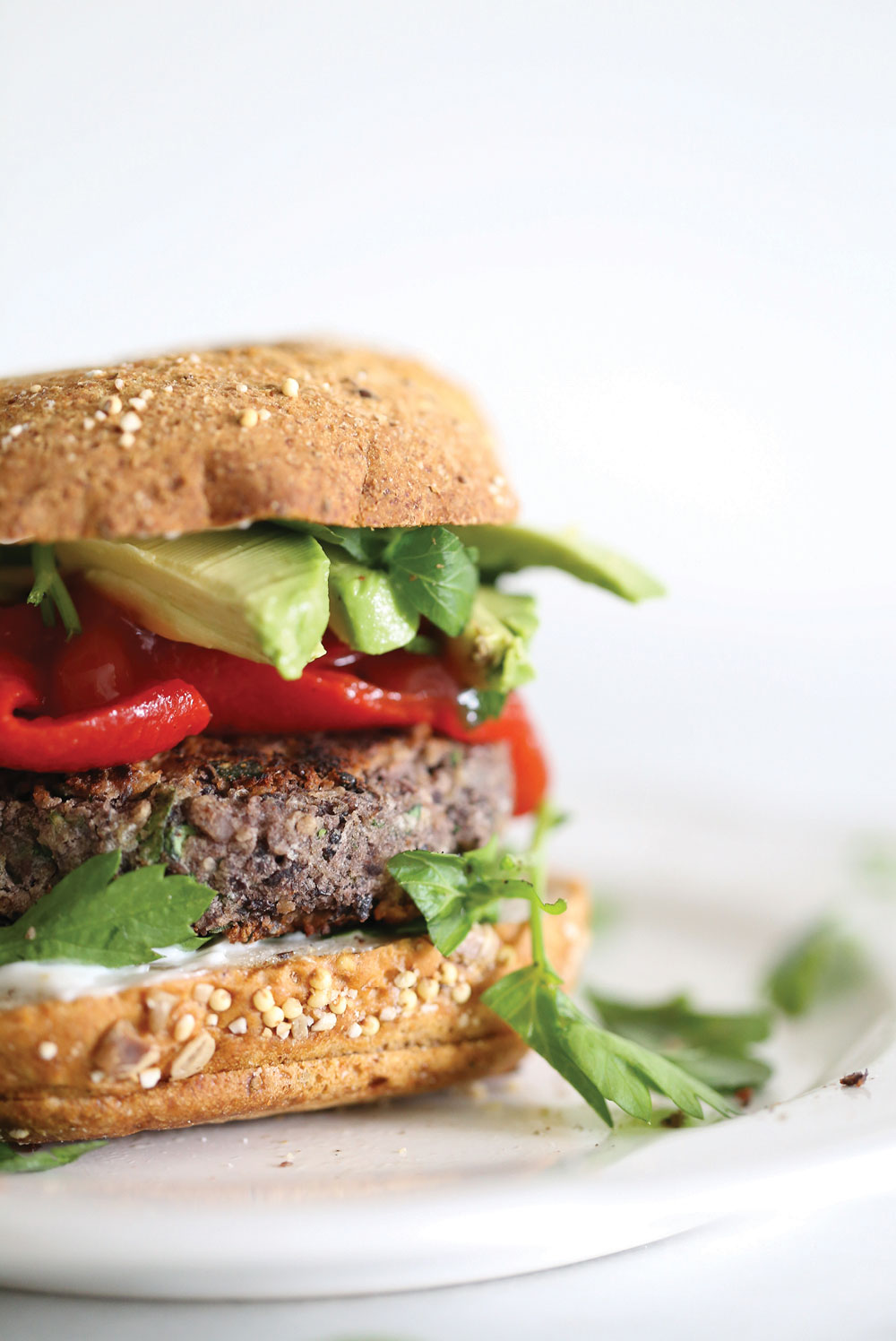 Recipe Name
Published On
Preparation Time
Cook Time
Total Time