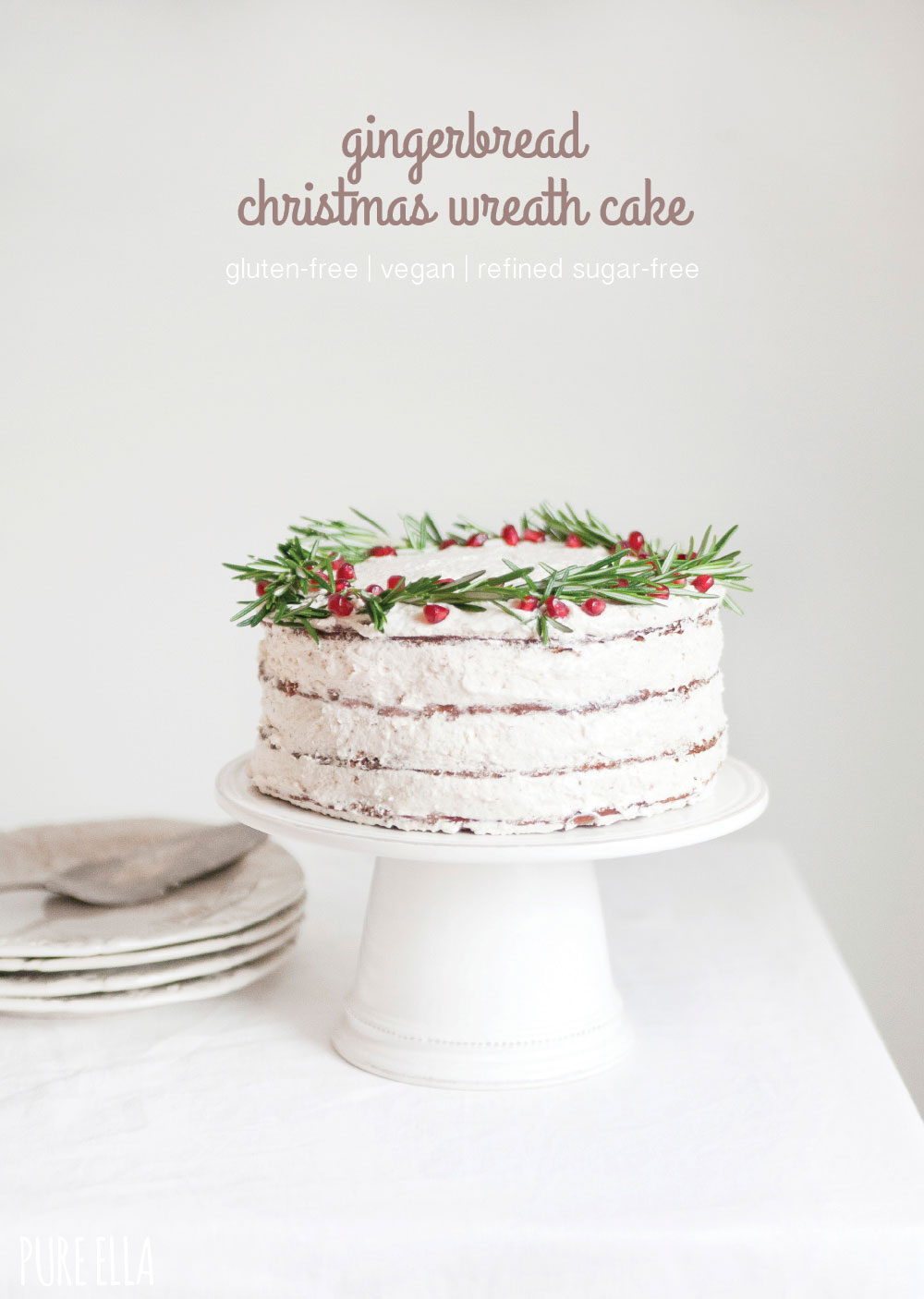 Hello and Happy Holidays my friends!!!
Who's excited to bite into this Gluten Free Vegan Gingerbread Cake? :)
This time of the year I really do stop and reflect on the whole year and I do appreciate everything that has been amazing. It's been an incredible year for me.. my health improving, my second daughter (I really didn't think my health would allow me to have another child so I really struggled with this for years – and now I have this gift of a second beautiful daughter – and a gift to my oldest – a sister!)… my wonderful family who is always there for me and so many amazing things – including my sweet and supportive readers of Pure Ella. (Thank YOU for being here)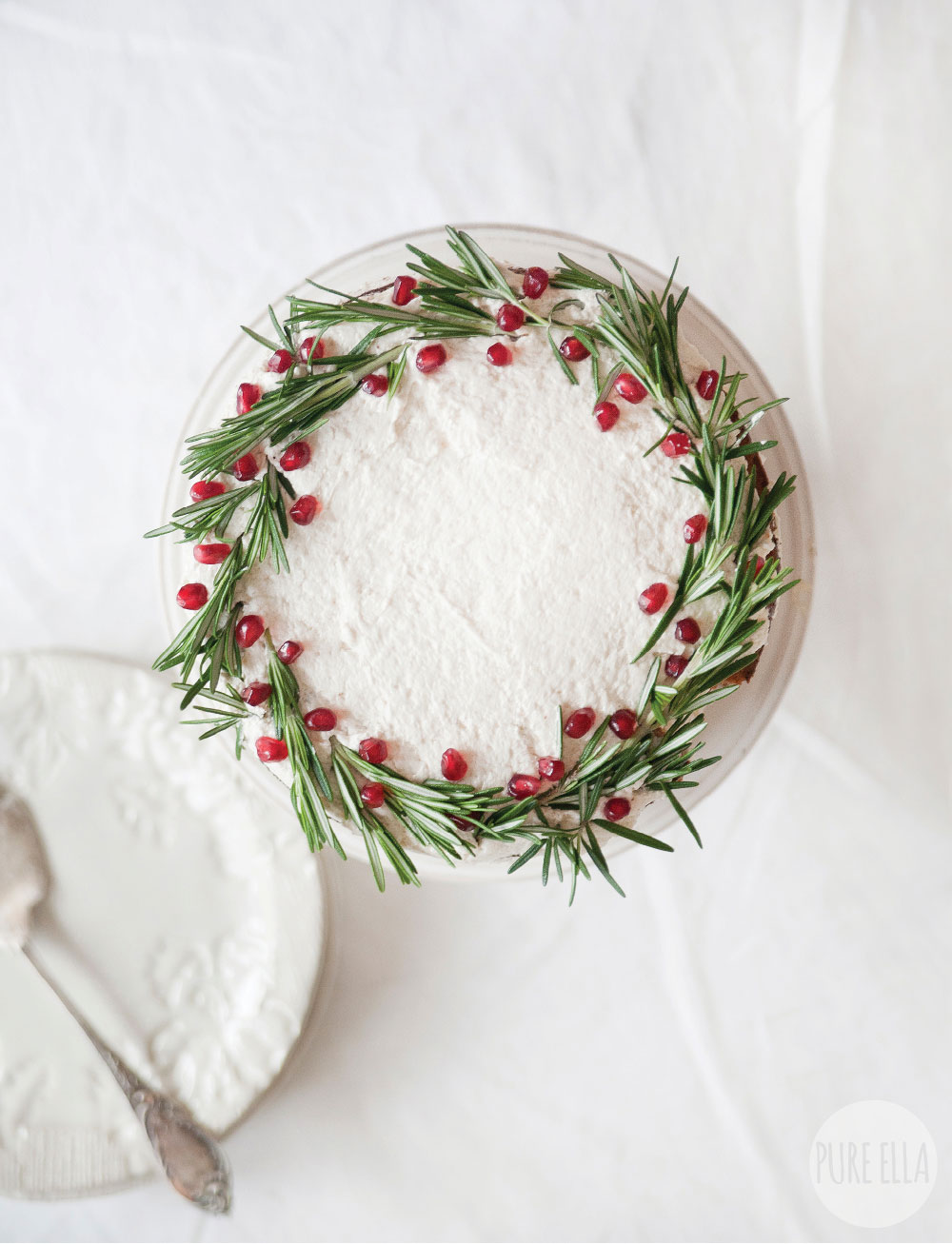 Christmastime is here and although it can be a busy and frantic time, it can be really rewarding when you sit down with your family and friends and enjoy the magic of the season.
Magic? Yes, because it's the togetherness and gratefulness that we have each other that really makes the Holidays special.
Although we celebrate in many different ways, I think every culture and every religion really looks forward to being together and sharing great food, stories and laughter and just enjoying the presence of one another – not the presents as one would think – it's about the presence alone, is it not? ;)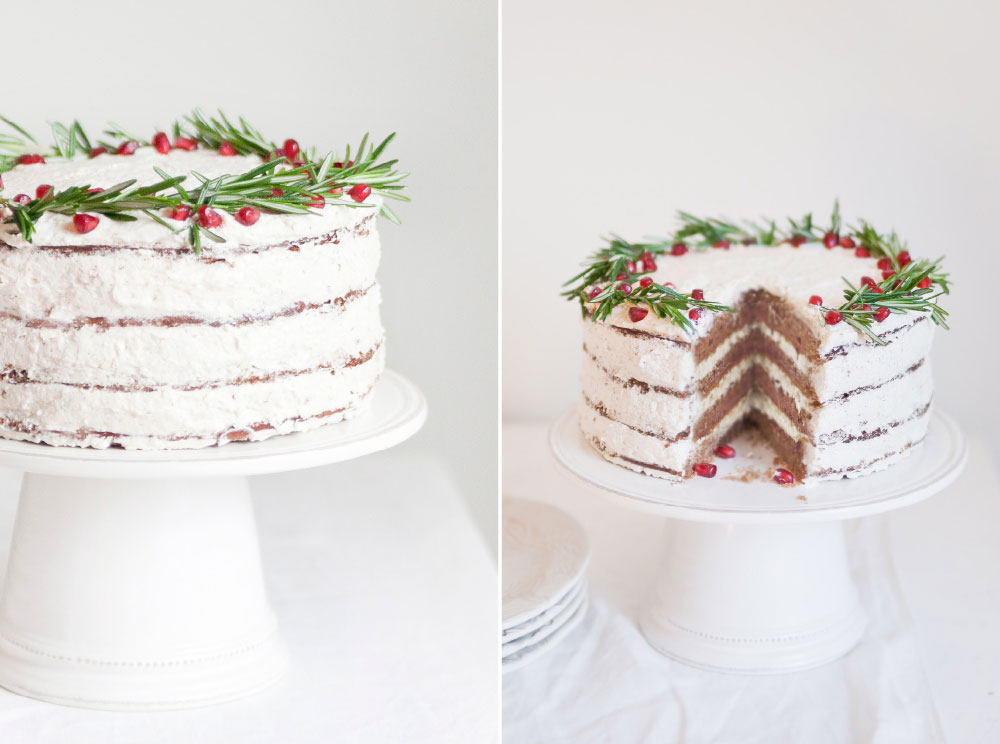 Did you know I almost cancelled Christmas this year?
Oh dear, I know that it sounds crazy, but I really started to lament to my mom and sisters that this year is just too busy for me to host a big Christmas Eve dinner (we traditionally have a big Holiday supper on the 24th for about 10 adults and 3 kids). I randomly declared to each of them how it's not going to happen, with the baby and work that I'm sorry but it's too much work to clean and cook and make it all happen!
Somehow, I completely missed this topic with my husband (amongst all the busyness of our busy schedules we sometimes don't have a real adult conversation about important things.) Everydays just flow and 'busy' is an excuse for everything. (There. I just used the word 'busy' 3 times. 4!)
Finally, I mention it to my husband "oh, I didn't tell you? We won't have Christmas at our house this year! But it's ok… we're SO busy with the baby and stuff…" (I thought the man would be relieved and applaud this brilliant idea!)
Boy was I wrong!
I kind of got yelled at for being a Grinch! Oops! It was a stern lecture I guess I deserved!
I forgot how amazing my husband is and why I married him. He never showed it, he didn't care much about the decorations or the pictures or making things perfect – but he always cared about just being together. And now that we have kids, we do it all for them – so they see how important family and togetherness is. Half of his family lives in Europe, including his mom and only sibling, his sister, so I think I'm realizing how important the people who are in his life here are. I appreciate my family also, but I lost my sense of what the Holidays really were about. I wanted the easiest ticket out. I secretly wanted to curl up and sleep through this crazy time of the year and wake up (hopefully revived) in 2015!
But now I see. I get it. I get the magic! I get how important every single person in our family is and how it's important to just be together and eat a meal as a family – – because some don't have families, some don't have their loved ones around to have a meal with, some may not even have food on the table…
Gosh, we're so lucky in so many ways! We have each other and can have a beautiful Christmas that celebrates our growing family and all the good things in our life. My heart is filled with so much gratitude… we are so lucky… we have it all!
I hope you see how lucky you are too ;)
So this Holiday, when you sit down around a dinner table with your family and friends, just take a moment to look around all the special faces around the table and take a moment to actually tell them how lucky you are they are here with you and in your life. When that moment happens, you will experience the true magic of Christmas and Holidays…
Oh and let's not forget the cake!
Togetherness is way more enjoyable when you have a great cake to eat! A cake that everyone CAN eat! That's why this cake is perfect – it has the perfect Gingerbread flavour that seasonally fits so well for the Holidays but it's also gluten-free, egg-free, dairy-free, cholesterol-free, nut-free and has no toxic artificial ingredients, preservatives or colours and it's even refined sugar free!!! Heck yeah!!! ;) Did I mention how amazing it is??? I don't even have the words for it… I will have to let you decide on your own first bite… ;) You're welcome!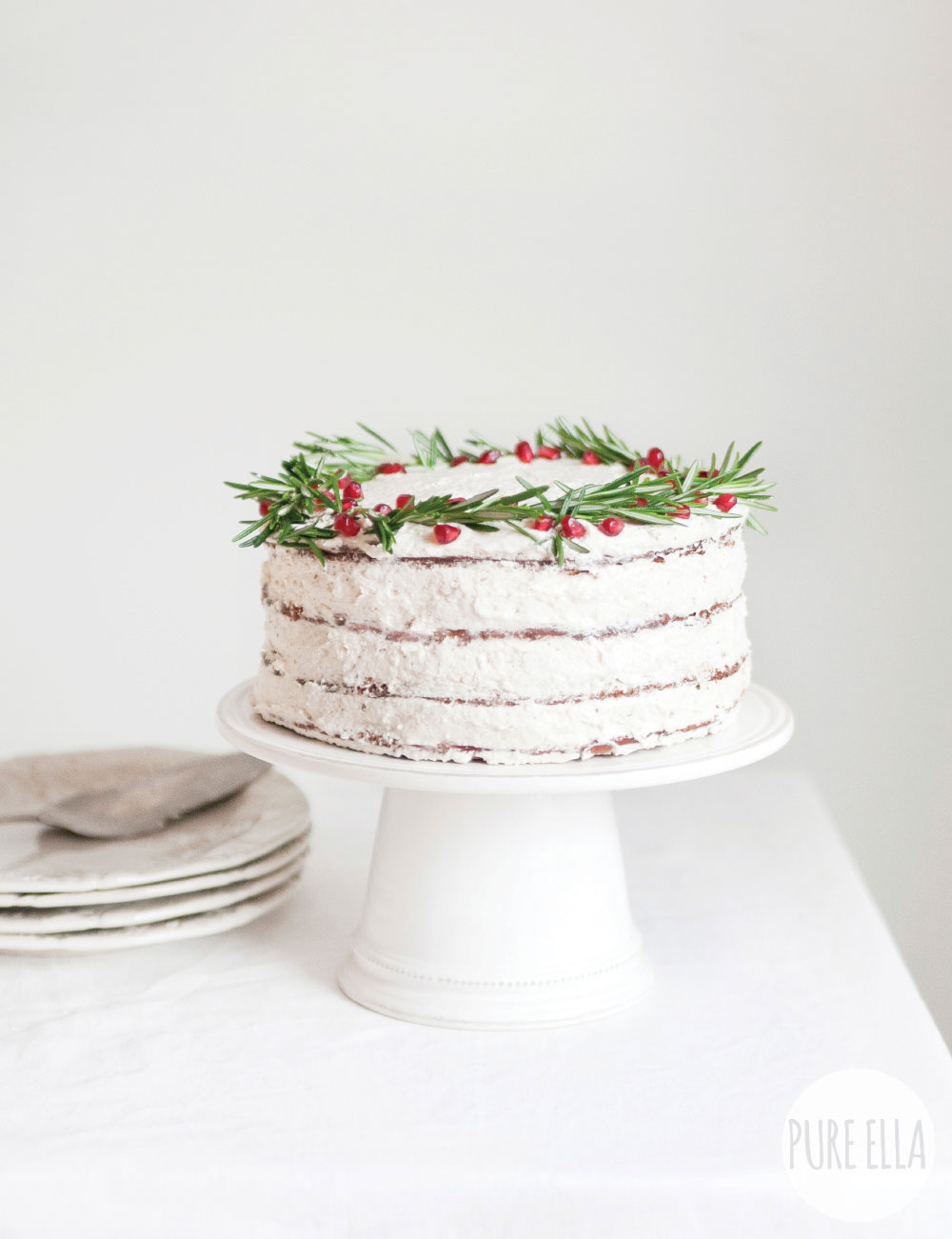 If you're new to baking, do not get intimidated. This cake is actually really easy to make! I also perfected the recipe so it has no gums or egg-replacers which are unnecessary and very expensive to buy and you'd never need the whole bag of that stuff anyway. I also went for an easier route and used Bob's Red Mill All-purpose Gluten-free flour mix – GF flour mixes are so easy to find now, I think it's great to keep things simple sometimes and the less ingredients the better, am i right? There's really just 7 ingredients that make this cake possible + the spices. If this spice mix is too long for you – go with just cinnamon – or purchase an all-natural preservative-free gingerbread spice mix.
Important : Gum-free gluten-free cakes are really the best when baked the same day.
I recommend baking it the day you will serve this. You can prep the batter fully and store in the refrigerator for up to 3 days. And make the frosting completely ahead of time (frosting stays fresh for up to 1 week – just remix before frosting the cake. But the actual baking I would do in the morning – leaving to cool for at least 2 hours at room temperature and then layering the cake with cold frosting close to being served.
This cake is just delicious with a sprinkling of powdered sugar for a quick little something. If you want a simple Gingerbread cake without the frosting.
However, if you do make this as a 4 layer cake with this delicious gluten-free and vegan frosting – it will be Amazing!! A huge crowd pleaser for sure. My mom is a skilled traditional baker but even she was shocked that this cake had no eggs or dairy and it came out so amazing!!! ;) I think you will be pleased too ;)
Gluten free Vegan Gingerbread Cake
gluten-free, vegan, nut-free ~ allergy friendly cake recipe
Ingredients for the cake :
(Makes 2 8″d cake layers. To make a 4 layer cake like in the photos, double the recipe)
1 3/4 cups all-purpose gluten-free flour
3/4 cup coconut palm sugar or organic raw cane sugar
1 tablespoon baking powder
1/4 teaspoon fine textured sea salt
4 1/2 teaspoons of Gingerbread Spice Mix
1 teaspoons ground ginger
2 teaspoons ground cinnamon
1/2 teaspoons ground allspice
1/2 teaspoons ground cloves
1/2 teaspoons ground nutmeg
.
3/4 cup unsweetened apple sauce
1/2 cup hot water
1/2 cup grape seed oil
Directions :
Preheat oven to 375F and line the bottom of two* baking dishes with parchment paper**.
Sift*** the flour and mix together well all the dry ingredients in one large bowl.
Combine together all the wet ingredients in another bowl and pour into the dry ingredients.
Let stand for 10-15 minutes, or until you prepare the pans.
Distribute the mixture evenly amongst two pans and place in the oven on the middle rack.
Bake 15-18 minutes or until toothpick-dry
Remove from the oven and let rest for 2-3 minutes then lift out of the pan and place on a wire rack to cool.
*If you have one pan, just pour our 1/2 of the mixture and bake twice. You don't need to clean the pan for the second baking but you do need to place a fresh sheet of parchment paper.
** Use parchment paper, ideally unbleached, not wax paper.
***Sifting the flour is so important. It adds airiness to the flour resulting in twice the fluffiness of the cake. So worth it to take the time and sift.
Delicious VEGAN CAKE FROSTING
INGREDIENTS for the Frosting:
1 cup coconut or almond milk (I used So Delicious Original Coconut Milk) (divided to 3/4 & 1/4 cups)
4 tablespoons of raw cane sugar
1 1/2 tablespoons potato starch (or organic corn or tapioca starch)
1 1/2 cups vegan margarine (1 full container of Earth Balance coconut spread for more white frosting or buttery spread for more buttery cream colour)
1/2 cup vegan shortening
20-30 drops of liquid Stevia OR 1 cup (+ more as per your liking) organic powdered sugar
.
DIRECTIONS:
(It's great to make the frosting 1 or two days ahead of time)
In a small bowl, mix 1/4 cup of cold milk with potato starch until completely mixed with no clumps remaining and set aside.
In a small pot, heat the remaining 3/4 cups of milk over low-medium heat, add the sugar and mix to allow the sugar to melt completely. Do not allow to boil. Slowly, pour in the 1/4 cup milk with potato starch diluted mixture mixing the pot as you pour.
Continue mixing for about a minute until the milk mixture thickens. Remove from heat and allow to cool completely – it will resemble a 'pudding' texture. Store in the refrigerator until ready to make the frosting. In a mixer, whip the shortening and vegan butter on high until light and fluffy for about 5 minutes. Slowly add in the 'pudding' mix one spoon at a time while it's mixing. Add the Stevia to taste OR add in the powdered sugar slowly and continue mixing for a few more minutes, turning it off to scrape the sides a few times in between.
Check for sweetness level and add more sweetener if needed. (I personally like the frosting on a low-sweet level as together with the cake it makes for a great combination of flavours and sweetness.) If the frosting has warmed up by now too much and it's too soft, store it in the refrigerator for minimum 1/2 hour.
Just before layering the cake, mix again in the mixer for a few minutes to make the frosting nice and smooth.
To prepare the 4 layer cake: make sure you double the cake recipe and have 4 cakes and frosting completely cooled.
Scoop 1/6 of the cold frosting on top and spread evenly. Top with another cake, spread more frosting, and continue with the rest. Spread extra frosting on the sides, and make it rough or smooth as you like.
Garnish with fresh rosemary sprigs and pomegranate arils to make a wreath. The rosemary is purely decorative and it's not recommended to be eaten with this cake. If that's not desired, top it off only with pomegranate arils. Feel free to get creative with the decorating as you wish. Enjoy!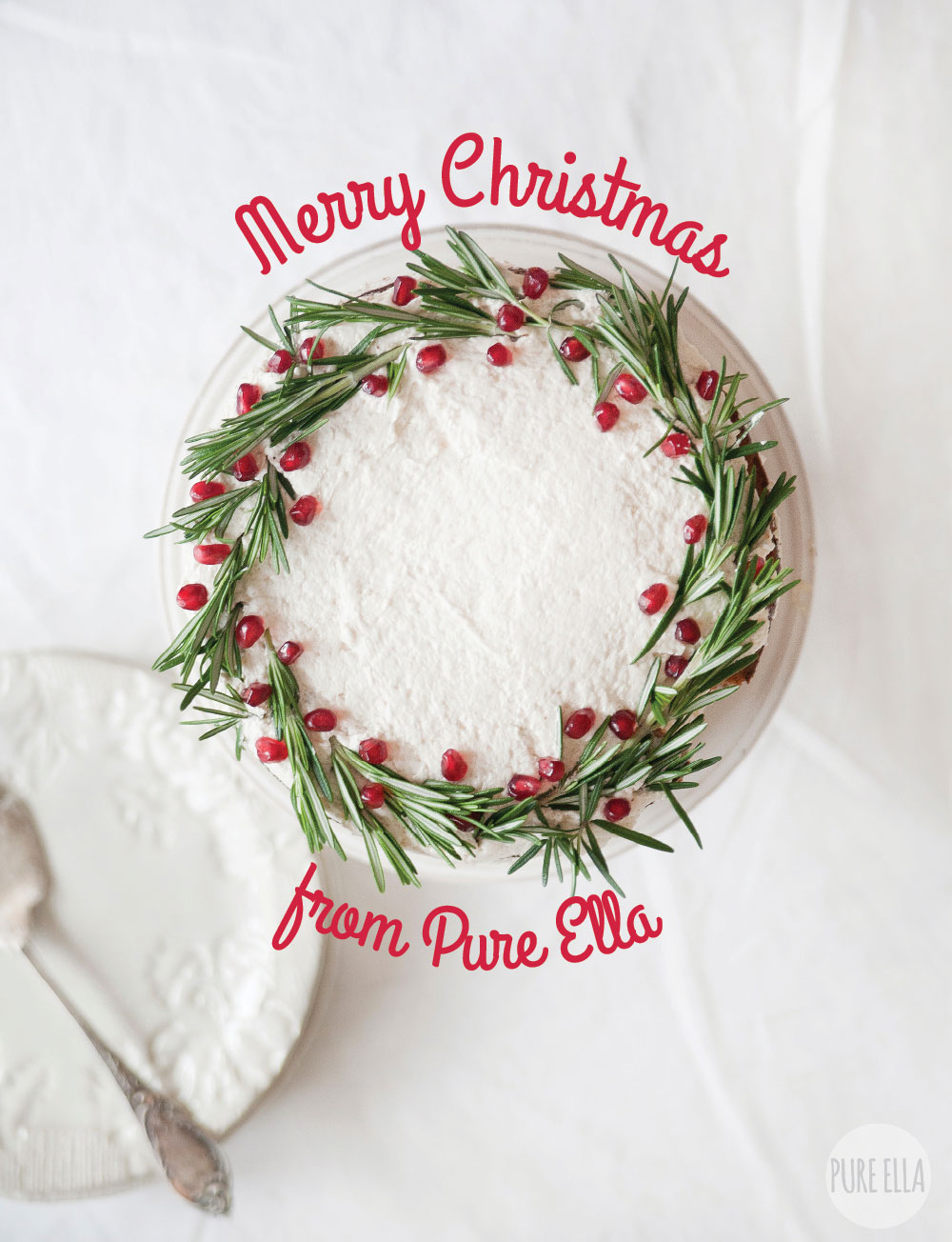 Happy Holidays and Merry Christmas and Happy Hanukkah and Kwanza too!
This cake is called the Gingerbread Christmas Wreath Cake but it's not just for those who celebrate Christmas. It's a cake for everyone!
It's big on flavour and presentation but it's also completely allergen friendly, and all-natural and if a cake may be it…. Healthy!! Man, I wish all desserts could be like it, so you don't feel guilty treating yourself ;) I remember the days when desserts made me feel awful and I always mumbled… "I wish I didn't eat this!" well…. this cake is To Live For! It's naughty and nice because it tastes sinful but it's good-for-you!! ;)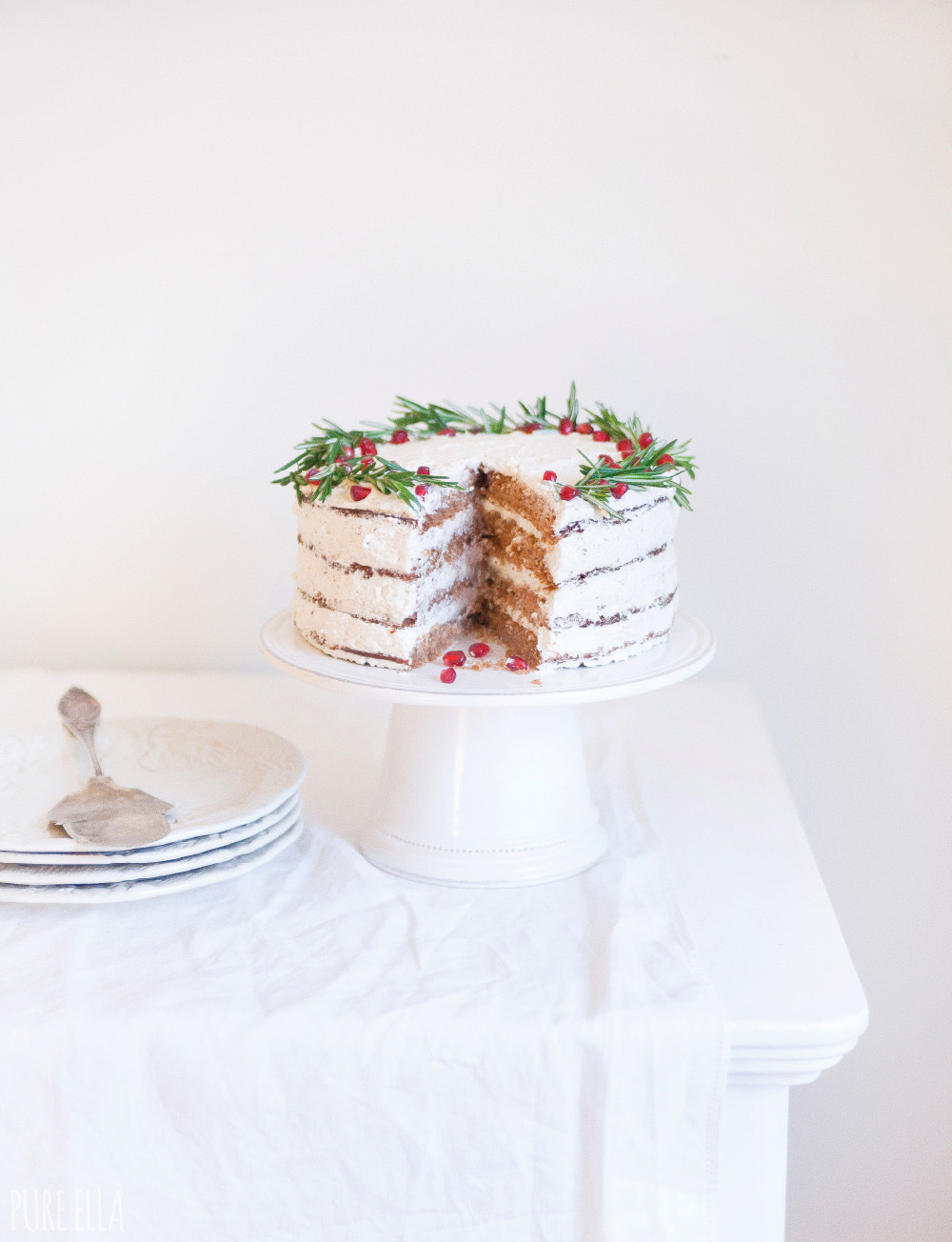 I hope you all have a safe and happy Holiday Season with your loved ones. Remember to fully embrace togetherness and enjoy one another. Sure, it may be chaotic, it may be 'busy' but just remember to focus on the good and look for the magic… ;)