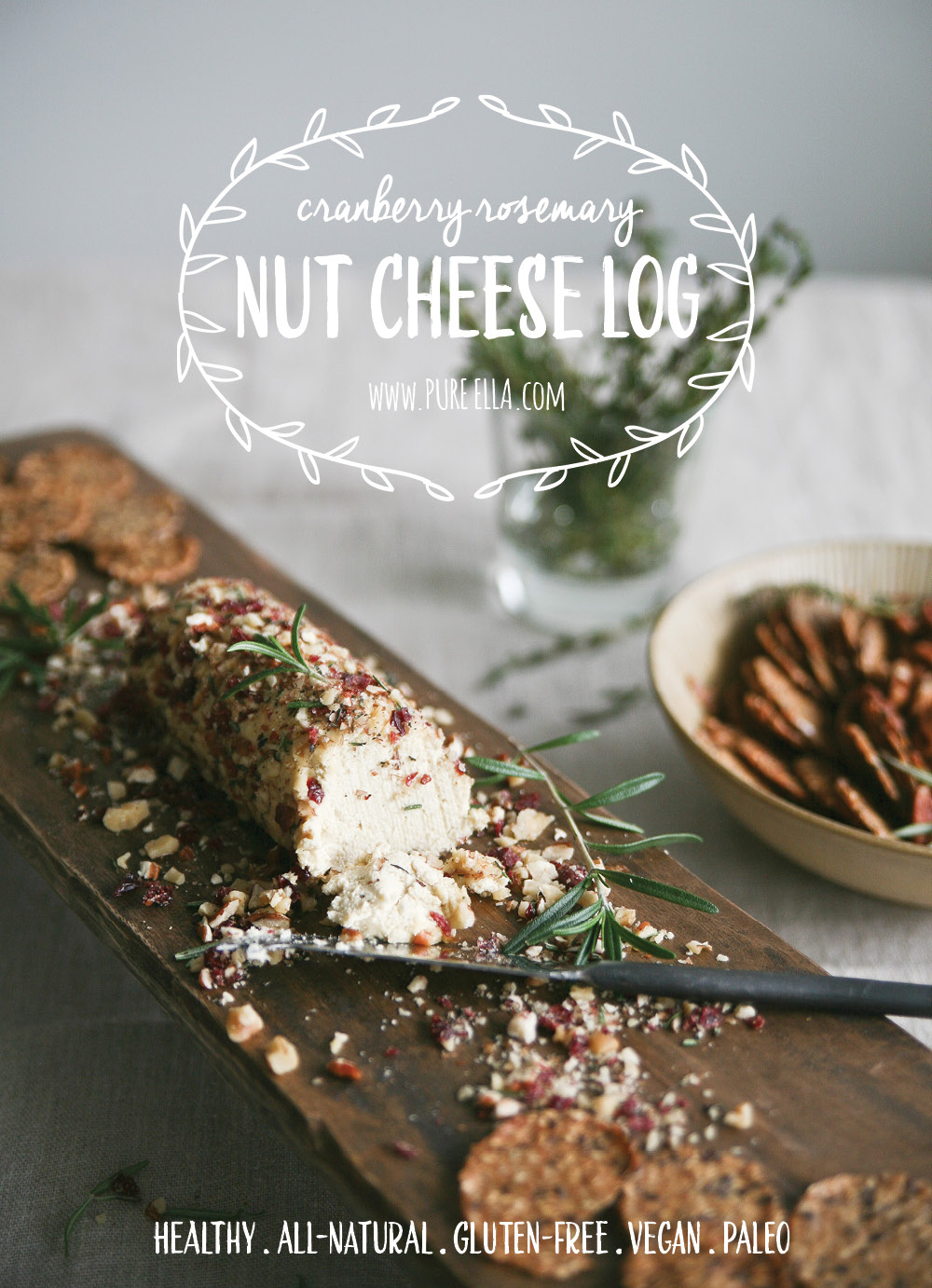 The Holiday Season is here and I could not be more excited. To celebrate the Season of Joy I have this wonderful recipe for a Cranberry Rosemary Cashew Cheese Log that is insanely delicious and actually healthy with all-natural ingredients that are all gluten free, vegan and paleo too!
What? A dairy-free Cheese you say? Well, heck yeah! Because haven't you heard? Faux cheeses are deliciously magical! There's nothing fake or artificial in there – just pure, simple ingredients that are actually good for you that give the taste buds a crazy taste of cheese!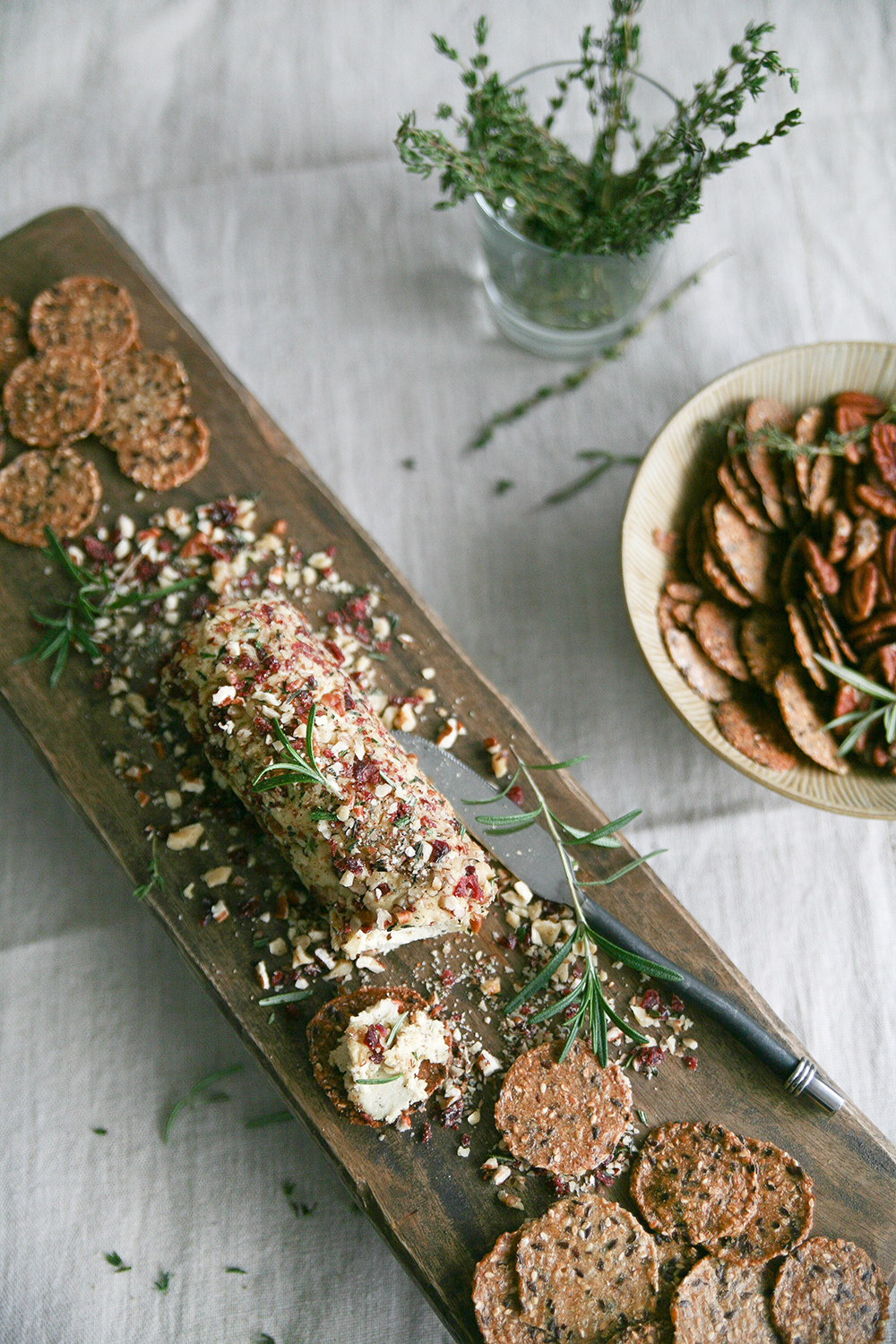 So not only is this recipe for a dairy-free 'cheese' amazingly delicious! It's also so beautiful! I absolutely love the presentation of a platter like this. Don't you?
And best of all this recipe is pretty easy to pull off. The ingredients are simple and natural. I love that – when simple ingredients make something spectacular!! :) I hope you will enjoy this Cheese log soon.
Cranberry Rosemary Crusted Cashew Cheese Log
Vegan, Gluten-free, Paleo
Ingredients :
2 cups raw cashews (soaked overnight)
2 tablespoons nutritional yeast
1 teaspoon roasted garlic (optional)
1/2 – 3/4 tablespoons fine sea salt (or to taste)
1/4 – 1/2 teaspoon freshly cracked black pepper (or to taste)
1/8 teaspoon cayenne pepper (optional if you like a little heat)
parchement paper, cheesecloth or dish towel
Topping Ingredients :
handful of mixed nuts (I used walnuts and pecans), chopped
1/4 cup dried cranberries, chopped fine
2 sprigs fresh rosemary, chopped fine + extra for garnish
Directions :
Rinse and drain your soaked cashews. Then blend them in a food processor or high speed blender with nutritional yeast, garlic and salt and pepper until smooth.
Place the mixture onto a cheesecloth and squeeze top to drain any liquids. If a log shape is desired, then shape the mixture into a cylinder*, still in the cheesecloth. Place it over a sieve and store in the refrigerator for 6-8 hours.
* a cylinder shape may not hold up well in a sieve – most of them are round. If that's also the case, then 1/2 way through draining, transfer the mixture onto parchment paper and roll it to make a log. Twist the sides (like a candy) and tuck them underneath to hold the shape in place. Let it sit on a dish towel in the refrigerator to let some extra moisture get absorbed in the dish towel.
Chop the nuts, cranberries and rosemary and spread onto a work surface. Unwrap the cheese log and roll it in the toppings evenly pressing them into the 'cheese'. Do this just before serving or return back to the refrigerator until serving.
I served this vegan cheese recipe with Mary's Crackers and extra nuts – makes for an easy but very delicious appetizer!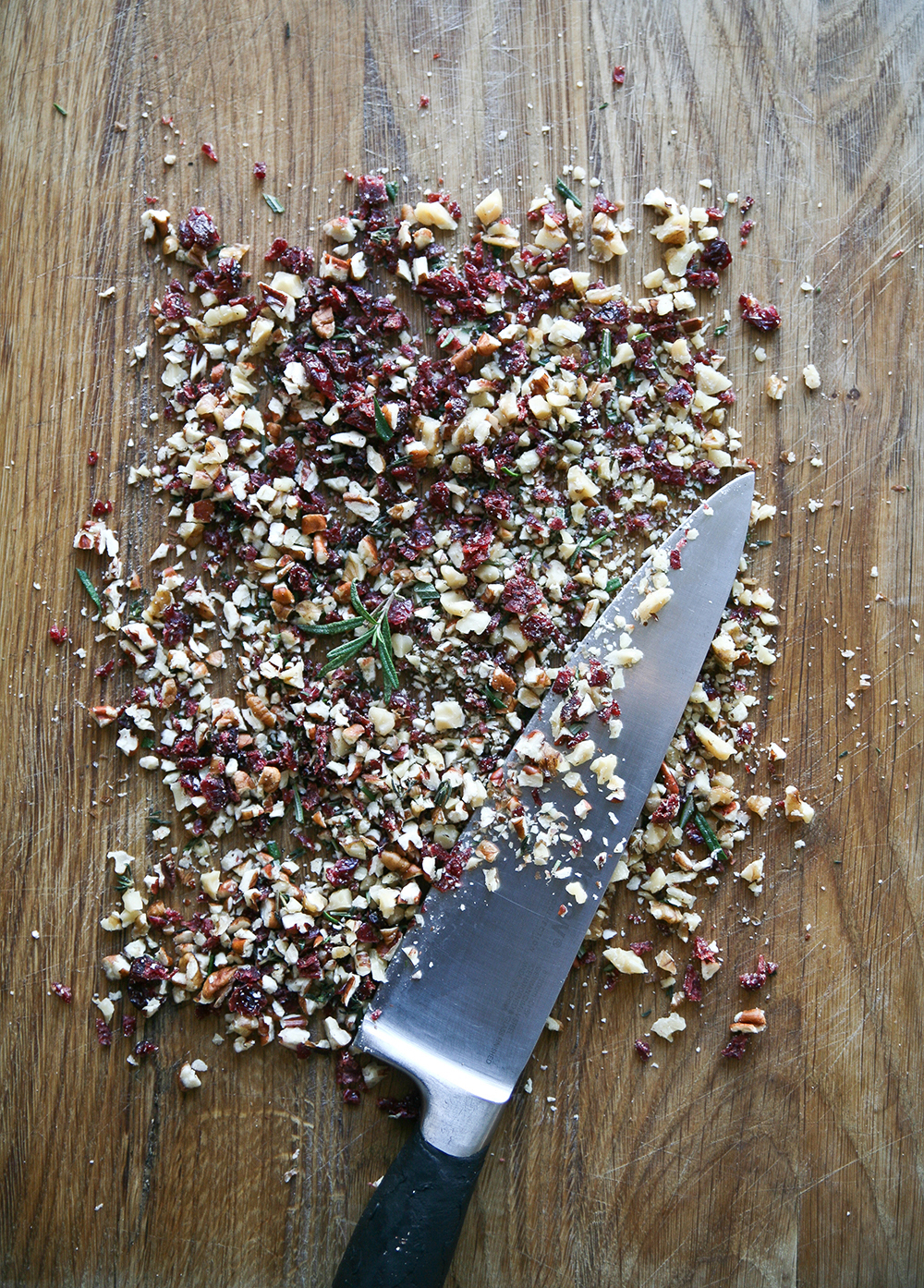 Is this vegan cheese not beautiful?
I would even serve it just like this! With all the extra bits of nuts and cranberries and rosemary on the board. Delicious and beautiful!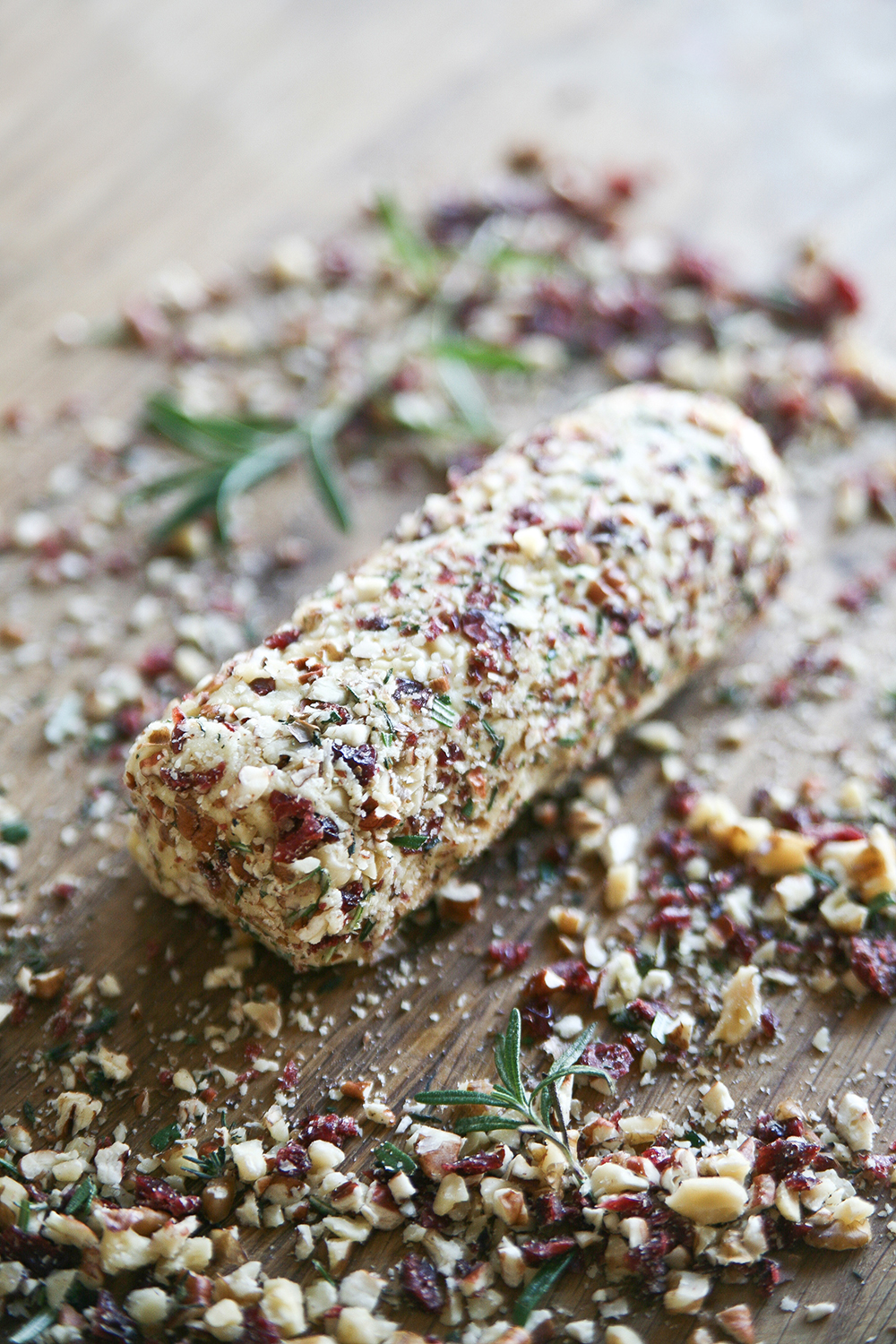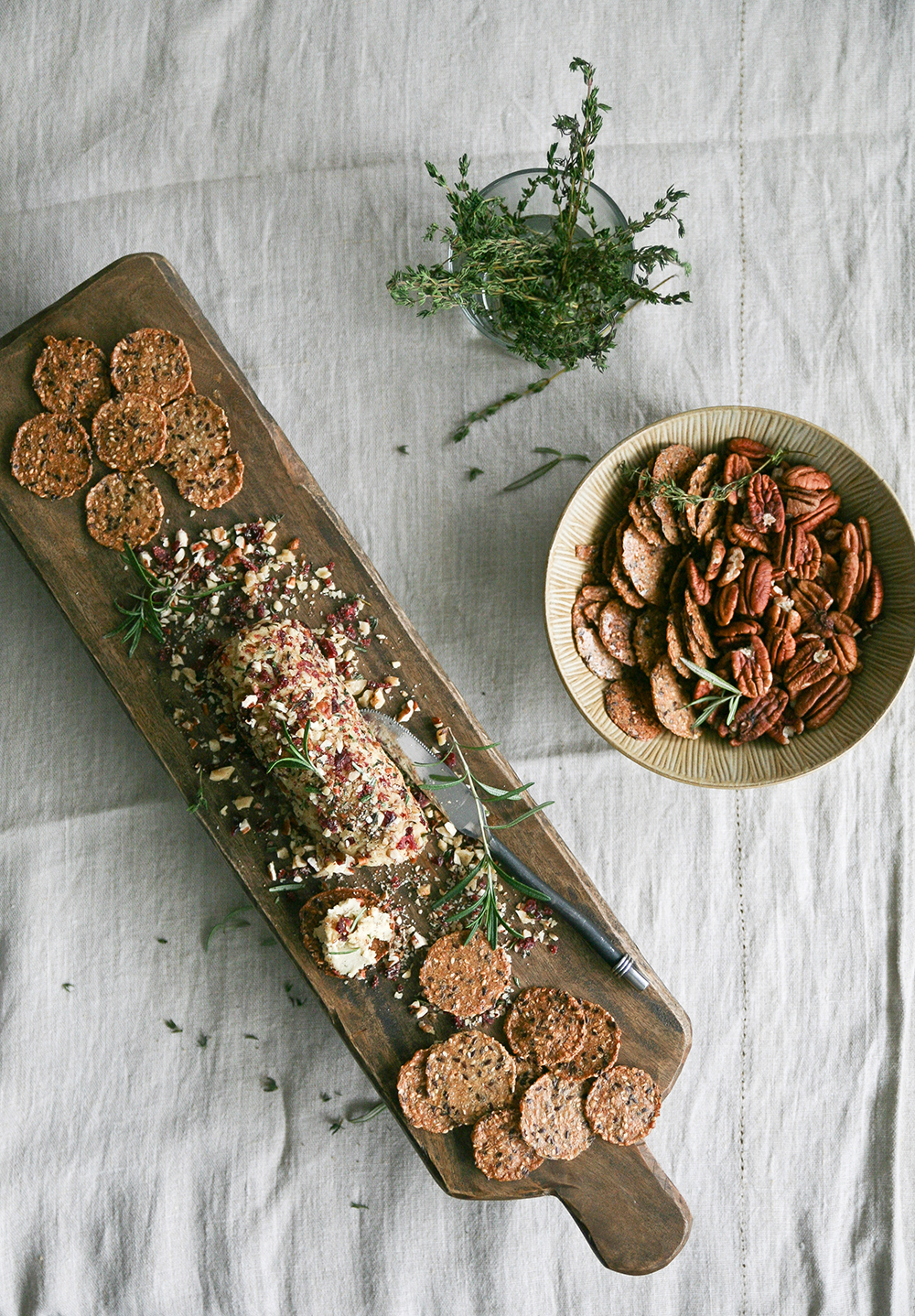 If you're still weirded out about a vegan cheese – you must try this indefinitely! You will be pleasantly surprised that a dairy-free cheese-like mixture can be so amazing! And it's just a mixture of cashews, spices and nuts, dried fruit and herbs – Wow! So good for you, right?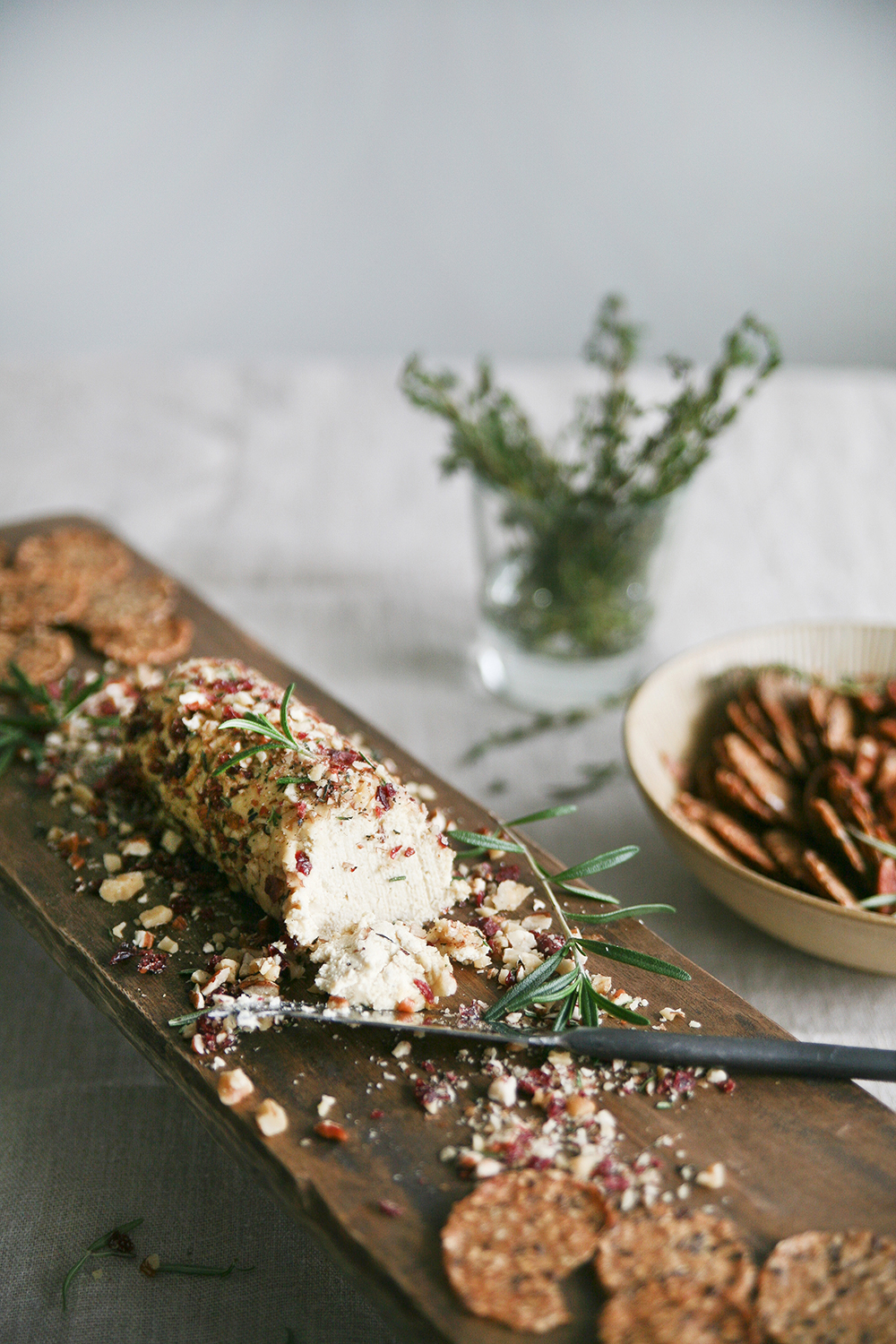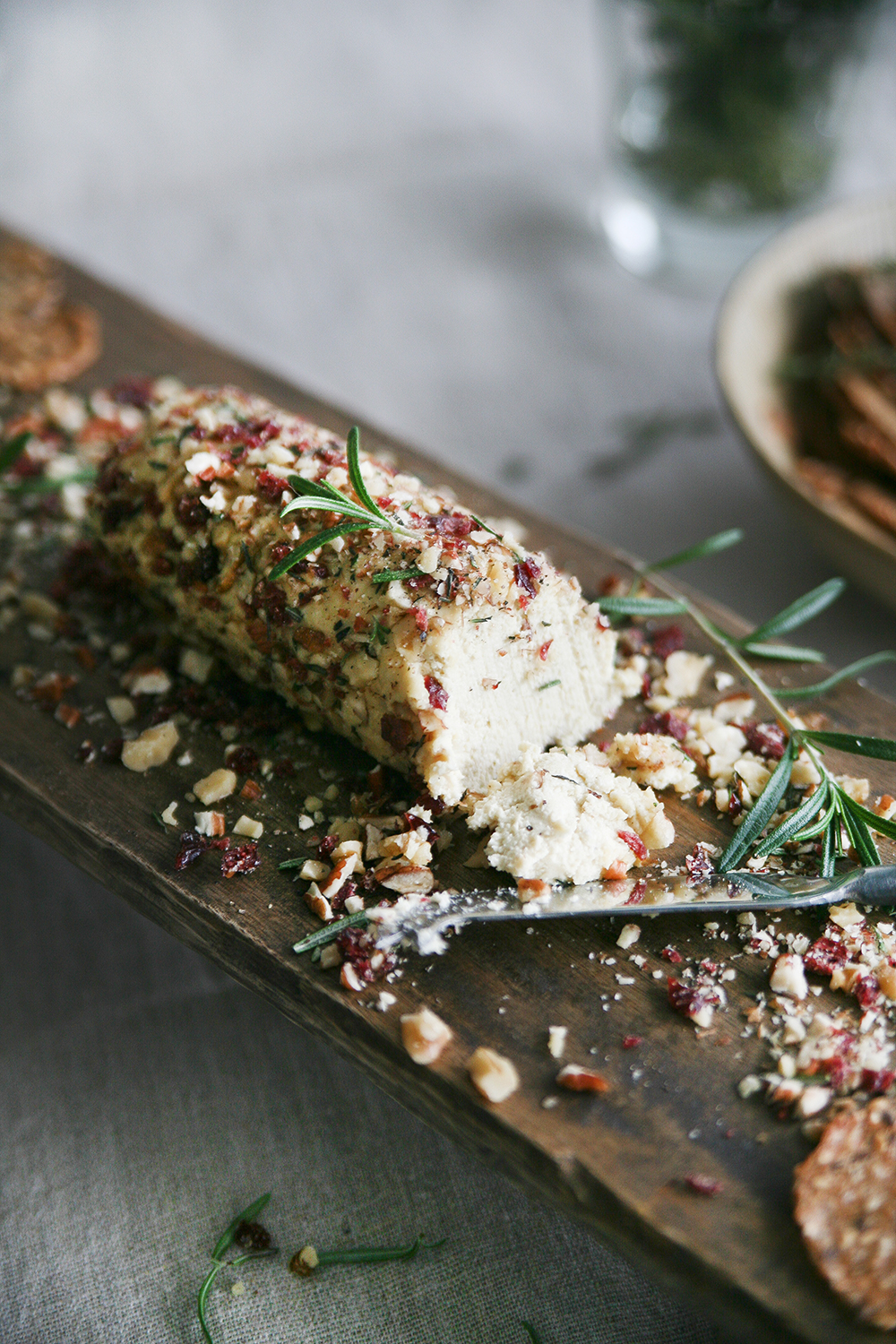 I hope this lands on your Holiday table this year! If it does, then don't forget to tag your creation (as well as other Pure Ella recipes) with a #pureella hashtag so I can see them! I repost my favourites on my social media!
I hope you're getting excited about the Holidays coming up, about eating vegan *faux* cheese, and enjoying the season of comfort, joy and giving!
I wish you a very Happy Holiday Season!
With love, ella