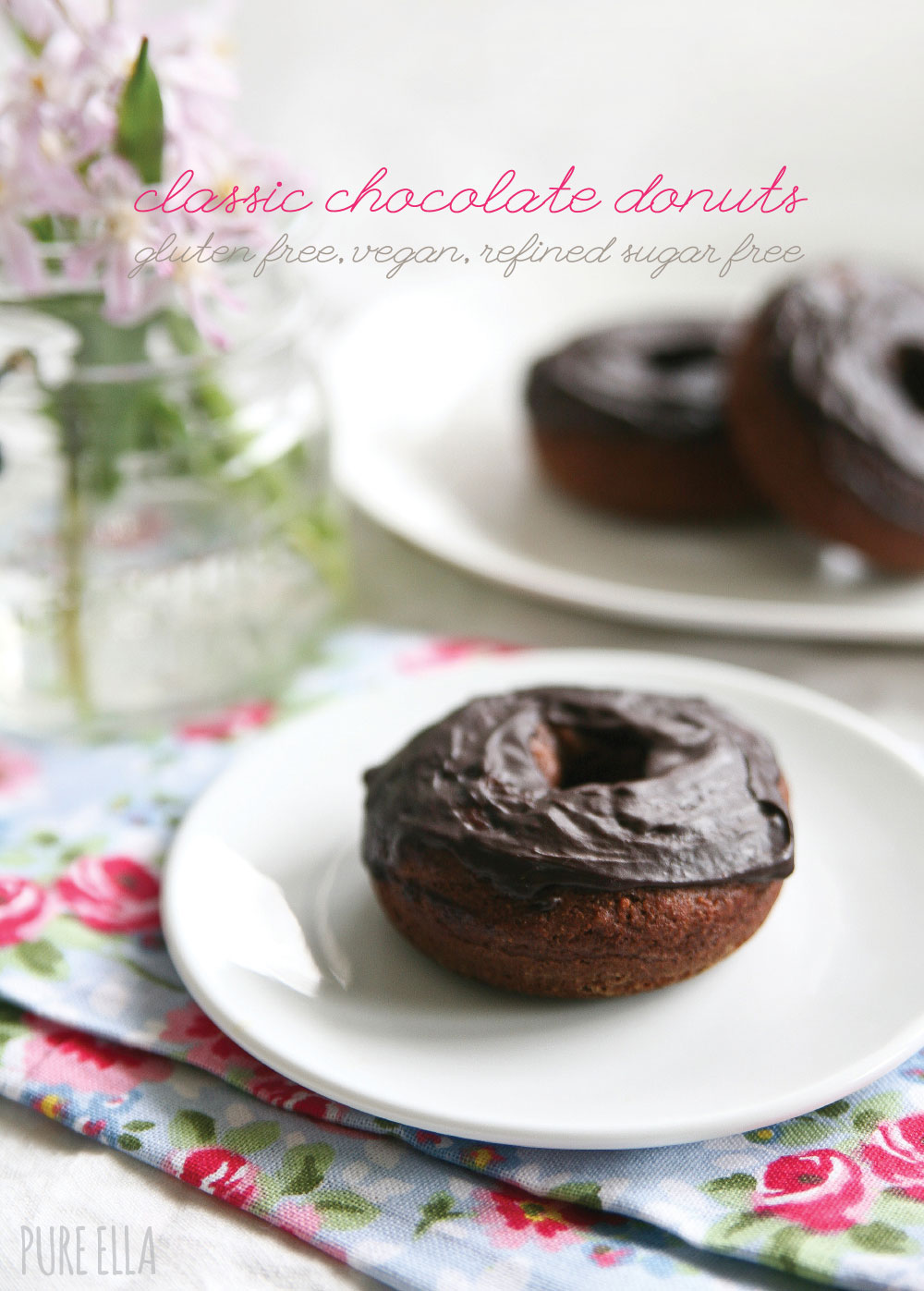 Donuts are so fun!!
I like to enjoy amazing desserts when a craving calls for it! Yes, even donuts! That's because these are amazing from the inside out ~ and made gluten-free and vegan is so much healthier!
Eating healthy doesn't have to mean you say goodbye to everything you used to love and enjoy ~ donuts are exactly that little something I'm happy to remake – but healthier, of course! And making desserts without wheat, gluten, dairy, eggs and refined sugar really kicks up the nutrition value of a donut! Is that ever possible? Sure!! ;)
Donuts have been a true American favourite dessert since the early 1900's. They quickly became so popular that they went into mass production and no longer 'made from scratch'. It was 1921 when the first automated donut machine was invented and when America was quickly hooked on donuts made from premade mixes! And that went on and on for over 90 years! Donuts are still produced with too much refined sugar, artificial ingredients, artificial flavours, preservatives to prolong freshness and so on. If it's a habit for you to grab a donut on the go all the time and you don't pause to check what's in it – chances are it's loaded with terrible ingredients!
So when I say we like to eat donuts ~ that's because not all donuts are created equal. These Chocolate Donuts are scrumptious and delicious and with great ingredients.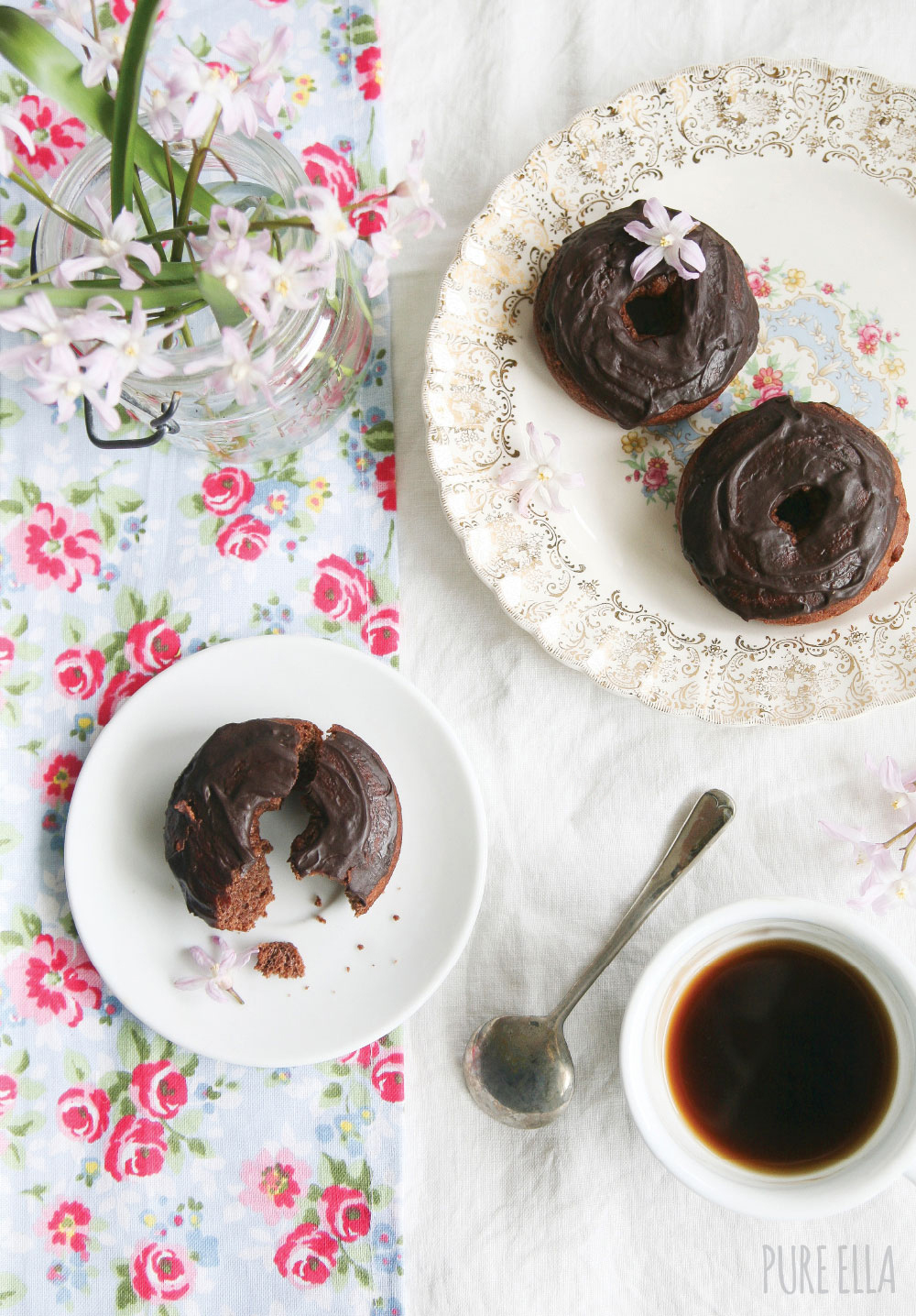 Classic Chocolate Donuts made Gluten-free and Vegan
Ingredients :
1 1/2 all purpose gluten-free flour
1/3 cup cocoa powder
1 tablespoon baking powder
1 teaspoon baking soda mixed with
1 teaspoon apple cider vinegar
1 tablespoon powdered chia seeds mixed with 3 tablespoons warm water
1/4 teaspoon fine sea salt
1 cup organic raw cane sugar
1/2 cup unsweetened apple sauce
1/2 cup grape seed oil or melted coconut oil
1/2 cup
So Delicious Dairy Free Chocolate Coconut Milk
1 teaspoon vanilla extract
Chocolate coating :
3/4 cups dark 72% – 85% chocolate squares or chips, melted
Directions :
Preheat oven to 350 F degrees. Grease and flour a donut pan for 6 donuts.
In a medium bowl, mix all the dry ingredients and whisk to combine well.
In a separate bowl, combine all the wet ingredients. In a small cup, mix the baking soda with apple cider vinegar, allow to bubble and pour into the rest of the ingredients.
Combine the wet with dry and mix with a wooden spoon to make a smooth batter. And set aside for 5 minutes.
Mix again gently just before pouring into individual donut wells.
Bake for 20-25 minutes at 350 F degrees.
Insert toothpick to check for doneness. Remove promptly from the donut pan and leave to cool on a wire rack.
Melt the chocolate squares or chips and coat the tops for an even bigger chocolate experience.
Enjoy! Now you can enjoy a classic American donut ~ guilt free! You're welcome!!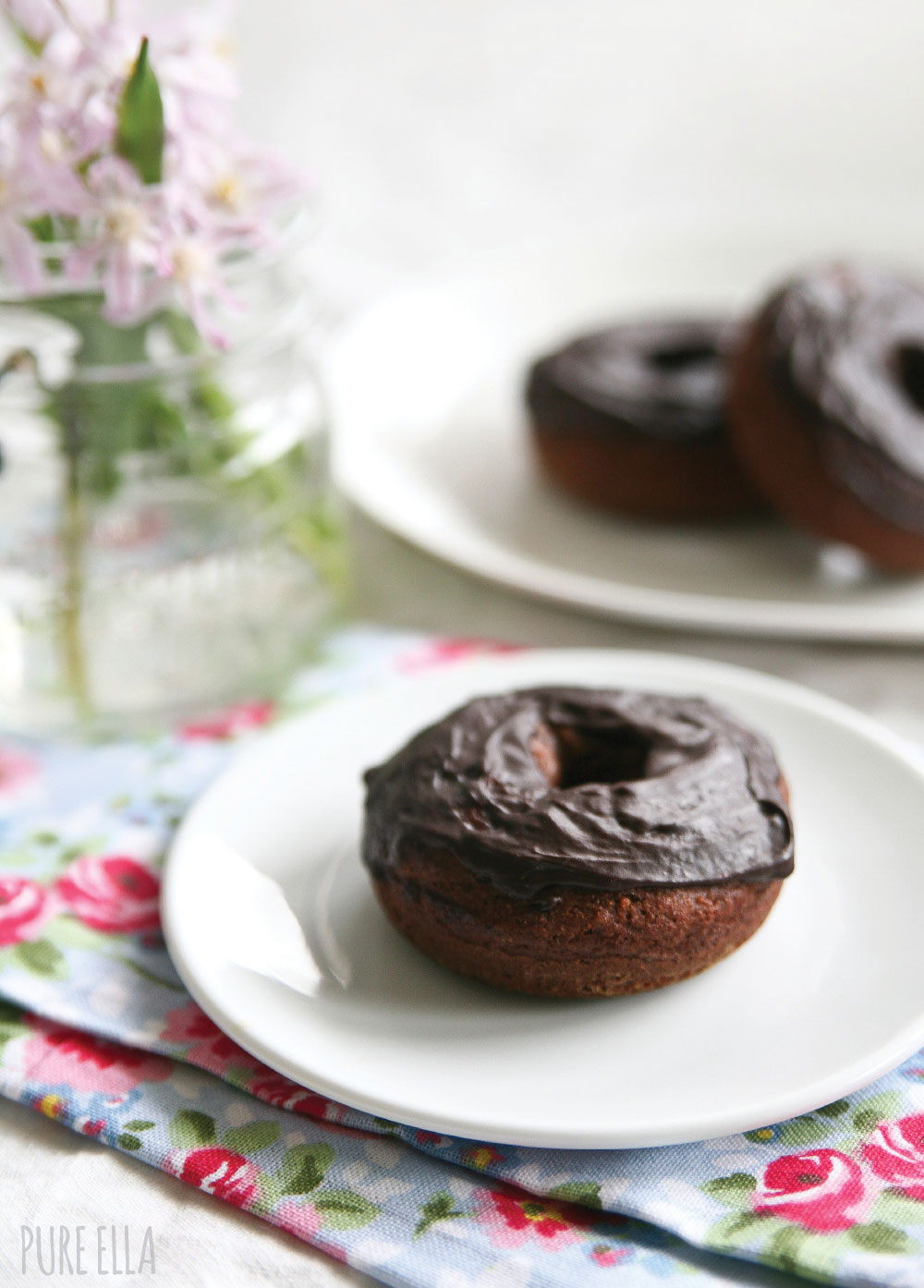 Wow, these donuts are going to change your life!
So good, fluffy chocolatey cake with a an extra rich layer of chocolate ~ SO good!!
How many times you've glanced at the donut section in your local bake shop only to be filled with guilty 'oh I shouldn't have' thoughts…. well, you don't have to say no to everything! You could just change up a few things to make them guilt-free and still enjoy this American favourite treat! You're welcome!! ;)
Join the fun with So Delicious Dairy Free and Save Summer!! "Rewind" into the past and enjoy memories and goodies from the past! Join SDDF on Facebook and follow with hashtag #SaveMySummer ;)
What are your favourite desserts and activities from the past?
My faves from the past (and still are) Donuts of course!
And remember a game of Elastic? Wow, that was some good jumping fun!! ;)
♥
Pure Ella
If you're new to Pure Ella, please sign up for email updates and join me elsewhere:
Facebook

//

Pinterest

//

Twitte

r //

Instagram

@pure_ella