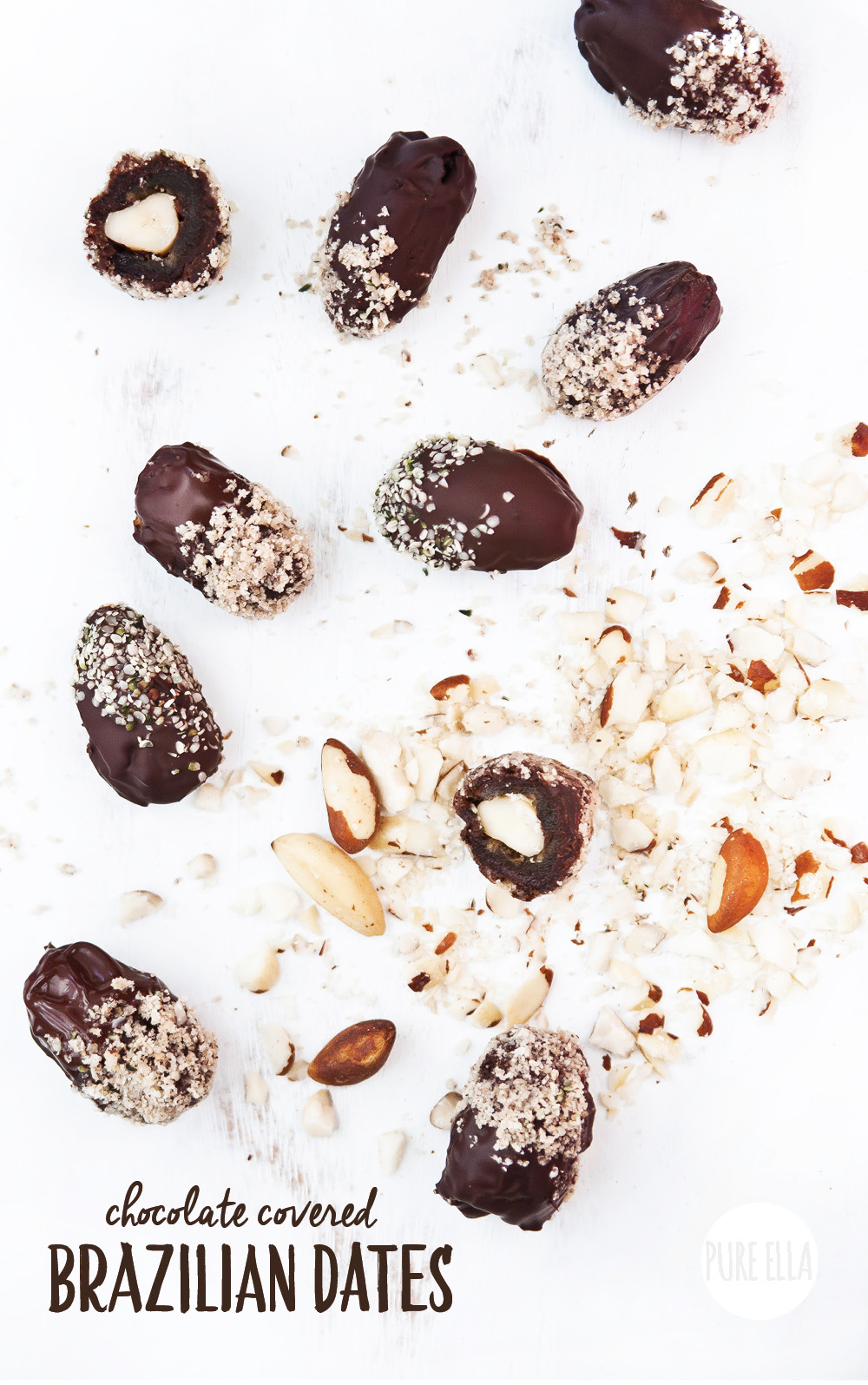 Who doesn't love simple delicious and healthy treats? Especially if they're effortless to make and big on taste!?
These Chocolate Covered Brazilian Dates merge my favourite ingredients into one big happy sweet treat – with no sugar added and just simple easy-to-find natural ingredients. Yum! These healthy treats are also naturally gluten free and vegan.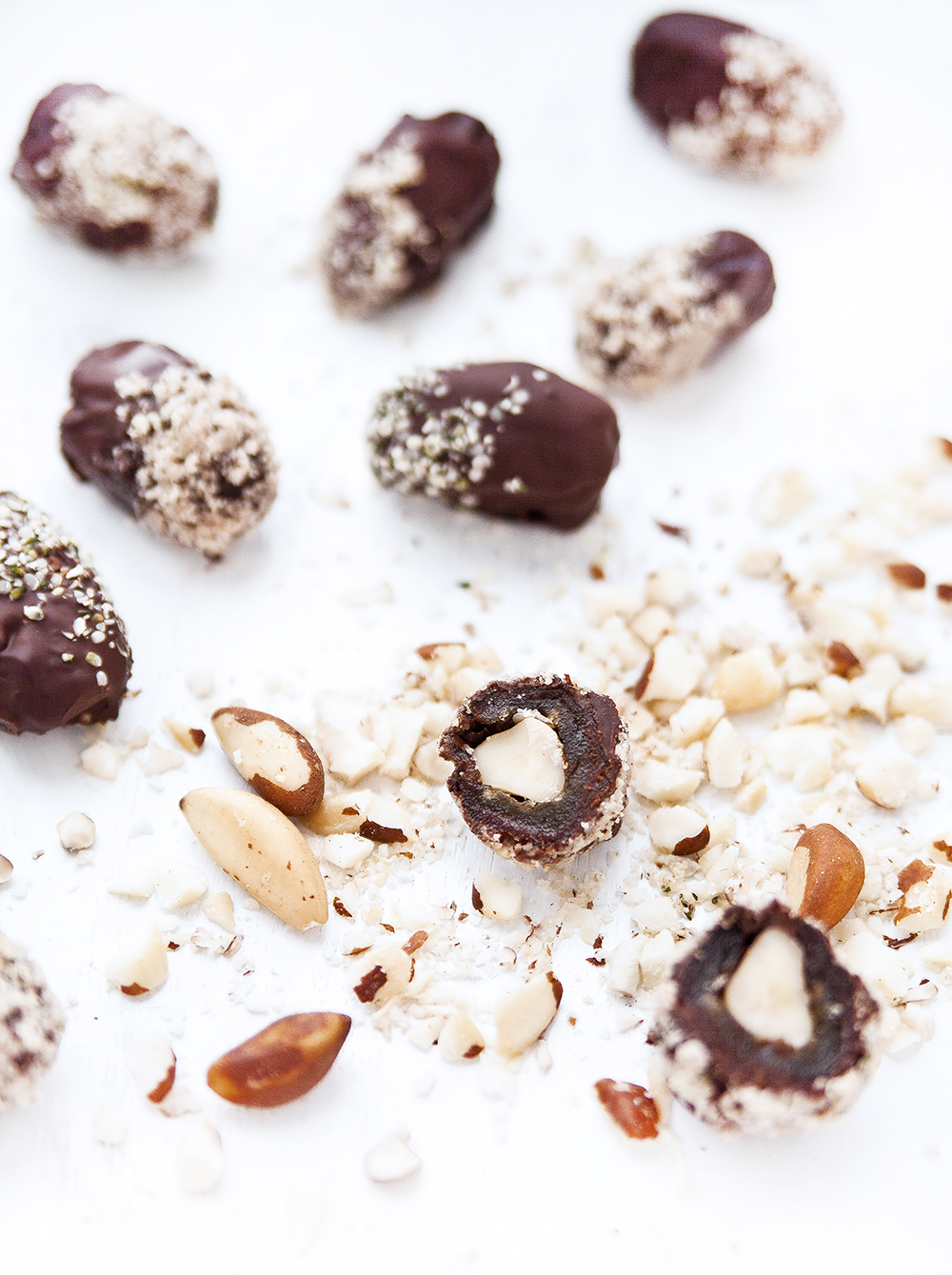 Chocolate Covered Brazilian Dates :
Ingredients :
12 Medjool dates
12 Brazil nuts (or more for sprinkling ground up nuts)
1/4 cup dark chocolate squares (72% or higher)
OR unsweetened chocolate with 6 drops of liquid Stevia
1/4 cup hemp seeds (optional for sprinkling on top)
Directions :
Line a flat dish with parchment paper and set aside. If using ground up Brazil nuts on top, grind a handful in a food processor or coffee grinder and scoop out onto a small plate.
Melt the chocolate in a double boiler (or in a bowl over a small pot with simmering water).
In the meantime, pit the dates and stuff with the Brazil nuts. Squeeze to get them back into the same rounded shape.
Pierce one side with a fork and dip into the melted chocolate to cover all over or just one side is fine. Then dip in hemp seeds or ground up Brazil nuts and place on parchment paper. Place in the refrigerator to set for 10-15 minutes. You're done!
NOTE : you can grind up most nuts or seeds for the topping and just sprinkle on top with your hands once you place them on the parchment paper. Hemp seeds add a nice health-boosting addition to these and you don't have to grind them – so if you don't have a blender, you can just sprinkle the hemp seeds on top.
CUT THE SUGAR TIP :
Skip the chocolate and go with dates stuffed with brazil nuts only for a healthy treat! But remember, each date has 5-10 grams of sugar (depending on the type and size)! ~ so just be careful that you use self-control and have 2-3 not 10!
These make amazing gifts too if you place them in a beautiful parchment paper-lined container! All I'm saying is that they would make a great homemade Christmas gift!
Nutritional facts for Dates :
Dates have a lot of sugar!! There is over 5 grams of sugar in each date!
(that's like eating a teaspoon of sugar so watch your intake – these treats are better when shared!)
But they also contain fibre and other nutrition such as B Vitamins especially B-6 which help with the formation of new blood cells. Also there is Vitamin K and A. And they're high in Potassium and have traces of Copper, manganese, magnesium, calcium, phosphorous, iron and zinc which complete their mineral profile. Our bodies only need small amounts of minerals, but if we are depleted of any one, it can be disastrous to our health. Snacking on dates occasionally can help you build up your body's mineral stores.
And Brazil Nuts are a perfect pairing with sugary dates – they contain protein, healthy fats, fibre and also important nutrients like manganese and magnesium and so much more! In fact, try to avoid eating dates alone and just really stuff them with Brazil Nuts every time because these nutritionally just compliment one another! Great for brain health, the nervous system and healthy blood :)
Bottom line is that dates are a healthy form of sugar. So although healthy you shouldn't over do it but they're also important to keep in your diet and have on occasion.
Also sidenote : I picture a romantic getaway to Brazil when I think of these :)