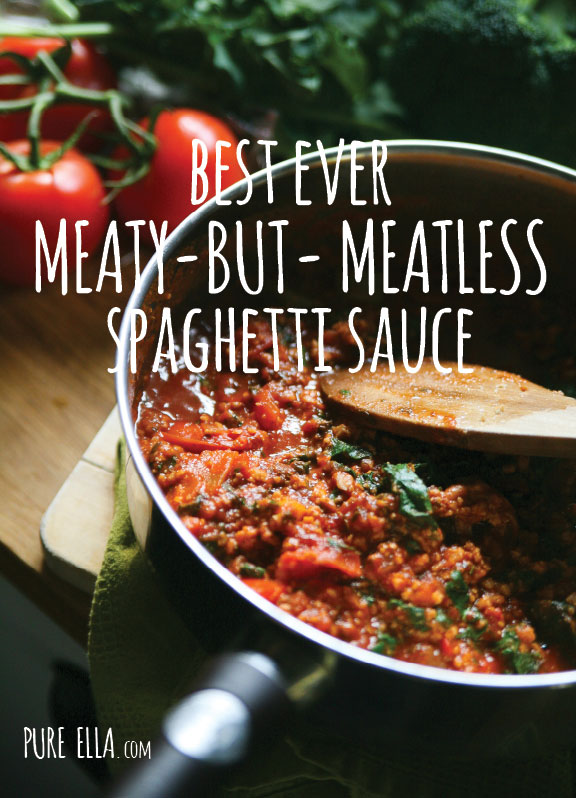 Everyone wants a good comforting healthy meal at the end of the day…. but for some reason there seem to be some rumors going around that you can't have that unless you devote hours and hours in the kitchen if you want to make that meal from scratch with healthy ingredients.
Sure some meals do take longer but not all meal preparations need your sweat and tears (from cutting those onions) (and that emotional drama from the day), it doesn't have to be that way busy moms! (or dads!) (or career-focused individuals!) (or students!)
Guess what? HEALTHY FOOD can be FAST & CHEAP
and can still be ORGANIC and from SCRATCH!
And I prove it with this recipe with the MEATY-BUT MEATLESS BEST SPAGHETTI SAUCE!!!! This healthy meal is really good and a true win-win in our house!
I love it because it's super quick to make – about 15 minutes! The longest is waiting for the gluten-free rice pasta to boil! And the sauce comes together super quick in less than 10 minutes!!! And this is WITH prep work!!!
And I also love it because my whole family is happy and that includes a six-year-old (if you have kids you know how tough that age can be at the dinner table) and I have a (still) meat-eating carnivore that wants that real deal but knows he's not going to get it all that often now (to his benefit!) :)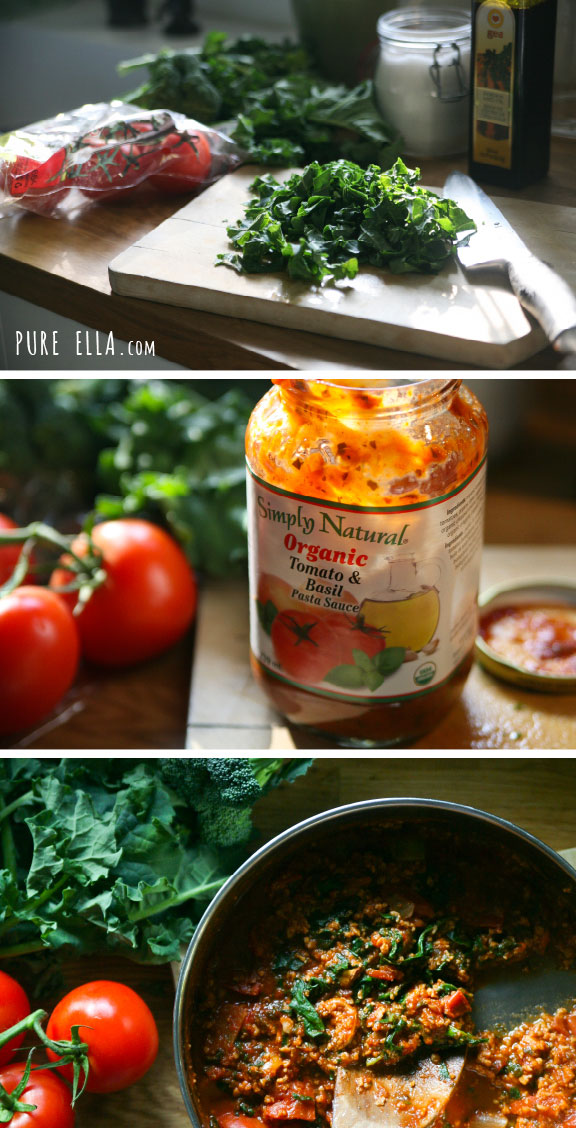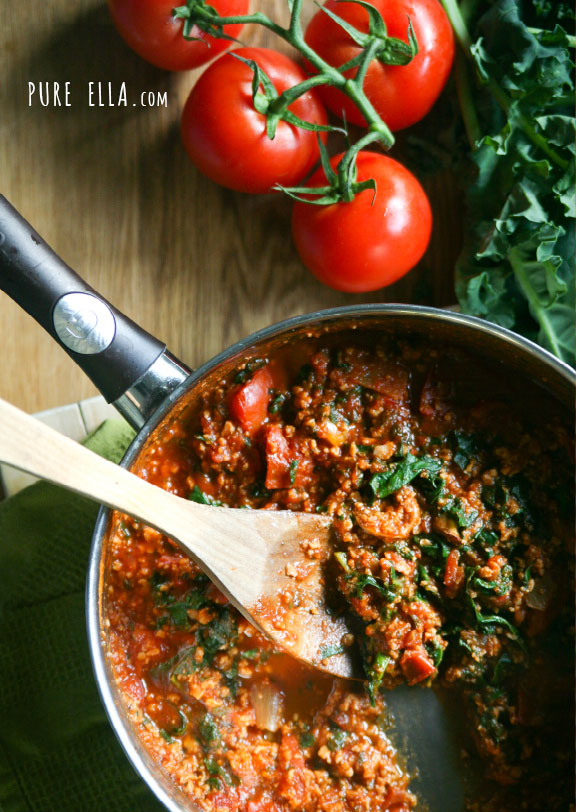 Meaty-but-Meatless Best Spaghetti Sauce
2013-10-16 10:27:02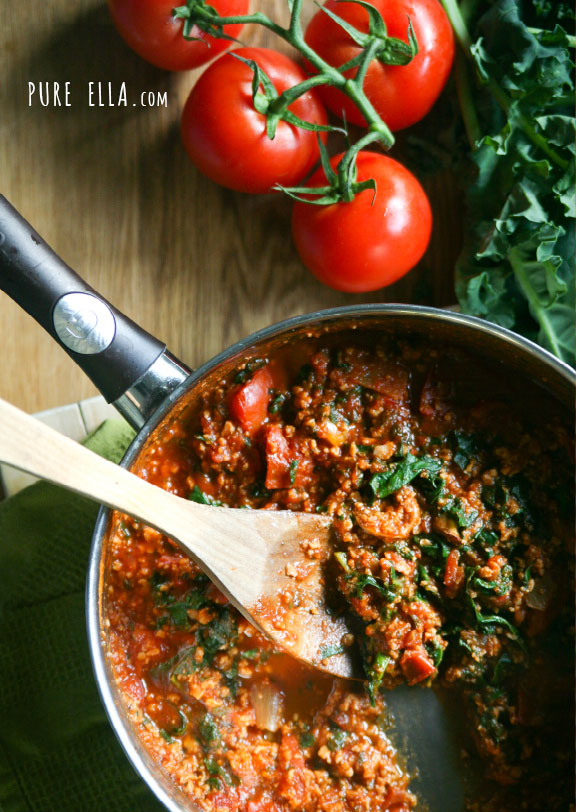 Serves 4
A healthy quick spaghetti recipe that's vegan & gluten-free!
Ingredients
1 large organic onion, diced
2 leaves of organic kale, stripped off stem, chopped
2 organic tomatoes, diced
1 organic broccoli, cut to small chunks
1 1/2 cups organic spaghetti sauce
1 cup organic TVP (Textured Vegetable Protein)
grape seed oil for cooking
extra virgin olive oil for pasta
about a cup boiling water if needed
+ 1/2 package gluten-free rice spaghetti pasta
+ pine nuts for topping
+ fresh basil for plating
For the pasta
First, if you're preparing the full spaghetti meal ~ bring a large pot of water to a boil, mix in abou 1/2 tablespoon sea salt in the water and cook gluten-free pasta as per instructions.
For the Sauce
In a large pan, sautee the onions until slightly golden, about 2 minutes. Add the rest of the vegetables and cover to continue cooking for another 2 minutes on medium heat. If the vegetables stick to the pan, add a little hot water at a time, stir and cover to continue to steam-cook.
Once the vegetables are softened but not necessarily fully cooked, add the cup of TVP along with the spaghetti sauce. Stir well to combine all the ingredients. If the sauce looks too dry (because the TVP absorbs a lot of liquids) add about 1/4 cup of hot water at a time to make it the right spaghetti-sauce consistency. Cover for another couple of minutes to finish cooking - with the heat turned off.
At this time, you can check the pasta for doneness. (It should be ready.) Strain on a colander, rinse with a little cold water to remove some starch build up and drizzle with a little olive oil. Toss to distribute evenly. (This will prevent the pasta from sticking).
Distribute pasta into large bowls, top with spaghetti sauce plus a little sprinkle of pine nuts. Dress up with fresh basil leaves and enjoy immediately! ;)
Pure Ella http://pureella.com/
By now you probably figured out the 'meaty' secret ingredient in this Meaty-but-Meatless Best Spaghetti Sauce – it is the Textured Vegetable Protein!
What is TVP?
TVP is a fantastic all-natural food ingredient that makes a great meat substitute. It's not really fake meat (if that's what comes to mind) It's bits of vegetables that are dried to create a fantastic neutral flavoured food product. It just so happens that it's packed in protein – as much as 23 grams per cup and that's why it makes a great meat substitute.
If you're wanting to eat less meat (because that is better for your health), but don't know how to eat less meat – this is one great way to introduce meatless meals to your family.
A switch like this from ground beef or ground turkey or chicken is not only healthy but it's so much cheaper too!
A organic pack of TVP costs only about $3.50 and that makes about 4 dinners like this. Incredible savings for a healthier dinner that's easier and faster to prepare. Plus you're not dealing with bacteria such as salmonella or mad-cow-disease or other disgusting things that are found in meat such as hormones, antibiotics and GMO feed that the animals eat.
Where to buy TVP?
Check your regular grocery store – sometimes these products are already not-that specialty anymore but because it's a new food to you, you may not know where to look. So check the flour section in your store. If you can't find it, an organic store will have one for sure. My favourite brand is Bob's Red Mill and if you're in Ontario Canada, i have found the cheapest price in No-Frills (of all places) it's in the flour section.
I like to encourage more families to eat healthier! And my first instant health tip is to stop eating meat! But I'm seeing how hard this is on most families that see meat as a must on the dinner table. A great way to start eating more meatless meals is to make recipes like this that taste familiar and are a natural switch for a meat-eating family.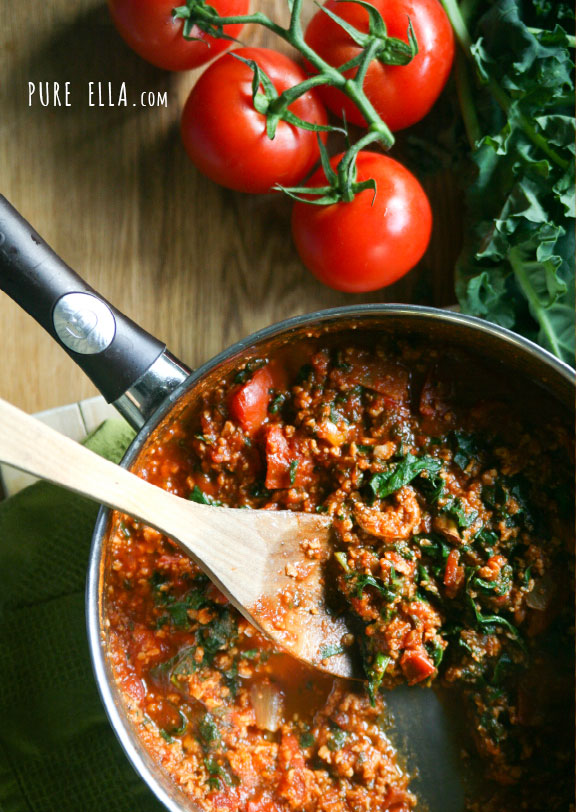 I have never felt like I sacrificed anything when changing my diet, in fact I felt healthier (so much so that I beat a rare illness), had more energy, looked better and healthier. I'm happy that my family especially my six-year-old daughter will have a better chance on her health in the future because she's already ahead of the game!
And meatless dinners are now proven to have health benefits. There are health reports that eating less meat protects against heart disease, cancer and many other diseases. No matter what your argument is that people have eaten meat since caveman times and we're still alive – point is vegetables are still healthier!!! And what caveman didn't have that we now have is knowledge! We now know vegetarian and vegan diet is healthier! (if done properly – because I'm still seeing mixed information out there!) And meatless dishes can still pack in protein and be super delicious! (like this Spaghetti!)
And the money you're saving from not buying meat can go straight to buying more organic foods! Get best nutrition for less money! Win! ;)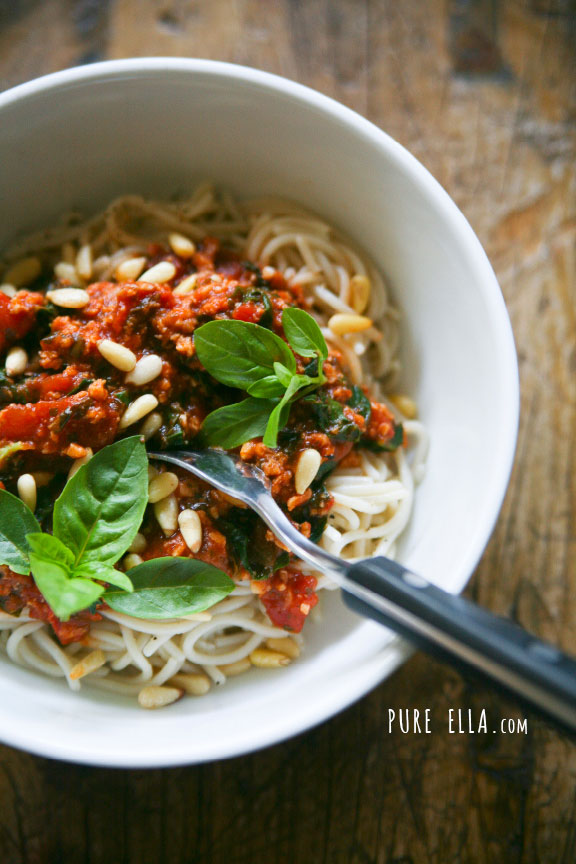 And that's how a QUICK, INEXPENSIVE, EASY, HEALTHY and DELICIOUS dinner is served in our house!!!
I will now leave you with a watery mouth and one extra tip – make a double batch to have ready for a couple of days or even freeze for up to 3 months. Enjoy!!!
If you're new to Pure Ella, please sign up for email updates and join me elsewhere:
Facebook

//

Pinterest

//

Twitte

r //

Instagram

@pure_ella
Summary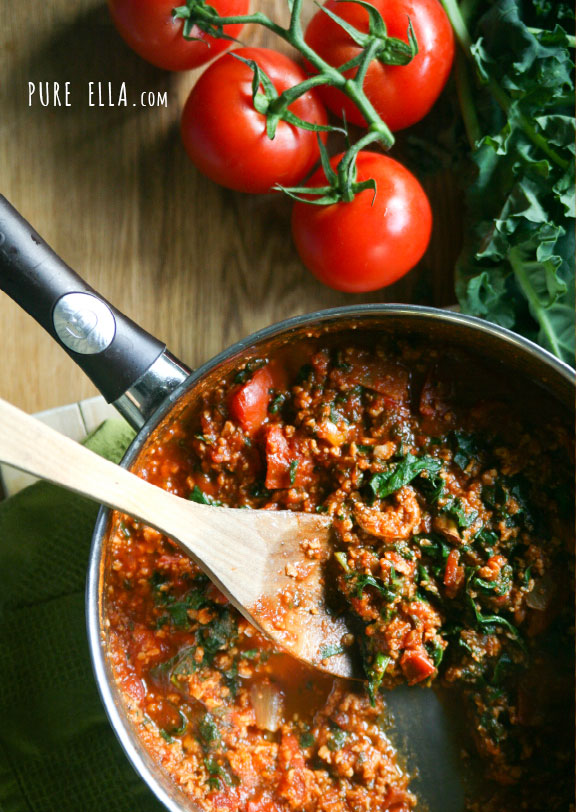 Recipe Name
Published On
Preparation Time
Cook Time
Total Time