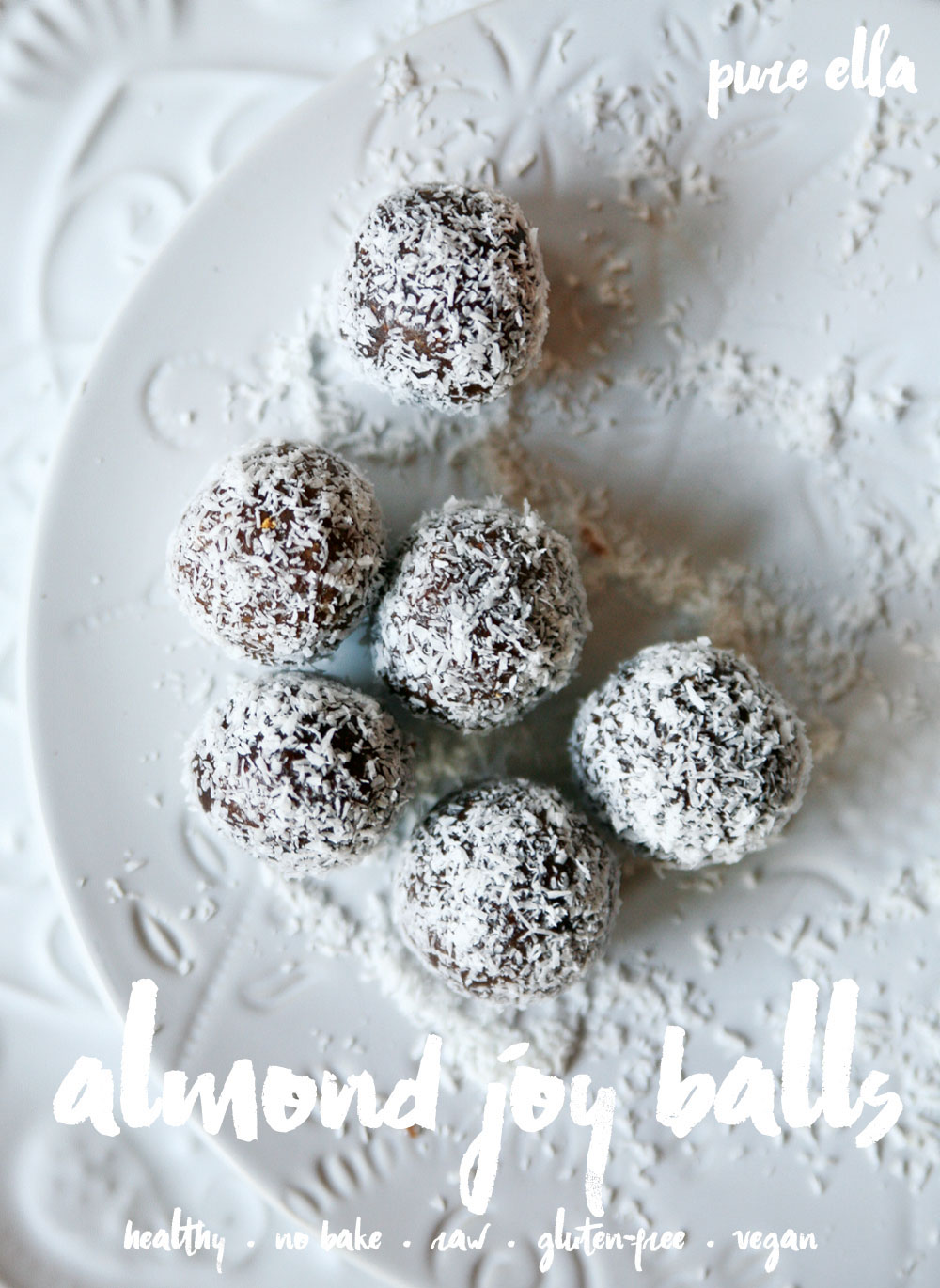 Hello darlings! Now that we're in the Holiday season – I just know how busy you get! AND I know how you want great delicious treats… right? AND I also know you want no-fuss healthy treats! YES???
See, I know this stuff and therefore have the perfect dessert for you: no-bake, raw, healthy, gluten-free, vegan, grain-free, paleo and refined sugar-free Almond Joy Balls!! The perfect little bites for when you have a friend coming over or to have on hand in the fridge for those moments when you're craving something sweet but want something healthy. Enjoy!!
These Almond Joy Balls are really inspired by these delicious Coconutties Bliss Balls – another must try recipe!!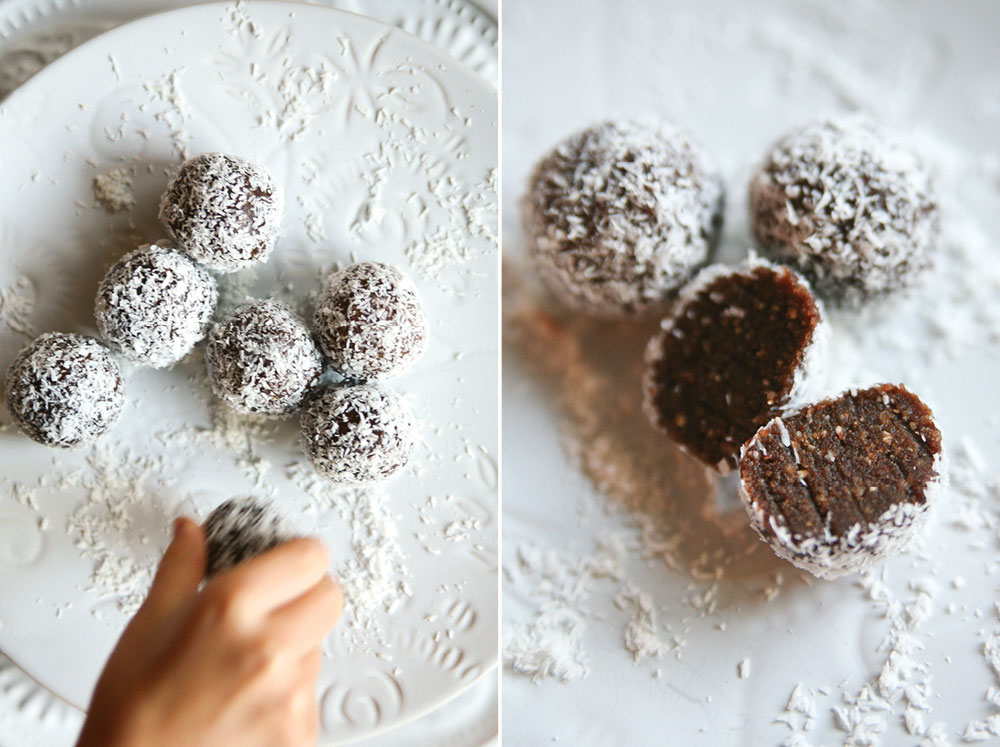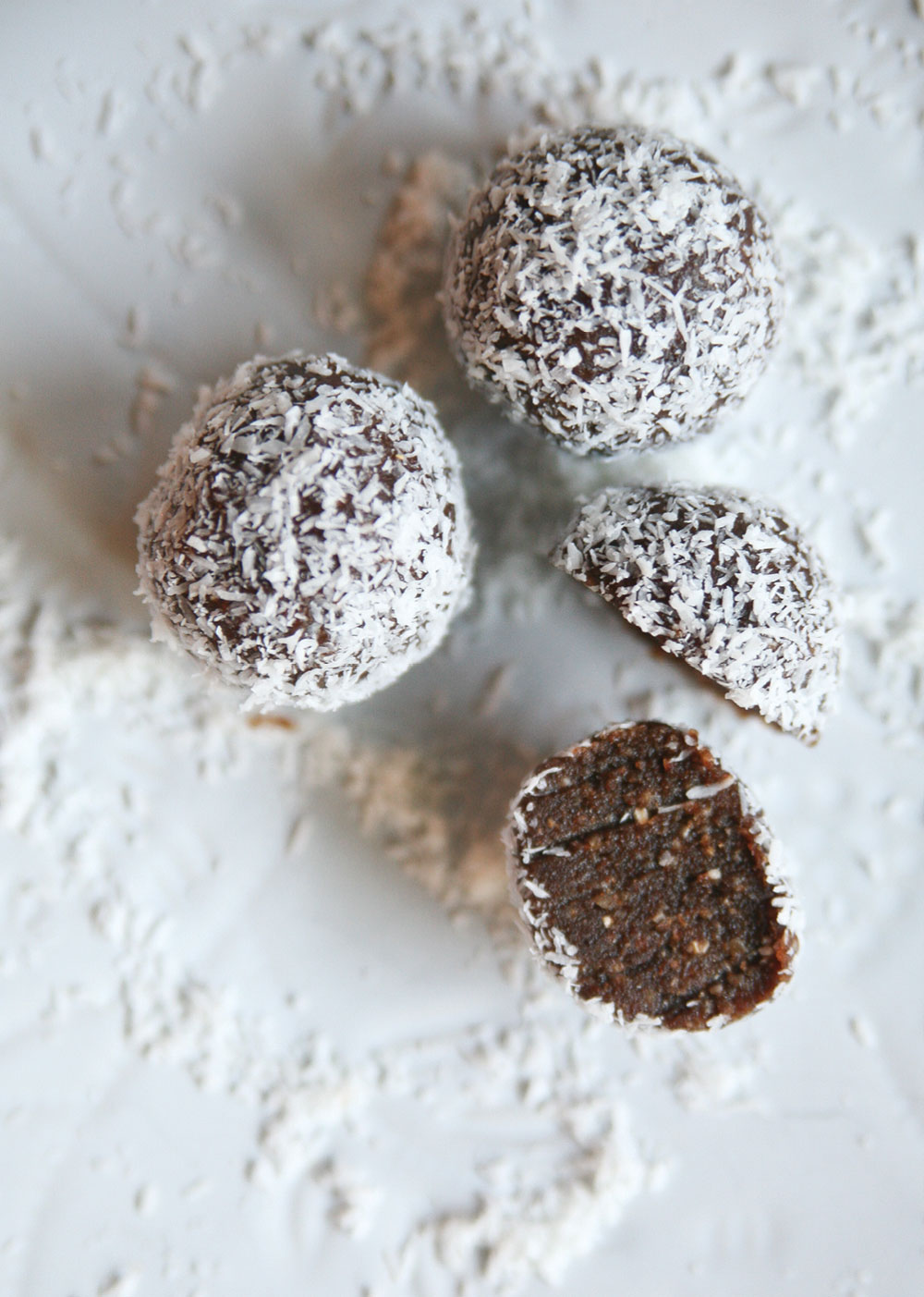 Almond Joy Balls
2016-11-25 12:13:53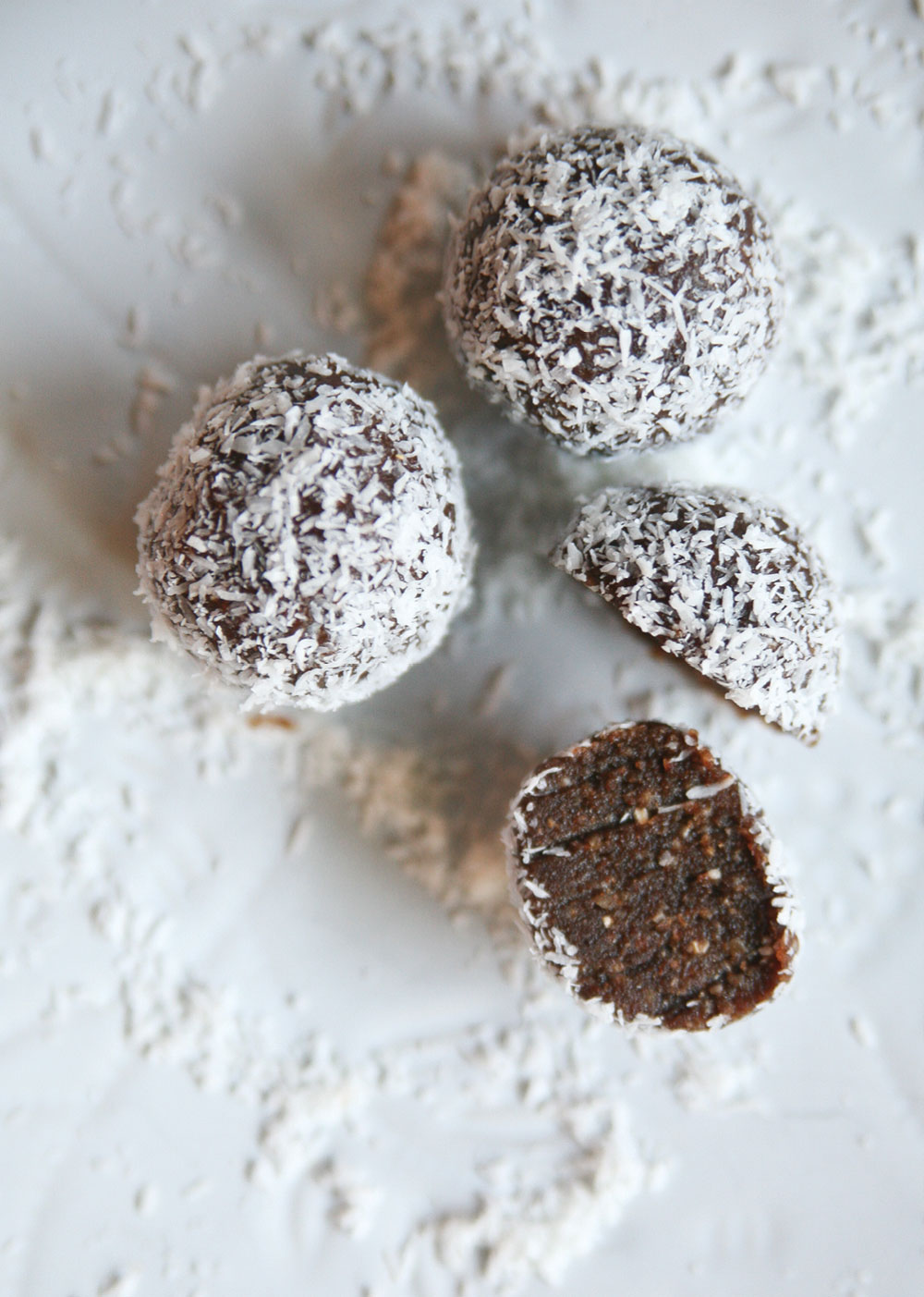 Ingredients
2 cups almonds
1 cup unsweetened coconut flakes, divided
1 cup Medjool dates
4 tablespoons raw cacao powder
1/4 teaspoon sea salt
1/2 teaspoon vanilla extract
1-2 tablespoons water
Instructions
In a food processor, grind the almonds until fine crumbs form.
Add in 1/2 cup coconut flakes, dates, cacao powder, salt, vanilla extract and continue processing until fully incorporated.
Turn off the processor and pick up some of the mixture with your fingers and press to check if it sticks between your fingers. If it's too crumbly, add in 1 tablespoon of water at a time and mix again.
Once the mixture sticks together, proceed to scoop about 1 tablespoon of the mixture into the palm of your hand and rolling it between your hands.
Continue with all of the mixture.
Sprinkle the remaining 1/2 cup of coconut flakes onto a plate and roll each ball in the flakes.
Place in the fridge to harden slightly for about 1 hour, or the freezer for about 20 minutes before serving.
Notes
These keep well for up to 2 weeks in the fridge in an airtight container.
And they freeze well for up to 2 months - great for a quick grab-and-go snack.
Pure Ella http://pureella.com/
Always always choose healthier refined-sugar free options to sweeten desserts. Dates in this case are excellent to sweeten these balls – SO much better than white sugar in other desserts.
Cut down the sweetness, I often see recipes like this with 2 cups of dates – dates are also sugar. It's a healthier sugar but it's also a sugar that does in fact raise your blood sugar.
If you cut down on the dates and still need a bit more sweetness, I suggest subbing in a few drops of Stevia to have that sweetness heightened but without adding those extra sugar calories.
You could also reduce the amount of these dates further and go with 1/2 cup dates (just enough to act as a binding agent for this recipe) and then add in the extra Stevia.
Add protein!! Here, I have almonds which add in a good dose of protein to these balls. Something you want to incorporate in desserts as of then as you can because protein makes you feel fuller and you're satisfied with less.
Add healthy fats!! I did this here again with almonds. All nuts and seeds also contain healthy fatty acids which help with absorption of food and also keep you satisfied with less.
Always choose healthy ingredients!! That's why these are so much better for you than simple carbs in the form of doughnut-holes or other zero-nutrient desserts.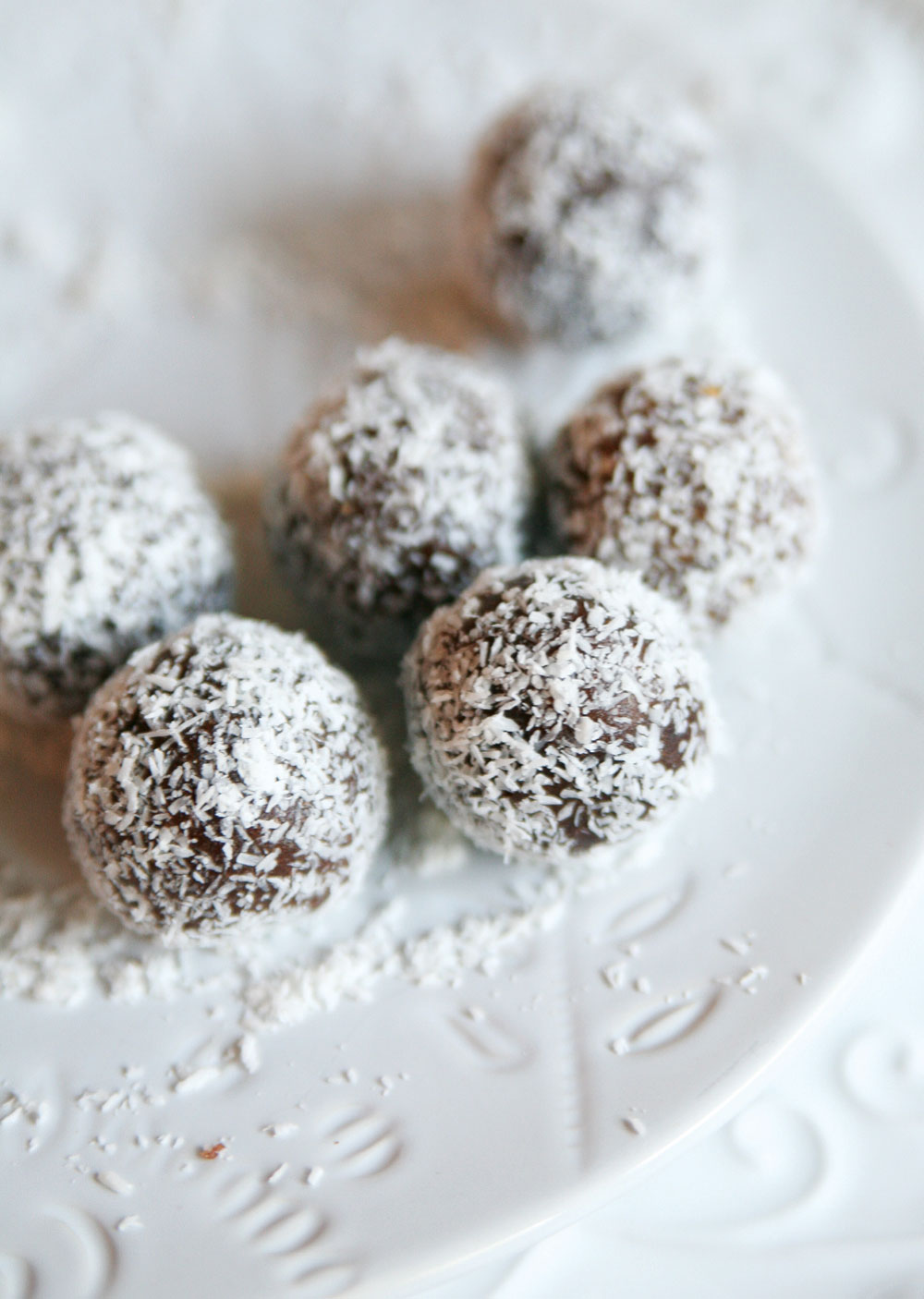 These are super simple to make – literally 10 minutes to get a delicious and healthy treat!
Goodbye doughnut holes and other sugar-loaded unhealthy treats you're used to getting – you can have your cake and it it too!! :) (I was going to say you can have your balls and eat them too… but that has a really weird ring to it…. LOL ;)
Anyway, these are AWESOME – go forth and make them and enjoy the sweet side of life my friends!!!
Peace and love,
~ ella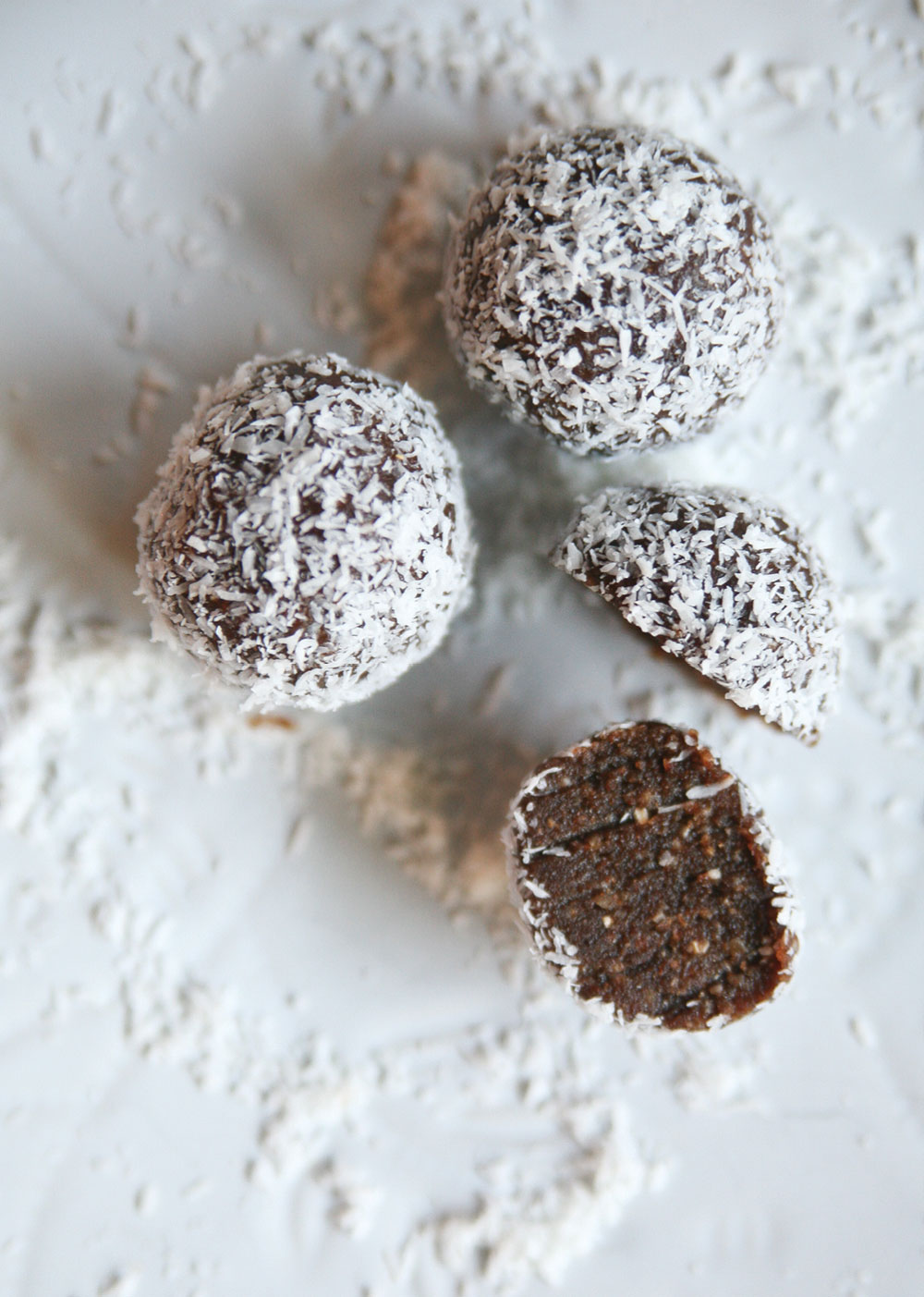 Ella Leché
is a cookbook author ('
Cut the Sugar
'), recipe developer, and photographer/stylist behind Pure Ella; where she shares delicious and healthy recipes. Eating PURE is clean ingredients, whole foods, plant-based nourishment and delicious desserts – with quality ingredients and sweeteners so they're treats with benefits so you won't have to feel deprived or restricted to eat healthier.
Thank YOU for being here!
Follow on social media for daily health & happiness inspiration:

ps. don't forget to share your Pure Ella (PE) recipe creations by tagging them #pureella and
@pure_ella
on Instagram – we repost our favourite photos!