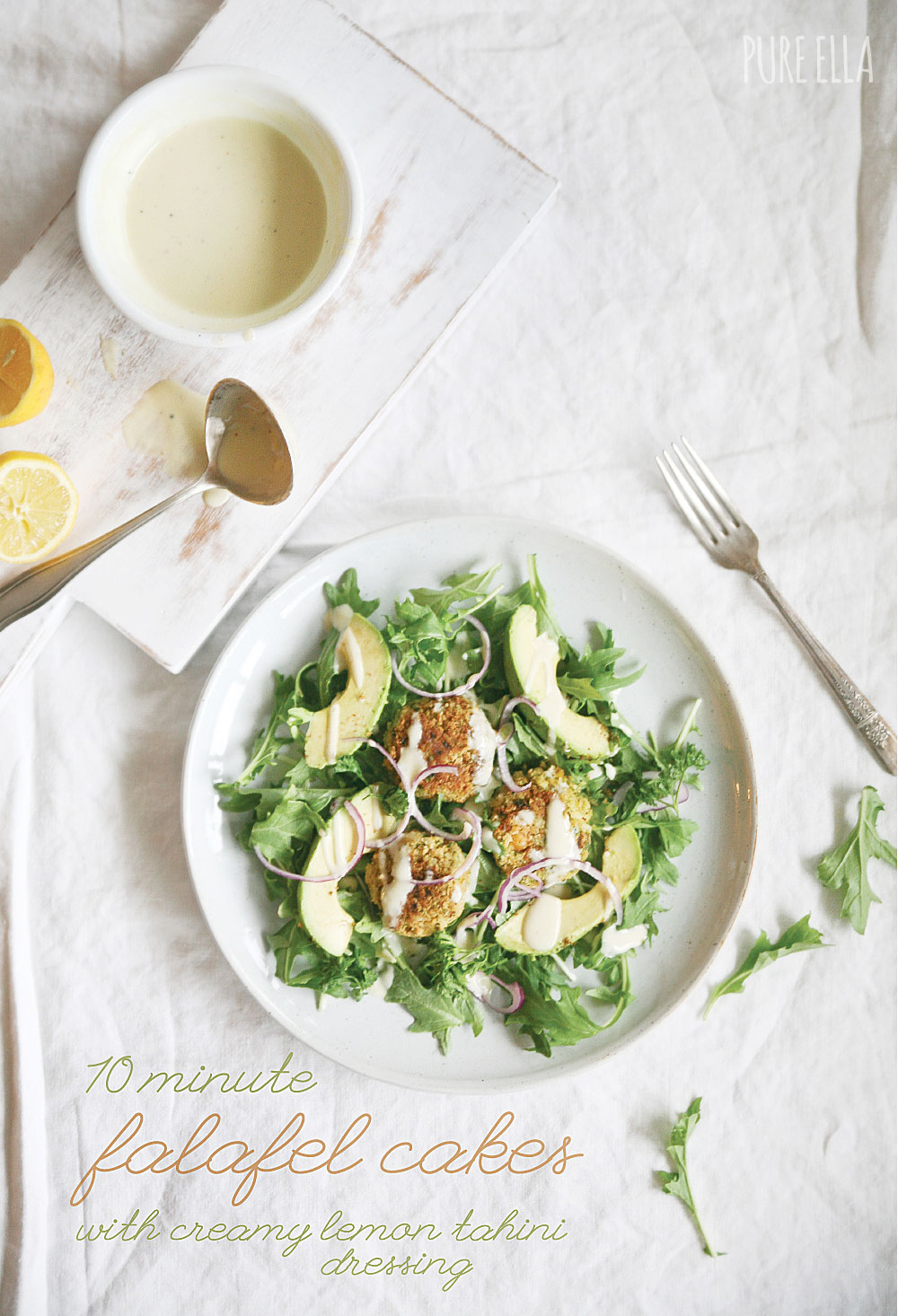 For a 'foodie' there's nothing I love more than turning around a quick delicious dinner in no time!
This recipe for Falafel Cakes really is a recipe for 10 Minute Falafel Cakes! You throw a few things together, no soaking or other prep work required – Bam! Dinner's done!!
And it's healthy, real food that's big on taste and small on cooking time ;)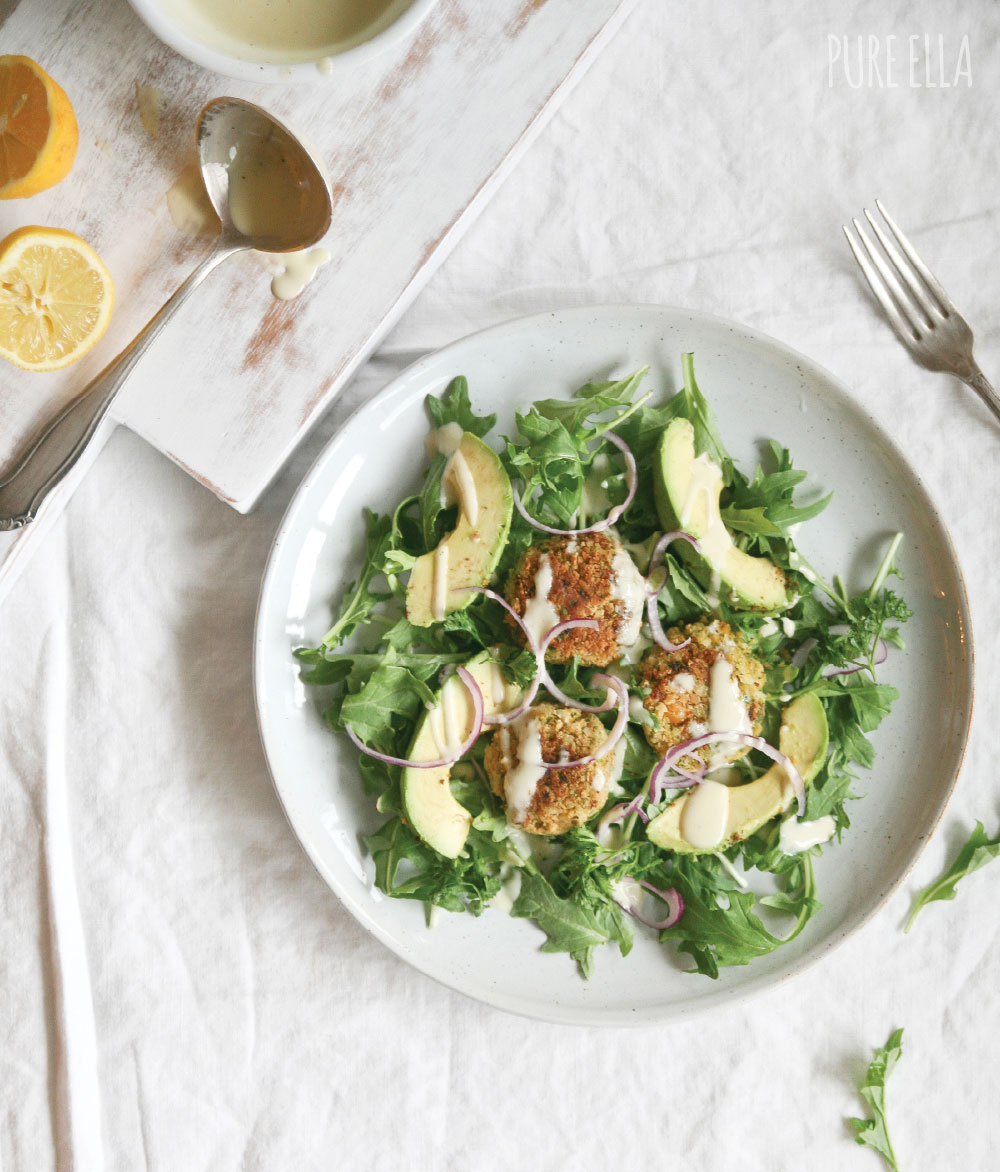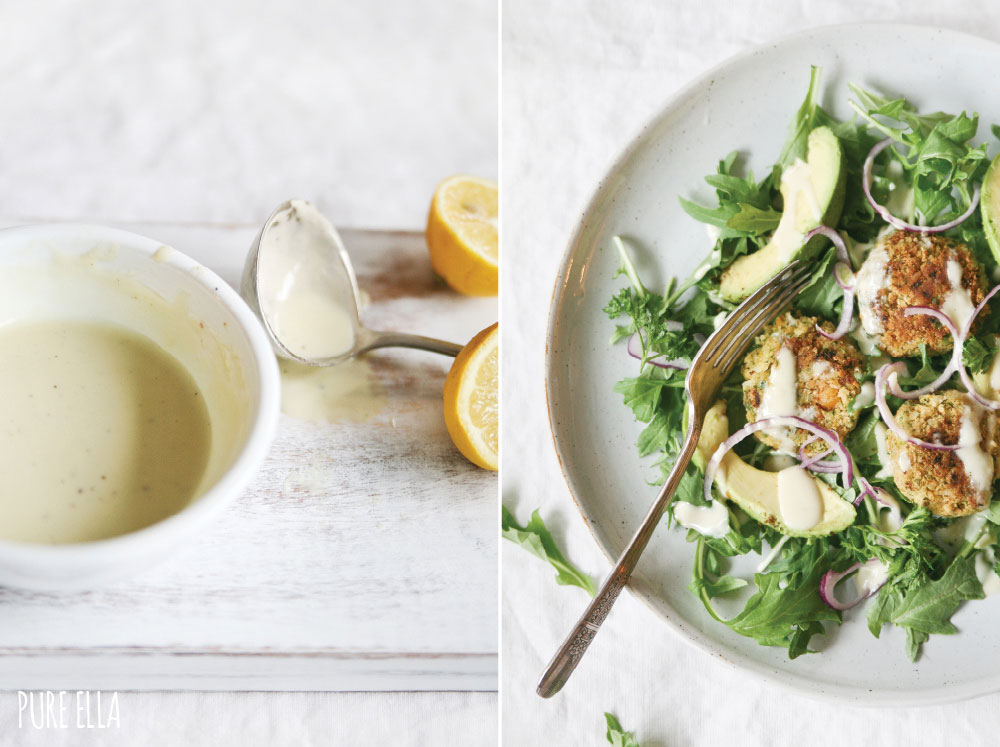 10 Minute Falafel Cakes with Creamy Lemon Tahini Dressing : vegan and gluten free
Prep and cook time : under 10 minutes | Serves 3-4
Ingredients : do use organic as much as possible
1 can of chickpeas (BPA free)
1/4 medium onion
1-2 cloves of garlic
1 tablespoon of potato starch
1/2 cup of leftover rice or quinoa (optional)
1 teaspoon sea salt
freshly ground pepper to taste
pinch cayenne pepper (optional)
1 teaspoon of cumin powder
bunch of fresh parsley
grape seed oil for cooking
Directions :
Add all ingredients into a food processor and process until all combined. The texture should be even small crumbs that stick together when pressed. Do not overmix though or the mixture will become too sticky.
Heat a large cast iron pan with grape seed oil. Scoop a heaping tablespoon of mixture onto your hands, shape into a ball and press down a little to make cakes. Cook on the pan for about 2-3 minutes per side.
Alternatively you can bake them but the cooking time alone will be about 25-30 minutes. Simply place on a baking sheet lined with parchment paper (not wax paper) and bake at 350F for 25-30 minutes, flipping over half way through.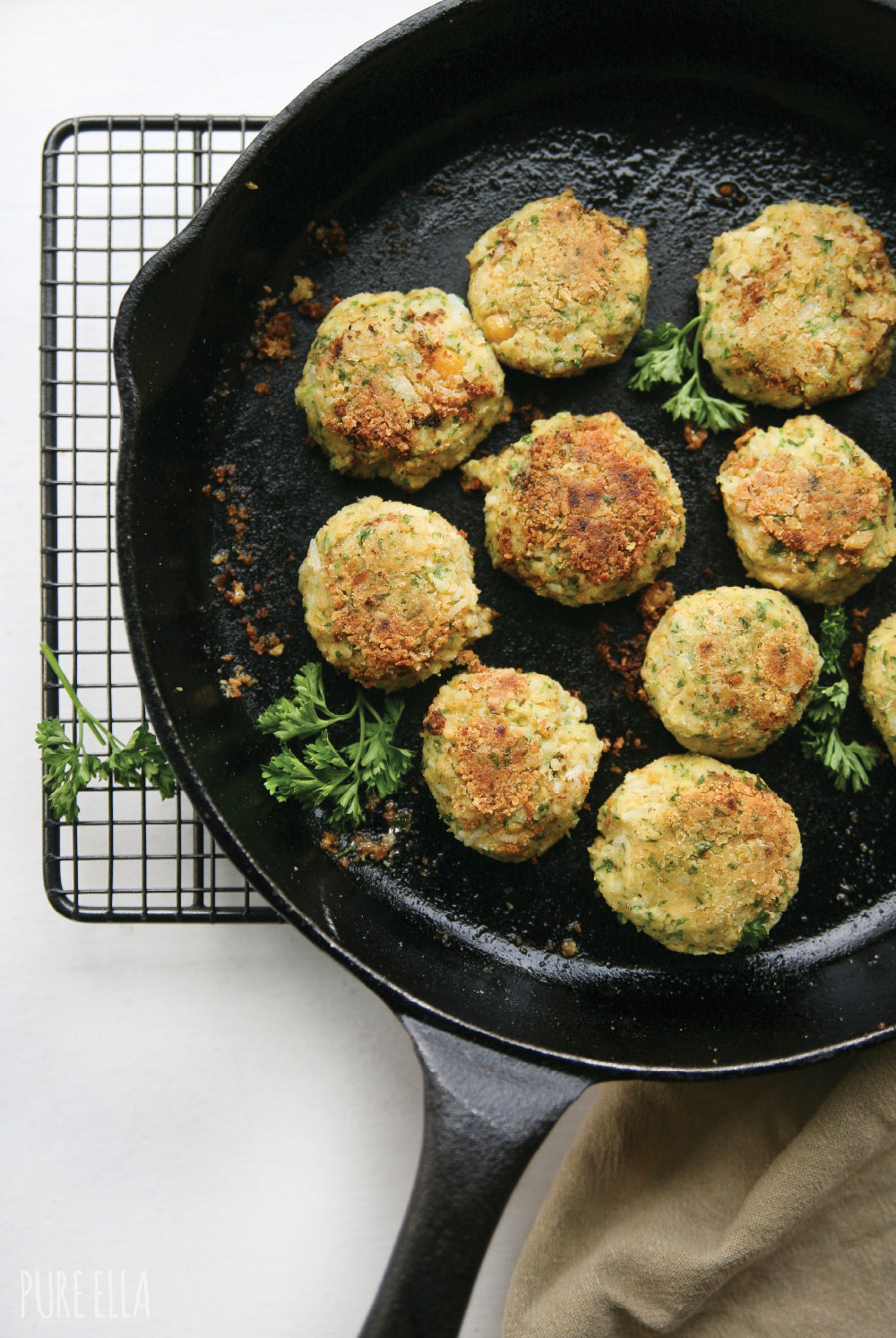 Creamy Lemon Tahini Dressing : dairy free/ egg free/ vegan
Ingredients :
1 tablespoon of vegan mayo
1 tablespoon of tahini
about 1 tablespoon of freshly squeezed lemon
1 tablespoon or more of non-dairy creamer or non-dairy unsweetened milk
1/4 cup EVOO (extra virgin olive oil)
sea salt and pepper to taste
Directions :
Whisk first 4 ingredients together, then slowly pour in the EVOO while vigorously mixing the dressing to emulsify the consistency. Add in seasoning. Store in an air tight container for up to 5 days.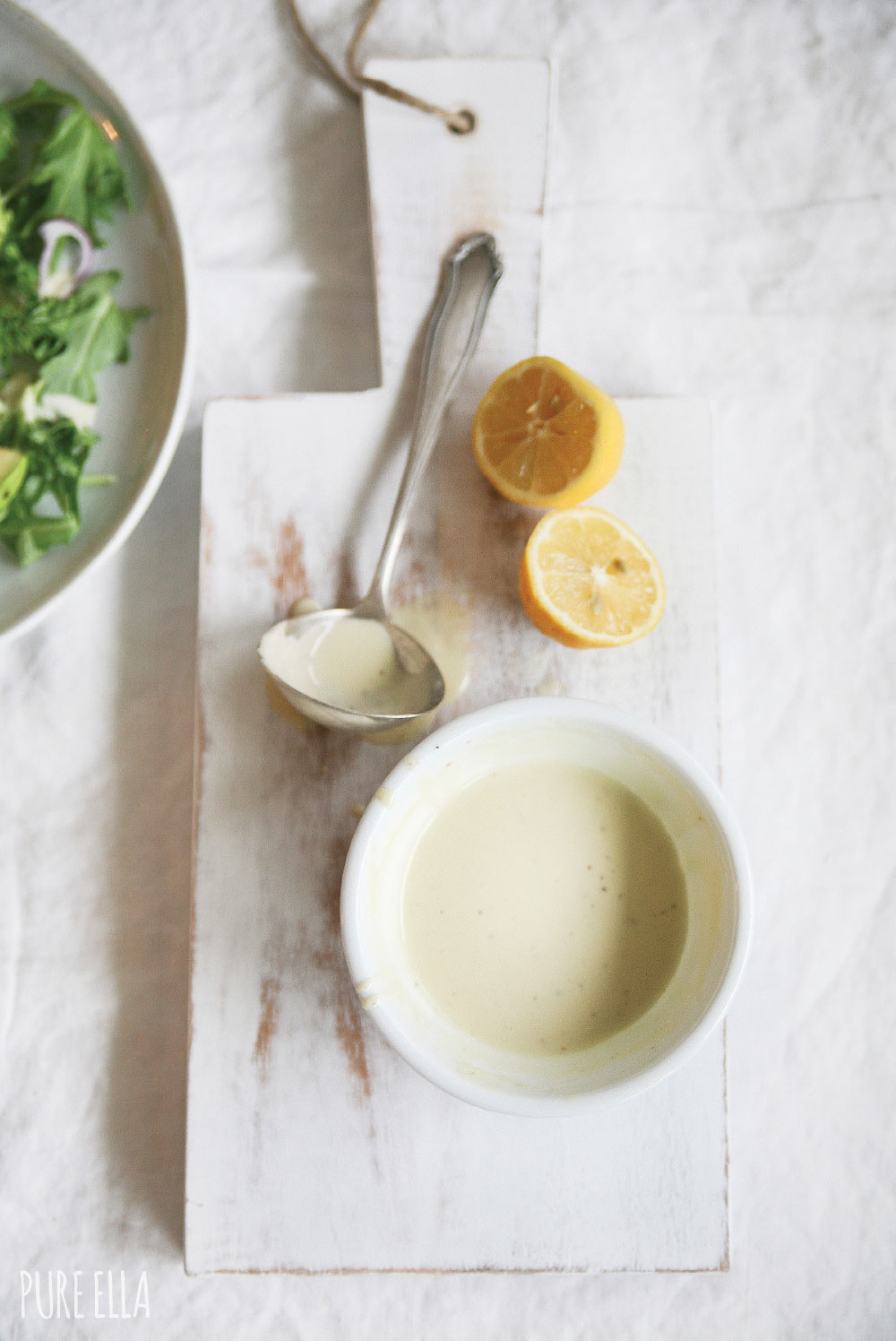 Serve the Falafel Cakes with Creamy Lemon Tahini Dressing on a bed of baby arugula salad with avocado wedges and thinly sliced red onion. Enjoy!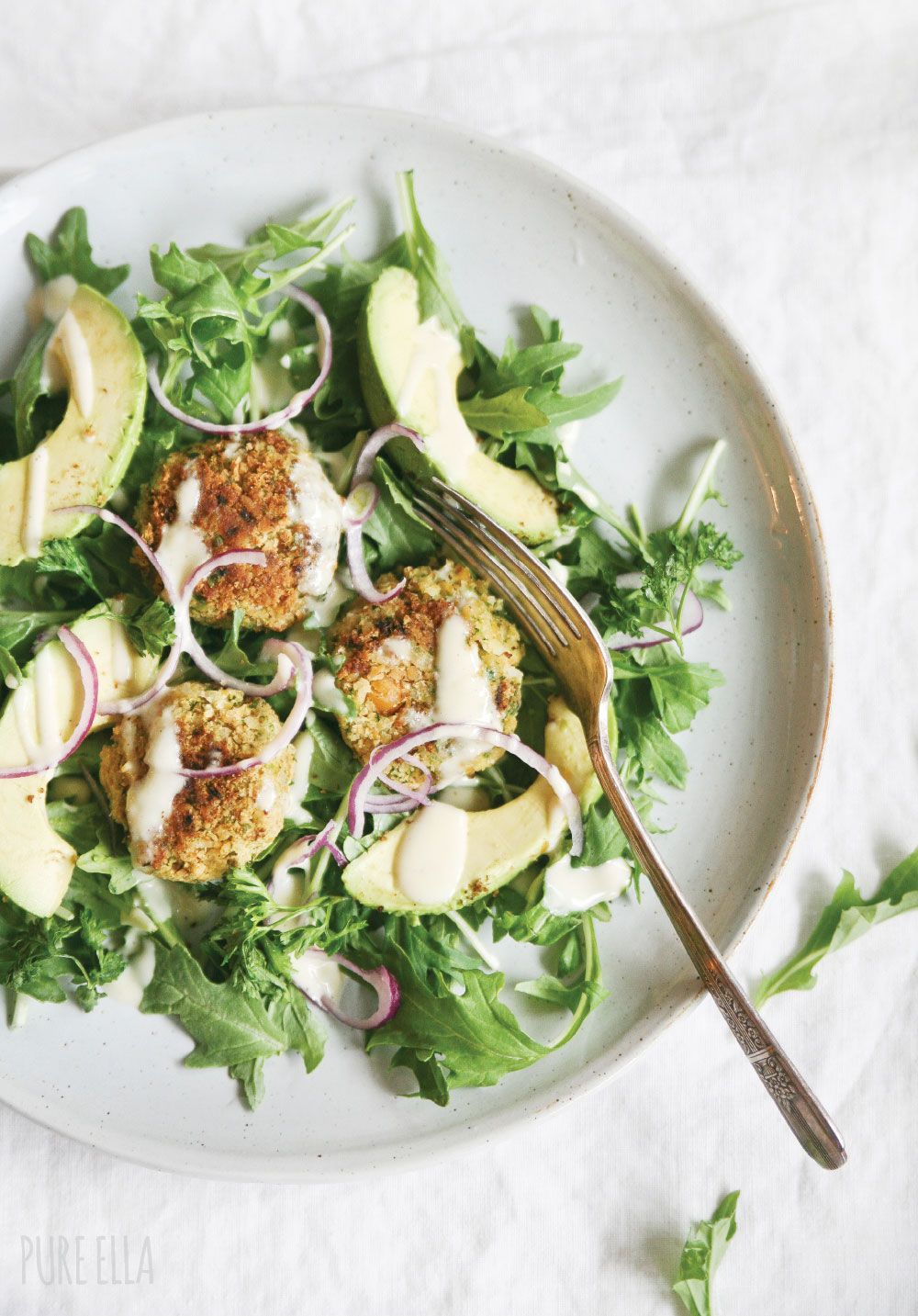 These gluten-free and vegan Falafel Cakes are so seriously good! They're so versatile too… you can serve them with just a salad for lunch or make them part of a bigger meal with a side of brown rice and veggies.
I also liked adding a little leftover rice in there – you can do that too if you have some grains on hand, if not you can completely skip that.
Of course the best thing about them is that they are so quick to make! There's really no excuses to stop by a drive through and feed your family pick up or delivery food.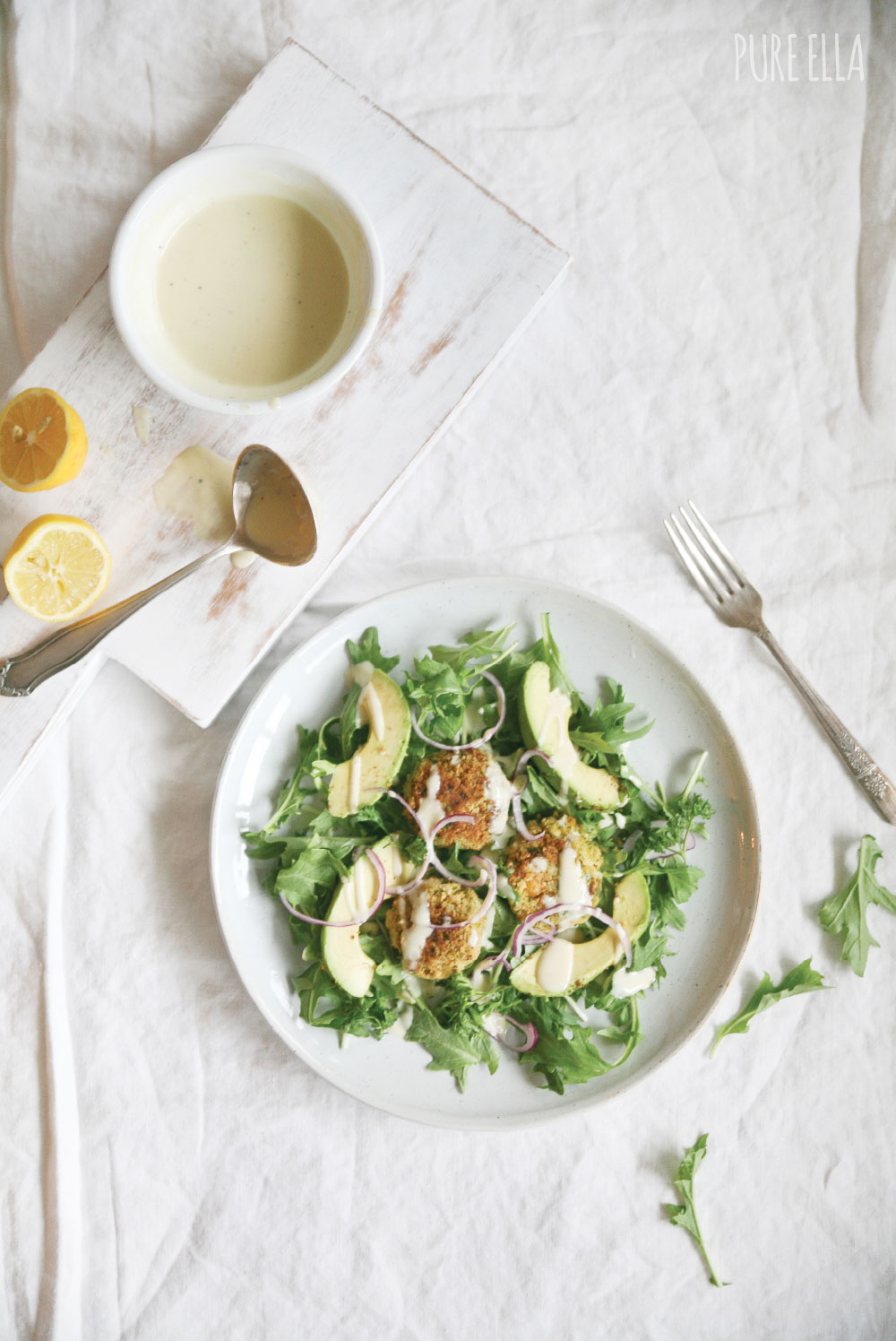 There's just something about the connection we get from the full experience of cooking from scratch that gives us pure pleasure and heightens our taste buds so all our senses are alerted… from the smell of each ingredient as we peel it, chop it and experience it's aroma in the air to the mixing with our bare hands and experiencing the texture and freshness of our food. The sizzling pan activating more of our senses and allowing the scents to fill our kitchen… anyone who walks in the door now is automatically hypnotized with pure delicious food…. enjoy my friends! Everyone has 10 minutes, no?
♥
Pure Ella
If you're new to Pure Ella, please sign up for email updates and join me elsewhere:
Facebook

//

Pinterest

//

Twitte

r //

Instagram

@pure_ella