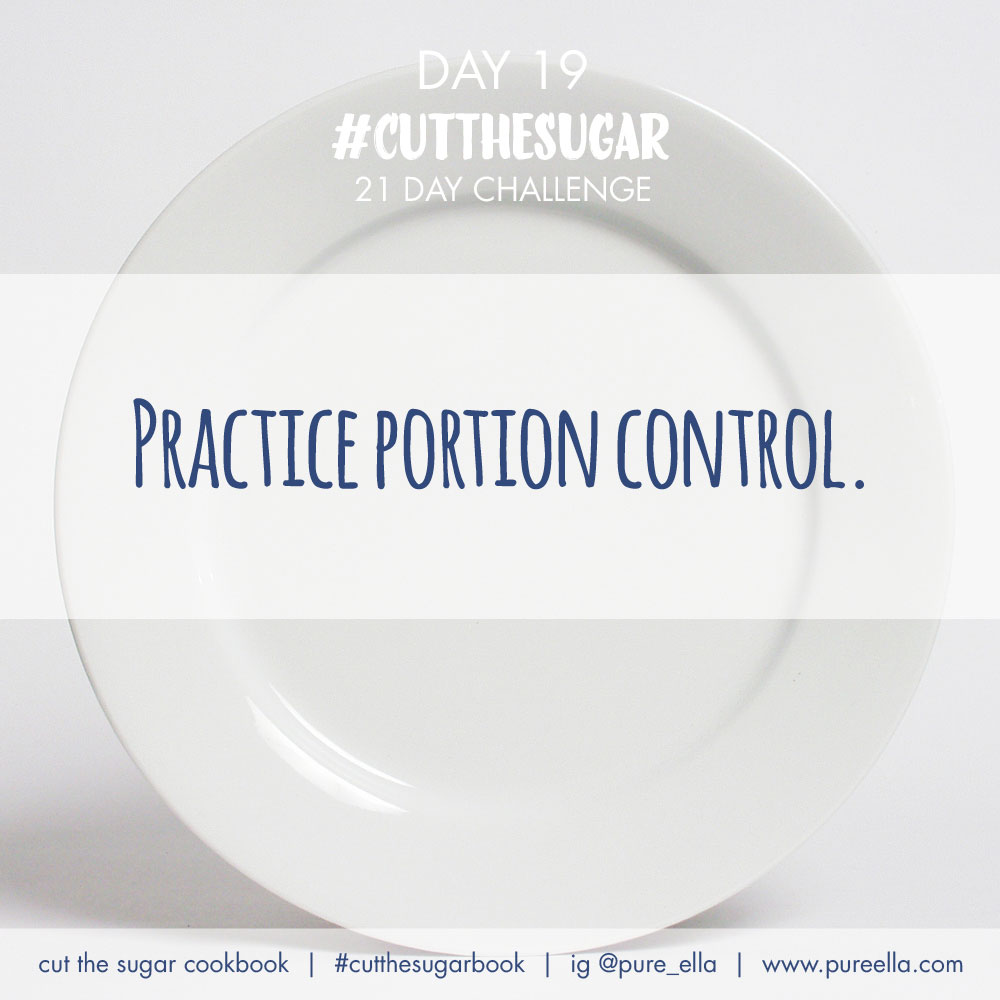 Hello and welcome to Day 19 of our Cut the Sugar Challenge!
I hope you're doing great with less sugar AND are learning so much about sugar & carbohydrates in general! The more you know the better you'll be at making healthier decisions out there in the real world where sugar is in 80% of the foods we buy!
Today, I'm chatting on a very obvious topic but one that is incredibly important because I think we all need a reminder of this!
Practice portion control.
I feel like if we were all in control of this ~ no one would ever have problems with healthy eating and no one would have health problems that stem from food.
I see that most people who are trying to eat healthier do great with food choices but it's the portions they struggle with. And then no wonder they don't feel well after a meal.
The following is taken from Diabetes Prevention and Management:
FRUITS/GRAINS & STARCHES:
Choose an amount the size of your fist for each of Grains & Starches, and Fruit.
VEGETABLES:
Choose as much as you can hold in both hands.
MEAT & ALTERNATIVES:
Choose an amount up to the size of the palm of your hand and the thickness of your little finger.
These are some visuals using your hands to get the portions right.
But I think that we all know what's too much on our plate but we just need to practice it.
Always go for veggies – you'd be surprised how much a big salad or roasted veggies like brussels sprouts fill you up! Then you naturally eat less carbs.
Also just get into the habit of reading the packaging to see how much grams of sugar is added to the product – even healthy organic products too!
I like to look for serving sizes less than 15 grams of sugar per serving – I see this especially in energy bars even organic ones that go well over 25 grams per serving.
Just be mindful of how much you eat – obviously if you're reaching for a 4th brownie even if it is healthier – you know yourself you shouldn't have it!
And if you do have a treat, try having your coffee or tea unsweetened so you don't overdo on the sugar grams.
It all requires just tiny adjustments and remembering to be mindful of what's on your plate!
And remember… you don't need all that sugar…. You're sweet enough already!
It's all about moderation and when it comes to sugar it's quality AND quantity that matters!
So for today's challenge, take a look at your portions of your meals. Is there a fist-size of carbs and two handfuls of vegetables?
And remember if you add protein and fat to your meal you feel fuller so there's less of a chance you'll come back snacking after your meal. (We discussed Protein on Day 4)
So, what's on your plate usually? Share how you portion your carbohydrates. xo