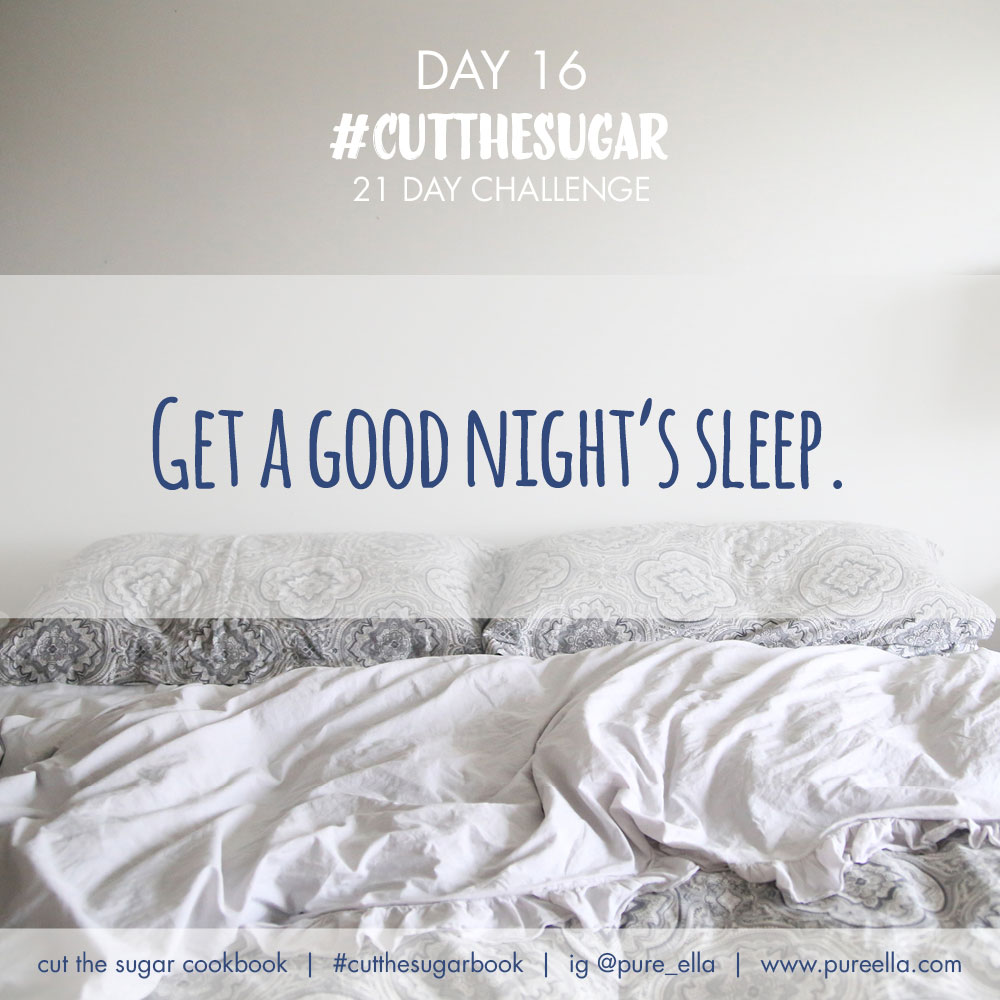 Hey everyone! Welcome to Day 16 of the Cut the Sugar Challenge!
I hope you've all had a good week cutting out sugar and addressing some really important points discussed.
I am so happy so many of you are getting help in dealing with sugar cravings and health problems as a result (like Candida). Let's keep the discussions going so feel free to comment with questions about everything sugar related.
Today we're touching on another very important topic – seems simple but it's incredibly crucial for your healthy body and mind : Sleep!
Our mission for this challenge : Get a good night's sleep.
Seems simple right? But, so many of us neglect good quality sleep.
Now if you're like me and have a baby and are dealing with attachment parenting and nursing – you may not have the best sleep patterns and your life, health and wellbeing is probably suffering as a result. Hang in there and just try to catch up with your sleep – it's the best thing you can do for yourself and your baby and family.
But if you're not having interrupted sleep and can in fact get proper sleep – why don't you?
I'll be honest with you, sleep was never my friend. In my twenties I developed bad sleeping patterns and LOVED staying up late! I felt I was most productive at night when the house was quiet and it was actually time 'well spent' (so I thought) either working or doing random things like cleaning my closet… This was a recipe for disaster. And overtime these poor sleeping patterns backfired! (big time!)
Why is quality sleep important?
Sleep plays a vital role in your health and wellbeing in your life. And quality sleep at the right times can help protect your mental health and physical health and thus quality of your life.
During sleep, your body is working to maintain your physical health and supports healthy brain function. In children and teens, sleep also helps support growth and development. The way you feel while you're awake depends in part on what happens while you're sleeping.
If you're constantly feeling tired and just unwell and feel like you're mentally struggling with staying focused and maybe being forgetful and sluggish – it's quite possible that your poor sleep quality is affecting your life and brain health.
The damage from sleep deficiency can occur quite quickly through a sudden tragic event such as job loss or accident or it can harm you slowly over time. Did you know that sleep deficiency can raise your risk for some chronic health problems? And it can affect how well you perform daily: think, react, work, learn, and socialize.
What does sleep have to do with sugar cravings?
I realize this is a strange mix and you're probably wondering what does sugar have to do with sleep?
But it's quite interesting. Sleep deficiency or poor quality sleep affects your brain health – once your brain is affected and you feel tired, get brain fog, or feel sluggish and can't seem to concentrate and perform tasks at work or home – you probably turn to some well known stimulants to perk yourself up! Am I right? My guess is that you turn to caffeine or sugar. Or both! Like a coffee with sugar possibly? A cup of coffee and some sugar will keep you up for a few hours, then you have lunch with another form of caffeine or sugar and then by 3pm you're crashing again – and probably reach for more sugar, am I right?
It's a modern day epidemic : feeling tired then fuelling up on stimulants. Do you see the connection?
I bet you forgot how to have real energy from the moment you wake up? Notice how kids don't need coffee or sugar in the morning to have high energy!? (Same with pets or other animals) That's because kids usually aren't sleep deprived because parents know how important sleep is and they make sure kids are in bed at a proper time (+ they also want some quiet time in the evening) (two birds, right? ;))
But once you start setting your own rules you quickly neglect proper sleep. I've seen this with myself, I've seen this with my siblings and my nieces and nephews who are in their teens and early twenties.
But there is hope and relief that will help you lay off that sugar – just go to bed 1/2 hour earlier and practice getting into a routine with good sleep at night.
It's a full circle. You improve your sleep, you improve your sugar/ stimulant cravings and get healthier and happier.
So for today's challenge – asses how you feel and look at your sleep patterns. Could you use some extra zzz's? Well, it's an easy fix and you'll feel SO great and naturally energized the next day!
Wishing you all a great well-rested weekend!
Share your experiences with sleep issues? Are you a night owl too? How do you feel when you get proper sleep vs. if you don't sleep well? Share in the comments so that we can all learn from each other's personal experiences. And if you have any sugar related questions, remember to ask away as I will be sharing Q&As at the end of the the challenge. xo