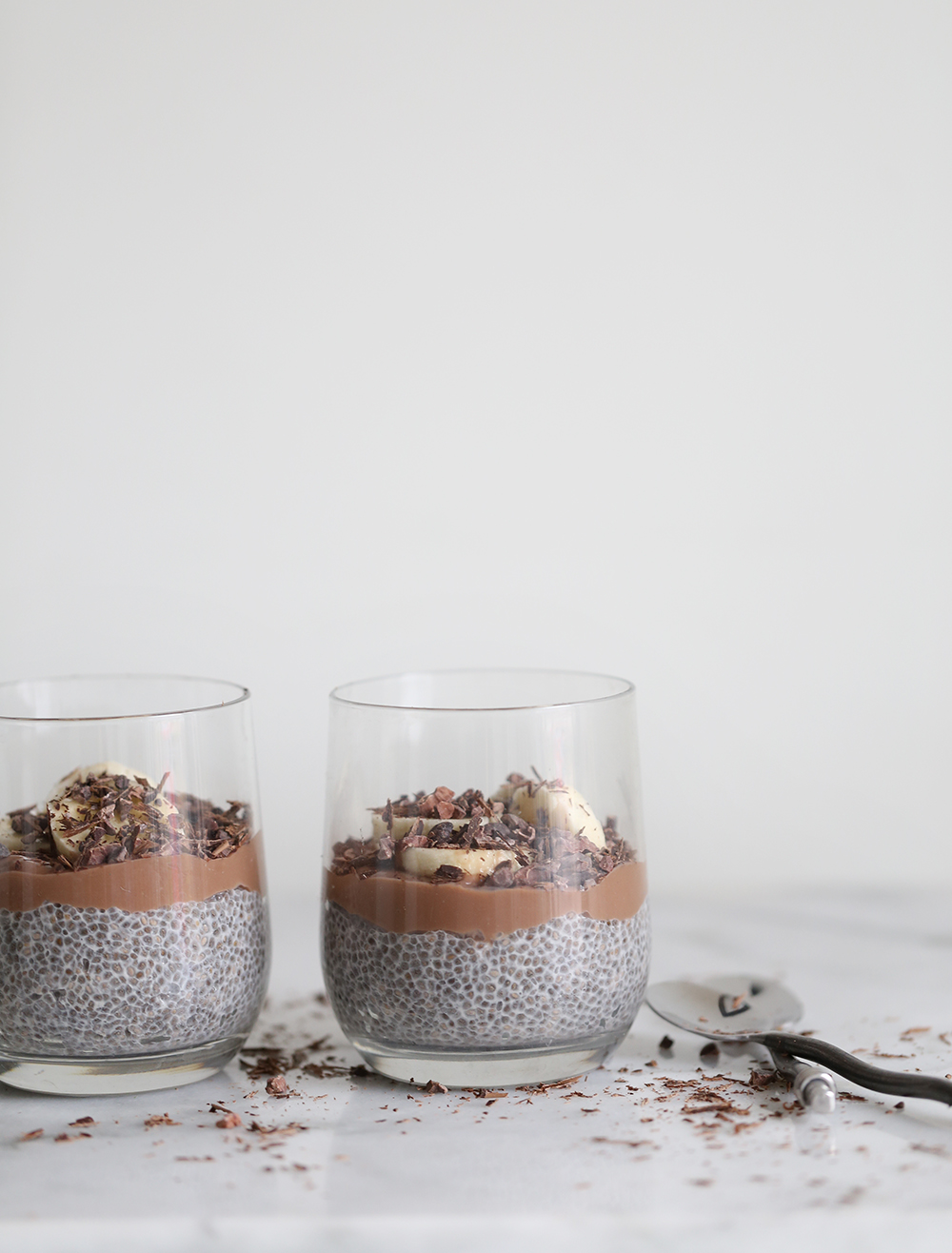 Hello my dear friends, today I have an easy and delicious treat for you… a Chocolate Vanilla Chia Pudding ~ so good and good-for-you! A super healthy dessert or snack that tastes decadent and rich yet is made up of incredibly great ingredients.
This chia pudding recipe is also naturally gluten-free, vegan, dairy-free and paleo. Super allergy-friendly and also protein packed. Chia seeds are a complete protein so this makes for a great 'meal replacement'.
Mind you, I never recommend to actually replace a meal, but sometimes a nutrient packed snack on a busy day when you can't grab lunch is a perfect way to substitute a meal and still get proper nutrition and feel satiated and have your blood sugar balanced.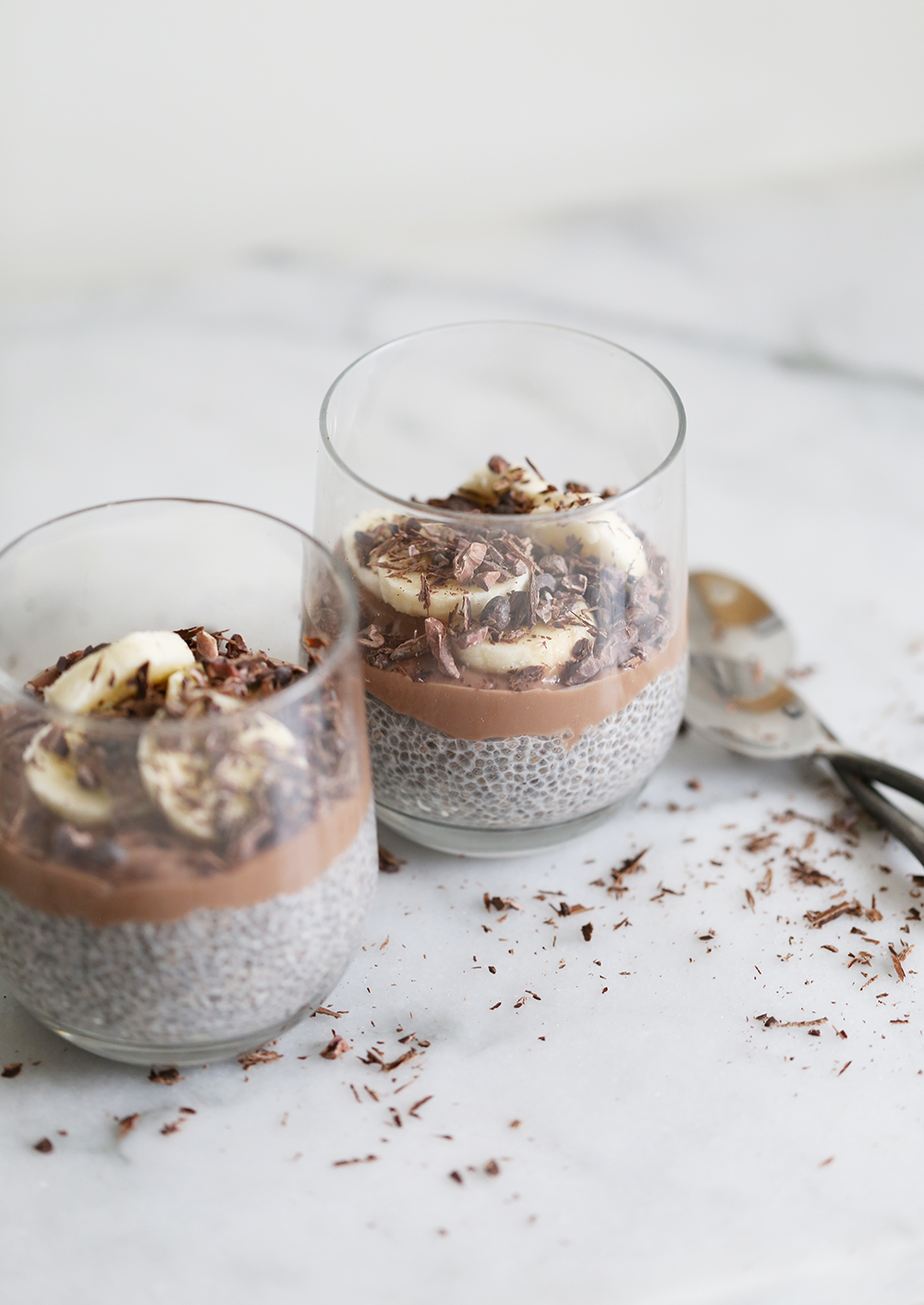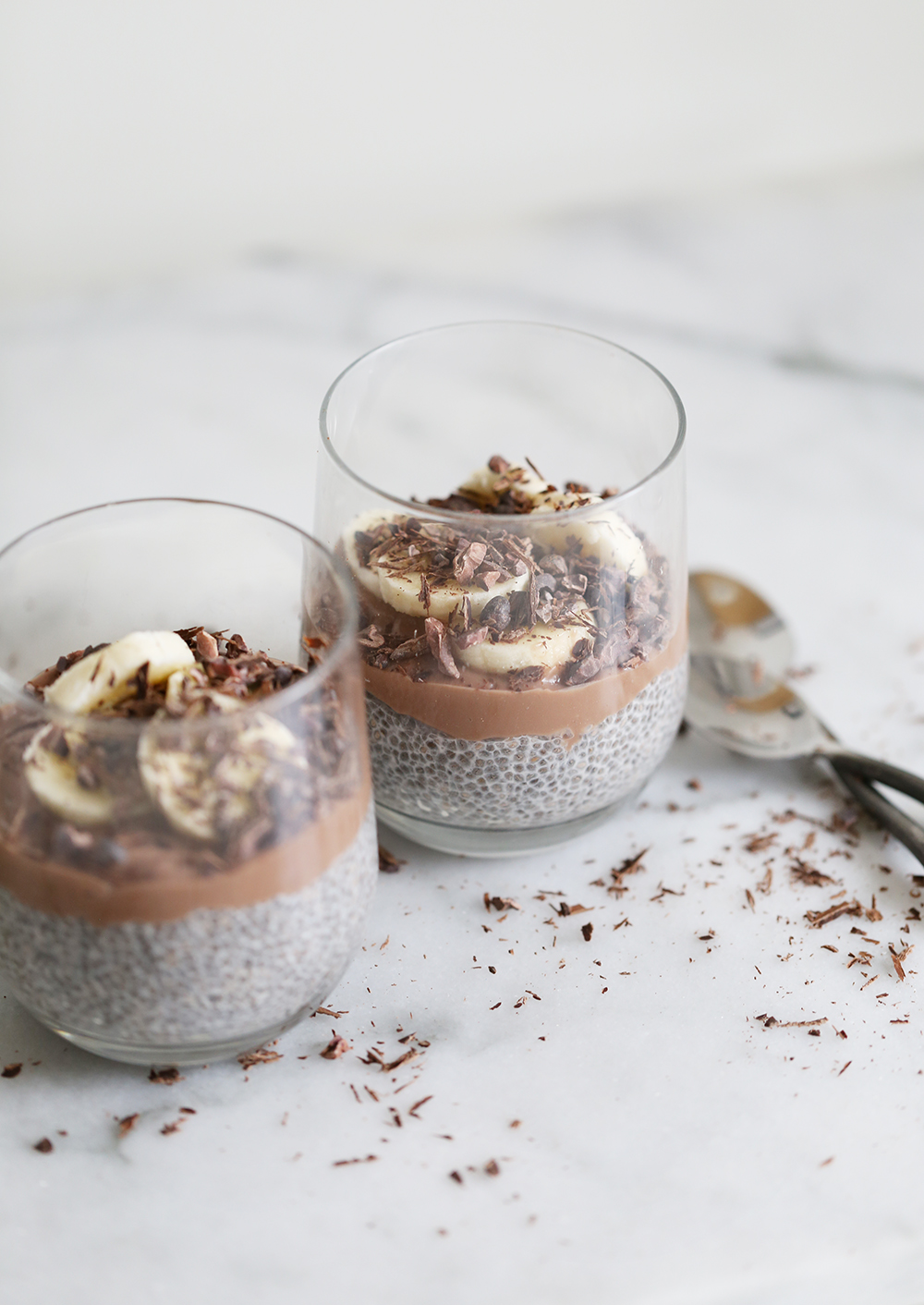 Chocolate Vanilla Chia Pudding
2017-03-20 09:50:16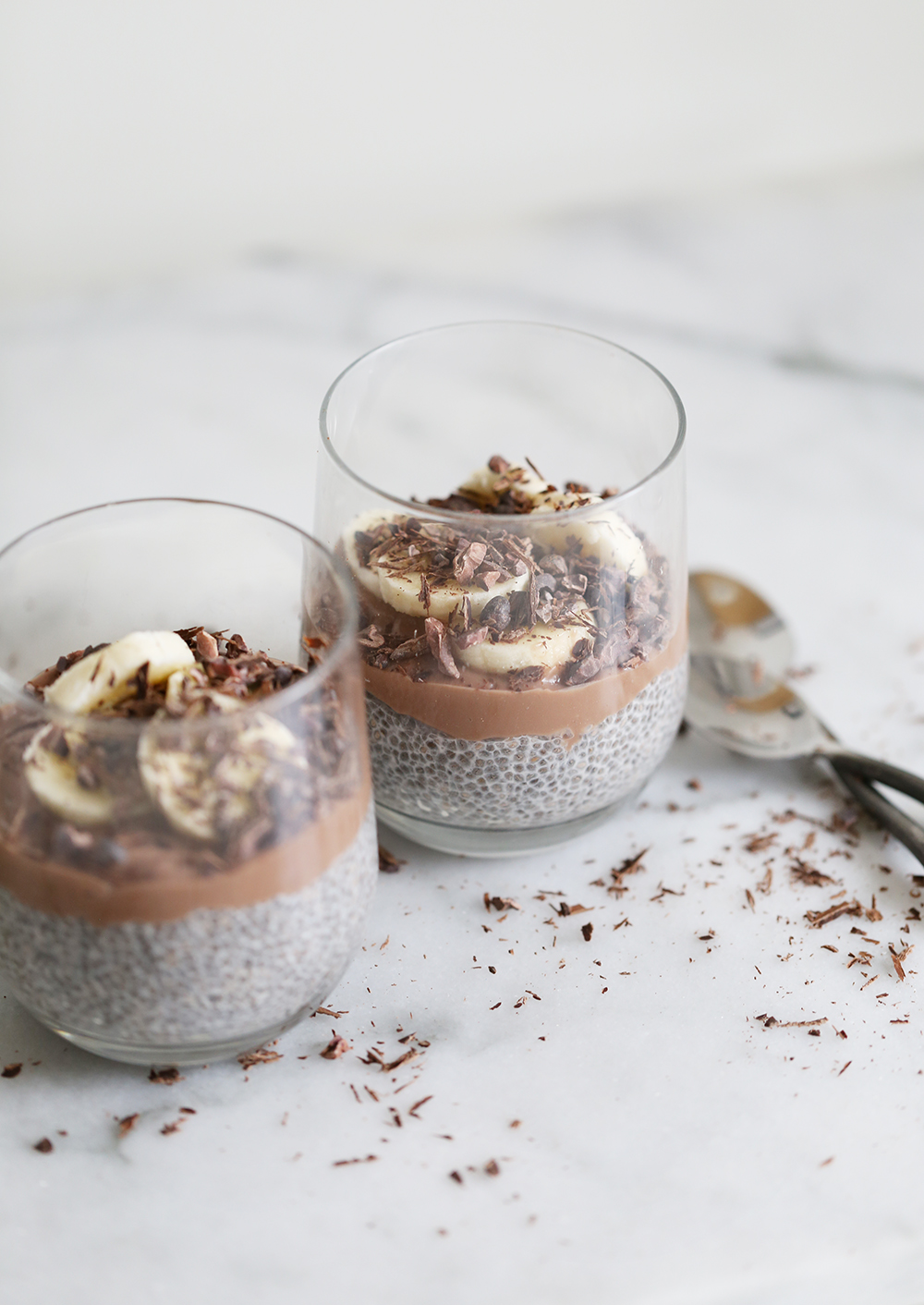 Serves 2
Vanilla Chia Pudding with chocolate yogourt, banana and cacao nibs. A delicious and healthy dessert or snack.
Ingredients
1/2 cup chia seeds
2 cups almond or coconut milk
1 teaspoon vanilla extract (optional)
2-3 tablespoons maple syrup or honey
Chocolate yogourt or pudding for topping (optional)
1 ripe banana
raw cacao nibs for topping
2 squares of 70%-80% dark chocolate (optional)
Instructions
In a medium bowl or container, mix the chia seeds with milk and vanilla extract and place in the fridge for about 10 hours, or overnight. Coming back to whisk/ mix well to break up the clumps that may develop.
Stir in sweetener to taste.
Serve topped with chocolate yogourt, banana and cacao nibs and the dark chocolate shavings for a little more decadence but that's not necessary.
Notes
A chia pudding made with the vanilla extract as you first mix it up is great because it adds a beautiful depth of vanilla flavour through the chia seeds as they soak up the milk.
This makes a huge difference if you were to just add the vanilla extract at the end once the pudding is all done.
The vanilla extract isn't necessary though to make up the recipe, but a little depth of flavour and aroma is a beautiful way to boost this simple pudding to a new level. Enjoy!
Pure Ella https://pureella.com/
I used a
Chocolate Coconut Yogourt
from Yoso.
Or your could make this super easy Chocolate Pudding instead.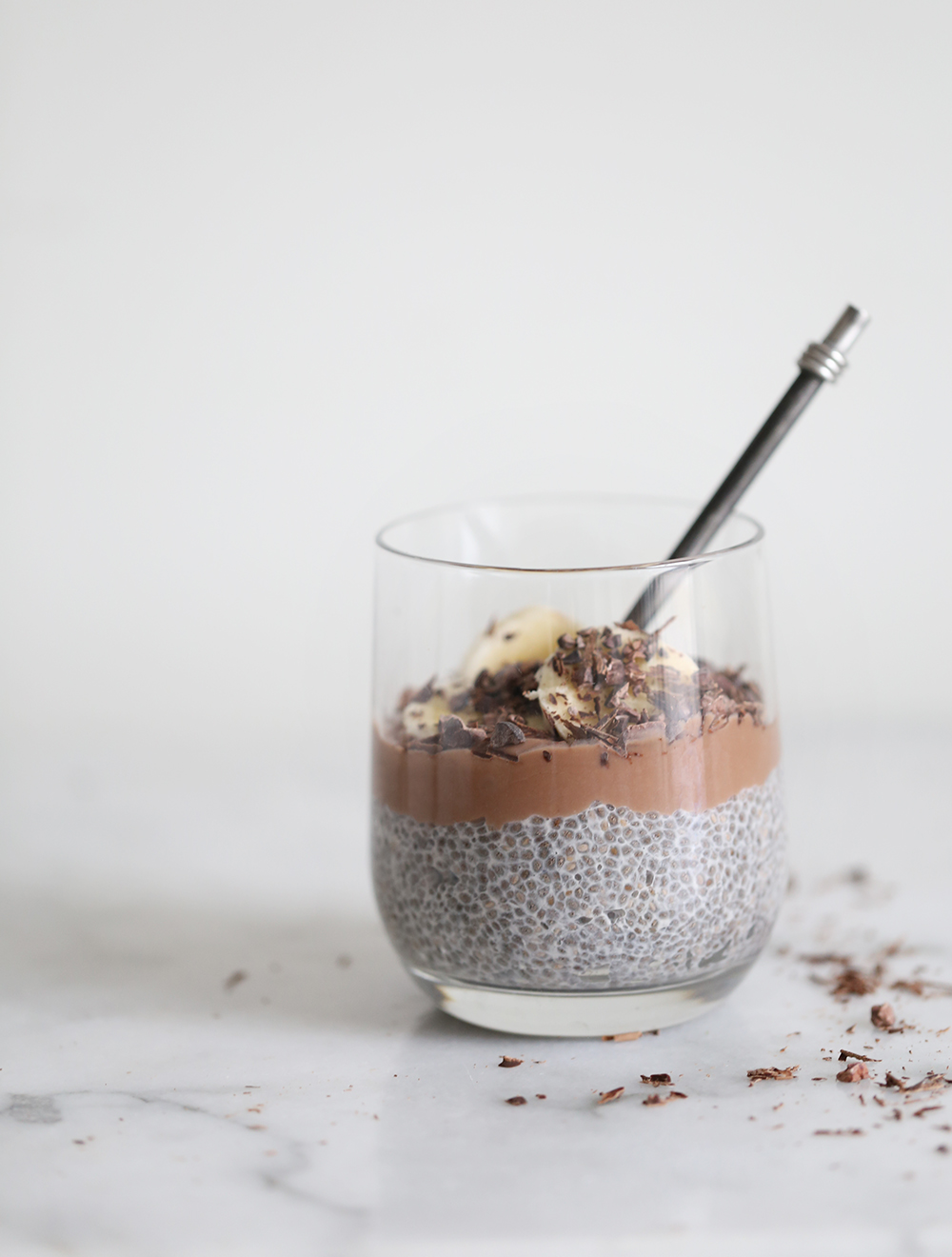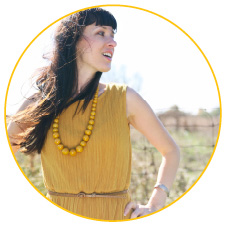 Ella Leché
is a cookbook author ('
Cut the Sugar
'), recipe developer, and photographer/stylist behind Pure Ella; where she shares delicious and healthy recipes. Eating PURE is clean ingredients, whole foods, plant-based nourishment and delicious desserts – with quality ingredients and sweeteners so they're treats with benefits so you won't have to feel deprived or restricted to eat healthier.
Thank YOU for being here!
Follow on social media for daily health & happiness inspiration:

ps. don't forget to share your Pure Ella (PE) recipe creations by tagging them #pureella and
@pure_ella
on Instagram – we repost our favourite photos!