Hello earthlings! In celebration of Earth Day coming up on April 22nd, I have a cute treat for you all! These are Sweet Seedlings from the Earth we made as an Earth Day treat! Who said you can't eat dirt!? Crazy delicious dirt that is! The treats were so fun to make with my own little earth-loving seedling herself. So if you do have little growing sprouts around, do include them in this earth-day inspired dessert. Here's what to do: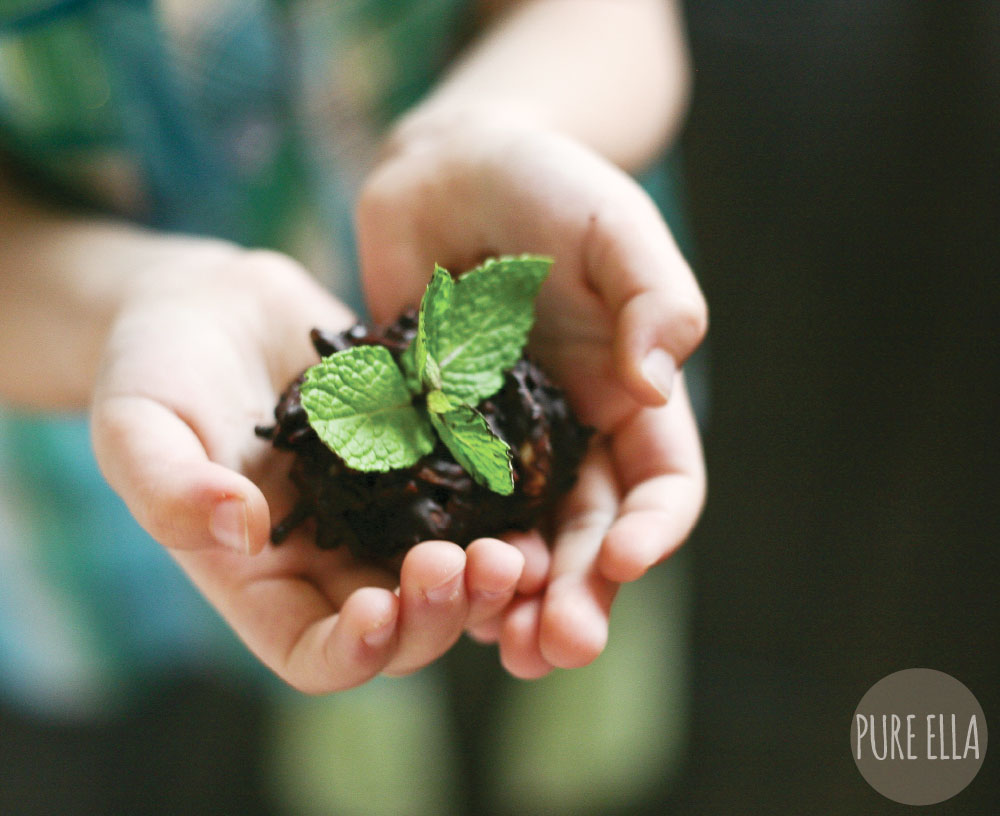 SWEET SEEDLINGS FROM THE EARTH RECIPE : vegan, gluten-free, with nut-free option
Ingredients :
dark chocolate (we like 72% as it's naturally dairy free and has less sugar)
a choice of textured snacks and baking ingredients : we used:
hemp hearts (from hemphearts.com)
coconut flakes (unsweetened)
slivered almonds
pretzel sticks (can be gluten-free)
fresh mint leaves for your seedlings
.
Great alternatives would be : sunflower seeds, pumpkin seeds, sesame seeds, goji berries, all kinds of chopped nuts : walnuts, pine, hazelnut ~ you could go nuts here ;) (see a note below about school safe options)
One thing to remember is that you need a fine grind ingredient such as the hemp hearts and some larger pieced for texture.
Directions :
Rinse and gently dry off your mint leaves with paper towel and set aside. You can store your mint leaves in a cup with water in your refrigerator for longer freshness. (being careful that the leaves don't touch the water, so you may need to remove some of the leaves)
Melt the chocolate (I place mine in a bowl over a pot with boiling water- it does the trick pretty well – we then use the same bowl to mix our ingredients (so we don't waste any chocolate! ;) For mixing, invite some children if you have any around. I had one and she did a pretty good job including the taste testing (ps. I did replace the spoon once she licked it off (although it was clean to my eyes) ;)
Scoop a spoonful of your chocolatey dirt onto parchment paper and shape into circles. Check below as to when the best time is to add your mint leaves as they will wilt if left for too long.
Adding Seedlings (Mint)
You will use the tops of your mint plants for the seedlings. Cut about 1.5-2″ down from the top (look for a natural leaf burst and cut so the shape looks even and resembles a seedling).
Serving in 30-60 minutes : Insert the stem of the mint plant (making sure it's dry) into the centre of the chocolate earth, while still soft. Place into the refrigerator for about 20 minutes to set or longer – up to an hour. Serve immediately.
Serving next day : Use a toothpick to poke a hole through the chocolate earth and place in the refrigerator without the mint plants in them. You may want to re-poke them a few hours later so the still-soft chocolate won't fill in the hole. Next day, just before serving, insert the mint leaf tops (stems dried off from the water).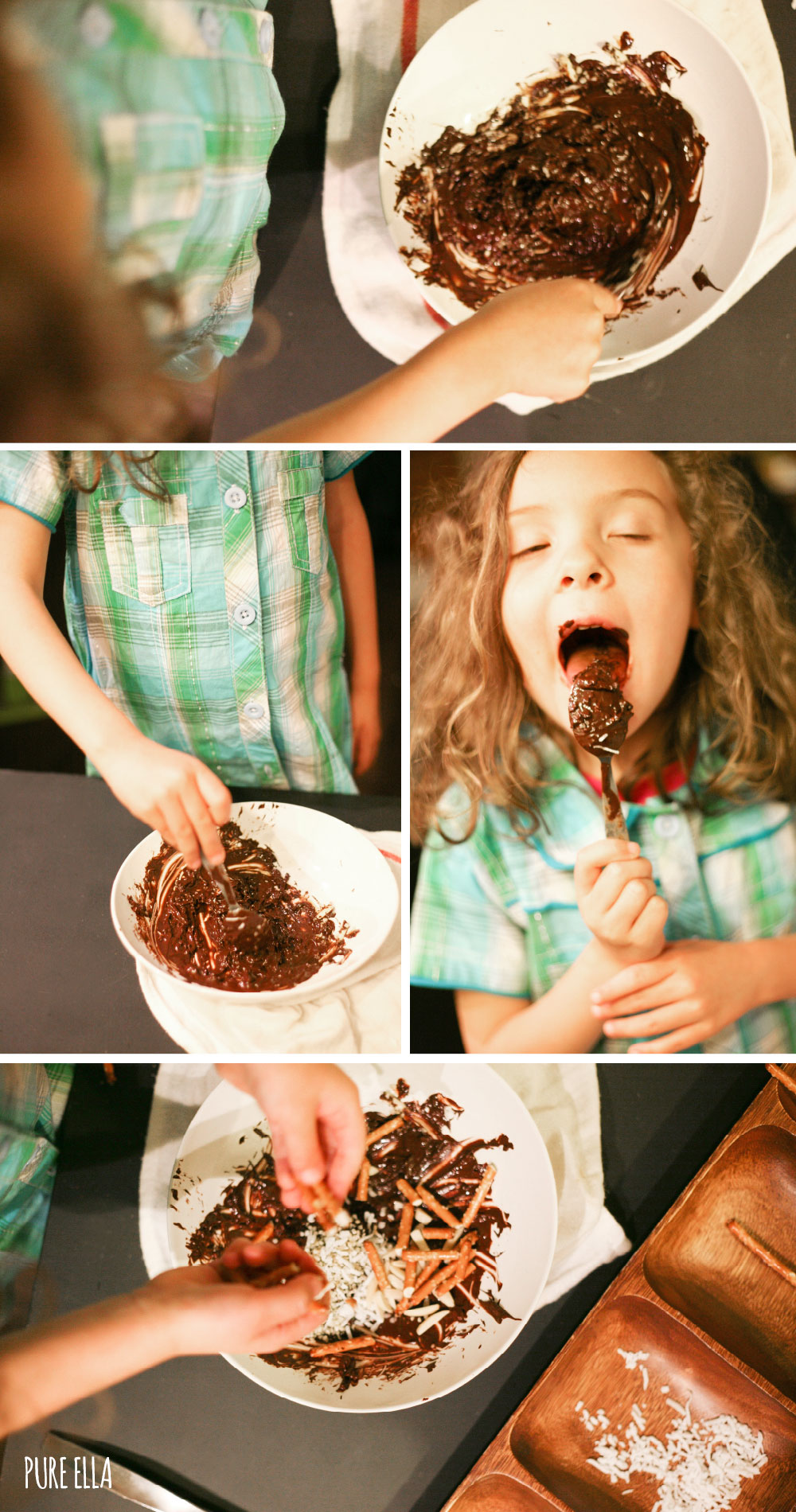 School Safe Alternatives
Not all schools allow almonds, even though almonds are technically not considered nuts. An almond is the seed (pit) of a drupe, which is a fruit much like a peach. Nuts are hard-shelled fruit that have an indehiscent seed, meaning it doesn't split open or separate at maturity to release seeds. To be safe, check with your school's policy about almonds if you want to bring them to school. If you can't use almonds, other options such as sunflower or pumpkin seeds, goji berries, sesame seeds etc. would also be great.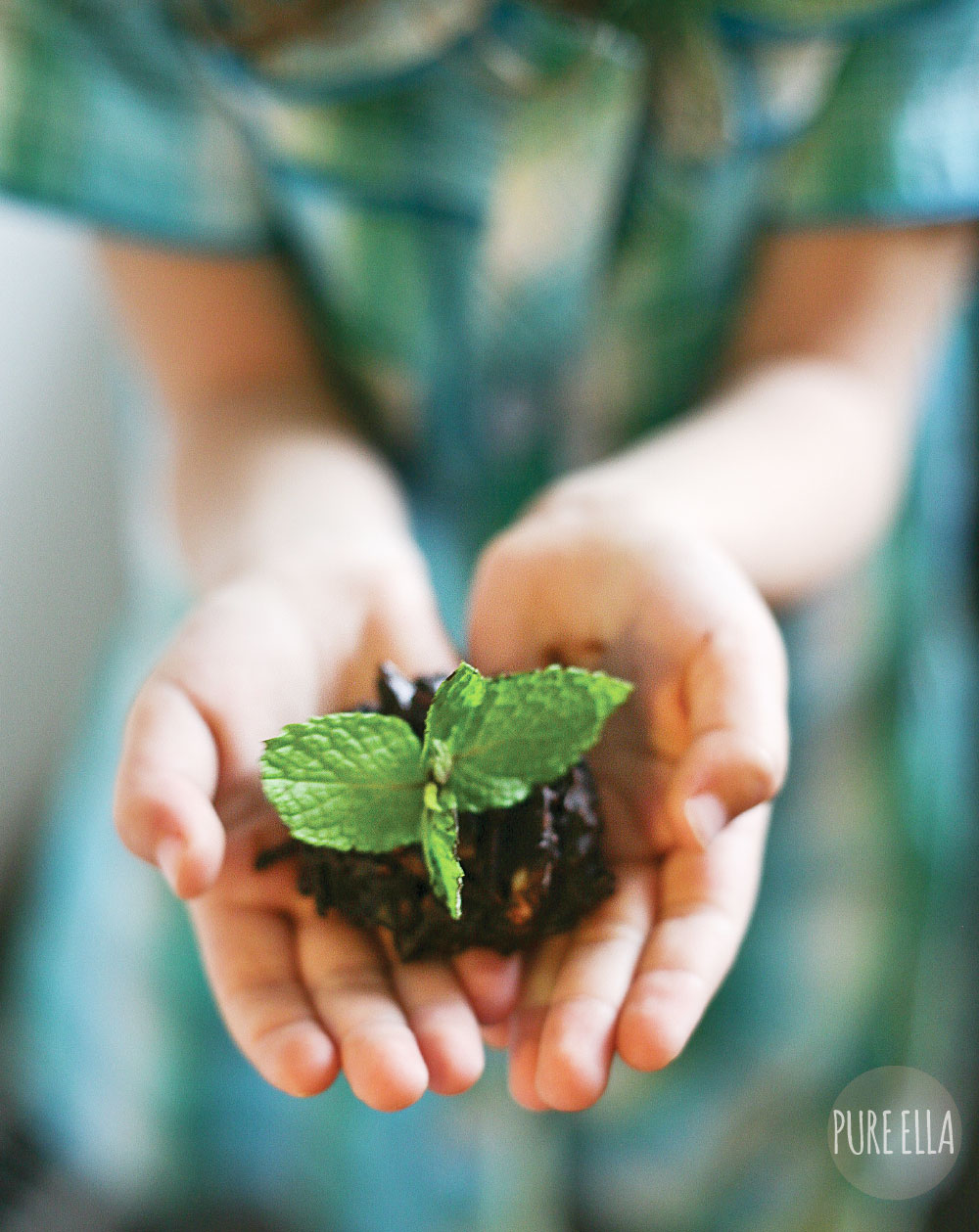 This doesn't have to be a 'cute' snack for kids. Make a beautiful presentation for grown ups and they will sprout with excitement!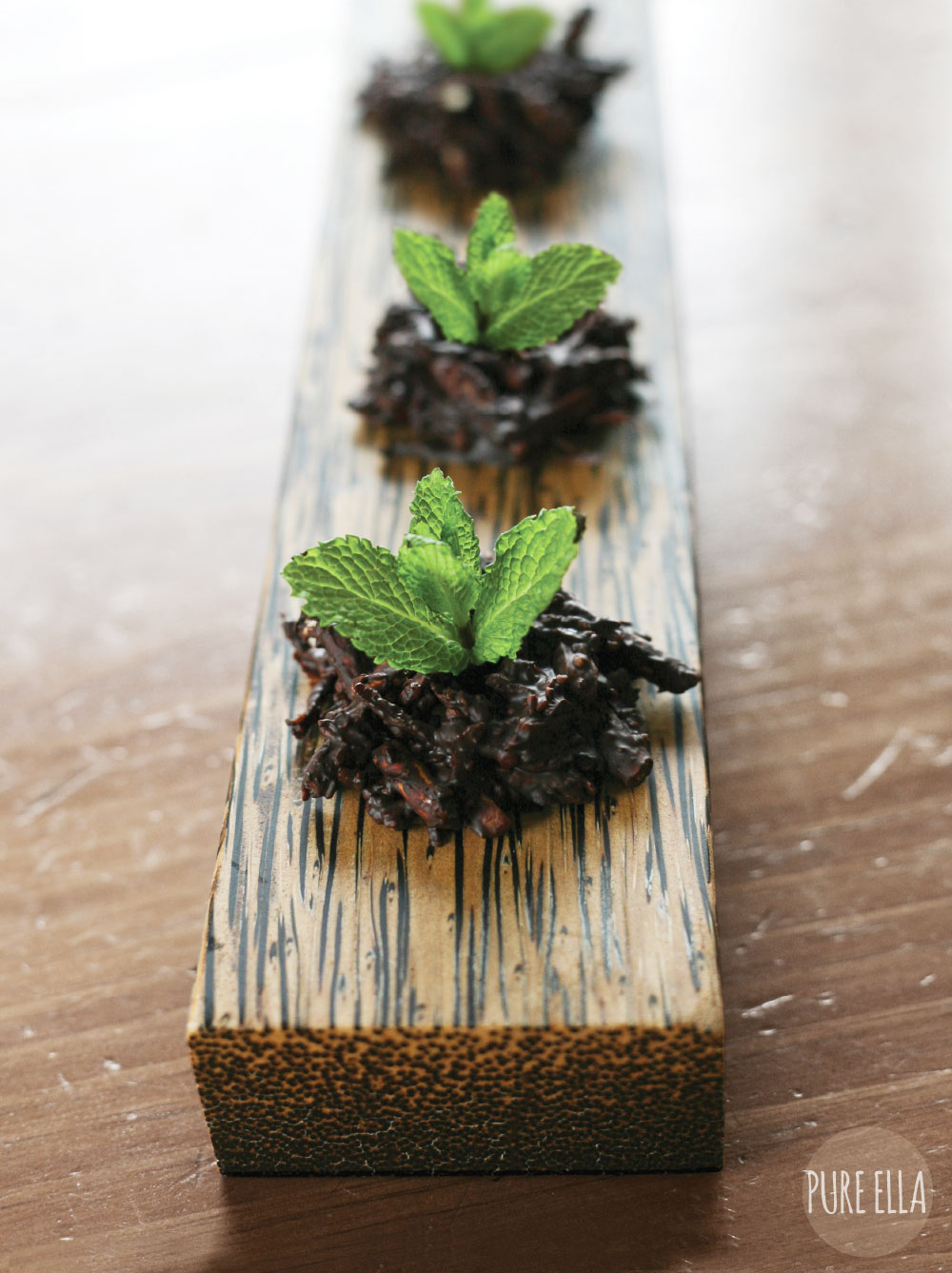 Hope you like this Earth-Day treat! Never thought you could be drooling over some dirt, did you now?
Have a beautiful Earth Week my friends!
"Be good to the earth and she will be good to you."