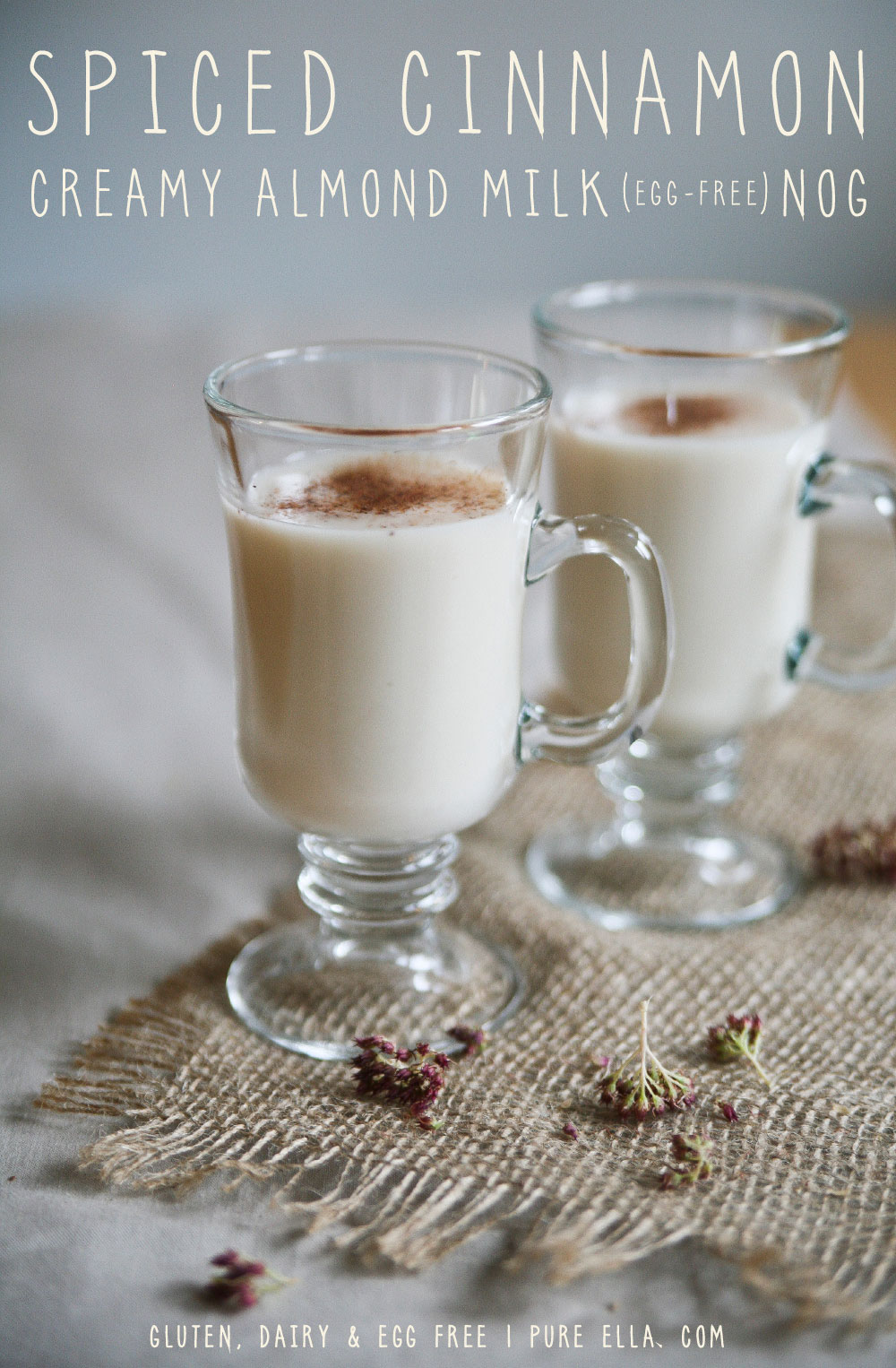 I have this lovely egg-free Egg Nog recipe that's made with spiced cinnamon splash AND a splash of amaretto liqueur that you will LOVE!
This crisp fall air brings in a yearning for extra warming things…. sweaters, scarves, hats and hugs…
The chill in the air, crispness of yellow, orange and red leaves underfoot makes it all so magical. I like to pause and watch the leaves dance their way down to the ground… I like to breathe in the soothing smells of autumn – the cold is here to stay and that's ok. I'm ready ;)
No matter how cold it gets, there's one favourite part of this season – the coming home…
Coming home to a warm mug of spiced nog is perfection. Making it from scratch with simple ingredients that are naturally gluten-free, dairy-free and egg-free is even better. Making it in a pinch while your hands are still warming up – is good too…. but the best part is holding a mug of fragrant spiced cinnamon creamy goodness that fills you up with warmth and joy. Say yes to the season of comfort and joy…. ;)
Spiced Cinnamon Vegan Egg Nog
gluten-free, dairy-free, egg-free nog recipe
Ingredients :
2 cups of almond milk, divided
2 teaspoons of arrowroot or tapioca starch
3-4 tablespoons of pure maple syrup
1/2 teaspoon cinnamon
1/4 teaspoon of ground nutmeg
1/4 teaspoon of ground cloves
Optional : 1-2 shots of Amaretto liqueur
Directions :
In a small pot, bring 1 1/2 cups of almond milk to a simmer on medium heat.
In the meantime, mix all the ingredients with the remaining 1/2 cup of COLD almond milk (or other non-dairy milk).
Slowly, pour the cold mixture into the simmering pot with milk, stirring/ whisking continuously.
Keep it over the heat for a few minutes, while stirring until the milk thickens up. Don't let it boil but keep at a simmer. Turn off the heat and set aside.
Prepare a large mug (or two smaller ones) and fill with the Spiced Cinnamon Nog, adjust spices and sweetness if needed and top with extra sprinkling of cinnamon. For those special occasions or more of a festive spirit, add in the Amaretto Liqueur ~ oh my!!!! Enjoy!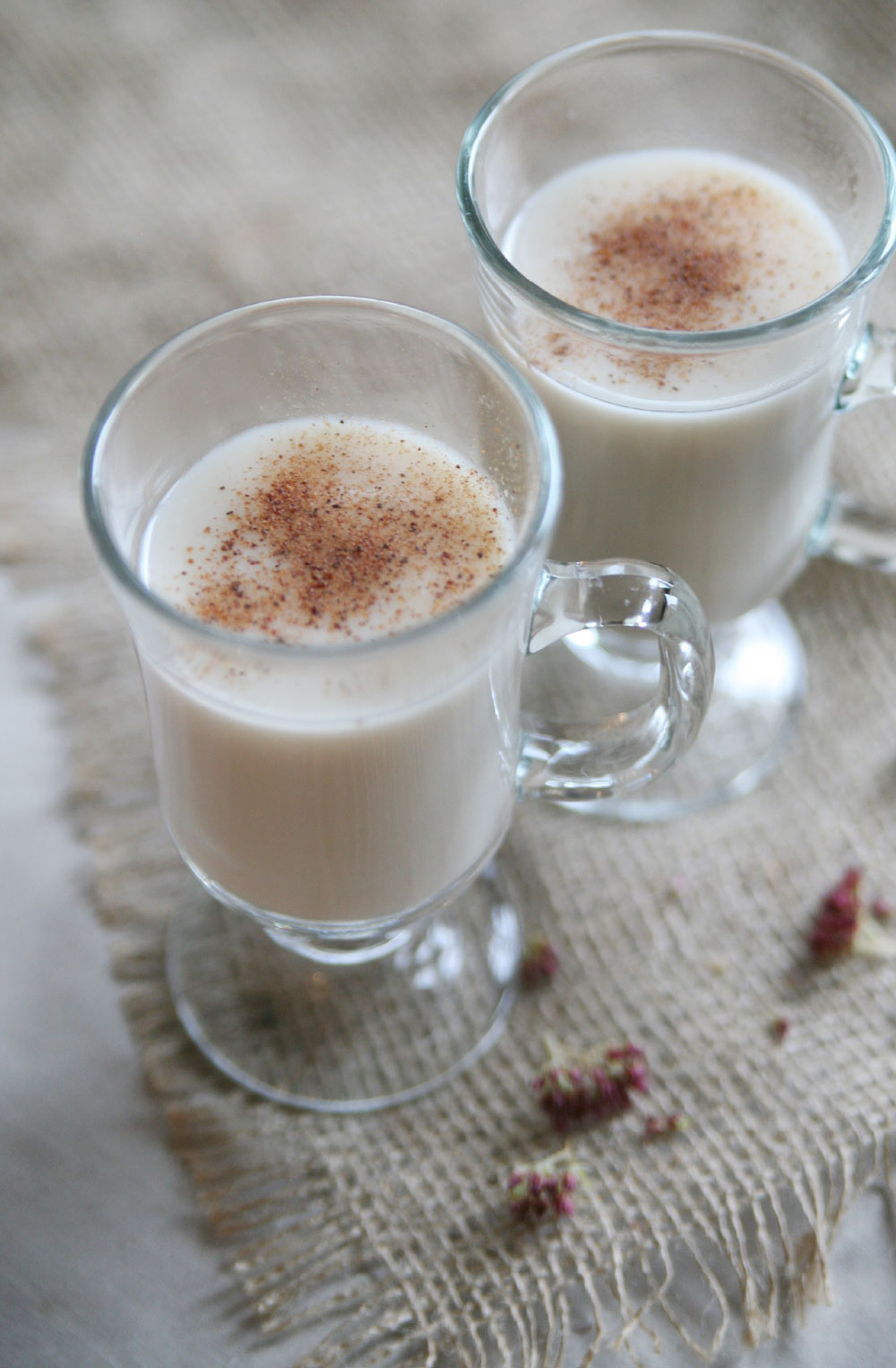 This is a concoction I enjoy throughout the year really… it's not only my cold day ritual, but also a bed-time or calming ritual.
Spices such as cinnamon, nutmeg and cloves have incredible health boosting properties, among them : antibacterial, anti-fungal, great for improving heart health and blood health. As well as cholesterol lowering. These spices are super-spices really! You really must include them in your diet on a regular basis – this season is really the best time to do it in baked goods, morning porridge or this delicious dairy and egg-free nog ;)