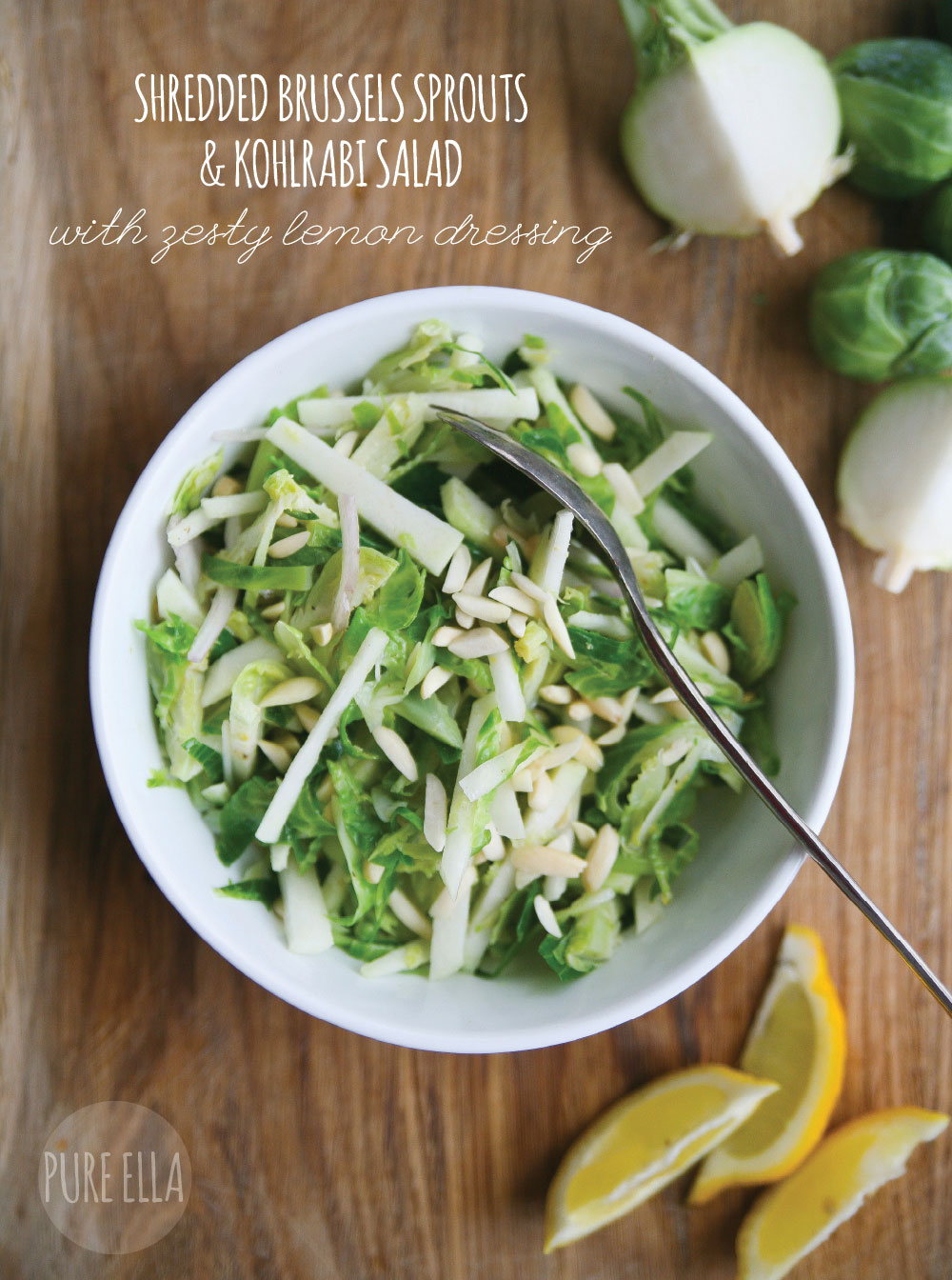 Today marks the first day of Spring! Except there's no Spring in sight… it's not even around the corner – I've looked!
W're at 0 degrees right now, at night we get down to -5, and we're still covered under a blanket of snow!
So Spring is not out there at all… but that doesn't mean we can't have a little taste of Spring indoors on our table. It's the best way to get excited about a new season – with food!
Fresh vibrant veggies make me happy – and maybe there's nothing blooming and growing outdoors, but there's yummy vibrant food blooming in my kitchen!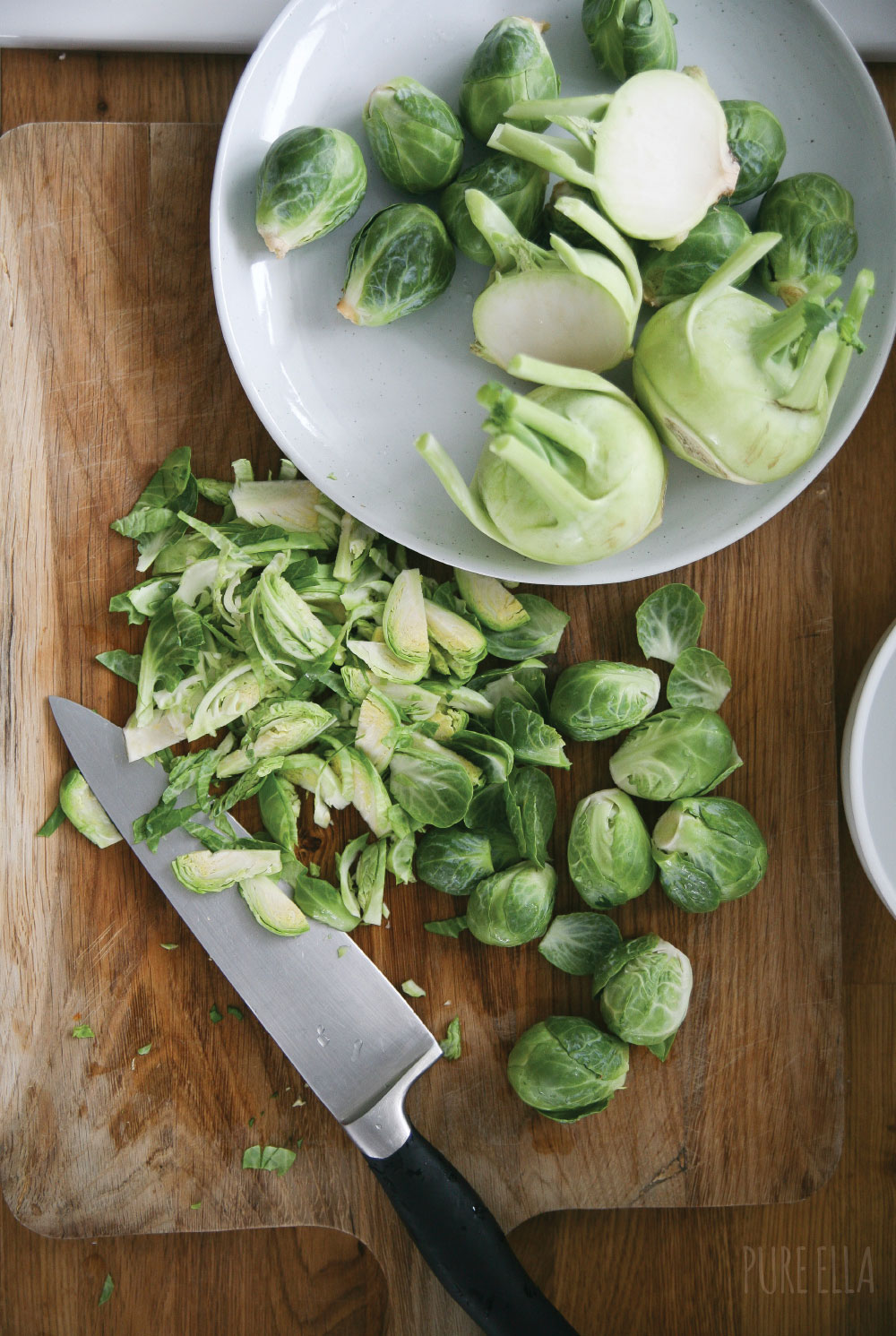 I can't wait to pick up fresh local produce at our farmer's market – but for now, this will do! I am bringing Spring into my home with seasonal brussels sprouts, kohlrabi and a hint of zesty lemon! These fresh scents and flavours are very happy together.
This Shredded Brussels Sprouts & Kohlrabi Salad with Zesty Lemon Dressing is a great vibrant, happy and healthy side dish served with a veggie burger or a sandwich for lunch. Enjoy!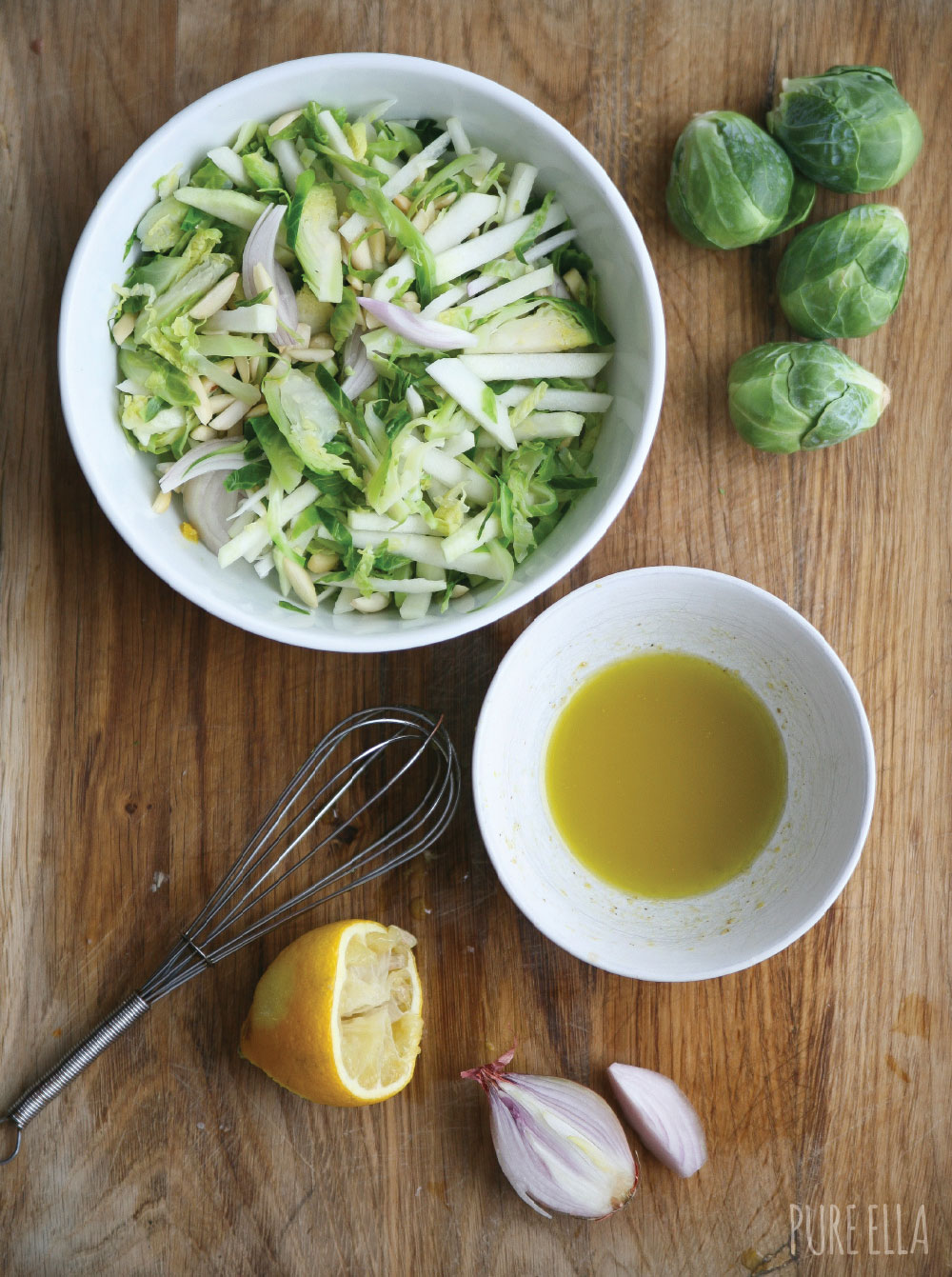 Shredded Brussels Sprouts & Kohlrabi Salad with Zesty Lemon Dressing | gluten free and vegan
Ingredients :
2 cups brussels sprouts (about 25)
3 kohlrabi, peeled and julienned
1 medium shallot or 1/5 cup red onion
1/4 cup slivered almonds
Dressing :
1/4 cup EVOO (extra virgin olive oil)
fresh juice of 1/2 lemon
1 teaspoon of lemon zest
1 teaspoon seedy mustard
pinch of cayenne pepper
pinch of sea salt
freshly cracked black pepper
Directions :
Wash all the vegetables well, especially the brussels sprouts. Cut off the bottoms of the brussels sprouts and run through an electric food slicer. Or you can slice thinly with a knife, but cutting in half first so you have a flat surface on the brussels sprouts, then slice them very thinly using a sharp knife.
Heat a pan with a little water to just cover the bottom, and heat the brussels sprouts just a little to soften them for about 2-3 minutes on low medium heat. Transfer into a salad bowl.
To prep the kohlrabi, simply wash and peel off the tough outer skin and cut the inside white part into matchsticks. And cut the onion into thin long slices also.
To make the dressing; in a small bowl, add in all the ingredients except the EVOO and whisk the mustard with lemon. Now, slowly drizzle in the EVOO while whisking vigorously the ingredients in the bowl.
To serve, toss all the ingredients with the dressing. Top with the slivered almonds and serve! Enjoy!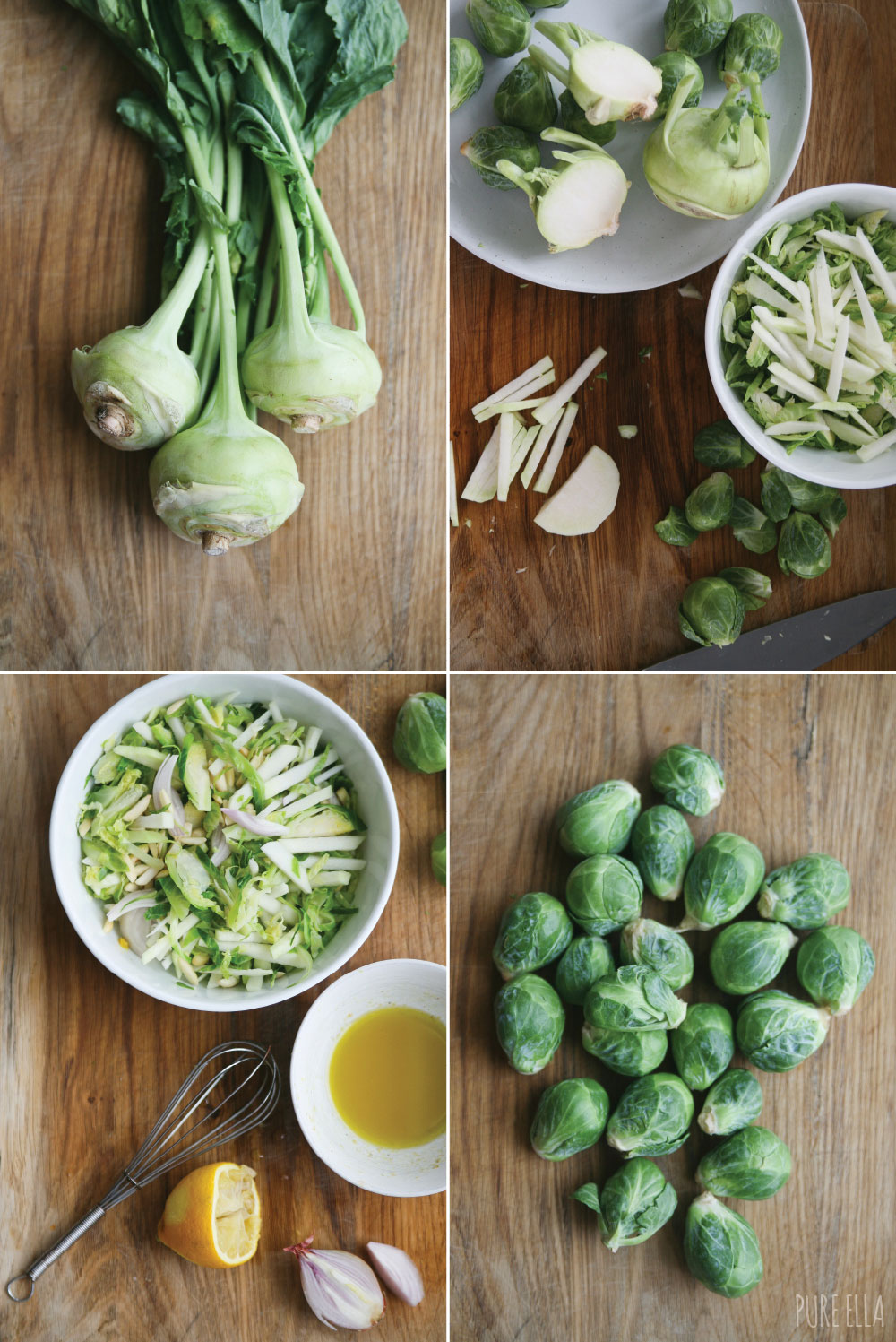 I loved this salad for so many reasons! It's bright and beautiful on the plate, it boasts with nutrition, has a great crunch to it, it's fresh tasting and has an exciting zestiness from the lemon and mustard. Overall, very simple and easy to make.
It's also very versatile ~ we paired ours with veggie burgers and baked potato wedges. But go ahead and enjoy this salad as a side dish to your BBQ – the season is coming or with a nice sandwich for lunch to freshen up your taste buds for Spring. Enjoy!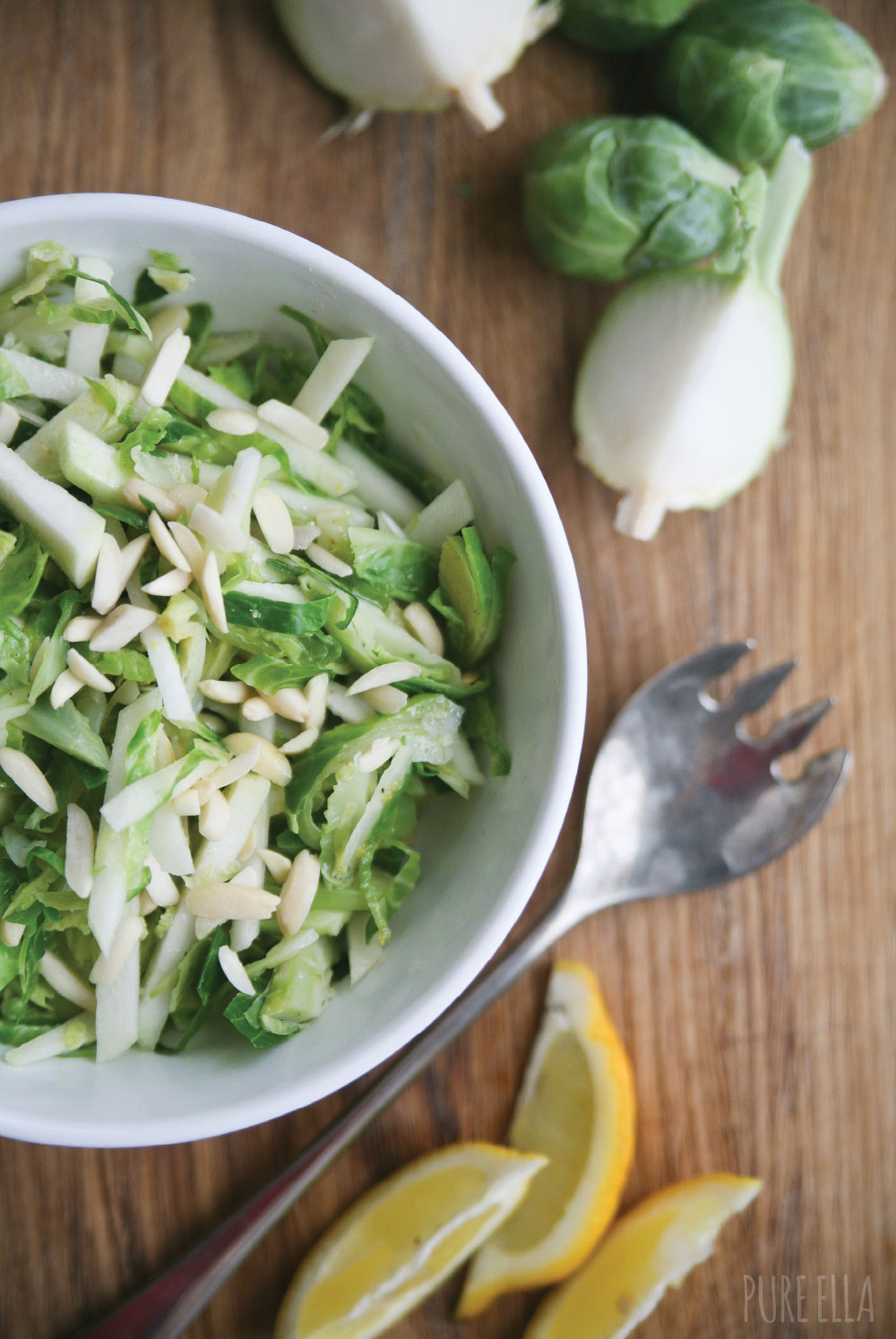 Brussels Sprouts Nutrition Facts :
High in Vitamin C
High in Vitamin K which helps keep your brain healthy and prevent Alzheimer's disease.
Rich source of minerals like copper, calcium, potassium, iron, manganese, and phosphorus.
Potassium is great for controlling heart rate and blood pressure.
Kohlrabi Nutrition Facts :
High in Vitamin C
Improves circulation
Promotes healthy digestive system
Contains good amounts of many B-complex groups of vitamins such as niacin, vitamin B-6 (pyridoxine), thiamin, pantothenic acid that improve natural enzymes in the body.
So happy 1st day of Spring!!! I hope you are getting some real Spring sights and sounds!
What are you most excited about for this new season?
I just wish all that snow would melt! And I can't wait for for farmer's markets, spring picnics by the lake and freshly picked flowers picked by my daughter from our garden… ;)
♥
Pure Ella
If you're new to Pure Ella, please sign up for email updates and join me elsewhere:
Facebook

//

Pinterest

//

Twitte

r //

Instagram

@pure_ella