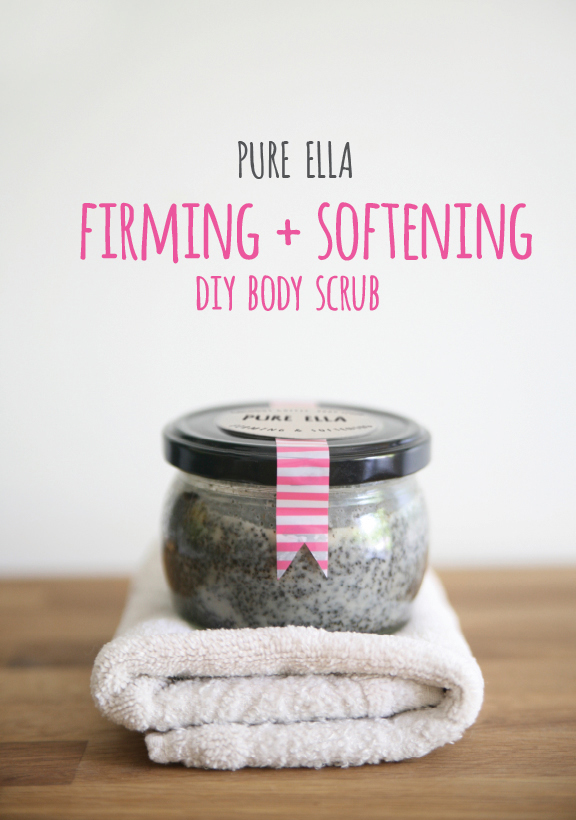 Are you itching for beautiful glowing skin after the longest winter? You are going to love this simple Firming and Softening DIY Body Scrub ~ it's my go-to therapy for rough dry skin. It feels great and even smells great – and it works!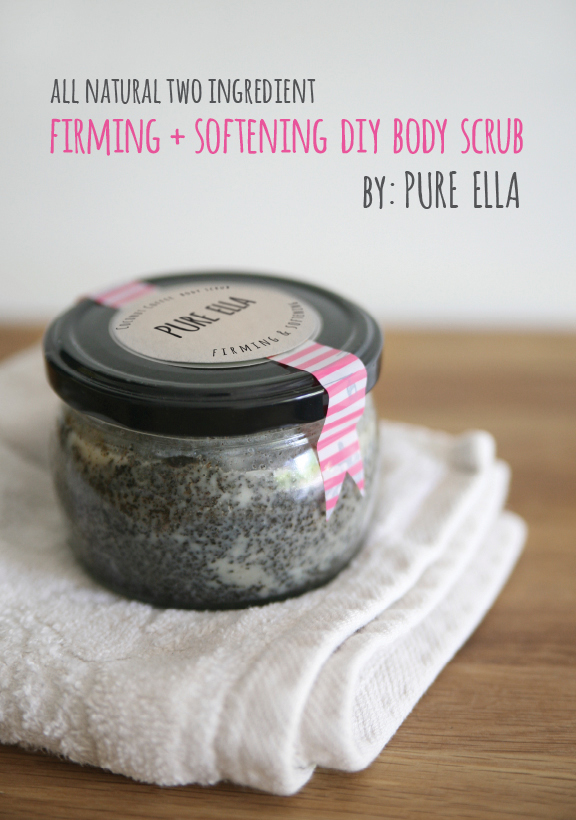 For years now, I've been sneaking kitchen ingredients into the bathroom all the time. It's true and drives my husband insane sometimes (sorry hun – but it's worth it ;). These ingredients especially are my favourite because I love to reuse things, leave no waste and keep it all natural and pure.
Here is the recipe for this beautifying two-ingredient, all-natural, firming, vegan body scrub.
Firming + Softening DIY Body Scrub:
1/4 cup coffee grinds from coffee maker or french press
1/2 – 1 cup coconut oil
.
Directions: Strain the coffee grinds fairly well, (but they don't need to be dry) and place into a recycled jar. Melt the coconut oil and pour over the coffee grinds, stir with a spoon and put aside to set. You can refrigerate or just leave at room temperature to set. The grinds will settle near the bottom, if a mixed consistency is desired (like mine in the photos) (really not required though) just mix it a few times as it's setting. You can also use it even before it's set as long as it's not hot.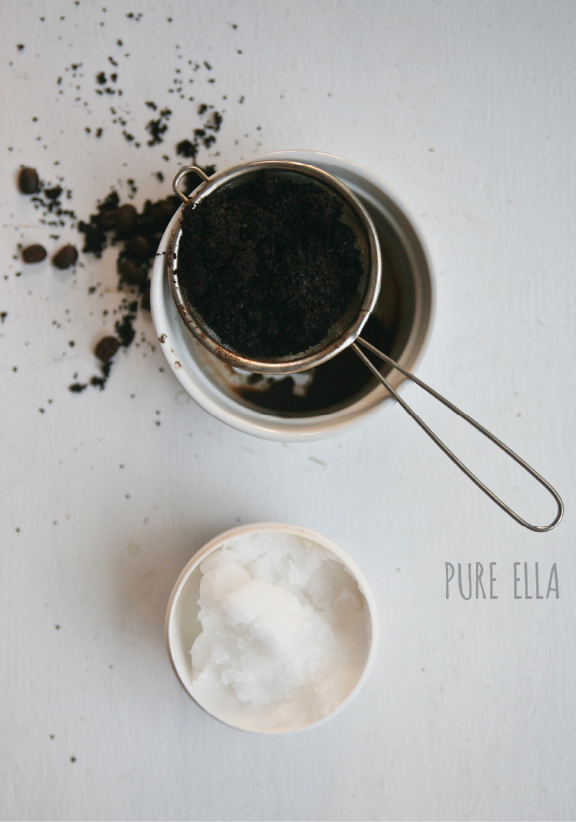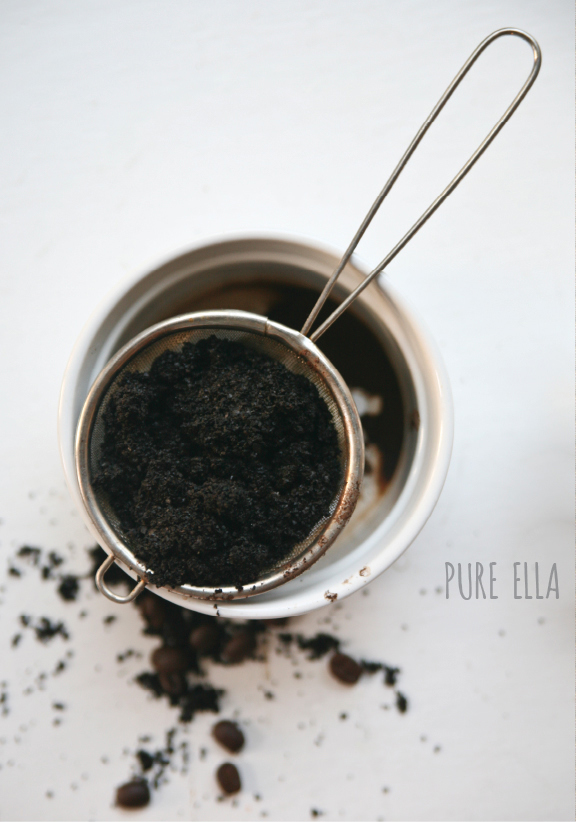 How to use:
Use in the shower, to scrub all over your body paying close attention to rough skin on the elbows and feet. Also, apply to areas that are prone to develop cellulite and need a little firming action, like the belly, thighs and bum.
Scrub hard in circular motion with your hands, in the direction towards your heart. Do this for a few minutes then rinse with cold/ or cooler temperature water. Pat dry with a towel. (this is not recommended for the face as it may be too rough, you still may, but just be very gentle with the scrubbing and do it only once or twice a week).
For an intense treatment : apply the scrub daily for two weeks, then continue once or twice a week to maintain your natural glow.
Note: please keep in mind that the coconut oil in this scrub will be naturally oily and it may be slippery in the shower or bath to use. Use caution and stand on an old towel or paper towels if you don't want to risk falling.
Why it works and why it's naturally firming:
Coffee has been used for centuries as a natural cellulite fighting and skin firming ingredient. Almost all firming lotions out there have coffee extract as one of the ingredients + a whole load of other bad ingredients; toxic stuff like parabens, unsafe dyes and scents that you wouldn't want to be near let alone put on your skin.
Caffeine enhances fat metabolism and when it's applied topically, coffee absorbs and removes liquid fat from your skin, which can decrease the appearance of cellulite. Of course, other factors help reduce the appearance of cellulite too, such as a regular workout regime and a clean healthy diet*. (*diet, as in healthy eating lifestyle not dieting – I never promote dieting).
Why it works and why it's naturally softening:
Coconut oil is a fantastic natural moisturizing lotion. It is anti-aging, is an acne fighter, non-comodogenic and will not clog your pores. Together, the coconut oil and coffee grinds are an amazing all-natural firming and skin softening therapy at home mask.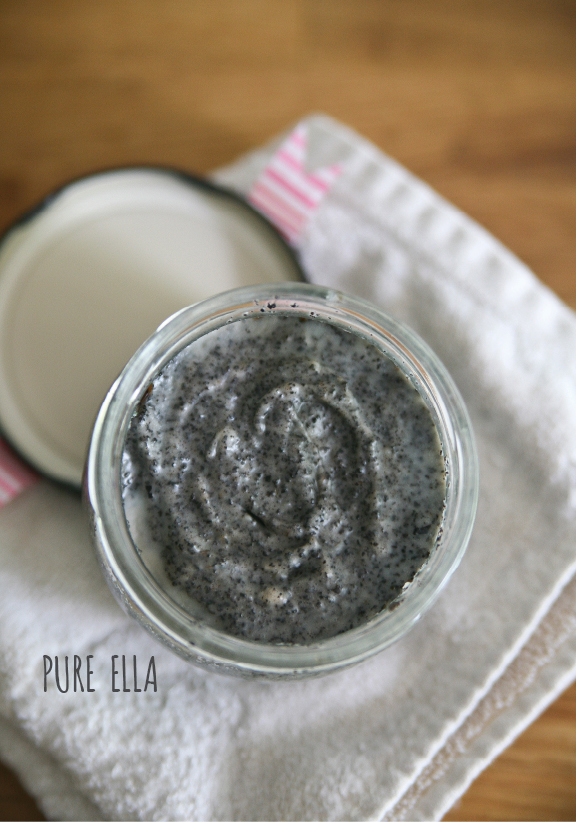 I love this scrub so much! It stripped off all that dry skin I had from the cold days and now my skin looks and feels soft and beautiful to the touch.
And packaged so cute, I no longer take the french press on tub of coconut oil to the bathroom with me. Not like I ever did that ~ wink!
I hope you like this Pure Beauty recipe, do you have any natural diy beauty tricks and tips, please share ;)
I have tons more, so I'm excited to share more pure body care tips, products and information and gently help you move away from all these toxins and parabens used in most body care products.