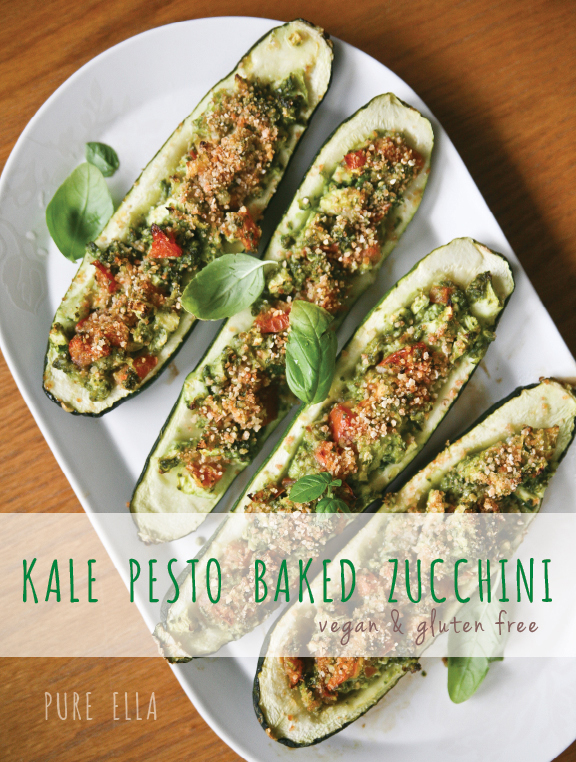 Spring time is just the best time for everything. Isn't it? I spring to life myself and get excited about all sorts of little things, hanging laundry to dry in the fresh warm breeze, watch the leaves uncurl day by day, listen for the sweetest birdsongs I could ever imagine.
Spring cooking is also taking on a new and fresh boost of excitement. And even though our Canadian soil isn't growing much just yet, (ok, it's growing nothing.) I'm happy to see Spring foods popping up in my favourite grocery stores. There's something so natural about eating more veggies in the spring making healthier eating even more accessible and simple.
This recipe for Kale Pesto Baked Zucchinis is one great dish that is both very healthy and surprisingly very simple to make and is nice to present even if it's just a small family dinner or a spring party.

I am so excited to share this amazing dish with you! My husband is a really 'nice' guy and compliments a lot of my cooking, but this by far apparently exceeded his expectations. He couldn't keep quiet about how amazing this dish was – (not his style at all, trust me!) So with the Mr.'s stamp of approval – the carnivore in the family – this is awesome! ;)
I often hear little tiny gasps when people hear vegan AND gluten-free cooking…. but you know I love vegan and gluten-free recipes. There's so much variety and the recipes get so much more fun and inventive this way!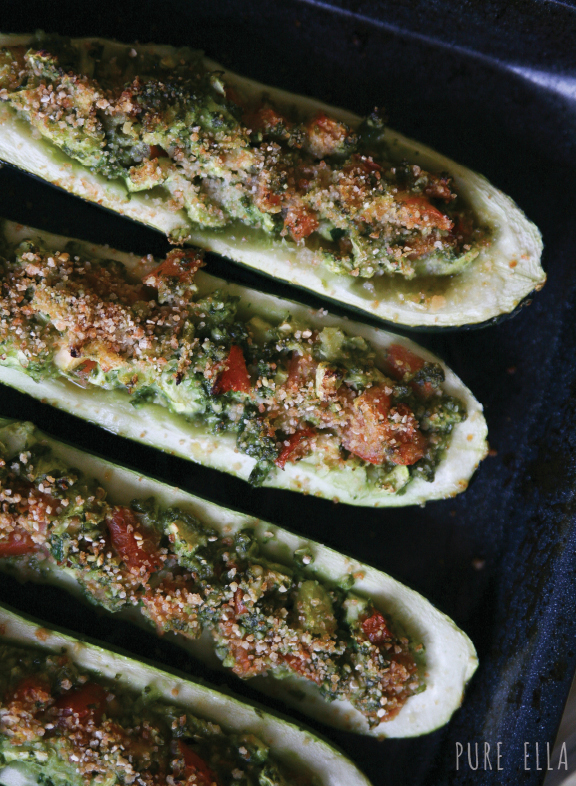 KALE PESTO BAKED ZUCCHINI
(vegetarian, vegan, gluten-free, wheat-free, dairy-free, soy-free, nut free
~ very allergen friendly + very healthy + delicious)
Ingredients:
2-3 large organic zucchinis/courgettes
2 large organic tomatoes, cut into small cubes
1/2 cup gluten-free bread crumbs
fresh basil leaves for plating
Kale Pesto Ingredients:
2 leaves of organic kale
roughly 1/2 cup loosely packed basil leaves
1/3 cup mix of pine & brazil nuts (or just pine nuts for a more traditional taste)
4 tablespoons extra virgin olive oil + extra for pan and drizzling on top
pinch of sea salt
1 1/2 cloves of garlic
fresh cracked black pepper
Directions :
Preheat oven to 350 degrees F.
Clean and dry the zucchini and slice lengthwise in half. With a spoon or ice cream scoop (because that's more fun!) scoop out the soft inner flesh. Oil all over and set aside. (place the scooped out zucchini into a large mixing dish for later.)
For the Kale Pesto, combine all ingredients : kale, nuts, olive oil, sea salt, garlic in a food processor. Mix for a few minutes to form a pesto, being sure to stop, turn off the mixer and scrape down the edges halfway in between mixing.
In a large mixing bowl, chop the zucchini flesh into small pieces add in diced tomatoes and kale pesto and mix with a wooden spoon to combine all the ingredients together. Season with extra salt and pepper if needed. Fill the tops of zucchini with the mixture, sprinkle with bread crumbs and place in the oven for about 45 minutes.
Serve with a lentil pasta dish. Yes, pasta from lentils ;) (That beautiful recipe is coming up soon!). Or another protein rich grain such as wild rice or quinoa.
Quick Version ~ skip the homemade pesto if you must and purchase a good quality organic vegan pesto and add 1 or 2 leaves of kale into the recipe, just be sure to chop it very fine.
.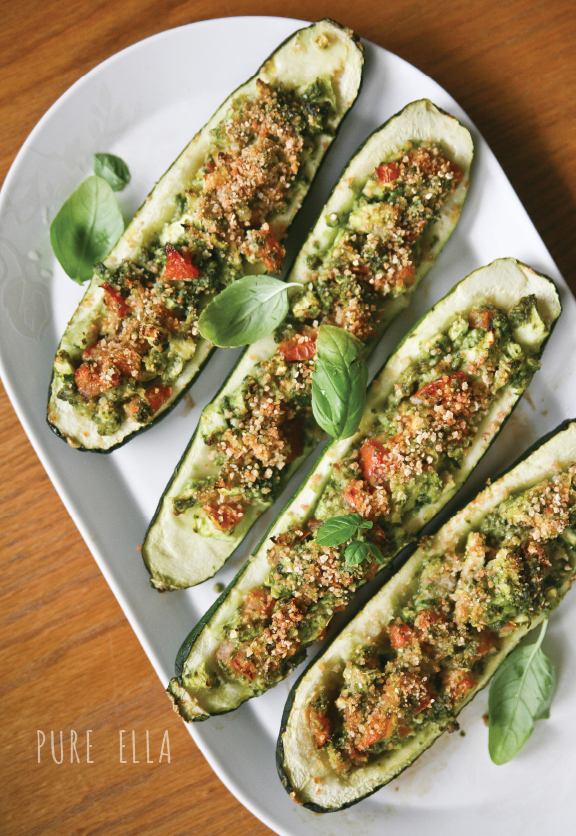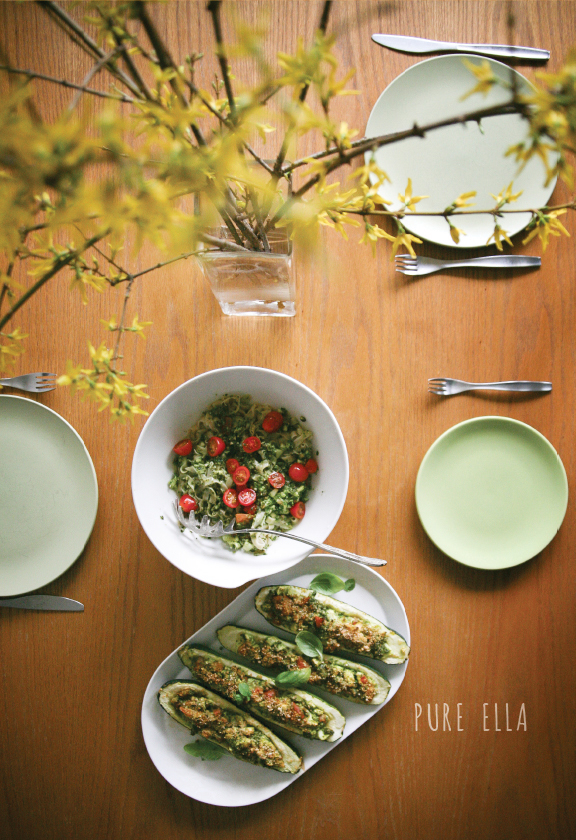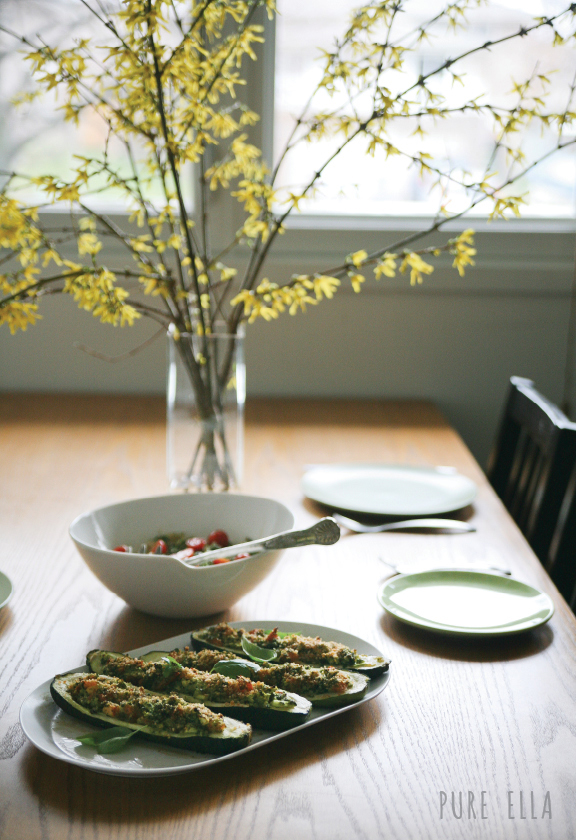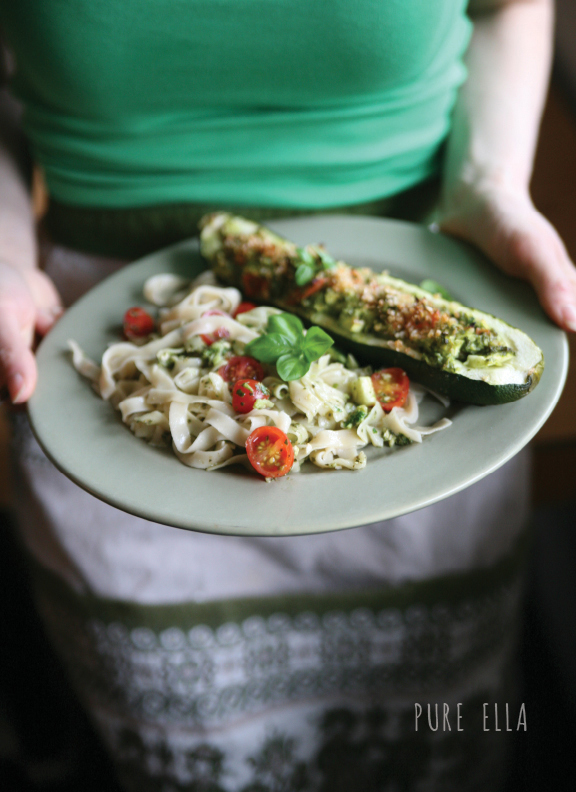 I love anything zucchini + pesto + kale and I had a feeling this would be yummy ~ try this combination of flavours and let me know what you think ;)
What spring-time food is your favourite ingredient to cook with?