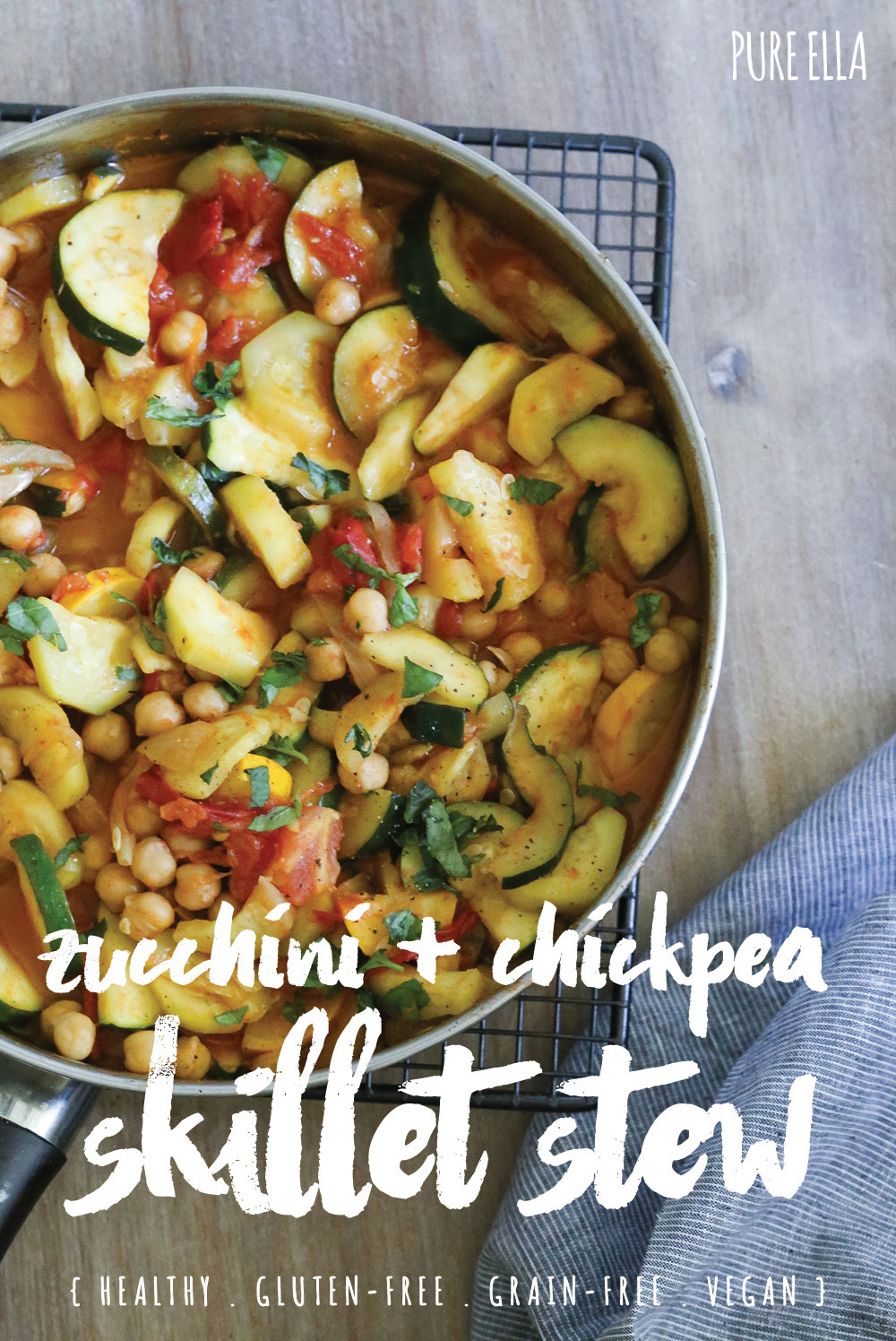 Hello friends! I have this deliciously amazing dish for you…. it's a Zucchini and Chickpea Stew that's nice and light and full of flavour. This Zucchini Chickpea Stew is also naturally gluten-free, grain-free and vegan. Super healthy and yet filling and hearty. The best kind of comfort-food to help you transition into the new autumnal flavours.
One thing I love about this healthy stew recipe is that it takes just under 20 minutes to make. This is great news because I know that I don't want to stand by the stove for an hour making a hearty stew just yet. The fall weather is so beautiful still that I want to make fast food and eat it up and still spend as much time outside as possible….
Eventually, cooking for me will change into a labour of love…. and I do actually enjoy spending more time in the kitchen when the days get shorter, evenings longer and it gets colder outside. But until then, super quick meals that give you that comfort-food feels is what's happening for the time being!
I hope you're feeling me and will enjoy this quick and healthy Zucchini Chickpea Stew very soon! 20 minutes guys!! You're welcome!!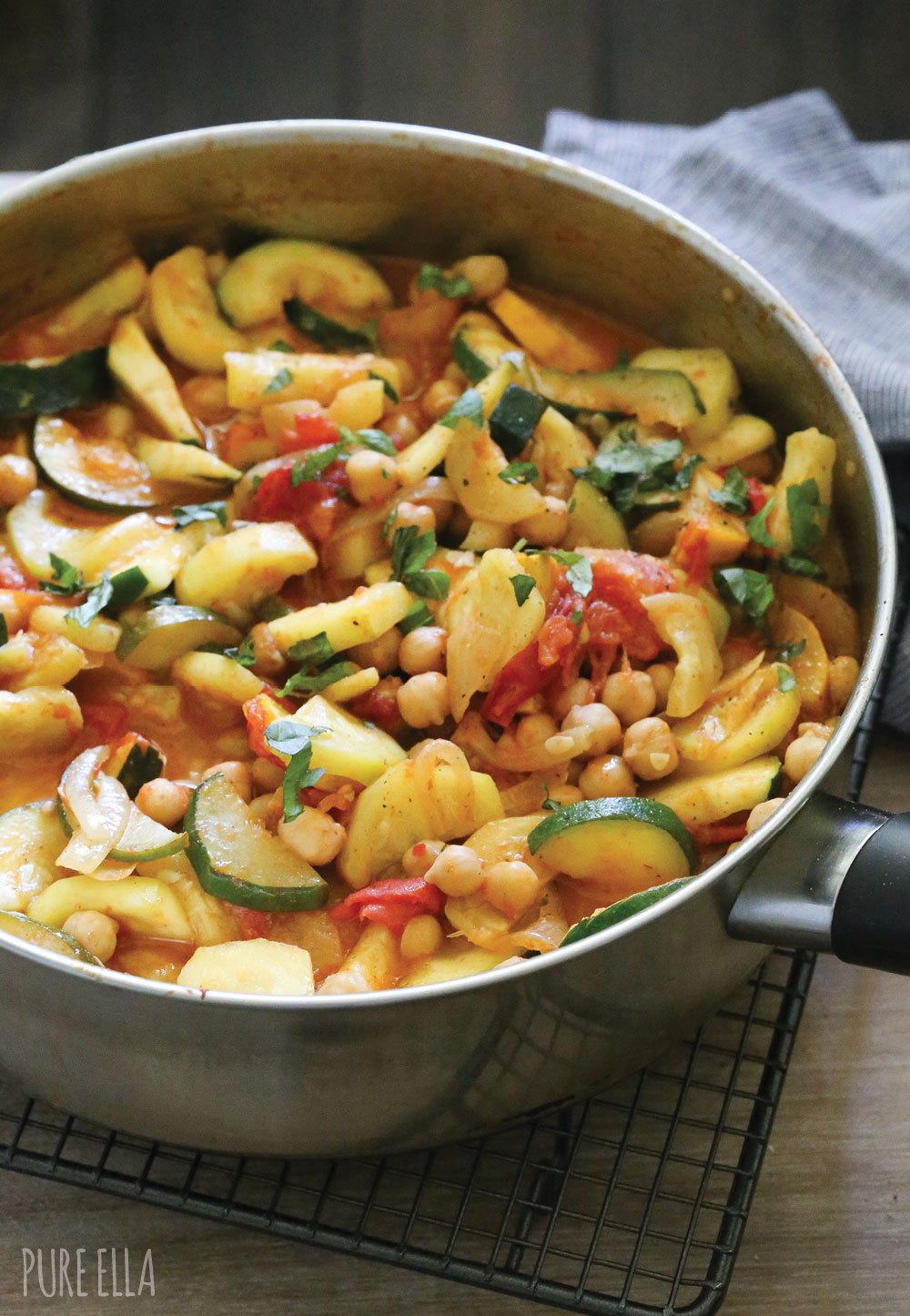 Healthy Zucchini Chickpea Stew
gluten-free, grain-free, dairy-free, vegan
Ingredients:
2 large onions
1 clove of garlic
3 medium zucchini
3 medium yellow zucchini (optional) use 6 green zucchini if you can't find yellow
2 large tomatoes or 1 large can of diced tomatoes
1 (19 ounce) can of chickpeas or white navy beans (rinsed and strained)
1 teaspoon sweet paprika powder
1/2 teaspoon chili powder or spicy paprika powder
sea salt and freshly ground black pepper to taste
grapeseed oil for cooking
Directions:
Peel and thinly slice the onions, peel and chop the garlic clove, clean and slice the zucchini.
In a large skillet, drizzle about 2 tablespoons of oil, enough to coat the bottom.
Fry the onion until softened for about 2 minutes, add in the garlic and zucchini and simmer on low heat for about 5 minutes.
Add in the chickpeas and tomatoes with juice and stir.
Add in spices and season to your liking.
Stir again and cover to continue cooking on low heat for 5-8 minutes until the zucchini soften slightly. (without overcooking them to mush).
Serve hot. Makes the best leftovers. Great for freezing and canning.
Enjoy!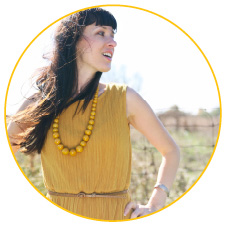 Ella Leché
is a cookbook author ('
Cut the Sugar
'), recipe developer, and photographer/stylist behind Pure Ella; where she shares delicious and healthy recipes. Eating PURE is clean ingredients, whole foods, plant-based nourishment and delicious desserts – with quality ingredients and sweeteners so they're treats with benefits so you won't have to feel deprived or restricted to eat healthier.
Thank YOU for being here!
Follow on social media for daily health & happiness inspiration:

ps. don't forget to share your Pure Ella (PE) recipe creations by tagging them #pureella and
@pure_ella
on Instagram – we repost our favourite photos!