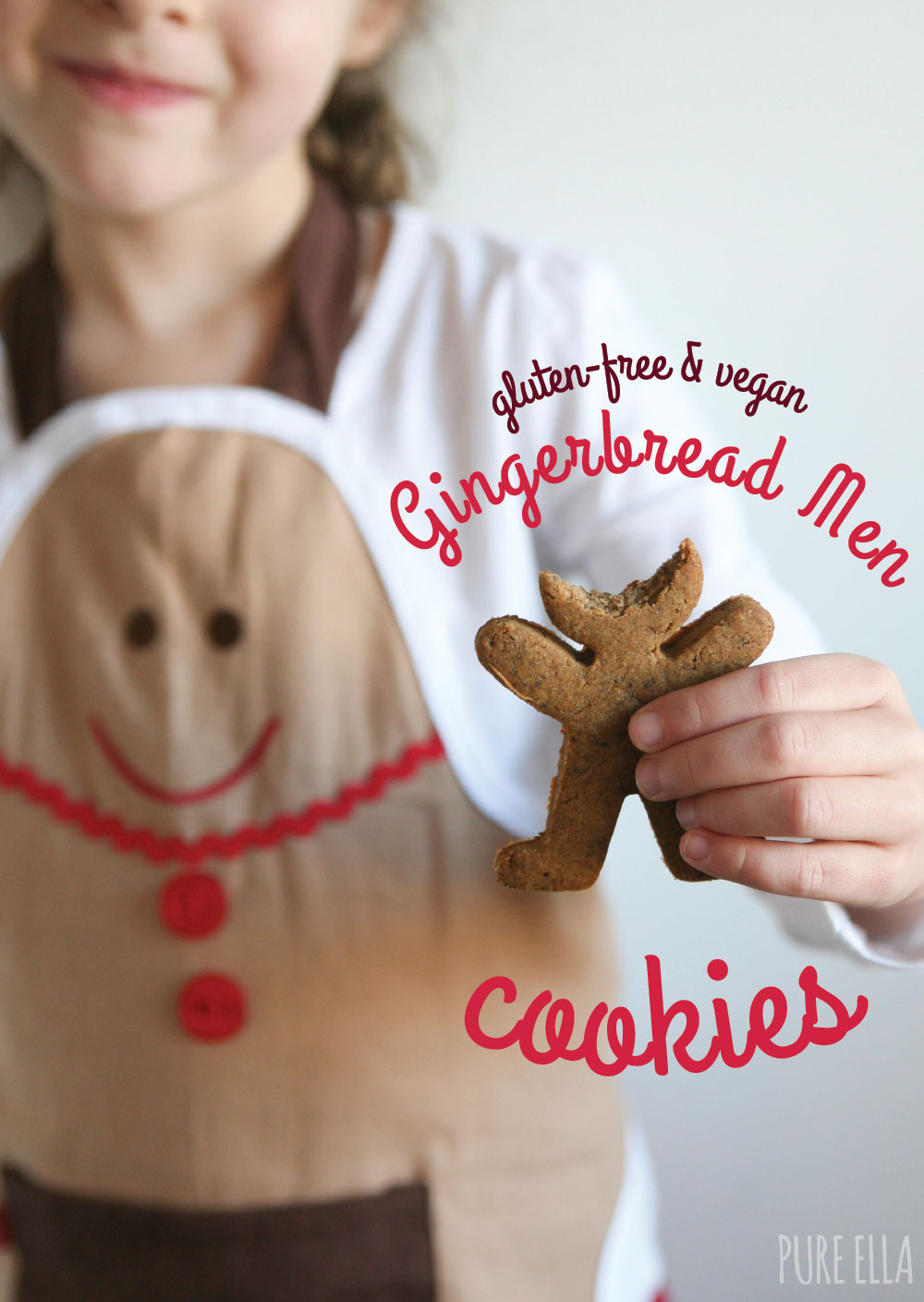 It's beginning to look a lot like Christmas!!
We're getting so excited for the Holidays this year! Are you? I just can't get enough of this season… the joy, the Christmas carols, the decorations, the snow, the gifts, the crafts… oh and the food!! Of course, the Holidays are just not the same without the most festive little treat of all… Gingerbread Men!!
The recipe for these adorable festive treats are from the amazing Decadent Gluten-free Vegan Baking cookbook by Cara Reed of Fork and Beans!
This book is Ah… mazing!! Cara is a natural at making desserts delicious and easy even for those with allergies, gluten intolerance, eating restrictions or just for simply being after healthier options in desserts! This book has it all…. from scrumptious cookies, muffins, cupcakes, bars, biscuits, scones, donuts – you name it, she's got it!!! All created with a twist of fun and inventive take on gluten-free and vegan traditional and not-so-traditional recipes.
I am beyond excited to have this book in my hands!! Now I can't wait for the next baking session – I think the Gingerbread Cupcakes are next (because we are obviously in the Holiday festive spirit) and #cantstopwontstop!!!
Cara – you are a Gluten-free Vegan Master Baker! Hats off girl! Well done!! ;)
Me and my daughter could not thank you enough….
Gingerbread Men : gluten-free and vegan
Recipe from Decadent Gluten-free and Vegan Baking by Cara Reed
Ingredients :
1/2 cup vegan butter
2 1/2 cups all-purpose gluten-free flour (Cara suggests her own mix in the book which is brilliant)
1 tsp baking soda
1 tsp ground ginger
1/2 tsp ground cinnamon
1/4 tsp ground cloves
1/2 cup molasses
1 Tbsp flaxseed meal + 3 Tbsp warm water
1 batch Royal Icing (recipe in the book)
Directions :
Preheat oven to 375F. Mix the flaxseed with water and set aside.
In an electric mixer, beat the butter until soft and fluffy. Slowly add in the flour a few tablespoons at a time. Add in the rest of the ingredients. Form into two balls. Wrap one in plastic wrap and place in the refrigerator. Sprinkle some flour onto a board and rolling pin and roll out the dough, about 1/4″ thick. Cut our shapes and place on a parchment-lined baking sheet.
Bake for 7-10 minutes until edges are lightly browned and firm. Cool on the baking sheet for one minute before transferring the cooking onto a wire rack to cool completely. Decorate with Royal Icing, optional, from the book ;)
I know you will LOVE this cookbook! The Decadent Gluten-free Vegan Baking Cookbook isn't just for the specialty diet, allergies or restrictions – we, as a family, are not 100% gluten-free or vegan but we choose to eat no wheat, dairy or eggs as often as possible. I simply believe it's the healthiest way to go and these diets should be normalized!! (wouldn't that be awesome!!) ;)
Back to the Gluten-free and Vegan Gingerbread Men recipe – they were a huge hit!! I know we will be making these again in just a couple weeks for Christmas… and both me and my pastry chef can't wait!!
If you are enjoying this recipe, you will LOVE this book and you will LOVE Cara!! I have 'met' Cara through our blogs a couple of years ago and I was instantly drawn to her brilliantly fun charisma! This girl is a hoot and makes life just a little sweeter with her goodies and her exciting personality!!!
Visit Cara's blog, Fork and Beans to get acquainted with this lovely cookbook author herself ;) You can follow her on Facebook and Twitter so you don't miss any of the fun!
And of course, you must grab the Decadent Gluten-free Vegan Baking Cookbook yourself (makes the perfect gift too!)