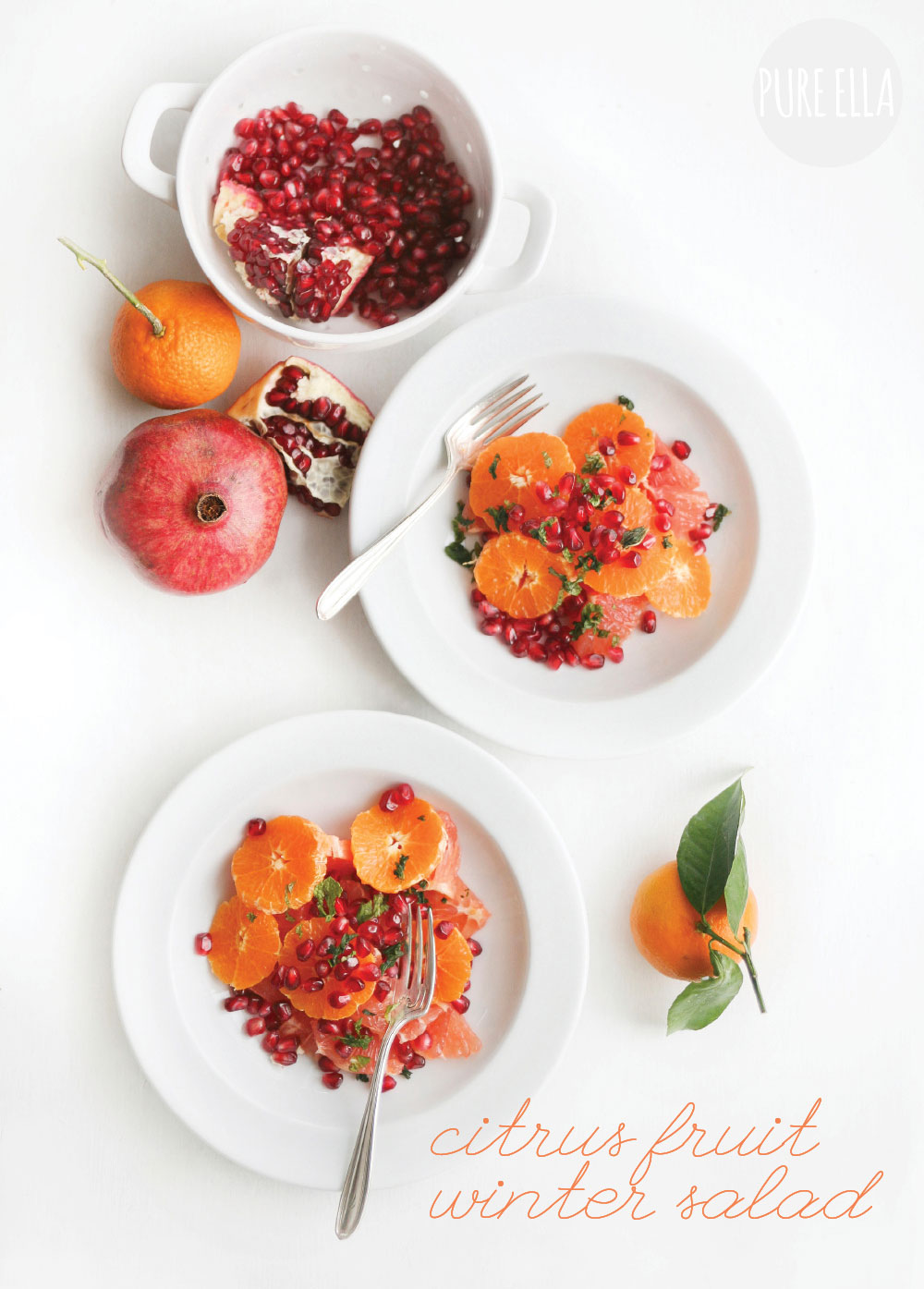 It's mid winter here…. the mid of a very cold snowy winter that does not seem to end… and I don't know how to really pull through.
Winter can be fun, but by the middle of February I have enjoyed enough. Now, I can find myself daydreaming of warmer days… or just moving to California! I fantasize I can just walk outside into my backyard and pick a fresh clementine right off a tree…. oh my – I sometimes completely forget people live like this in warm climates and don't have to plan an extra 20 minutes to clear the car off snow (again today) or require double socks or an extra pair of warm mitts because kids apparently loose a mitt per week (wish I knew and stocked up with 5 pairs at the beginning of winter).
This winter especially has been a bit on the evil side, it's bitter cold and so snowy and icy, I often get yelled at for trying to leave the house to go for a walk because it's too slippery and it's not safe for me or the baby. I do enjoy living in Southern Ontario but right about now, I'm just done with winter. And since we're not planning a vacation anytime soon, and I need to rely on our photos from our recent trip to the Bahamas to try and remember the heat of the sun and flirt of the wind on my hair… I know we're done with vacationing for a very long time.
So I will just get right back to my daydreams… where I go and pick fresh clementines right from my clementine tree in my backyard… and try to forget the bitter pinch of frost bite on my fingers and toes. I'll just pretend away and really truly appreciate that I can pick up fresh citrus fruit from my grocery store. Peel the skin and allow the fresh aroma to intoxicate you with tropical zesty wildly flavourful bite of that clementine.
I know eating local is ideal – but once the country wraps itself in a white blanket for 6 months… what do you do? I'm in complete appreciation that we can have these beautiful foods in the dead of winter. It's pure happiness… and nutrition!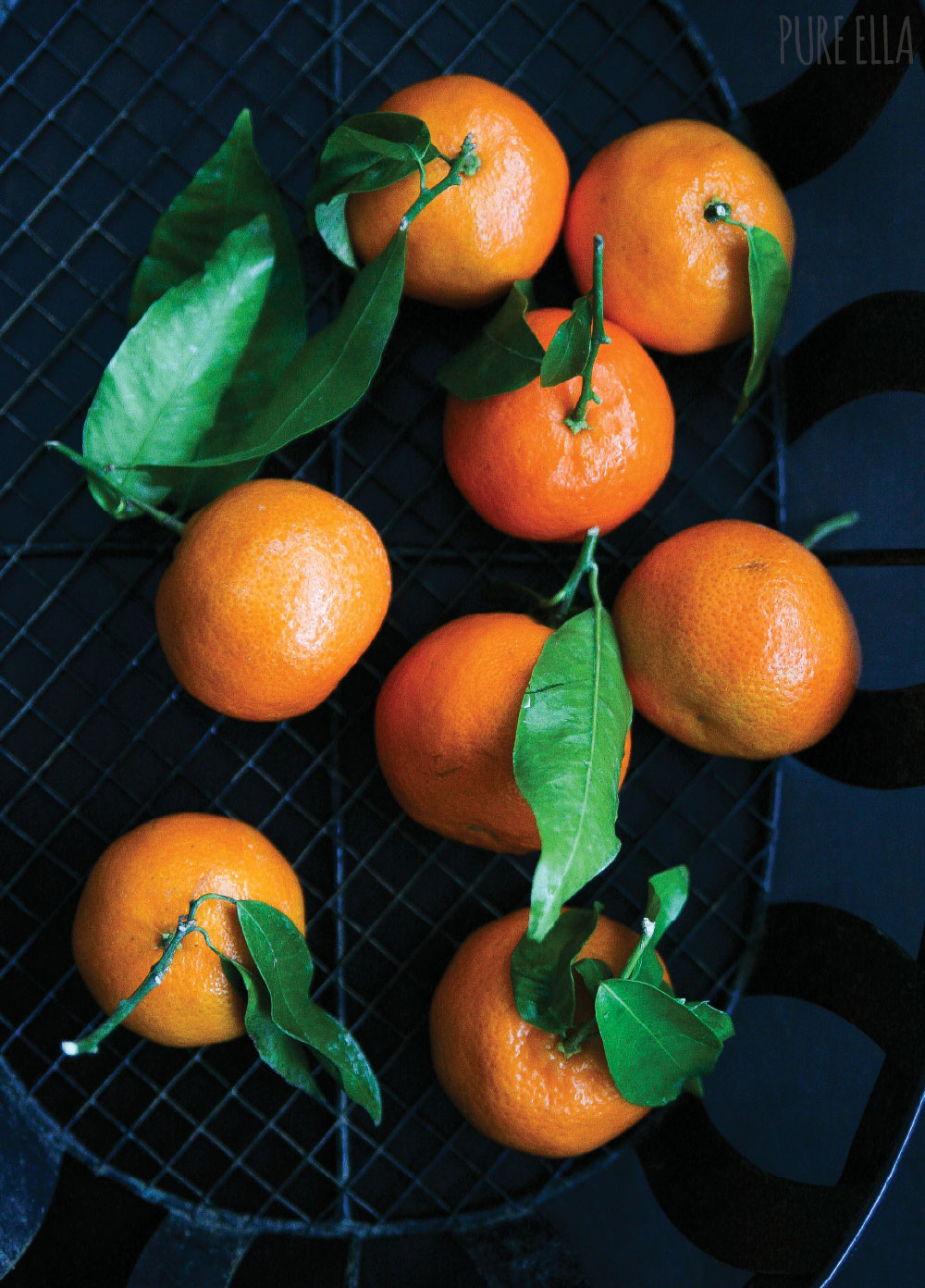 Clean Eating : Citrus Fruit Winter Salad
Serving for 2.
Ingredients :
1 pink grapefruit
2-3 clementines
1/2 pomegranate, deseeded
a few leaves of fresh mint
Directions :
Wash and peel off the skins of the fruit. Cut the grapefruit into chunks and slice the clementines into slices so it looks pretty in a wide bowl.
To deseed the pomegranate, my favourite way is to submerge into a bowl of cool water and cut and pull apart the pieces while the fruit is submerged in the water. I have tried many methods (including the 'spanking' method) this is the only way I find keeps the juices away from your clothes and surrounding area – that's because the water prevents the juice bursts to fly through the water and they stay in the bowl. Then, drain the arils on a calendar and enjoy!
Sprinkle the pomegranate arils on top of the grapefruit and clementine slices, Top with fresh mint leaves and serve.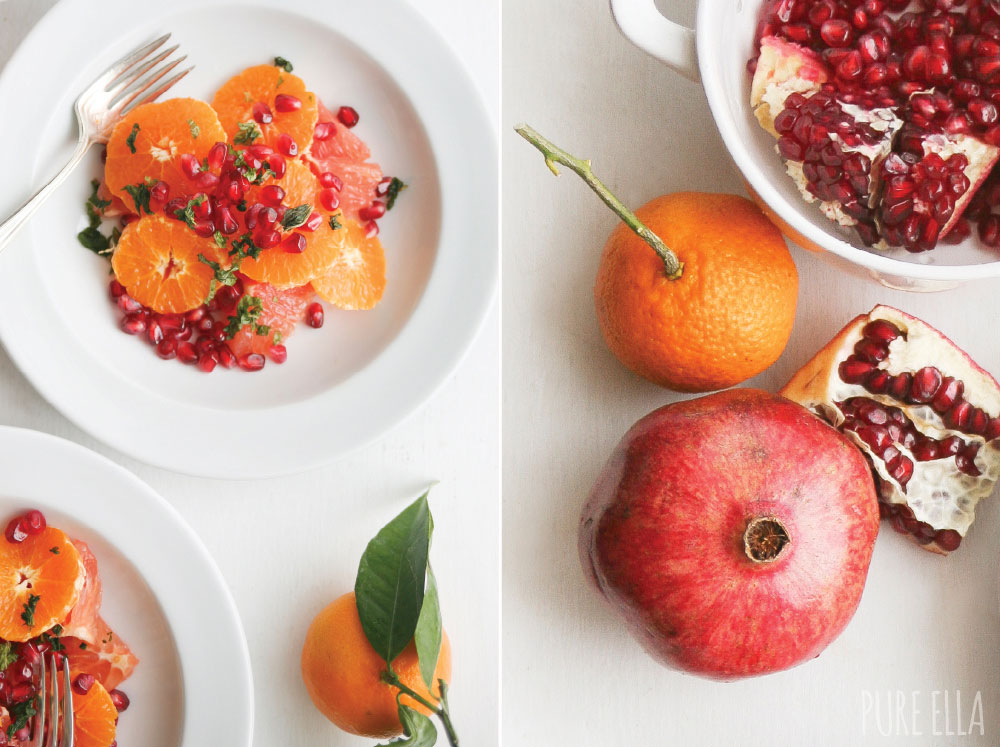 The citrusy and minty freshness of this is just incredible and it really wakes you up! Not to mention it's so healthy full of Vitamin C, beta carotene – great for skin, fibre and antioxidants and lots more.
I made this salad when a friend called the other day that she's in the area and wants to drop by for a visit in 15 minutes! I like to make something nice for my friends but I'm not always good with last minute things…. I really had nothing to serve at the house, no dessert or cookies except for this beautiful bowl of fresh fruit.
So, within minutes I had the salad waiting on the table and the kettle boiling for some tea. When my friend saw the pretty salad she looked so happy and thrilled, she said I made her day! ;) It ended up the perfect 'dessert' after all.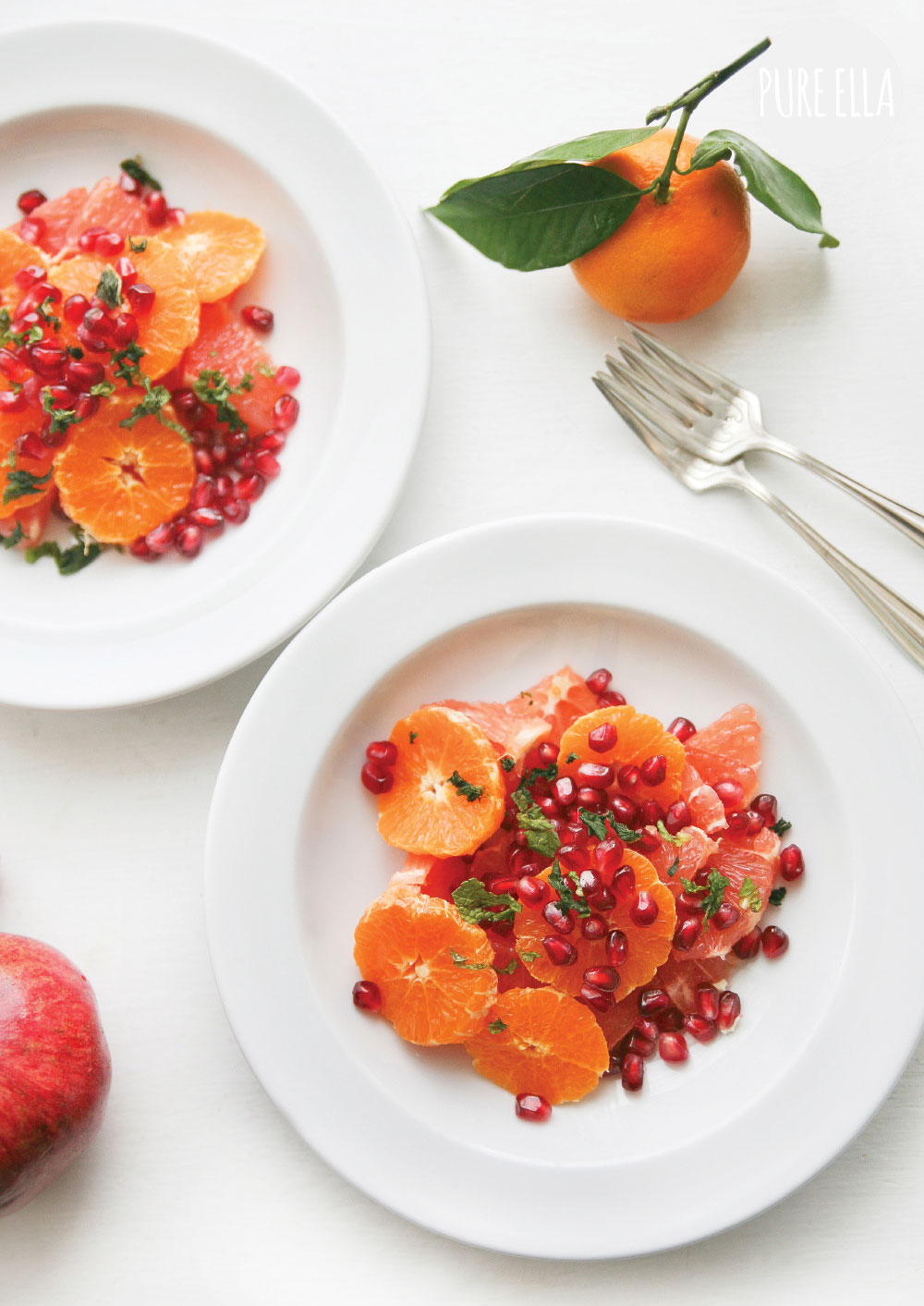 Are you craving citrus fruit right now?
How do you make winter days bearable right now?
♥
Pure Ella
If you're new to Pure Ella, please sign up for email updates and join me elsewhere:
Facebook

//

Pinterest

//

Twitte

r //

Instagram

@pure_ella