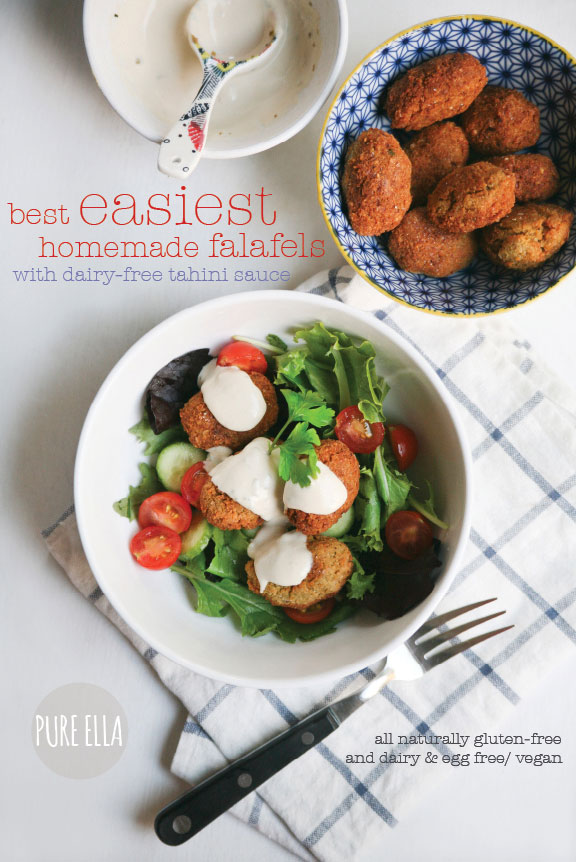 I have to be honest. I have not always liked falafels. I think it had something to do with overgreasy, stale, bad quality of a falafel that ruined it all. Almost for life. Thankfully I went back to give it a stab yet again at a better Middle Eastern restaurant and wowwy wow wow, it was good! So that's when I realized : falafels can be awesome!
So it's been a great indulgence once in a while whenever the craving hit. I even got my husband to eventually like them. Now my daughter loves them too!
We've found our favourite spots with good falafels and I thought it was all good…. yet, it gets better! One day when the craving hit I thought to myself why don't I just make them. Can't be too difficult can it?
Nope, not at all. In fact it's the easiest recipe I whip up in minutes! Fresh falafels are a pure delight! The hardest part really truly is to plan ahead and remember to soak your chickpeas. Simple enough for ya? Try my easy falafel recipe.
Homemade Falafel Recipy
vegan/ dairy free, egg free, gluten free/ wheat free
ingredients :
1 1/2 cups dried chickpeas
3 cloves garlic
1 small onion, roughly chopped
1/4 cup parsley, roughly chopped
1 tablespoon tapioca starch, or other starch will do
1 1/2 teaspoons sea salt
2 teaspoons ground cumin
1 teaspoon ground coriander
fresh cracked black pepper to taste
grape seed oil for frying
needed : food processor + deep pan or pot for deep frying, ceramic is best. (deep fryers are great if you have one, I don't and that's ok – if you don't have one also, just follow my directions below how to safely fry these babies!)
directions :
Pre-soak the dried chickpeas at least 6 hours. Overnight is best or start soaking in the morning for a dinner later that evening. Once the chickpeas are soaked the recipe comes together in less than 10 minutes.
Drain the pre-soaked chickpeas and place in a food processor. Add in all the remaining ingredients except for the grape seed oil. Process on high until everything is well blended. Turn off food processor and scrape down the sides a few times to incorporate all the ingredients. Turn off mixer and scoop the mixture onto a bowl so it's easier to work from.
In a ceramic pot (that's completely dry) drizzle in about 1/2 cup of grape seed oil and turn on temperature to medium.
Scoop a little of the mixture with a spoon onto your hand and shape into a round ball or egg shape. Prep all the mixture before deep frying.
To test the oil, simply drop a tiny little piece of the chickpea mixture into the pot, if the oil starts to gently bubble around it – you're good to go. If it just sits there in the oil, the temperature is too low. If it starts to make cracking noise and the bubbles are too strong – it is too hot. On my stove, a setting a little to the low medium is best. Adjust your heat accordingly.
To drop the falafels, do not fear the oil – go fairly low to the oil and drop down gently, do not throw as that could cause splattering and you might get burned.
Gently drop down as many as can fit to cover the bottom so that there's room to move them around and flip, they should never overlap.
Cook for about 3 minutes on the first side and 2 minutes on the other. Look for a golden yellow falafel colour! Do not walk away from the stove as these are being done. They could burn too quickly depending on your stove settings. Gently flip over with a long fork, continue cooking on the other side. Remove slowly with a holed spatula.
Place on a plate lined with a few sheets of paper towel to allow the excess oil to drip off.
Dairy free Tahini Falafel Sauce
Ingredients:
1/2 cup tahini (sesame seed paste)
3 gloves garlic, crushed
1/2 teaspoon fine sea salt
2 tablespoons olive oil
juice of 1/2 lemon juice, freshly squeezed
1 teaspoon parsley, chopped fine (optional)
Preparation:
In a food processor or in a small bowl, combine all the ingredients. If mixing in a bowl, be sure your garlic is minced very fine.
If the sauce is too thick, add a teaspoon of warm water until the sauce is a little more runny. Serve fresh or refrigerate. Good for up to 5 days in a sealed container.
I like my falafels served in a variety of ways, in a wrap, with rice and salad or just in a salad for a healthy lighter lunch or dinner. This is a really lovely meal that comes together really quick. And you know what else – it's so cheap! It's amazing how inexpensive this meal gets yet so healthy and nutritious.
If you fear deep frying – do not. It's very simple – biggest rule of thumb is to keep water away from oil. So as long as your pot, your hands, your spatula is completely dry you're completely fine.
I know deep-frying isn't the healthiest of cooking methods – but these really do not taste oily at all. They oil doesn't really absorb much and then whatever stays on, drips off on the paper towel. I do not deep fry anything ever so I feel pretty good with just the occasional fried falafel. So worth it!
I will also be baking a batch and let you know how that goes. I only believe it will take a lot longer – about 30 minutes to bake them, rather than 5 minutes to fry them. I'll do an official comparison and update you soon.
So do YOU like falafels? Have you made them yourself before? Did you try my easy falafle recipe ?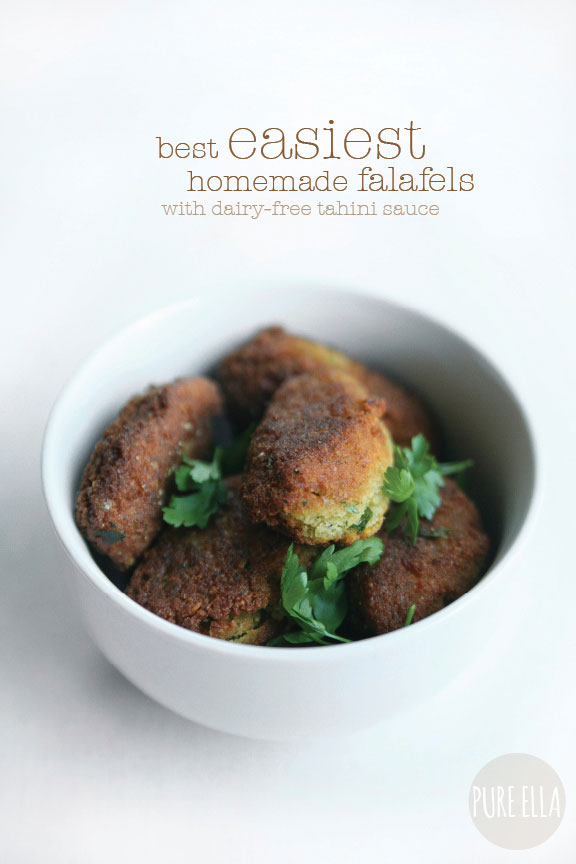 If you're new to Pure Ella, please sign up for email updates and join me elsewhere:
Facebook

//

Pinterest

//

Twitte

r

//

Instagram

@pure_ella
Summary
Recipe Name
Published On
Preparation Time
Cook Time
Total Time