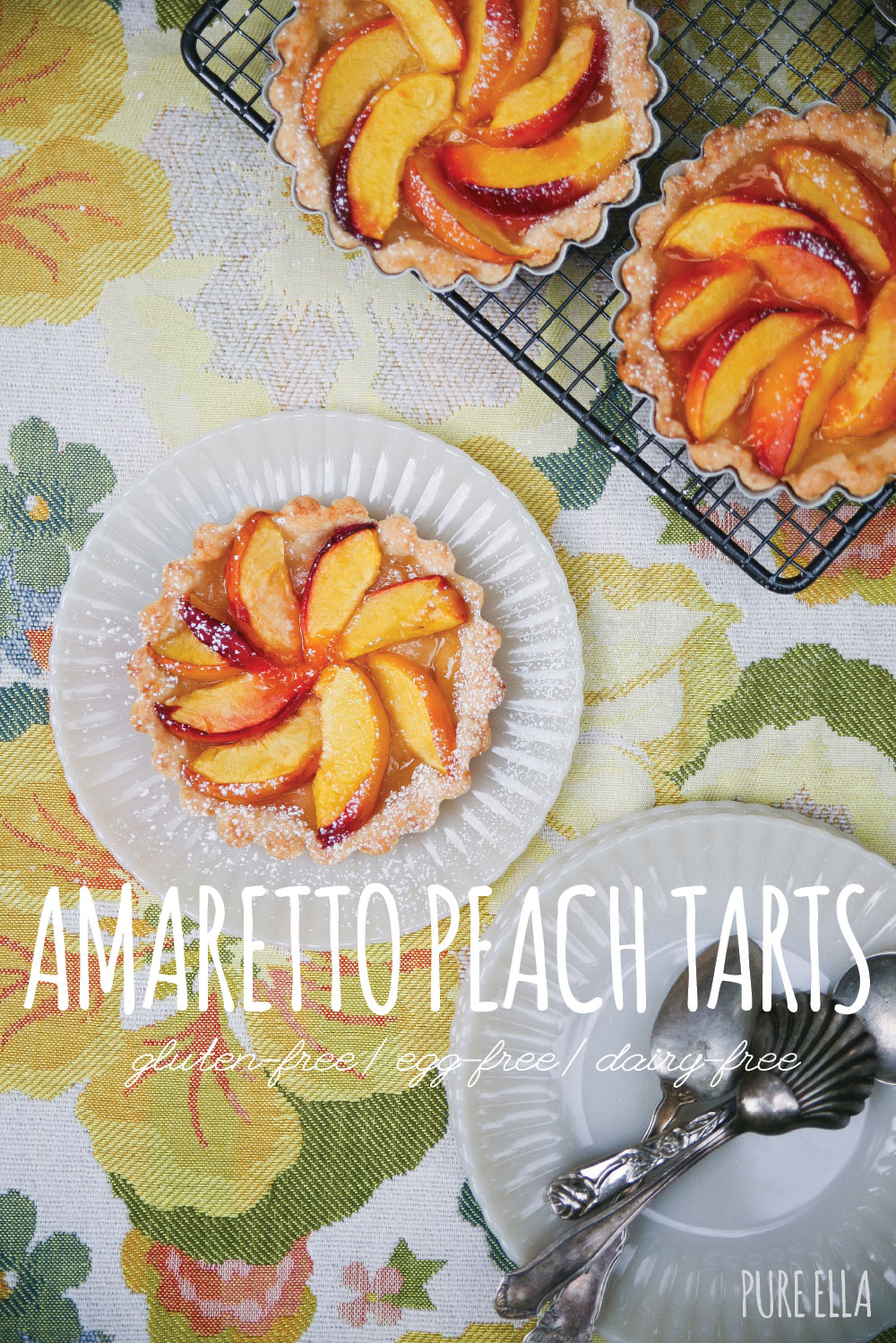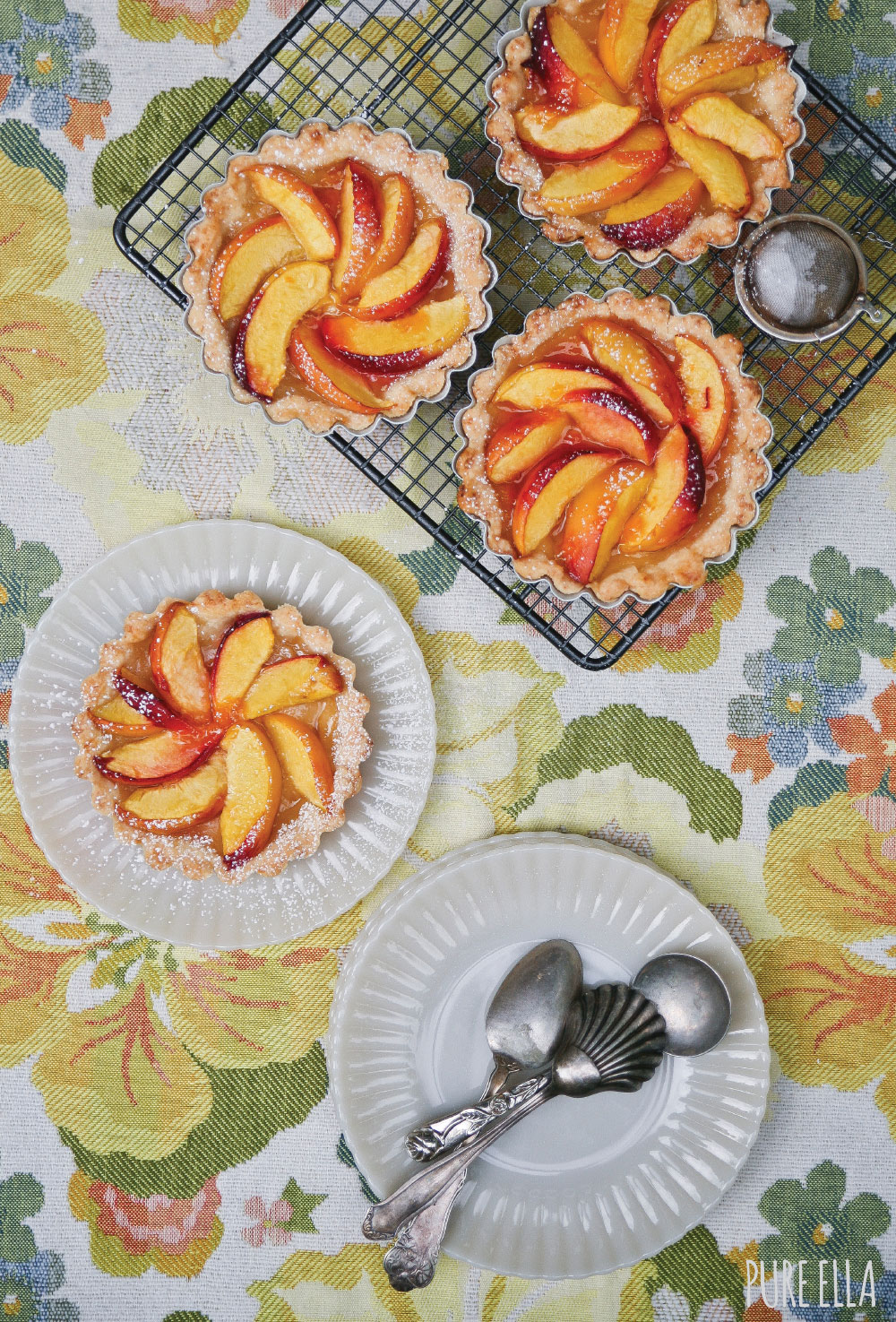 The only good thing about the summer coming to an end is the beautiful bounty of seasonal produce that is at its peak.
Peaches are my favourite thing about August. Sure they're available year round, when imported from Chile or California, but when they're local, they're just the best.
Even looking at a basketful of these beauties makes my mouth water. We usually pick up two baskets right at the start of the season from the farmer's market. One to eat straight as-is, and one for baking… like these Amaretto Peach Tarts ~ I've been seeing this recipe come to fruition the moment I laid eyes on this beautiful bounty of fresh peaches.
Pure ingredients is what it's all about. And although it may seem like I'm creating a 'specialty recipe', with no gluten, dairy and eggs… this is just making dessert better and healthier. No cholesterol, refined sugar free ~ it's all good things. Tastes not altered but enhanced naturally with beautiful pure ingredients. Yum!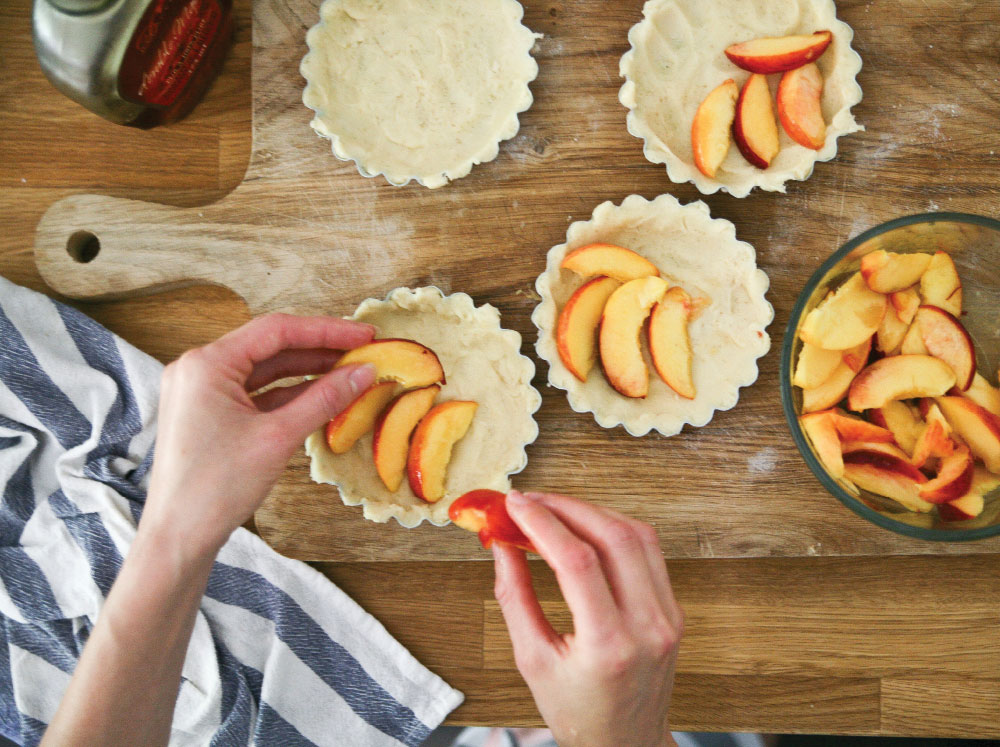 Amaretto Peach Tarts
gluten-free, wheat-free, dairy-free, egg-free, cholesterol-free, refined sugar-free
PASTRY INGREDIENTS :
1/2 cup vegan buttery spread like Earth Balance, or cold coconut oil + extra for greasing
1/2 cup white rice flour*
1/4 cup potato starch*
1/4 cup tapioca*
1/4 almond flour
1 tsp xanthan gum*
1/4 organic raw cane sugar
1 tsp sea salt
1/4 cup ice water
* this is a gluten-free flour mix that has been created for this recipe, but feel free to substitute with 1 1/4 cups of all-purpose gluten-free flour mix of choice.
Tip : This dough freezes well! I like to make a double batch separating into two balls and wrapping one of them into a plastic wrap so it's air-tight and freezing for up to 3 months. When I want to bake these tarts again, I simply allow it to thaw overnight in the refrigerator and quickly make delicious tarts for a yummy dessert craving ;)
FILLING INGREDIENTS :
5-6 peaches, pitted and sliced
2 tablespoons organic peach or apricot jam
2 teaspoons amaretto liqueur or almond extract
To make the dough, sift and mix all the flours together. Mix in the sugar and salt and add in the cold vegan buttery spread or coconut oil and cut through the flour with a pastry cutter. (You can also pulse these ingredients in a food processor for a faster method.) Once crumbles form, create a well and slowly pour in ice-cold water, just a little at a time. Continue folding and cutting and adding more water a few tablespoons at a time until a dough texture forms. Keep dusting the work surface as well as your hands with some extra rice flour so the dough doesn't stick. Do not over mix as little areas of fat from the 'fat' are necessary to achieve a lightness in the pastry. Overworking it may result in a tougher dough. If dough starts to get warm and soft, place in the fridge or freezer for just a few minutes to harden. For best results, keep the dough as cold as possible.
Preheat oven to 400F.
Grease and flour some tart forms (this is a very important step), and press some of the pastry dough into them. And return to the fridge or even freezer for just a few minutes (as you prepare the filling).
For the filling, slice the peaches and place into a medium-sized bowl and mix with the jam and amaretto liqueur. Fill the tart shells around in a circle and place in the oven to bake for about 30-40 minutes, or until edges are golden. Let cool for about 5 minutes in the tart forms, then remove gently and leave on a cooling rack for about 20 minutes before serving. Enjoy!
I hope you enjoy lots and lots of fresh juicy local peaches also…. while you're picking up a basket or two, don't forget to make these scrumptious little gluten-free and vegan Amaretto Peach Tarts…. :)
Speaking of peaches… I just love this quote : "You can be the ripest, juiciest peach in the world, and there's still going to be somebody who hates peaches." ~ Dita Von Teese Moral of this… you can't satisfy everyone… but you can satisfy yourself with these yummy healthy peach tarts!! ;)
♥
Pure Ella
If you're new to Pure Ella, please sign up for email updates and join me elsewhere:
Facebook

//

Pinterest

//

Twitte

r //

Instagram

@pure_ella