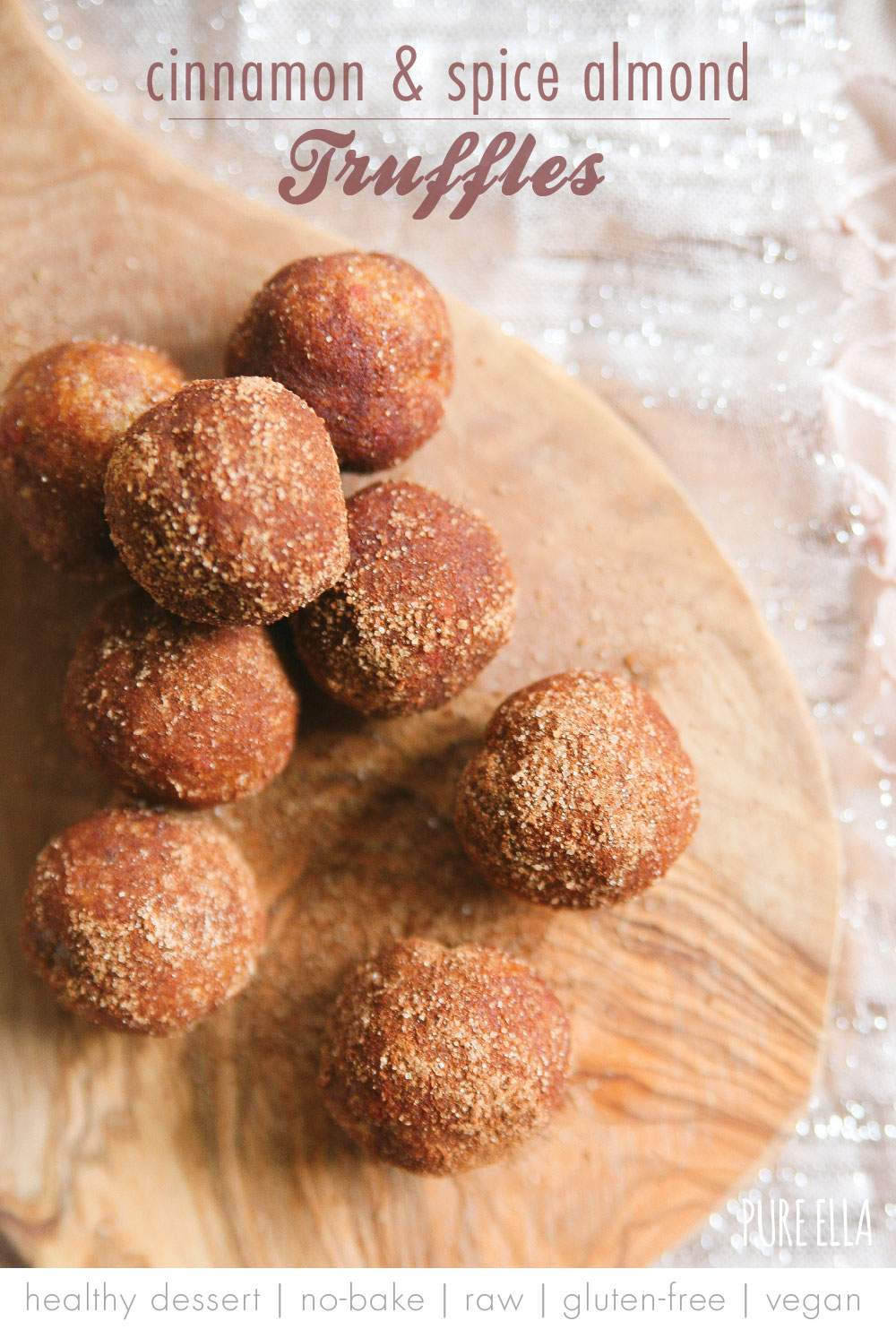 Who doesn't love dessert!? I have always had a sweet-tooth for scrumptious desserts and my day wasn't complete until I had a little something to satisfy those insane sweet cravings…
But here's the thing, my guilty pleasures were always it : guilty!
My thoughts behind every dessert were that I wished I didn't eat that or I wished this didn't make me feel sick right after!
Sugar overconsumption isn't just a problem, it's a health crisis of the 21st century.
If you are fighting your own cravings on a daily basis, then listen up…
It took me an illness to wake up, don't let it be an illness for you to wake up also!
Here's the thing, you can enjoy delicious desserts!
What's the secret?
There's a few things, which I will share more of soon, but first let's chat about these Cinnamon & Spice Almond Truffles, yes??
Guilt-free desserts aren't only possible – they are encouraged ;)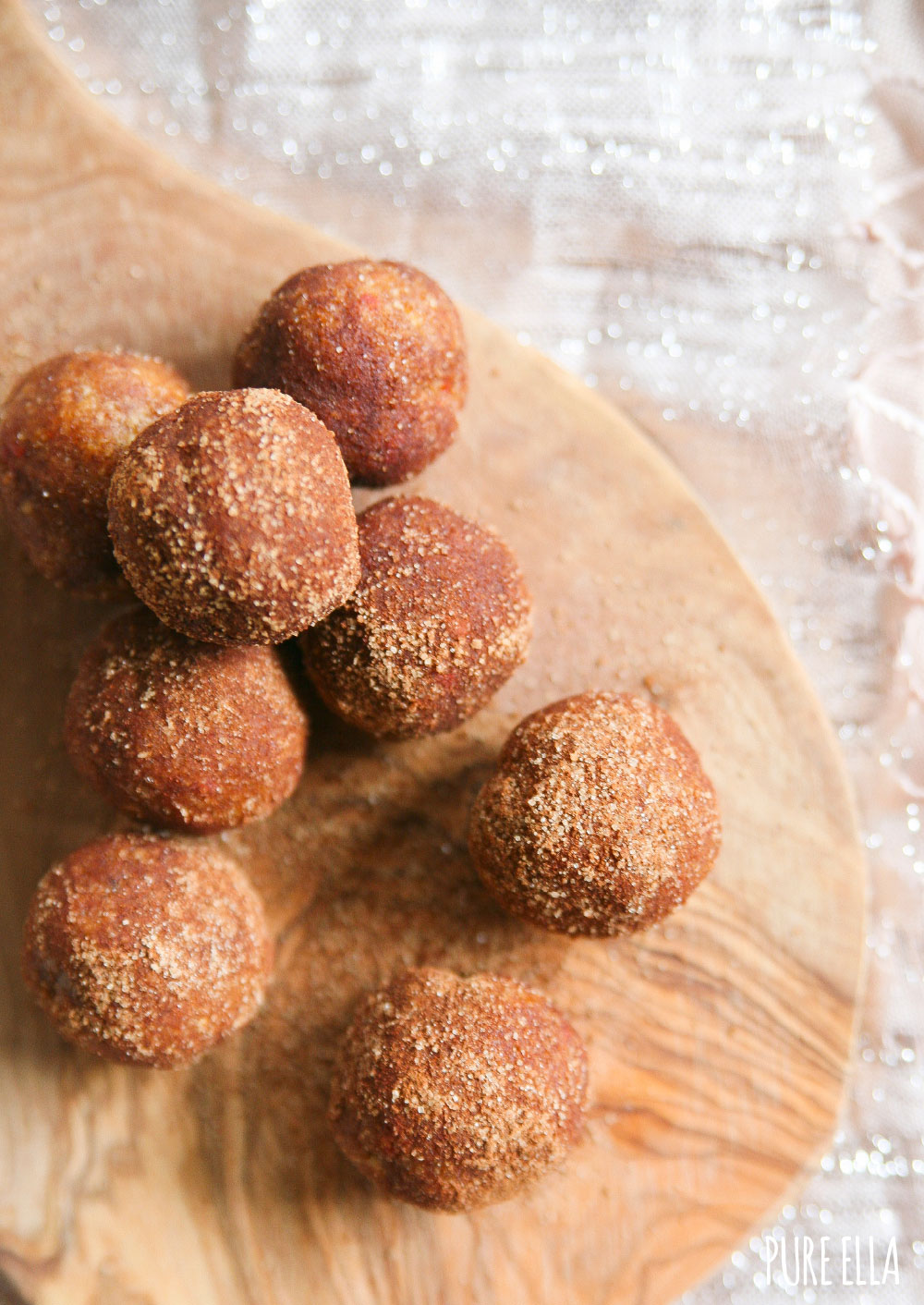 Cinnamon & Spice Almond Truffles : no-bake, gluten-free, vegan, paleo
Ingredients :
3/4 cup almonds
1/4 cup pecans
3/4 – 1 cup medjool dates, pitted
2 tablespoons cacao powder
1 teaspoon ground cinnamon
1/4 teaspoon ground nutmeg
1/4 teaspoon ground cloves
1/8 teaspoon ground ginger
Coating : 2 tablespoons ground cinnamon mix with 1 tablespoon of fine raw organic cane sugar (optional*).
Directions :
In a food processor, grind the nuts until small crumbs form, add the dates and the rest of the ingredients. Mix to combine well. Test the 'dough' if it sticks in your hands. If it doesn't add 1-2 teaspoons water.
Shape into golf-size balls. To coat, mix the cinnamon and sugar (if using) on a plate. Roll the balls to coat all over. Place in the refrigerator to firm up for 30 minutes or longer before serving. (You really can eat them right away, I know you will want to! They will just be a little softer if you eat right away). :) Enjoy!!
*The raw cane sugar is optional, ground cinnamon will work nicely too. What I like here though is the sparkle the truffles have. They literally look like they're coated in glitter from the sugar on the outside, making them extra pretty for the Holiday season. Mixing it with cinnamon cuts down the sugar use while they still look sparkly and jazzed up.
Organic raw cane sugar really is better than white sugar – it's not highly processed. I still get terrible headaches when I eat just a little bit of white sugar, with the raw cane sugar – I don't! (that's just one example) It's worth the splurge!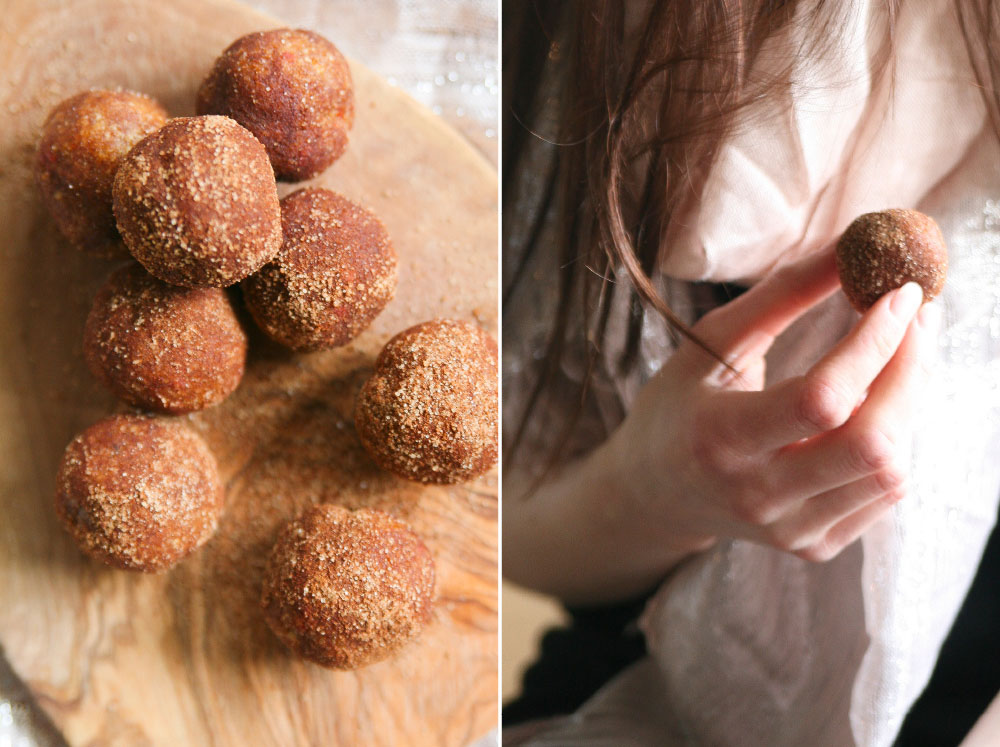 Great desserts that satisfy your sweet tooth but don't make you sick can happen!
It's not about about depriving yourself, but rather learning about healthier options; healthier ingredients that benefit rather than harm your body.
I wanted to share this message as a reminder now because the Holiday Season is coming up. And we know where that leads to…. a little overindulgence here and there will tease you left and right. If you don't prepare yourself mentally and literally (with homemade treats that you know the ingredients of) than your sugar cravings will take over. And too much of that sweet stuff will just leave you craving more – those tastebuds will never be satisfied anymore. Plus the white highly processed stuff leads to huge health problems, sugar literally feeds illnesses, cancer among them.
So, not to be a party pooper, but just being prepared, knowing your limits will leave you satisfied and happy with the choices you make. Not only will you be healthier, but sugar triggers other things we don't always connect together: like headaches (I used to suffer from intense piercing headaches in my 20s just when my sugar addiction was at its worse – after I made some health changes and removed sugar from my life, I haven't had a single headache for years). Plus you become less irritable, your mood-swings balance out (if you get any, which is a common problem with sugar overconsumption, because sugar spikes your blood sugar then drops it like it's hot!), your skin even looks healthier, and you have more energy (surprisingly) as it's taxing for your digestive system to deal with all that *crap* – it naturally drains you. And of course, with every healthy dessert (and meal) decision you make you're preventing a wide range of health problems that are just waiting to be fuelled by empty-carb, junk food.
Here's the good part! You don't have to deprive yourself! Enjoy the sweet side of life!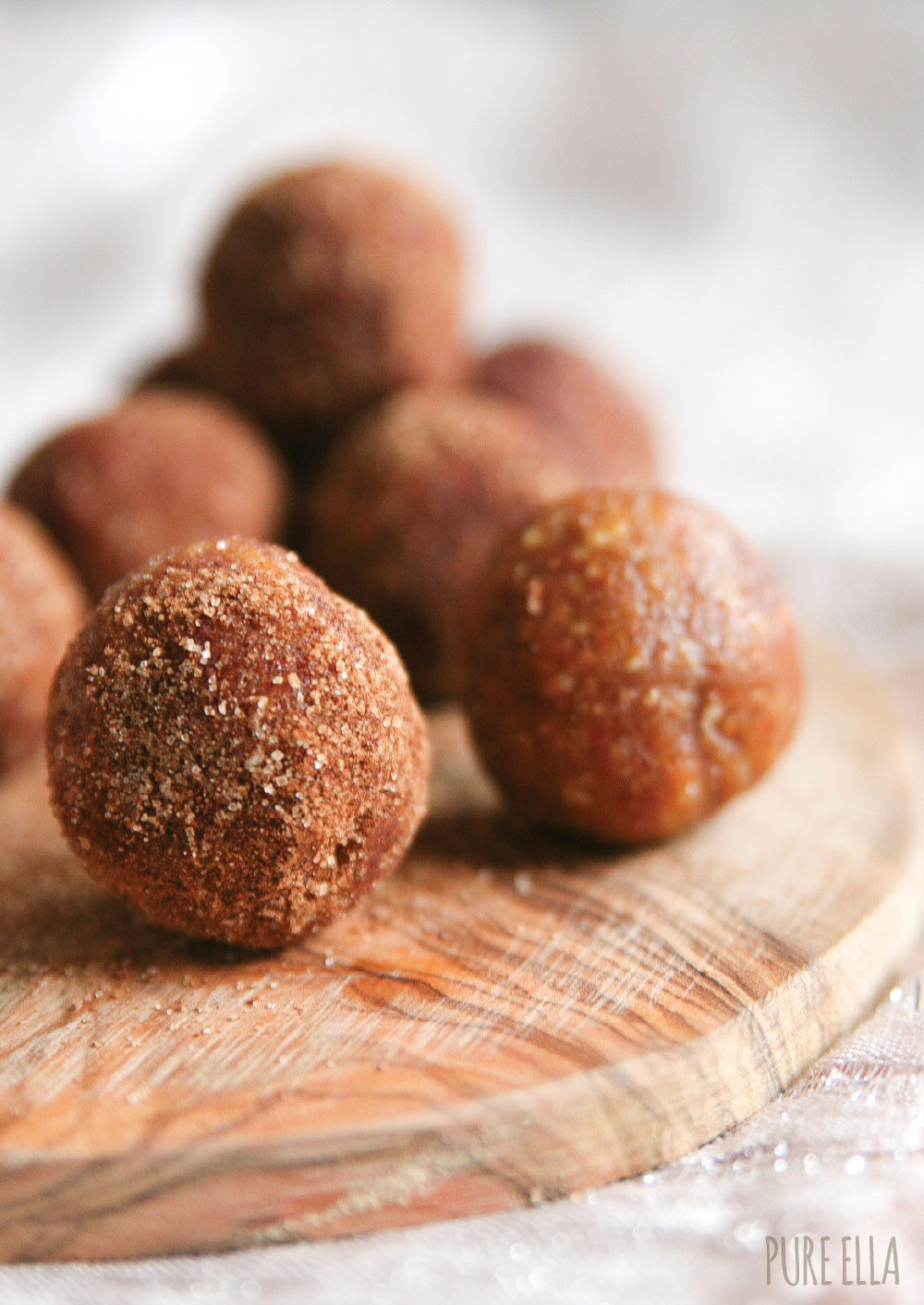 Here's a tip from me for the holiday season.
Make your own desserts! That way, you know what you're eating, you control the amount of sweetener – you can also make the decision to buy unprocessed healthier versions, like raw organic cane sugar, fruit-sweetened desserts, or use a zero calorie natural sweetener like Stevia. To take things further, you choose to buy organic and can easily avoid preservatives, artificial flavours and colours which are such toxins linked to cancer and many health problems.
Bring your own desserts to house parties to share with your friends and family and for you to have a 'safe' treat that you can rely on… it will satisfy your sweet-tooth and make you happy without the guilt! ;) Best part is, it's just so good to share homemade treats. Homemade is more special and tastes better too because it has that secret ingredient in there ~ it's made with love.
Do tell… What are some of your tips for the holidays when it comes to the sweet stuff???!!!