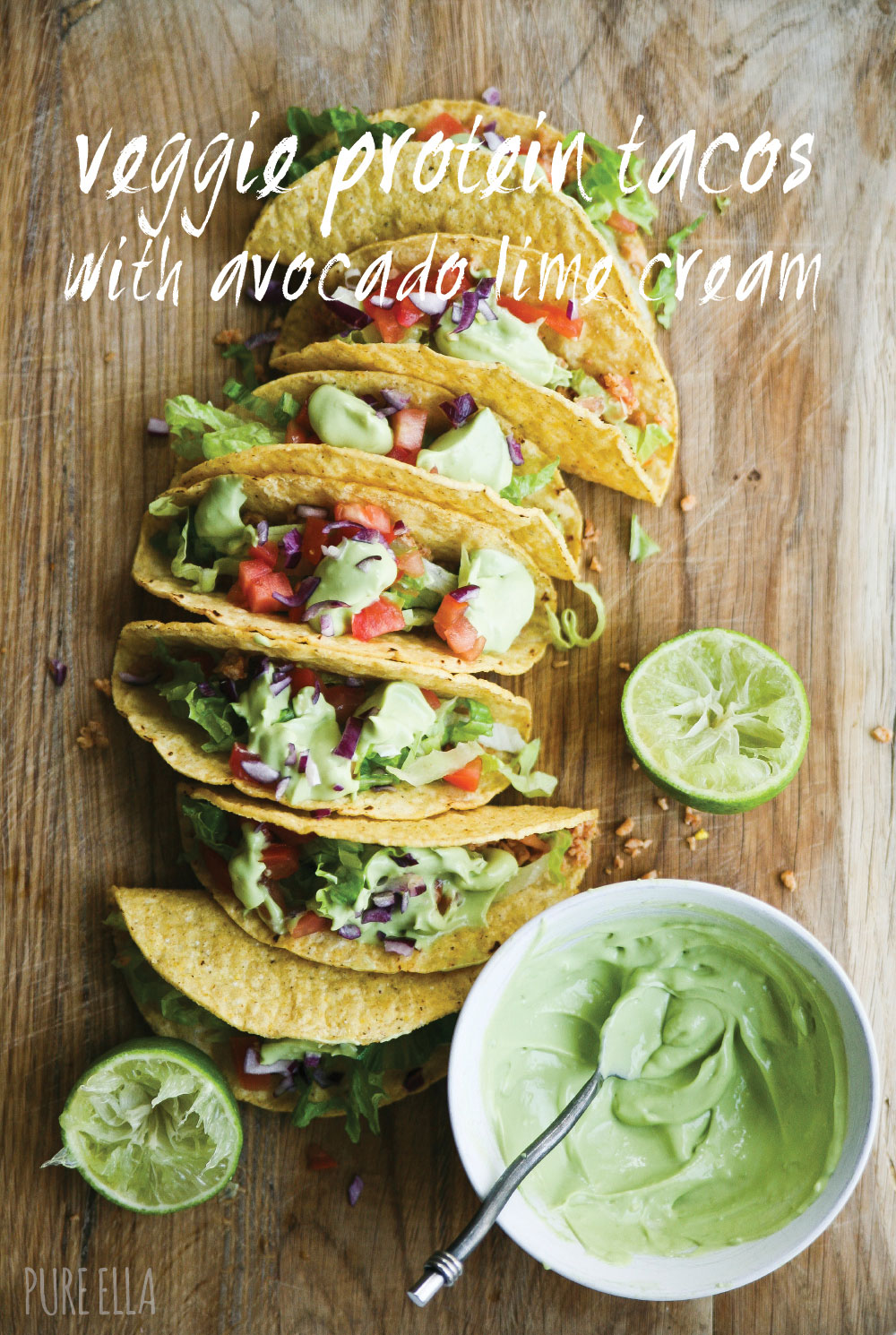 Summer is here and we couldn't be more excited! Here is to sleep-in days, laid-back days, long walks, bike rides, pool days and living (and eating) in the backyard…
And who doesn't love a summer menu when the food is light and vibrant and practically no-cooking required! At least that's what our menu looks like! I love the summer heat and I tolerate it quite well… with lots of water on hand and very minimal clothing (tank top + short skirt + bare feet = summer love)… but my husband doesn't stand up to heat very well. I guess it doesn't help that our house doesn't have the best air-conditioning and the front of the house (where the kitchen is) has very poor air flow and it doesn't cool off that part of the house well at all. But this dilemma goes in my favour! I am banned from cooking on the stove! Seriously – this is great!! ;)
We still do a lot of grilling, but that's usually a weekend thing and my husband does it. With the kids keeping me busy it's impossible for me to stand by the grill. The Mr. is usually too busy to grill up anything on the weeknights – so I'm left to Not-Cook during the week!
These Veggie Protein Tacos are so amazing and quick to put together, your whole family will love them too! Taco nights (whether it'd be taco tuesdays or taco thursdays or any other day of the week) are super fun to do. You can make homemade tacos that are gluten-free and vegan and still be packed in protein and be light and healthy. And drizzled with the Lime Avocado Cream – they are a must-try! Best of all, the cooking is so minimal and easy. I can't wait to make these again!
Veggie Protein Tacos with Lime Avocado Cream| gluten-free and vegan
Serves 2-3 // Prep & Cook Time : 20 minutes
You will need :
8-10 organic corn hard taco shells
Veggie Protein Taco 'Meat' Ingredients :
1 cup organic vegetable protein
1/4 – 1/2 cup water
1-2 teaspoons chili powder*
1/2 teaspoon garlic powder*
1/4 teaspoon onion powder*
1/2 teaspoon paprika*
1 1/2 teaspoon cumin powder*
2 teaspoons fine sea salt
1 teaspoon black pepper
* or 2 tablespoons all-natural taco seasoning
Avocado Lime Cream Ingredients
2 ripe avocados
juice of 1 lime
3 tablespoons of avocado oil or EVOO
2 tablespoons finely chopped red onion or shallots
1/2 teaspoon sea salt
freshly ground pepper to taste
Toppings :
handfuls of:
organic romaine lettuce
chopped tomato
a little chopped red onion (as little or as much as you like)
vegan cheddar cheese (optional) (we didn't use any and they were great)
Directions :
Wash and dry all the topping vegetables and chop up very fine. Set aside.
To make the Avocado Lime Cream, simply halve the avocados and scoop out the flesh into a bowl. Add in the other ingredients and mix with a fork smashing the avocado until a creamy consistency forms. To get a completely smooth consistency, blend with an immersion blender before the onions are added in. Season to your liking and set aside.
To make the Veggie Protein Taco 'Meat', in a medium-sized skillet or pot, mix the vegetable protein with water and all seasoning and heat on the stovetop for just a few (about 3-5) minutes. Add a few tablespoons more water if the 'meat' looks too dry. Transfer onto a serving bowl.
For best, most fun way to eat, set the taco shells, Taco 'Meat' bowl, Avocado Lime Cream bowl and all the toppings spread onto a large platter onto the middle of the table for a self-serve taco station.
To assemble the tacos, layer a couple of tablespoons of the taco 'meat', add lettuce, tomato, (optional cheese) and top with the Avocado Lime Cream and a sprinkling of chopped red onions. And enjoy your delicious protein-rich, light-tasting, healthy, gluten-free and vegan taco night!! Yum! ;)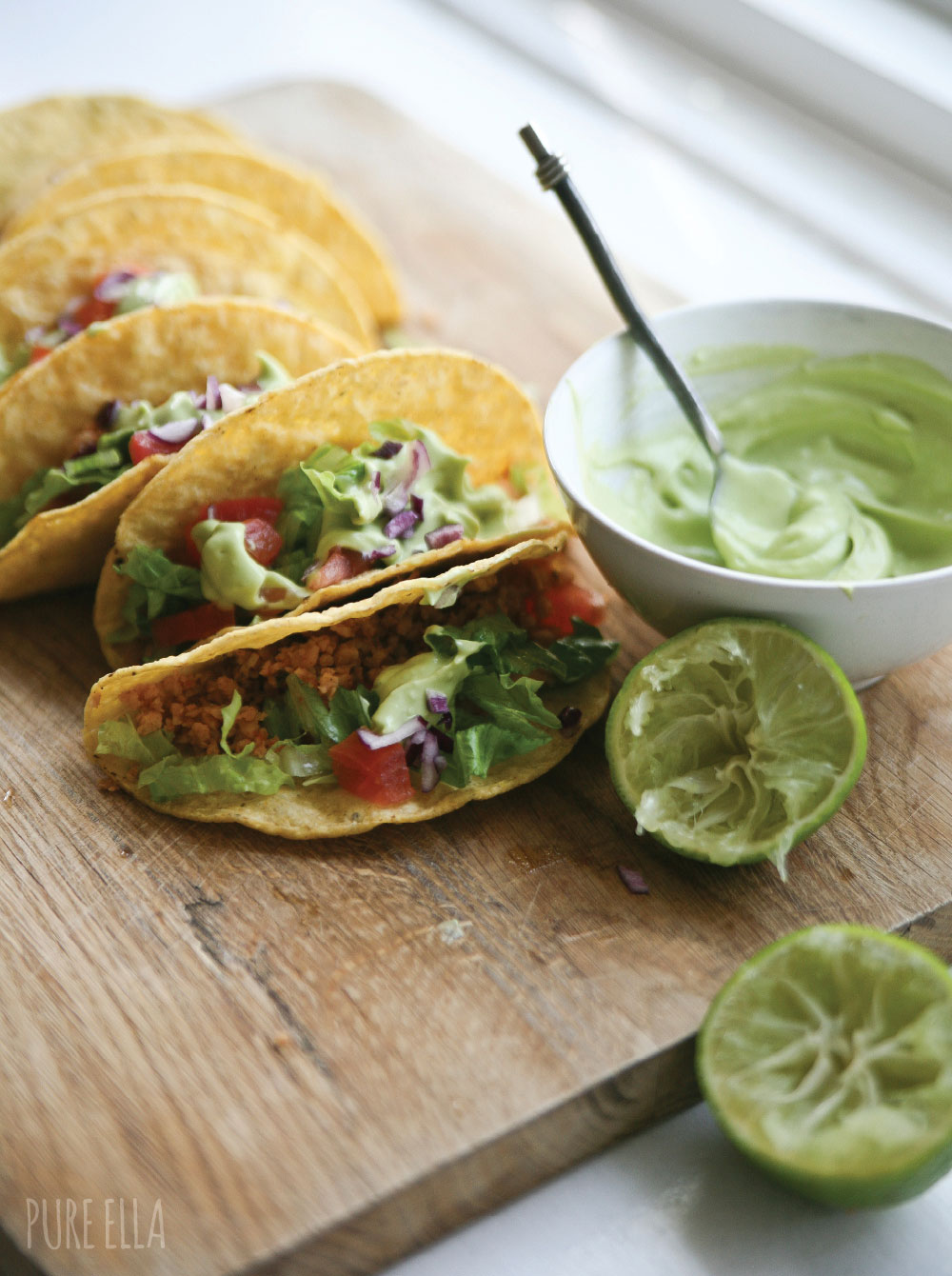 These Veggie Protein Tacos are one of our favourite meals! And it's funny too because it's my 6 year old daughter who requested a Taco Night! You know how she got the idea? From singing the 'Cups' song…
When I'm gone
When I'm gone
You're gonna miss me when I'm gone
You're gonna miss me by my walk
You're gonna miss me by my talk, oh
You're gonna miss me when I'm gone
"talk, oh" just made her think of "taco"! and that's how this summertime dinner idea was born ;) Kids are so fun!!! ;)
I am inspired by her thinking-outside-the-box! I want carefree inspirations like this ;)
Best part of this dinner, was just sitting down on our patio table and enjoying these delicious tacos! Oh yeah, the part with cooking time only being 2-3 minutes was pretty awesome too!! ;)
My daughter loved them and so did my 'real'-meat-eating husband who loved them and who didn't care there was no beef in them. I was happy that the flavour of the veggie protein was spot-on like taco meat that I remember. And working with vegetable protein is so quick and easy and no spoilage like you get with meat (or bacteria or antibiotics or hormones). And it's so much healthier too!
Vegetable Protein is a mix of shredded dehydrated vegetables. It's light on the digestive tract vs. meat and it's packed with protein and other nutrients. I love working with it because it's also incredibly convenient. I just always try to have a bag of it in the pantry so it's at my finger tips if we need a quick meal. It's so versatile too as it's practically flavourless ~ which means, it quickly takes on the flavour of whatever you put on it! For example, you MUST try my Meaty-but-Meatless Spaghetti Sauce!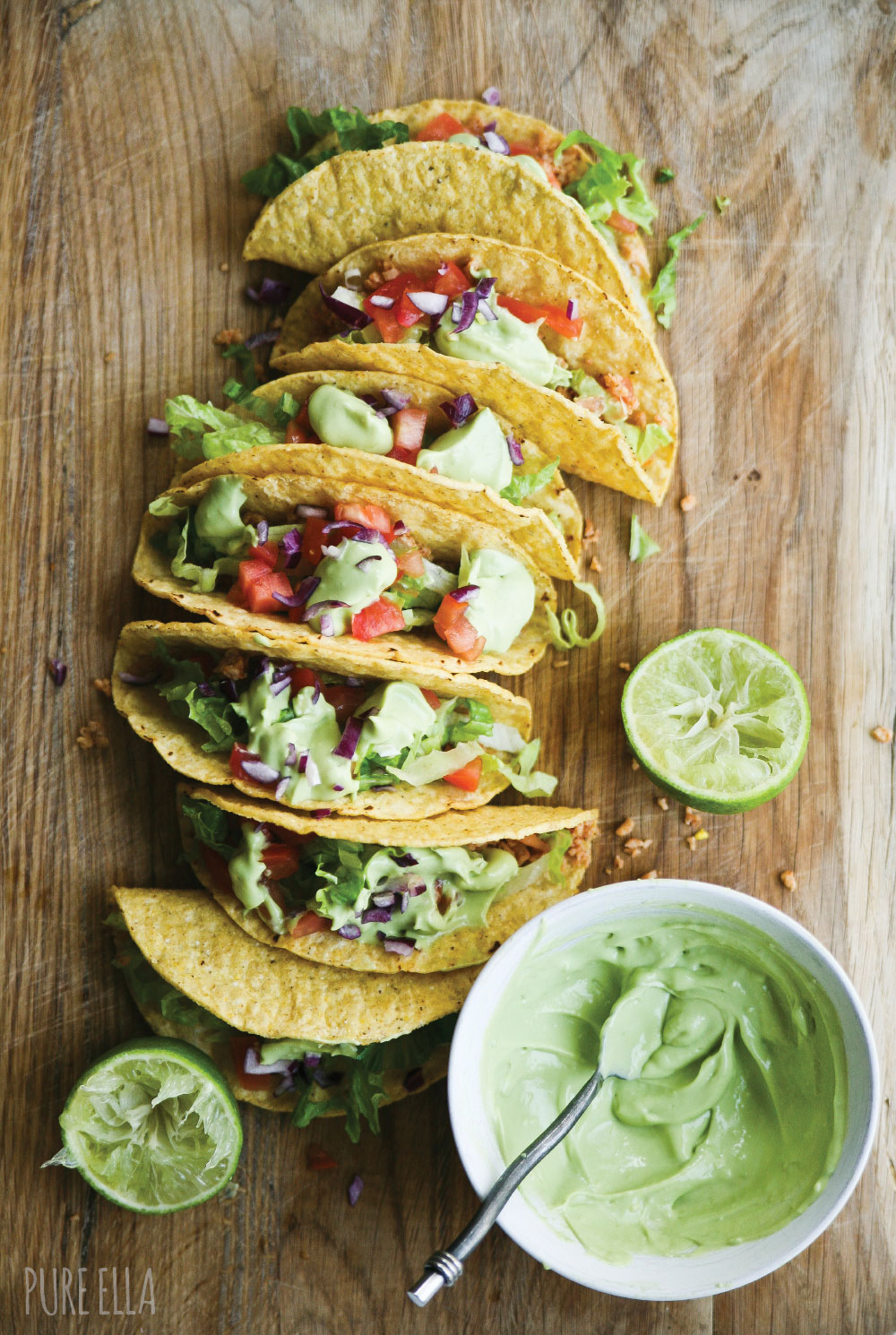 So here's to Summer and no-cooking (or very minimal cooking), the cups song on repeat with performances, and many more "talk, oh" nights! ;)
♥
Pure Ella
If you're new to Pure Ella, please sign up for email updates and join me elsewhere:
Facebook

//

Pinterest

//

Twitte

r //

Instagram

@pure_ella