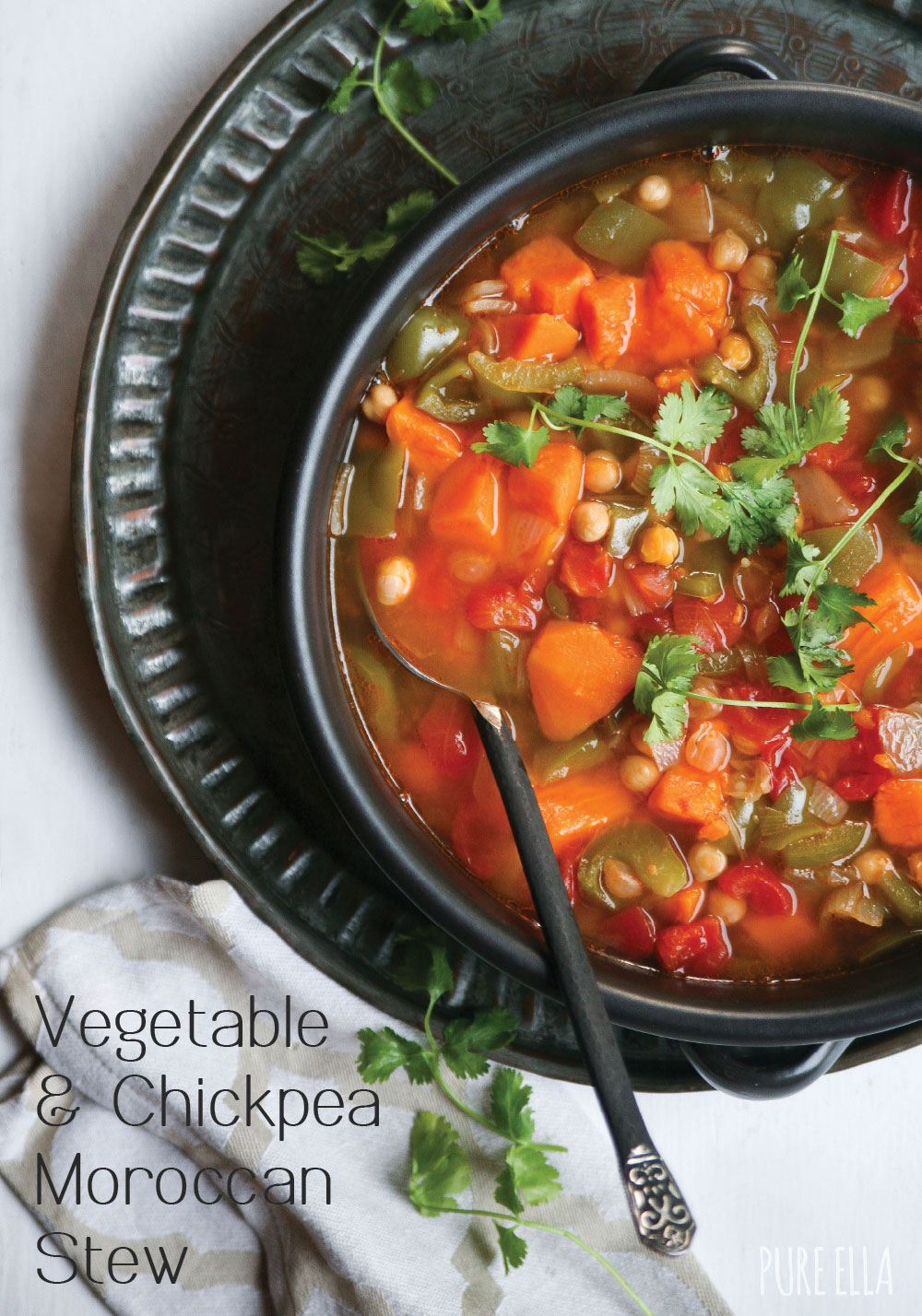 I love a good hearty meal that takes me away to a different land… And this Vegetable and Chickpea Moroccan Stew is perfection from the sweet and zesty aroma to the burst of flavour in each bite. This is one of my favourite stews of all time, and it's so easy to just throw in the ingredients together in one pot and create Moroccan magic!
Aren't we so lucky to have all these international influences from around the world? I love that my cravings can go one day from Asian Miso Soup and next day to Mexico's Quesadillas. It's a beautiful thing to have all these influences of a different culture and be able to experience their flavours oceans away…. I haven't been to Morocco (yet) but I would love to experience this country's rich fragrant cuisine.
For now, let's stay here locally and make a the best stew that will take you to Morocco. Enjoy!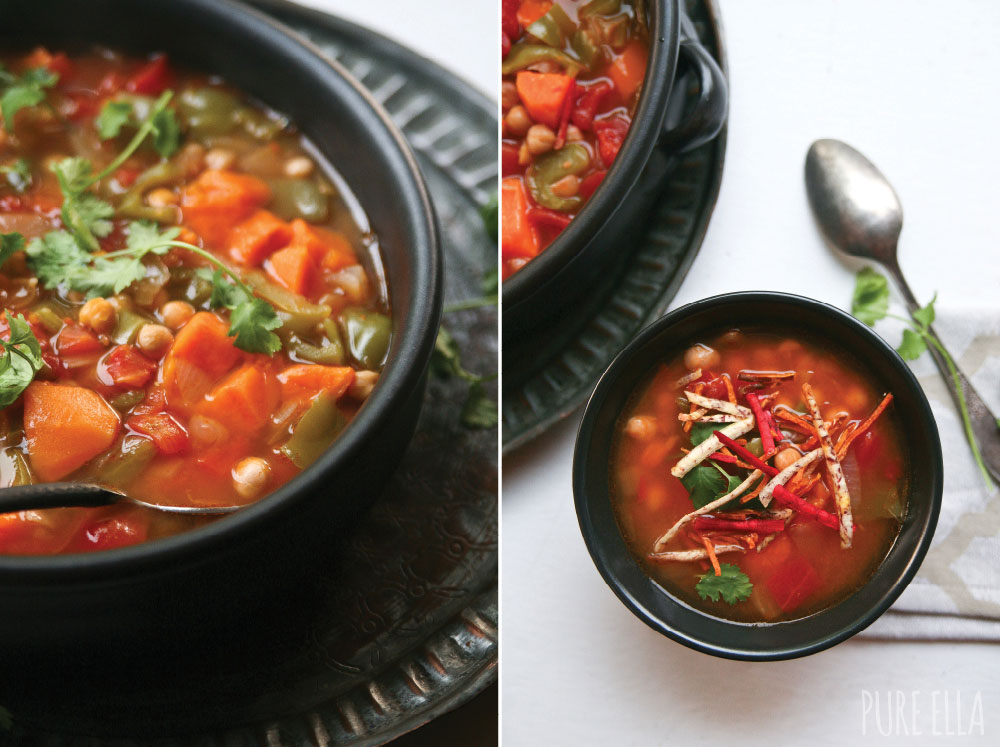 Vegetable and Chickpea Moroccan Stew | vegan and gluten-free
30 minute prep time. Serves 6-8
Ingredients :
2 medium onions, diced
3-4 sweet potatoes, peeled and chopped
1 green pepper, chopped
1 can of organic chunk tomatoes
1 large can of chickpeas, rinsed and drained
1/4 cup chopped fresh cilantro (coriander in the UK)
1 teaspoon of sea salt
1/4 teaspoon red hot pepper
1/2 teaspoon cumin
1 1/2 teaspoon curry powder
1/2 teaspoon turmeric
1/4 teaspoon black pepper
1/4 teaspoon chili flakes
grape seed oil for cooking
optional : organic vegetable sticks
Directions :
Prepare a kettle of water to bring to a boil and set a large pot on the stove. In the large pot, drizzle in some grape seed oil to cover the bottom and sautee the onions on medium low, then one by one add in all the vegetables, except the chickpeas and canned tomatoes. Stir and allow to sautee for about 10 minutes. Add more oil if needed so the veggies don't stick to the pan.
Add in all the spices except for fresh cilantro. (If you're cooking for children and they're not fans of spicy food, skip the hot spices until the very end so you can adjust to your own families' liking. or skip them all together from the pot and servings can be seasoned with hot spices individually.
After about 10 minutes, reduce heat and slowly pour in some hot water and stir the vegetables in the pot. Allow those vegetables to absorb some of the water by cooking for about 5 more minutes and add in about 2 more cups of hot water to the pot. Stir again and add in chickpeas and chunk tomatoes. The consistency should be that of a stew and not a watery soup. About 10-12 cups of water altogether should work well, but a bit less water makes the stew chunkier, adjust the consistency to your liking.
To serve, top with fresh cilantro and optionally organic vegetable sticks. You don't need the veggie sticks but they added a great fun texture and crunch to this stew. Enjoy!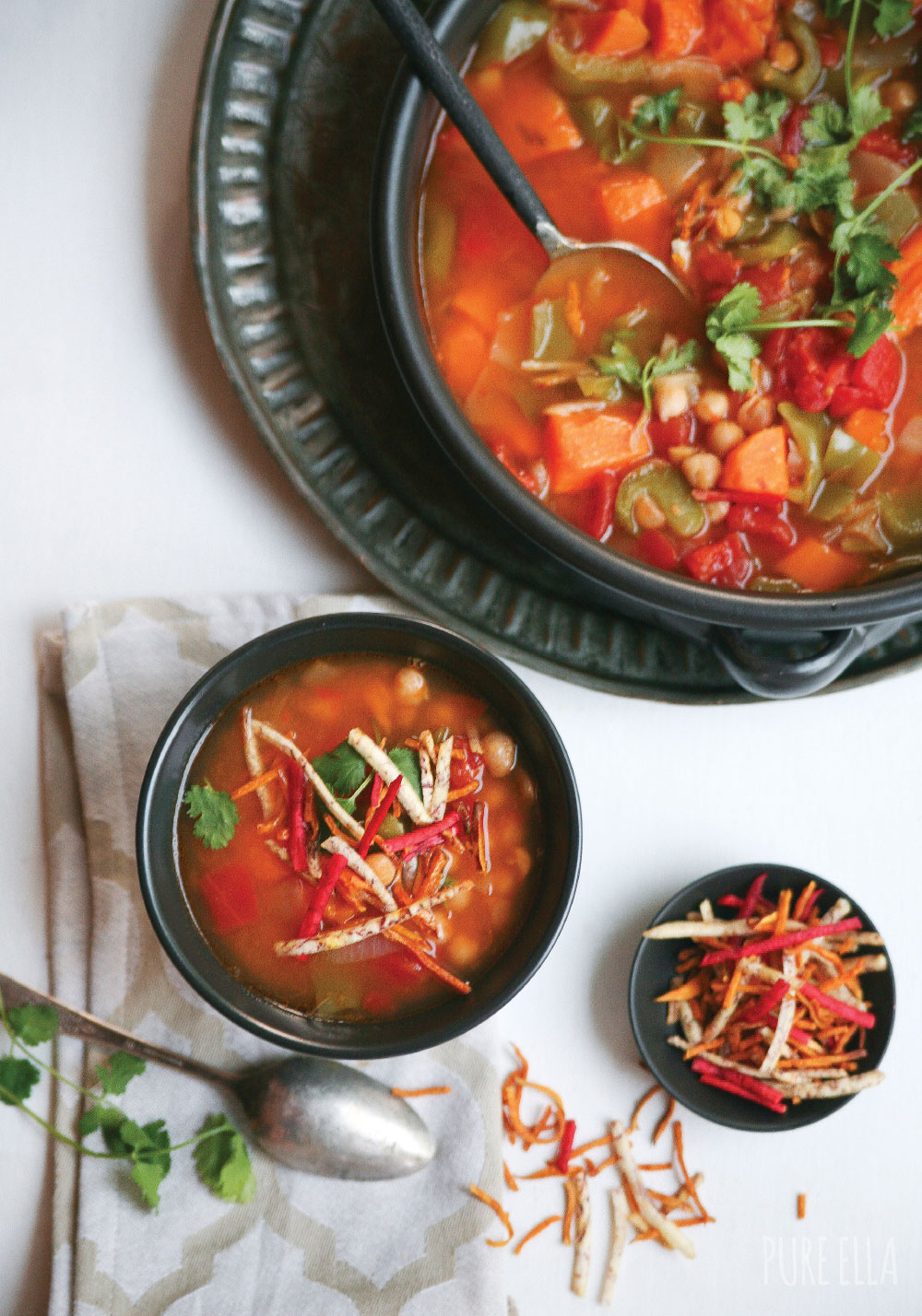 This is a very easy healthy one-pot meal that I've loved for years…. especially in the colder months as all these ingredients, especially the spices are naturally warming to the body. I can't wait to make this dish again very soon… and experience a little Morocco in our home ;)
By the way this Moroccan Stew tastes even better the next day when all the flavours get fully absorbed and it becomes even creamier. So make sure you make enough for at least two days ;) If you have a big family, double up the ingredients to make a huge pot of great healthy veggie stew. It also freezes well in an airtight container for up to 3 months.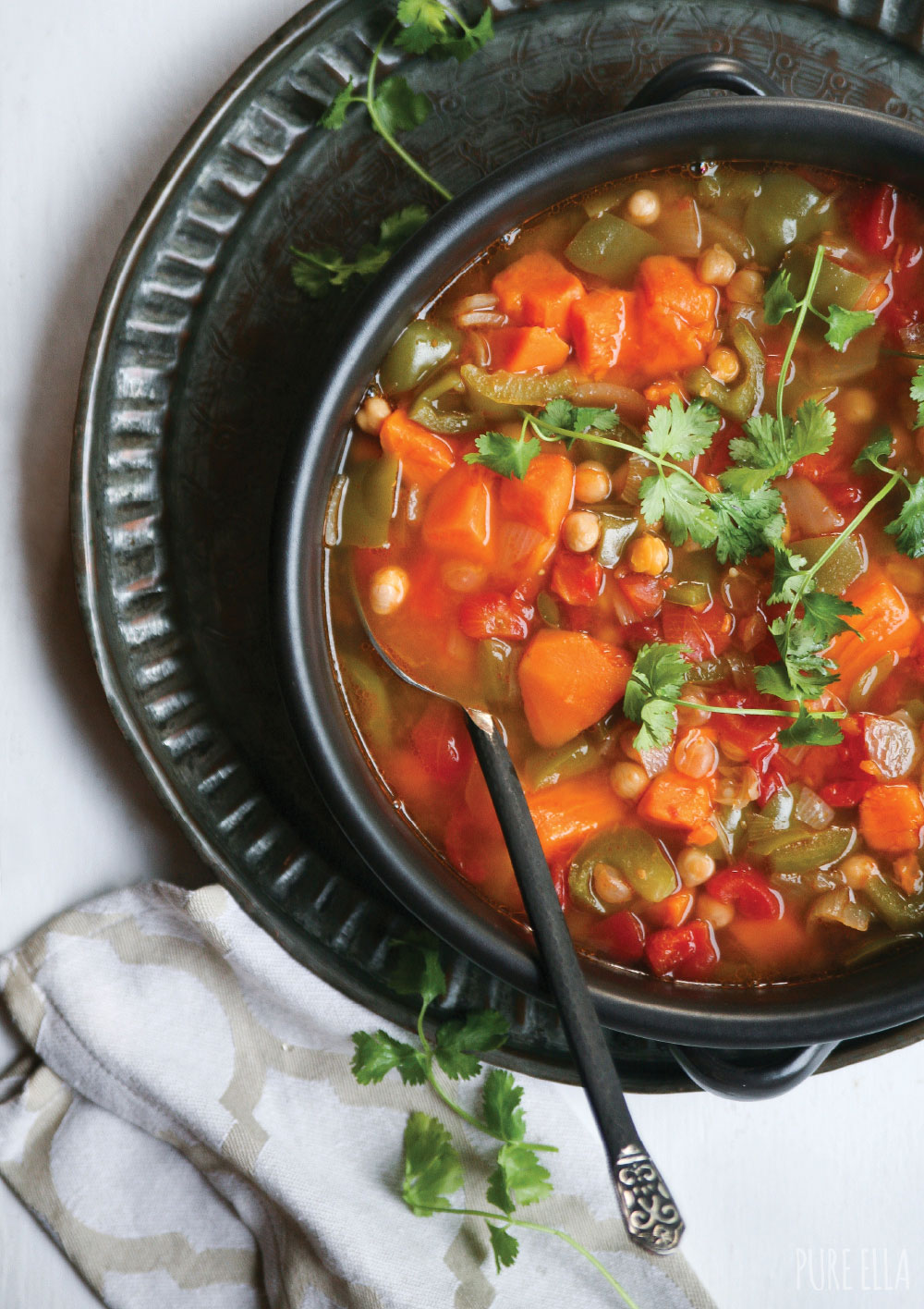 Do you like to be taken away with an international dish to a different part of the world? What part of the world are you craving right now?
♥
Pure Ella
If you're new to Pure Ella, please sign up for email updates and join me elsewhere:
Facebook

//

Pinterest

//

Twitte

r //

Instagram

@pure_ella